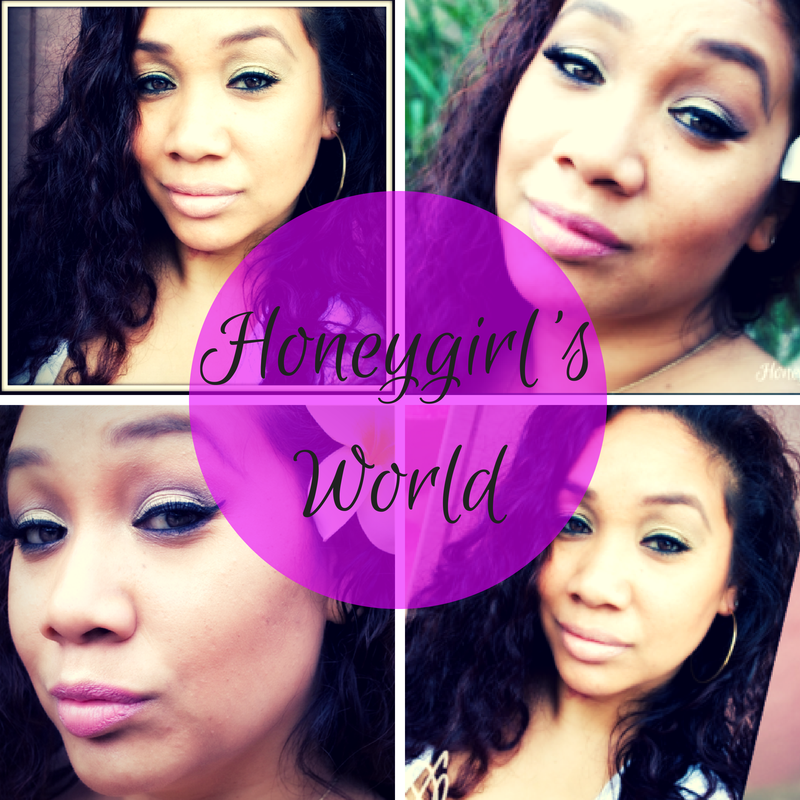 Happy Friday everyone- we are almost midway through June- OMG! Summer is jumping into full gear and the weather out here in California is get hot, hot, hot! This week we are chatting it up with Honeyfrom Honeygirl's Worldwho literally has AH-MAZING weather year round, lives in one of the most vacationed spots in America {I am jealous… and wish I could call Maui my home} all while being a full time mommy, coming up with recipes off the top of her head all while being the Queen of her castle in a house full of boys. She is a busy, busy, busy girl! If you haven't had a chance to check out the past few weeks of some of my most favorite beauties; check them out here. So without further ado, its time to meet the beauty behind the blog in this week's Beauty Behind The Blog: Honeygirl's World…
How long have you been blogging? I started blogging in 2007 – so 7 years.  I originally started because I needed an outlet to be creative and just be myself after working 12-16 hour days at my corporate job.  I loved makeup and beauty and decided I would start writing about the products I loved.  That turned into me reviewing the products and eventually starting my first YouTube channel where I did tutorials. **and they are some good un's **
Tell us a little bit about the Girl Behind Honeygirl's World? As much as I love makeup and beauty now more than ever and I was intrigued by it at a young age, I am a complete tomboy.  I grew up on the beaches of Hawaii and spent a good chunk of my childhood playing in the sand and riding the surf… tanned, long hair and always in surf shorts and a bikini.  Even in high school – I barely wore makeup.  Now a days, my life consists of my family and that is what Honeygirl's World is truly about… my love for life, beauty and fashion.  I am a mother of 3 boys – 2 of which are twins and married to the love of my life, my high school sweetie (even if he is 2 years my elder) and desperately and head over heels in love.  I have worked every single job imaginable from a Game Booth Hustler or our local carnival (my first job ever) so manager of many retail stores both large chains and small mom and pop shops and boutiques.  I worked in a Plastic Surgery office and took part as a surgical tech in many procedures and my last job… I was the Hawaii Regional Marketing Manager who helped with creative for all collateral for Starwood Vacation Ownership and Resorts in Hawaii.  After a downturn in economy, in 2008 I left SVO and shortly after gave birth to my twins.  I learned a lot as a person over the last 6 years and it is that Family is important and children grow much faster than you think.  While I miss the financial freedom my last career gave me, I feel like I would have missed out on all of my children's accomplishments, growth and childhood if I continued in that field.  While I can't say I will not go back to work – I know that I love being a mom and a wife and it quite possibly is the most fulfilling job I have ever had.  So much so – I don't consider it a job, but a blessing. **she has a gorgeous family too and helloooo they live in Hawaii**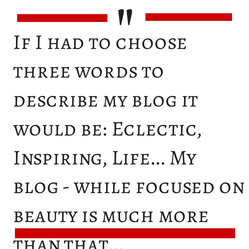 If you had to choose three words, how would you describe your blog? And why?  If I had to choose three words to describe my blog it would be: Eclectic, Inspiring, Life… My blog – while focused on beauty is much more than that.  I would like to think that my blog is eclectic and offers a wide range of information.  It is my life in a nutshell and my life offers a wide variety of things… I love and am a huge fan of life in general and my blog offers a glimpse into what I am all about.  I would love to think that my blog offers some form of inspiration to those that read it.  Whether it be inspiration in makeup and beauty or in love and motherhood or even cooking… I would love to think that those that visit my site are intrigued by what is there and uses my blog as a bases to anything they need.
What kind of content can readers find over on Honeygirl's World?  My site is very wide ranged.  I write about Beauty, Fashion (which I have been slacking a lot on lately) and of course – lifestyle.  My site is about my life and the things I love.  You can easily find a variety and plethora of reviews there on all kinds of products from makeup and beauty, skin care, food, restaurants and more… but you will also find a lot of posts on things I love – cooking, my family time, inspirational quotes and motivational posts and everything.  It's funny because I often get asked… "What the heck is your niche?"  But honestly, my niche is life… **love, love, love that- a passionate blogger who shares it all. **
What made you start blogging? As mentioned previously, I started blogging because I needed a way to escape from day to day life.  My last job had me working 12-16 hour days and I started blogging because it allowed me to think outside of the box from what I dealt with on a daily basis.
What inspires you when you curate a post? Love is my biggest form of inspiration.  Those that are near me have heard me say on many occasions that my husband is my biggest muse.  While it may seem silly to some, I write my best posts when he is home sitting next to me or the best ideas for my writing comes when we are laying in bed together and winding down for the day.  If my husband isn't home, I like to take my boys out to play and just watch their every move. They give me inspiration and help me to create some of my posts.  My children and my hubby are what drive me to be better at who I am and what I do and they are my biggest inspirations.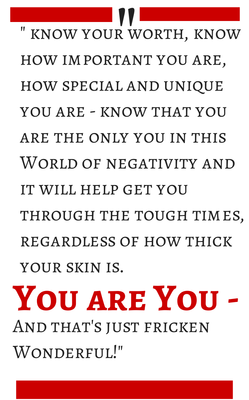 What are a few tips and tricks you have learned since blogging?I have way too many tips to mention… whether it be about blogging or beauty in general – I could write a novel and publish it with the knowledge I have learned over the years.  But my biggest tip I could give anyone is… "Know Your Worth!"  Whether it be in the blogger realm or in the beauty community you will deal with extreme bullying sometimes and most the time people do not have a tough enough skin to walk away from it or not let it bother them.  By knowing how special you are as a person, you can just about move mountains.  People say that it takes a thick skin to be able to handle criticism and critique, harsh words or in some cases others like to call them… "haters" – but thick skin doesn't mean that you don't feel or have emotion to what others may be saying.  So – know your worth, know how important you are, how special and unique you are – know that you are the only you in this World of negativity and it will help get you through the tough times, regardless of how thick your skin is.  You are You – And that's just fricken Wonderful!
What advice would you give to someone who was starting out in the blogging world? Oh my – if I could give advice to anyone who is just starting out blogging I would say… "Don't!". lmao – just kidding.  But joking aside, it's a lot more of a challenge than people give it credit for.  I never thought my blog would be where it is today or that it would be as successful and I am still on the smaller end of the spectrum compared to other bloggers that I work with and talk to.  Many don't understand that it takes a willingness to work at this full time and its not gonna be an overnight sensation.
Walk us through a normal day over at Honeygirl's World? My days at Honeygirl's World are never "normal".  I have three children and a husband who are always priority so I have learned to tackle my HGW duties where I can fit them in.  I'm up early, write and network or edit photos where I find time in the morning or early afternoon and then spend most of the time with my boys while my husband is working.  After dinner and things settle down, I am working on editing images again or videos for my YouTube channel and drafting posts.  For the most part, I work in my Honeygirl's World duties where I can fit them in and some days I rather just go out and have fun with my guys then even look at the computer.  If I miss one day – I try to schedule or work out more than one post the following day and so forth.  My days are pretty crazy in general – so I fit it all in where and when I can.  Thank goodness for technology at my fingertips whether computer, phone or tablet because I get the weirdest ideas for my blog while I'm out shopping, sleeping or cooking and I can easily get them jotted down for future reference. lol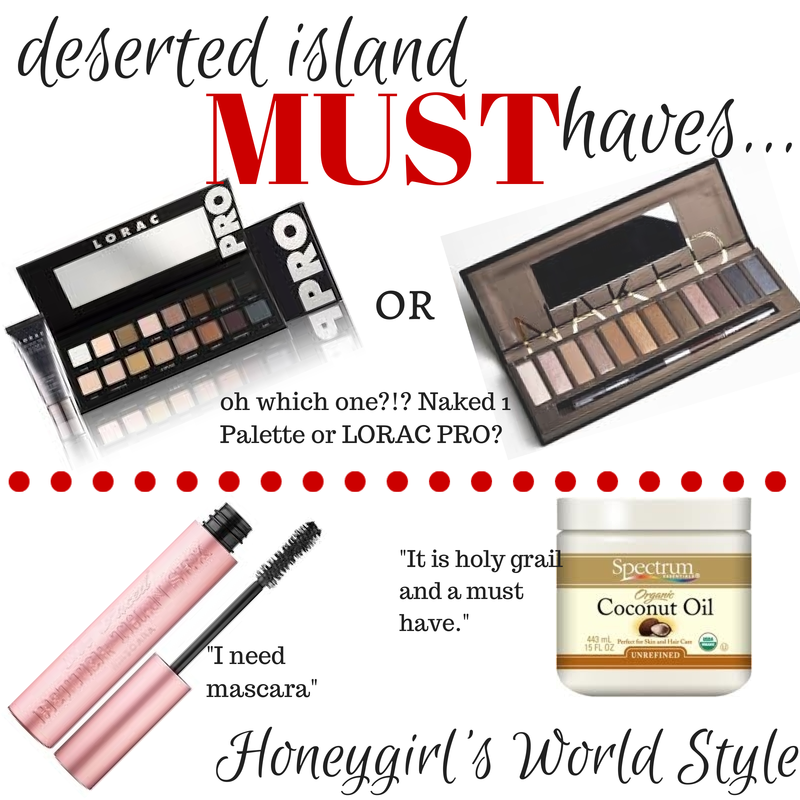 Ok time for a super serious question- If you were stranded on a deserted island, what are 3 beauty products that you couldn't live without? And Why?  Omigosh – The Desert Island question is never an easy one for me… but here goes.  I would definitely need my Organic Unrefined Virgin Coconut Oil.  It is the product that has allowed me to stop using foundation altogether and has done wonders for my skin and health – so it is holy grail and a must have.  Next will have to be my Lorac Pro Palette or Urban Decay Naked 1 Palette.  Ultimately I'll only take one and at one time it was my Urban Decay Naked 1 Palette… but if I'm stranded, I think I would need something with more colors and versatility – so Lorac Pro it would be.  And, last but not least… I need mascara. Too Faced Better Than Sex Mascara is now one of my absolute favorites and I need it for days when I do not need to put any makeup on but need to have my lashes stand out.  I considered a lip product – but I can use my coconut oil as moisturizer and balm for my lips and if I need color – I can take some shadow from my palette and apply over my coconut oiled lips. **hello genius DIY right there**,  I think that will do… though – I must say – that is still one of the hardest questions ever. lol
So there you have it… another edition of Beauty Behind the Blog. Hope you enjoyed meeting Honey from Honeygirl's World. To keep up with Honey and all her beauty goodness check her out on her YouTubechannel for some wonderful tutorials. Have a beauty question? Ask her some questions via Twitter or  Facebook.Orfollow her on Instagramor Google + for some solid beauty enabling. And for some great fashion, beauty and food pinning action- she is a MUST follow on Pinterest. Have a wonderful weekend everyone!!!

[ReviewDisclaimer]