Another month down as we continue to navigate 2021 in hopes of achieving the best post-quarantine skin ever. Curious what is current in my cart this month as I type this? From a new mud mask to a dreamy body lotion, these are the products that made the cut…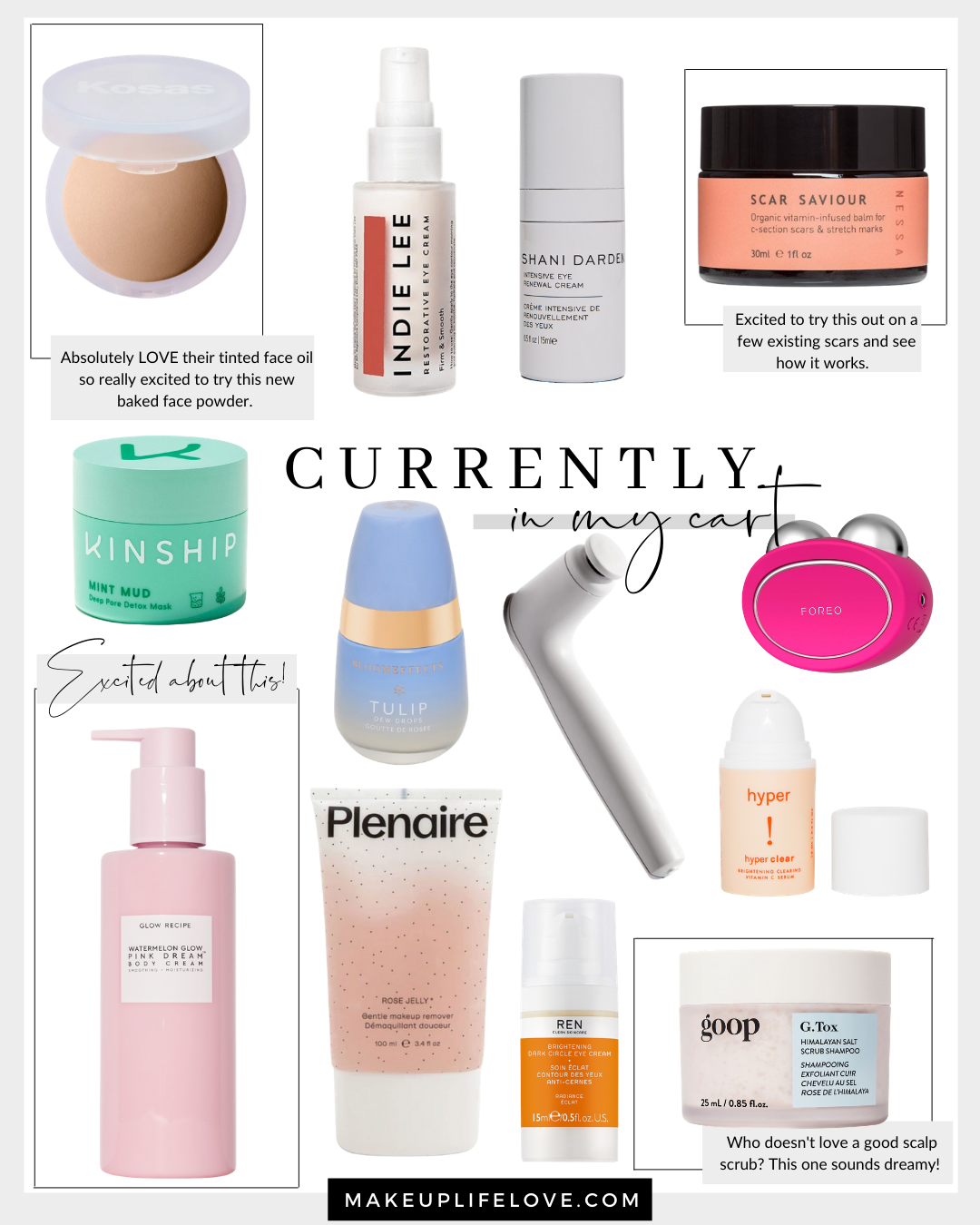 Can anyone else believe how fast time really is flying? I mean can you believe we are already in March and legit its been 1 whole year since COVID happened? I mean being at home really has shown that time flies by and waits for nothing… Since so many of us have been taking MAJORLY great lengths at achieving the best post-quarantine skin, I figured what better way than to share with you a new monthly series of whats in my shopping cart this month. So keep reading to see what is making the cut this month..
What's In My Cart for March 2021
// KOSAS CLOUD SET BAKED SETTING + SMOOTHING POWDER // I am OBSESSED with the KOSAS Tinted Face Oil so it was natural that once I saw this product hit the shelves, it was making its way to to my cart. While the shade range is a bit undesirable with just 10 shades – I am very intrigued as it is supposed to blur imperfections, sweep away shine (not the glow) and feel like nothing on the skin. Grabbing this in shade Cushiony and will report back soon.
// INDIE LEE RESTORATIVE EYE CREAM //  I am on the prowl for a great eye cream. After using up the rest of my favorite eye cream prior, I am in the market for something that will hydrate, brighten, and of course give some anti-aging properties. This Indie Lee eye cream is called a powerhouse as it checks all the boxes to brighten, hydrate, plump and of course strengthen the skin around the eye area with some anti-aging properties. So in my cart it goes for sure.
// SHANI DARDEN INTENSIVE EYE RENEWAL CREAM // This eye cream has been everywhere lately on Instagram, so I am being influenced 100% into grabbing it. It is supposed to help brighten, firm and fight aging all in one. So I am super excited to grab it and try. I am very in to the idea of the silk tree extract in it that is going to help it glide on like a dream as well as brighten the eye area beautifully. Has anyone else tried this one yet after seeing it all over Instagram?
// NESSA'S SCAR SAVIOR //  So I have a few scars that I have been working on getting rid or or at least attempting to lighten. I saw this recently in the Credo Beauty New Arrivals and was very into the idea that it is a vitamin filled balm that can help with both stretch marks and scars. It has a ton of smoothing properties in it as well antioxidants to help work under the skin to nourish and help with skin recovery. I also love that is has antioxidants in it as well. So we shall see how it works on a few scars (old and new)- Ill report back on this after about 8 weeks of use.
// KINSHIP MINT MUD DEEP PORE DETOX MASK //  Who doesn't love a great mud mask? I am super excited to try this, since I am a HUGE Kinship lover (their pimple potion is superior), so this mint mud mask sounded like something I needed to try. Since it is perfect for blemish prone skin I think it might be great for a spot treatment as alot of us are dealing with some #maskne at times for sure.
// BLOOMEFFECTS TULIP DEW DROPS //  My good friend Ange talked about Bloomeffects on her IG and their tulip nectar jelly which targets dry skin mainly- and since I am not dry skinned- I was super stoked when I saw this product and that it was good for combination skin as well as safe for blemish prone skin too. I love that it takes the same effect as their Nectar Jelly and the proprietary Dutch Tulip Complex to it but that is a water based serum that deeply hydrates the skin with some of my fave ingredients like Niacinamide in it. It also is supposed to improve skin tone, texture and give your skin a bright dewy glow. Sign me up!
// SHANI DARDEN FACIAL SCULPTING WAND // You know I am all about a great skincare gadget and this one looks so insanely good. It's a 10 minute vibration treatment that is supposed to help products penetrate into the skin all while it stimulates the facial muscles for a firmer and contoured effect. I grabbed this and will totally report back on how it compares to other skincare devices.
// FOREO BEAR FACIAL TONING DEVICE // So this is giving me NuFace vibes but alot smaller and easier to hold possibly. I love my FOREO and every device I have tried by them – has become a favorite. So I am super excited to try this and compare it to my NuFace and my beloved ZIIP device. So I'll totally do a comparable side by side with them once I get it in and have a chance to test it out.
// HYPER CLEAR BRIGHTENING CLEARING VITAMIN C SERUM // Super excited to grab this. It has been sold out for so long, so when I saw it back in stock I instantly added to my cart. I love that it is a two in one – antioxidant protection with the 15% Vitamin C in it plus brightening with its unique blend of enzymes, ionic acid and tumeric. I am super excited to get this in.
// GLOW RECIPE WATERMELON GLOW AHA PINK DREAM BODY CREAM // It's not a surprise when I saw this I had to add it to my list. I love everything Glow Recipe that I have tried and this sounds insanely good. I love that it is their signature watermelon scent that is super light and crisp and not overpowering PLUS it has so many awesome ingredients in it to help hydrate and smooth the skin. I am super excited about this.
// PLENAIRE ROSE JELLY GENTLE MAKEUP REMOVER + HYDRATING CLEANSER // I have never heard of this brand but when I was cruising Credo it was a new arrival and I was drawn to how pretty and simple it is. I have been loving a great jelly cleanser lately, and I think this one with its added rose water and sugar-based actives it sounded like it would be a great addition to my cleanser arsenal. I am excited to try this and explore this brand a bit more for sure.
// REN SKINCARE BRIGHTENING DARK CIRCLE EYE CREAM //  Another eye cream I am going to be testing this month, and I am pretty excited about it. I love that it is a brightening eye cream for dark circles that also focuses on dryness and puffiness. I love other REN products I have tried and this is part of the radiance line which is one of my fave lines in their catalogue. Super intrigued by the reviews and ready to try this for sure. People say after just 2 weeks they have noticed a difference in their under eye area – so in my cart this goes. I'll report back on it.
// GOOP G.TOX HIMALAYAN SALT SCALP SCRUB SHAMPOO // I have been super into scalp scrubs lately. I have hair extensions for thickness and I find that a great scalp scrub REALLY helps the scalp health and stimulates hair growth. I am excited about this one since it is also great for naturally curly/coarse hair (mine) and it has things that are both hydrating AND clarifying to it. So it will remove all the build up without drying the scalp out. Sounds like a win win!
So there you have it, and extensive list of things I am grabbing this month and will for sure report back on to let you know how they are, what's worth it and what's worth passing on. Anything on this list spark your curiosity? HIT REPLY and let me know in the comments below…