Thank you to FOREO for sponsoring todays post! As always all thoughts and opinions are of my own!  Please note this post may also contain an embedded affiliate link. For more information please check out my disclosure policy.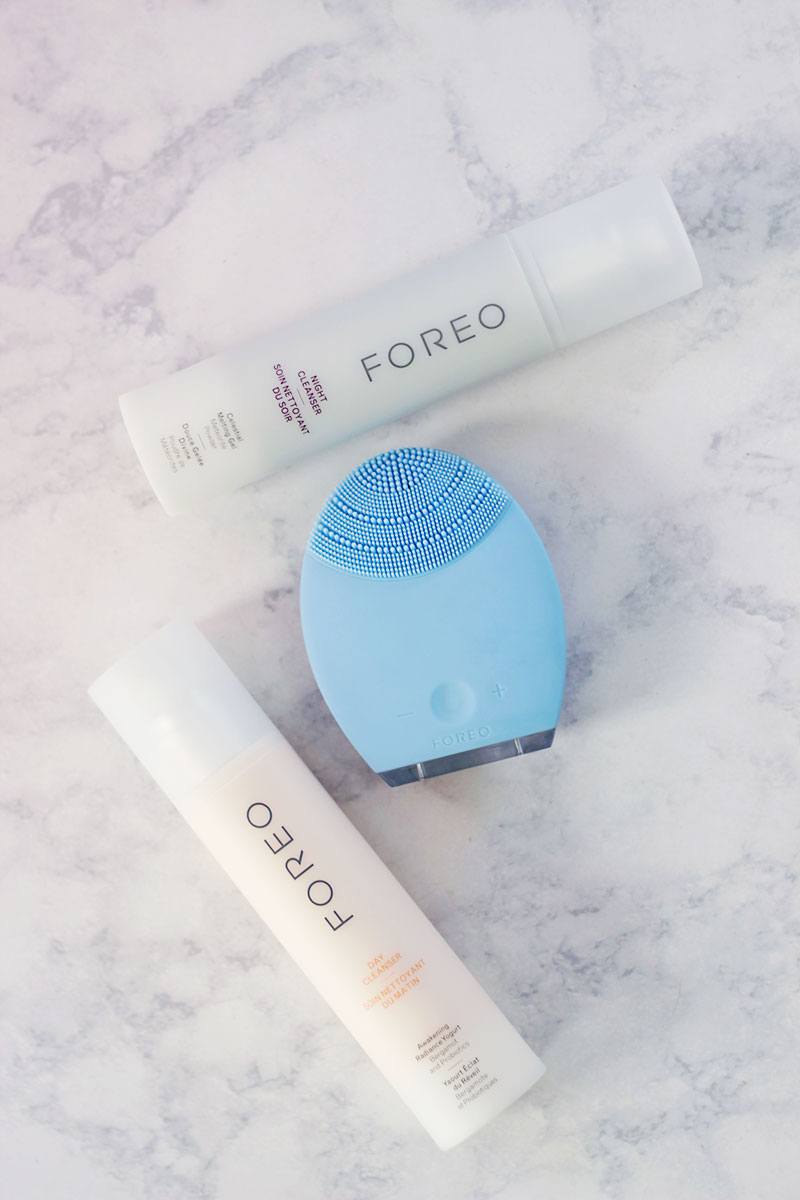 Now you all know I LOVE myself some skincare. I am always searching and seeking the latest and greatest when it comes to new skincare loves. With the cold weather creeping in things have started to get a bit on the dry side, followed by a bit of a combination oil slick and a slight ounce of redness- in fact the colder weather has caused my skin to semi-freak out. Recently I was introduced to a few products by FOREO that have successfully worked their way into my skincare routines- both day and night- and in all honesty I think they might become permanent. So let's jump right in and fill you in….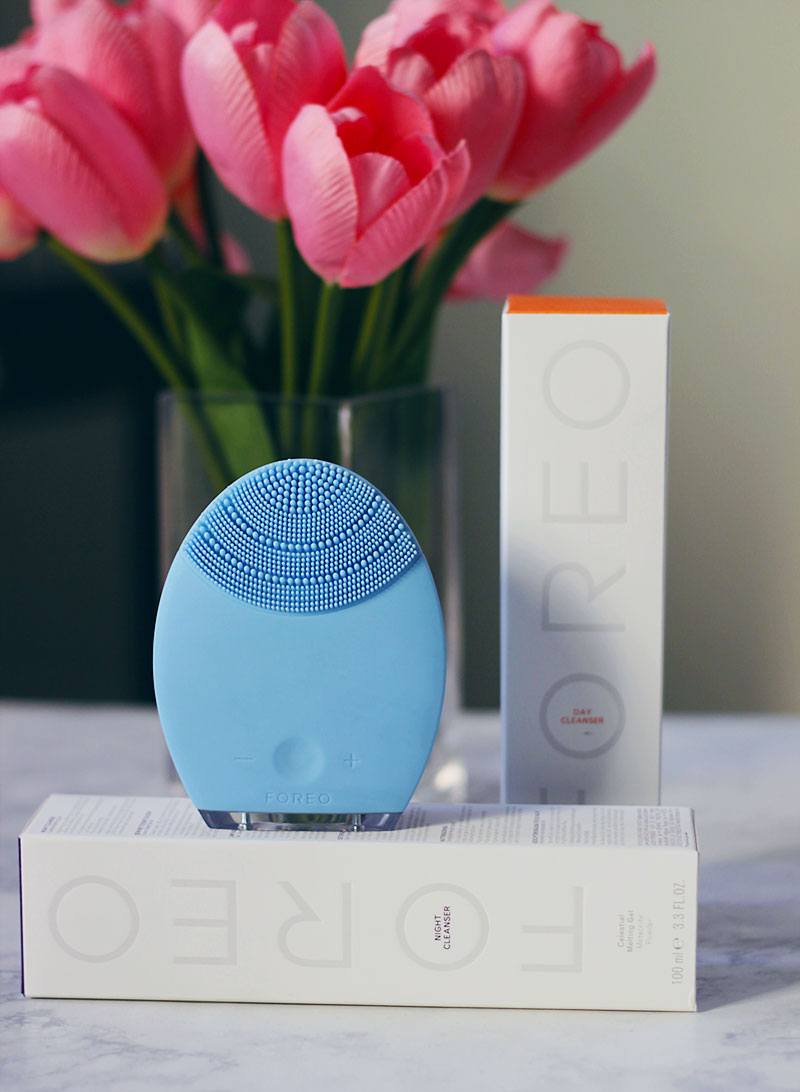 FOREO LUNA as you all know has become one of my latest and greatest additions to my skincare routine. The FOREO brand is a serious game changer when it comes to skincare gadgets. The awesome silicone half egg shaped device is a serious game changer as it gently cleanses and exfoliates your skin while delivering a bit of T-Sonic™ pulsations with it's ultra-soft and smooth rounded silicone touch-points that are totally nonabrasive even for sensitive skin types. I mean this device is the perfect compact traveling companion, and its ultra hygienic without having to replace brush heads. So imagine how excited I was, when I heard that FOREO was introducing a DAY and NIGHT cleanser that is specifically formulated to compliment the LUNA devices- innovative right? The transformative formulas of the new FOREO facial cleansers are activated by the LUNA's T-Sonic™ pulsations that stimulate the active ingredients so they penetrate deeper into the skin, ensuring the skin's maximum absorption and efficiency without compromising the gentleness. Both the DAY and NIGHT cleansers are formulated with powerful natural active ingredients, as they are both tailored to the skin for specific both daytime and night skin needs; and the best part is they do not contain any silicone, alcohol, phthalates, mineral oil, parabens, or sulfates. Seriously I stalked the mailman as I waited for these phenomenal cleansers to arrive. Let's dive right in…

FOR THE DAYTIME:
FOREO Awakening Radiance Yogurt Day Cleanser– $30 USD– is working its way into being called my favorite cleanser EVER! This ultra creamy cleanser smells AMAZING when it touches the skin. A unique blend of mandarin, bergamot, and apricot fruit extracts to purify and hydrate the skin while probiotics and Vitamin C moisturize and protect the skin against any daily external skincare aggressions. This cleanser is seriously AH-MAZING!!! The formula on the skin is ultra light and creamy that when wet transforms into an ultra lush form with the LUNA device. Seriously I am OBSESSED! I have been applying this cleanser to dry skin in the morning then gently massaging into the skin with my FOREO LUNA. I work the FOREO Awakening Radiance Yogurt Day Cleanser into my skin allowing it to help break down any products I have put on my skin from the night before. Once I add a bit of water, this cleanser turns into a lush, almost hydrating foam that smells like citrus heaven. The light, crisp scent enhances my morning mood giving me a bit morning boost. I seriously LOVE this cleanser!

FOR THE NIGHT:
The FOREO Celestial Melting Gel Night Cleanser– $36 USD, is a gentle yet detoxifying cleanser that is perfectly formulated to bring amazing comfort to your skin from a long day.   Infused with meteorite powder, moringa extract, and almond oil for a super gentle yet deep cleanse. This calming cleanser has an incredible silky gel like texture that melts into your skin so luxuriously. The thing I love the most about this cleanser is that it gently removes all the dirt, grime, makeup and pollutants from my skin without leaving behind any residue at all. My skin feels so amazing after using the FOREO Celestial Melting Gel Night Cleanser, I am also obsessed with the light fragrant scent of this cleanser as the scent is light, crisp, semi-floral and so calming. This cleanser has started made its way into my nightly cleansing two step.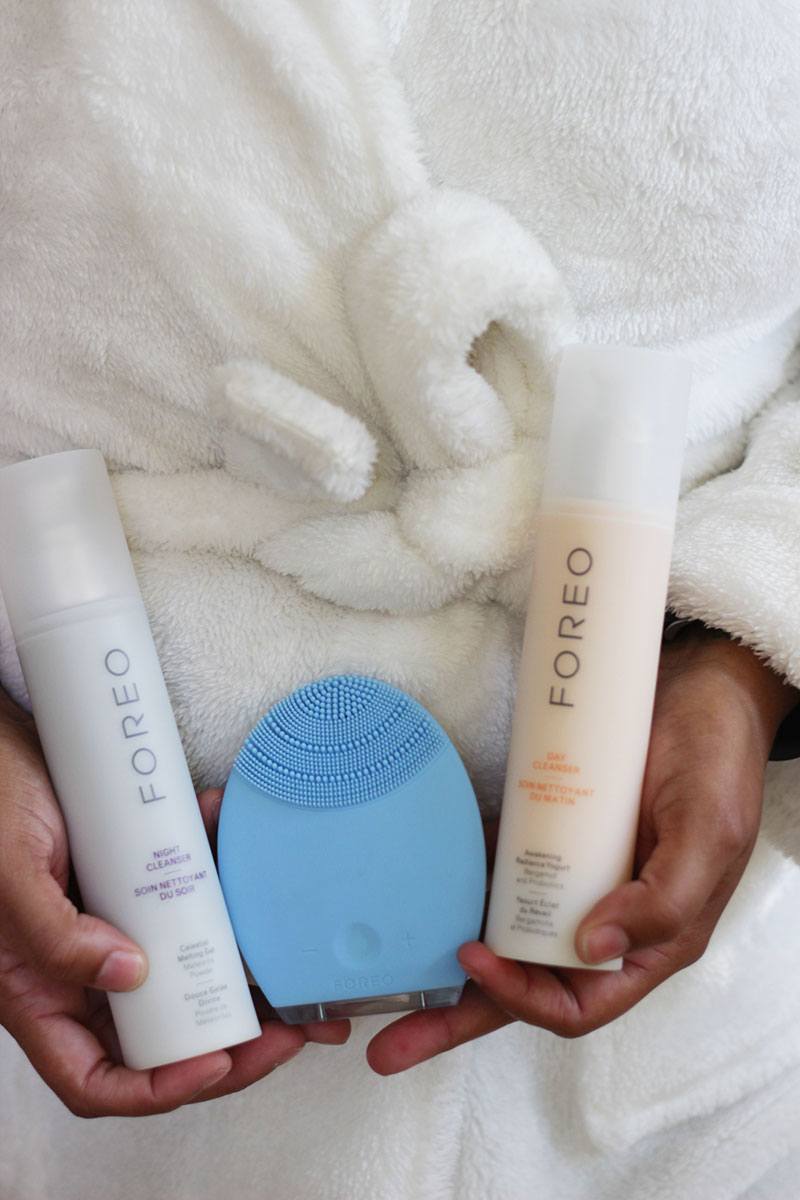 Hands down these cleansers might seriously be making their way into my favorite of all time category. My skin has been feeling pretty balanced since I started to use them in coordination with my serums and moisturizers. Because of daily use with my LUNA my skin absorbs products so much better and I will say now makeup doesn't slide all over my face, it's a win-win right? Seriously if you haven't ran out yet to grab yourself a FOREO LUNA you NEED to, and while you are at it grab both the DAY and NIGHT cleansers. Right now at Sephora you can grab yourself a FOREO LUNA mini and both the DAY and NIGHT cleanser for the low price of $139USD. What better way to jump-start the New Year then with beautiful, glowing skin? Trust me you will be OBSESSED!!!!
Have you tried the FOREO LUNA line yet? What are your favorite cleansers? Let me know in the comments below…
[otw_shortcode_divider margin_top_bottom="30″ text="SHOP FOREO" text_position="otw-text-center"][/otw_shortcode_divider]

WHERE TO BUY FOREO:
FOREO Awakening Radiance Yogurt Day Cleanser– $30 USD
FOREO Celestial Melting Gel Night Cleanser– $36 USD
FOREO Luna Cleansing Device- Ultra Sensitive // Dry to Normal // Normal to Combination Skin // MEN – $199 USD
FOREO Deep Cleansing Essentials with LUNA mini– $139 USD
**SPECIAL HOLIDAY OFFER: Black Friday offer in there..FOREO will be offering 25% off the LUNA and ISSA Range via foreo.com Valid starting Friday Nov. 27th until Monday Nov 30th**
*PR SAMPLE
Thank you FOREO for sponsoring todays post! As always all thoughts and opinions are of my own!
[ReviewDisclaimer]
foreo FOREO Day Cleanser foreo luna FOREO Night Cleanser Skincare