This post has been sponsored by Curél® in a partnership with Social Stars. All thoughts and opinions are of my own. Curél® Itch Defense® #CurélSkinCare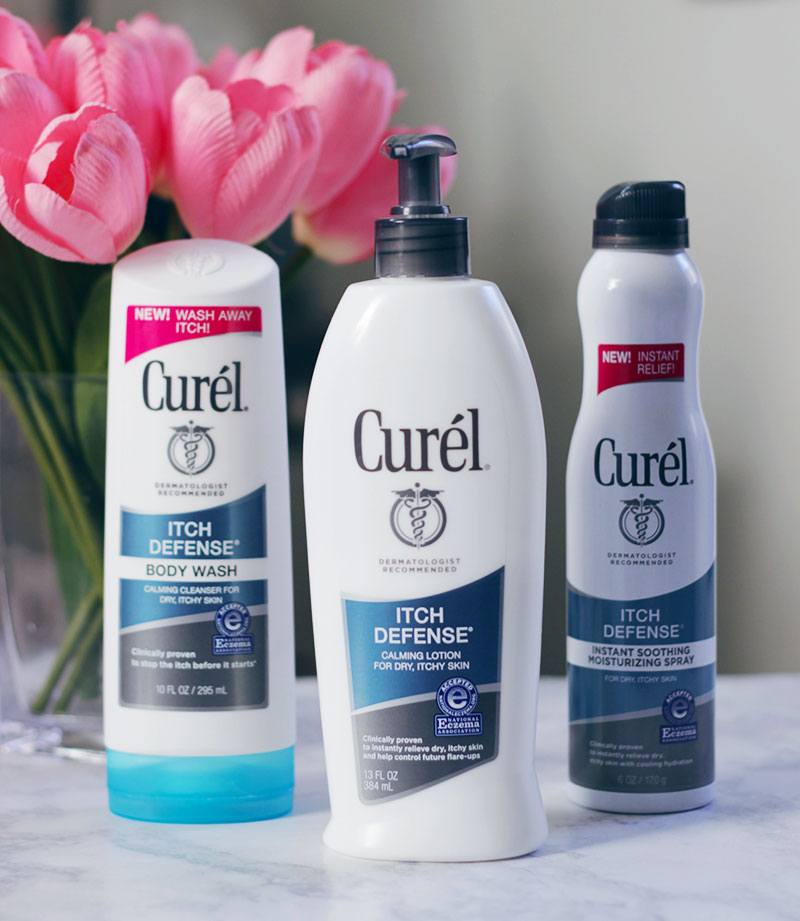 It's the most wonderful time of the year, right? I seriously have been looking forward to this winter for some reason this year. I mean of course as we gear up towards winter it means lots of time with friends and family, holiday entertaining and of course lots of food and…. COLD WEATHER! Living in Southern California we often aren't blessed too much with anything other then HOT weather, so literally the second that we get a 60 degree weather day I am instantly left craving more- I know totally unrealistic! As much as I do love the idea of cold weather, the one thing I absolutely HATE about it is; how incredibly itchy and dry my skin gets. In all honesty, winter cold weather makes my skin so dry and itchy that it is almost unbearable; so I decided now was the perfect time to share all my tips and methods I use to deal with dry, itchy skin in order to prepare your skin for the winter…
4 EASY TIP TO PREPARE YOUR SKIN FOR WINTER
TIP 1: TAKE SHORTER SHOWERS
I know you are probably thinking- "umm… Jamie! Seriously shorter showers?" but honestly when its cold outside the best thing you would think sounds like to take a nice, long HOT shower- BUT trust me it's the opposite. Remember when I said that you skin is the largest organ on your body and absorbs so much? Well, when you tend to take longer showers your skin starts to crave more moisture, meaning essentially shorter, lukewarm showers would be much better for you.
TIP 2: DITCH YOUR USUAL SOAP
This year when you are in the shower scrub-a-dub-dubbing, ditch your usual body soap or body wash and reach for something that is geared toward people with dry, itchy skin or like me those who suffer from eczema. I have been reaching for brand NEW Curél® Itch Defense® Body Wash, and OMG I am obsessed with this bottle of heaven. Seriously this body wash is AMAZING, as it is a unique blend of both soothing and hydrating thanks to the jojoba and olive oils. It has no added fragrance, so it is SUPER gentle on the skin that it never irritates and provides some solid relief in advance before the itch ever starts. I personally always love how body wash tends to cover more then usual soap, and this National Eczema Association approved body wash lathers up so nicely that your skin will feel so relieved, hydrated and soft. QUICK TIP- When you get out of the bath or shower, just lightly pat your skin dry! Rubbing tends to irritate your skin.
TIP 3: RELAX AND ENJOY LIFE
During this time of the year it can often be a bit stressful at times. As easy at it sounds relax and enjoy life, its even more of a challenge to implement it. You see, stress in general can cause so many things that can take a tool on your skin- ranging from breakouts, dullness in complexion, or like me (a eczema sufferer) trigger eczema flares and random breakouts. Thankfully this year anytime I feel a eczema flare up coming or my skin takes a turn to the itchy zone, I can reach for Curél® Itch Defense® Instant Smoothing Moisturizing Spray. This awesome Dermatologist Recommended spray lotion helps so incredibly much because it gives the skin instant relief as it calms, soothes, cools, and locks in moisture. No more having to find a corner or back stretcher to help itchy my skin, thanks to the spray formula it is SUPER easy to get all those often hard to reach places. After a light spray of the NEW Curél® Itch Defense® Instant Smoothing Moisturizing Spray, I have been making a conscience effort to go for a walk or light jog with my dogs to help relieve instant stress and provide me with a calmer state of mind. Something about being outside in the crisp, cool weather just helps calm your nerves and give you more focus.
TIP 4: FIND THE RIGHT MOISTURIZER
Finding the right body moisturizer can almost be as hard as finding the right facial moisturizer. Whether you prefer lotions, fluids, creams or sprays, it is equally important for your body's skin health. Of course colder, cooler climates tend to bring out the dry, itchy skin in me so finding a perfect formula is at the top of my list. Since I am an eczema sufferer, it was a serious godsend when I found a formula that was equal parts hydrating yet perfect for sensitive skin as well. The first time I used the Curél® Itch Defense® Lotion, I realized I met my perfect match. Its thick enough to help soothe and hydrate my dry skin, but ultra sensitive and gentle enough that even Pediatrician's say it is good for babies ages 6 months and up- which who doesn't want baby soft skin? Seriously this fragrance-free formula is heaven in a bottle. It rebalances pH levels, moisture levels and encourages cellular turnover to promote healthy skin overall. I love that after a shower this lotion feels like it helps heal dry, itchy skin as well as prep my skin for the day ahead to while ensuring that my eczema doesn't flare up. My skin loves this lotion so much, that I have 2 bottles on back up. I am so happy I finally found my body moisturizer's match- and boy oh boy it is a perfect match!
What about you?Do you have any tips or tricks that you use to prepare your skin for colder weather? I would love to hear them in the comments below…
[otw_shortcode_divider margin_top_bottom="30″ text="SHOP CUREL ITCH DEFENSE" text_position="otw-text-center"][/otw_shortcode_divider]

Disclosure: This post has been sponsored by Curél® in a partnership with Social Stars. All thoughts and opinions are of my own. Curél® Itch Defense® #CurélSkinCare
Curel Curel Itch Defense Curel Itch Defense Body Lotion Curel Itch Defense Body Wash Curel Skincare