This post may contain an embedded affiliate link. For more information please check out my disclosure policy.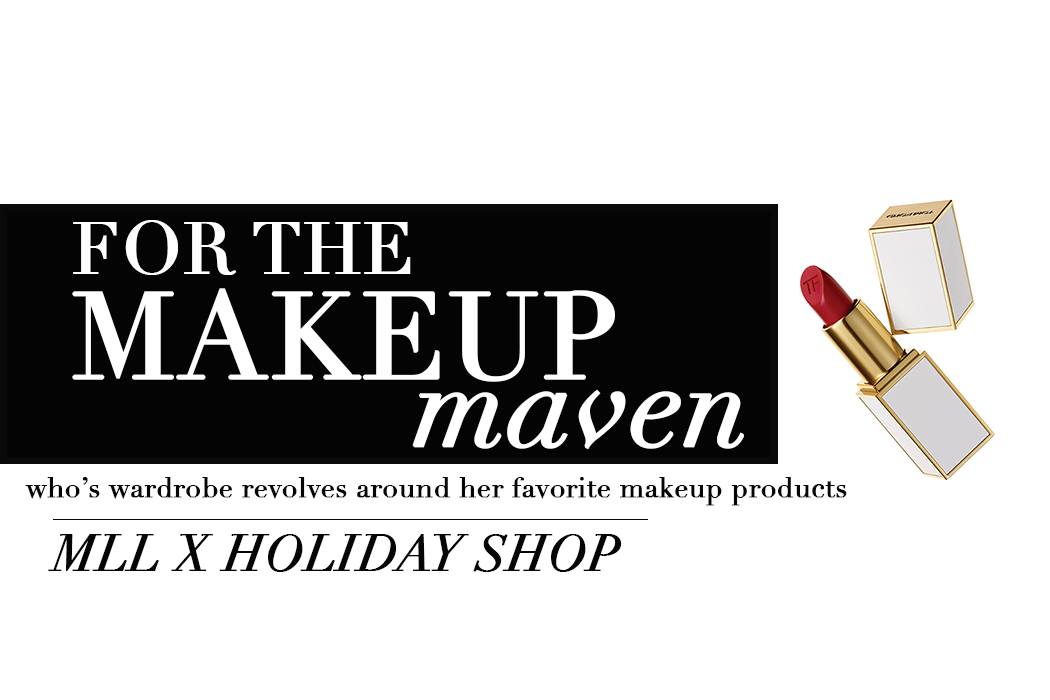 To jump start the holiday gifting season, today's gift guide is for the beauty maven in us all, the girl who always makes sure her contour is on point and her highlight is on fleek, the girl who knows product launches before they launch, and is always in the know when it comes to the best in beauty! You know, your fellow female who is absolutely your go to when it comes to what's new at Sephora. (P.S: you are always on the top of the list!)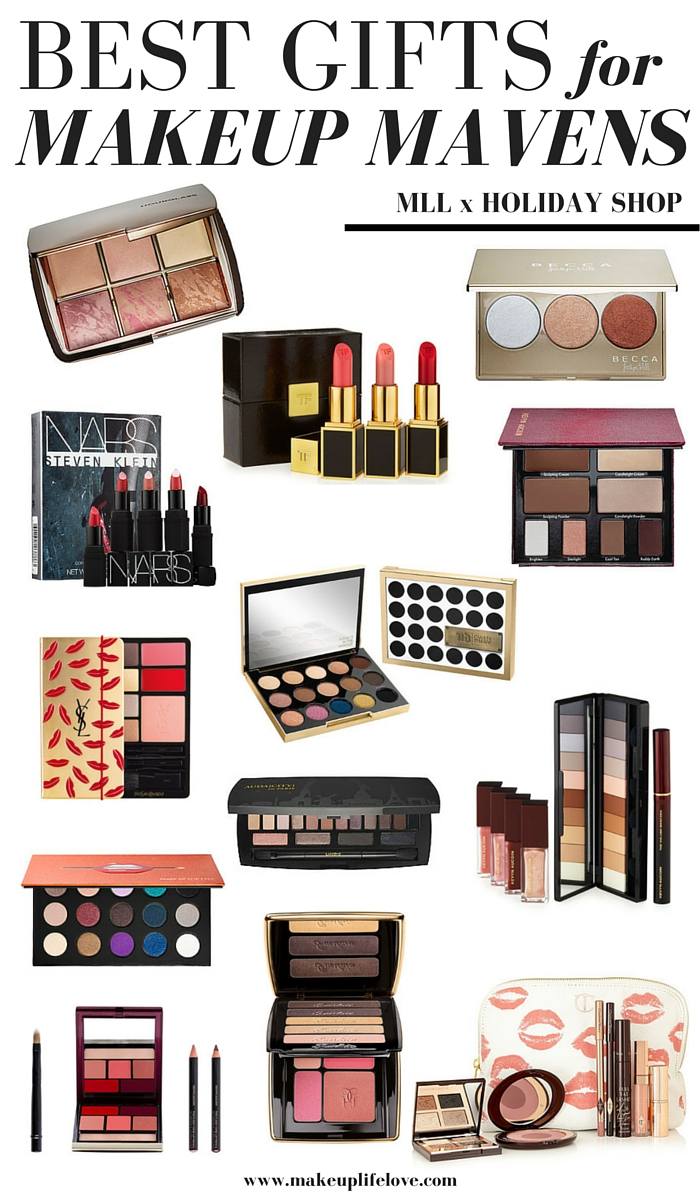 Let's talk beauty essentials, shall we? When it comes to knowing your beauty maven there are a few items that each and every girl needs, and of course a few things that she wants! First off is the HIGHLIGHTER! With so many awesome launches this year, having your highlight on fleek is becoming a HUGE thing. It's got be just the right amount of brightening action with a side of disco ball but NOT too much- because lets be honest NO ONE wants to look like a disco ball! The rest of the beauty world and myself have been SUPER OBSESSED with BECCA x Jaclyn Hill collaboration Champagne Pop, so when BECCA launched the BECCA x Jaclyn Hill Champagne Glow palette- $34 USD, it is a MUST HAVE! Two parts highlighter and one part bronzy glowing blush, this palette is a MUST HAVE! Hourglass Cosmetics rocked our worlds a few years back with the launch of the Ambient Lighting Powders, so imagine this year when the Hourglass Ambient Lighting Edit- $80 USD, the beauty world bowed down. This gorgeous palette contains 3 lightening powders, 2 ambient blushes and 1 of the newly released ambient bronzing powders all housed in a sleek compact. Sheer genius!! Last but not least is the Kevyn Aucoin The Contour Book: The Art of Sculpting + Defining Vol II- $65 USD, this sleek and gorgeous palette is a pure perfection. Both cream and powder highlighters are composed in this palette to help you contour and define your face to the fullest. It is beauty heaven in a palette.
[otw_shortcode_divider margin_top_bottom="30″ text="SHOP THESE FAVORITES" text_position="otw-text-center"][/otw_shortcode_divider]

Next up, palettes. Yep, ever girl always has a must have palette that they reach for and this year palettes have been on point in the makeup game. When I think of a great palette I think of something that can help transition you from day to night, you can take on travel, or just create every beauty look you have ever wanted. I am dying to receive my UDxGwen Palette- $58 USD, this palette is probably one of the most requested seasonal launches EVER (it launched yesterday –November 22- stay tuned cause a giveaway is coming soon to my Instagram). This palette is pure neutral, everyday perfection and a serious must have to any beauty guru's arsenal. A few others that I are making waves and breaking beauty hearts are the Yves Saint Laurent Kiss &Love Edition Complete Makeup Palette- $95 USD– this palette has it all! 4 gorgeous eyeshadows, 2 beautiful lipcolors and 1 amazing blush- this palette has everything you need making it the perfect companion for anyone. The Make Up For Ever 15 Artist Shadow Palette- $59 USD- 15 shades of gorgeousness housed in a solid palette will make any beauty lovers heart race. Lancome Auda[city] in Paris Palette- $68 USD– is sheer perfection from the glorious mind of makeup artist Lisa Eldridge. Trust me, anyone recieveing this palette will be OBSESSED! The Guerlain Eye & Blush Palette- $90 USD, is a limited edition collectors dream. Housed in gorgeous gold packaging the Guerlain palette is sure to make the beauty makeup maven fall in serious love.
[otw_shortcode_divider margin_top_bottom="30″ text="SHOP THESE FAVORITES" text_position="otw-text-center"][/otw_shortcode_divider] 

Now on to the lips- I know I am not alone with my love for lipsticks. Bright shades, Vampy shades, fun gorgeous shades all make any day better! Tom Ford NM Exclusive Lips and Boys 3 piece set- $105 USD– if you missed out on these beauties last year when the gorgeous shades named after our favorite boys was launched, NOW is the time to grab them. For all makeup mavens out there, you know the creamy shades of goodness Tom Ford brings to the table, they are a MUST HAVE! Another lip set must have for the makeup mavens in your lips is the NARS Steven Klein Collaboration Killer Heels Lipstick Coffret- $49 USD– 5 shades of beautiful lipsticks that can take you from day to night, from the weekend to a night out with you girls, this lipstick collection is a MUST HAVE! The Kevyn Aucoin Limited Edition The Perfect Lip Kit- $78 USD– is absolutely stunning. 5 of the brands best selling, gorgeous lip shades all housed in a sleek compact accompanied with best seller Candlelight lipgloss and 2 signature lip pencils- giving any gal who is a lipstick lover OBSESSED!
[otw_shortcode_divider margin_top_bottom="30″ text="SHOP THESE FAVORITES" text_position="otw-text-center"][/otw_shortcode_divider] 

 A few more things that will make any makeup maven in your life fall in love… The Charlotte Tilbury The Supermodel Set- $245 USD– is everything a beauty maven needs to jump-start the New Year with this gorgeous set of amazingness. Seriously the lip cheat is life changing and the luxurious shadows in this palette are pure amazingness.
[otw_shortcode_divider margin_top_bottom="30″ text="SHOP THE SUPERMODEL" text_position="otw-text-center"][/otw_shortcode_divider]

Stay tuned to tomorrow as we have another round of gift guides coming soon… Also make sure to check out the MLL x Holiday Shop to find all the products included in this Makeup Maven gift guide. Be sure to check them all out for your daily dose of gift giving inspiration. Plus you might just see a awesome giveaway coming your way soon as well.
DAY 1: Makeup Maven
[ReviewDisclaimer]
Charlotte Tilbury Guerlain Holiday Gift Guides Kevyn Aucion Lancome Make Up For Ever Yves Saint Lauren