Over the past few weeks I have been scouring the web on all my favorite beauty sites to check out the "What's New" and "Christmas" tabs to curate my top favorites this year for the most MEGA sized gift guide. After last week's epic VIB Rouge purchasing, I am now focused on buying gifts for others all while maybe wondering a bit if there is anything I am missing in my stash– if I can find room, ehhh- will power! Anyhow, as time goes on I am changing my usual gift round up from one post and a printable to a solid two weeks of gift giving goodness this year! Yes! You heard that right, a full two weeks of gift guides– eeekkk!Currently I have a few spots still to fill in the blanks for the line- ups, so with that being said I am turning the tables on you all, and asking you 'What's on your Christmas list?' Beauty? Home goodies? Techy gadgets? I know it is almost mid-November, so surely there must be a dedicated page somewhere in your notebook with your current lusts and Christmas wishes, right? To help you all get this started here are a few goodies that I have currently listed in mine:
Charlotte Tilbury Luxury Lipstick Wardrobe – Matte Revolution– $305 USD- I am absolutely OBSESSED with the few shades I have of the Matte Revolution formula and seriously I am listing for them ALL. Fingers crossed as this is top on my list.
Artis Brushes- Elite Smoke 5 piece set– $160 USD- Ever since learning that Kylie Jenner uses these brushes for EVERYTHING, it has made me really crave the need for this. I hear she uses the 10 brush to apply skincare- have you tried it? 
TOM FORD NM Exclusive Lips and Boys 3 Piece Set– $105 USD- I grabbed a few lipsticks from the lips and boys last year, but missed out on the collectors case. Well I am in luck this year Neiman Marcus is bringing them back in a cute little trio of these beauties. The shades are some I don't have, which makes it that much better to lust for: Flynn, Patrick and Luciano- plus the cute case makes it even more worth it. 
Guerlain Limited Edition Ors et Merveilles Eyes and Blush Palette – $90 USD- I have read NUMEROUS reviews of these gorgeous all-in-one palette and I am in totally NEED of it. Seriously everything about this palette screams winter beauty from the sleek packaging to the gorgeous array of looks you can create with this simple, streamlined palette of face and eyes. I NEED it!!
Sunday Riley Blue Moon Tranquility Cleansing Balm– $50 USD- I am a HUGE Sunday Riley lover- (trust me TONS of reviews to come soon), this balm to milk cleansing balm is supposed to be AMAZING! Super gentle as it removed ALL makeup and purifies the skin,all while it gives you a tranquil, spa-like experience. MUST HAVE!
Dr. Dennis Gross Skincare Steamer Solutions– $125 USD- As you all know I am OBSESSED with skincare, so this gadget is high on my radar. The ultimate tool to help you achieve the most EPIC DIY facial and pamper evening ever. The steamer machine will literally help relax you, refresh you and restore dull, dry skin- everyone loves a radiant complexion right?
So there you have it, just a few of my current Christmas wish list items. However if you're still in need of Christmas gift-giving inspiration then make sure you are waiting with you note pad in hand, ready to take notes all starting next week as we start to launch the most elaborate two weeks of gift guides.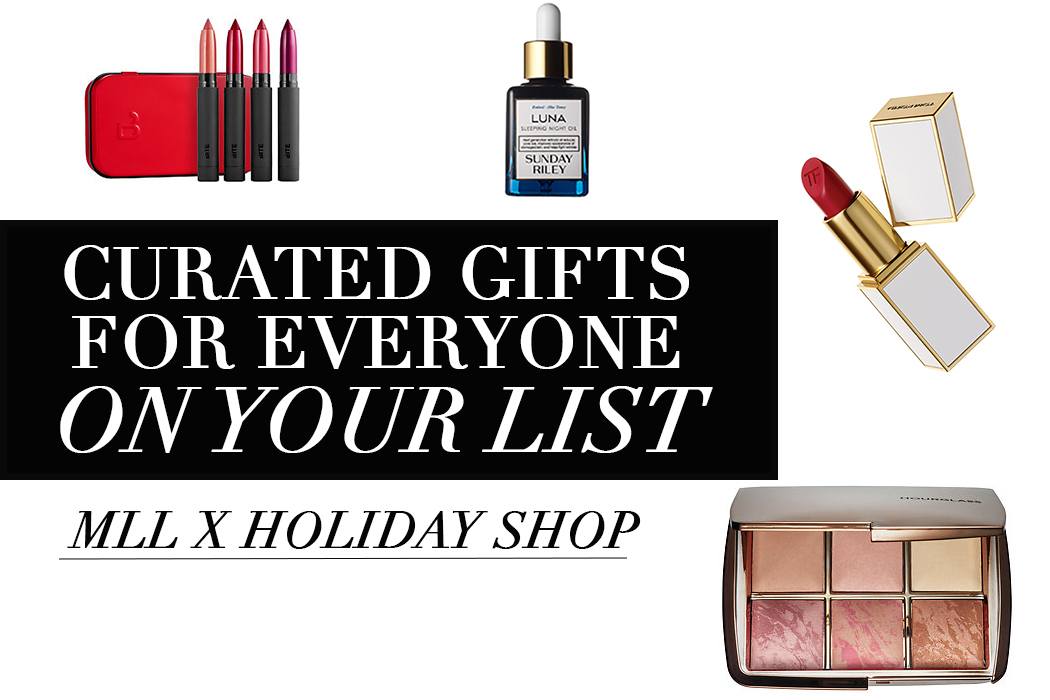 This year I have also decided to give you a simple, new addition to the site titled the 'MLL x HOLIDAY SHOP', which will be including a simple boutique page to make it easier to click the item and head straight to the site to purchase. Stay tuned, because it's going to be EPIC this Christmas….
[otw_shortcode_divider margin_top_bottom="30″ text="SHOP THE POST" text_position="otw-text-center"][/otw_shortcode_divider]

[ReviewDisclaimer]