Tis' the season right? Can you seriously believe that it is literally Mid-November and we have less than 50 days til we bring in the new year and celebrate 2015. Holy, wow- that means we have about 41 days til Christmas… eeeeekkkk…. It is time that The Beauty Council brings you all another round up of goodness. Are you ready?  I have been glued to my inbox daily for the past few weeks, scouring through new beauty launches and holiday sales in order to collate a EPIC gift guide with my lovely ladies from The Beauty Council. We have brought you some solid VMA action, some Halloween looks + nail art, and now it is time bust out your notepad and bring you a bit of insight to: MLL + Beauty Council Gift Guide 2014…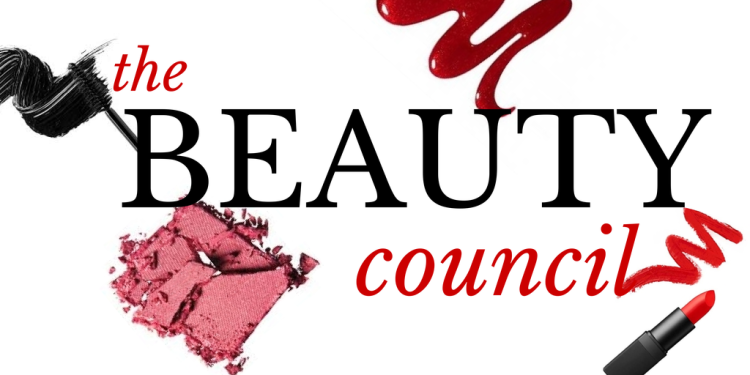 From stocking stuffers to the luxe gifts for the girl who has it all. I hope you all truly enjoy my gift giving suggestions for this 2014 season.  And to make things easier for you, attached below is also a printable to help make your shopping experience a efficient and speedy one. Happy browsing…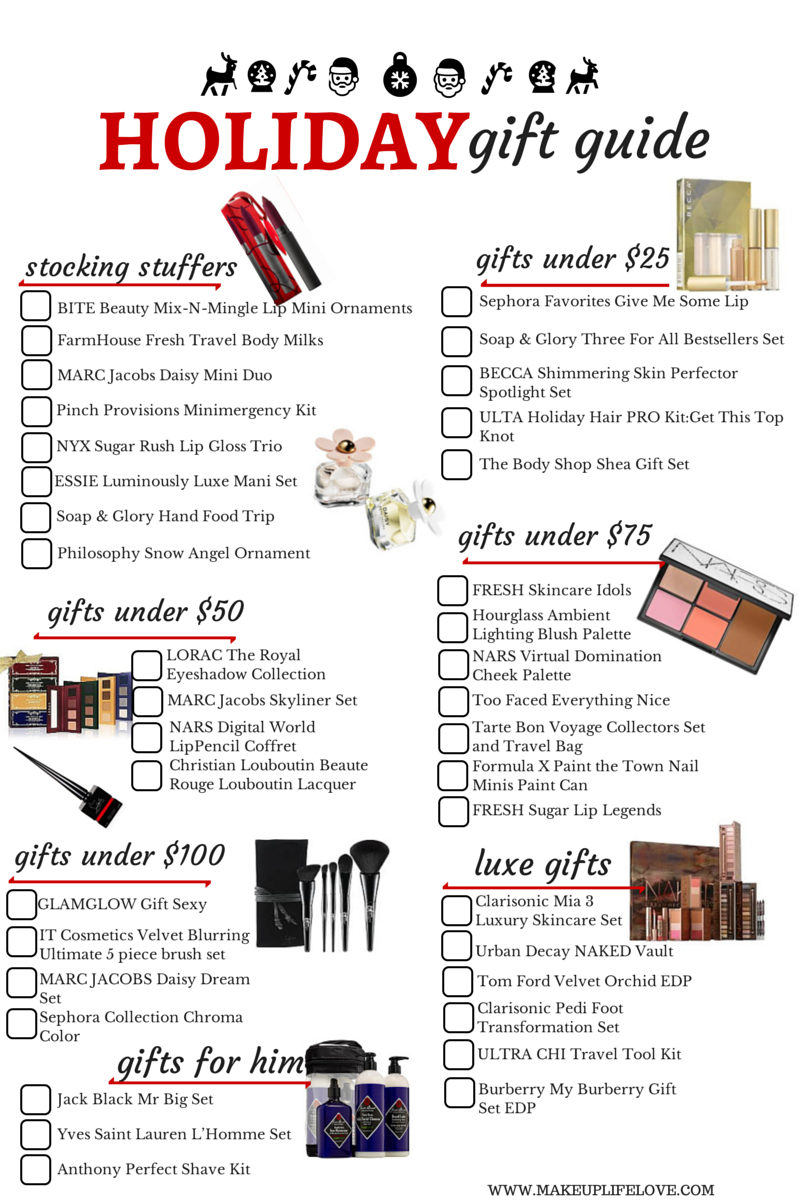 PIN THAT FOR LATER // READ THIS NOW
 STOCKING STUFFERS:
BITE Beauty Mix and Mingle Lip Minis Giftable Ornament: $12- BITE Beauty can do no wrong in my eyes, and any lippie lover will adore these lip mini ornaments. 3 seperate formulas from lush fruit gloss to matte cream lip crayons- these ornaments are amazing.
Farmhouse Fresh Body Milk Travel Lotion: $14- Ultra light, super hydrating body milk by the folks whose cows eat cookies. Farmhouse Fresh Travel Body Milks are sure to be a skin lovers dream cream.
MARC JACOBS Daisy Mini Duo: $15- Oh la la, the perfect stocking stuffer for the perfume lover. A wonderful duo with minis of the original Daisy and the lighter Daisy Eau So Fresh.
Pinch Provisions Minimergency Kit for Her: $16- Be prepared in case of any emergency with this adorable stocking stuffer by Pinch Provisions. Perfect for the girl who always needs to be prepared.
ESSIE Luminously Luxe Manicure Set: $13- ESSIE always does great nail sets, and the Luminously Luxe doesn't disappoint. The perfect lacquer loving stocking stuffer.
NYX Sugar Rush Butter Lip Gloss Trio: $9.99- Obsessed is the right way to describe this Butter Lipgloss Trio. Anyone who tries it will be lusting for more. The perfect stocking stuffer for a co-worker or lippie lover.
Philosophy Snow Angel Ornaments: $7- Luxury holiday scent in the perfect stocking stuffing form. Bring in the holidays with this fresh snow scented bubbly bath and shower gel.
Soap & Glory Hand Food Tri0: $15- 3 yummy scents of this wonderful non-greasy, rich hand cream.
// SHOP STOCKING STUFFERS // 

GIFTS UNDER $25:
Sephora Favorites Give Me Some Lip: $25- The perfect gift for the lippie lover in your crew. This wonderful set contains 6 gorgeous best sellers from the likes of BITE Beauty, NARS, Smashbox and more…
Soap & Glory Three For All Bestsellers Set: $25 this trio of Soap & Glory's best sellers is the perfect set for anyone who wants to keep their skin in tip top shape year round.
BECCA Shimmering Skin Perfector Spotlight Set: $25 bring forth the gorgeous light from within with a bit of help from BECCA Shimmering Skin Perfector. This trio of gorgeous will keep your skin bright and gorgeous all year long.
ULTA Holiday Hair PRO Kit:Get This Top Knot: $20 A good top knot will help you bring in the New Year with style. This is the perfect gift for any fashion forward gal.
The Body Shop Shea Gift Set: $20- Give the gift of soft skin with this Shea Butter Body Shop Set. Nothing says I love you more than soft skin.
// SHOP GIFTS UNDER $25 // 

GIFTS UNDER $50:
LORAC The Royal Eye Shadow Collection: $38 – Collect them all for yourself or divide them as stocking stuffers. These ultra rich pigmented quads will be a hit this holiday season.
MARC JACOBS The Skyliner Seven Piece Highliner Collection: $45- 7 gorgeous shades of wonderful that are perfect for the eye liner lover in us all. MARC JACOBS gel like formula housed in a collectors box is the perfect MUST HAVE for the holiday season and topping my wishlist currently.
NARS Digital World Lip Pencil Coffret: $49- Satin and Matte lip crayons in the best selling shades by NARS. The perfect gift for an array of holiday looks that any makeup lover will adore.
Christian Louboutin Beaute Rouge Louboutin Lacquer: $50- what can I say about this gorgeous lacquer by the red soled king himself Christian Louboutin, other than I NEED. The perfect gift for anyone who is a red sole lover or dreamer.
 // SHOP GIFTS UNDER $50 // 

GIFTS UNDER $75:
FRESH Skincare Idols: $58- FRESH is uber chic and their skincare idols set is perfect for the skincare lover. Say hello to a brighter complexion with this amazing set.
Hourglass Ambient Lighting Blush Palette: $58 – From the real life Instagram filters themselves, Hourglass Cosmetics dropped the sought after Ambient Blush Palette, the perfect gift for the beauty lover in us all.
NARS Virtual Domination Cheek Palette: $65- NARS did it again with another launch of their lusted for blush palettes year after year. The Virtual Domination Cheek Palette is perfect for the fashion forward beautynista with its full size bronzer and 4 beautiful blushes. Can you say GORGEOUS!
Too Faced Everything Nice: $56 -this beautiful set is perfect for the makeup lover, housed with 20 pigment rich eyeshadows, the classic Better Than Sex Mascara , 2 blushes and 2 bronzers- this holiday set screams MUST HAVE!
Tarte Bon Voyage Collectors Set and Travel Bag: $59-  The perfect gift for the jetsetter. This set by TARTE contains literally everything you would need from 20 eyeshadows to a deluxe sample of the cult classic Marajuca Oil, this set ROCKS!
Formula X Paint the Town Nail Minis Paint Can: $55- A lacquer lovers dream. Paint the Town any color you wish with these 22 minis by Formula X.
FRESH Sugar Lip Legends: $55- FRESH kicks some serious arse, with this holiday set of beauties. 7 shades of the best selling FRESH lip balm from berry to honey to petal and the original- the lip balm lover will be stoked to get this gift under the tree.
 // SHOP GIFTS UNDER $75 // 

GIFTS UNDER $100:
GLAMGLOW Gift Sexy: $69- GLAMGLOW lovers rejoice this gift set contains a full size of the new Hydrating Treatment formula as well as deluxe sample sizes of the original Tinglexfoliate Treatment and the Clearing Treatment, a perfect gift for the skincare lover in us all.
IT Cosmetics Velvet Blurring Ultimate 5 piece brush set: $98- OMG I am a HUGE fan of IT Cosmetics brushes and the new Velvet line exclusively for Ulta is simply phenomenal. Velvet to the touch these brushes are perfect for the gal who wants to brush her face daily with luxury.
Sephora Collection Chroma Color: $65- 54 eyeshadows, 12 eye liners – HOLY WOW this is a glorious gift for any eyeshadow lover, I know it is on my list of wants.
MARC JACOBS Daisy Dream Set: $99 Daisy Dreaming with this perfume gift set. A trio of Daisy Dream perfume, rollerball and perfume lotion all housed in a keepsake box- this set is destined to keep you on cloud nine.
 // SHOP GIFTS UNDER $100 // 

LUXE GIFTS FOR THE ONE WHO HAS IT ALL:
Clarisonic Mia 3 Luxury Skincare Set: $199- I adore a good facial cleanse, so the skin care lovers will be obsessed with this Clarisonic Luxury Skincare Set paired with some amazing Caudalie products. One word- NEED!
Urban Decay NAKED Vault: $280- This set of Naked goodness has everything a neutral loving gal could dream of. It is a seriously must buy for any makeup lover period.
Tom Ford Velvet Orchid EDP: $112 Tom Ford just screams chic with his gorgeous sleek black bottle filled with sensual goodness with notes of sweet rum, citrus and honey. I have been lusting for this perfume for quite a while, and am hoping that it falls under my tree this year.
Clarisonic Pedi Foot Transformation Set: $199- A foot lovers dream with this Pedi Foot Transformation set. Give the gift of soft feet year round.
ULTRA CHI Travel Tool Kit: $99 I am obsessed with CHI tools and this gift set of traveling minis is perfect for the jetsetter or hair lover in us all. 3 CHI tools housed in a perfect to-go tote. What more could your hair ask for.
Burberry My Burberry Gift Set EDP: $115- The British brand dropped their newest scent and man oh man does it smell AMAZING with notes of Bergamont, Sweet Pea and Geranium this perfume is sure to make any perfume lover squeal with glee.
 // SHOP LUXE GIFTS // 

FOR HIM:
Jack Black  Mr Big Set: $85- Give your guy the gift of great skincare this Christmas with a bit of help from Jack Black. Perfect enough for him to develop a skin care regimen and manly enough for his to love it.
Yves Saint Lauren L'Homme Set: $92- This mens cologne smells AMAZING and literally your guy will jump with joy for it. Bring sexy back with this awesome set.
Anthony Perfect Shave Kit: $65 Something about a guy and the perfect shave just screams sexy. Give the gift of a stubble free face with this awesome set.
 // SHOP GIFTS FOR HIM // 

So there you have it a curated and compiled LONG gift giving guide for this 2014 Holiday season. I know I spy a few of my favorites and some things I am adding to my list as I type this. But what's on your current wish list?  I would love to know, if you think it ROCKS and is a MUST have to add to my next gift guide- list it below or get in touch. If you are still in need of some major inspiration next week I have my Christmas Wishlist Lusting coming up, but until then make sure you print this gift guide here, have your pen and notepad in hand and check out the rest of The Beauty Council's 2014 Gift Guides- they are some good ones…
TIS' THE SEASON TO BE GIVING: LET'S KEEP IN TOUCH
INSTAGRAM // FACEBOOK // TWITTER
** PR SAMPLE
[ReviewDisclaimer]