This post may contain an embedded affiliate link. For more information please check out my disclosure policy.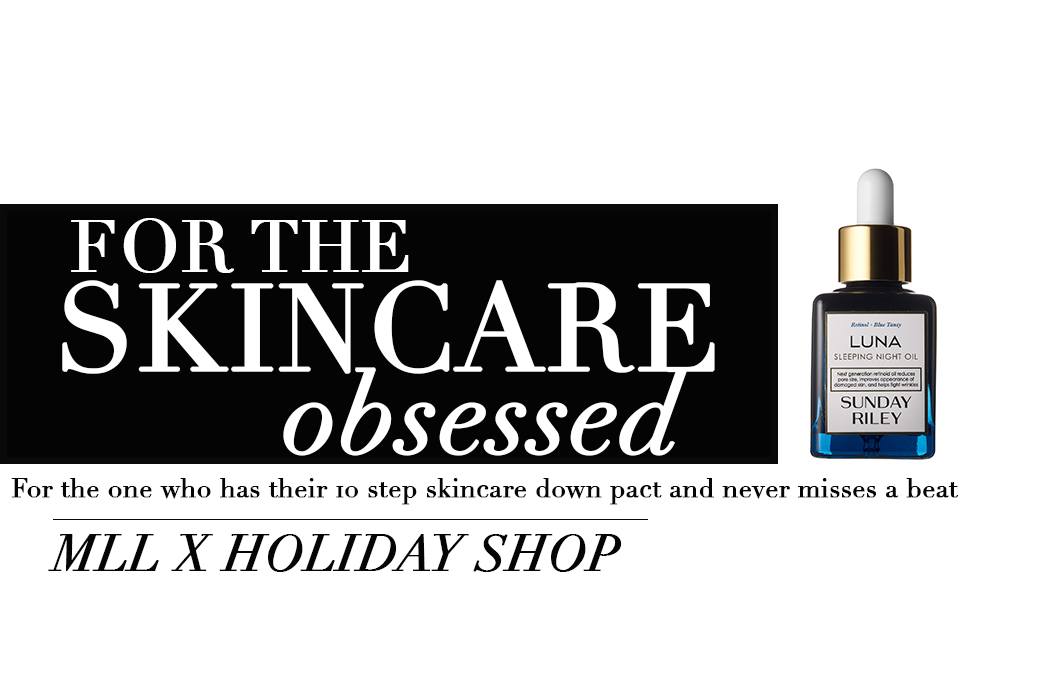 With all the upcoming Christmas shenanigans the one thing you can always count on is something popping up un-expectantly- for me it is usually in the form of some ginormous pimple right on your chin. However this year I have made a conscious effort to take super god care of my skin, maybe almost becoming a bit too OBSESSED when it comes to skincare. Know a friend like that? Not sure where to start for them on your Christmas buying list? Well then you totally came to the right place. Today's gift guide is all about the Skincare Obsessed Maven who has a closer relationship with making sure her 10 step skincare regimen is complete than anything else. Let's dig right in shall we…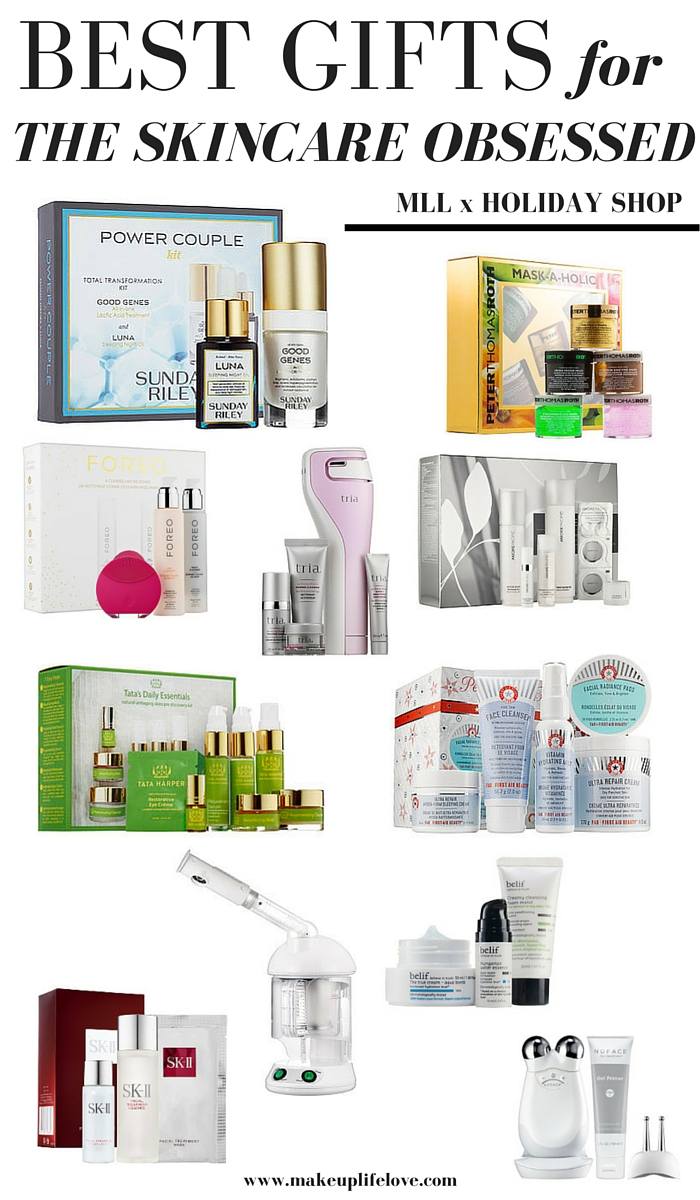 First things first when it comes to skincare the majority of us often think of some sort or mask or serum right? So what better way to give the gift of great skin than to give the amazing GLAMGLOW GIFTSEXY Ultimate Anti-Aging Set- $69.00 USD, this awesome 4 piece set has everything a skincare maven will need to get her mid-week mask pampering on. If multiple masks are your skincare mavens thing then the Peter Thomas Roth Mask- A-Holic Kit- $75.00 USD, will literally rock her world. This set comes with 5 awesome masks that take everything from dullness to lifting the skin – the 24karat gold mask is AMAZINGNESS! Trust me you will want to pick up a set of these minis for yourself while you are at it. Shop a few of my favorites…
[otw_shortcode_divider margin_top_bottom="30″ text="SHOP MASKS" text_position="otw-text-center"][/otw_shortcode_divider]

If the skincare maven in your life is starting to jump on the Korean skincare trend, and is incorporating essence or sheet masks to her routine, or if you have someone is just intrigued by the entire Korean skincare culture, then you NEED to grab them one of the SK-II Pitera Essence Set- $99.00 USD, this lovely 3 piece set will have them on the road to clear, glowing skin and oh so hydrated skin.  If your skincare maven wants to fully jump in and embrace the Korean 10 step beauty regimen, then snag them the AmorePacific The Asian Beauty Secret Collection- $95.00 USD– this curated 6 piece Korean skincare set features a little bit of everything from the art of the double cleanse all the way to the BB cushion. It is a Korean skincare mavens MUST HAVE for sure!!! Shop Korean Skincare…
[otw_shortcode_divider margin_top_bottom="30″ text="SHOP KOREAN SKINCARE" text_position="otw-text-center"][/otw_shortcode_divider]

 If gadgets are more your skincare maven's thing then boy oh boy do I have a treat. These skincare gadgets are top of the line and some of the best of the best to suit all skincare maven's needs.  Spa like facial anyone? If facials are your skincare mavens thing, the you need to grab her the Dr. Dennis Gross Skincare Steamer Solutions- $125.00 USD ASAP. This top of the line, skincare steamer has made its way to MY skincare list for sure. The at home facial has never been so easy! Is your skincare maven in need of a new facial cleansing tool, then you NEED to grab her one of MY personal favorites in the form of the FOREO Deep Cleansing Essentials with LUNA Mini- $139.00 USD, two different options to suit each skincare type, the FOREO LUNA mini is the best of the best. Complete with the NEW FOREO DAY and PM cleansers this cleansing set is a seriously crush worth gift. **SPECIAL HOLIDAY OFFER: Black Friday offer in there..FOREO will be offering 25% off the LUNA and ISSA Range via foreo.com Valid starting Friday Nov. 27th until Monday Nov 30th. For those skincare mavens who are looking for the fountain of youth- then they will LOVE both the TRIA Age Defying Laser Bundle – $505.00 USD and the NuFACE Trinity + Eye and Lip Enhancer Attachment Bundle- $429.00 USD. Both of these AMAZING skincare tools are destined to hook any skincare maven and their search for perfect, youthful skin. Shop skincare devices…
[otw_shortcode_divider margin_top_bottom="30″ text="SHOP DEVICES" text_position="otw-text-center"][/otw_shortcode_divider]

Last but not least, a skincare maven gift guide wouldn't be complete without a few skincare goodies. Looking for a few items to make their way into your skincare mavens arsenal- then reach for First Aid Beauty Peace, Joy & FAB Kit- $54.00 USD , BELIF Winter Moisture Land Set- $38.00 USD , and for all my natural skincare lovers the Tata Harper Daily Essentials Kit- $68.00 USD. All skincare sets come complete to dip your fingers and sit back with awe as your skin gets gorgeous with these skincare kits. Top everything off with one of MY personal favorites Sunday Riley Power Couple Duo: Total Transformation- $78.00 USD, this power duo is a solid MUST HAVE for all skincare mavens as it is legit life changing! Shop Skincare Kits…
[otw_shortcode_divider margin_top_bottom="30″ text="SHOP SKINCARE KITS" text_position="otw-text-center"][/otw_shortcode_divider]

So there you have it, a few solid staples to add into your skincare mavens arsenal as you give her the best gift of the season- GREAT SKIN! Still need something for your make up maven? Check out THIS guide for some beauty-worthy gifts. Stay tuned to tomorrow as we have another round of gift guides coming soon… Make sure to check out the MLL x Holiday Shop to find all the products included in this Makeup Maven gift guide. Be sure to check them all out for your daily dose of gift giving inspiration. Plus you might just see a awesome giveaway coming your way soon as well.
DAY 1: Makeup Maven
DAY 2: Skincare Obsessed
[ReviewDisclaimer]
Belif foreo Gift Guide NuFACE Peter Thomas Roth Skincare Sunday Riley Tata Harper TRIA