This post may contain an embedded affiliate link. For more information please check out my disclosure policy.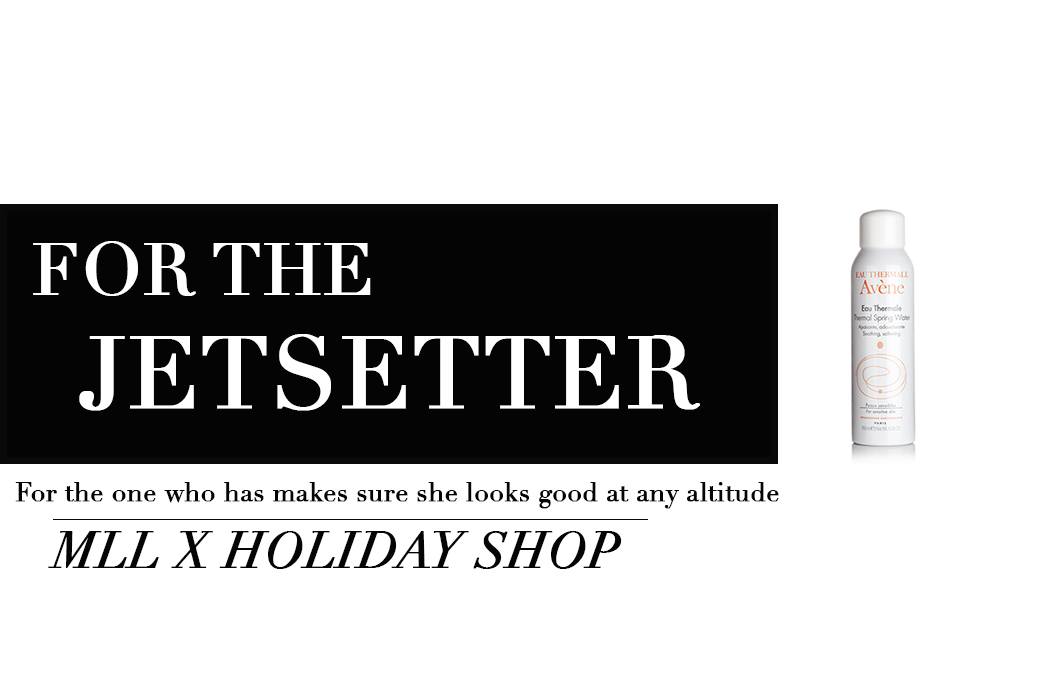 Happy Monday you guys! Today is the busiest day online of then year, as we jump into Cyber Monday. So with that being said, if you are stuck on what to get this holiday season, then head over to my Holiday Gift Guides for some gift-tactic inspiration, OR you can always head over to the MLL x Holiday Shop to instantly shop for all the wonderful items that have been in each holiday gift guide. Today's Holiday Gift Guide is all about The Jetsetter! You know the gal who we are all envious of, the one who travels non-stop and seeks out the best of the best places to go, with amazing Instagram photos from all over the world.  The girl who looks good at all times, no matter what the cruising altitude is. So if you have been stuck on where to start when it comes to getting the right gift for The Jetsetter, then you are in the right place. Here are a few of my favorite picks in todays edition of the Holiday Gift Guide: The Jetsetter…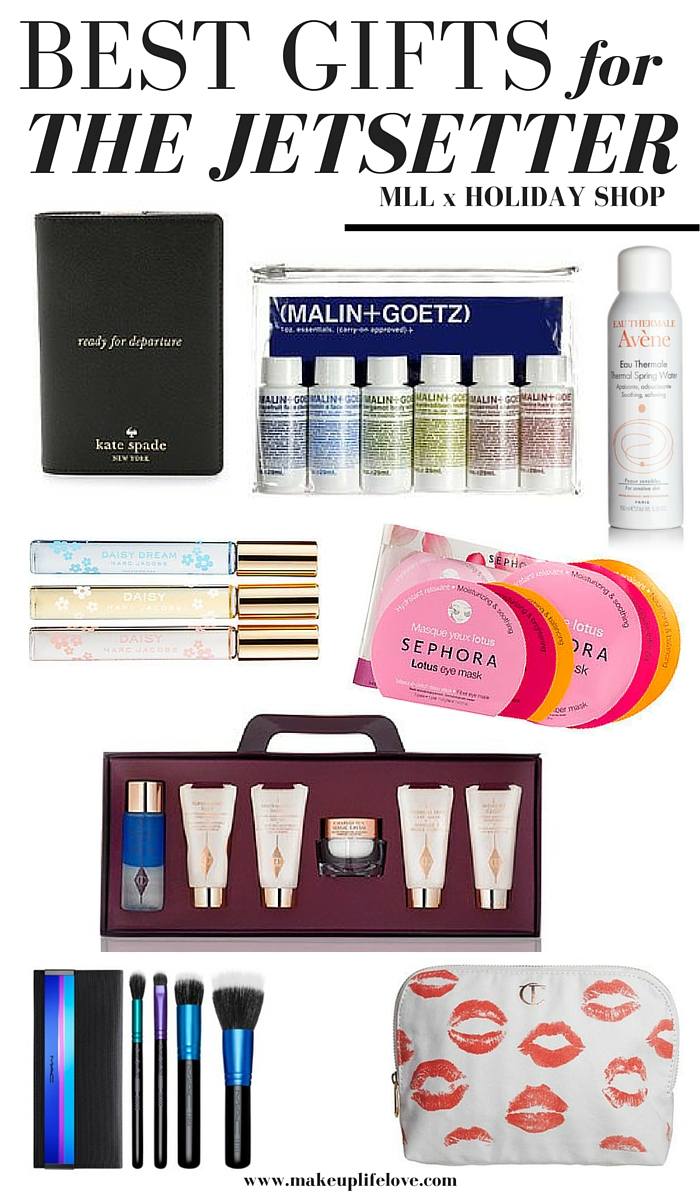 Let's start with skin and body care- when it comes to the perfect gift for The Jetsetter, then easy and travel worthy is the way to go. A group of perfect travel worthy items in the form of Malin + Goetz Essentials Kit- $30 USD* is awesome. This curated  group of essentials from all of Malin + Goetz best sellers is everything that the Jetsetter needs in order to get ready anywhere in the world. For her in-flight options grab the jetsetter the Charlotte Tilbury 'The Gift of Red Carpet Skin' Travel Set- $85 USD, has everything to get your jetsetter to stay glowing at all times. From the Magic Cream to the Goddess Skin Mask this AMAZING set will break hearts at all altitudes. Last but not least, travel can be so rough on your skin, and what better way to add a bit of much needed oomph than with a good old facial mist and sheet mask. A personal favorite of mine is the Avene Thermal Spring Water Spray-$13 USD, helps give skin a nice bit of refreshing mist with its pure french spring water. A great sheet mask is a must have with long flights, and the Sephora Face + Eye Mask Discovery Set- $25 USD, will help keep your skin looking AMAZING and your eyes bag-free. Trust me YOU NEED these masks! Shop Jetsetter Skincare Favorites…. 
[otw_shortcode_divider margin_top_bottom="30″ text="SHOP JETSETTER SKINCARE" text_position="otw-text-center"][/otw_shortcode_divider]

When it comes to travel there are a FEW necessities at all times! A great passport cover is always a great gift for the jetsetter as she always LOVES to look chic and stylish. The Kate Spade New York Passport Holder- $78 USD,  is a great option. I mean who doesnt want to travel in style at all times? A great makeup bag is a MUST HAVE, especially to hold all your inflight beauty essentials, and this cheeky one by Charlotte Tilbury is a MUST. Like the Charlotte Tilbury Printed Cotton Canvas Makeup Bag- $20 USD, says 'Give a girl the right makeup, and she can conquer the world'. When you are on long flights, perfume is a MUST HAVE upon airport arrival. What better way to refresh then with the Marc Jacobs Daisy Rollerball Trio- $45 USD, 3 delightful scents all comprised from the Daisy perfume line you get the Original Daisy, Daisy Eau so Fresh and the newest addition Daisy Dream. All the scents will keep you smelling fantastic at all times and altitudes! Last but not least, travel makeup NEEDS a good brush set for proper application and the best of the best for travel is the MAC Cosmetics Enchanted Eve Mineralized Travel Brush Set- $52.50*,  4 brilliant brushes to keep your skin looking flawless from flight to drinks! Trust me the Jetsetter will be OBSESSED!! Shop the Jetsetter Travel MUST HAVES…
[otw_shortcode_divider margin_top_bottom="30″ text="SHOP JETSETTER MUST HAVES" text_position="otw-text-center"][/otw_shortcode_divider]

So there you have it a few easy and travel worthy  beauty gifts for the Jetsetter we all know and love. Let the Jet-setting beauty embrace the worlds beauty from no matter what cruising altitude she is at. Stay tuned to as tomorrow we have another round of gift guides coming soon… Also make sure to check out the MLL x Holiday Shop to find all the products included in The Jetsetter gift guide. Be sure to check them all out for your daily dose of gift giving inspiration. Plus you might just see a awesome giveaway coming your way soon as well.
DAY 1: Makeup Maven Gift Guide                                     DAY 6: The Jetsetter Gift Guide
DAY 2: Skincare Obsessed Gift Guide
DAY 3: Closest Friends Gift Guide
DAY 4: Glam Girl Gift Guide
DAY 5: Natural Beauty Gift Guide
*PR SAMPLE
[ReviewDisclaimer]
Charlotte Tilbury Gift Guides Holiday Gift Holiday Gift Guides Jetsetter Malin + Goetz Travel Beauty