In the market for a great new skincare product? You have to try a cleansing balm. Not sure where to start? Keep reading as I share the best cleansing balm around- thanks to ELEMIS. Seriously the ELEMIS Pro-Collagen Cleansing Balm is like no other, here is why…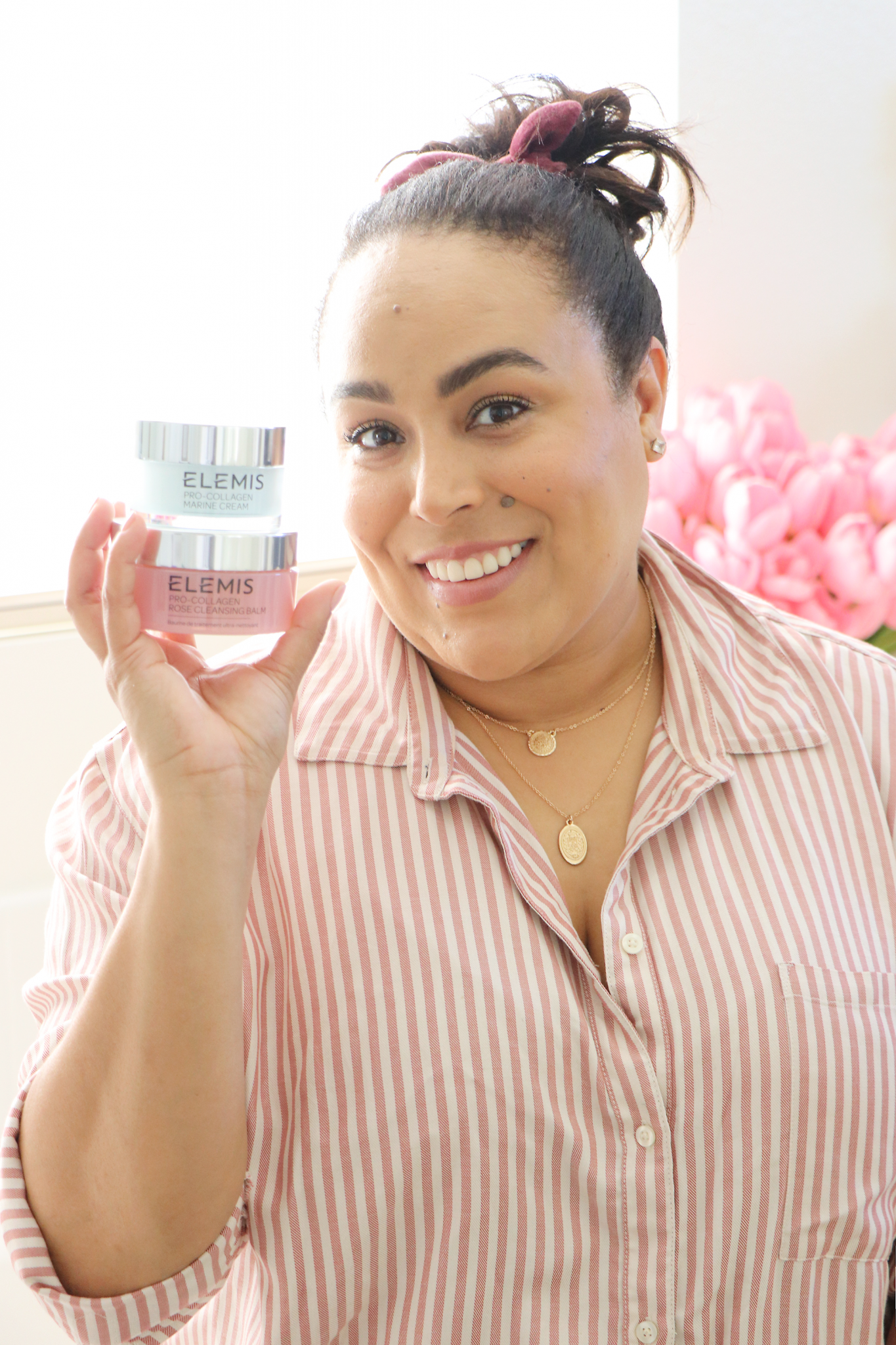 Quick question for you guys- Are you familiar with the brand ELEMIS yet? If you have been following me for some time now you already know it is one of my top favorite brands, with good reason to! A while back, after spending time exploring skincare brands, and seeing what other countries use in the estheticians rooms a while back, I ran across the brand ELEMIS. You see ELEMIS is a top British skincare/spa brand- and I can honestly say I can see why. They pride their brand on being committed to combining natural ingredients and botanicals alongside science and aromatic formulas / experiences that are results driven. And boy, oh boy do they totally deliver- BIG TIME! 
After learning about the double cleanse many years ago, I have been a huge lover of both cleansing balms and cleansing oils. After loads of research/trial and error- I have fallen in love with the ELEMIS Pro-Collagen Cleansing Balm. This super emollient rich cleansing balm is seriously the cream of the crop- here is why-  It smells like an aromatic spa experience and works like a dream come true. Literally the scent is so dreamy that it will help you relax, all while removing the day from your skin. It leaves your skin soft, supple, hydrated and clean. I love how it melts into your skin like butter when you apply/massage  into the skin;  as it removes every trace of dirt, grim, and makeup. And the scent? Awwwww… the scent – it's just heavenly. You see ELEMIS uses essential oils in their products that also act as active carriers to help products deliver better results and penetrate the skin better. So while you are enjoying that spa-like scent you also know it is actively working hard to remove all the things. Sounds like a win-win right?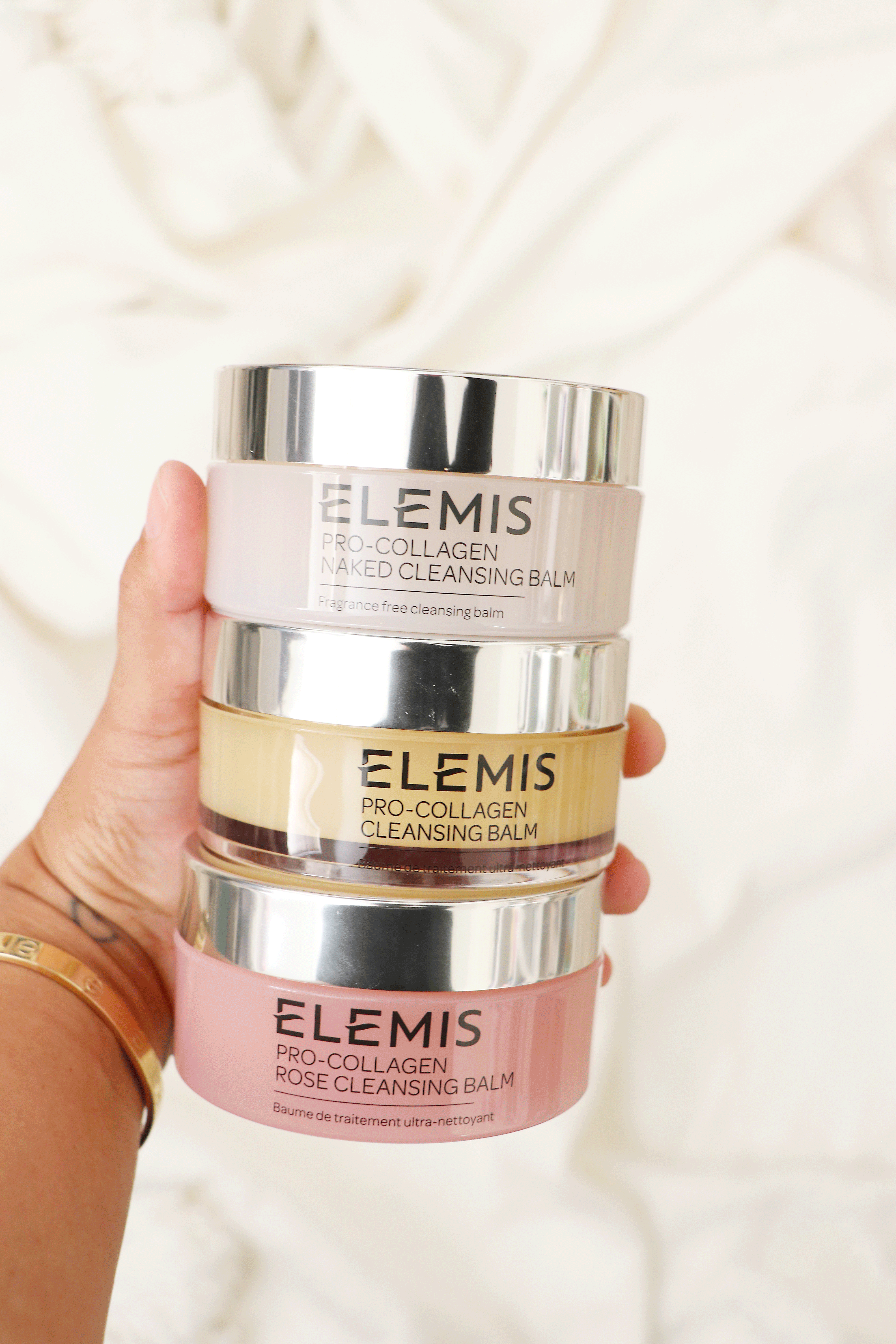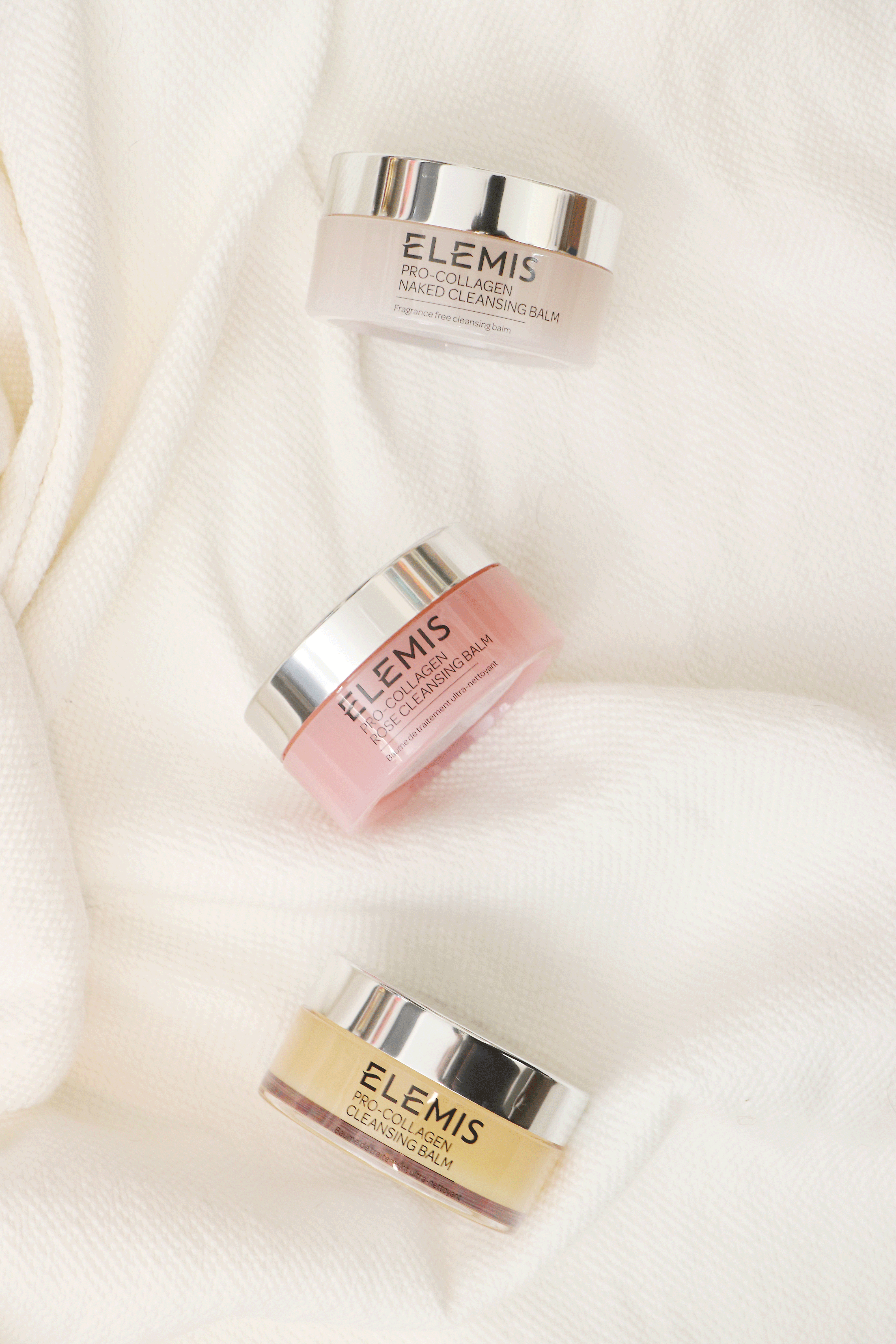 The best part? The ELEMIS Pro-Collagen Cleansing Balm comes in not one, not two, but three variations. You have the OG Pro-Collagen Cleansing version (my personal favorite) formulated with 9 essential oils like lavender, chamomile and eucalyptus, the rose scented version formulated with English Rose Oleo Extract, and the NEW naked version– that is just as dreamy but minus the fragrance. While the price might be a bit pricey at $64 for a 3.7 oz tub- BUT it is very much worth it as you only need a little bit to get the most stubborn of jobs done.  I have purchased the cleansing balm multiple times and I think I get at least 6 months of daily use from each tub.- which equates out to about $10 of use per month – pretty good right?  Especially for such a luxurious product. Even better- is that you can use the ELEMIS Pro-Collagen Cleansing Balm various ways. Here are my top 5 favorite ways to use the Cleansing Balm: 
1 //  A Dreamy and Luxurious Makeup Remover:The balm goes on like butter, turns into an oil as it helps remove makeup with ease. Add a bit of water to emulsify the product and the product turns into a milk as it continues to cleanse but also hydrate the skin. Remove with a washcloth and watch the day just come off your skin. 
2 //  A Nourishing Cleanser: This balm can be used as a cleanser all on its own. This is especially perfect if you have those no-makeup days and you also have dry to normal skin. Apply to the skin in a thick layer, massage into skin, and while you are massaging the balm is hydrating the skin while it removes grim. Take a warm washcloth to the skin, press and hold for a minute, then wipe off the product. It never leaves a film or residue- instead you are left with soft, nourished skin. 
3  // Hydrating Face Mask: In the winter especially (I have normal to combination- oily skin) I love to use the cleansing balm as a hydrating and nourishing face mask. Apply to skin, leave on for 10-15 minutes, remove and voila- soothed, hydrated skin 
4 // Dry Skin Treatment: Cleanse and hydrate the skin especially dry skin areas with the cleansing balm. Apply to skin for 20 minutes and it helps repair the skin beautifully. Say goodbye to winter dry patches. 
5 //  A Hydrating Salve: So I know you are probably thinking WHY would I use a cleansing balm as a salve- for me this one is a no-brainer- it really is that hydrating. I like to use it on my cuticles in the winter (after washing and drying my hands) just take a small amount and rub into any dry patches, cuticles, etc. let it sit overnight and I promise you in the morning you will wake up with softer, hydrated skin. Those dry patches or crusty cuticles – gone! 
Those are just a few of my favorite ways to use the ELEMIS Cleansing Balm, but my top favorite is for sure as part of the double cleanse. I use it as my step one in my routine nightly- as it literally removes my SPF, waterproof makeup, and the overall pollution from the day. I then like to go in with the ELEMIS Pro-Collagen Energising Cleanser. It makes the perfect second cleanse literally the smell is AMAZING!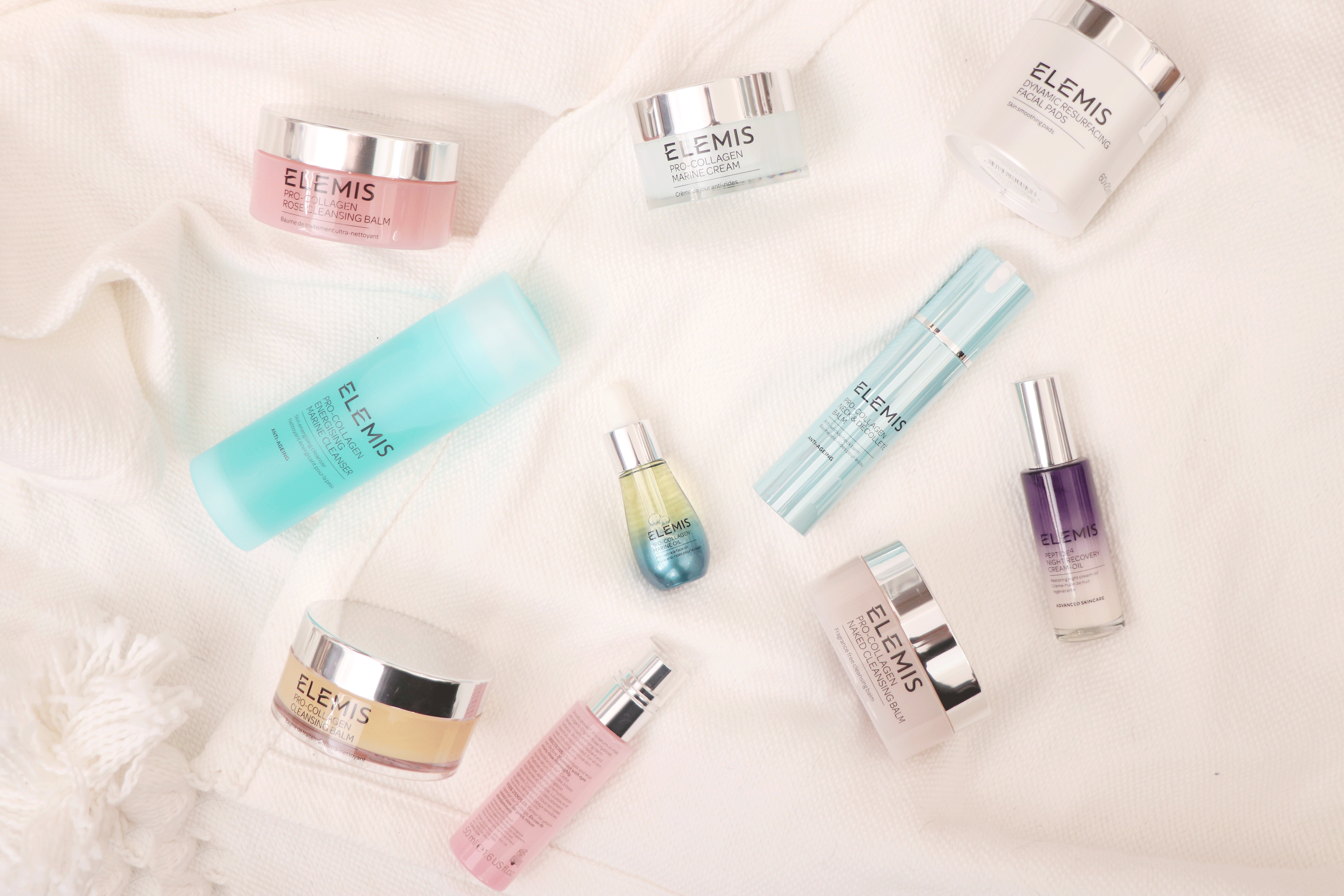 Curious what other favorite ELEMIS products I am loving? Here are a few of my current tried and true favorites below: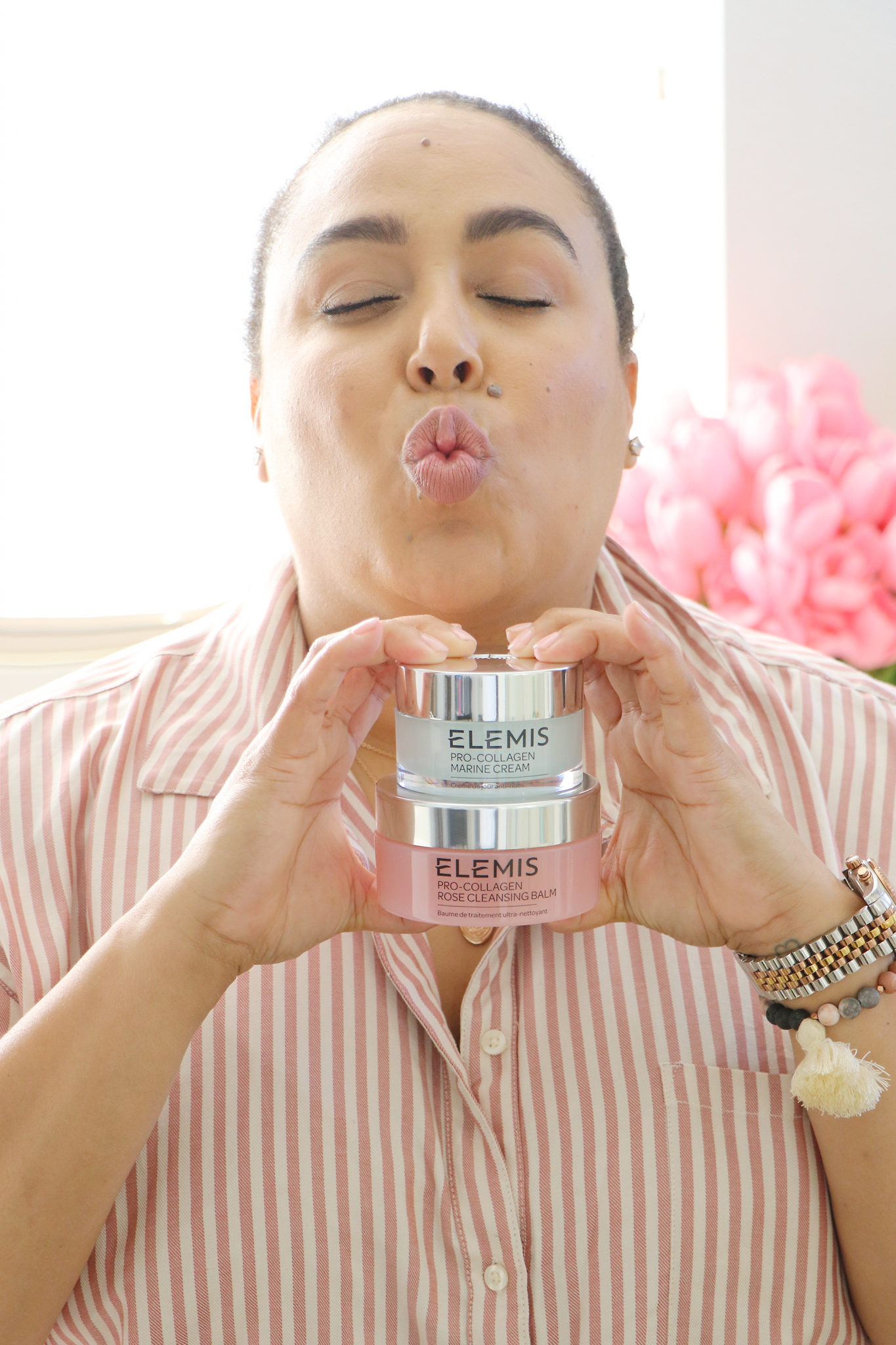 So if you are in the market to upgrade your skincare routine, I HIGHLY recommend trying Elemis Skincare. Various products from the brand have become steady staples in my skincare collection for life. From removing makeup to hydrating the skin, every single product I have tried has knocked it out of the park. If you still aren't sure where to start- grab the Cleansing Balm as it does it's 3-in-1 magic (cleanse, hydrate and nourish) you will be forever hooked- I promise!
READ NOW, PIN FOR LATER