When it comes to skincare there are just a few basic rules. One of which seems to at times be the hardest- what is the correct order to apply your skincare? Not 100% sure? I am sharing the low down on the correct order to apply your skincare product for maximum results.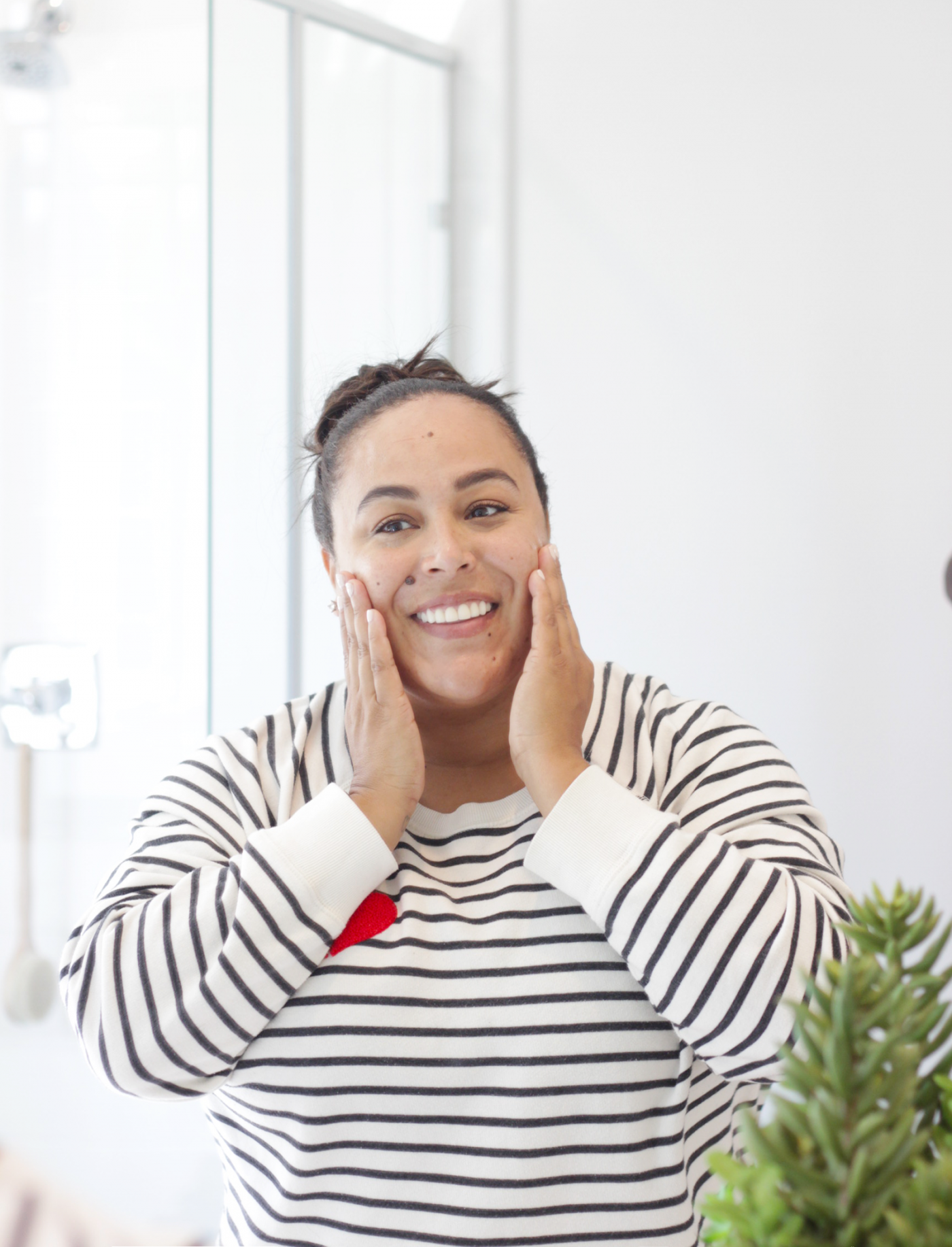 After being in esthetician school for the past 6 months, I found that one of the most asked questions that clients were asking was- what is the correct order to apply your skincare products? I mean with new skincare products popping up every other week, ingredients taking the forefront, and more people looking into finding the right skincare products for their skincare needs and concerns- the order of skincare products can be well- overwhelming! I promise you it really doesn't have to be. Here is why… 
When it comes to the correct order of applying your skincare products – the general rule of thumb is simple: apply products from thinnest consistency (think serums) to thickest consistency (think moisturizers)- because if you think about it- applying something like a thick cream before a thin water-like serum-  the serum won't penetrate the skin because it is being blocked by the thick cream. Simple thinking, right? However at times that there are some small tweaks to the rules- especially when it comes to applying products with the highest actives first so that they can absorb into the skin and target concerns quicker (think vitamin C /antioxidants for the am in particular)  // the right order for both am and pm skincare routine since products differ // or even the most talked-about one- where the heck does this facial oil go?
In all honesty, when it comes to the correct order of skincare, DON'T stress out about doing things the wrong way. You won't ruin your face by accidentally putting one serum on before another serum or putting a face oil before your moisturizer. The only way you WILL ruin your skin is if you skip SPF during the day (the most important thing of them all) or if you do TOO many active ingredients – like acids, retinols, and exfoliation- all in one routine at night. Trust me you don't want to damage your skin's barrier – that's another post coming soon.  The best thing to do is listen to your skin, see what works for you, try new things and most of all HAVE FUN! Skincare should be fun! 
THE CORRECT ORDER TO APPLY YOUR SKINCARE PRODUCTS
For the AM, the best rule of thumb for the order of products is Cleanse, Tone, Treat, Moisturize, and of course SPF! Where for the night you will want to save all your peel pads, retinols, and intense treatments/exfoliants.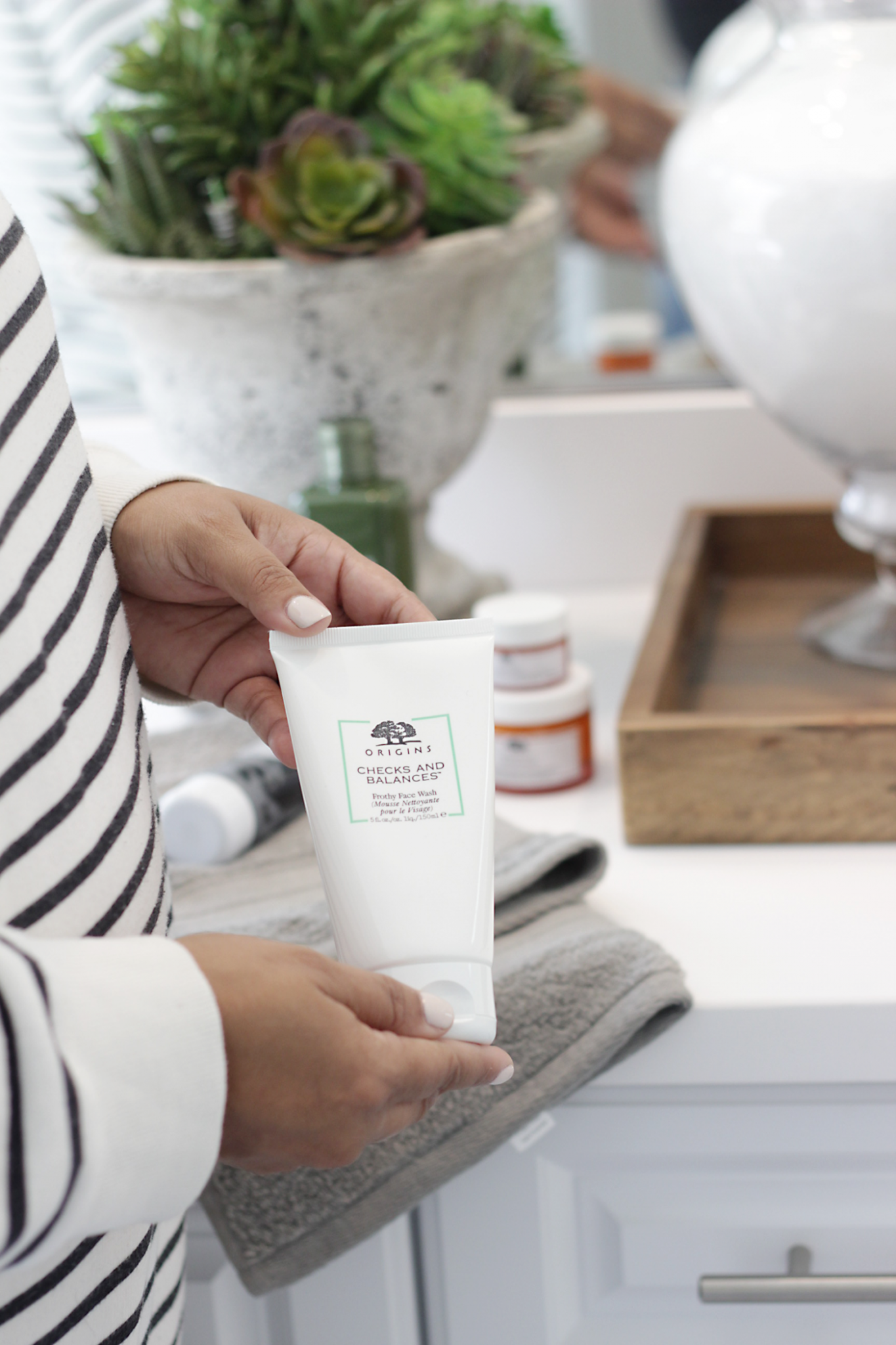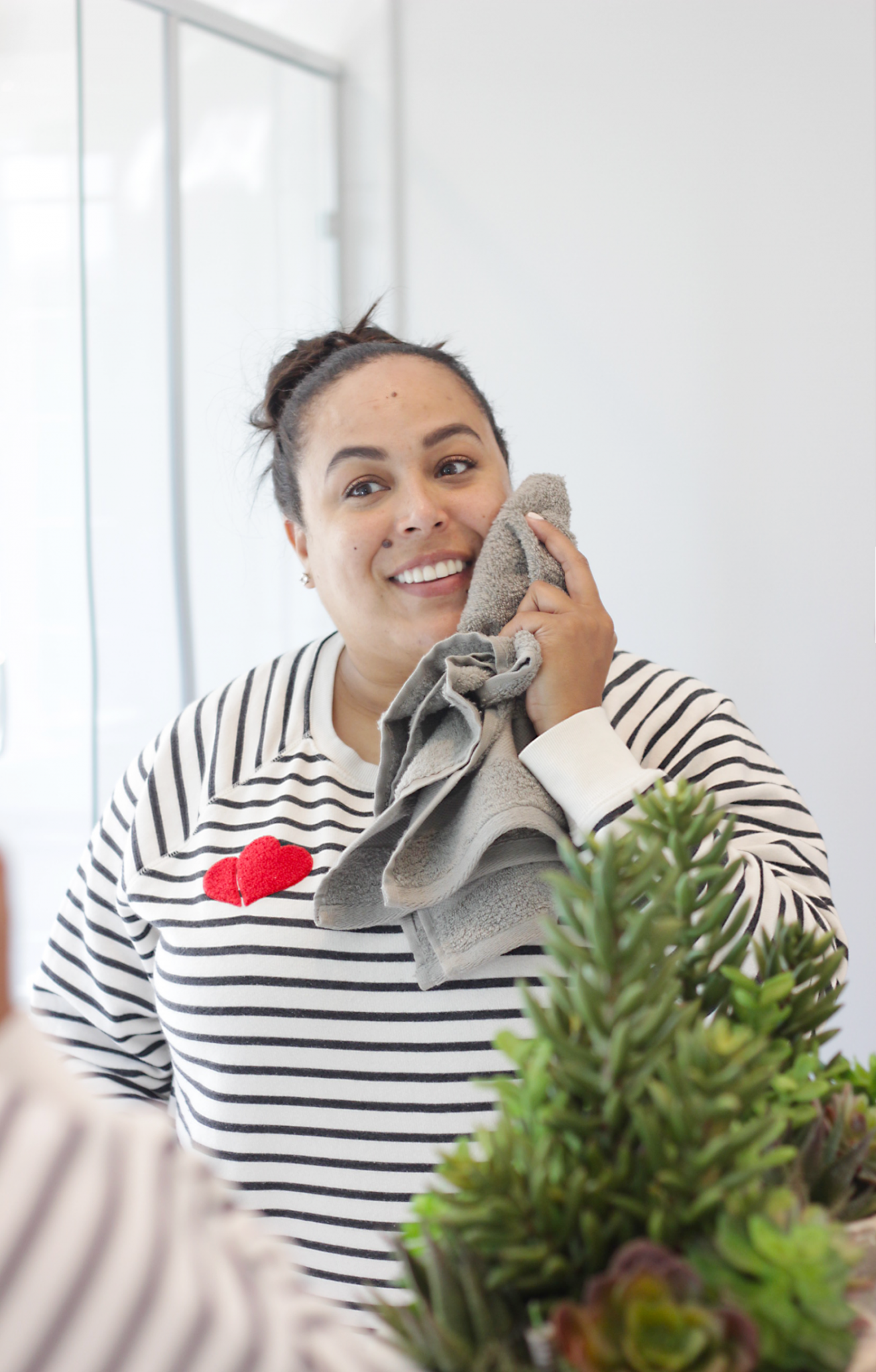 CLEANSE YOUR SKIN:
So to me, this is one of the first steps ALWAYS. It's sort of a no-brainer but just in case. Cleansing will be the first step ALWAYS for both AM/PM. I am a big double cleanser for both AM and PM (although at night lately, I have been triple cleansing) to help get my skin really clean, free of oil and grime as well as always ensure I have everything off my skin. The key to cleansing it to make sure your skin is CLEAN in order for products to actually properly absorb and penetrate into the skin. 
For the AM: I use this oil cleanser to remove all products, sebum, and sweat from the skin. Then I follow in with this cleanser to help ensure my skin is clean and ready to be prepped for the skin. I have found that both of these cleansers together my skin actually feels more balanced and clean. But you can literally cleanse in the AM with one cleanser- just make sure to follow the 60-second rule- and cleanse your skin for a complete 60 seconds to ensure that the cleanser puts in the work to break up sebum, sweat, products, etc from the skin. For the PM: I like I said lately I have been triple cleansing. I used this cleanser which is an oil base to help remove my makeup, SPF, sweat, dirt, and grime from the skin. Then I follow with this gel cleanser to get my skin extra clean and balanced. And then being extra AF like I am I have been going in with this cleanser for my triple cleanser just to make sure my skin is prepped and ready for everything to come after.  
Current favorite cleansers: loving this oil cleanser/ favorite creamy cleanser / favorite gel cleanser / obsessed with this enzyme cleanser
EXFOLIATE YOUR SKIN:  
When it comes to exfoliants, many of us often skip this step- but have you ever noticed when you get a facial that you ALWAYS have an exfoliation step? You see exfoliants are helpful when it comes to skincare and the order to apply skincare products because exfoliants help remove all the dead skin cells, stimulate cellular turnover, and so much more. When it comes to exfoliants you can go one of two ways: chemical exfoliant or manual/physical exfoliant. I tend to use a chemical exfoliant (think acids, AHA's, BHA's, PHA's) over a manual exfoliant (think scrubs)- although 1-2 times a week I tend to use a manual exfoliant like this one or this one and give my skin a much-needed exfoliation to remove all dead skin cells from the skin. When using a manual exfoliant – I do this on a day that I will NOT be using a chemical exfoliant. Too much exfoliation can cause your skin to get sensitized, overdried, and overstimulated.
Current favorite exfoliators: obsessed with this super gentle daily exfoliator / this exfoliator even gets warm as it works/ favorite daily chemical exfoliant / obsessed with this for a deeper chemical exfoliant
TONE AND RESTORE YOUR SKIN: 
So for me, this step was one of those steps that I used to skip big time. I felt that toners were useless unless you have lots of acne or super oily skin. However, now toners are awesome and there are so many to choose from. You see toners are the last step in your cleansing routine – but they also help restore and rebalance the skin's natural pH. Toners have also been proven to help your skincare products penetrate and absorb into the skin better than if you didn't use a toner. I LOVE a good hydrating toner like this one, that you can easily pat into the skin or this one that you can spritz on the skin and press into the skin.  
Current favorite toners: favorite hydrating toner / favorite nutrient toner / favorite toning mist / favorite refining toner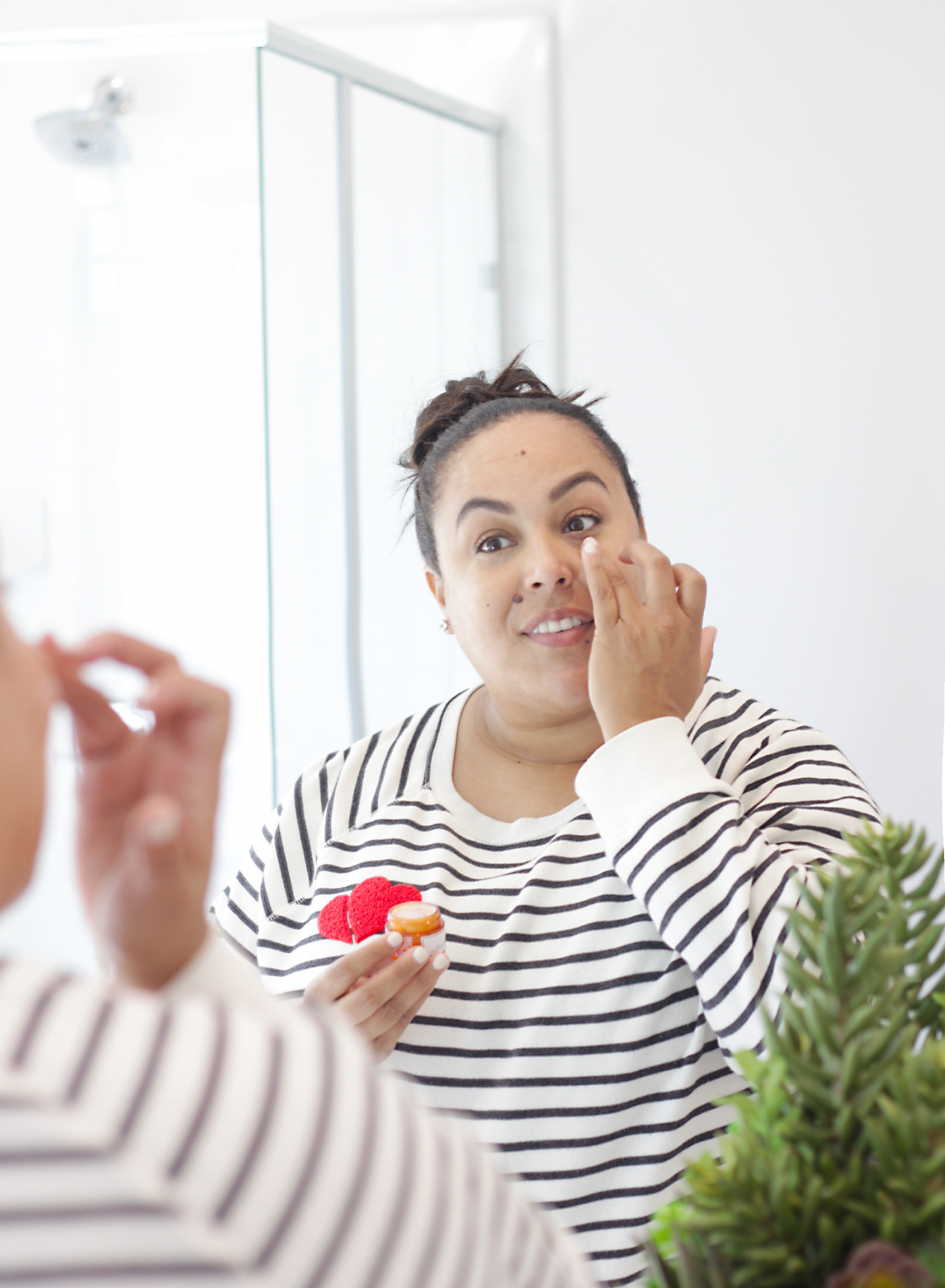 EYE CREAMS: 
So eye creams are a bit of a controversial topic at times. A Lot of people think you don't need them, then there are some that think that you do. I fall into the group of people that think you SHOULD use eye cream. You see the skin under your eyes is super sensitive and very thin. Eye creams have been formulated to work on that area much differently than your face. For me a good rule of thumb when it comes to eye creams – are if you are prone to milia (like me) have lots of lines and wrinkles or have super dry under eyes then you NEED to use eye cream. If your under-eye area is pretty balanced and you have no concerns then you can probably get away with just rocking your moisturizer in that area as well. Although I do strongly think most of us NEED an eye cream.  I also tend to put eye creams on FIRST before I go into serums because I think that since I use so many active ingredients in my regimens that it is important to protect that thin skin from those actives that could irritate the under eye area- so I put eye cream on FIRST then go into my serums. You can read why I made the switch in order here. 
Current favorite eye creams: best brightening eye cream / favorite hydrating eye cream / love this eye cream for aging concerns
SERUMS / ACTIVES- ARE A MUST: 
The next step in the skincare process is basically to be one of the most important (besides an SPF obviously!) but this is the step where you are "treating the skin and your concerns." In this step, you will want to apply products in the order with the highest active ingredients so that those absorb first into the skin. I tend to use a TON of active ingredients in my skin regimen so I am breaking it down below the way I tend to do it- for both AM and PM. 
In the AM: 
Antioxidant serum/Vitamin C serum– this is a MUST step for me, since Vitamin C is such an important part of any skincare routine. You can read why you should use Vitamin C here, and why it is something you should add to your regimen ASAP if possible. 
Hydrating Serum– I love this serum because I feel like lately a really good hydrating serum – especially in hot, dry climates it is a must. Most of us have dehydrated skin under the surface and I have found that this serum helps big time with helping balance the skin under multiple layers all while giving your skin some much-needed hydration. 
In the PM:
Current favorite serums/actives: current favorite Vitamin C serum / best hydrating serum / obsessed with this retinol/ fave plant retinol product / fave breakout treatment / favorite serum for lines and wrinkles "botox in a bottle" / favorite serum for breakouts + aging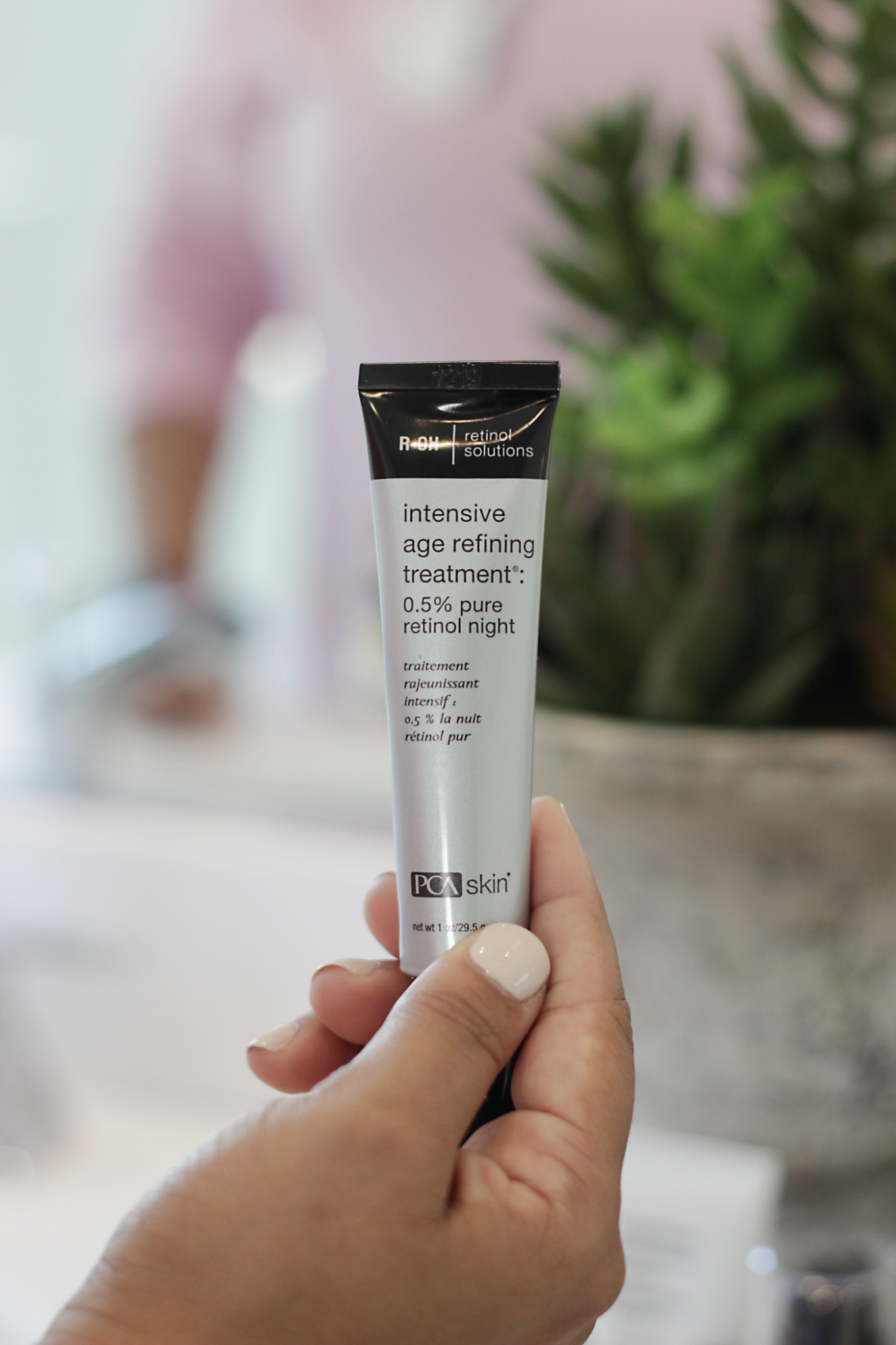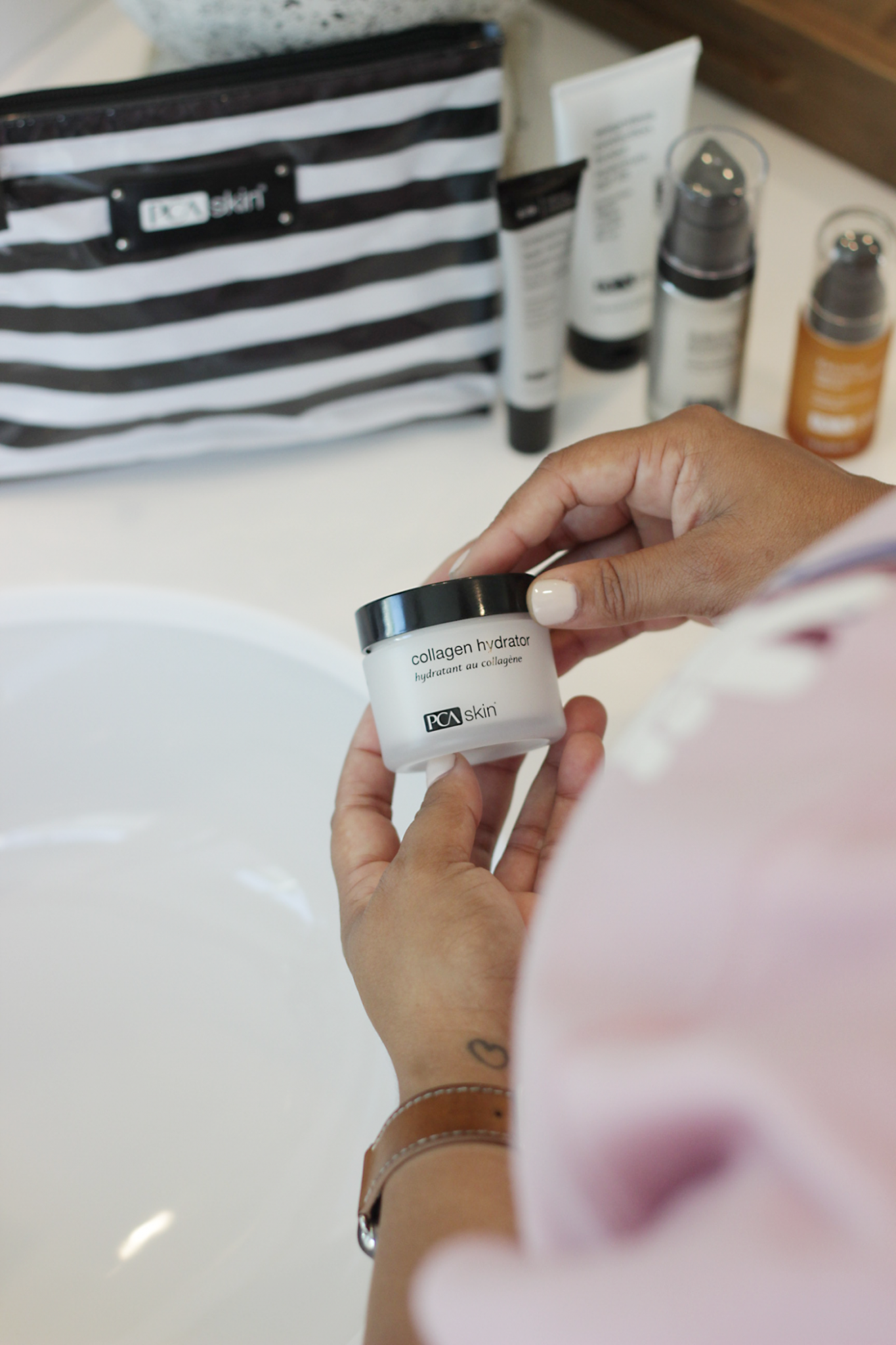 MOISTURIZER 
For me, I love a great moisturizer. In the day since I have combination to oily skin- I tend to reach for a great gel-like moisturizer where at night I love to get all the hydration and use a thicker moisturizer. I do have it on my list to try the ultra talked about Augustine Bader The Cream soon- so I'll report back on that as well.  So many people think that since they have oily skin they don't need a moisturizer and that is farthest from the truth. You NEED to use a moisturizer to help balance the skin and give the skin hydration. Most oily skin is oily because it is lacking hydration and the skin is overcompensating by producing more oil to try to hydrate the skin. Plus moisturizers help keep the skin's moisture barrier intact and healthy- which is super important. Also, make sure to take your skincare down your decolletage- the neck and chest also need love. 
Current favorite moisturizers: the perfect moisturizer to help "wake you up" / my favorite night cream / my favorite skin balancing cream
THE FINAL STEP: SPF/ FACE OIL/ SLEEPING MASK:
So the last step in your routine should always and I repeat ALWAYS be an SPF (for the day) or facial oil (for the PM). 
For the AM:
SPF is super important because it helps protect the skin from environmental damage, sun damage, harmful UVA/UVB rays, stressors of digital blue light, skin cancer and so much more. In fact, recent studies have even shown that SPF can even help repair some of the sun damage that the skin has – which I don't know about you – I want to look young for a long time. So if you aren't using an SPF – you NEED to grab one ASAP!
Current favorite SPF: favorite tinted SPF / favorite chemical/mineral hybrid SPF / favorite mineral SPF / 
For the PM: 
Facial Oils + Sleeping Masks are basically the last step in skincare because oil helps seal it all in. It helps lock in much-needed moisture by keeping the skin properly hydrated all while your skin is repairing itself at night. Face Oils should be USED LAST as nothing can really penetrate an oil – so for me, it is always the last step. Face oils can literally be used to treat concerns from dryness, to acne- so I alternate between a few different facial oils depending on the need, the weather, and how my skin is feeling overall at that time. While I tend to use face oils almost nightly but every once in a while instead of an oil, I use a sleeping mask- like this one– especially when my skin is feeling like it needs extra moisture. I love putting a sleeping mask in the fridge so that it is like a cool treat on the skin before bed- especially on a hot summer day. 
Current favorite facial oils + sleeping masks: this sleeping mask is my fave / perfect sleeping mask that also tackles aging / favorite acne facial oil / favorite face oil of all time!
DON'T FORGET THE LIPS:  
One step we almost always forget in skincare is the lips. Whether it is rocking a dreamy lip mask at night or grab a lip balm with SPF for the day- lips are important. So don't forget them as you are doing your skincare routine.
Current favorite lip products:  best lip mask / favorite day lip balm with SPF / favorite hydrating tinted lip balm
So there you have it, a comprehensive guide to the correct order of your skincare products for both AM and PM. Like I said before – skincare is all about listening to your skin and what YOUR skin needs based on concern, target, goal, etc.. It should be fun- just follow the simple rule of thinnest to thickest and don't mix too many actives in one routine and you can pretty much experiment, mix and match, cocktail serums to your heart's content. Not sure where a certain product in your routine goes? Ask me in the questions below and I'll totally make sure to break down where in your routine it should be! 
SHOP THE POST

READ NOW, SAVE FOR LATER:

Skincare Basics skincare order