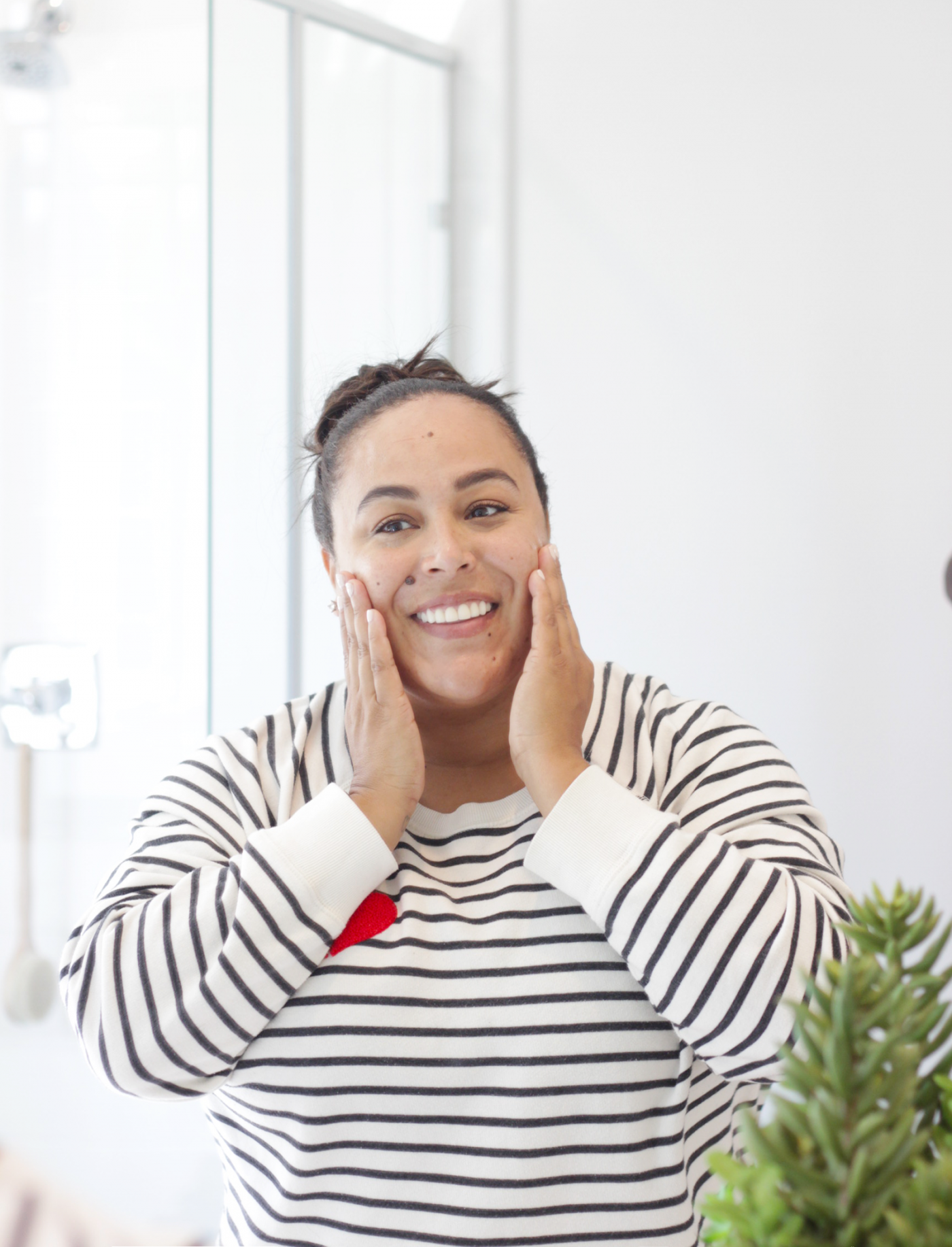 Frequent readers that read my blog, all I know I am a skincare freak. A weekend of spot pampering here, a solid Mid-Week Masking on Wednesdays and then some very indulgent beauty treatments in between- without a doubt- addicted. A few years back I started to become serious about my whole cleansing situation as I have had bout of some serious hormonal acne– not a fan of it AT ALL! Through reading and ogling endless hours of Caroline Hirons skincare blog years ago, I adopted her double cleansing routine – and y'all it has made a HUGE difference in everything. So without further ado, lets get down to business on Why you should double cleanse if you already aren't doing it now.
I know what you are thinking, two products to clean your face- Jamie are you kidding?  Although it may sound a bit unnecessary in your beauty routine, but I do promise that it contains some amazing benefits that will make you change your mind. A solid beauty routine originating back in Japan, the two step double-cleansing method is seriously becoming a skincare MUST as it is not only helping ensure that your skin is actually clean, but also pretty beneficial all around. Still not convinced?  Here are three reasons why you NEED to try a double cleanse.
Fast Facts
WHAT IS A DOUBLE CLEANSE?A double cleanse is when you use two different cleansers (one with oil, one with water) in order to cleanse the skin and prepare the skin for product penetration.
WHY SHOULD YOU DOUBLE CLEANSE? Double Cleansing helps you remove dirt, pollution, makeup, grim and so much more easily without over-drying or stripping the skin .
HOW DO YOU DOUBLE CLEANSE? STEP ONE: Start with massaging a oil or balm into dry skin for at least 45-60 seconds in order to break down makeup, sunscreen, oil, etc.. from the skin.
STEP TWO: Follow with a second cleanser (preferable a water based cleanser) to help purify skin and remove any excess dirt from the skin.
// ONE // 
On a daily basis our faces our exposed some serious dirt, grime, pollution and makeup. Removing those impurities from the skin is a step that sometimes a once over cleanse cannot remove completely. Have you ever washed your face, went to tone your skin and realized that there still is some dirt and makeup on your face?  I know I have been astounded more than a few times by it. So we enter the double cleanse step- this helps ensure the dirt, pollution and grime is removed from the day all without stripping the skin or leaving it tight. Double cleansing helps remove two different types of dirt: oil based dirt and water based dirt. Oil based dirt– mainly makeup and excess oxidized sebum. Water based dirt– comprised of things like dirt, sweat and daily pollution. When it comes to a double cleanse it is like chemistry with the key theory of oil and water don't mix. Oil dissolves other oil, therefore starting a solid double cleanse with an oil based product. Followed with a foaming or water based cleanser to remove any remaining residue and deeply cleanse and purify the skin.
// TWO //
Deep cleansing is the foundation of great skin. The double cleanse helps promote healthy, balanced and properly cleanser skin. Many top facialists worldwide, often tend to recommend the double cleanse method. After a week of double cleansing- skin will be ph normalized and looking about 5 times better. I don't know about you, but I want beautiful skin.  A double cleanse prepares the skin for more products- hello serums and helps the treatments themselves soak into the skin for maximum effectiveness. Plus an extra beauty bonus- the double cleanser will not aggravate or clog pores- score! The end results you are left with beautiful, clear, radiant skin.

// THREE //
Skin care products after a while stop working. I often tend to try out tons of products and change things up all the time- so I never getting stuck to one skin care routine forever. Have you ever used a regimen and noticed all of a sudden it stopped working? Skin changes depending on the weather, time of year, hormones stress, etc… so needless to say sometimes a small tweak is what the skin needs. A double cleanse helps regulate the skin regardless of the time of year, stress or hormones, and allows treatments to be fully absorbed in a regimen.
// FOUR //
Double cleansing can help initiate massaging of the skin. Massaging is beneficial for the skin- you see as you massage you tend to stimulate the blood, oxygen and nutrient flow through the skin. This basically helps you help increase some wonderful anti-aging benefits- and we all know we want that, right?. So the real question is – WHO SHOULD DOUBLE CLEANSE? The answer is simple: Anyone who wears makeup, sunscreen or has oily skin. I tend to fall into that category for sure since I wear daily makeup and sunscreen (it's a MUST) however during season changes- I tend to have slightly oily skin. So a double cleanse for me is becoming a crucial part of my regimen.  My skin is becoming calmer and more refreshed. After a while of double cleansing I am happy to report that my skin is not dry or tight, and while I sometimes still have some hormonal breakouts rising, I am happy to report my skin is no longer red or sensitive in certain areas. I dont know about you but I call that a score. A double cleanse for sure is a skincare staple that will be staying in my regimen- I think I am in LOVE!
So I have to ask – Have you tried a double cleanse? 
READ NOW, PIN FOR LATER: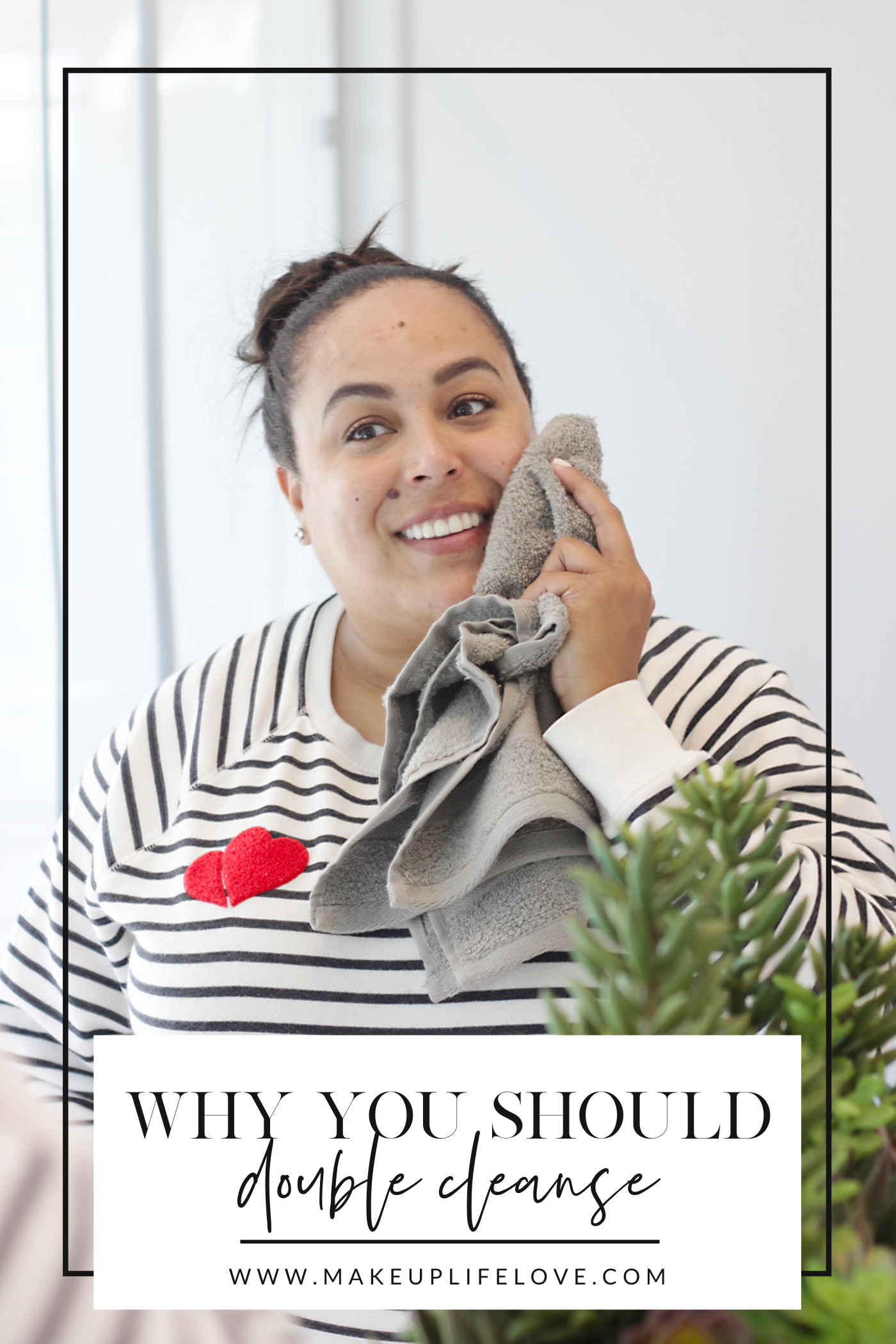 SHOP DOUBLE CLEANSING FAVES: