Dealing with adult acne can be pretty rough. After plenty of trial and error I am pretty sure I found the secret to saying goodbye to adult acne for good.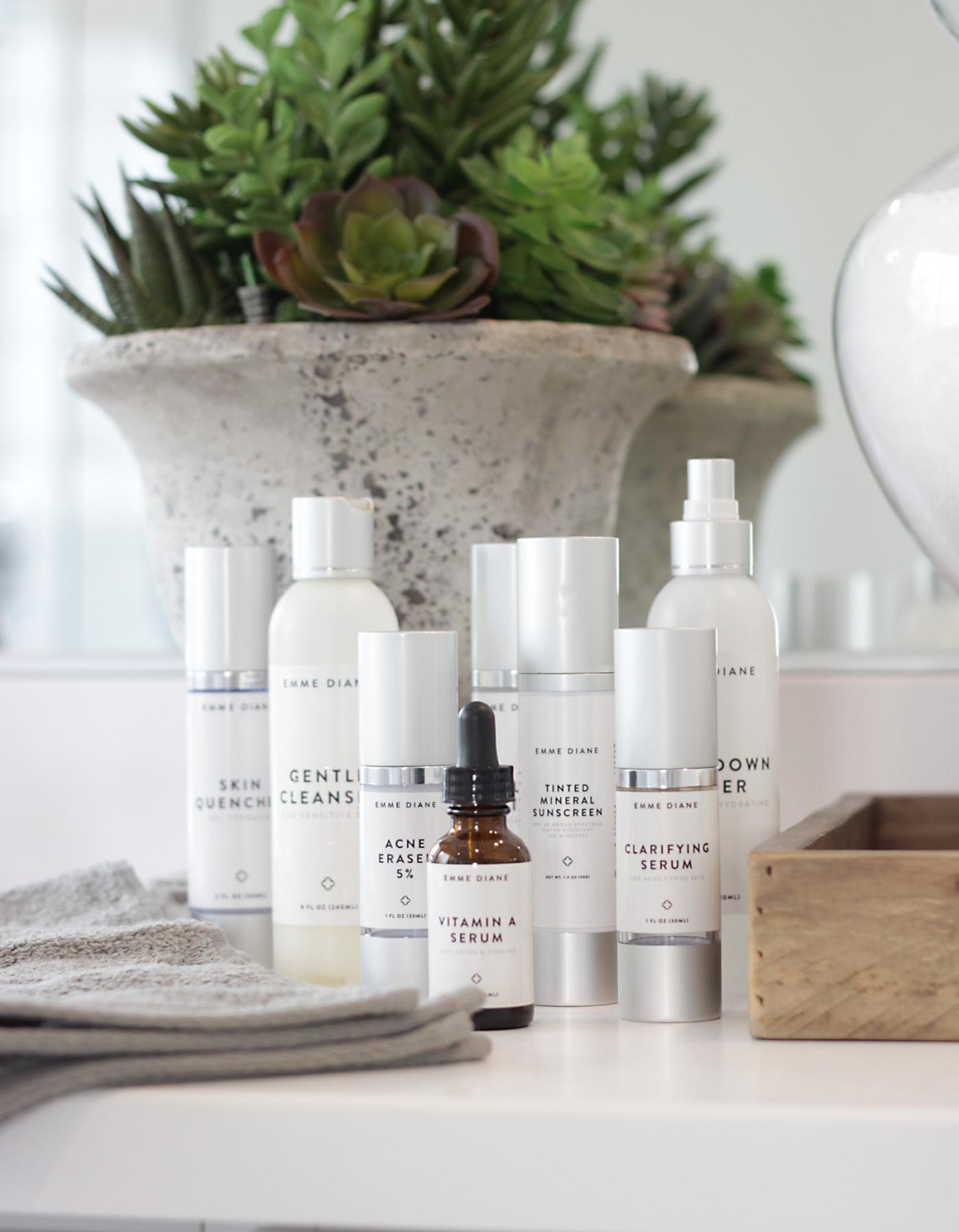 If you all have been following me over Instagram Stories or have been following me for a while in general- most of you know that I have had a long time struggle with adult acne ever since I turned 34 years old. I mean seriously how does one go from almost flawless skin to having breakouts that just won't quit? After endless months of trying to find something to help take my skin back to where it once was- I knew something drastic needed to happen. One night at dinner I was chatting my friend Jen and asking her how did she maintain her flawless skin. Her answer- Emme Diane.
// WHO IS EMME DIANE? //
Emme Diane is a Arizona based licensed esthetician, whose mission is to help solve seemingly-unsolvable skin ranging from acne to aging and everything in between. Or in my case a GENIUS when it comes to helping fix and repair adult acne prone skin. Literally a GENIUS!
// THE EMME DIANE PROCESS//
After chatting with Emme via email- she sent over a super in-depth questionnaire. Seriously you guys this in-depth questionnaire is so in-depth I literally had to think long and hard about the answers. Once I had the questionnaire filled out, I sent my responses back to Emme and we started to get to work. She sent over a super informative skincare evaluation after reviewing my answers and pictures. I explained that my skin was combination, acne-prone, full of hyperpigmentation issues (since I pick) and that I was semi concerned about fine lines and wrinkles since I was getting older. A few days later, an awesome delivery arrived, with a seven-product product regimen and a once a week mask. I know you are probably thinking- "Six products? That seems like a ton", however it REALLY only five products most days as the routine is both separate for day and night and one product is a SPF product. She also sent over the most in-depth/holy grail item I have ever seen known as the Acne Bible (you automatically get one if you buy a complete skincare set)- you guys this miracle worker of information is seriously SO helpful to helping find out the major reasons why you are breaking out. Whether it is food choices, product ingredients or even supplements. Seriously you will be SO surprised what kind of things might actually be breaking you out.
Under Emme's guidance my routine is as follows… I did this routine the first 3 weeks of using the regimen. Before changing it up a bit.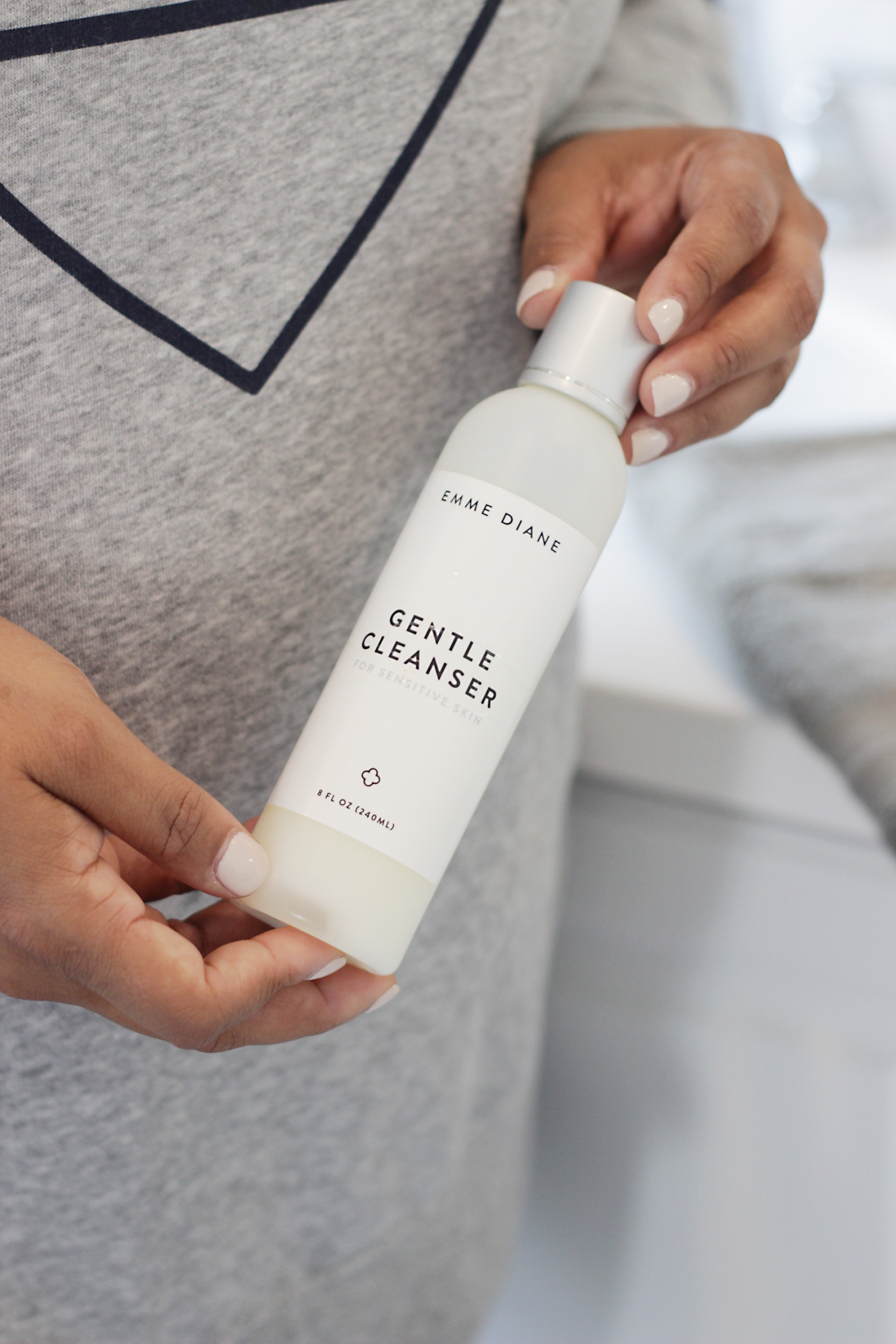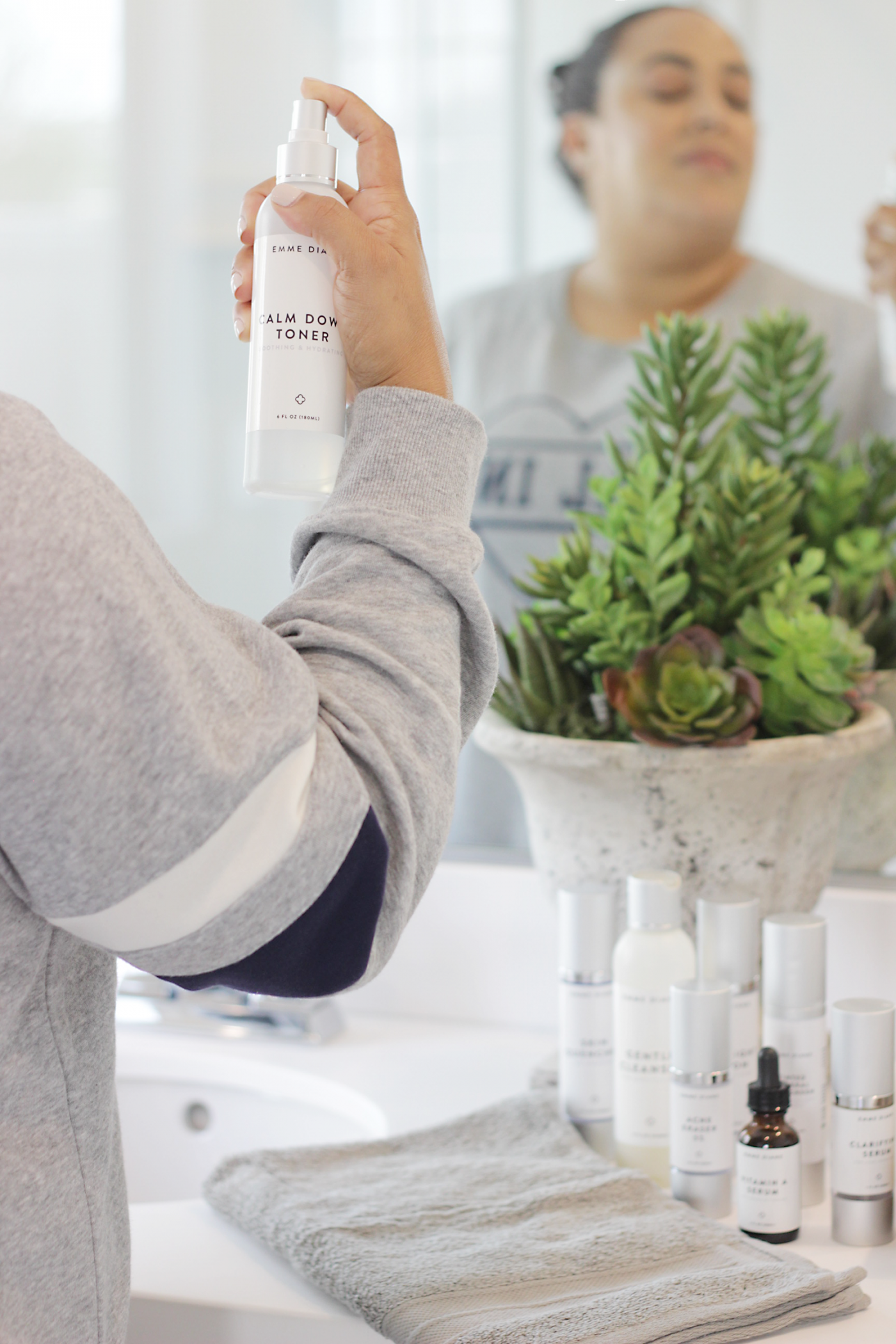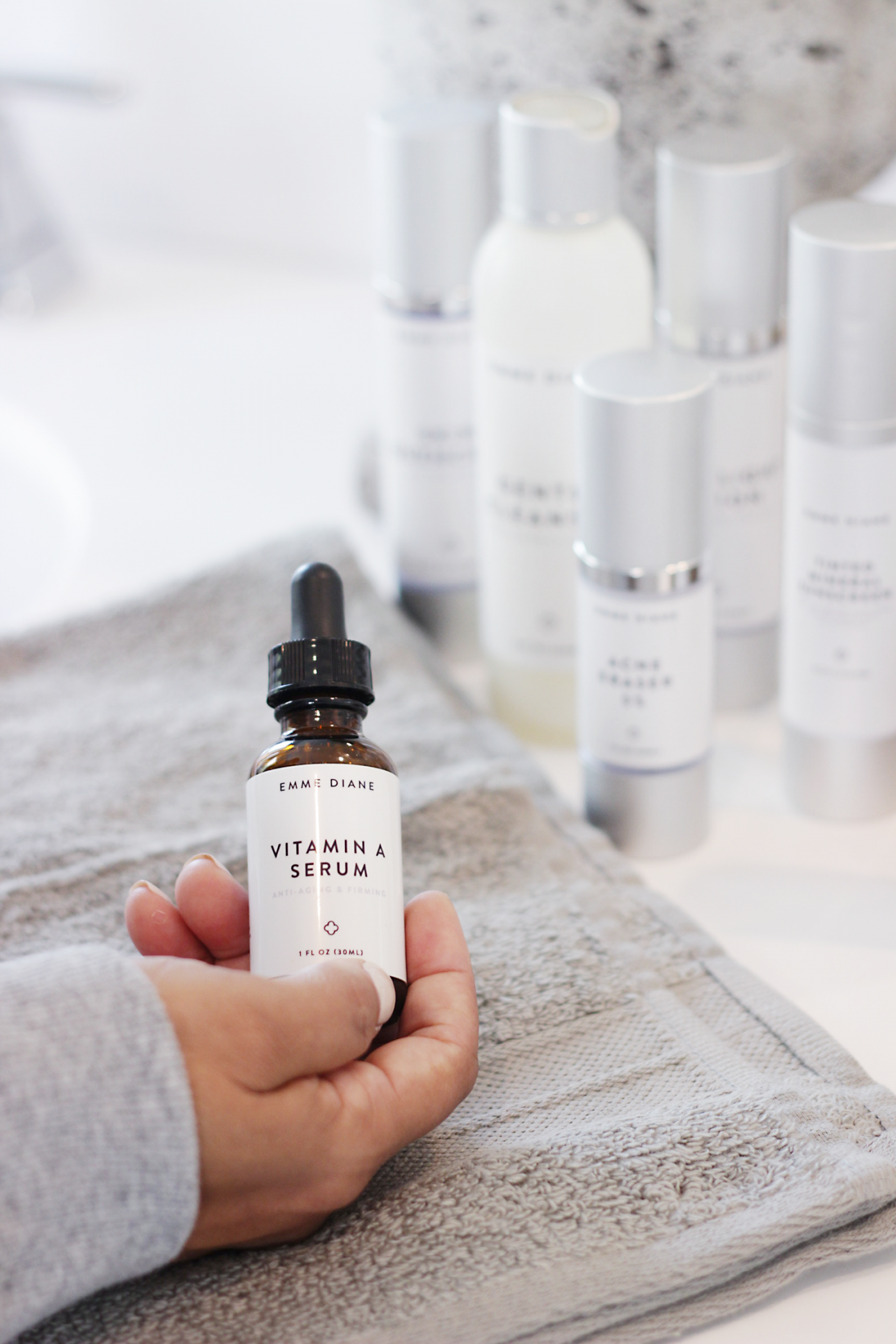 // MORNING ROUTINE WEEK 1-3 //
Cleanse skin with Gentle Cleanser. Gently pat skin dry.
Ice my skin. You guys if you suffer from breakouts this step is PERFECT for you and seriously one I will never NOT do. Then pat skin dry gently. You can use ice cubes OR my favorite and easy way is this ice roller.
Tone skin with the Calm Down Toner. I seriously love this toner. It also is perfect to use as a midday pick me up on a warm day, or if you face is feeling a bit parched. You can even use it to set your foundation.
Apply a dose of hydration to the skin using Skin Quencher. Massage this into the face and neck until it is fully absorbed.
Moisturize the skin with Pure Light Lotion. I am OBSESSED with this moisturizer. Seriously my skin feels so incredibly soft, smooth, hydrate all without feeling greasy at all.
Don't forget your SPF. I have been loving the Tinted Mineral Sunscreen with SPF 40.

// NIGHT ROUTINE WEEKS 1-3 //
At night my routine was a bit different alternating every other night with a few steps:
Cleanse skin with Gentle Cleanser. If I am wearing makeup, I have been using a oil cleanser to help remove my makeup then following it up with the Gentle Cleanser. Emme does have a Micellar Water (I have one sitting in my checkout cart) to use to remove any and all makeup before cleansing. Then pat skin dry
Ice my skin. You can use either an ice cube or my trusty ice roller. Then pat skin dry gently
Tone skin with the Calm Down Toner. I seriously love this toner. It also is perfect to use as a midday pick me up on a warm day, or if you face is feeling a bit parched. You can even use it to set your foundation
Apply a dose of hydration to the skin using Skin Quencher. Massage this into the face and neck until it is fully absorbed.
Every other night I follow Skin Quencher with my holy grail product that I literally am learning my skin NEEDS all the time- the Clarifying Serum. Literally you guys this stuff is AMAZINGNESS in a bottle, and will change your skin.
Moisturize with Pure Light Lotion
** On alternating nights after Skin Quencher I also use Acne Eraser. This stuff is dreamy and comes in 3 different formulas (2.8% which is perfect for sensitive skin , 5% which is what I have and love and also SUPER strong 10% that is used if you have severe acne or are already acclimated with the 5%)
// MY ROUTINE AFTER WEEK 3 TO NOW //
My routine after week 3 has changed a bit with incorporating the Clarifying Serum into my daily routine after Skin Quencher and before Pure Light Lotion and my night routine now is always Acne Eraser 5% after Skin Quencher. Once a week I do the Sulfur Refining Mask, and I have started adding some Vitamin A Serum into my routine every two nights (those nights I won't use the Acne Eraser).
I have to admit I was / continuously am SUPER impressed with how hydrated my skin has been since using the line. These products seriously are game changing in the acne world even for the most sensitive skin. No harsh fragrances, cruelty free, and everything is super mild. I am OBSESSED and seriously my skin is too.

// WHAT ARE A FEW OF YOUR FAVORITES? //
Hmmmmmmm…. It is seriously so hard to choose, but if I had to pick a few favorites I have to say the Clarifying Serum is holy grail status and Calm Down Toner. I never thought I would be super addicted to a toner, but this one- I AM! I also really enjoy the Sulfur Refining Mask a lot.
When I shared the Sulfur Mask over on Instagram Stories a while ago you guys LOVED hearing about it, and told me you were into the idea of a sulfur mask and wondered what it does. Well you guys the Sulfur Refining Mask is pure perfection for acne prone skin. The sulfur helps break down blackheads and whiteheads all while exfoliating the skin. It also helps draw out impurities, reduce inflammation, fight bacteria, absorb oil and exfoliate dead skin cells. Seriously you guys, if your skin is stressed you NEED this product so much!
Besides the products themselves, I am LOVING how perfect the prices of the entire line of products are. I know so many skincare brands (especially those that target specific skin concerns) can be so incredibly expensive. The entire Emme Diane line is priced between $16 to $78. Seriously the prices blow my mind, I mean my new holy grail is ONLY $40 but feels like it should cost in the hundreds. All I can say is I am HOOKED!
If you guys are suffering from skin concerns or know someone who is, the Emme Diane line is something you NEED to check out ASAP. I promise you- you will not be disappointed only ecstatic. I even have a discount code MAKEUPLIFE10 to SAVE on your order. Seriously the Emme Diane product line will change your skin and your life. Time to say GOODBYE to acne and hello to gorgeous skin.
PIN NOW, SAVE FOR LATER: