Let's chat about why you should use a retinol shall we? Ever since I entered my mid-30's ; I have massively stepped up my skincare game- especially my nighttime skincare routine. Who would have thought adding one simple product can be such a game changer.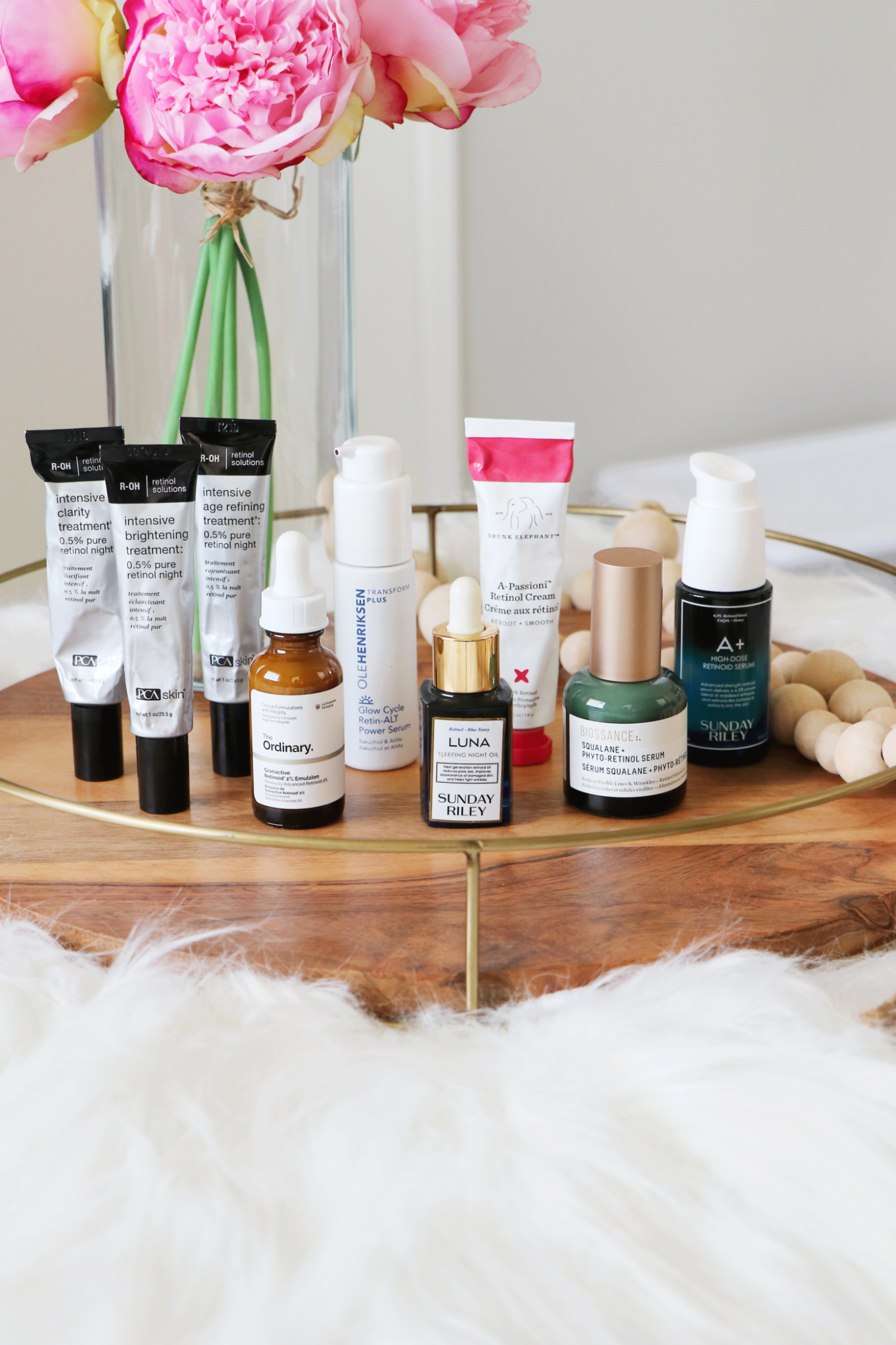 I don't know about you, but did anyone turn 30 and think to themselves, two things – "Oh shit, I am getting old and…. I need to change my skincare routine ASAP."  My skin once I turned 30; legit turned into a hybrid of greasy patches mixed with a lovely cluster of fresh breakouts. Oh and the dullness… let's not even talk about that. Basically, when I entered my 30's my perfect skin changed for the worst; however, through all of it- I was introduced to my skin savior in the form of retinol.
REAL TALK:  Do you guys use a retinol?
If I am being honest- YOU NEED to!  Here is why…
First things first, a little bit about my skin… If you don't already know. My skin is combination to oily skin with a side of breakouts. Some days I am normal but some days my skin freaks and turns into a greaseball. Regardless I have fine lines and wrinkles, and I will not lie… but that's life, you know?
Now on the good stuff.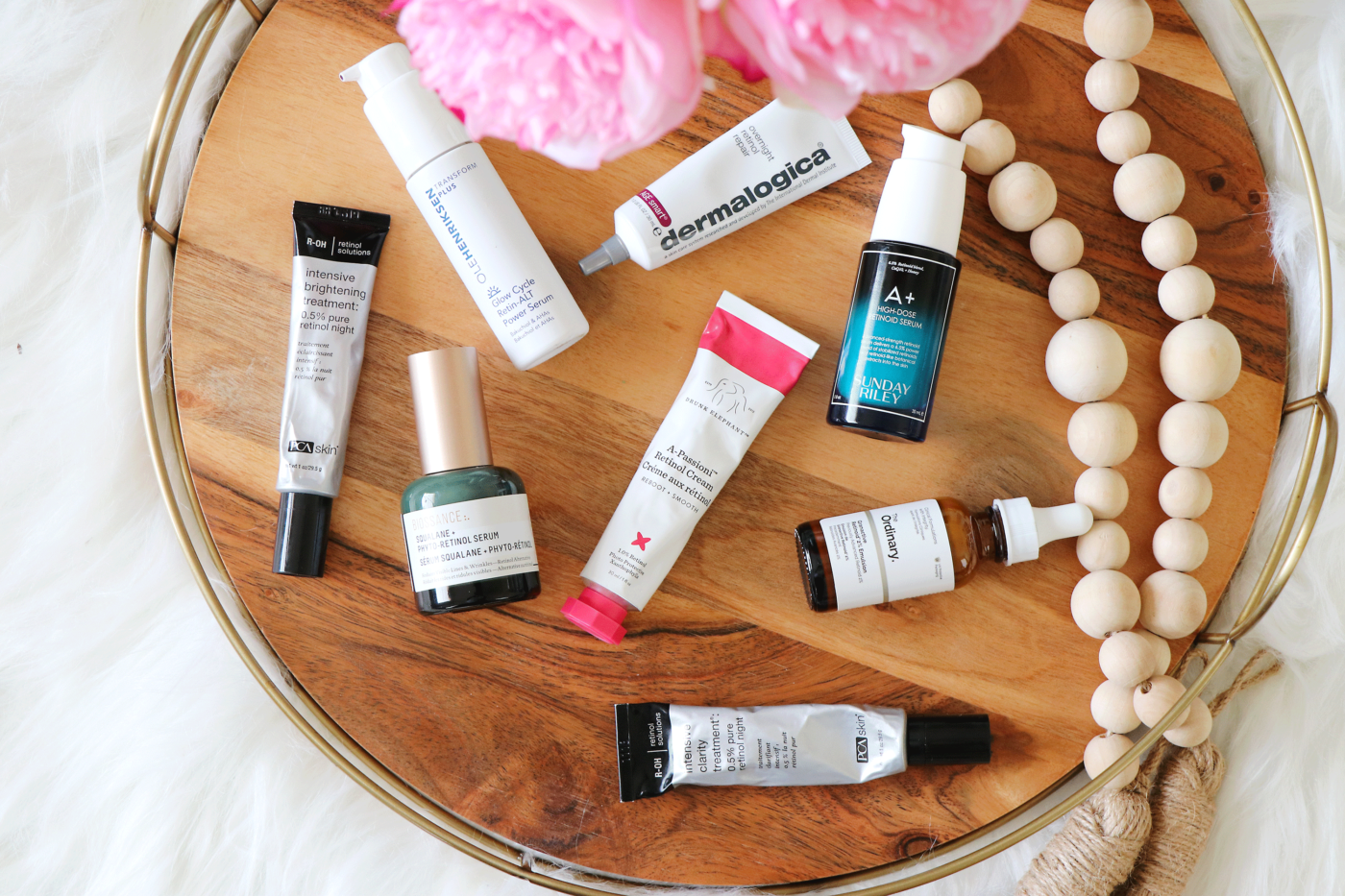 // WHY SHOULD YOU USE A RETINOL? //
When it comes to retinol basically it is the MAJOR must have when it comes to anti-aging. Retinol is just one of those products that is SO good and helps stimulate the production of new skin cells by speeding up cellular turnover all while addressing just about every skincare concern possible. Literally retinol is one of those products that helps a TON when it comes to addressing needs like: anti-aging, hyperpigmentation, hormonal changes, blemish scars, breakouts, fine lines, wrinkles, and the list can continue to go on and on… Trust me, it is just one of those REALLY good products everyone needs- especially as you get older in age.
// WHAT IS THE DIFFERENCE BETWEEN RETINOLS AND RETINOIDS? //
So this is a question that I feel everyone is curious about. Retinols and retinoids are both things that come in some way, shape or form from Vitamin A.  So when you see the words retinol, retinoids, Retin-A- you're probably wondering WHAT is the difference? Long answer made simple- a retinol is a product that you can grab over the counter (think this one and this one) while a retinoid is one of those products that ONLY be prescribed by a doctor- like Retin-A or Trentinoin.  
But then to change things up a bit- the skincare world has been taken by storm with a NEW ingredient called…. BAKUCHIOL.
// WHAT IS BAKUCHIOL? //
Bakuchiol? What the heck is that? Bakuchiol is a gentle, yet effective vegan ingredient that literally is changing the way brands are doing retinol. Bakuchiol is a plant extract that offers the SAME benefits that retinol offers BUT without the side effects. Bakuchiol has been shown to offer both antioxidant and anti-inflammatory benefits as well as antibacterial. (like what?) Long story short- basically bakuchiol is the hot new thing that gives you the same benefits as retinol (helps with evening skin tone, acne scarring, breakouts, fine lines and wrinkles) all while not causing the drying effects, and sometimes irritated skin issues that a retinol or retinoid can cause. Plus – game changer- you can use bakuchoil in the daytime! (mind blown)
// SO WHICH ONE SHOULD I USE? BAKUCHIOL? RETINOL? RETINOID? //
Honest answer that is up to you and what you are trying to address overall with your skincare regimen. But to make it easy- I'll break down which ones I think you should use and why:
Trying to be clean, non-toxic, or have sensitive skin– I would recommend trying bakuchiol.
Have normal skin, love acids (AHA's, BHA's,etc) skin can tolerate active ingredients–  I would say you are good to use either or bakuchiol or retinol. Most people fall into this category.
Have massive scarring, need something heavy duty– I would recommend seeing your dermatologists to see if you are a candidate for a retinoid. If so, they will write you a prescription.

// HOW MUCH DO YOU NEED TO USE? //
When it comes to retinols, all you ever really need is a pea-sized amount.
// DO'S AND DONT'S OF RETINOL //
DO: Apply at nighttime. I am a firm believe that you retinol is great to apply at night and follow with a little bit of a moisturizer. I have found this helps cause less irritation and dryness that some retinols can cause.
DO: Start slow. If you haven't used a retinol- START SLOW. I follow the rule of once a week for about two weeks- assess and  see how your skin reacts (make sure no irritation, etc), then move on to every 2x's a week, and then to every other night over time. Starting slow will help lessen any redness, irritation, etc that you could possibly experience.
DON'T: SKIP SPF. Always and I repeat ALWAYS wear an SPF in the daytime. Retinol can cause your skin to be sun sensitive so ALWAYS make sure to wear an SPF. Besides SPF helps protect the skin against aging- so it's a must ALWAYS.
DON'T: Mix actives. On nights you are using heavy duty actives – think peels, acne treatments, etc.. – Don't use retinol. Hence the alternating every other day. One day use your retinol, the next day you can go heavy with your peel pads, and acne treatments. You don't want to mix too many actives because it can cause a reaction/as well as strip your skin.
So with all the in's and out's of retinol broken down, let's chat about a few of my top favorite retinols and bakuchiol products.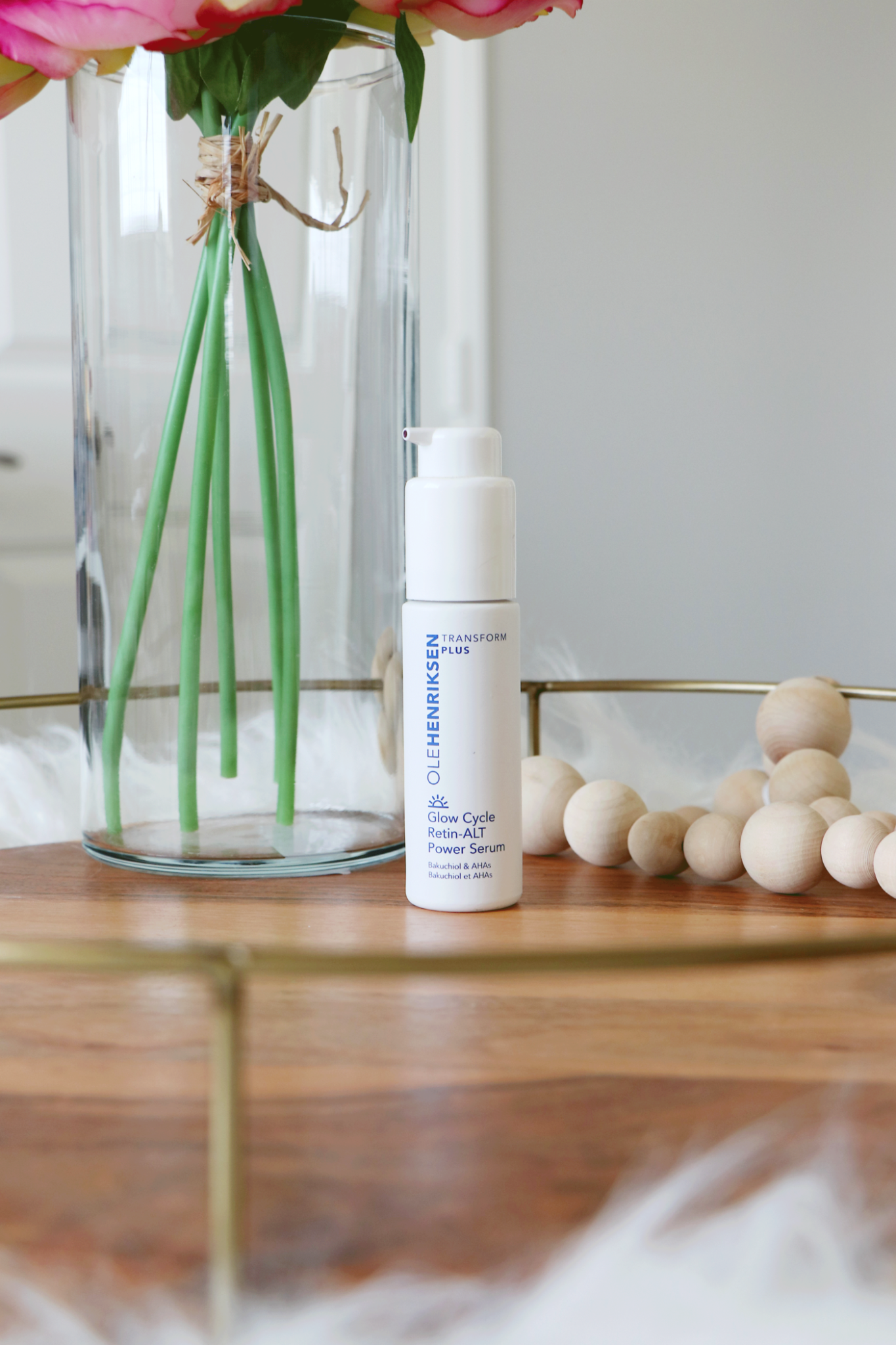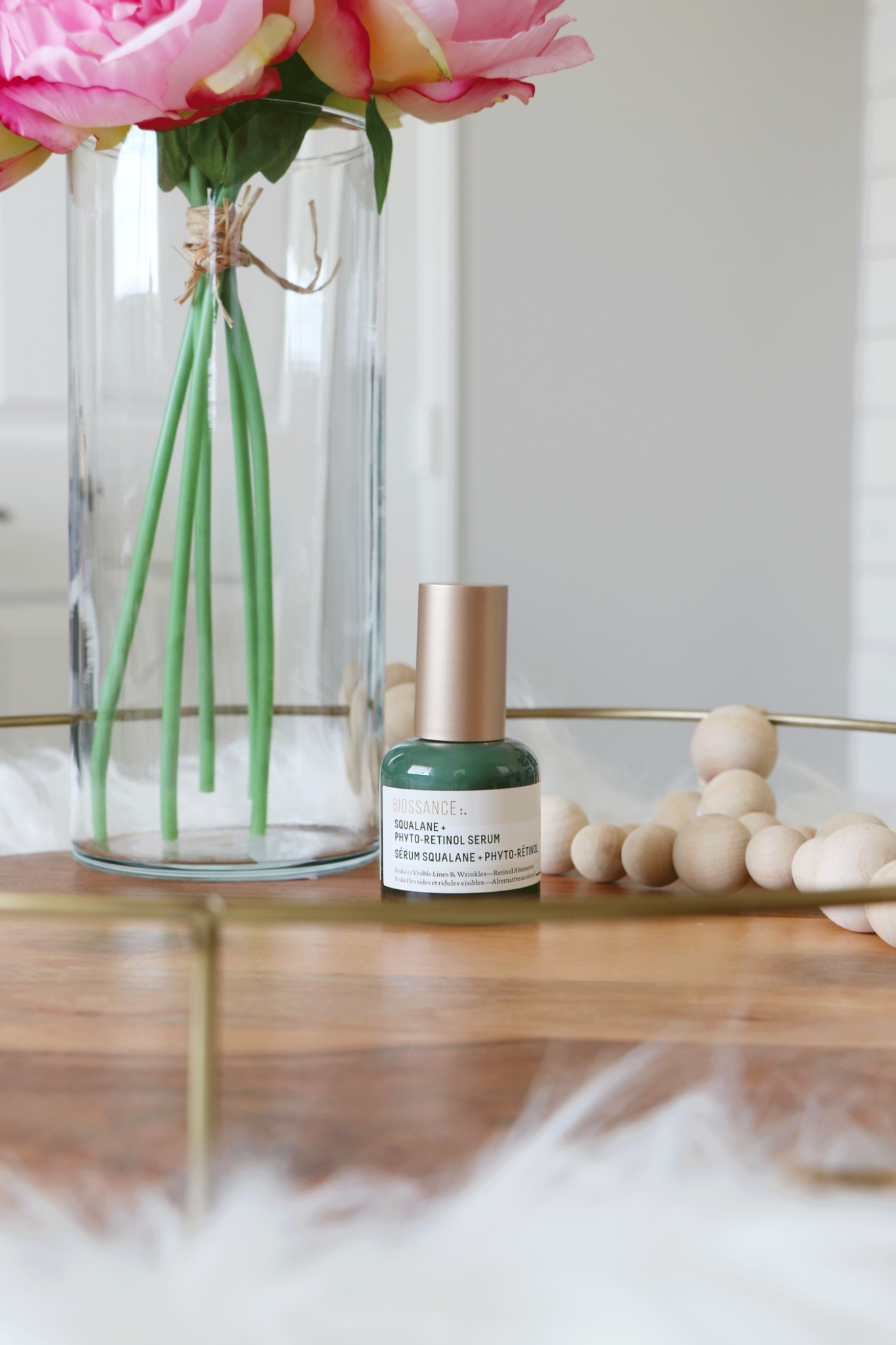 // BAKUCHIOL FAVORITES //
Biossance Squalane + Phyto-Retinol Serum: I am OBSESSED with this product. It's a super lightweight serum made with bakuchiol that literally is so good. It's hydrating thanks to the hyaluronic acid and squalane oil it all while helping the skin get those great retinol properties. I love that it brightens your complexion and helps diminish the appearance of fine lines.  This is so perfect for people with dry, sensitive skin. It is really so good!
Drunk Elephant A-Passioni Retinol Cream: Y'all know I LOVE Drunk Elephant, this brand continues to entice me with every single product they launch. A-Passioni is the perfect formula of one percent vegan retinol and superfood ingredients that help rid the skin of those fine lines, wrinkles, sun damage. I use this every other night right now- hands down OBSESSED!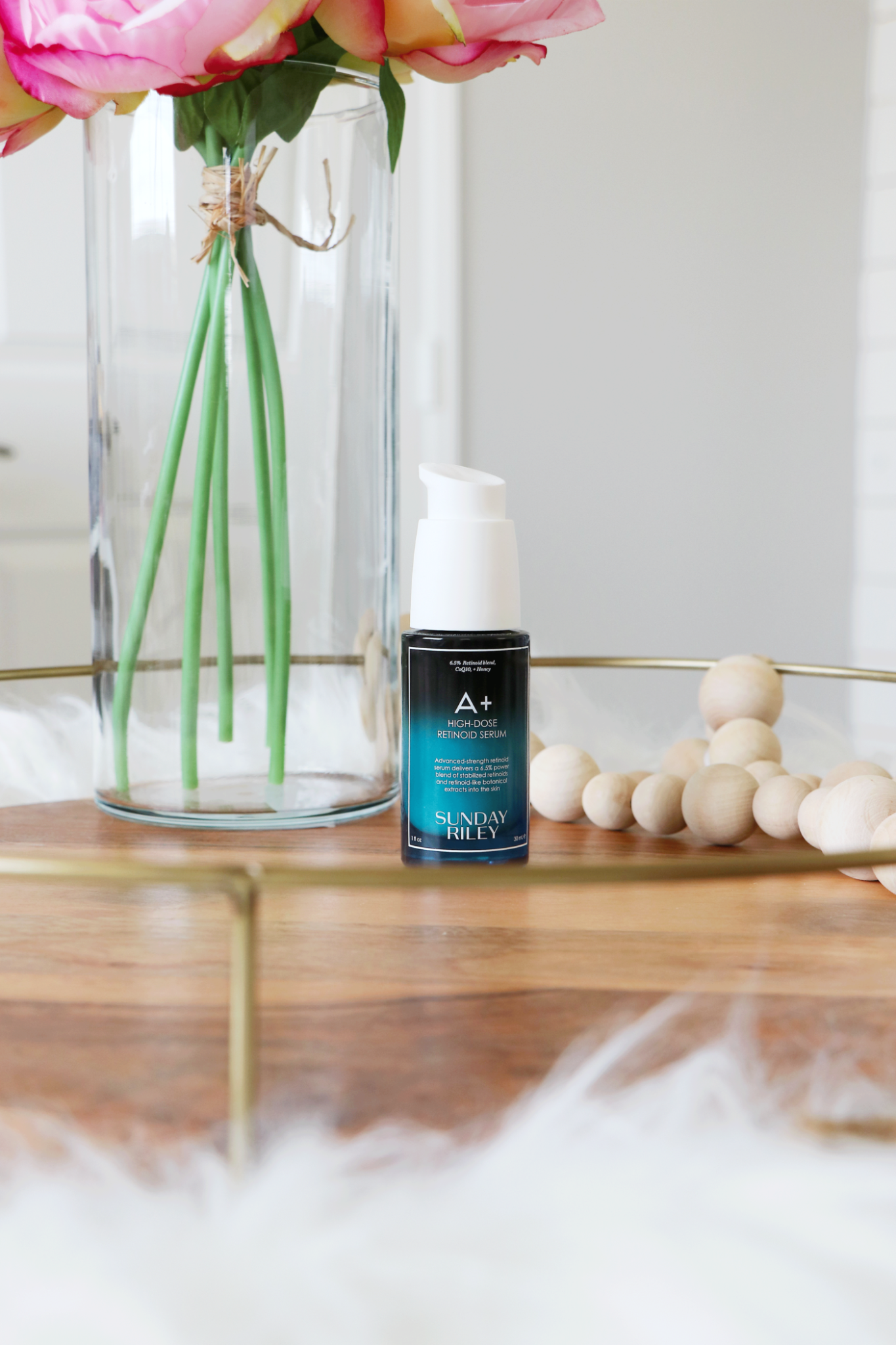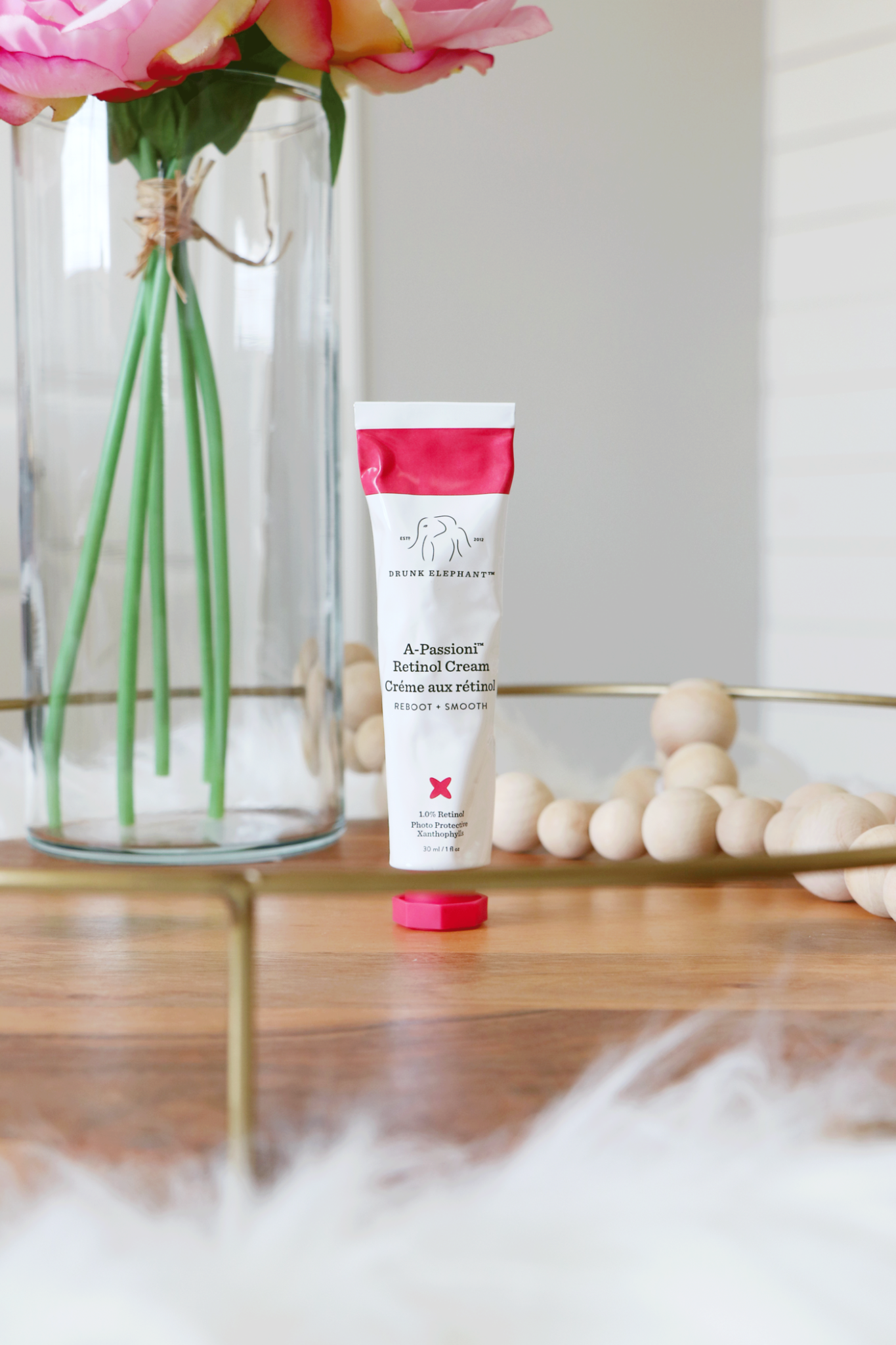 // THE RETINOL IN-BETWEENERS //
PCA Skin Intensive Clarity Retinol Treatment: Hands down PCA Skin does retinol so well. This Clarifying Retinol is one of my top favorites as it is perfect for anyone dealing with blemishes and acne. It 's an in-betweener with its blend of retinol, bakuchiol, and salicylic acid. I use this only 2 times a week and alternate depending if I am breaking out or not.
Sunday Riley Luna Retinol Sleeping Oil: This retinol oil is awesome. It boosts the skin's plumpness with its unique blend of Blue Tansy, German Chamomile, and Trans-Retinol Ester helps target the appearance of wrinkles, redness, pores, and fine lines all while giving you visibly younger-looking skin. This is the perfect at night oil and works wonders with this product.
Sunday Riley A+ High Dose Retinol Serum: This product I have been using on and off for a few months and I am hooked. It's an advanced-strength retinoid serum that delivers a 6.5% stabilized retinoid blend and botanical retinol-alternative extracts to help even the skin texture, fight fine lines and wrinkles. This product is SO good you guys!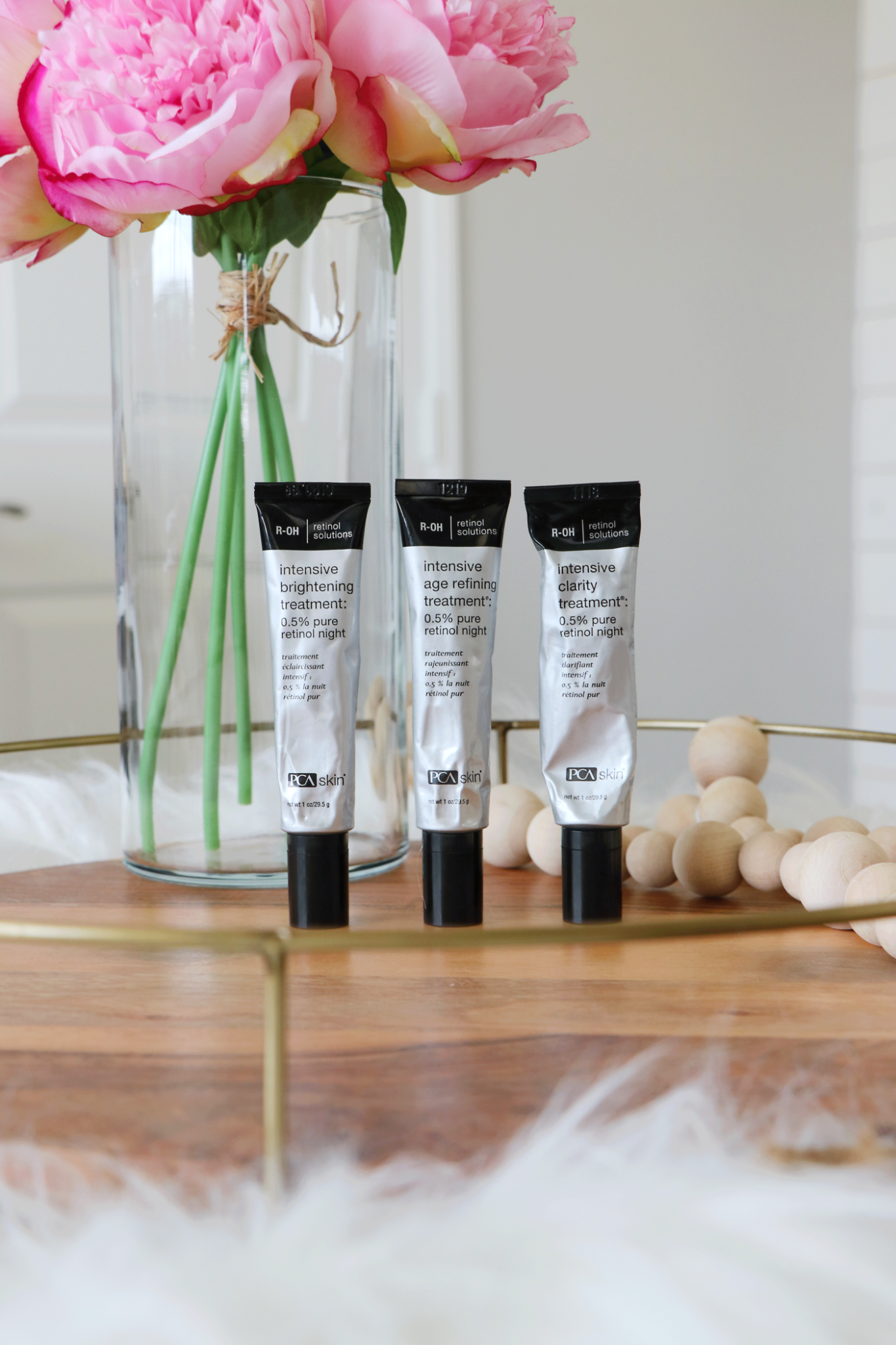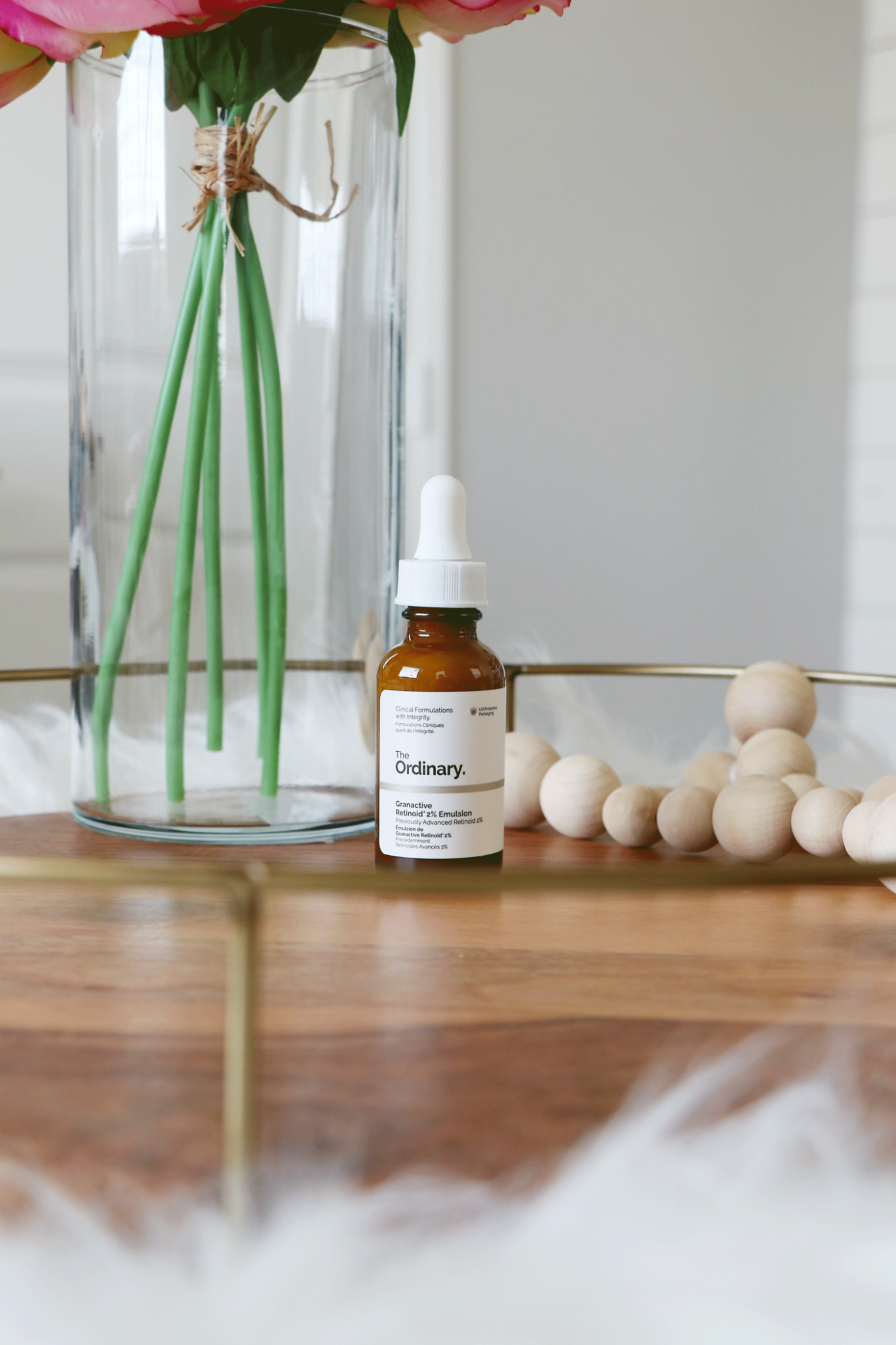 // RETINOL FAVORITES //
Dermalogica Overnight Retinol Repair: This little miracle in a tube is a concentrated retinol treatment that is to be used overnight. It's active 0.5% microencapsulated pure retinol that helps increase collagen production and cellular turnover. It also contains peptides and Vitamin C to help fight uneven skin tone and discoloration.  It also includes a moisturizing Buffer Cream to help the skin get acclimated to this powerful retinol.
PCA Skin Intensive Brightening Retinol Treatment: This retinol was one of the first retinols I was introduced to and I still so IN LOVE with it. It really helps noticeably brighten the skin all while targeting the hyperpigmentation, dull skin, acne scarring, and so much more.
The Ordinary The Granactive Retinol 2% Emulsion: This product is super affordable and packs a punch. It's a stable retinoid active that helps reduce the visible signs of aging in an emulsion form. I love that it is super gentle yet effective especially at targeting dark spots and hyperpigmentation.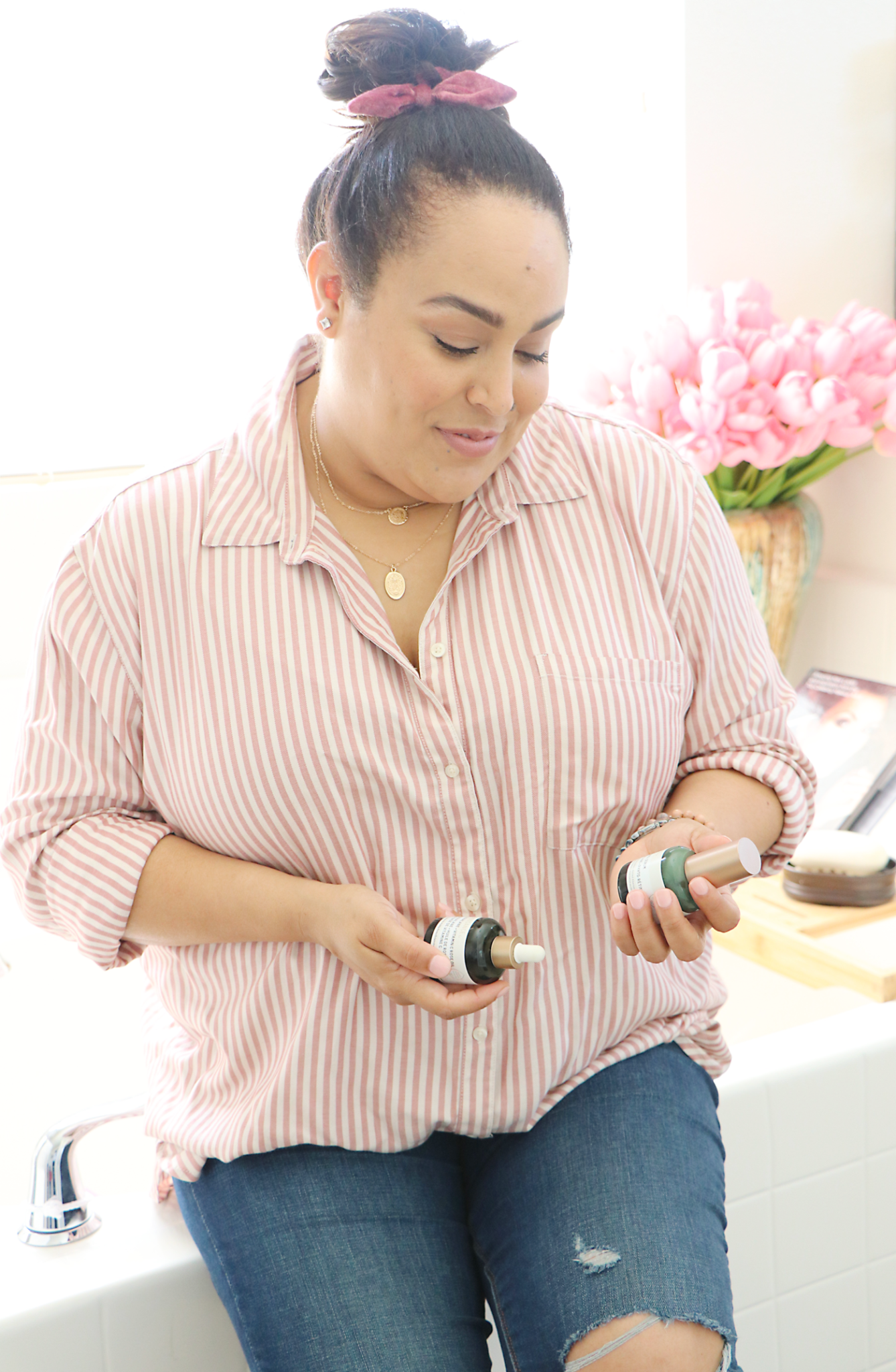 So there you have it… your one-stop shop to retinol and why it's something you should try to incorporate into your skincare routine. Because it we are being honest- we ain't never getting older... (or at least trying not to look like it).
SHOP THE POST
READ NOW, SAVE FOR LATER: