Today we are talking all about acne with the Ultimate Adult Acne Treatments Cheat Sheet to helping you say hello to clear, beautiful skin!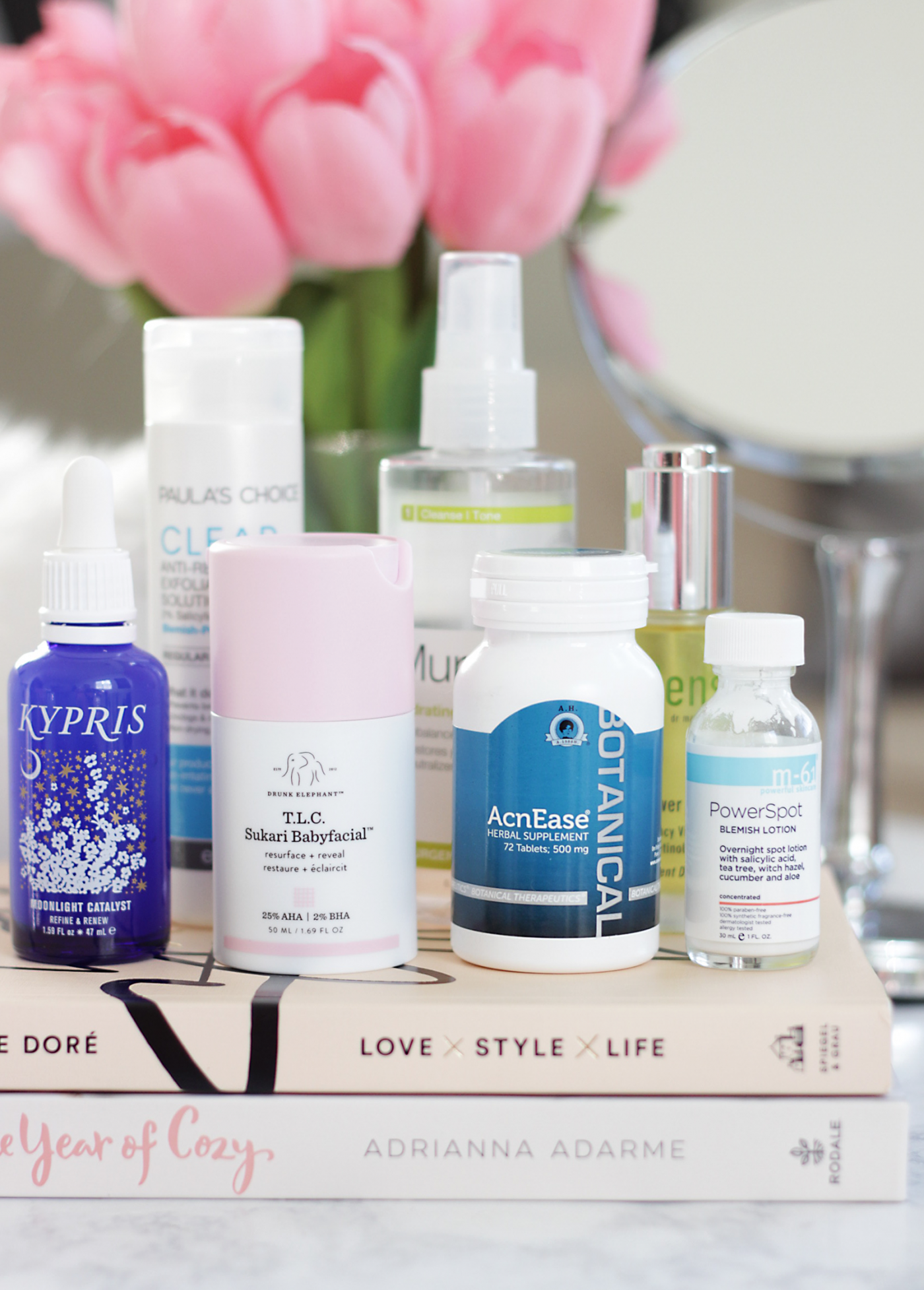 When it comes to my struggle with acne, you will often hear me say- "Adult acne literally happened to me overnight". Seriously throughout high school, college, even my early thirties- acne didn't exist in my life. It wasn't until literally, I turned 33 years old- BAM! Without any warning, not even a pimple or two to give me a heads up- a lovely constellation of breakouts occurred and had taken residence on my chin, cheeks, and jawline.  Previously to this, I had always had overall VERY clear skin. The kind of skin that I would literally on a night out- throw on some tinted moisturizer, blush, mascara and be good to go. I was never that girl that needed full coverage foundation- so this was all super new to me and boy I was NOT happy about it. Confused, lost and unsure of what to do, today I am sharing with you some of my favorite tips, tricks and ways I have been battling the quest for clear skin.

You see, I used to breakout around the lovely time of the month but it was literally a pimple or two- max three depending on heavy my period was. They were small, stayed for maybe a few days and disappeared. They never left a mark, they never hung out, and they never HURT.  If I was super stressed I would maybe get a huge cystic pimple once every 6 months, and even then it would appear and disappear within a week- without leaving a huge aftermath or dark spot.  Needless to say, I was pretty happy with my skin. The morning I woke up with what I thought was just a fluke, turned into a future impossible quest that I am still embarking on.  A year went by and still, nothing seemed to get my skin back to its original state. I mean I tried everything- my old skincare regimen, loading up on tons of products that have Salicylic Acid, Benzoyl Peroxide, you name it- I tried it. Still, nothing was working the way I wanted it or needed it.  Apparently 'adult acne' isn't as uncommon as I thought, and just when I started to think this was my "new normal", I was introduced to a few major products that have started to help change my adult acne life, and bring my skin back to almost normal.
WHY DOES ADULT ACNE HAPPEN?
First things first, the reason why 'adult acne' happens is often caused by that lovely thing called AGE. With age comes a change in hormones, stress and of course diet. I mean when I was in my teens and twenties- I literally had no care in the world, the most stress I had was making sure I was studying for a midterm. However, once you hit your thirties- the stress comes on like a wave. The saying "I can't adult today…" literally, adulting is hard. Between embarking on careers, having children, and just the daily adult responsibilities- that is the major reason why a lot of people develop adult acne. Lack of sleep for me played a major role as I literally feel like in my thirties I haven't slept more than 5 hours a night. This, in turn, causes the skin to overproduce cortisol and often create more oil. While in combination with stress it causes you to break out, get more inflamed pimples, puss-filled papules (solid/hard pimples almost like a cyst) versus the basic whiteheads and blackheads.
HOW DO YOU GET RID OF ADULT ACNE?
Now I am not an expert by any means, so I am sharing what has been working for me so far.  I have shared my previous experience using Rodan and Fields HERE, touched on a few Acne Cleanser HERE, but I have never put together a complete guide.  Soooo with that being said here are a few tips I learned along the way and with help from a dermatologist as well as products I have been using to help achieve my quest for 20-year-old skin, before the adult acne.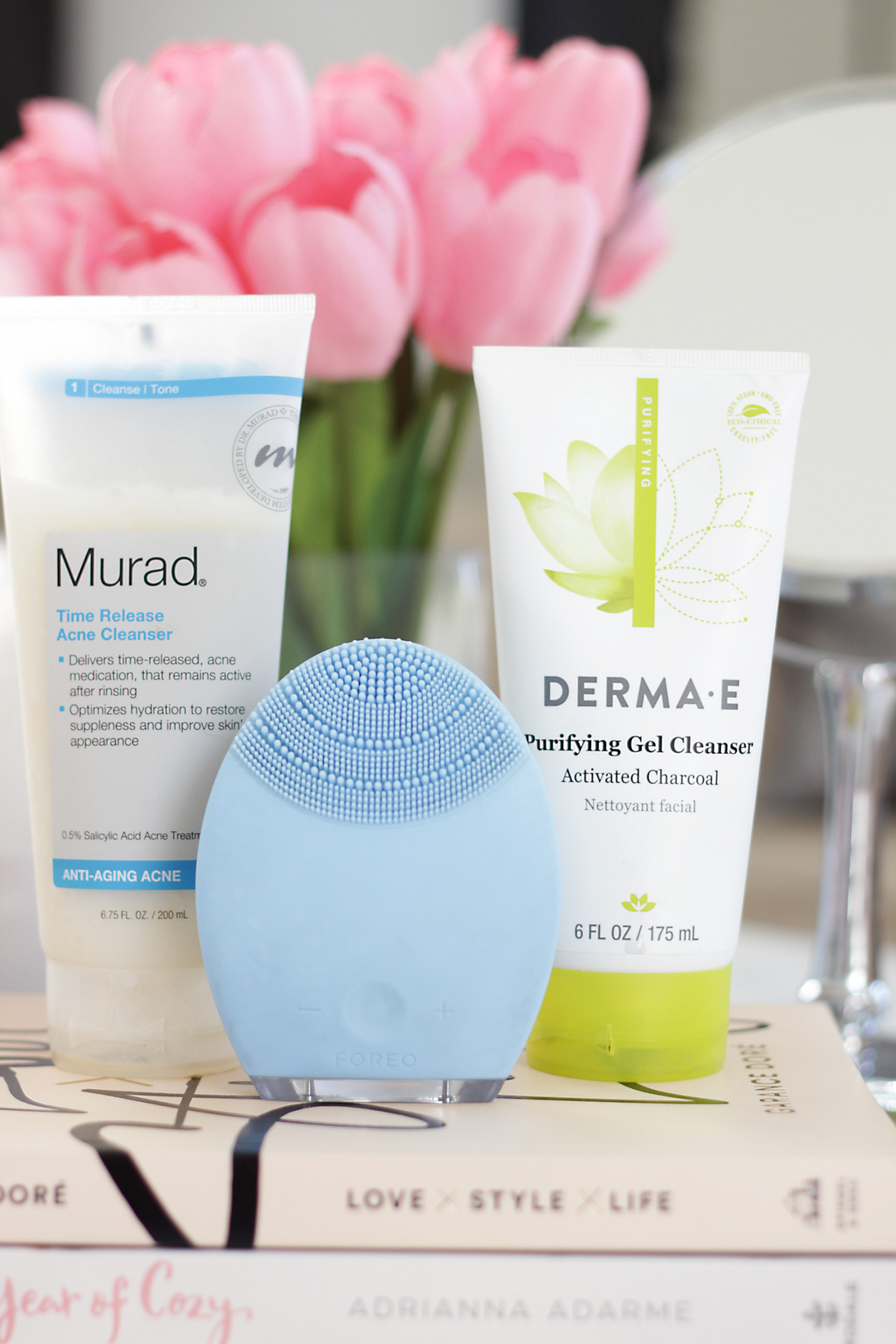 // CLEANSE SKIN THOROUGHLY //
I know I know this sounds like a major no brainer- cleanse your skin. However, when I say cleanse your skin I mean to do it very thoroughly and GENTLY. When you are dealing with adult acne, often times using a cleansing brush device can be a bad thing. Especially if it is TOO harsh- it can cause the skin to get overly irritated. As you all know I am a MAJOR fan of the FOREO Luna Cleansing Device, as it is super gentle yet effective when cleansing the skin. I have been reaching for the Derma-e Purifying Gel Cleanser in the morning as it helps lather away any sweat, oil and toxin buildup. I love that it contains Activated Charcoal which is known to help rid the skin of impurities.  At night, I have been reaching for the Murad Time Release Acne Cleanser to help release Salicylic Acid to help clear the skin without over-drying, as well as give the skin Amino Acids and Hyaluronic acid. I feel that this cleanser really helps prep my skin for toning, exfoliating and hydration before bed.

// BALANCE THE SKIN //
One thing that so many people often forget in skincare is balancing the skin by toning the skin. You see toning and balancing the skin is important because it helps bring your skin to a neutralized pH zone as well as remove any leftover bits of oil, dirt, and debris left behind by your cleanser. I alternate between the Murad Hydrating Toner as it helps provide a light mist that restores the skin's natural pH balance and neutralize the surface impurities on the skin and the PCA Skin Nutrient Toner. This pumpkin wine based toner helps refine the appearance of pores, gently exfoliates the skin with vitamins, amino-acids, and enzymes and helps provide the skin some much-needed nutrition.  

// EXFOLIATE //
So one thing I have noticed is a lot of people that have acne, are either afraid to exfoliate OR they are exfoliating TOO much. Exfoliating too much can actually cause the breakouts to get worse because you irritate them. However, mild exfoliation is a MAJOR key to the skin care process when it comes to acne. You see acne/breakouts sometimes are caused by pores being clogged from dead skin.  So it is important to exfoliate the skin with products that contain AHA's, BHA's, Glycolic Acid and enzymes (found in pineapple, pumpkin, and papaya). I have been reaching for Paula's Choice CLEAR Regular Strength Anti-Redness Exfoliating Solution in the morning and the Paula's Choice Skin Perfecting 8% AHA Gel Exfoliant at night. Both products are formulated to be non-abrasive, yet effective as they help exfoliate, refine, and smooth the skin by ridding it of dead skin cells.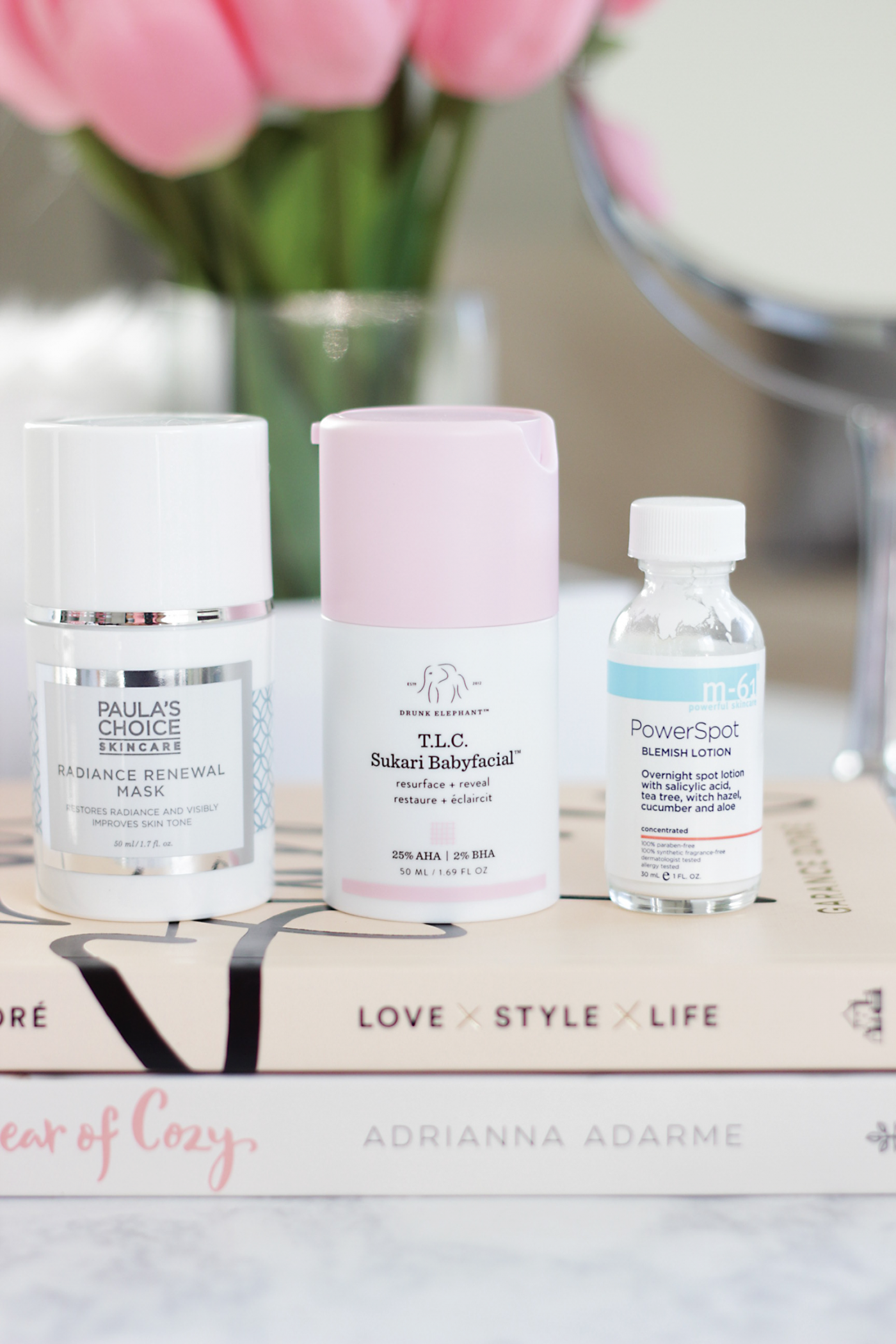 Once a week I have been grabbing my trusty Drunk Elephant T.L.C Sukari Babyfacial, this stuff my friends is what exfoliating dreams are made of. It's a pro-quality AHA/BHA facial that helps greatly improve clarity all while improving skin texture and tone. It literally knocks those pesky dead skin cells right off. I use this once a week for about 20 minutes.  I have also been reaching for the Paula's Choice RADIANCE Renewal Mask as this has been helping bring life back to my complexion. You see those pesky dark spots left after adult acne pimples need some love. This mask I have found is perfect as it helps brighten the skin overnight to give you a gorgeous luminous glow. If I am having a really spotty week, I have been spot treating with the M-61 Powerspot Blemish Lotion as it helps fight breakouts all while being super gentle thanks to its unique blend of Salicylic Acid, Glycolic Acid, Colloidal Sulfur, Ale, Licorice Root, Cucumber, and Chamomile to help keep and treat target blemish spots. I use this directly on a pimple when I feel it coming and I promise you it's like gone in a day or so, and usually less noticeable after just one night.

// BE SURE TO USE YOUR SERUMS //
Serums to me are SUPER important ninjas of skincare. You see a serum is usually a lightweight, fast-acting product that is formulated to penetrate the skin with active ingredients to help make your skin just better.  For me, a serum is an important step in dealing with adult acne because it usually will contain the ingredients needed to get rid of previous breakout spots- which hello we want them GONE. I have been reaching for 3 different serums that all have been helping bring my skin back to life and get rid of those pesky brown spots. Kypris Moonlight Catalyst is one serum that I have been using almost daily at NIGHT ONLY and it helps revitalize the skin while you sleep. I love that it is a herbal alternative to retinol as it is a cocktail of fermented pumpkin enzymes, and botanical extract to help calm, soothe, and even the skin tone.  While the Restorsea PRO Intensive Treatment 10X Serum is a power punching alternative to retinols and better than glycolic acid to help reduce the appearance of brown spots that can be used both DAY and NIGHT. Literally, I feel like this serum just makes everything better. Last but not least I am pretty obsessed with the Zelens Power A High Potency Treatment Drops, these drops are miracles in a bottle. Formulated with high-potency Vitamin A concentrate these drops contain a powerful combination of pure, encapsulated retinol and retinoids to help improve the skin tone and texture, reduce brown spots and wrinkles all while clearing the skin of blemishes and diminishing the look of large pores.  This proprietary botanical blend contains extracts rich in Vitamin A I have been loving to use at NIGHT ONLY to help really improve my skin. I have been doing the following:
AM: Restorsea PRO Intensive Treatment 10X Serum
PM: Alternating nightly with Kypris Moonlight Catalyst & Zelens Power A High Potency Treatment Drops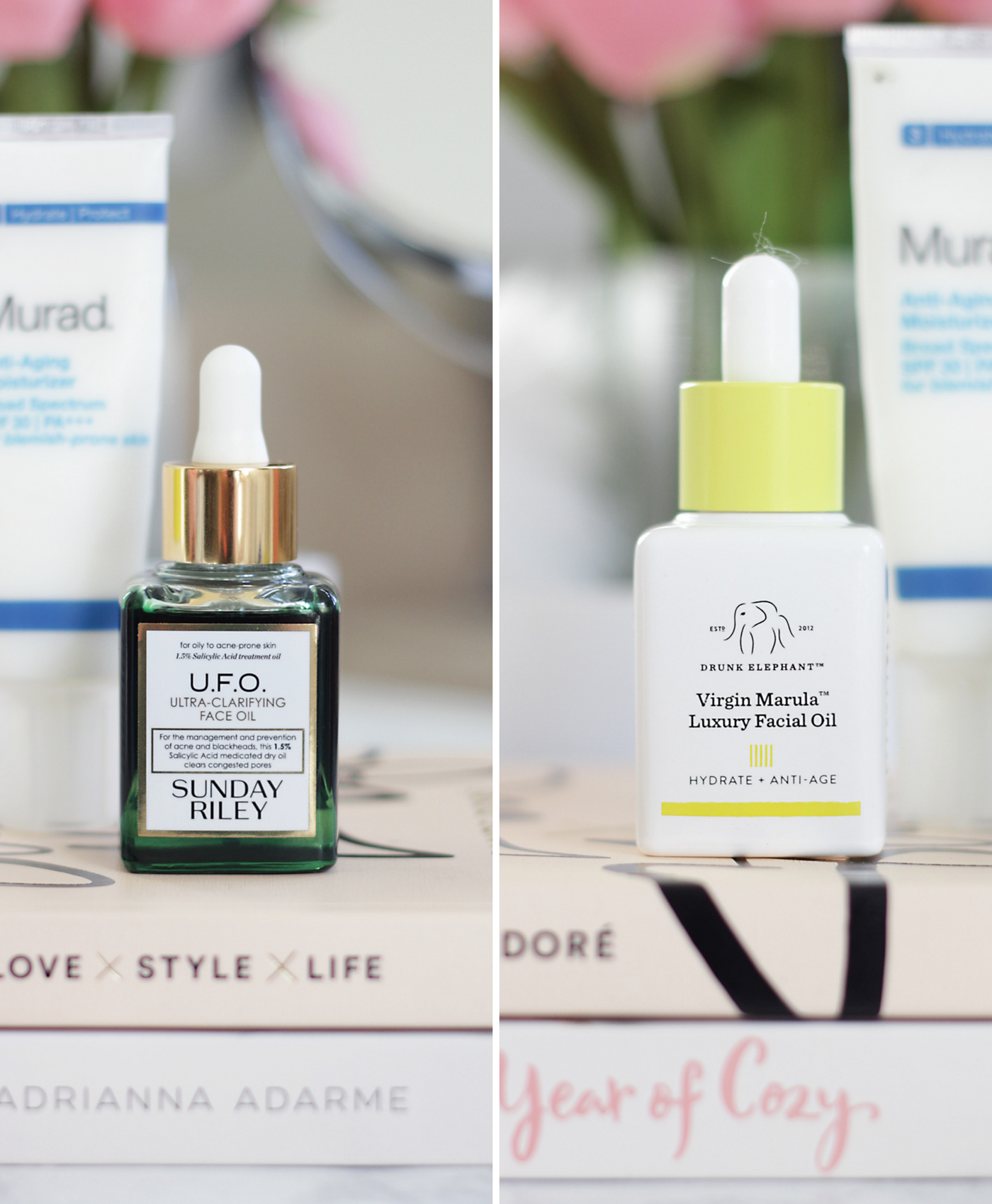 // MOISTURIZE AND PROTECT THE SKIN //
For those of use dealing with adult acne, hydration is actually key as well. I know many of you are thinking "Ummmm…. But I don't want to hydrate the skin, I want clear skin- not greasy skin when I am already producing oil", well let me tell you that when it comes to acne, hydration is key. Besides drinking at least 8 glasses of water a day to hydrate from the inside out, the skin on the outside needs some hydration and SPF. Although, you should be using an SPF anyways- hello no one wants wrinkles,  when you are using acne products you REALLY must be using an SPF. A lot of the products make you more vulnerable to sun damage which means more dark spots-  ain't nobody have time for that, right?  I personally am a MAJOR fan of the Murad Anti-Aging Moisturizer Broad Spectrum SPF 30 (for blemish prone skin) moisturizer. This stuff works-formulated to give you hydration without breaking you it this moisturizer is a top favorite. What I love is that it helps hydrate the skin without making the skin too oily or greasy- it almost has like a mattifying effect in a sense. Even though it has an SPF 30 built in it, I often follow up with this SPF 60.
Moisturizing and hydrating the skin wouldn't be complete without a bit of facial oil. Now I touched base on my favorites HERE, and for me, these two oils are the cream of the crop when it comes to helping acne-prone skin. The Sunday Riley UFO Ultra-Clarifying Facial Oil helps immensely. It not only hydrates the skin but it also helps clear congested pores, helps treat and prevent acne all while smoothing the appearance of lines and wrinkles. My other top favorite for adult acne is Drunk Elephant Virgin Marula Luxury Facial Oil– this stuff helps keep my skin hydrated like no other. It contains MAJOR antioxidants, Omegas 6 & 9 and is a powerful punch to help restore and nourish skin.  Marula Oil won't clog your pores, is pH balanced and has actually been proven to help cure and treat acne with its miracle healing properties.

// TREAT ADULT ACNE FROM WITHIN //
You see HOW you take care of your body is from the inside is also SUPER important to helping treat skin care concerns on the outside. I have been reaching daily for AcnEase®. AcnEase® is the only all botanical ingredient based systemic product that helps prevent new acne from coming. It literally can be used on folks of all complexion tones, males, and females as well as those suffering from mild acne to severe acne in both teens and adults.  AcnEase® is clinically tested, all-botanical, herbal tablets that are 95% effective in treating acne but can ALSO help with rosacea and redness. The best part of it, is that it doesn't even cause any side-effects, and literally is the perfect effective, holistic approach to treating acne.
Since I am currently suffering from mild to moderate acne, my daily regimen is taking a total of 12 tablets a day or when broken up it is a dose of 4 tablets 3x's a day. I have found that this has really, and I mean REALLY helped with my overall skin health. It has helped lessen the number of breakouts I have been getting. It MAJORLY reduces the amounts of breakouts I usually get when my period arrives, and I am weirdly finding that in correlation with a great skincare regimen it is helping get rid of not only acne but those pesky spots that are usually left behind by a breakout.  The best part is most people see a difference in just 7-10 days. I started to notice a difference around day 5 or so, and what I love most about  AcnEase® is that it has been clinically tested for both safety and efficacy as well as it contains the highest quality grade of herbs in their product.  You can go out in the sun without any restrictions and it doesn't irritate the skin at all.  It really is a hero product.
I am currently on bottle 3 going into bottle 4 of a 5 bottle system and the changes I have seen so far are remarkable.  As you can see in the pictures below – I took these first thing in the morning both times about 5 days apart from one another the difference in my skin is SOOOOOOO much better. The clarity, the quality, the overall texture, and tone is so much better. (don't mind the cell phone picture from the bathroom either, as I wanted you to see the difference in real life) but my skin looks SOOOOOOO much better.  After I finish my next bottle, I am going to going into maintenance mode so I can sustain these awesome results- let me know if you want to see a full start to finish post of  AcnEase® as well as a maintenance mode post on what I am doing and keeping my results.

// GET MORE SLEEP //
Getting a good night's rest is MAJORLY important to not just your skin but also your overall health. When you don't get enough sleep the first place you will see it- usually it is in your skin and of course more stubborn breakouts.  Make sure that when you are sleeping you have clean bedding as well. Bacterial buildup from pillowcases can wreak major havoc on your skin- so make sure to get those ZZZ's on clean sheets.
So there you have it, a few of the products and things I have been using to get clearer skin. I will be doing an updated post in about a month so you can truly see how remarkable the difference is. While you are it check out this post on microdermabrasion which is another helpful tip for those looking to get rid of dark spots.
Have your acne fighting tricks changed as you have gotten older? Do you have any Adult Acne tips and tricks to help on the quest for clearer skin?
Pin This For Later: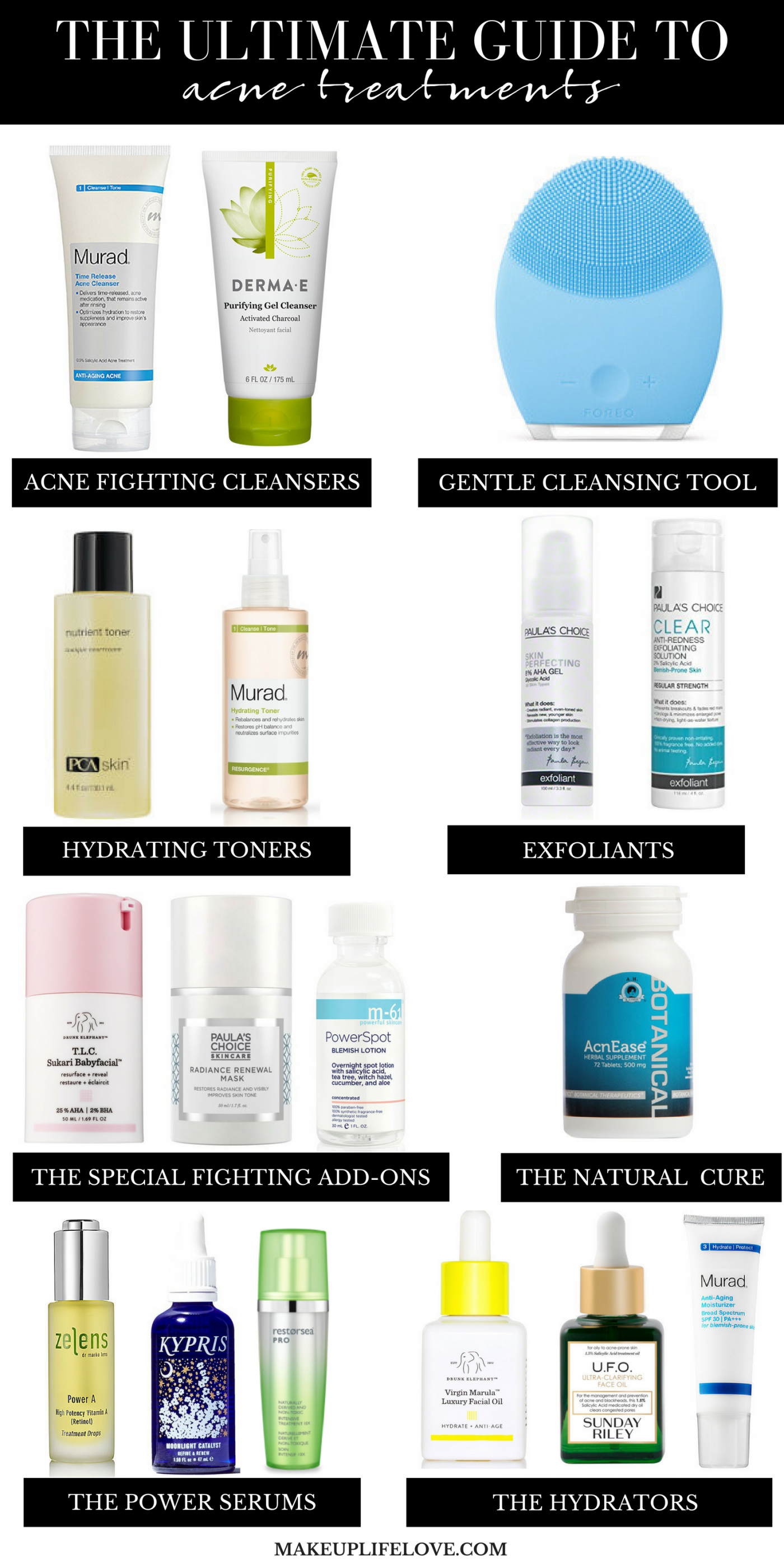 [otw_shortcode_divider margin_top_bottom="30″ text="SHOP THE POST" text_position="otw-text-center"][/otw_shortcode_divider]

AcnEase Derma-e Drunk Elephant foreo Kypris M-61 Murada Paula's Choice PCA Skin Sunday Riley Zelens