Tired of dealing with adult acne? Today we have you covered, check out these helpful tips to help ELIMINATE adult acne and say hell0 to clearer skin.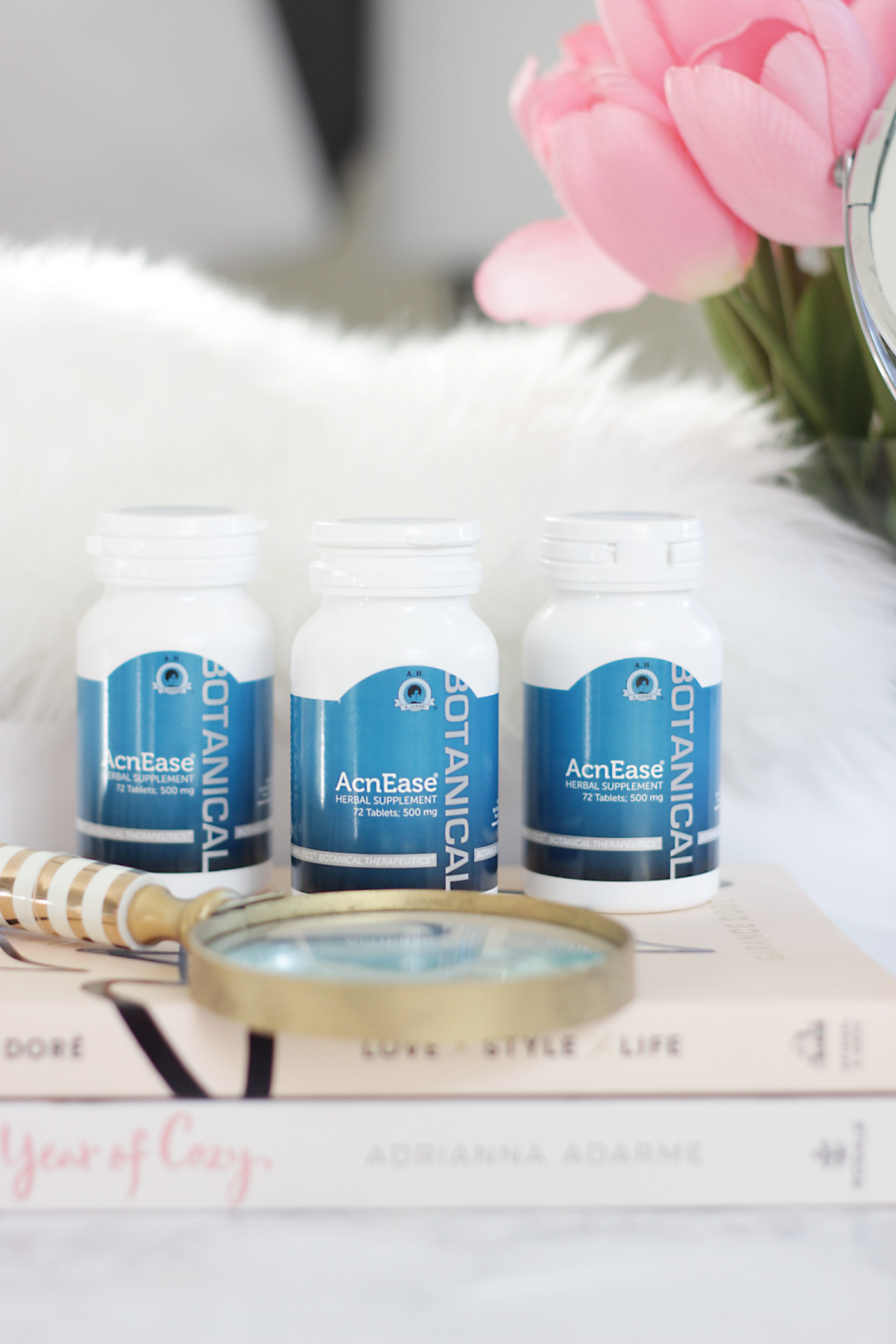 Today's post is a sponsored conversation about acne thanks to AcnEase® as always all thoughts and opinions are of my own.
Did you know that more than 50% of people in the world often suffer from some form of acne? Whether it be in their teens or their adulthood, acne is one thing that many people find can be a burden to not only their self-esteem but also their life in general. I know for me, having gorgeous, clear skin was always a natural thing. Literally, I was on the no-makeup movement long before it became a thing. Having clear skin made it so easy to not have a worry about covering anything up, however; once I hit my early thirties things took a turn for the worse and it felt like it happened overnight. You see, adult acne is REAL- and let me tell the struggle for clearer skin to go with it, is even more real and VERY annoying. Earlier this week I talked about a few things I have been using to achieve clear skin, so today I figured we can chat a bit more about some other easy tips you can do to help prevent and treat adult acne.
// PREVENTING ADULT ACNE //
ONE // KEEP YOUR MAKEUP BRUSHES CLEAN
When it comes to acne, I like many of you apply makeup almost every day to help cover up the skin. However, with continuous use, your makeup brushes often start to collect a huge amount of dirt and bacteria. These two culprits can often at times trigger more acne and flare ups. For me, I try to wash my brushes thoroughly once a week with something like this. Clean brushes can help mean clearer skin.

TWO // STOP OVER EXFOLIATING YOUR SKIN
So in the last post, we talked about how and why exfoliation is important when dealing with adult acne and acne prone skin. However, one thing to make sure of is to NOT over exfoliate. When you over exfoliate the skin it often times damages the skin barrier and of course, causes more breakouts. Harsh rubbing of the skin or over using cleansing brushes can also cause the same issue. Addicted to your cleansing brush? Try reaching for something like this here to help gently cleanse the skin.
 THREE // AVOID LOTS OF DAIRY
Many studies have shown that a lot of dairy products contain hormones and growth factors that are culprits that are causing acne. I for one am a HUGE believer of this because literally once I started to cut out a huge chunk on dairy from my diet- my skin started to like me better and clear up. Now, let me clarify here. Decreasing your dairy intake or removing it all together will not get rid of acne. That's what an actual TREATMENT is for…keep reading.
FOUR // USE A GENTLE CLEANSER
Using a gentle cleanser is one I touched base on a bit here. When using a harsh cleanser you are often times damaging the protective layer of your skin. Harsher cleansers usually contain a higher pH level than your skin, which in turn causes your skin to get dried out. This then causes the domino effect of more breakouts and the skin over producing oil to compensate for the drier skin. You can read about a few of my favorite cleansers here.
FIVE // DRINK MORE WATER
So for many, this is a no-brainer. You know what they say 'drink at least 8 glasses of water a day' this helps your body stay hydrated, however; did you know that you should also be drinking lemon water? Lemon water is super good to help detox your body and help get skin glowing. It also helps with skin rejuvenation which when dealing with skin issues like adult acne is a major help plus it can help ward off wrinkles.

SIX // AVOID ALCOHOL BASED SKIN CARE PRODUCTS
We had talked about skin needing hydration in the adult acne guide. You see your skin when you suffer from adult acne NEEDS hydration. Most alcohol-based skin care products can massively dry your skin out. Which usually means- MORE BREAKOUTS! So STAY away from alcohol based skin care products as much as you can.
SEVEN // ADD SALICYLIC ACID TO SKINCARE ROUTINE
Oh, how I love my acids…. Salicylic acid is one acid that you NEED to incorporate into your skincare routine if you are an adult acne sufferer. You see, salicylic acid is a form of BHA (beta hydroxy acid) and phenolic acid to help with acne. Salicylic acid often times helps the skin since it acts as both a healer and an antiseptic. It also helps as an anti-inflammatory, which can help reduce redness, inflammation caused by breakouts and of course help lessen the amount of breakouts. (Side note: salicylic acid can be a drying agent that can exacerbate acne for some – it may help temporarily, however, the skin can go into "protection mode" and ends up ultimately producing more oil. Just an FYI!)
EIGHT // LOOK FOR 'NON-COMEDOGENIC' PRODUCTS
What does non-comedogenic mean? I know that many of you often see products that say "non-comedogenic" but are not 100% sure as to WHAT it means exactly. Plain and simple it means that the product was formulated to NOT clog pores. When dealing with adult acne- I highly recommend looking for 'non-comedogenic' products as they won't create any more excessive breakouts.
NINE // DON'T PICK YOUR SKIN
Don't pick the skin….. The words that I know I should practice but man they are hard. However, lately I have been adhering to the "NOT PICKING YOUR FACE" rule and I must admit as tempted as I am to pick, I am loving the amount of lesser breakouts even more. By picking your face you are actually causing trauma to the skin. This trauma also results in MORE breakouts and those pesky post acne scars. So please do me a favor and TRY to not pick your skin no matter how tempting it might get.

// TREAT //
TEN// TREAT YOUR SKIN FROM WITHIN WITH ACNEASE®
I touched a bit briefly on this in my acne treatments guide, but I want to reiterate it again. In order to get rid of acne, you NEED to TREAT your skin from within. Why? Real quick. Hormones are usually the main cause behind making our sebaceous glands go haywire, which makes our skin produce oil, which gives us acne. So there is no way at all that any topical, cleanser or exfoliant can achieve what an internal treatment can that is designed specifically to break the cycle of acne. I have been treating my skin from within with all-botanical, herbal treatment like AcnEase®. AcnEase® literally is the ONLY all botanical ingredient based systemic product that helps treat current acne all while preventing new acne from coming. I love that it is a holistic approach on treating acne so you aren't pumping your skin full of chemicals like Accutane that have been proven to give you MAJOR side effects (Accutane is off the market by the way, and its generics have similar side effects – in case you wanted to know!). Since AcnEase® is natural and made with the highest grade of herbal ingredients, it literally can be used by ANYONE, any skin tone complexion, any gender, and any age. For me, using this product has been a bit life-changing.
In my last post you saw a few photos of my progress, today I am sharing a bit more. As you can see the first picture is the final picture you saw here, followed by a picture taken 5 days later, followed by a picture taken literally last night (please don't mind the cell phone pictures). As you can see my skin has drastically changed and the breakouts are so so soooooooo much less. While the hyperpigmentation spots from picking (see this is why you shouldn't pick) are still there mainly on my forehead and chin are, they are noticeably different.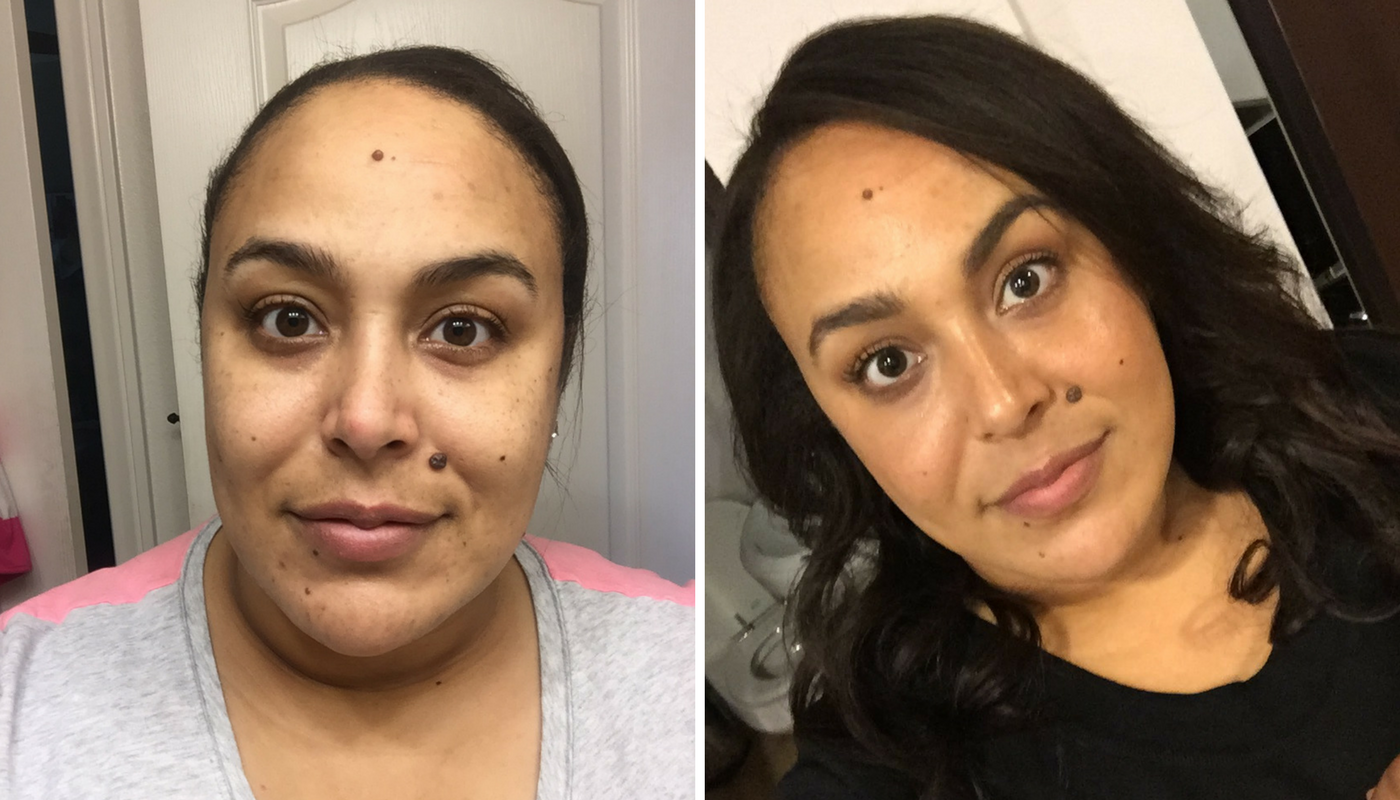 I am currently into my 4th bottle now and have one more bottle left before starting another cycle of AcnEase® (5 bottles for moderate acne) and then after that cycle, I transition into maintenance mode. Right now I am on the dose for moderate acne, which is 4 tablets taken 3 times a day. I know that 12 pills a day might sound like a lot to some, but it's super easy. The tablets are small and very easy to swallow and they don't leave a nasty after taste or aftermath (I am talking about you fish oil vitamins), not only that but if all it takes is 12 tablets a day to have clearer skin- SIGN ME UP. The breakdown for what program of AcnEase® to choose is simple.
Mild Acne– You have oily skin with a small number of small pimples that usually appear on the face and forehead periodically.
Moderate Acne– (MY CURRENT DOSE)- A significant number of inflamed pimples that cover larger areas of the face and forehead. They are more persistent and can be a combination of: blackheads, whiteheads, and comedones/papules
Severe Acne– Larger pimples and some cysts. Most are usually inflamed and cover larger areas of the face. They are persistent and chronic.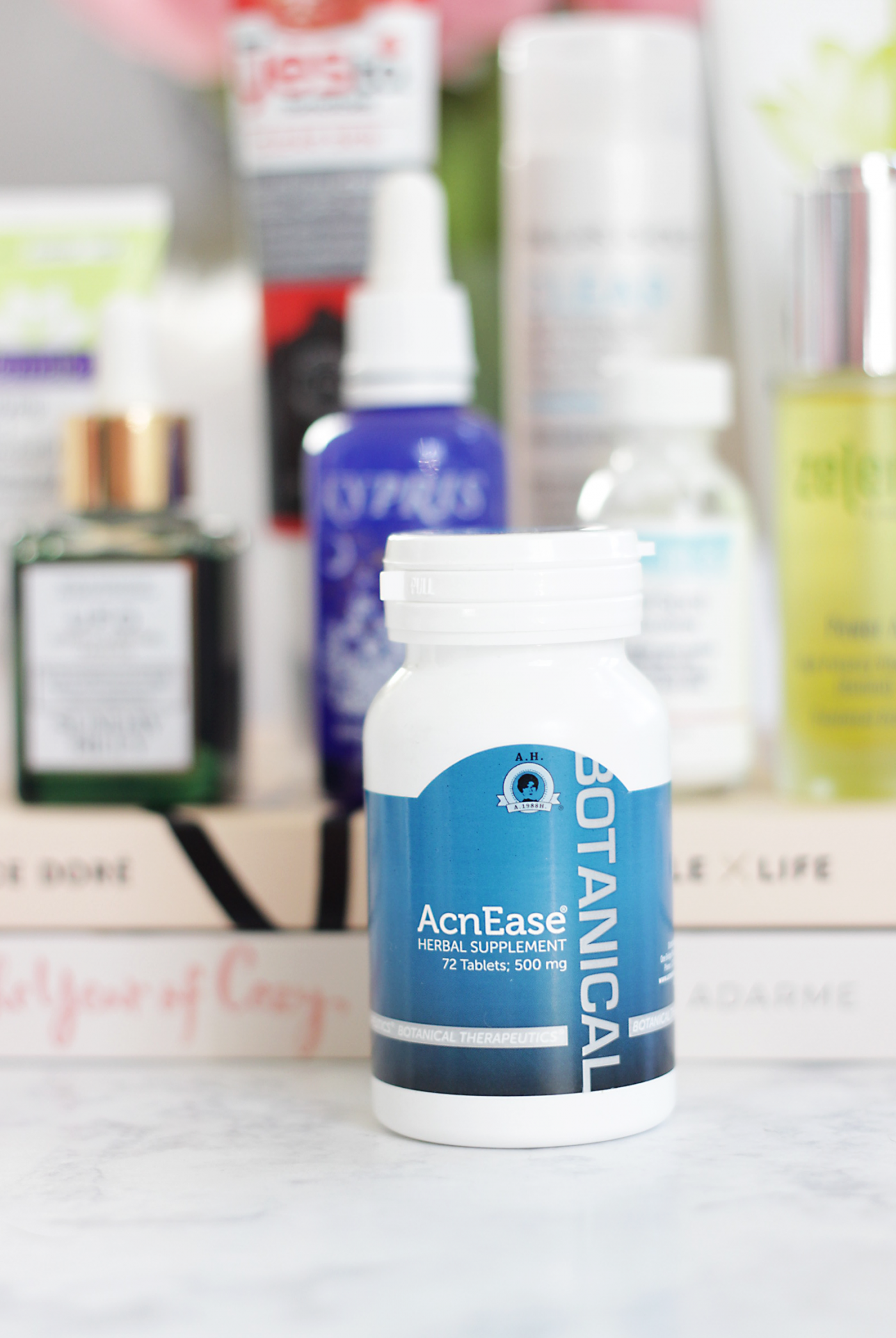 For those suffering from Chronic Moderate Acne (like myself) it is recommended to stay on AcnEase® for at least 1-2 months, then transition into a Maintenance Mode style plan if you've seen the results you want. If you are suffering from Chronic Severe Acne then it is recommended to use AcnEase® for at least 2-4 months, sometimes greater. The great thing about AcnEase® is that there really is a program from everyone. If you have Rosacea there is a program. Play lots of sports and suffer from body breakouts? There is a program for that. Just want overall clear skin and want to maintain the clear skin you have now? There is a program for that too! AcnEase® really is an overall acne solution for all. NO side effects, NO chemicals, NO sugar, NO gluten and NO Phytoestrogens – just clearer skin.
For more information on what dose you should be using check that out HERE.  Curious about the best way to utilize AcnEase® to help obtain clearer skin? Check out more information HERE.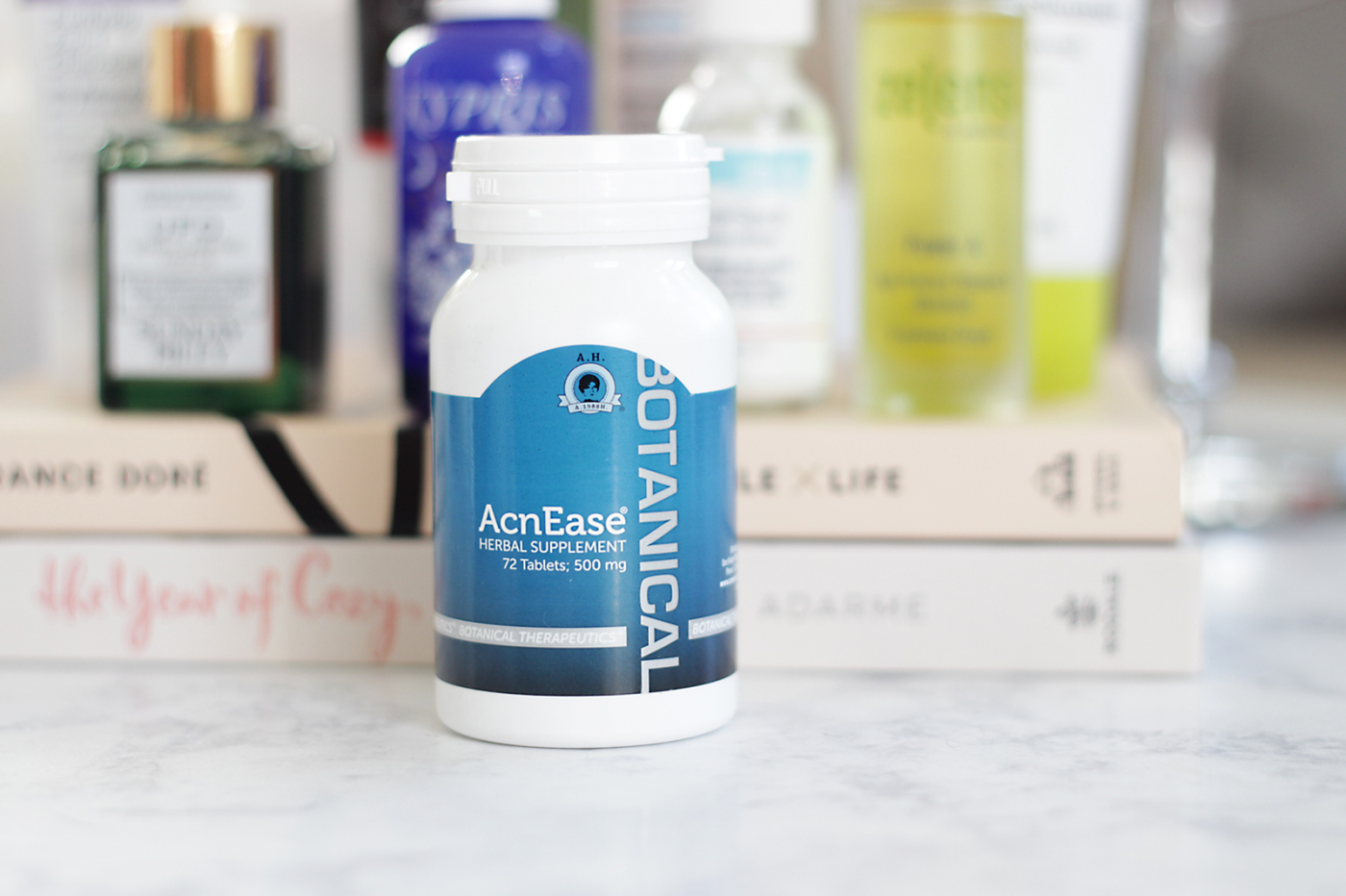 The clarity, the quality, the overall texture and tone of my skin is so much better. Literally, I am almost confident to go out without a butt load of makeup on- that is how much better my skin is. I am excited to see how my skin continues to get better and better as I am on this journey to clearer skin. Trust me I'll keep you guys all posted. Right now as a special bonus to all my skincare loving readers, AcnEase® is offering an awesome deal. Right now, starting TODAY you can save 10% off a purchase of $79 or more buy using code: JAMIE at checkout. This offer only lasts for ONE week only (end date is ETA) and it is only good on AcnEase.com and can NOT be combined with other offers. So what are you waiting for? Start your clearer skin journey today!
What are some of your favorite tips and tricks to help with Adult Acne? Have you tried any of the tips above? I would love to know in the comments below….
PIN FOR LATER: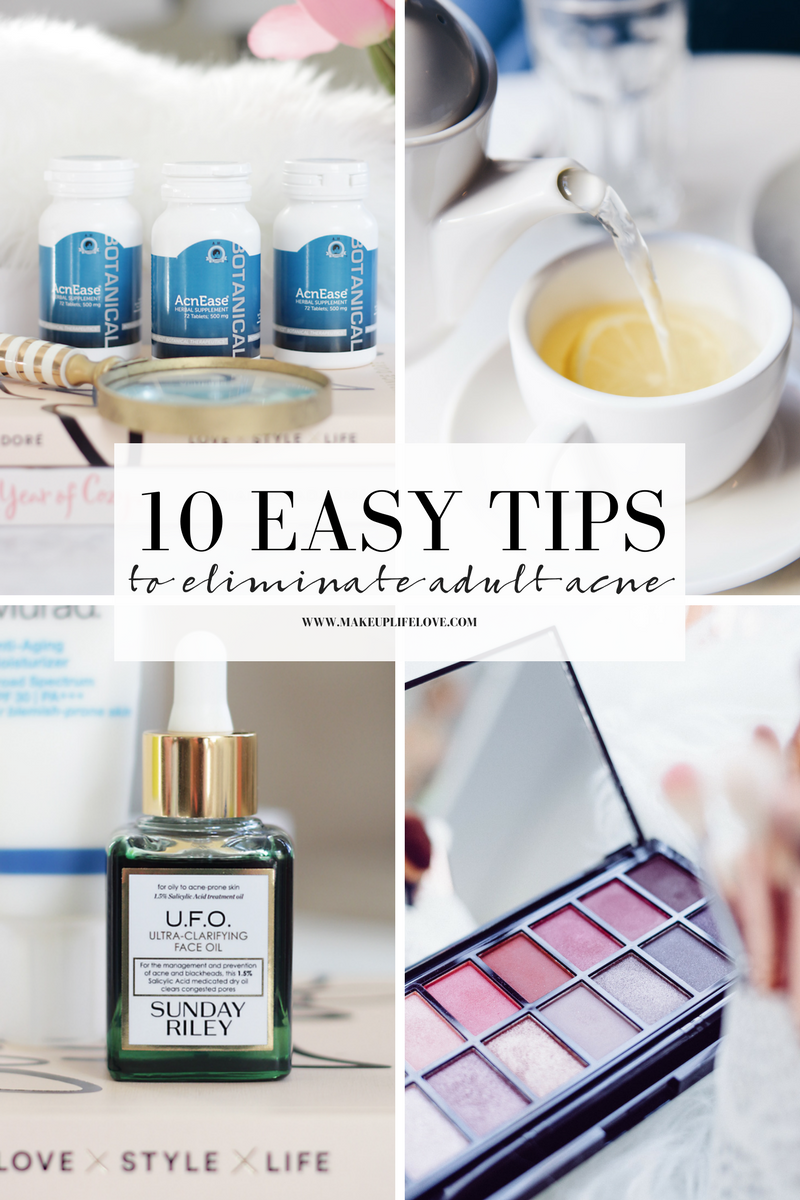 Today's post is a sponsored conversation about acne thanks to AcnEase® as always all thoughts and opinions are of my own.
AcnEase AcnEase Botanical AcnEase Supplements Adult Acne Adult Acne Treatment Adult Acne Treatments