Ever since I hit my 30's my skin has been a downhill spiral of being less than radiant. Today we are chatting all ways to achieve brighter, radiant skin. #PRIMPlovesPC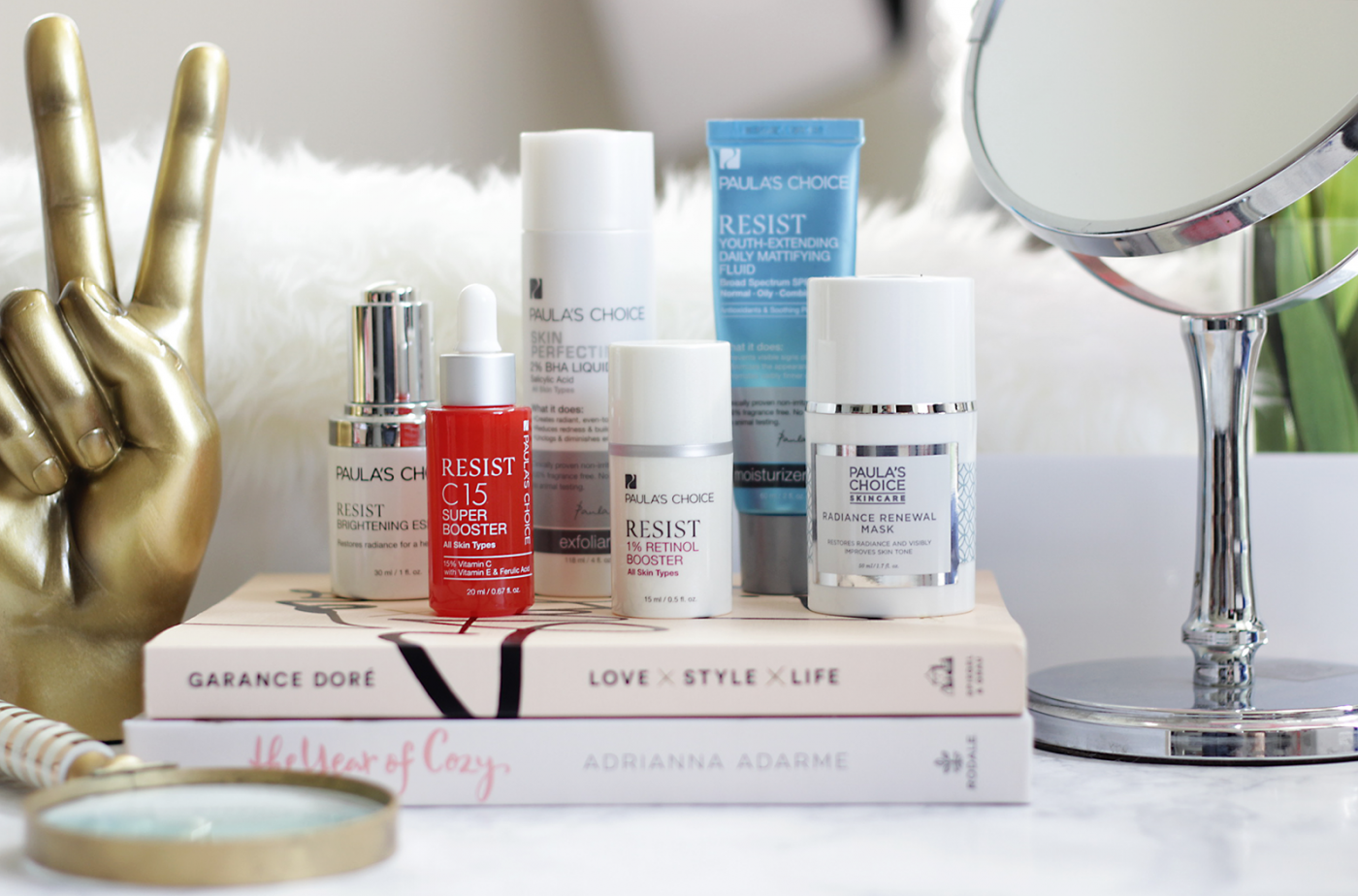 Today's post is sponsored by Paula's Choice via the PRIMP Network. As always all thoughts and opinions are my own. Thanks for supporting brands that support Makeup Life and Love
I don't know about you, but my skin gets VERY ANGRY when it comes to the change of the seasons. In fact, my skin since I hit my 30's has been VERY fussy any chance that it gets. No matter how good I take care of my skin, and ward off breakouts my skin has to come up with a new idea- lackluster / less than radiant skin. Today I am partnering up with Paula's Choice to share with you 5 EASY tips to achieve more radiant, glowing skin.
First a quick question I have for you: Are you currently using any retinol skincare products? Because there is NO doubt in my mind- you SHOULD BE! Technically regardless of age, I say retinol is majorly important- but especially no more so since you hit your 30's. Retinol my friends will become your NEW BFF! Trust me on this!
Before we jump right in, let's talk a minute about my skin if you don't already know.  You see I had perfect skin (humble brag) until I hit my 30's then it went downhill. I have what you call combination skin that is prone to breakouts/ adult acne and it gets weirdly dry in places but more or less oily in others. I don't have a ton of deep lines- thankfully– but I am starting to get those pesky fine lines and the glorious signs of aging. So for me, skincare is MAJOR, and achieving a radiant, glowing, like I am still in my early twenties complexion is a #GOAL for me.  
… We are all hoping for the fountain of youth, right? Nothing screams youth like a glowing, radiant complexion.
You see as much as I talk about skincare here on this blog, you would think I would know everything by know right? Not even close. The number one thing I have learned, however, is that when it comes to skincare- I do NOT mind splurging on things that work. You know those products- You put them on at night, and you see a difference in the morning? Those products are my faves, and lately, it seems like a ton of them are coming from Paula's Choice. Paula's Choice has been a long time go to of mine- you can read about my first experience HERE,  but Paula's Choice for me is also a brand I look to for skin care products that WORK- and boy do they work well.  Here are a few I have rounded up after some trial and error and found that they are STAPLES in my quest for glowing skin!

ONE // EXFOLIATE OFTEN
When it comes to your complexion looking radiant and glowing, you'll find that when skin is smooth it reflect light more.  Your skin naturally has cellular turnover every 28 -40 days depending on your age. So incorporating an exfoliant like Paula's Choice Skin Perfecting BHA 2% Salicylic Acid Liquid Exfoliant can help rid the skin of the piled up dead skin cells.  You see the more dead skin cells you have on the skin piled up, the more the diffuse the light and make your skin appear dull and less radiant. But utilizing an exfoliant it helps remove the gunk from they day as well as exfoliant that pesky layer of dead skin cells away.  I love the Paula's Choice Skin Perfecting BHA 2% Salicylic Acid Liquid Exfoliant because it is gentle and non-abrasive, helps unclog pores all while reducing redness, hydrating the skin as well as brightening the skin and evening it out.  PLUS you can use it twice daily after cleansing and toning of the skin- it is a miracle worker.  I am also a fan of this one and this one as well and rotate them within my skincare regimen depending on how my skin feels.

TWO // GET MORE OUT OF YOUR SKINCARE
Getting more out of your skincare when you are diligently cleansing, toning and exfoliating but still not seeing that glow you seek- then it is time to add in some skincare items that help bring some oomph to your skincare routine.  I am a HUGE believer of adding retinol into your skincare regimen as it is a powerhouse in its own right.  When your skin is firm, regardless of age- it instantly looks brighter and radiant. I fell in love with Paula's Choice RESIST 1% Retinol Booster a while back HERE and I haven't stopped using it. In fact, I am on my 3rd going into my 4th bottle of this little guy. You see this light fluid like lotion textured potion is actually a concentrated, pure form of retinol that you can ADD to ANY skincare regimen. You are probably wondering HOW is that possible? Well, this little booster can be used various ways:  You can apply it on its own // Mix in with your favorite moisturizer or serum // OR even applied with other skincare products.  The best part? Is that it helps to rapidly give you a more clarified, vibrant, younger-looking appearance all while fighting wrinkles (both fine line and deep wrinkles), even out your skin tone AND visibly refine the look of pores. It even helps with skin texture. I am a HUGE fan of this product.
SHOP PAULAS CHOICE PRODUCTS HERE! SAVE $10 OFF A PURCHASE OF $40 USING CODE: PRIMP10 AT CHECKOUT

THREE // GIVE YOURSELF A DOSE OF VITAMIN C
Vitamin C has always been a major player in skincare, but I feel like lately, it is getting an even bigger moment as we are all searching for brighter skin. Vitamin C is a MAJOR powerhouse as it is a potent antioxidant that helps brighten skin AND help fade those pesky sun spots, age spots, and hyperpigmentation. For that I have been loving the Paula's Choice RESIST C15 Super Booster as it is a highly concentrated form of Vitamin C and skin stabilizing antioxidants that help improve the appearance of uneven skin tone, brighten a dull complexion, as well as ward off the appearance of the environment. Like the RESIST 1% Retinol Skin Booster, this light as water liquid can be used alone OR mixed in with your favorite moisturizer or serum. It is very high in Vitamin C, Vitamin E, and ferulic acid as well as skin-smoothing peptides to help diminish signs of aging, and give you instantly brighter. It is starting to make its way into my HOLY GRAIL of skincare products like the Retinol Booster.

FOUR // PROTECT YOUR SKIN DAILY
This is HUGE you guys, and I can't stress this enough. PROTECT YOUR SKIN and wear an SF daily. Trust me if you want to look younger longer- SPF is KEY! I am a HUGE fan (this is my 5th tube) of the Paula's Choice RESIST Youth-Extending Daily Hydrating Fluid SPF50. This stuff ROCKS as it helps supply the skin with anti-wrinkle sun protection of SPF 50 all while being a super lightweight formula that doesn't leave ANY white/ashy feel to your skin AND it helps give the skin a satin-matte finish- you know I love– without being slick or greasy. I am OBSESSED with this, even in the summertime when my skin is on full blown oily status- this lightweight moisturizer is a MUST to apply daily. It's a win-win- fight wrinkles, protect your skin and hydrate the skin all at once. Love it!

FIVE // FAKE A GLOW WITH A BIT OF HIGHLIGHTER
Last but not least, you can always fake a solid glow with a bit of highlighter. When I say highlighter I am not talking about 'shine bright like a diamond' highlighter- I am talking a nice subtle sweeping of a champagne colored highlighter on your cheekbones, brow bones, the center of the chin, and a SUPER light dusting on the tip of your nose- all the places the light.  To do this the new Paula's Choice Gorgeous on the Go Makeup Collection is making its way to the top of my makeup bag. This set is perfection for on the go, for an easy change from day to night after work, or to travel with on a weekend away.
Housed in a sleek compact the Gorgeous on the Go Makeup Collection, is perfectly portable and handy with its mirrored compact. Inside this awesome little compact is a GORGEOUS champagne-colored powder highlighter , a beautiful rose blush (perfect for the a flush on the cheeks), a powder eyeliner in espresso- which is perfect to help smoke the eyes out a bit, fill in the eyebrows or give you the perfect cat eye, and 3 beautiful neutral powder eyeshadows in: Cream, Taupe and Bronze.  PLUS this set comes with a gorgeous shimmering Plum lipgloss. It is the perfect set to give your skin a bit of a glow and take you from day to night in an instance.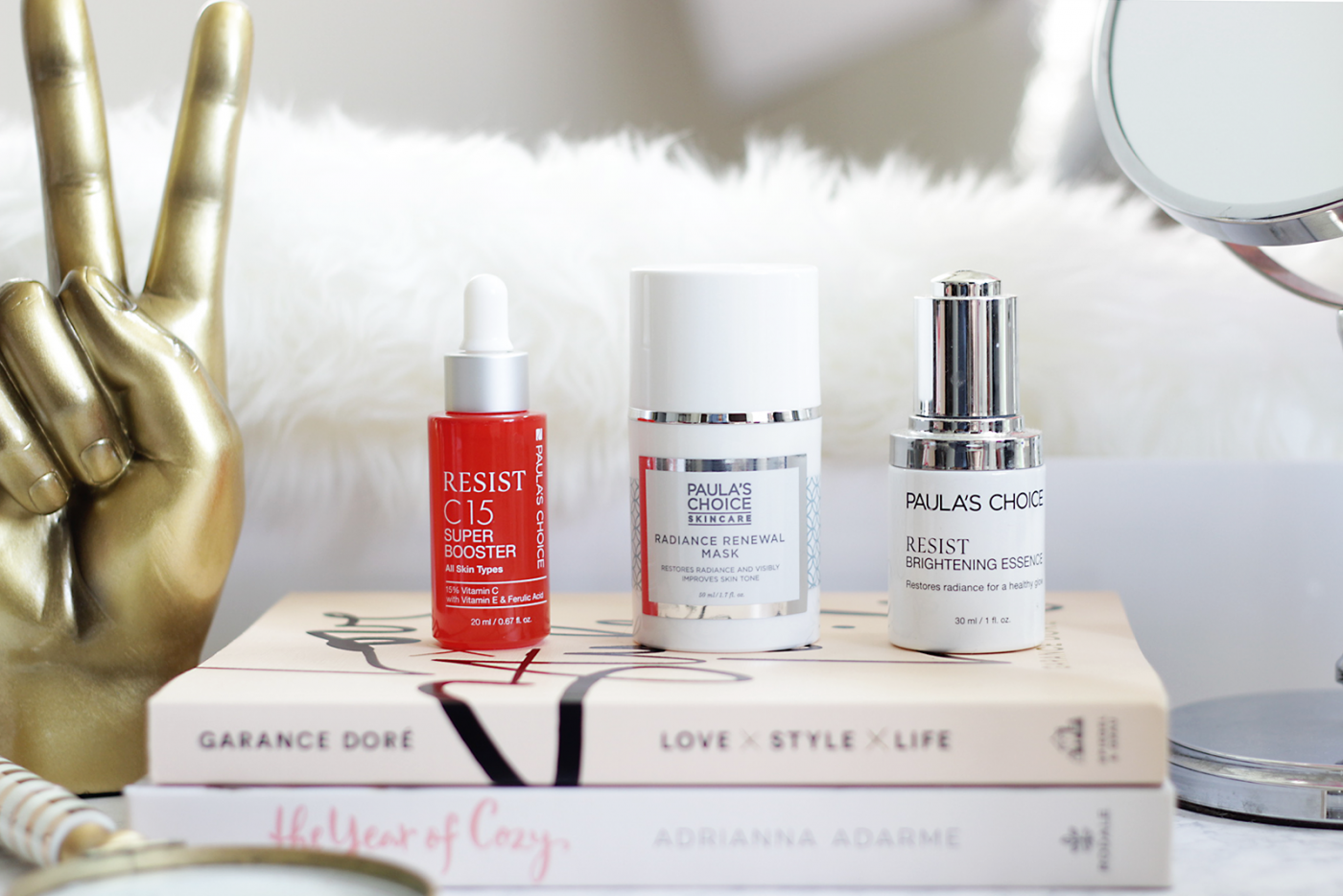 Now, in full total disclosure: I am VERY lucky to have had the opportunity to try various of these products on behalf of the brand, but I have fully purchased some of them multiple times since first trying them back here and continue to do so. My skin loves Paula's Choice and the products work wonders in my eyes.
If you are looking to revamp your skincare routine- Spring is the perfect time– or if you are looking to up your radiant skin game- I highly recommend checking out Paula's Choice. PLUS right now you can SAVE $10 on any purchase over $40 using code: PRIMP10 at checkout. So what are you waiting for? Get your glow on and SHOP Paula's Choice HERE! If you are looking for more solid recommendations, check out THIS POST as I share a few more of my top favorites.
SHOP PAULAS CHOICE PRODUCTS HERE! SAVE $10 OFF A PURCHASE OF $40 USING CODE: PRIMP10 AT CHECKOUT
Today's post is sponsored by Paula's Choice via the PRIMP Network. As always all thoughts and opinions are my own. Thanks for supporting brands that support Makeup Life and Love
[otw_shortcode_divider margin_top_bottom="30″ text="SHOP PAULA'S CHOICE" text_position="otw-text-center"][/otw_shortcode_divider]

Paula's Choice Paula's Choice Gorgeous on the Go Paula's Choice Radiance Renewal Mask Paula's Choice RESIST 1% Retinol Booster Paula's Choice RESIST C15 Super Booster Paula's Choice Skincare Paula's Skin Care