Do you have any beauty products that you love for Spring? I do! Lately, I am all about hydration, exfoliation, and nourishment when it comes to my beauty routine. Thankfully I have found a great way to update my beauty routine with a Spring beauty refresh.
Today's post is sponsored by Mirum Shopper. As always all thoughts and opinions are my own. #CVSBeautyBeginsHere
When it comes to beauty and skincare I often try to change things up when the seasons change. In fact, it's not often that I find a great drugstore find. Not too long ago I introduced you to a few tried and true drugstore favorites that you can find at your local CVS store to help combat winter skin.  Since we are entering Spring (thank goodness for this awesome weather) I thought it was time to start trying out a few new skincare and body products with a bit of Spring beauty refresh. Now as a blogger, you guys know I try a LOT of products, and if I am being honest finding a drugstore routine that lives up to my standards is pretty far and few.  Today I partnered up with CVS to share with you a few new additions that I have recently added to my springtime skincare routine.
First things, first one of my favorite drugstores to shop is CVS, my loyalty to CVS runs pretty deep especially because their Beauty Club rewards program is hands down the BEST! Not only do they carry some of my favorite brands, but the Extrabucks Rewards are hands down AMAZINGNESS! They add up so quickly from regular purchases (especially beauty purchases) that I love using my ExtraBucks and save big. Without further adieu, let's dive right into the products!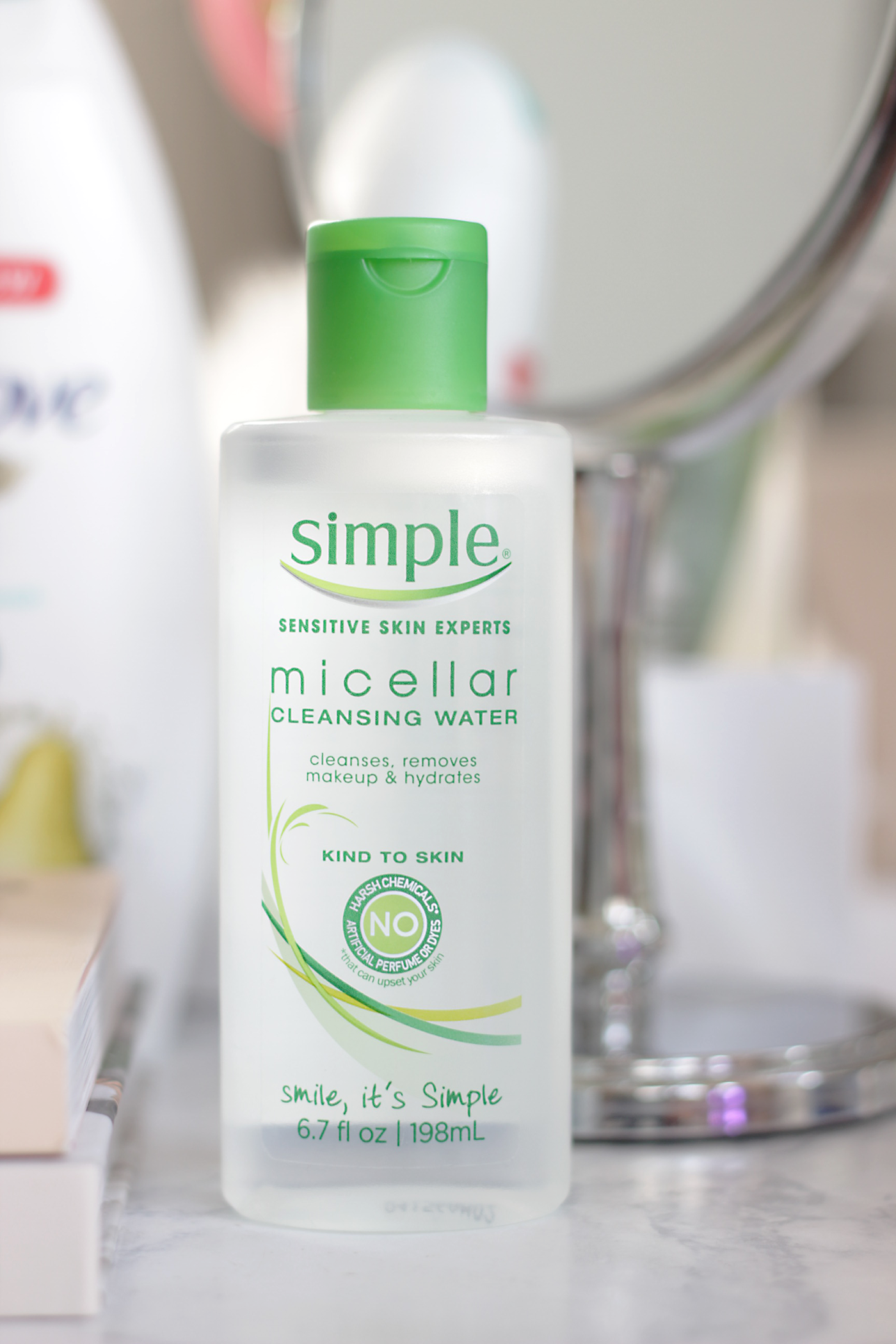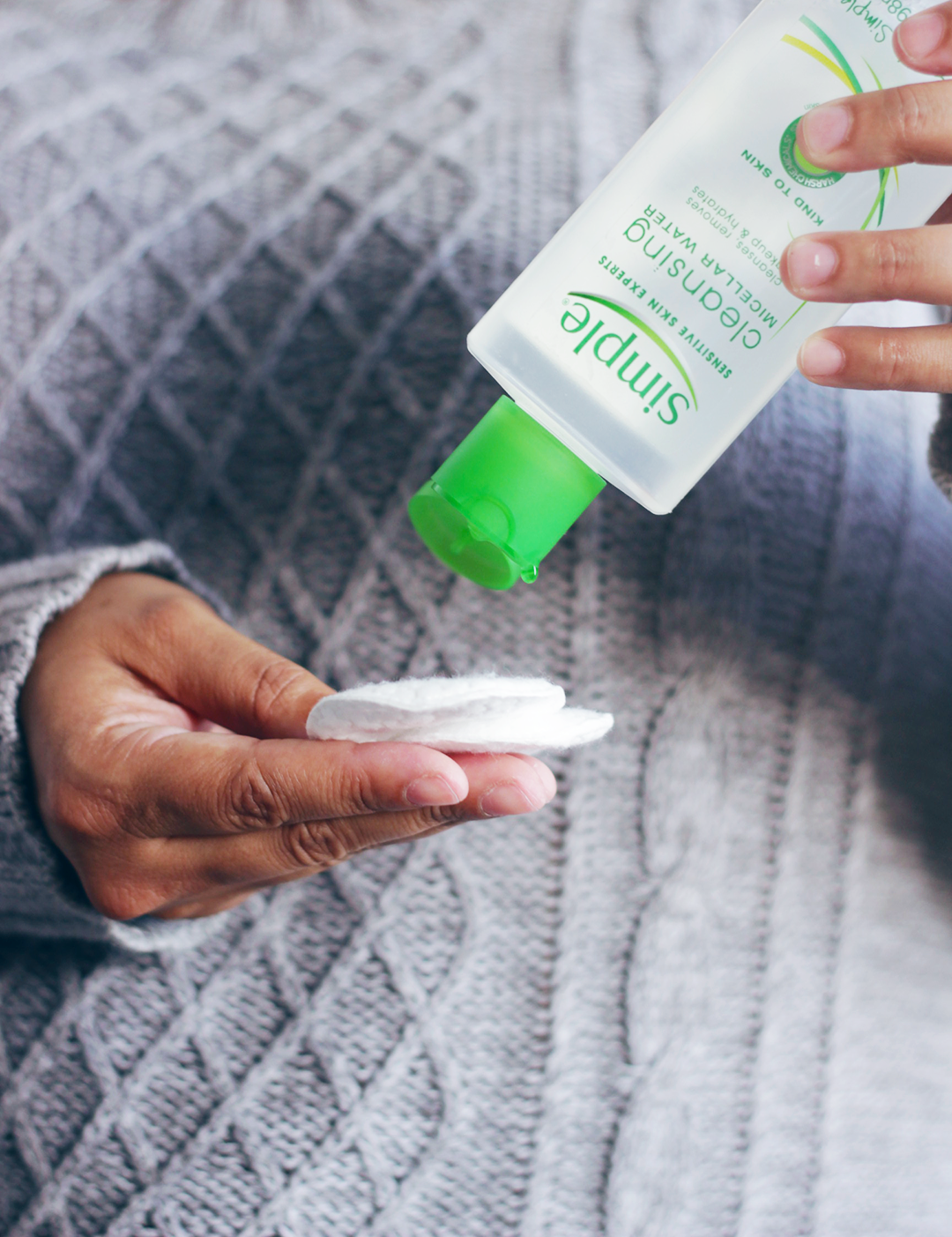 When it comes to a spring beauty refresh I am on a mission for hydration. One product that I have become a MAJOR fan of is a good micellar water. A micellar water the perfect rinse-free cleanser that keeps the skin in tip top shape with just one quick swipe across the skin. The Simple Micellar Cleansing Water is pure perfection and found at the drugstore. I have talked about my love for the Simple Micellar Cleansing Water before, and my love just continues to grow. It cleanses makeup, dirt, oil, and impurities all while unclogging pores. I love that the Simple Micellar Cleansing Water is made with triple purified water, hexylene glycol, and infused with vitamins B3 and C PLUS it instantly boosts the skin hydration by 90%. The best part is that it also contains NO artificial perfumes, dyes or harsh chemicals making it perfect for all skin types including sensitive skin.  The Simple Micellar Cleansing Water literally has been my saving grace as the water starts to kick up a notch. Trust me your skin will thank you- it's EASY, simple and of course gets your skin in tip top shape this Spring.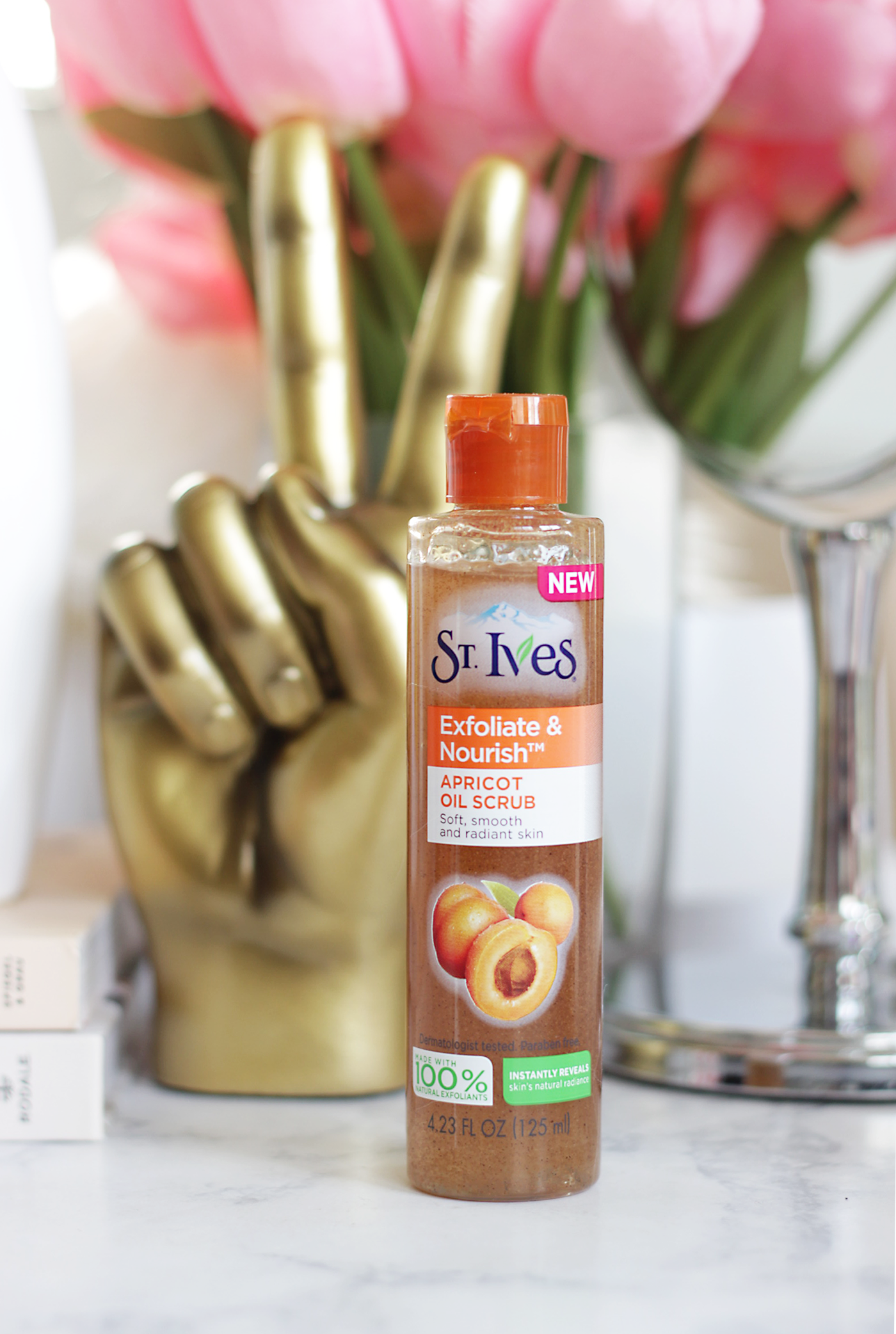 Another product that I have been OBSESSED with is the new St. Ives Apricot Oil Facial Scrub. This product is exfoliation at its finest. Now I have talked about the original St. Ives Face Scrub before, but the St. Ives Apricot Oil Facial Scrub is pure genius. A unique combination of the power of St. Ives iconic Apricot Scrub paired with the gentle nourishment of a cleansing oil. Made with 100% grapeseed oil and 100% natural exfoliants this facial oil scrub delivers a high exfoliation level all while remaining non-comedogenic (as in it will NOT block your pores).  I have been using this product at least 3-4 times a week to help ensure that my skin glows with its natural radiance. Seriously you guys it is SOOOOOOOOO good.  Gentle on the skin, smells amazing, and literally feels so good on the skin. You NEED this product this Spring, trust me! Your skin will literally glow from within.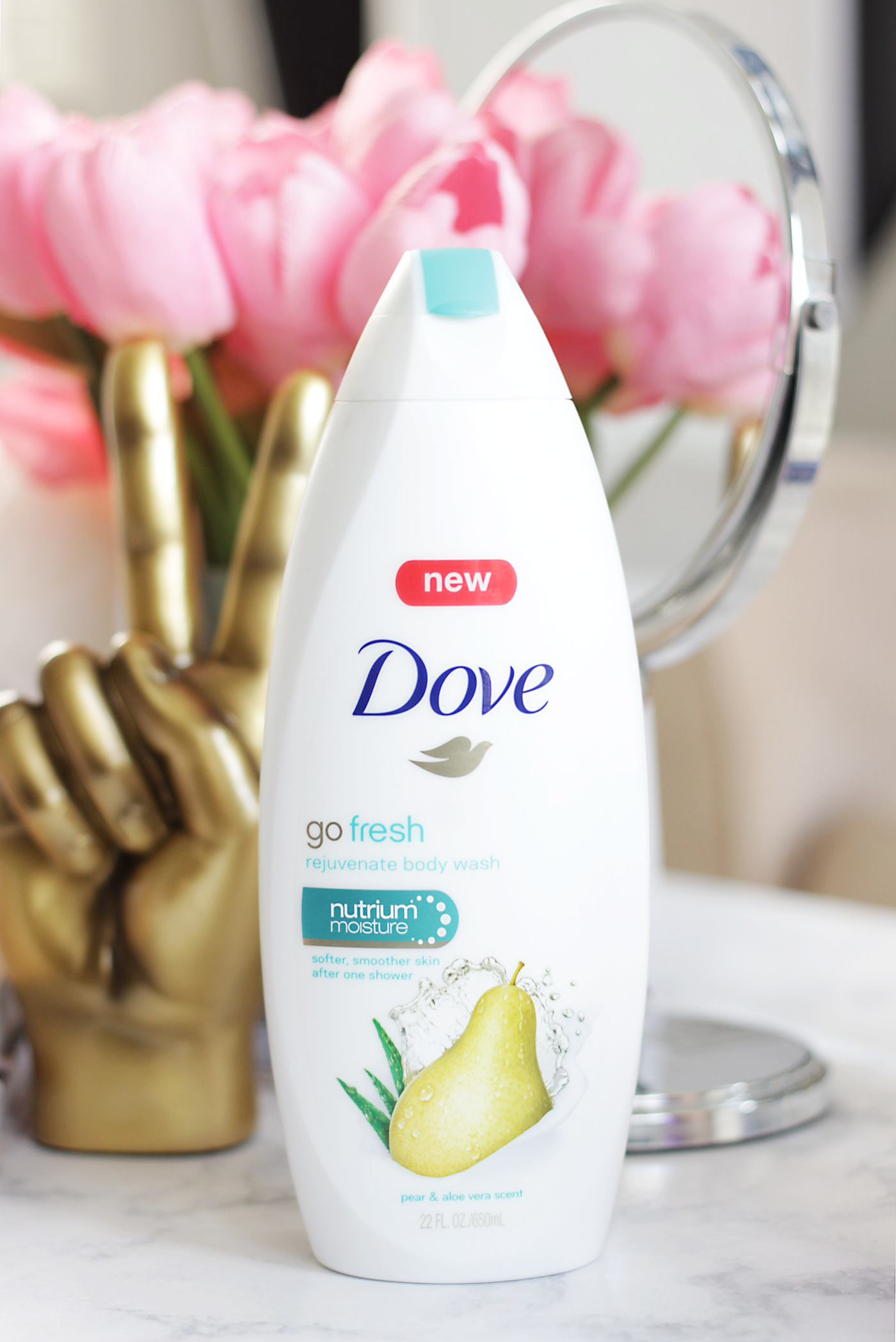 On my body, I have been searching for something that gives me maximum nourishment. I have been absolutely HOOKED with this Dove Go Fresh Rejuvenate Body Wash. This crisp, soothing cucumber and green tea scent that revitalizes your senses is pure perfection on the skin. It's light, hydrating and SUPER refreshing formula effectively nourishes your skin with its NutriumMoisture™ technology to help deliver the skin natural nutrients. No wonder Dove Body Wash is the #1 Dermatologist Recommended as its mild, gentle formula is super kind to your skin. I am HOOKED on this amazing body wash. It's literally the perfect way to wake up in the morning.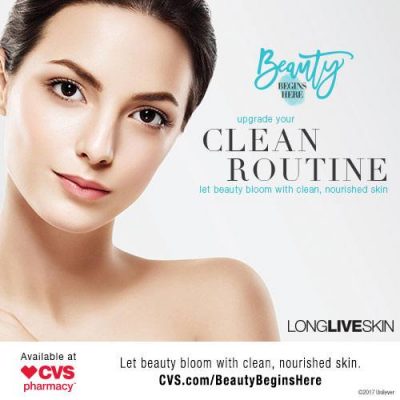 So there you have it, whether you are looking for hydration, exfoliation or nourishment this Spring OR you are just looking for a spring beauty refresh,
CVS
has you covered. If you are looking for more skin care tips? Make sure to head over to the
CVS website
and take a personalized skin care quiz to get the best products and tips to best optimize your skincare regimen.  The best part? When you take the quiz you also get a coupon for $1.00 OFF (1) Caress, Dove Body Wash, Dove Men + Care Body Wash, Pond's, Simple, St. Ives or Vaseline products.  While you are at
CVS
check out these AWESOME deals going on right now:
Buy One, Get One FREE Caress and St. Ives Body Washes // Offer Valid with

CVS ExtraCare

card 4/16/2017 until 4/22/2017

Buy One, Get One 50% OFF Dove and Dove Men+Care Personal Washes, AXE Shower Gel, St. Ives, Simple, POND's or Vaseline products // Offer with

CVS ExtraCare

card 4/23/2017 until 4/29/2017

$5 ExtraBucks when you spend $15 on Dove Personal Wash (22 oz. and 6-pk bar; includes new Dove Shower Foam) // Offer valid with

CVS ExtraCare

card 4/23/2017 until 4/29/2017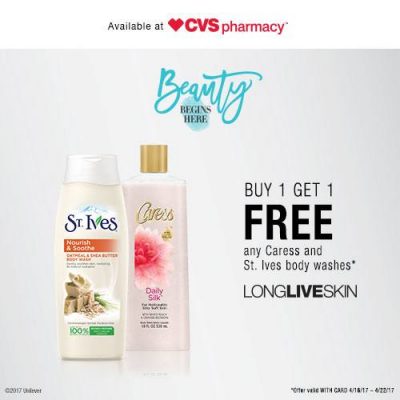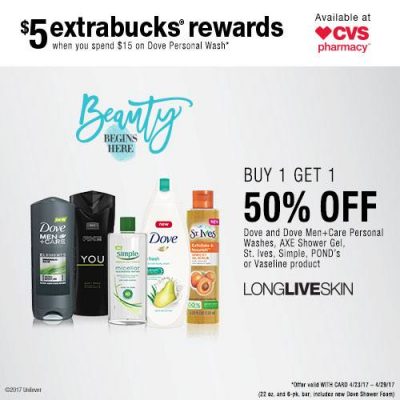 Let me know in the comments what products you would love to try out? How are you updating your beauty routine this Spring?
Pin for Later: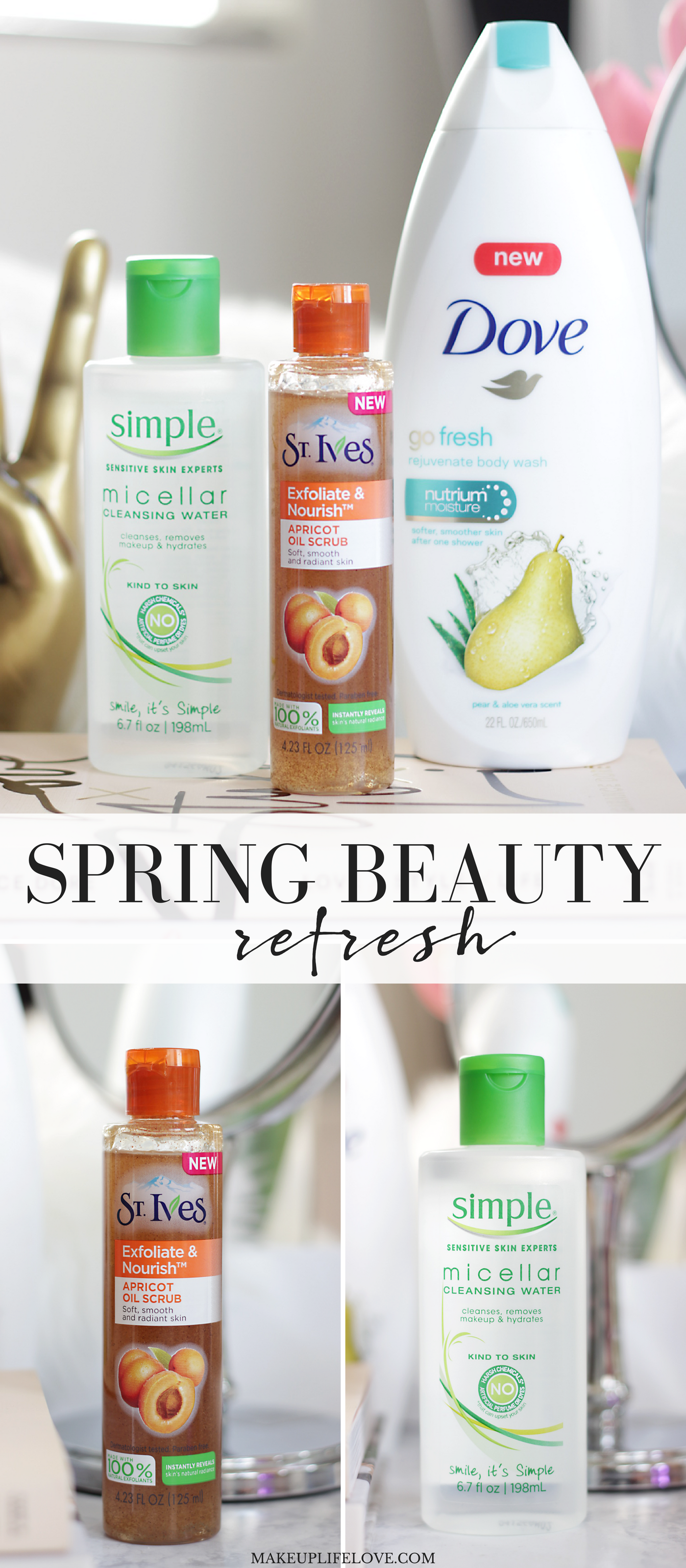 CVS Beauty Exfoliation Hydration Nourishment Simple Micellar Cleansing Water Spring Beauty St. Ives Apricot Oil Facial Scrub