Today we are chatting about face oils, why you need them, what they are for, and last but not least which are my current faves. So what are you waiting for? Let's dive right in and get oiled up.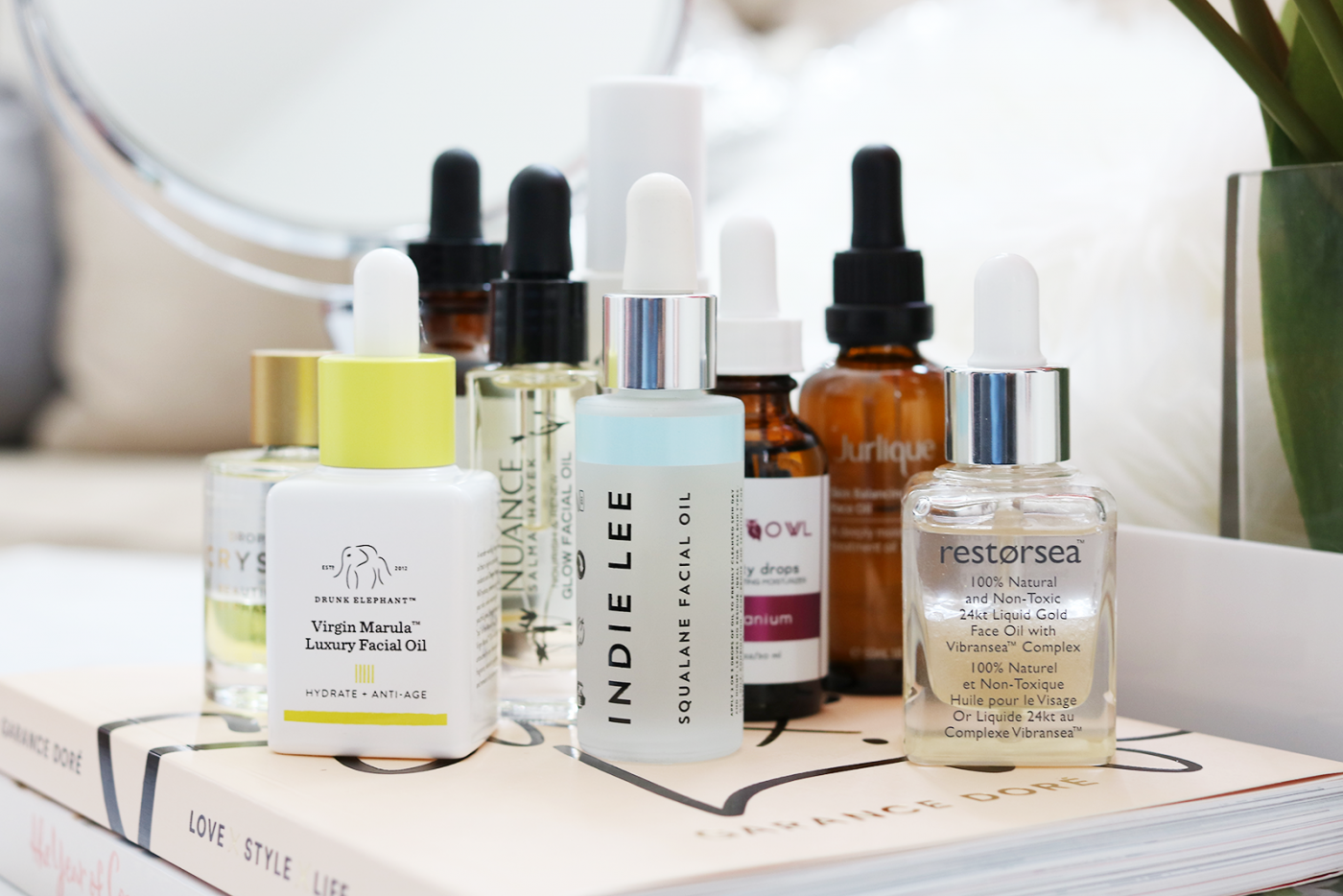 O-M-G so today I am REALLY excited about this post! I hope that you all know- no matter what your skin type, you will give this a solid go and read it because let's be honest you all – I am PASSIONATE about my face oils.  No matter what kind of skin type you are, I can make one solid promise to you- there is a face oil or face oils for you, AND I also promise you that by adding a face oil to your skincare regimen it will make a MAJOR difference. For some reason this has been a post that's a long time coming- I have written about a few face oils here and there, however, I have been waiting to round up my solid comprehensive list of face oils, until today…
Question for you:  Have you been weary when it comes to using face oils because you are confused about: what they are for, why to use them, or even because you just didn't want to put oil (ewwww) on your face and get more oily if you have oily skin?
If you answered the later, trust me I get it- I too at one point felt the same about putting "oil on my face". You see this post, isn't going to be a post that is all about raving and saying "Use a face oil will totally change your life" – although I do think it will change your skin for the best- in a major way. Face oils honestly are good for your skin so much that even some of the most gorgeous beauties in history credit their youthful appearances to using oils ( I mean everything from Olive Oil to Coconut Oil to Castor Oil have been credited to giving some GREAT skin). Over the past give or take 5 years oils have been making a major splash into skincare routines everywhere.  In fact, you can even find face oils in the drugstore now- see major splash in beauty!

// WHO NEEDS A FACE OIL? //
So while I am one that has the mindset that EVERYONE from young to old and ALL SKIN TYPES from dry to blemish prone all should use face oils. If you are like me and you use anti-aging products (think the acids: lactic, glycolic and retinol products) then a face should DEFINITELY be incorporated into your skin care regimen- ASAP! Let's face it the older we get the drier your skin tends to get and face oils can help you recover any lost moisture, and help seal in the potent anti-aging ingredients. A win-win!
// AND THE NUMBER QUESTION ALWAYS ASKED ABOUT OILS… //
Will facial oils make me break out? Well, that hands down probably is the question of the decade and literally the most often asked question when it comes to facial oils. And……the answer is NO! In face oils can be EXTREMELY helpful with skin care conditions- they can help stabilize and regulate the overproduction of sebum and in fact HELP you get rid of acne. Say what?!?! Nowadays, they have a facial oil for everyone- including those beauties out there that are worried about acne-  I recommend trying a Clarifying Oil like Sunday Riley UFO or Clarins Lotus Oil. I have talked about clarifying oils a bit HERE.  

// HOW TO INCORPORATE OILS INTO YOUR SKINCARE REGIMEN EASILY //
A lot of the time, most people are a bit intimidated when it comes to oils. So I am one to always recommend to start incorporating oils by adding just a few (at max three) drops to your moisturizer for everyday. If you want to use it at night for a bit of extra hydration- then I say add about 4-5 drops into your night moisturizer. Also key rule- pat face oils into skin- rubbing isn't a great thing- by patting/pressing oils into your skin you will find it is always best to help the skin absorb as much as possible.  What will then happen, will honestly impress you so much- you'll start to use them on their own.

// HOW DO YOU APPLY FACE OILS? //
This question is a two-fold one- since your skincare regimen should be layered from lightest to heaviest like I talked about here.  However, an easy rule of thumb with face oils is:
For Nighttime: Apply face oil as the LAST step in your beauty regimen over any and all anti-aging, high performance, skin miracle creams, and potions. This helps seal in the products and give the skin a little extra oomph. NOTE: If you have UBER dry skin- you can always apply moisturizer on top of the facial oil to heal seal in extra moisture and hydration.
During the day: So this is a bit new to me, however, when your skin needs a nice little perk me up from looking bored as all hell and tired from the day – usually around the 1pm-3pm timeframe– take a few drops (max 2) and rub them with your fingertips to gently pat the skin in the places when it needs a bit more radiance and boost. I promise you this oil will instantly give the skin a nice little boost. If it's an extra dry day- I use this oil and follow with a spritz or two if this facial mist.
When you are traveling:  Traveling and the recycled air on planes can instantly dry your skin up and wreck havoc on the skin- I keep this face oil in my carry-on and literally massage a few drops all over my face, my cuticles and the back of my hands (trust they need love too as they show your age) all prior to takeoff. Once landed, my skin is refreshed, hydrated and ready to tackle my destination.

// WHAT ARE YOUR TOP FAVORITE FACE OILS //
As we jump right into the best part of this whole post….. It's time for my favorites. I have many, many favorites, in fact I could probably name an oil for everyone out there- but if I have to round up my top face oils, you'll start to notice that most of them are natural/organic yet very effective. Why is that Jamie? Well for me, natural plant oils are the best because they won't and I repeat they WON'T clog your pores. They don't contain anything random like mineral oil, parabens, or synthetic filler oils.  The other reason is many organic oils tend to contain anti-oxidants and omega fatty acids- you know the keys to staying forever young! So let's jump right in… Here are my top favorite facial oils for various skin types and concerns- there is even a drugstore option or two.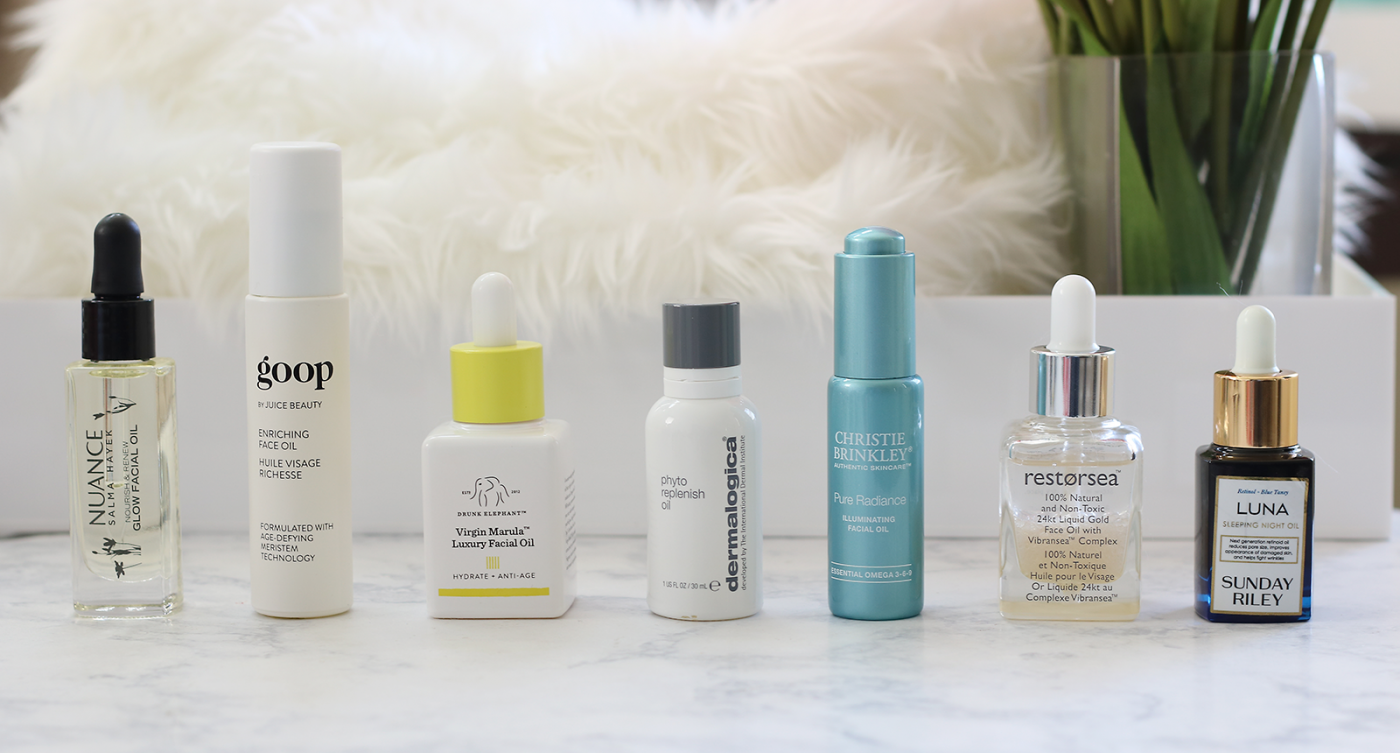 Sunday Riley Luna Oil, $105 for 1.8 oz // $55  for 0.5 oz: I am a HUGE Sunday Riley fan and this sleeping oil is pure perfection in a bottle. It is a next-generation retinoid oil that help improves skin plumpness all while fighting the appearance of wrinkles, redness, and pores for clearer, younger looking skin.  It's unique blend of German Chamomile and Blue Tansy help soothe the skin, while Blue Azulene helps reduce visible redness and the signs of sensitivity to help give you an even-toned complexion. Mixed with advanced retinol ester and potent botanicals this product is the ultimate sleeping oil. It's perfect for ALL Skin types for NIGHT TIME USE ONLY.
Sunday Riley UFO Oil, $40 for 0.5 oz // $80 for 1.18 oz: I had to add this oil to my list of favorites because it is literally my saving grace when it comes to blemishes and breakouts. Especially the hormonal ones you get at the time of the month. Perfect for all skin types this oil is a quick absorbing, medicated dry oil to help clear congested pores, treat and prevent acne all while smoothing the appearance of fine lines and wrinkles for clearer, smoother skin. It has a blend of 1.5 percent Salicylic acid mixed with Tea Tree Oil and Black Cumin Seed to support clearer skin while Licorice helps naturally brighten the appearance of old acne discolorations for a more even skin tone.  If you have blemish-prone skin this is perfect for you- even if you have sensitive skin.
Kahina Giving Beauty Prickly Pear Oil, $150 for 1.69 oz // $40 for .16 oz:  I absolutely LOVE this oil as it is extremely rich in Vitamins E & K, essential fatty acids and antioxidants and of course prickly pear seed oil which literally is an under eye miracle worker among other things. It helps moisturize and soften skin, restore the skin's elasticity, neutralize free radicals, and of course brighten under-eye circles. It is a richer oil than Argan Oil so I recommend this oil for normal to dry skin or dry, mature skin types. I have normal to combination skin and have been using just a drop of this on my under eyes and any dry patches that have been occurring due to the cold weather- it is literally a miracle worker.
Indie Lee Squalane Facial Oil, $32 for 1 oz:  This 100% pure, olive-derived squalane oils helps promote skin elasticity, diminish age spots and hyperpigmentation, all while boosting cell regeneration and oxygenation. It helps improves the skin's texture and tone all while leaving skin soft and nourishes.  This face oil is perfect for ALL skin types including sensitive, dry, oily and acne prone skin.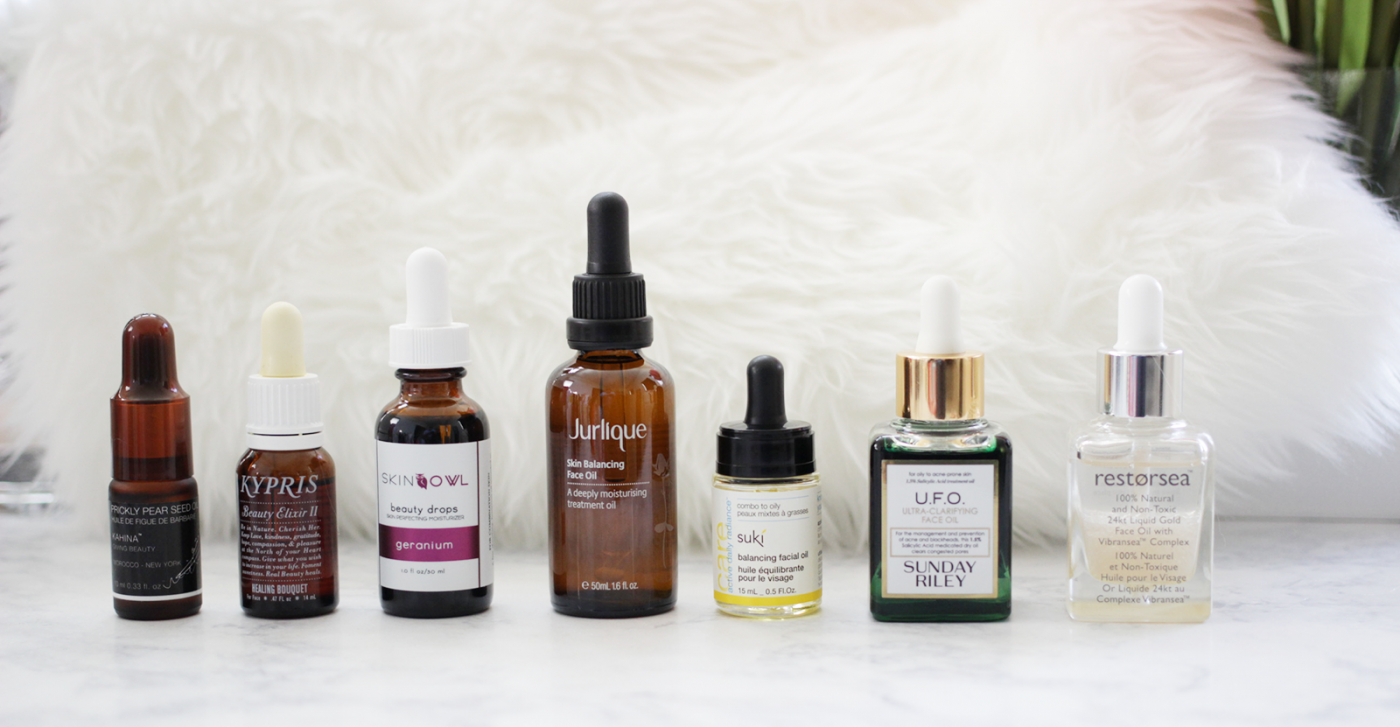 Kypris Beauty Elixir II- Healing Bouquet, $200 for 1.5 oz // $80 for .47 oz: Now this oil is probably one of the most expensive facial oils I have tried, but let me tell you it is SOOOOOOO good. Whenever my skin is fussy or having a major freak out session this oil helps get it back into shape ASAP. It is perfect for normal to combination skin, with its unique blend of free radical quenching CoQ10, collagen inspiring Vitamin C ester, and a rainbow of phytonutrients, essential fatty acids, and natural actives from select plant sources to help continually calm, soothe, and give you radiant, supple skin. This facial oil also complements your SPF protection, calms and balances irritation, boosts collagen and is full of grounding for each chakra. It is SO SO SOOOOO good.  If your combination skin is freaking out like mine does due to environmental/weather changes or is irritated for random reasons this is perfection in a bottle for you. It's my favorite facial oil to travel with because of the altitude changes, etc..
Skin Owl Geranium Beauty Drops Facial  Oil, $30 for 1 oz:  These drops are new to me but they are making a HUGE impression. These Geranium Beauty Drops help balance, decongest, and combat first signs of aging all while boosting radiance. I am loving that they are so amazing that you can use them in place of a serum and moisturizer. These are perfect for dehydrated, dull, combination skin types.  They also have two other blends like this one for acne and irritated skin AND this one for aged, mature skin.
Drunk Elephant Virgin Marula™ Luxury Facial Oil, $72 for 1 oz: You all know I am a MAJOR Drunk Elephant Fan, and this oil is no exception to being a holy grail. This oil is perfect for ALL skin types as it is literally like rehab for your skin. This miracle working is high in critical antioxidants, Omegas 6 and 9 as it hydrates, preserves and nourishes your skin. It's Virgin Marula Oil so it is not touched by any chemicals or fragrances- it's just the purest form and it is AMAZING!
goop by Juice Beauty Enriching Face Oil, $110 for 1 oz: I am OBSESSED with this oil as I have been using it nightly. Juice Beauty and Gwyneth Paltrow collaborated on this and it is SOOOOOOOOO good.  Perfect for all skin types as it literally is a potent miracle oil that sinks directly into the skin. It has two active ingredients I always look for Poet's daffodil to help with pigmentation/dark spots and Vitamin E to help deliver the skin with powerful antioxidants. I have been using this as a midday pick me up when my skin is feeling a bit dry and it is seriously phenomenal. P.S: It's also formulated with USDA-certified organic ingredients and contains 99% total organic content. So this is an Organic Skincare Lovers dream oil.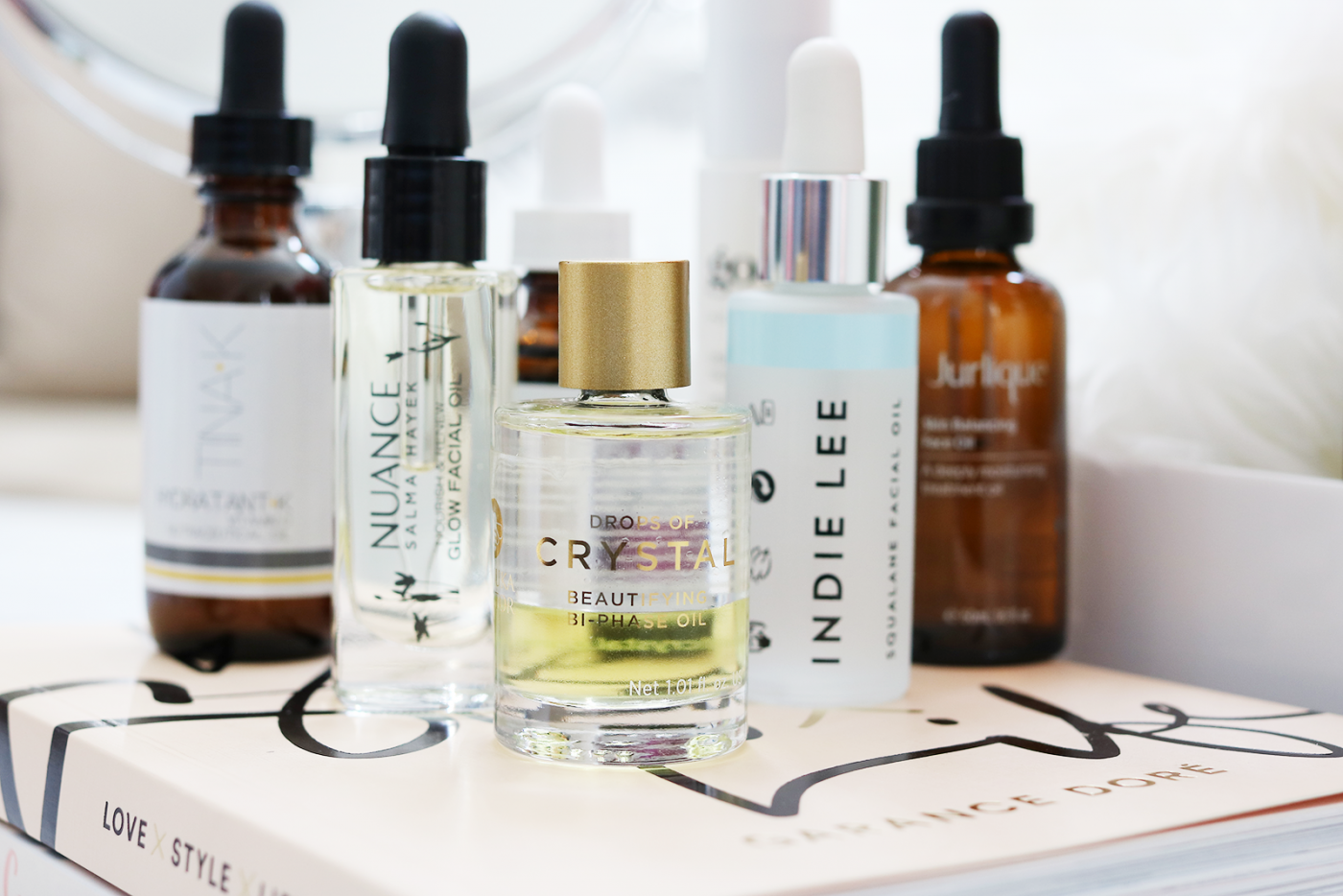 Manuka Doctor Drops of Crystal Beautifying Bi-Phase Oil, $39.95 for 1.01 oz:  I was introduced to this oil at the launch party with Kourtney Kardashian, instantly after one use I can see why it is her absolute favorite oil. A unique blend of Purified Bee Venom and Manuka honey help promote the skin's elasticity and restore the skin's natural radiance, all while plumping and firming the skin. Literally, your skin feels brighter almost instantly.
TINA K Hydratant K Vitamin D Nutraceutical Oil, $95 for 1.9 oz: This oil is almost like a two for one because although it is a facial oil it also has a bit of treatment serum spin to it. This product is the backbone of the TINA K Skincare line as this Vitamin D treatment addresses sun damage and moisture loss in the skin. It's perfect for ALL skin types as it sinks into the skin to help target dehydrated areas, with its unique blend of botanical oils and antioxidants coupled with anti-inflammatory benefits. If you have sensitive skin- THIS is something you totally should try as it helps with soothing redness.
Nuance by Salma Hayek Nourish & Renew Glow Facial Oil, $21.99 for 1 oz: This oil probably is a stand out oil because the price is AMAZING and it's found in your local CVS stores.  Made with a unique blend of Jojoba Oil, Calendula and Rosemary Extracts to help pamper the skin as it infuses the skin with Vitamin E to condition and protect the skin- this lightweight formula is ultra hydrating and deeply nourishing that absorbs quickly to help soften dull, dry skin and leaving you with a radiant, healthy glow. You will be HOOKED on this oil after trying it just once and it is a nice lovely hydrating pamper when paired with moisturizer or just a lovely skin treat on its own. Highly recommend this drugstore buy for all skin types.
Jurlique Skin Balancing Face Oil, $50 for 1.6 oz: Jurlique is a brand that I am a HUGE fan of as it is one of my mom's favorite brands. This quick-absorbing, lightweight hydrating treatment oil helps balance ALL skin types to leave skin feeling smooth, silky and so luminous. It is the perfect balancing oil to help keep skin hydrated and balance both day or night all while improving the skin's suppleness and elasticity, as well as addresses signs of uneven skin texture.  This oil is SUPER awesome for combination skin as it helps re-balance natural oil production to calm oily areas and hydrate the dry areas of the skin. Right now on Sephora, you can snag it for just $40- which is a MAJOR steal.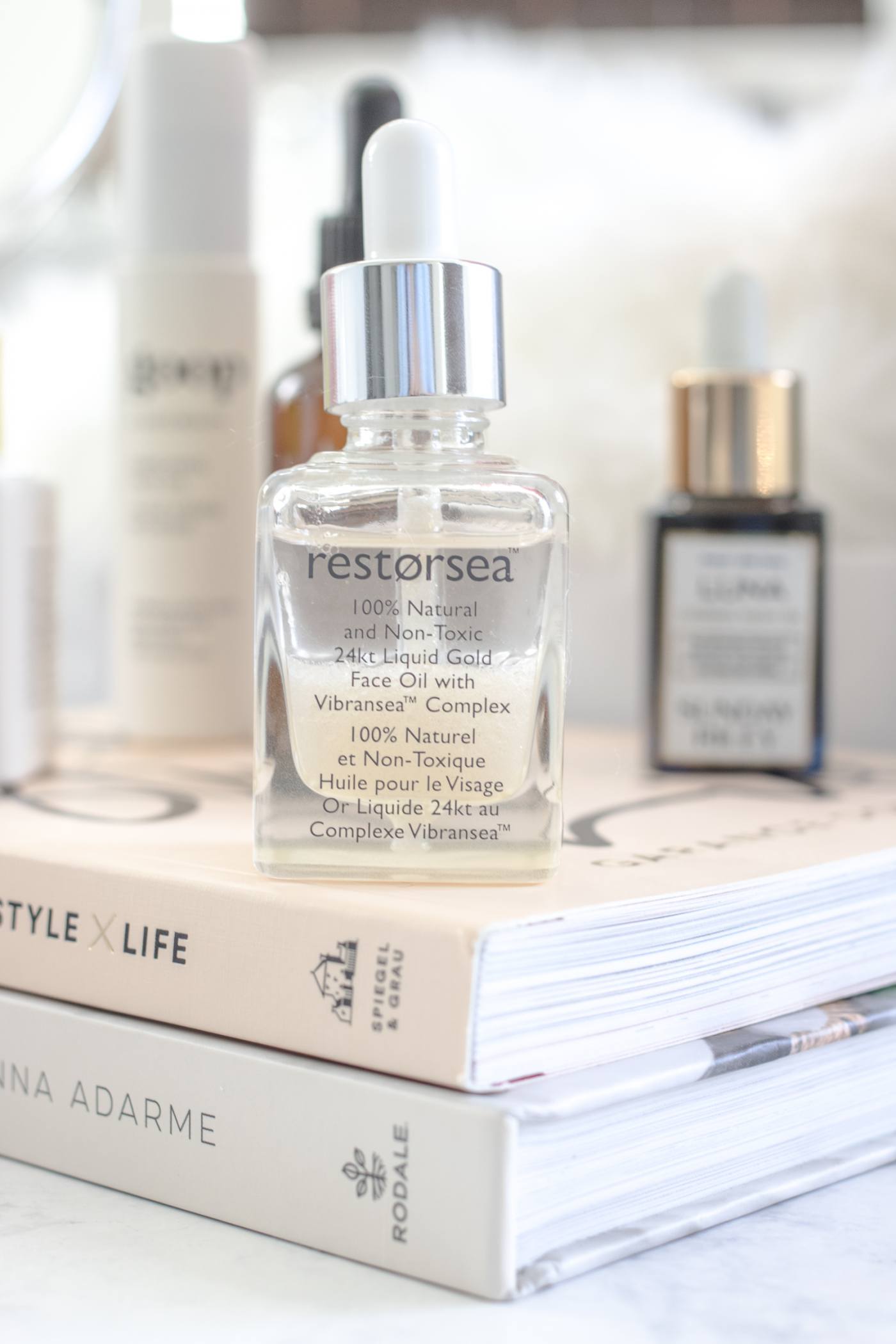 restorsea 24kt Liquid Gold Face Oil with Vibransea Complex, $150 for 1 oz:  This oil is pure perfection as it helps win the war against having oily skin.  This dual-phase product contains 3X the amount of restorsea's proprietary Aquabeautine XL active ingredient. I LOVE that it also contains REAL 24kt gold flakes- I mean who doesn't want to apply literally liquid gold on their skin? Ancient Egyptians used to develop skin elixirs made from liquid gold as it's presence in the body will rejuvenate and cure. This oil literally helps the skin believe that its hydrated and sebum production is instantly under control. I am OBSESSED!! It is perfection for ALL skin type including sensitive skin.  Trust me it's worth every single penny as my skin LOVES this oil.
Dermalogica Phyto-Replenish Oil, $75 for 1 oz: This super rich feather light treatment oil is AWESOME! It can be worn alone or layered under foundation for all-day dewy skin.  This next generation formula takes a three-phase approach to replenishing the skin's protective lipids that are depleted by aging and environmental stress.  A unique blend of Camellia and Tamanu Oils, as well as Orchid Flower and Chia Seed Oil to help smooth visible fine lines, while Sunflower, Rice Bran and Rosemary Extracts help create a luminous antioxidant shield against free radical damage. It is perfect for daily use on normal and dry skin.
Suki Skincare Balancing Facial Oil, $32.95 for 0.5 oz: I have been using this oil for quite some time now, I think I am on my 3rd bottle or so and the thing I love about this oil is that it is formulated to be a light, breathable solution for the night when you body expels toxins, combined with the calming effects of balancing especially for anyone seeking lighter moisture. It helps calm & soothe the skin, reduce the appearance of blemishes (all kinds: including chronic and cystic), clears pores and promotes overall skin clarity all while balancing the sebum and bacteria production.  This oil has a unique blend of SEBUM EQUALIZING COMPLEX™suki® proprietary complexes™ combine high-performance ingredients to target issues safely & effectively, it closely matches our skin's natural chemistry/ sebum as it helps calm stressed irritated and troubled skin.  The blend of high potency extracts such as: jojoba seed oil, hazelnut oil, borage seed, lavender, rosehip, calendula, and chamomile make this oil perfect for all skin types as it absorbs easily without ever leaving the skin oily and greasy feeling. I highly recommend this oil, even if you have sensitive skin.
Kiehl's Midnight Recovery Concentrate Night Care Facial Oil, $46 for 1 oz // $72 for 1.7 oz // $122 for 3.4 oz: You all know I rave about Kiehl's any chance I get as I have been a LONG time lover of the brand. This oil is also Kim Kardashian's facial oil as it helps visibly restore the appearance of skin. It a nighttime miracle worker since that is when your skin is more receptive to repairing itself from the daily aggressors. I love that this oil is also very calming as its unique blend of oils including Lavender, Evening Primrose, and Squalene to help restore and replenish the skin. Literally you awake with healthier, smoother, supple skin. It is a MUST HAVE for all skin types.
Christie Brinkley Pure Radiance Illuminating Facial Oil, $49 for 0.9 oz: this is one of the BEST oils for anyone who is looking to help with skin discoloration and signs of photoaging. It's a fast absorbing luxurious blend of restorative bio-mimetic omega oils that help target the skin's natural lipid barrier to help protect the skin from aging.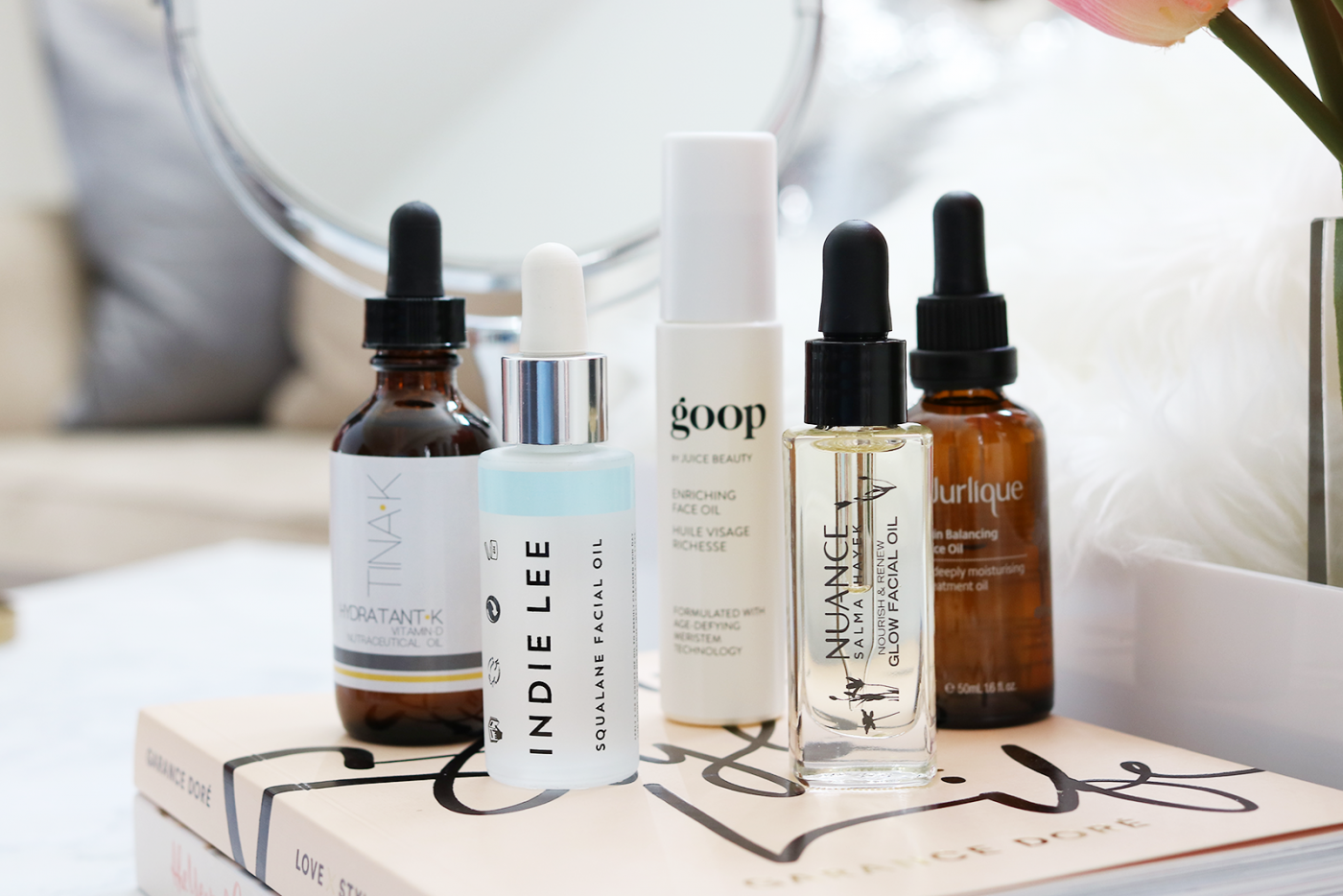 So there you have it a long (maybe too long) comprehensive guide to face oils.  Have you tried any of my favorite face oils? What are a few of your favorite? While you are at it, why not try out some oil cleansers or the double cleanse method (something I totally swear by).
Pin for later: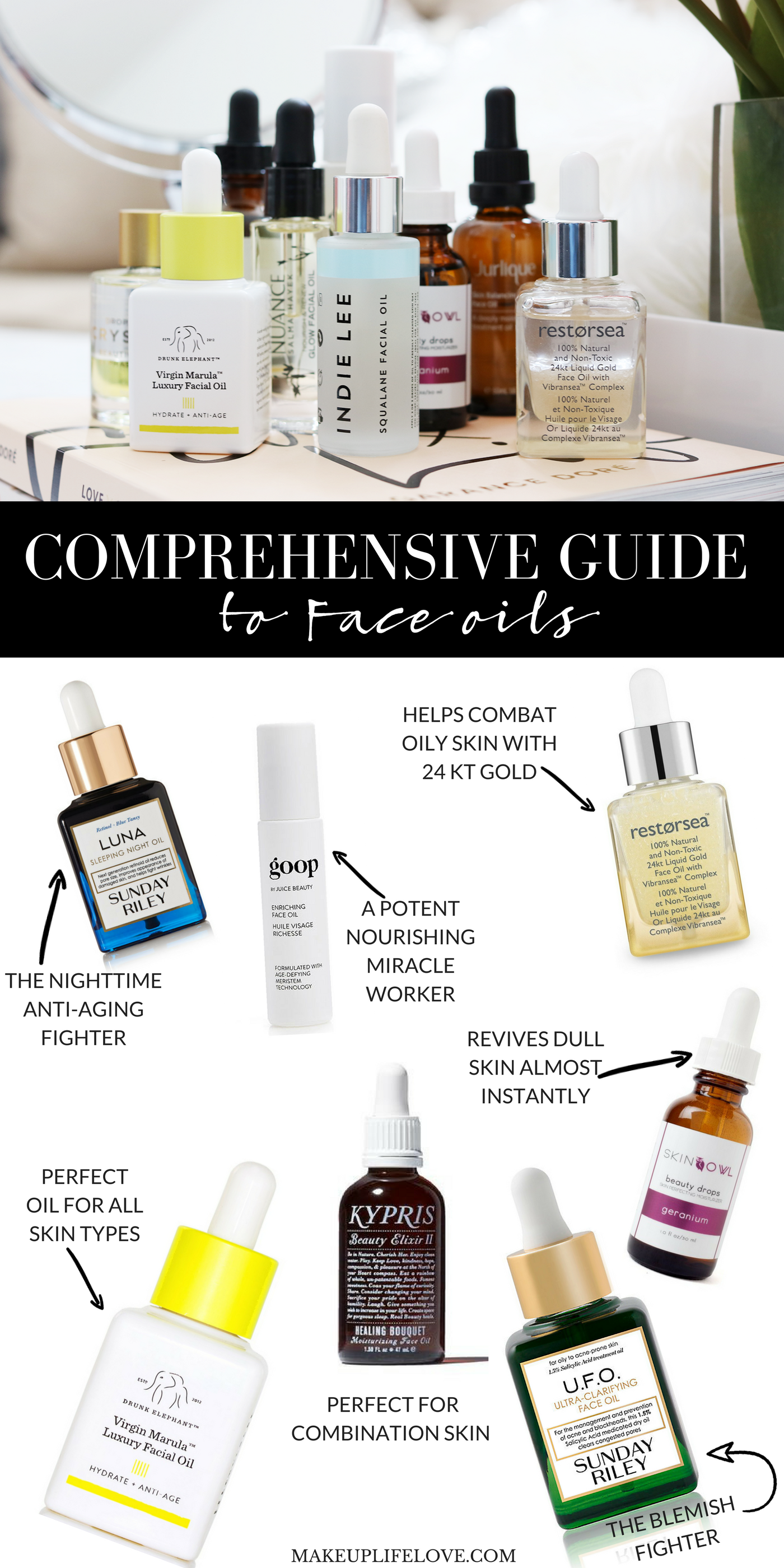 [otw_shortcode_divider margin_top_bottom="30″ text="SHOP FACE OILS" text_position="otw-text-center"][/otw_shortcode_divider]

Let me know what face oils you are loving at the moment in the comments below and be sure to check out my fellow Makeup Wars girls and see what their favorite face oils are below. 
Christie Brinkley Pure Radiance Illuminating Facial Oil Dermalogica Phyto-Replenish Oil Drunk Elephant Virgin Marula Luxury Facial Oil Face Oils Facial Oils goop by Juice Beauty Enriching Face Oil How To Use Face Oils Indie Lee Squalane Facial Oil Jurlique Skin Balancing Face Oil Kahina Giving Beauty Prickly Pear Oil Kiehl's Midnight Recovery Concentrate Night Care Facial Oil Kypris Beauty Elixir II- Healing Bouquet Manuka Doctor Drops of Crystal Beautifying Bi-Phase Oil Nuance by Salma Hayek Nourish & Renew Glow Facial Oil restorsea 24kt Liquid Gold Face Oil with Vibransea Complex Skin Owl Geranium Beauty Drops Facial Oil Suki Skincare Balancing Facial Oil Sunday Riley Luna Oil Sunday Riley UFO Oil TINA K Hydratant K Vitamin K Nutraceutical Oil