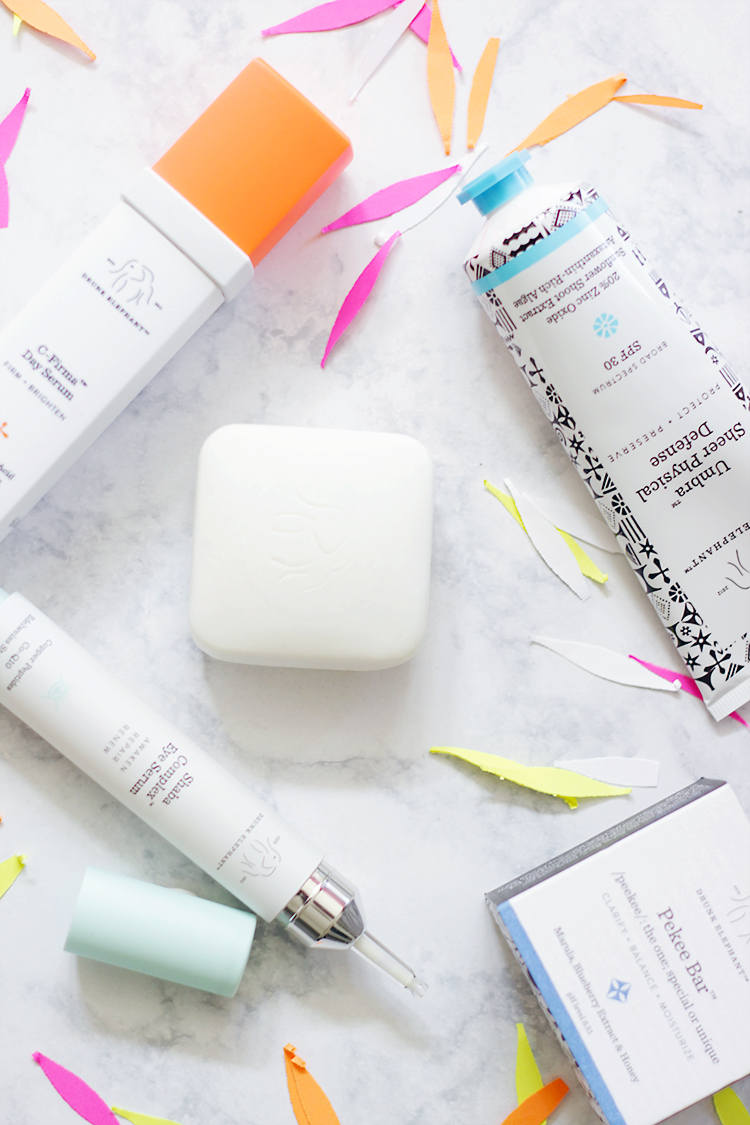 It is a super rare occurrence that I often discover a new skincare love that I get the ultra fast LOVE at first sight kind of feeling. Mainly because I am a bit of a stubborn creature of habit liking to stick to the things I know and love- because my skin as of late is very resistant to change. Although when I tend to read about a brand that has me ultra intrigued, full of glowing reviews, I often tend to listen up, and listen up VERY quickly. I mean WHO can seriously resist the cheeky yet sassy name and the ultra simple yet super fun and chic packaging? Anyhow if you haven't heard the name Drunk Elephant Skincare this past year, either you are living under a rock or you haven't headed to your local Sephora store- last month they launched in ALL Sephora stores. So when given the opportunity to test a few items from the line, I instantly JUMPED –and possibly screamed for joy. Let's talk about my new favorite loves/OMG's/and the 'I can NEVER live without you again' products from the line.
DRUNK ELEPHANT: THE BRAND 
First things first lets talk a bit about the brand. Drunk Elephant Skincare is an all-amazing, non-toxic brand. The name is hands down the cutest name I have EVER heard of as it is deeply rooted in mythology. The myth behind the name Drunk Elephant is that elephants love to the fallen fruits from the Marula trees. This fruit once eaten, fermentation occurs inside HUGE stomachs and the elephant get a bit tipsy, therefore; being known as Drunk Elephants- cheeky right? After years of working for a huge skincare brand, founder Tiffany Materson realizing that when it comes to skincare products, the whole 'less is more' approach should be taken, especially when it comes to the formulation of products. Drunk Elephant Skincare does NOT contain an ounce of fragrance, natural or synthetic, and smell exactly like what they are curated of – natural and non-toxic ingredients. Tiffany's goal is to deliver the most top-of-the-line, affordable products, that get the job done with their effectiveness all while being formulated with ingredients that benefit our skin such as: Marula Oil- which can be found throughout the entire line as a key ingredient thanks to its high potency in fatty acids, vitamins and antioxidants. Currently the line is curated of 6 powerful products with a ton others in testing including the soon to be launched Lippe- which I am seriously counting the days until it is launched this October! So without further ado, seriously you guys it is time to get drunk in love with Drunk Elephant Skincare, here is my run down of my Drunk Elephant Skincare picks…
TO CLEANSE: DRUNK ELEPHANT PEKEE BAR
Pekee Bar™*- $28 USD- from Sephora. Now as you all know I have been dealing with a bit of adult/hormonal acne. So straying from my trusty Salicylic infused Murad cleanser was something I was SUPER nervous about at first. However this cleansing bar ticks ALL the boxes for a facial cleanser. The Pekee Bar* is a powerful blend of blueberry extract, marula oil, and honey- these key ingredients help the skin retain moisture, elasticity and firmness all while helping calm the skin. It cleanses skin like a dream come true. I mean seriously like a DREAM as it removes the toughest waterproof mascaras effortlessly without feeling drying or too harsh. It lathers super nicely when used in conjunction with either my hands or my Foreo Luna. I have also found that this cleanser leaves the skin SUPER soft and ultra clean and wipes out ALL the makeup without leaving a film or residue on the skin. My skin LOVES this cleansing bar and I have one word for it- OBSESSED! They also have another cleansing bar called the JuJu Bar™ – this bar is to cleanse, exfoliate and heal skin all while riding the skin of clogged pores- it's on my list of to buy next time I hit Sephora.
TO REPAIR: DRUNK ELEPHANT C-FIRMA DAY SERUM
Drunk Elephant C-Firma™ Day Serum* –$80 USD- from Sephora. Now this my friends is a SERIOUS serum. Long time readers know I have a thing for picking­-I am not a fan of weird oozing pimples- so often I am left with a dark spot of some sort causing the skin to have hyperpigmentation. So I was SUPER excited to try out this product as it is supposed to help address any skin discolorations and give skin the youthful appearance we all seek after. So after washing, I have been applying this Vitamin C serum all over my face, neck, décolletage and HANDS- yes ladies you NEED to apply to your hands! Trust me when I say this, your HANDS show your age just as much as your face and décolletage- so if you are skimping on handcare, THIS serum will help you! A unique combination of a game-changing antioxidant complex of Vitamin C, Vitamin D, Pumpkin Ferment and Pomegranate enzymes help replenish lipids in the skin to visibly reduce wrinkles, firm the skin and brighten the skin. The best part of this everyday serum is that it has super power packed effectiveness that lasts a minimum of 72 hours and does some serious protecting against damaging free radicals leaving the skin luminous and radiant. I will admit the scent of this serum took a minute to get used to, as it smelled very earthy/self tanner – like (not Hawaiian Tropic scented self tanner) almost to me, BUT the effects are OMG so worth it. I have applied it both in the day and I have applied it also at night, both times my skin was more radiant, more luminous, extremely brighter and sooooooo soft. My skin is looking seriously AMAZING and my hyperpigmentation is doing some serious fading, I am so OBSESSED with this serum and literally have loaded my Sephora cart up with the T.L.C Framboos™ Glycolic Night Serum because I think I NEED it in my life ASAP! It might be a bit pricey for some, but I am telling you it is WORTH IT!
TO HYDRATE: DRUNK ELEPHANT UMBRA SPF
For moisturizing I have been reaching for the Drunk Elephant Umbra™ Sheer Physical Defense SPF 30*– $38 USD from Sephora. If sunscreen and moisturizer had a child THIS is it. This ultra lightweight yet SUPER effective sunscreen is seriously ROCKING my world. I literally almost let out a 'THANK YOU' every time I use it. This sunscreen is not only broad-spectrum but it is loaded with tons of antioxidants to fend off radicals and aid in the prevention of cell damage and photo-aging, marula oil for some solid hydration and healing, and as an added bonus I feel like it leaves a beautiful glowing finish so your skin seriously looks PHENOMENAL all while being super effective and perfect for all skin tone and skin type including sensitive skin. I kid you not, this hydrating formula doesn't leave skin the least bit greasy nor with any of the dreaded white residue most sunscreens do. Skin is healthy and protected- no wonder it was a Allure Best in Beauty pick and my main man when it comes to a no-makeup kind of day! The Marula Oil is calling my name in my Sephora cart as well!
CAN'T FORGET THE EYES: DRUNK ELEPHANT SHABA EYE COMPLEX
Last but not least the ever important eye area. I have been obsessing over the Drunk Elephant Shaba Complex ™ Eye Serum*– $85 USD from Sephora. This brightening eye serum is formulated with a power packed list of ingredients to help tackle major signs of visible aging under and around the eyes. Say goodbye to fine lines, wrinkles, puffiness, dark circles and age spots thanks to this eye serum. This eye cream is housed in the most AMAZING PACKAGING EVER! It has a push button houses on the bottom that pushes the serum through a long-needle like tip. It pushes out the perfect amount of the serum so you aren't wasting any at all. One pump will cover both eyes. It's a super effective light serum that leaves the eye area hydrated, less puffy and oh so much brighter. Since eyes are the window to the soul, I think this serum will help keep my eyes wrinkle free as long as possible- score!
So let's face it, I am utterly drunk in love with Drunk Elephant Skincare. It's on serious point when it comes to skincare and for being a new brand, be ready- because Drunk Elephant Skincare is about to rule the skincare world. To shop Drunk Elephant Skincare head over to your local Sephora store or head over to the Drunk Elephant website. While we are on the subject who'd be up for an updated skincare regimen– its been changing up a lot lately.
Have you adopted any sort of natural or non-toxic skincare routine? If so what is your favorite brand? Always looking great recommendations… Drop your favorites below…
[otw_shortcode_divider margin_top_bottom="30″ text="SHOP DRUNK ELEPHANT" text_position="otw-text-center"][/otw_shortcode_divider] 

*PR SAMPLE