They say skin is in, but what is skin without great skincare? Today's brand spotlight we are chatting all about my favorites from PCA SKIN in the first of many brand spotlights….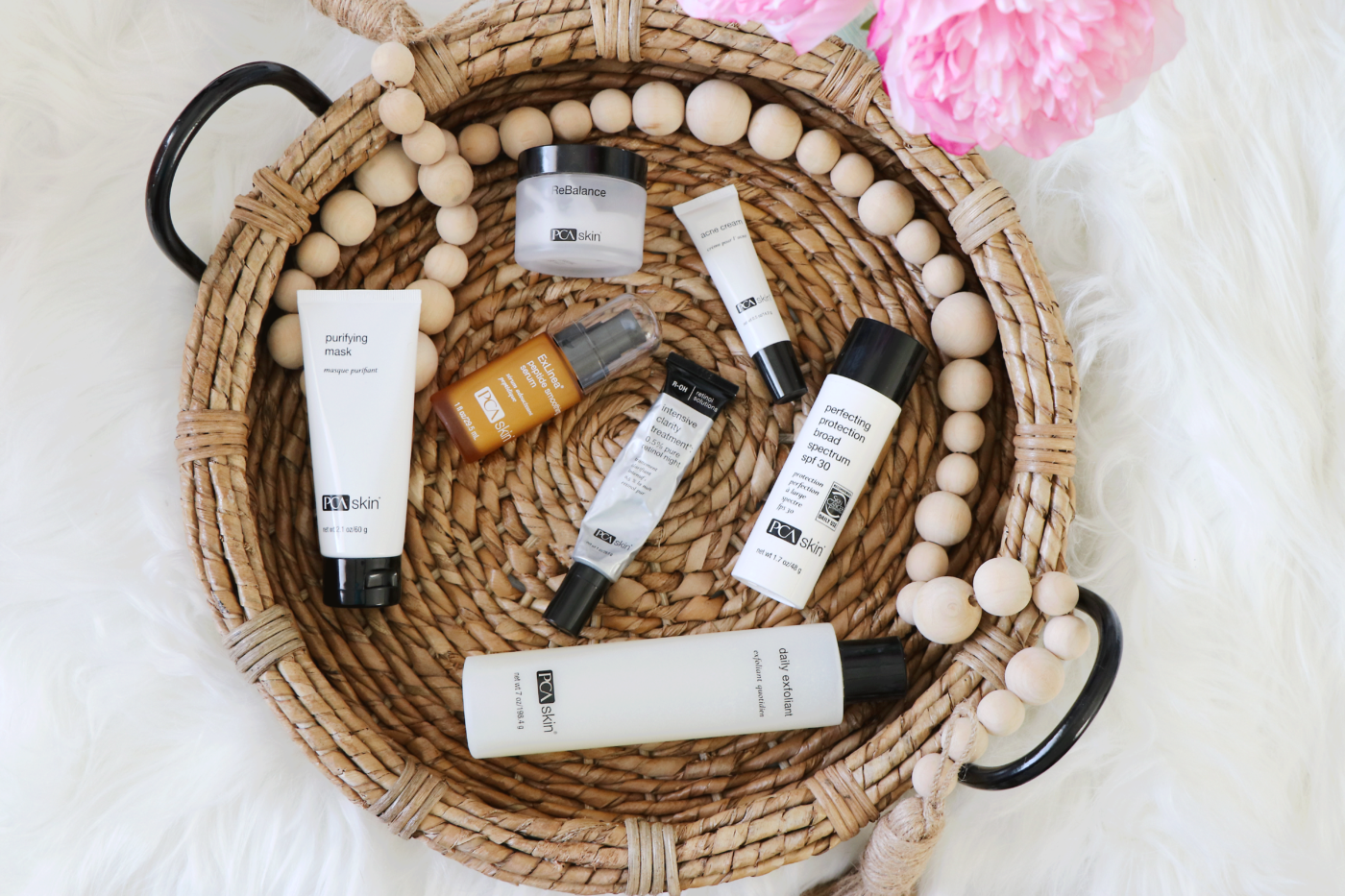 A few weeks ago, I asked over on Instagram Stories if you guys wanted to see my top favorites from my favorite brands- by doing this it would be to highlight in a new Brand Spotlight series.
And the response…
Well… the response was amazing (I have a list of your faves and will get to all of them- I promise).
So many of you wanted to see my favorite things from one brand all in one easy place. So here we are- launching today's Brand Spotlight. Bi-weekly, Angela from Hairspray and Highheels and I, will share our favorites from the SAME brand. We decided to team up to not only give you all our top favorites, but also the things that we know work for our skincare types. She is dry skin that is prone to redness; while I am combination to oily that can be acne-prone at times. Between the two of us we get so many questions on a lot of the same brands so we are going to be teaming up on this series to share not only our faves but also to GIVEAWAY happening over on Instagram with some of our favorite products from the brand as well.
So without further ado, let's jump right into today's spotlight brand- PCA SKIN.
If you are a long-time reader or follow me over on Instagram, then most of you guys know I love PCA SKIN, in fact, I have a curated skincare kit collaboration with them and have been a long time fan. However, what you don't know is that- I first fell in love with PCA SKIN when I was at my good friend Lauren's bachelorette party and we were getting facials. My skin felt seriously so amazing afterward, that I decided to buy all of the products she had used on me. From that moment on… a love affair had been made.
Over the years I have tried and used a TON of PCA SKIN products (some bought, some gifted), and today I am so excited to share with you a few of my top favorites from each category (cleansers, serums, moisturizers, retinols, etc…) some might be surprising, while some I know I have talked about so much that you know they are making the cut.
SKIN TYPE DETAILS: My skin IS combination to oily (more combo unless in summer then more oily) but also can be acne-prone  //  SKIN CARE CONCERNS: hyperpigmentation, uneven skin tone and of course mild to moderate breakouts/mild adult acne.

// PCA SKIN: CLEANSERS //
BPO 5% Cleanser– ladies if you are combination to oily/a little acne-prone THIS cleanser will be your BFF. It helps get deep down into the pores and prevents future breakouts thanks to the 5% benzoyl peroxide.  I love how it feels on the skin, and literally gives me a squeaky clean feeling without feeling dried out.
Daily Exfoliant– This product is a newer launch from PCA SKIN but I have to admit since I got it- I have been hooked. It's a mix between an exfoliator and a cleanser, but super gentle enough to use daily.  I love that it contains 100% biodegradable and renewable exfoliants. I often sometimes use a dollop of this mixed with a gel cleanser like the PCA SKIN Facial Wash (I just ran out of this last week, so I totally need to grab another one ASAP- right now I use it with this cleanser)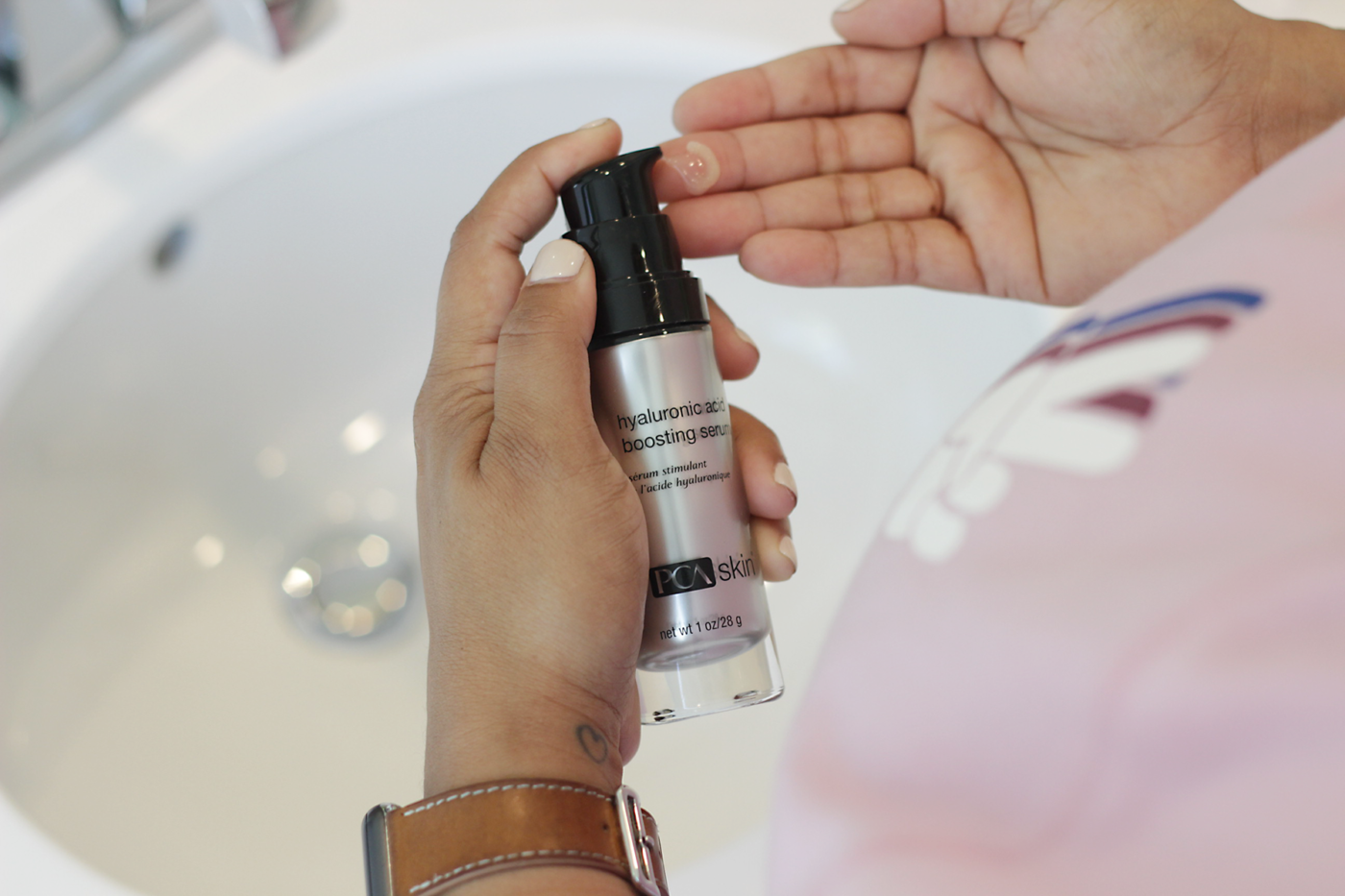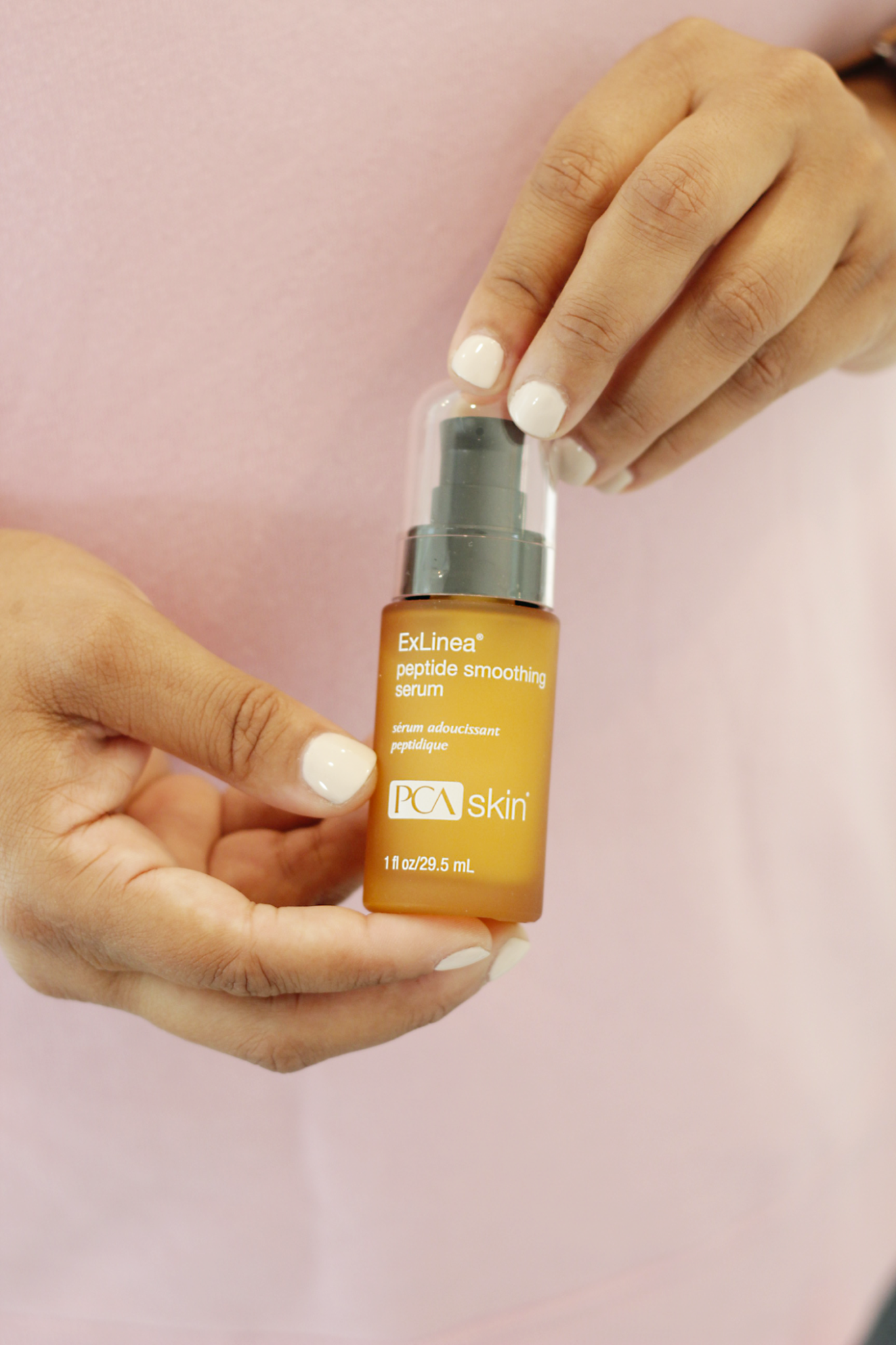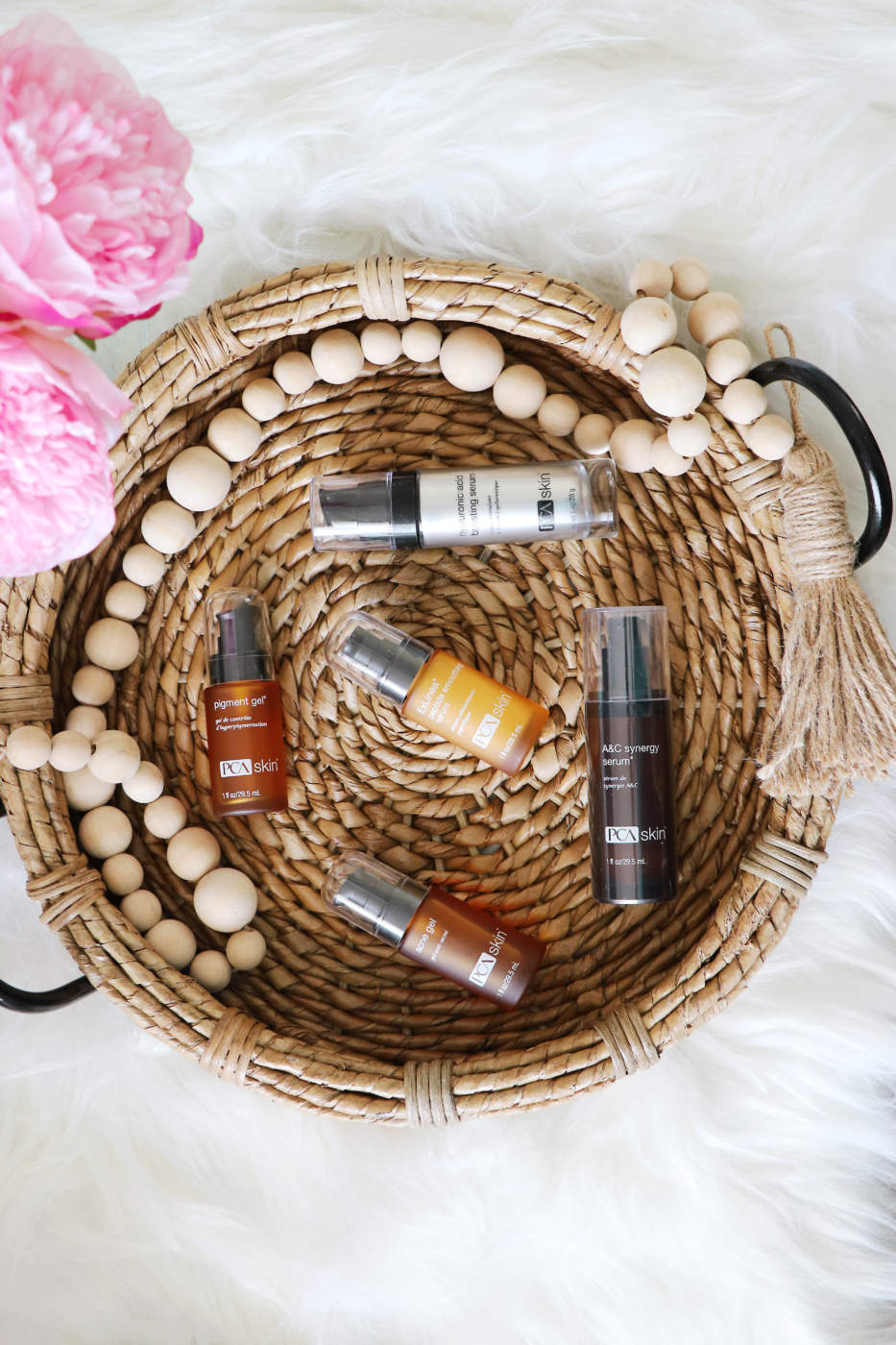 // PCA SKIN: SERUMS //
A&C Synergy Serum– This serum is the newest in my bunch and so far I am loving it. It is an astringent serum that is designed to help with breakout-prone skin. I have only been using this when I have active breakouts as the Vitamin A & Vitamin C in it paired with the licorice root help give the skin the appearance of smaller pores, a more even skin tone, and I love the matte finish it also gives. **Please Note: When I am using this, I do NOT use an extra Vitamin C product, since this already has it in it. **
Acne Gel– Since I am using the A&C Synergy Serum, I have stopped using this serum temporarily.. However, this serum is something I don't use all over my face unless I feel I really need it. I tend to use this serum as a spot treatment to help with occasional breakouts. It is a salicylic acid acne treatment that helps clear existing blemishes with is botanical blend. It also helps control oil production throughout the day which is awesome.
Exlinea Peptide Smoothing Serum– Now you guys know this is my FAVORITE thing ever. It's such a huge favorite that it was one of the products in my PCA Anti-Aging Kit. This serum is literally liquid gold. Not only does it help extend the life of botox (if you get it) but it also helps firm, tighten and strengthen aging skin. I am OBSESSED with this serum since it does all of the things including minimizing the appearance of expression lines, hydrates the skin, smooths and firms. Trust me this is worth every penny and when used regularly both day and night – you notice a MAJOR difference. Bye bye pesky 11 lines.
Hyaluronic Acid Boosting Serum– Now if I am being honest, this was a serum I didn't think I really needed since I have combination to oily skin. But once I tried it when I was in Arizona with PCA Skin last year, I became hooked. This is another product that I also included in my PCA Anti-Aging Kit. Formulated with the proprietary blend HA Pro-Complex this serum encourages the skin to create its own hyaluronic acid (which is almost unheard of and so advanced) which in turn results in long-term anti-aging and hydration as well as smoothing on the skin's surface.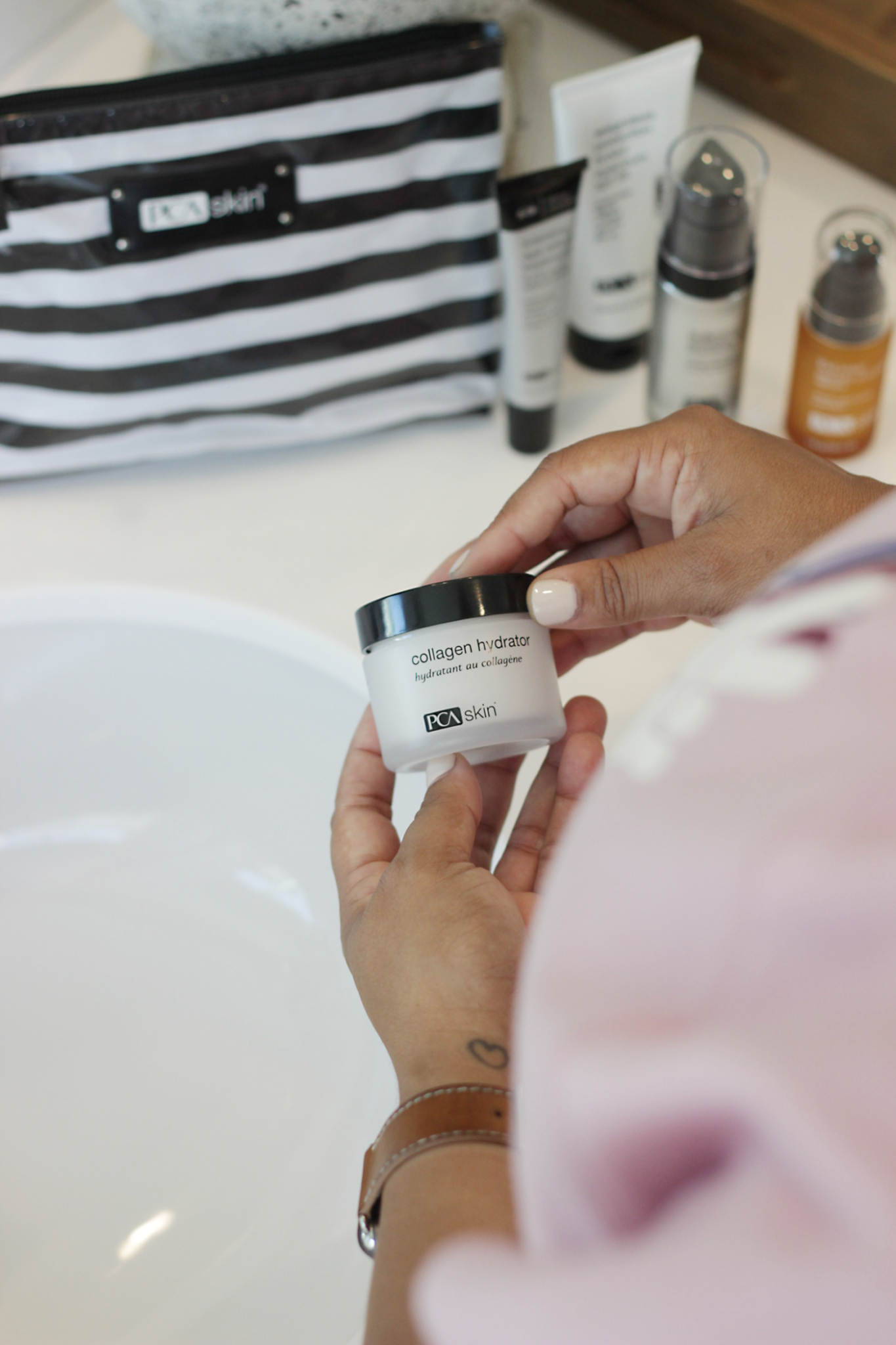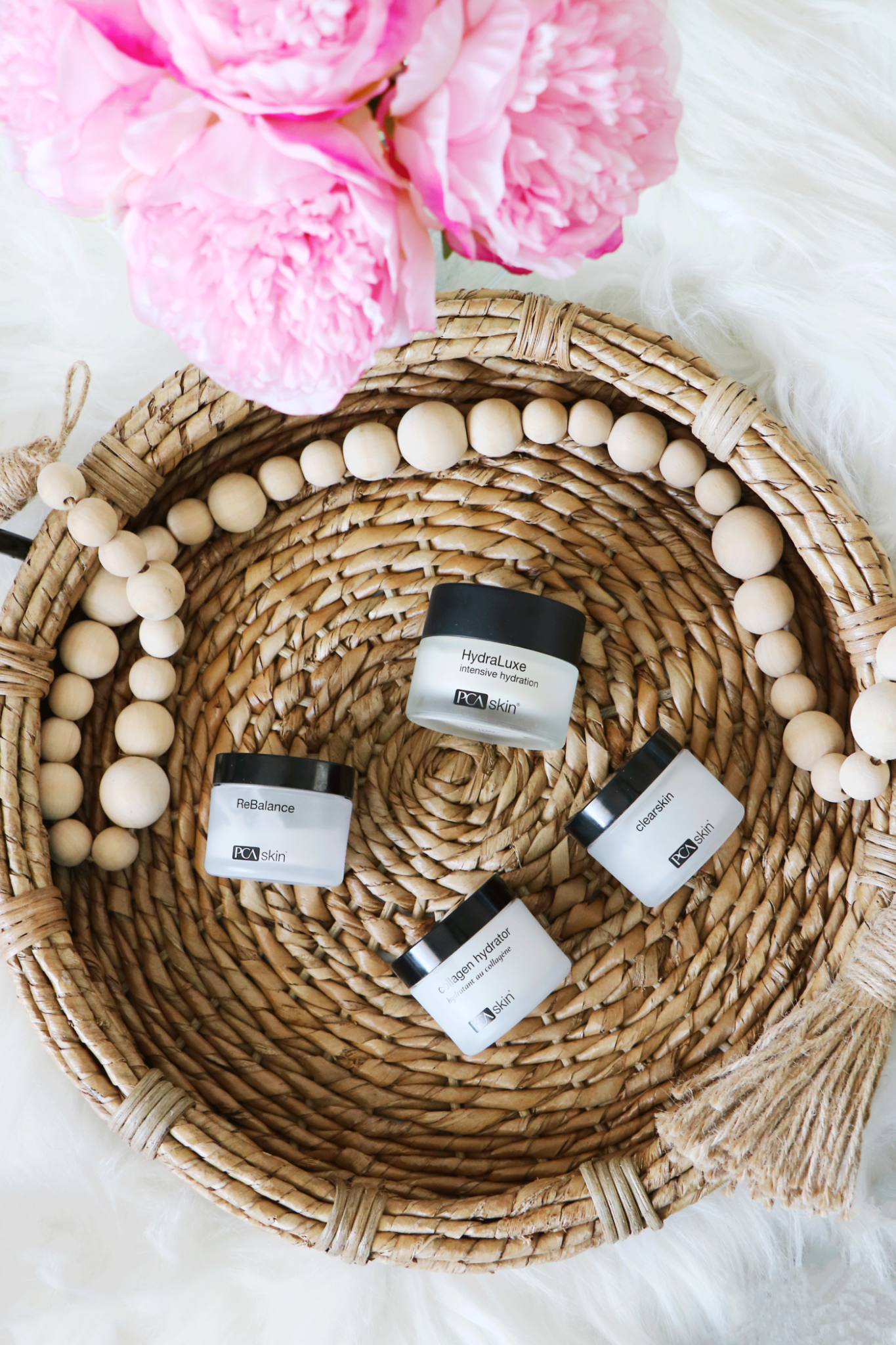 // PCA SKIN: MOISTURIZERS //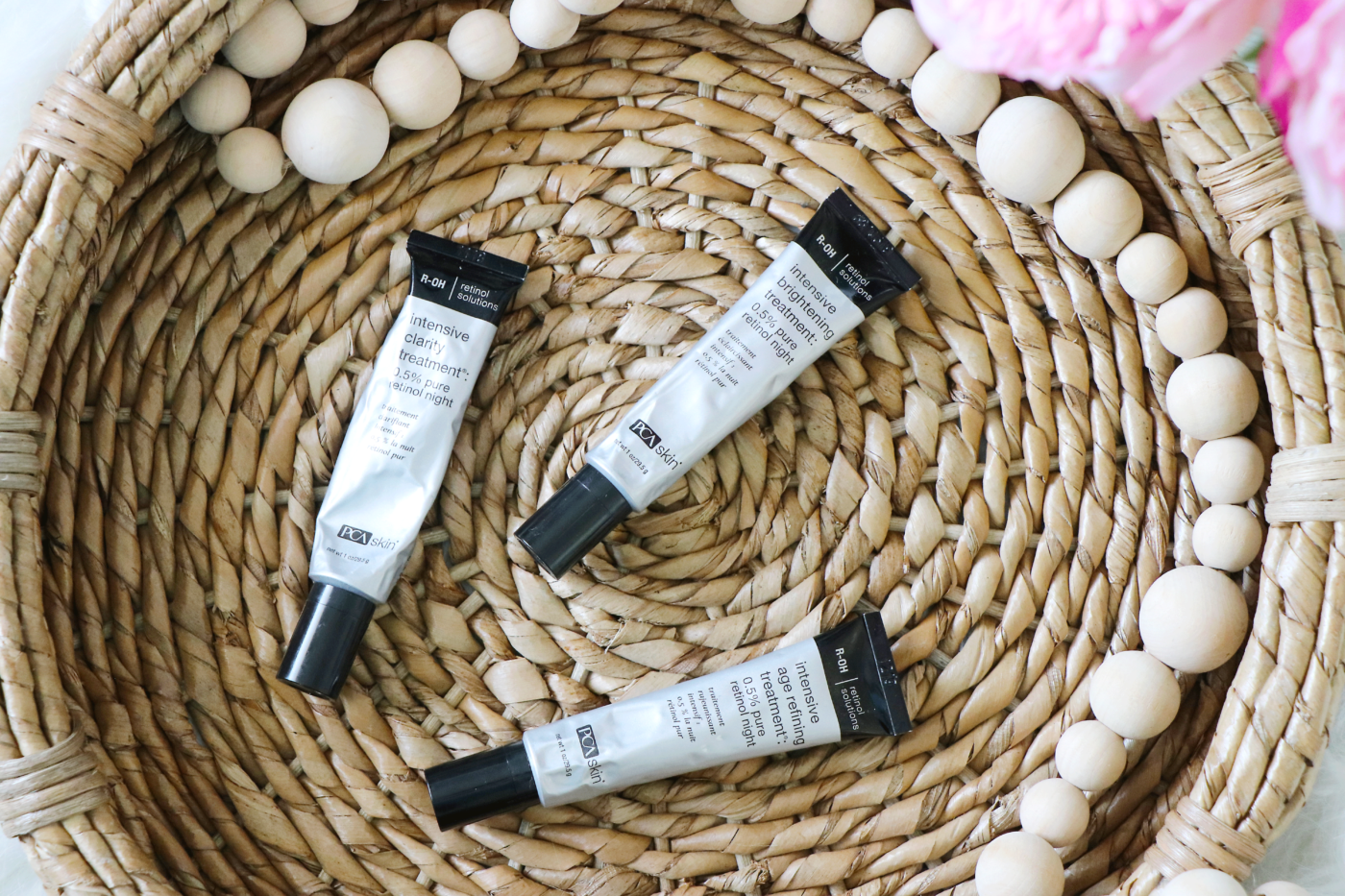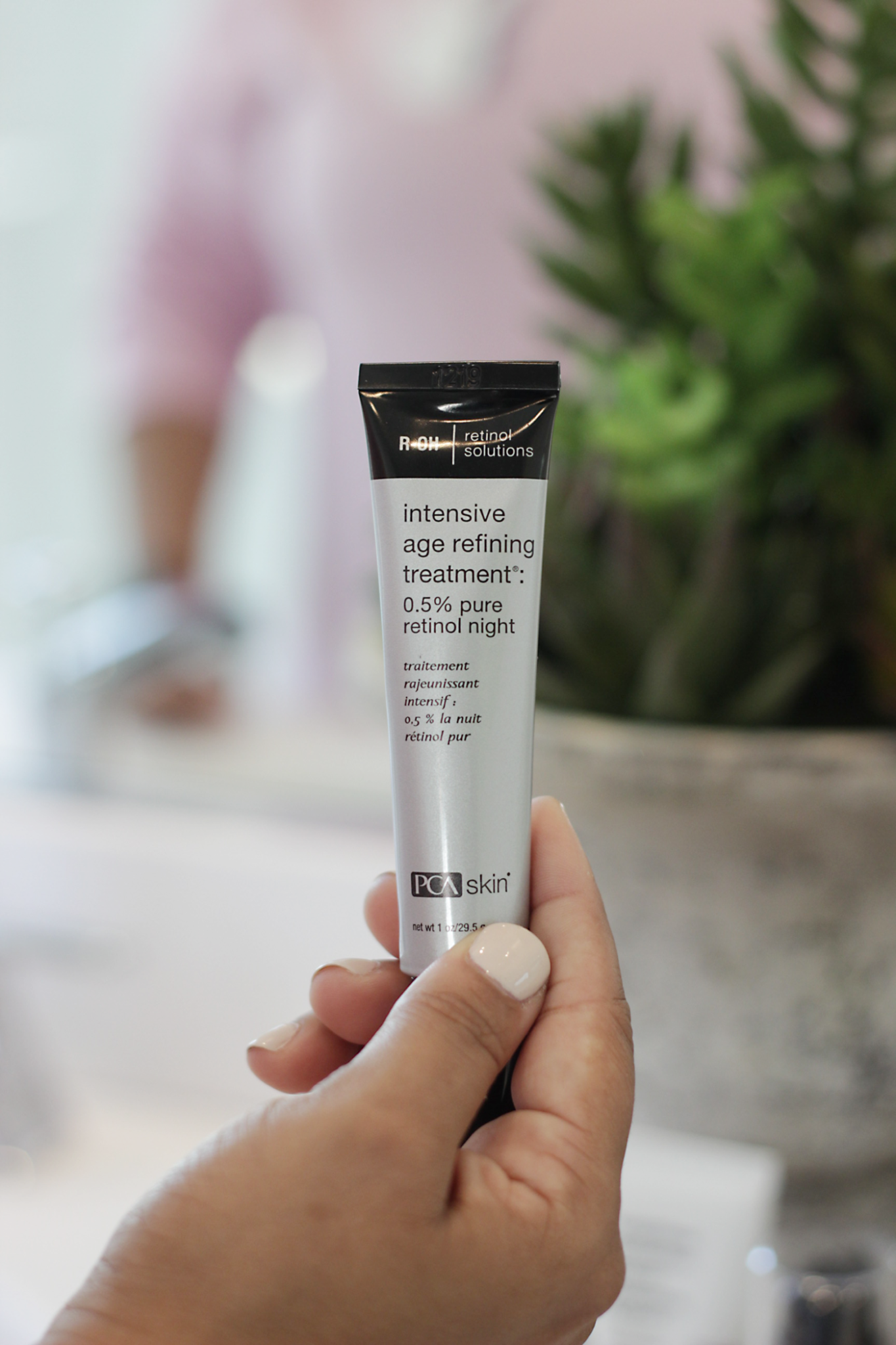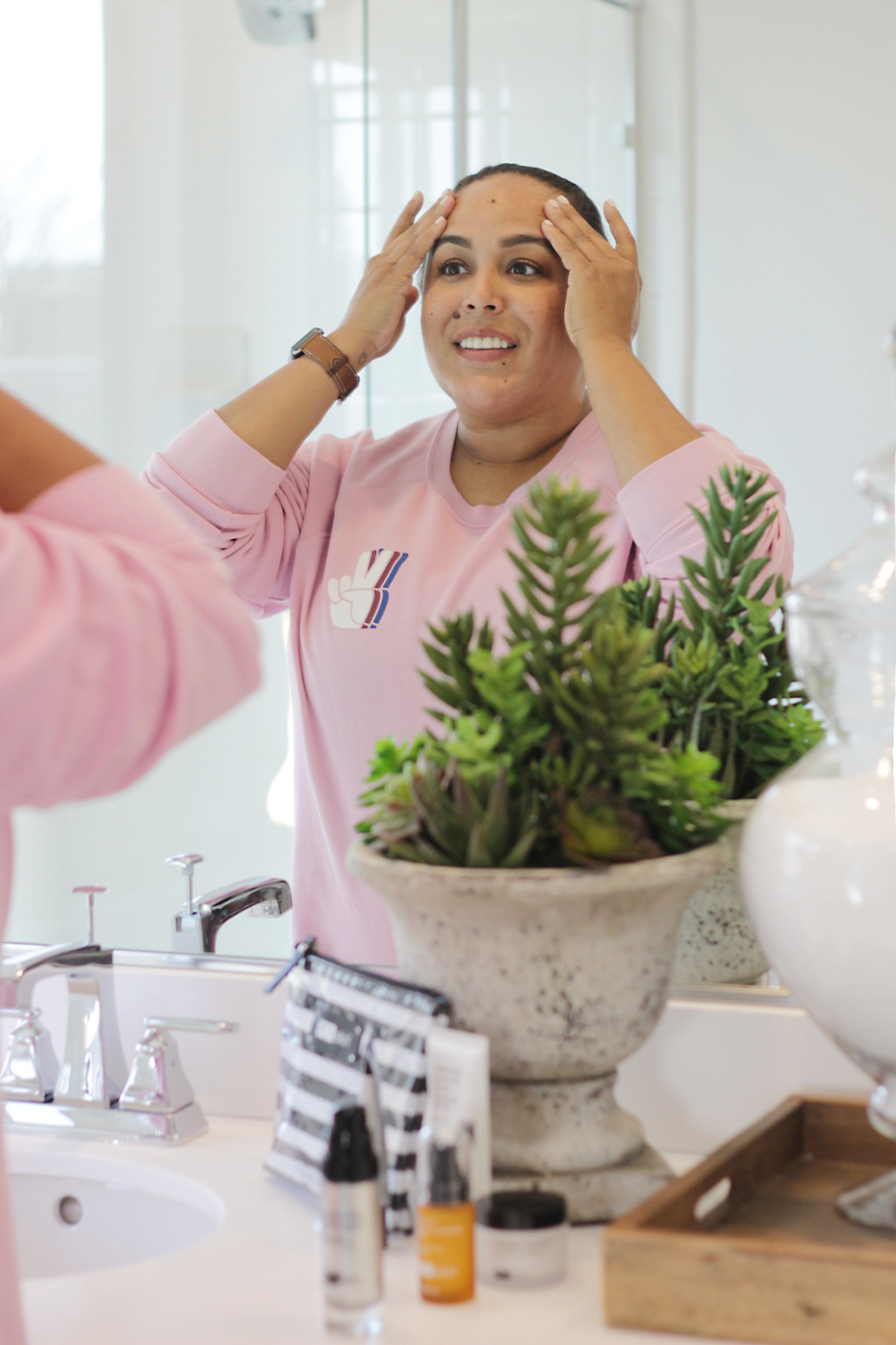 // PCA SKIN: RETINOLS //
When it comes to retinols- PCA SKIN does them like no other. From helping with fine lines to wrinkles to helping ward off breakouts- PCA SKIN retinols are some of the best I have ever tried.
Intensive Brightening Treatment 0.5% Pure Retinol– This was the first retinol I fell in love with by PCA SKIN. Not only does the IBT Retinol literally help you to tackle age spots, dark spots, hyperpigmentation- but it also helps give you a brighter, radiant, more even complexion. Retinol. Niacinamide and Resveratrol all help promote a healthy glow while improving any discoloration. This stuff is AMAZING!
Intensive Age Refining Treatment 0.5% Pure Retinol– Now this is the ULTIMATE retinol is you are concerned with uneven skin tone, aging skin, fine lines and wrinkles. I feel in love with this retinol (it's also in my kit). I love that it helps minimize the appearance of fine lines and wrinkles, all while strengthening the skin with very minimal irritation and superior results. I am OBSESSED!
Intensive Clarity Treatment 0.5% Pure Retinol– Attention all my blemish prone girls- this retinol is for YOU! I use this retinol A TON when I am having more breakouts than I want. Created with 2% salicylic acid this retinol helps carry ingredients deeper into the skin for amazing results all while helping clear breakouts. This is a MUST if you have mild to moderate breakouts / mild adult acne.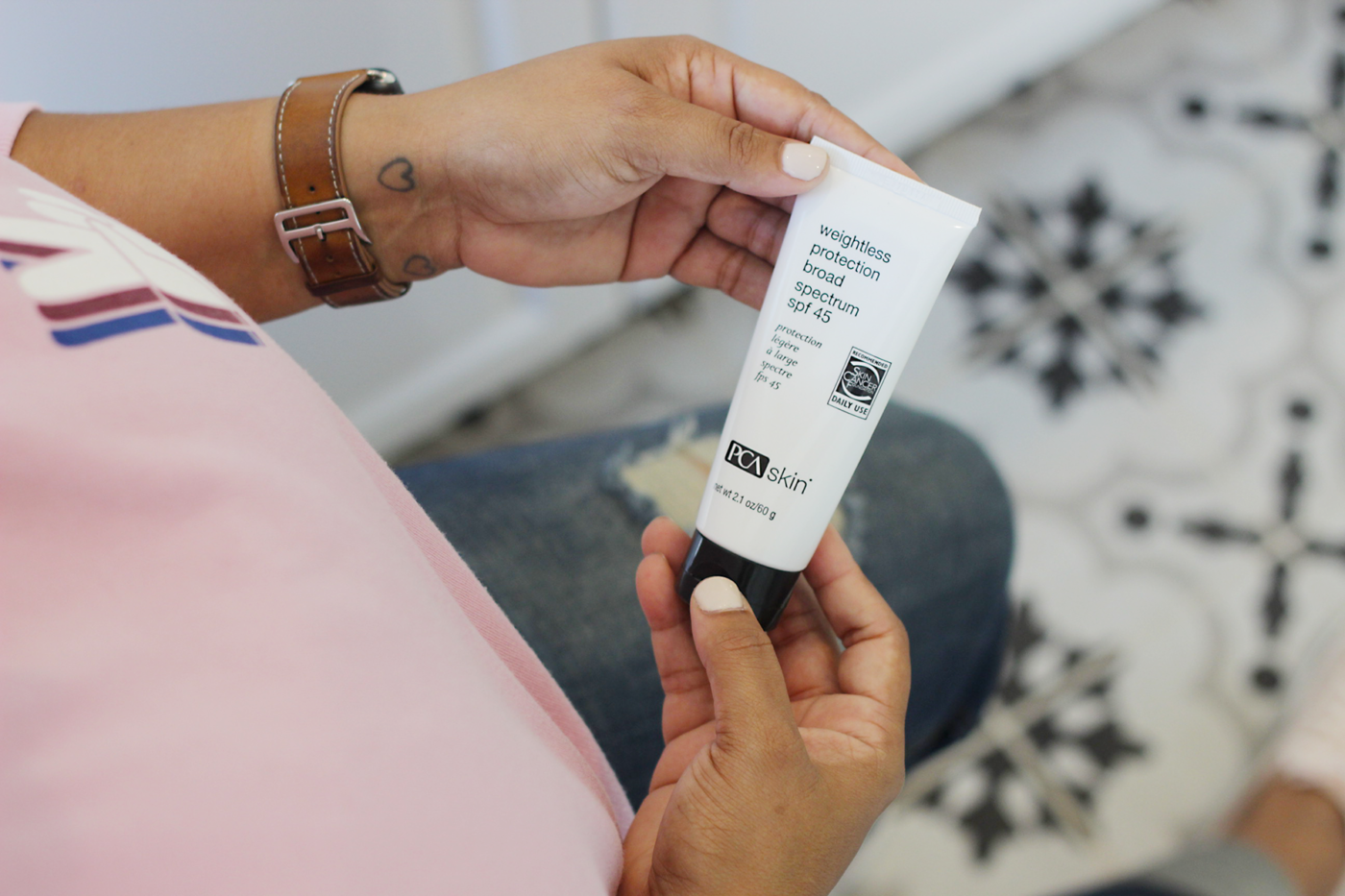 // PCA SKIN: SPF'S //
We all need a great SPF, don't we? From the perfect sheer tint to an SPF that is great for even acne/breakout-prone; PCA SKIN literally has an SPF for everyone- and the ones I am loving, NEVER leave a white cast on any skin tone.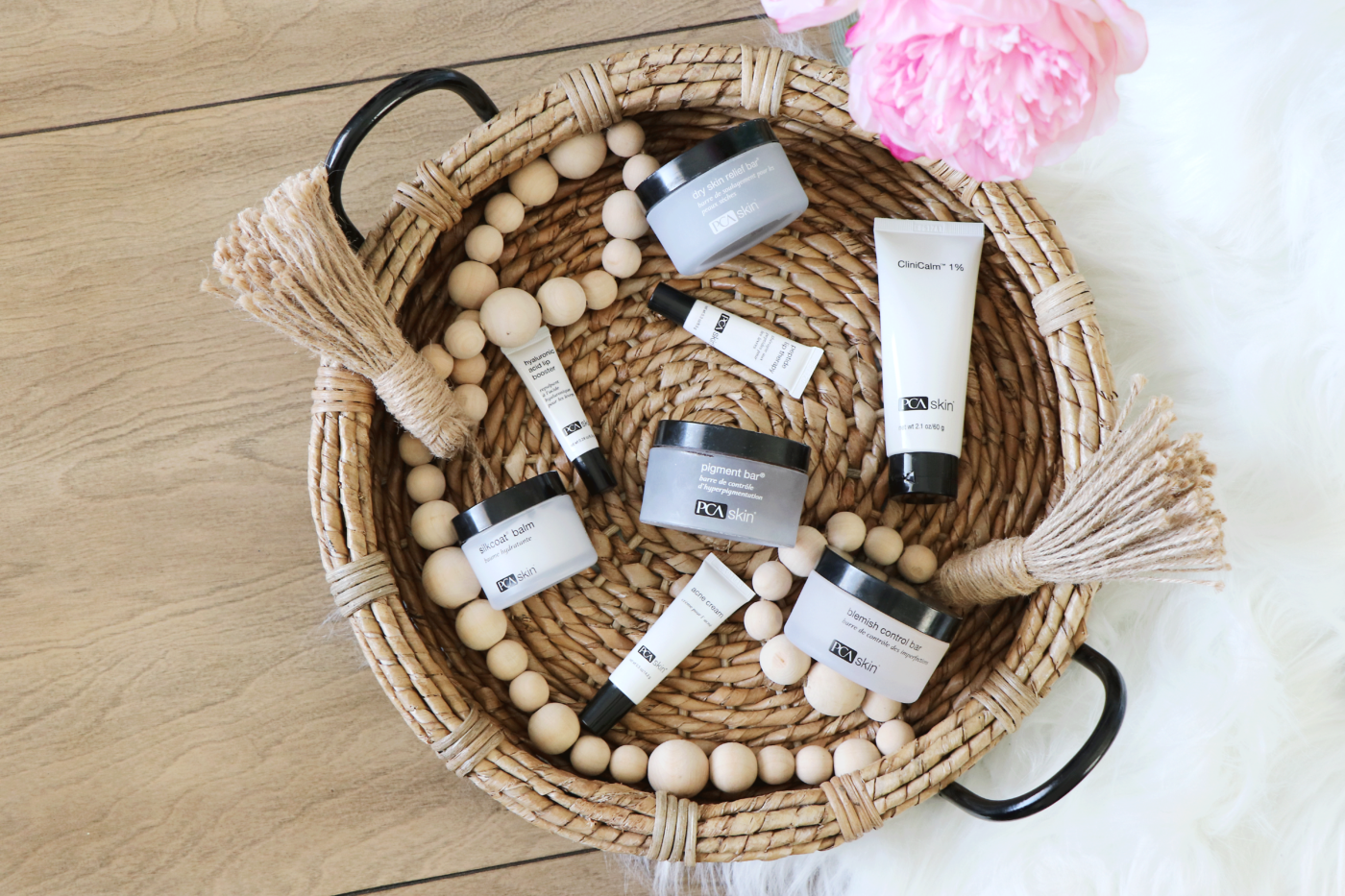 // PCA SKIN: ADD-ON'S //
Just a few of my favorites that are add-ons to any skincare routine. Some for the body that does double duty to help major skincare concerns, these treatment add-on's are something that will always be in my skincare arsenal.
Dry Skin Relief Bar– I love using this bar on my body. Since I don't suffer from dry skin on my face, I am shocked that my body is actually dry. I also tend to suffer from eczema flare-ups and dermatitis on the back of my arms during certain times of the year. This little treatment bar is AMAZING. It is super gentle, contains 3% salicylic acid to help control the redness, flaking, and itching that comes with dry skin concerns (psoriasis, dermatitis, eczema, etc..) You can also use it on your scalp if you suffer from dry scalp.
Blemish Control Bar– This blemish bar has saved my skin so many times. If you tend to breakout all month or even during the time of the month – you NEED to grab this one. Proven to help clear the pores, it also helps reduce existing acne breakouts and prevent future ones thanks to the 2% salicylic acid and eucalyptus oil in it. I love that when I first apply it – it has a slight cooling/tingling effect thanks to the purifying eucalyptus oil. I am OBSESSED!
Pigment Bar– The pigment bar is my jam. This is perfect for anyone suffering from hyperpigmentation, age spots, dark spots, or an uneven skin tone. All you do is apply to the skin- leave on for 2-5 minutes and wash away clean. I feel this product has helped so much when it comes to evening out my skin tone.
Acne Cream– I have this in my skincare arsenal at all times (like I said I tend to have finicky skin that likes to breakout at times) this cream is my savior during that time of the month. This cream is 5% benzoyl peroxide to help get deep down into those pores and clear them. It also has some good for your skin ingredients to help support breakout control as well as control inflammation and irritation caused by bacteria/breakouts.
Silkcoat Balm– I never thoughts I would be in love with a moisturizer that is meant for dry skin. However, this balm is AMAZING! I use this alot during the winter and after I get any PCA SKIN Chemical Peels. This balm is a lifesaver that helps calm and improves the appearance of aging skin all while being non-greasy. This is perfect for after any skin treatments that dry your skin out or if you deal with harsh weather conditions.
Hyaluronic Acid Lip Booster– I can't say enough good things about this lip product. I love that this lightweight lip product helps to instantly improve long-term lip volume, hydration, and softness. The powerful peptides helps stimulare collagen to help reduce lip lines. This is my daily go-to lip product that I have to have on hand at all times.
Peptide Lip Therapy– This lip treatment is always by my bed and in my purse. I love that it is mixed with Shea butter to help soften the lips and maintain moisture. While the peptides help stimulate collagen production to reduce the appearance of fine lines of the lips.
CliniCalm 1%– Y'all this product is something I have been making sure I ALWAYS have on hand. Whether it is for after a chemical peel, or allergy season/irritated skin time- this 1% hydrocortisone formula is a life saver. It help soothe the skin from any irritation as well as gives the skin the perfect barrier to heal with moisture and never drying you out.
C&E Advanced with Hexylresorcinol and Silymarin– If you are looking for a great Vitamin C that doesn't seem to breakout my blemish prone skin as well as NEVER pills on the skin- THIS IS IT! This Vitamin C serum is amazing, and is perfect to help give you a radiant, even glowing complexion all while giving you antioxidant protection and help fight fine lines.
Revitalizing Mask-This facial mask is heaven on your skin. If you are wanting to look like you just got a facial in 2-5 minutes without actually having the time to get a facial- YOU NEED THIS! Formulated with fruit enzymes this revitalizing mask helps deeply cleanse the skin, dissolve impurities all while vitamins, Green Tea and honey help heal and calm the skin to give you a refreshed and revived complexion. It's basically a spa day in a bottle.
MLL A+ Anti-Agers Anti-Aging Kit– This kit (humble brag) is probably my favorite thing from PCA SKIN. My Anti-Aging Kit is the perfect curation of anti-aging products to help hydrate, smooth and prevent signs of aging. ** NOTE: If you wish to buy the Makeup Life and Love Anti-Agers Kit or anything from the PCA website- and you spend over $150 use code JAMIE18 and you will get a FREE collagen hydrator with any $150 purchase using that code**

READ NOW, SAVE FOR LATER: