Now that I am getting older, I have been on a mission to take better care of my skin. I conquered adult acne, have a reign on anti-aging but dark spots… well they still exist. Until now… my mission has been accomplished- keep reading to see how to get rid of dark spots…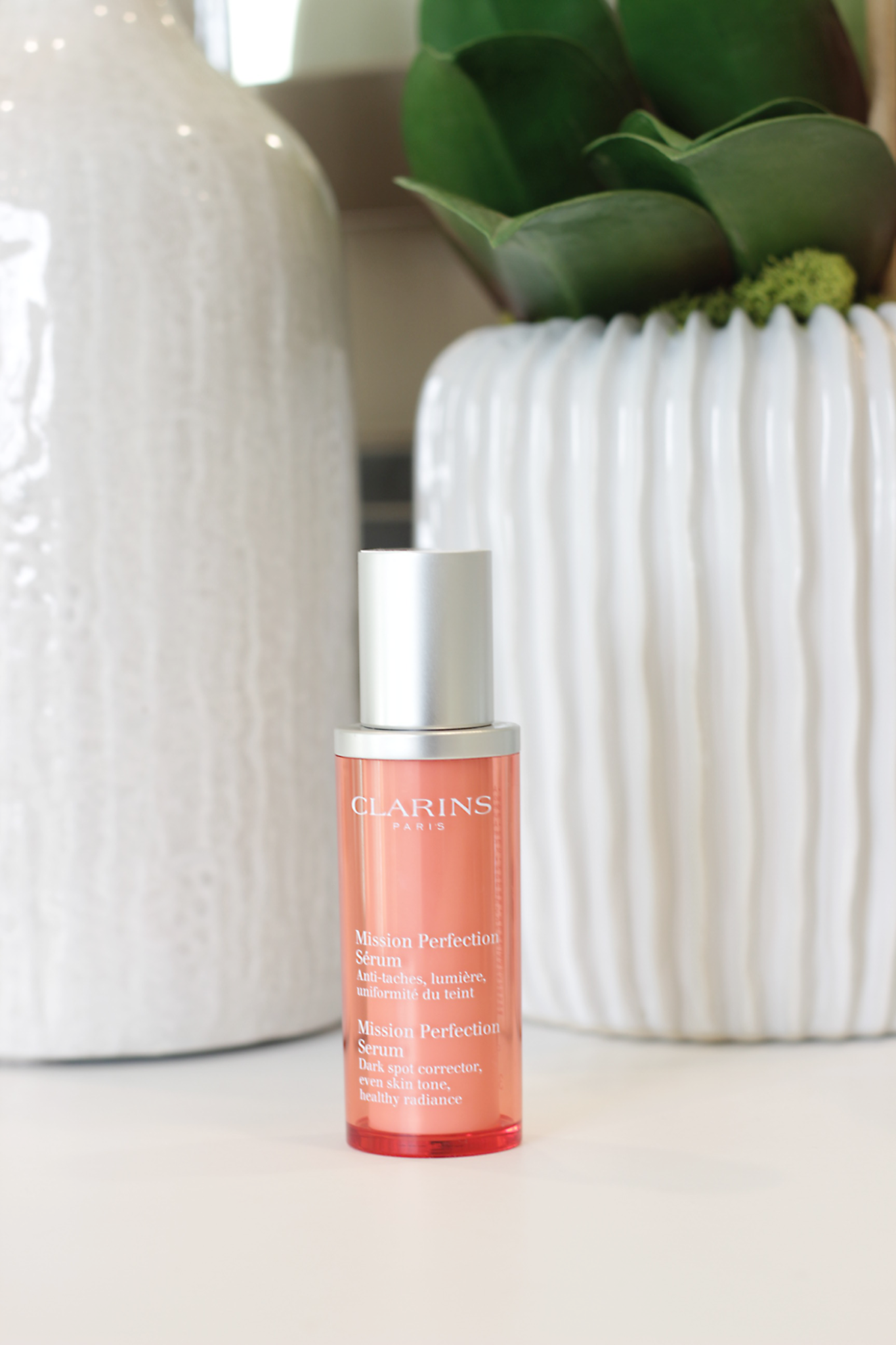 A huge thank you to Clarins for sponsoring today's post; as always all thoughts and opinions are my own.  #SerumSOS
I don't know about you, but when it comes to skincare I have been SUPER intrigued. Whether it is figuring out the perfect skincare regimen or trying numerous ways to fight various problems. After conquering random adult acne and figuring out the whole anti-aging thing,  one thing (or three) my skin STILL was struggling with was… well…. Dull skin, uneven skin tone and of course, the dreaded dark spot.  So, after making it my mission to figure out HOW to get rid of dark spots and a ton of trial and error, I can officially say… MISSION ACCOMPLISHED!
Yup, you read it right- MISSION ACCOMPLISHED!

Let's back up a bit:
As you know I have been obsessed with skincare for some time now, and at the top of my list for favorite skincare brands is Clarins. You see Clarins has helped me conquer dry skin during the winter,  anti-aging and of course the quest for the perfect SPF. But recently, I was introduced to one of the most amazing serums EVER and I am not quite sure how I have lived without it before. You see after a near decade-long battle of trying to figure out HOW to get rid of dark spots (thanks adult acne and father time), I have found that when you find your golden unicorn in skincare- you invest! Plain and simple.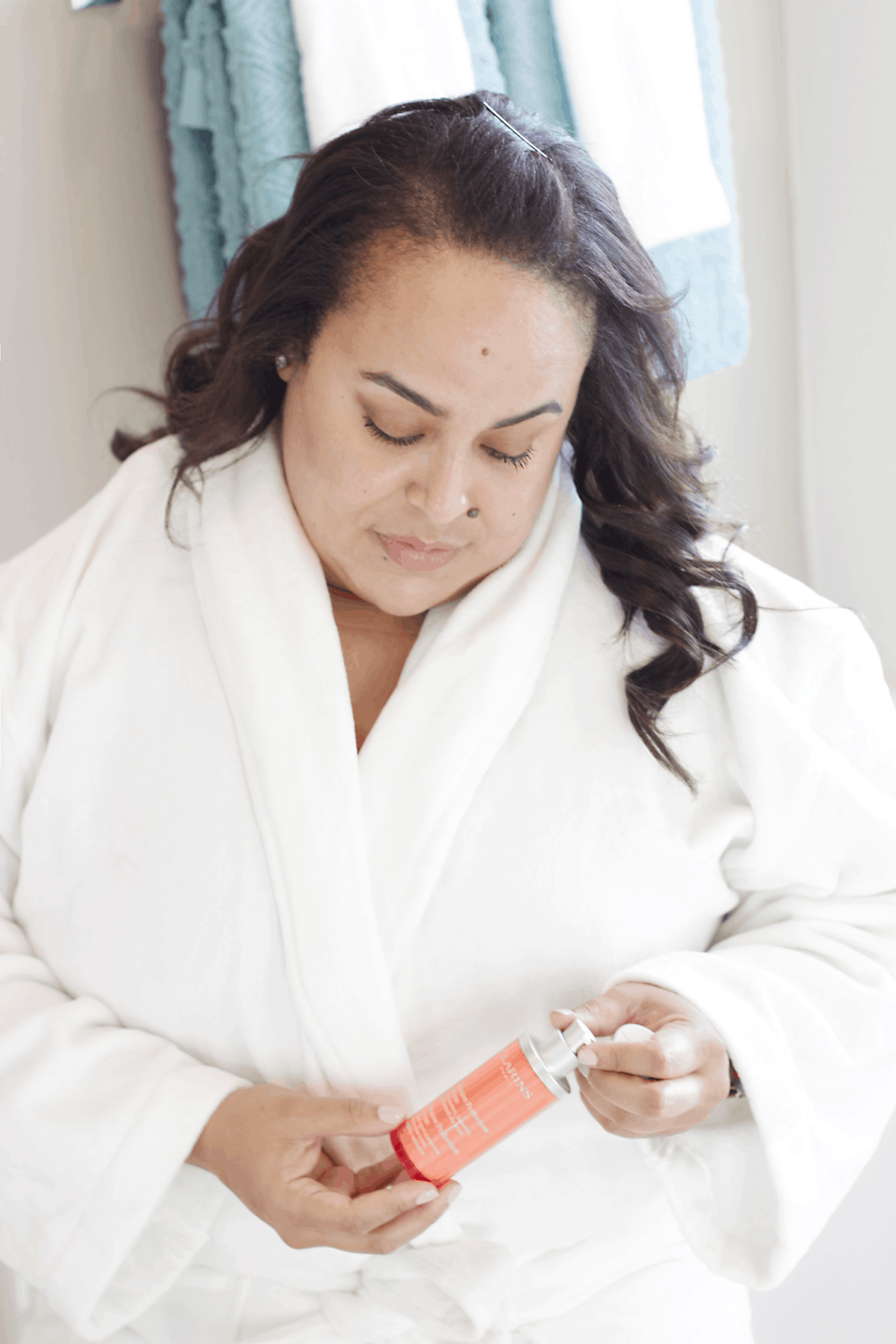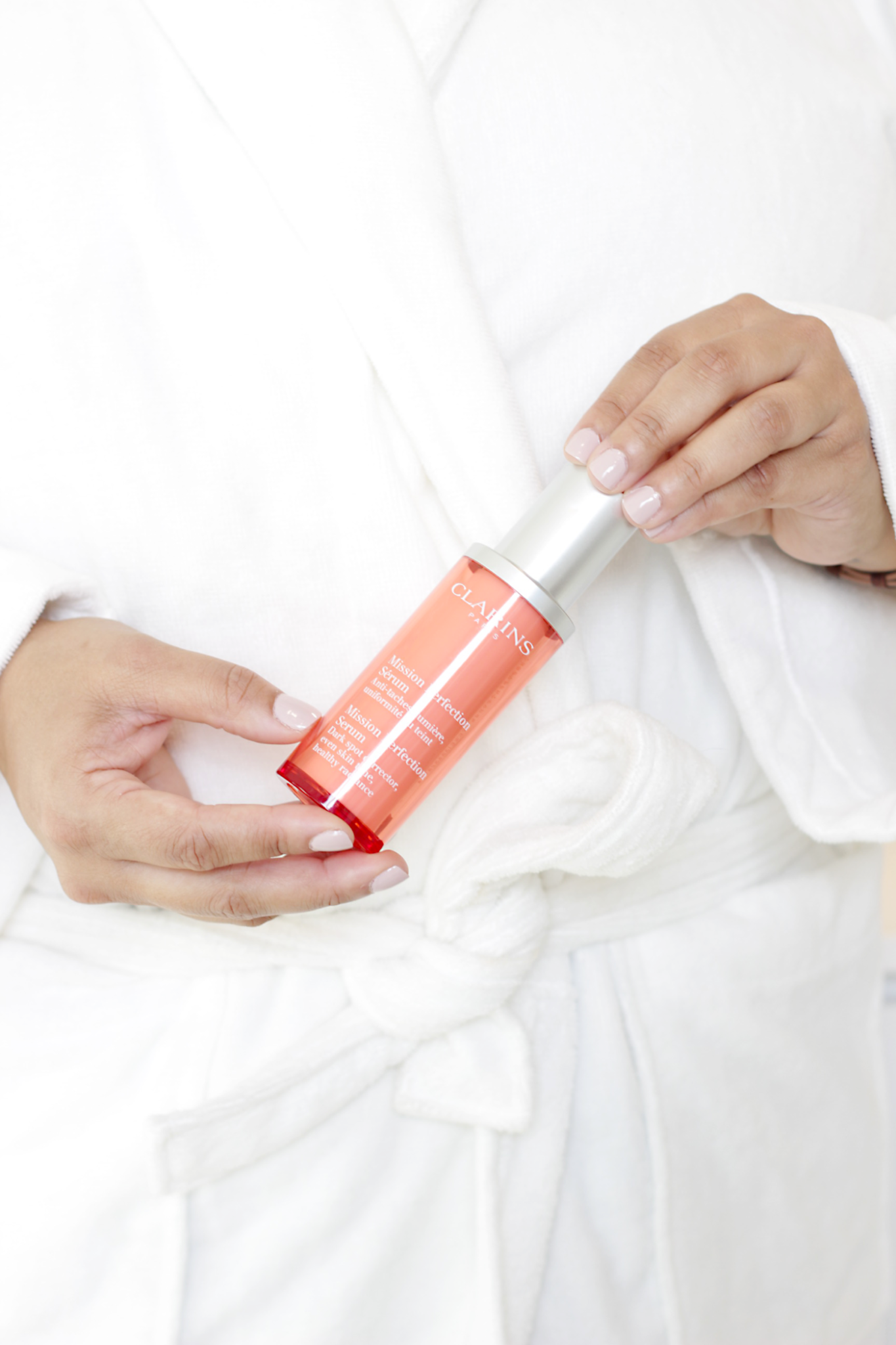 About the product:
Clarins Mission Perfection Serum is one of the most brilliant, innovative serums that is revolutionizing a multi-purpose approach to serums- and you guys know I LOVE me some multi-tasking.  Not only does Clarins Mission Perfection Serum promise to correct dark spots, redness, shadowy areas, and of course discoloration- but it also helps give you a healthy complexion and a more even skin tone all without altering your natural skin tone/color like other products that target dark spots tend to.
But that's not the best part. The best part is that with daily use- your skin continues to get better and better with daily use.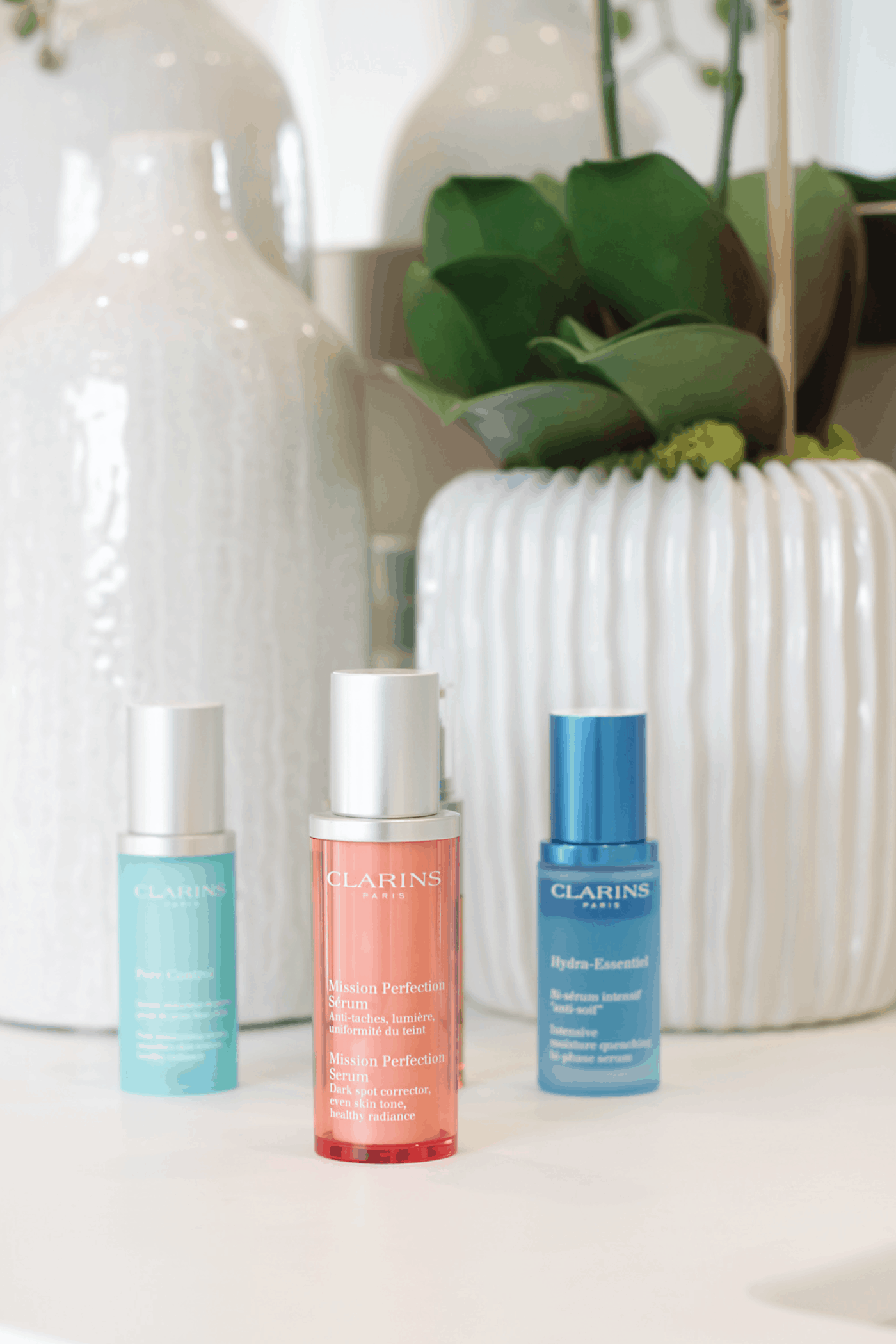 How it Works:
Clarins Mission Perfection Serum is a unique blend of Carola extract derived from the Acerola plant found in wild cherries. This unique blend helps block the "bad guys" that are responsible for dark spots, all while Ginkgo Biloba helps penetrate and improve the skin's microcirculations to ensure that you are left with a gorgeous, radiant complexion. The serum is also infused with Tamarind Fruit Acids to help gently remove any skin cells containing melanin (aka- dark spots),  ensuring the skin is left smooth and perfectly even. Together all these components help lead your complexion to pure perfection- literally!
From the faint, delicious scent of cherries to the coral illuminating effect that instantly disappears as it penetrates into your skin, it's packed with amazingly goodness. Within moments of application the skin is left beautifully radiant and vibrant. Time to say bye bye- tired and dull skin. Since finding this dream serum, I have been maintaining what many think is a post-facial glow- when really it is the power of Clarins Mission Perfection.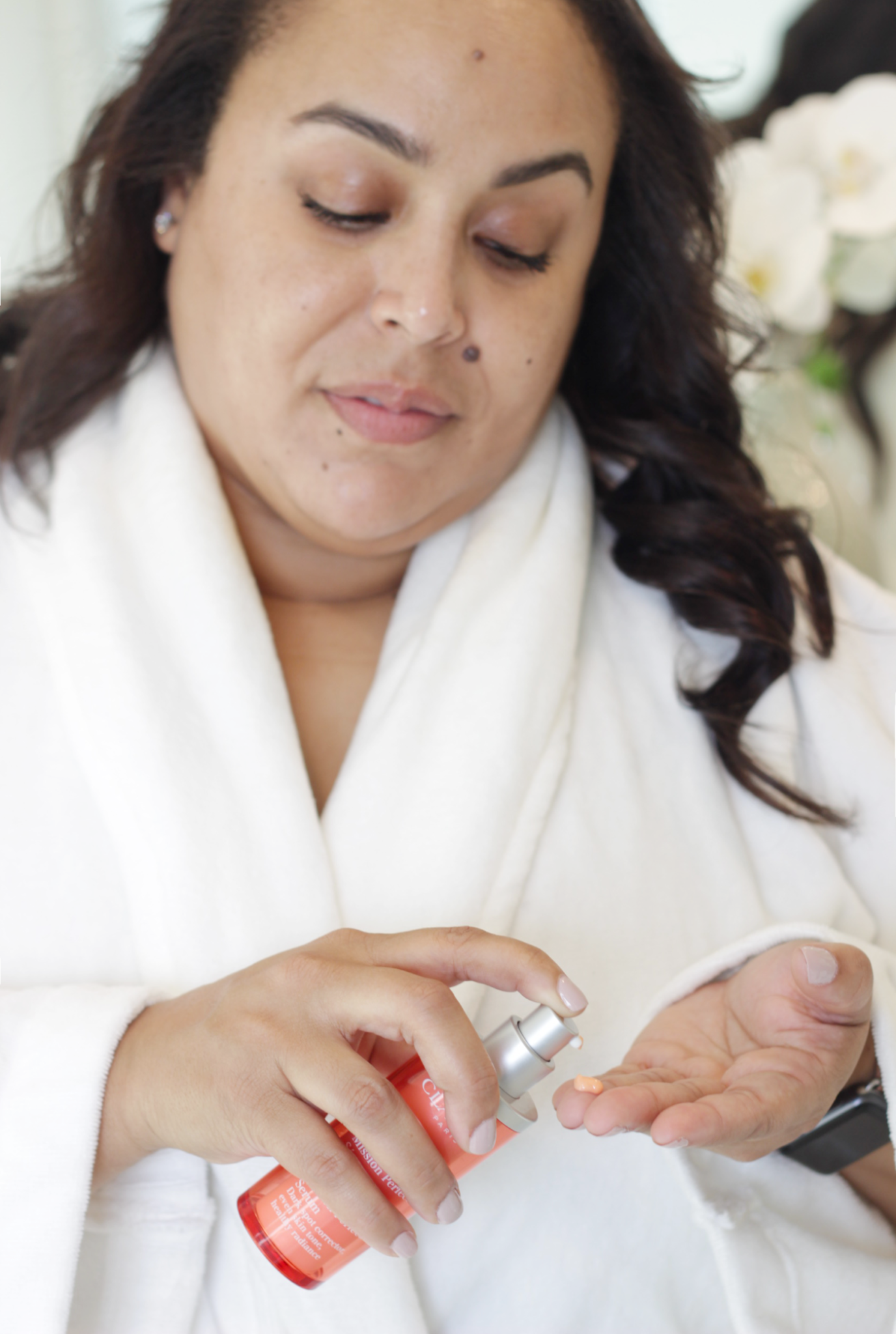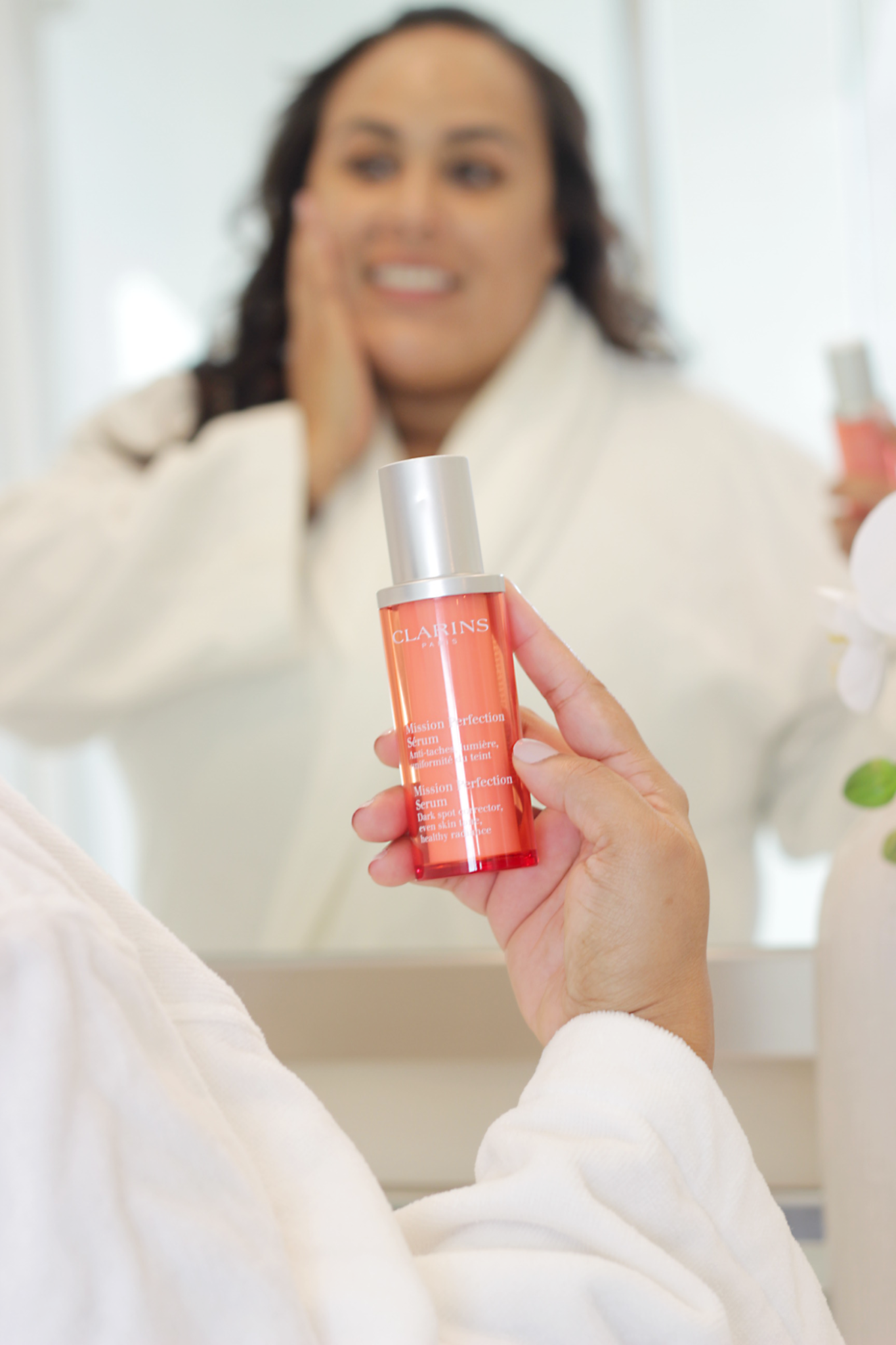 How To Use It:
Since this is a multi-purpose complete serum, I have been advised to NOT layer this serum with other active products (example: serums, acne serums, retinoids, etc…) even though it can be used both day and night. Since I want to address anti-aging and I love the glow that my Double Serum gives me, I have been using Mission Perfection Serum at night only daily. You're probably wondering WHY I only use it at night. Well you see, at night your skin, tends to repair itself of the day's damage, so for me it made a ton of sense to use it at night for maximum effects and I hate to sound too cliche but Mission Perfection Serum, is LEGIT great skin in a bottle.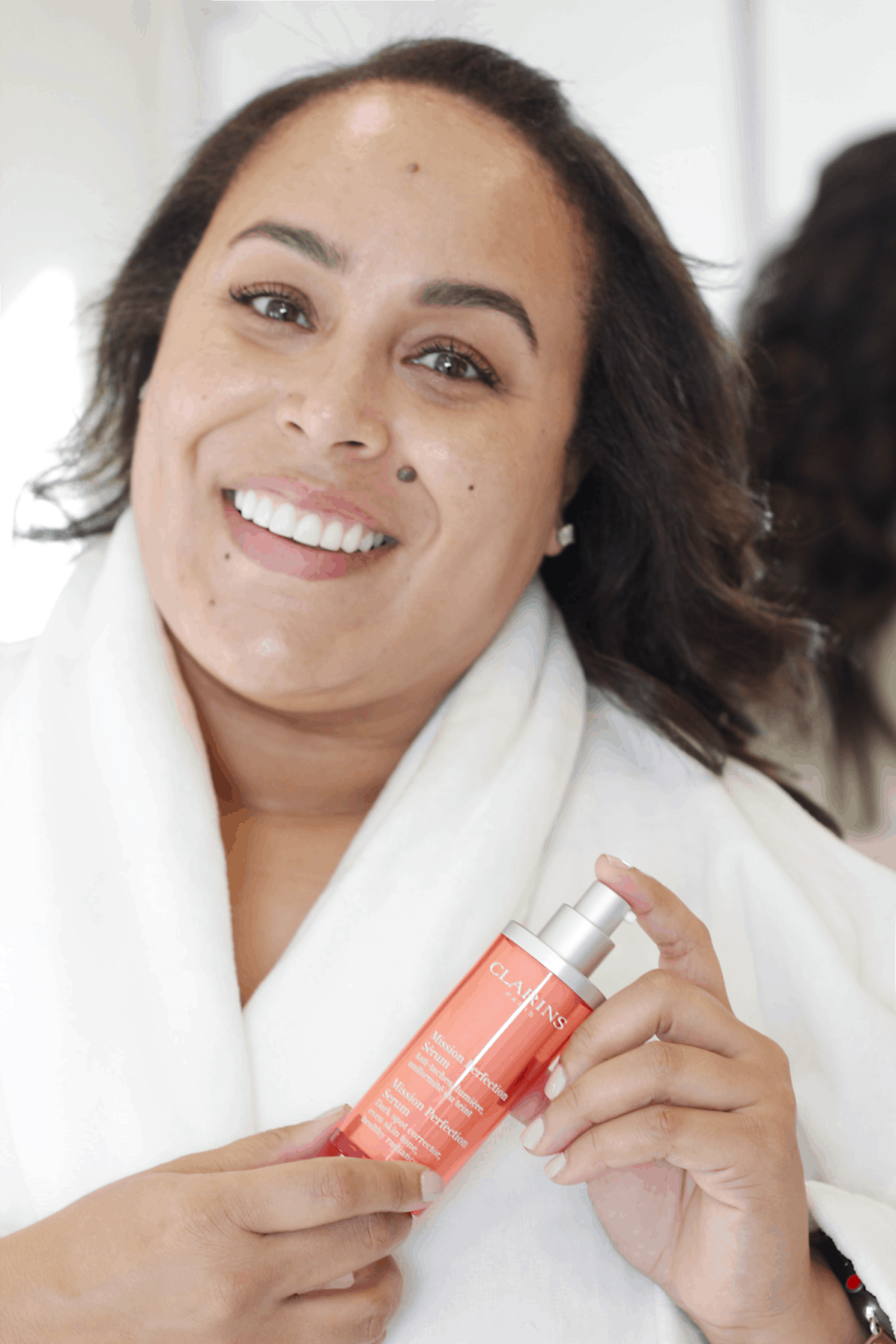 So if you are looking for a new serum that will not only combat dull skin, dark spots, redness, and discoloration OR you just are looking to add a bit of oomph and radiance to your skin immediately, then you NEED to do yourself a favor and look no further for the Clarins Mission Perfection Serum.  Time to say bye bye to discoloration and hello to gorgeous glowing and radiant skin. I'd say that it a mission well accomplished, right?
READ NOW, SAVE FOR LATER:

Clarins Clarins Beauty Clarins Skincare dark spots how to get rid of dark spots hyperpigmentation