It's been a year you guys! Time to check back in and see what product has become a holy grail in my skincare regimen…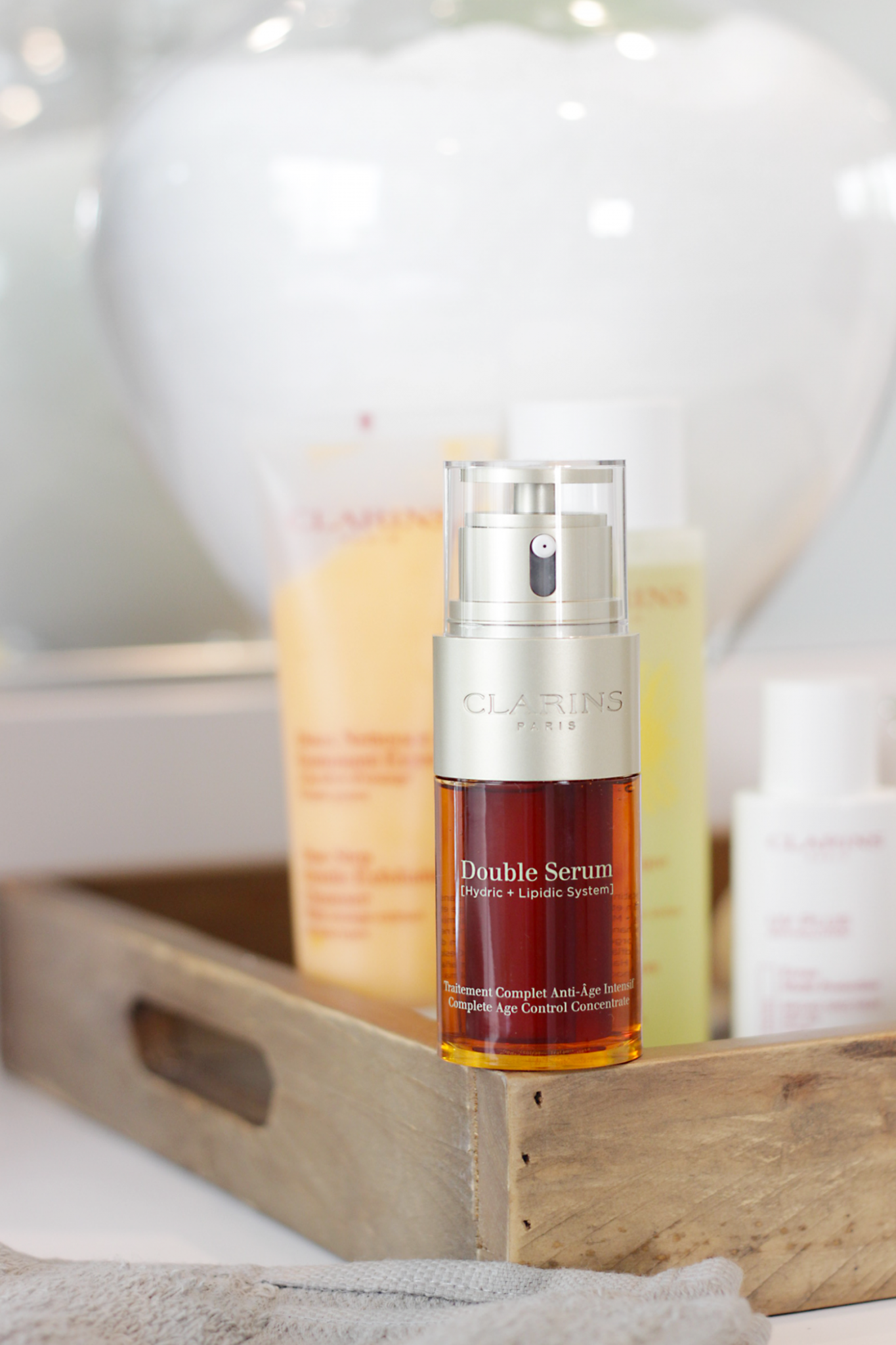 Today's post has been sponsored by Clarins. As always all thoughts and opinions are my own! #MyDoubleSerum
Like any beauty buff, when it comes to looking and feeling my absolute best, everything starts with one commonality- a great skincare regimen! For the past year there has been one skincare product that has become a non-negotiable staple in my skincare regimen and made its way into my holy grail hall of fame. Curious what it is? Keep reading to see why you need this serum in your life ASAP!
As you guys know, I am a HUGE Clarins lover. I have been a long time lover of their face masks, cleansing products and of course my obsession is continuing with the double serum. Basically everything I have tried by Clarins has been a MAJOR game changer in my skincare regimen. However, one product that I was introduced to last year from Clarins, has literally changed my skin and has become a serious non-negotiable in my skincare regimen.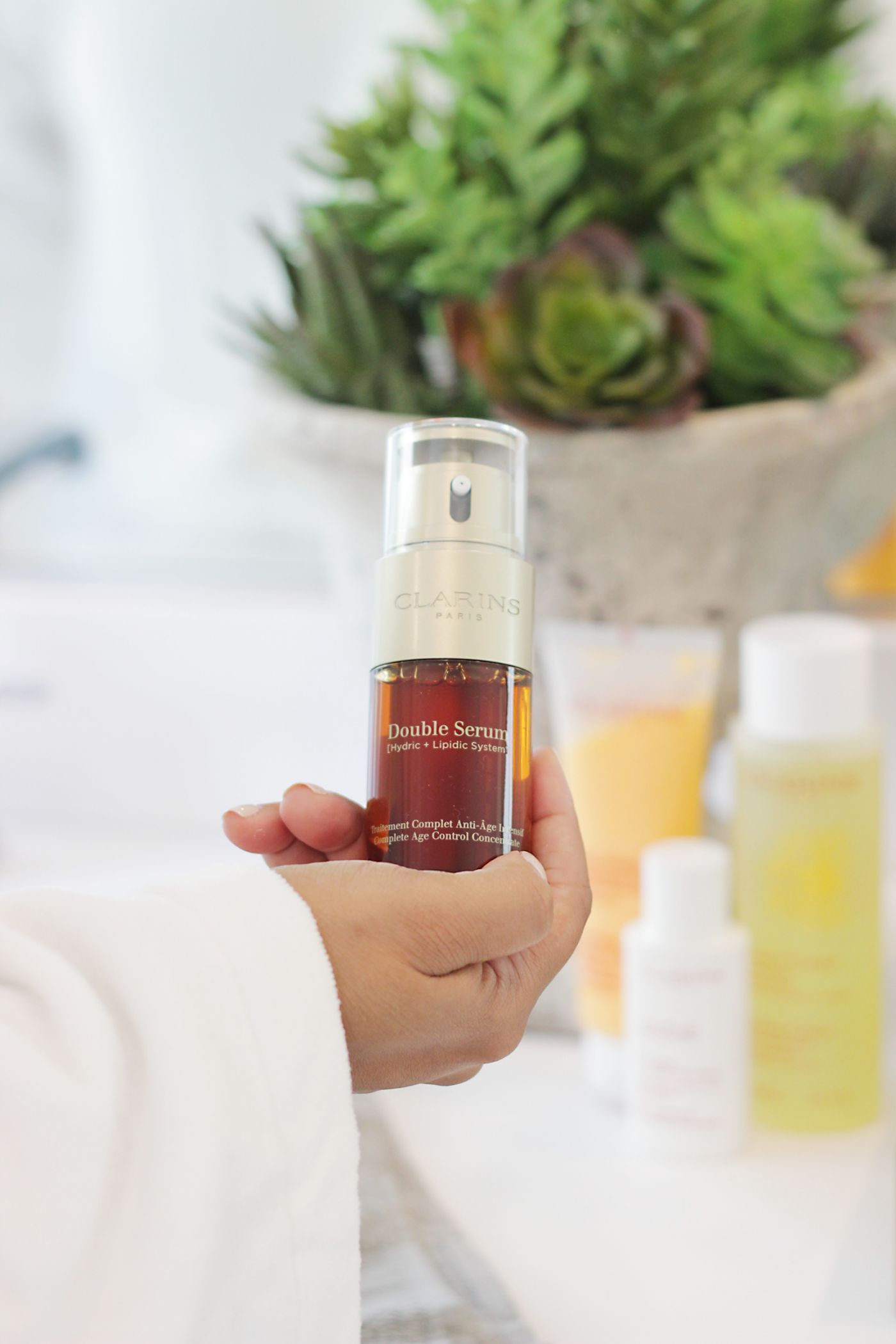 If you follow me over on Instagram you know I profess my love for this product all the time. So much that many of you have shared with me that you are also OBSESSED. Still haven't figure it out? If you haven't guessed what it is- I am talking about the number one prestige serum – Clarins Double Serum. You see over a year ago, here, I gave my thoughts on the Clarins Double Serum after using it for 30 days in my skincare regimen. Fast forward a year later, and the Clarins Double Serum is in full effect in my skincare regimen with no chances of going anywhere. I am OBSESSED! My skin is OBSESSED, here is why…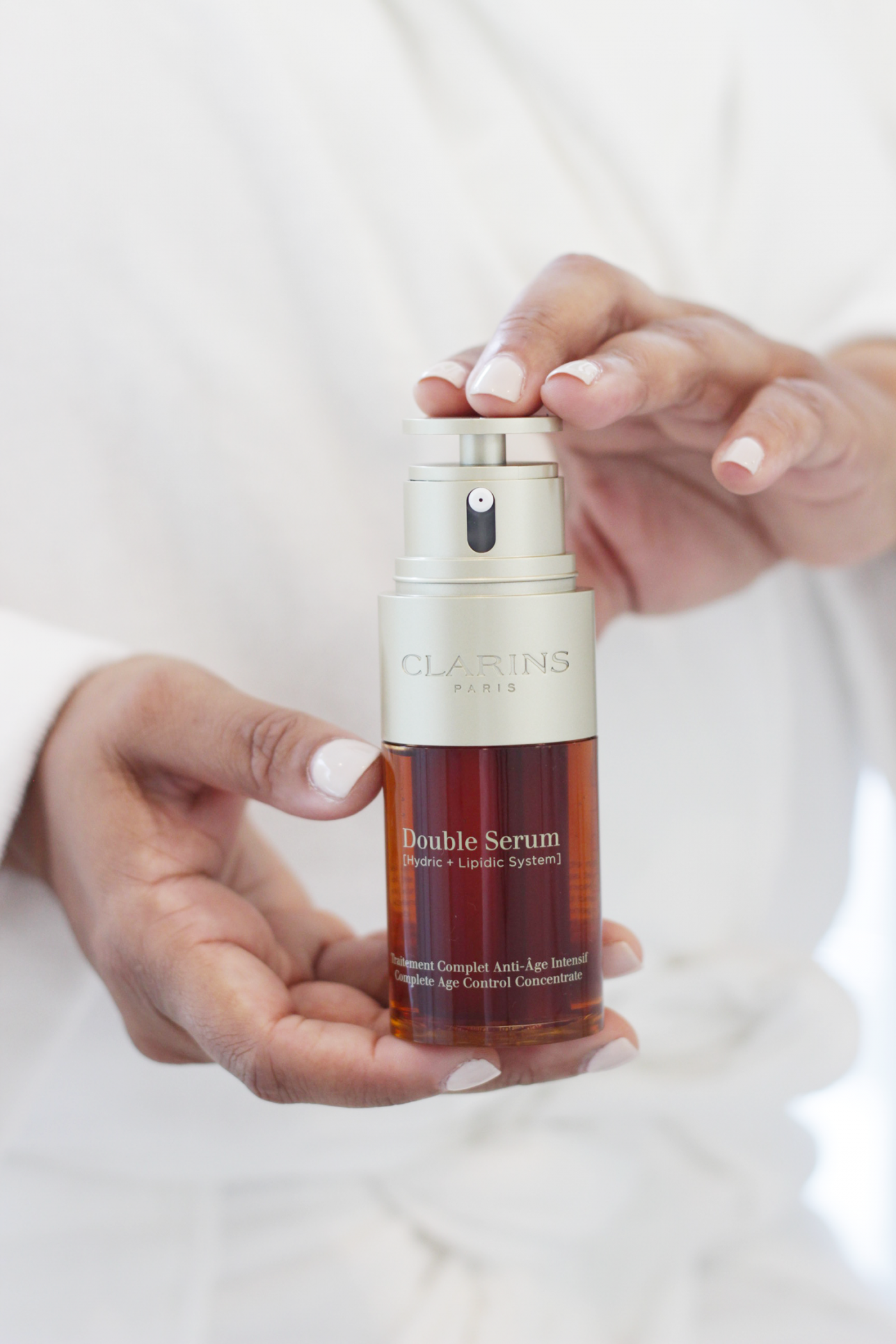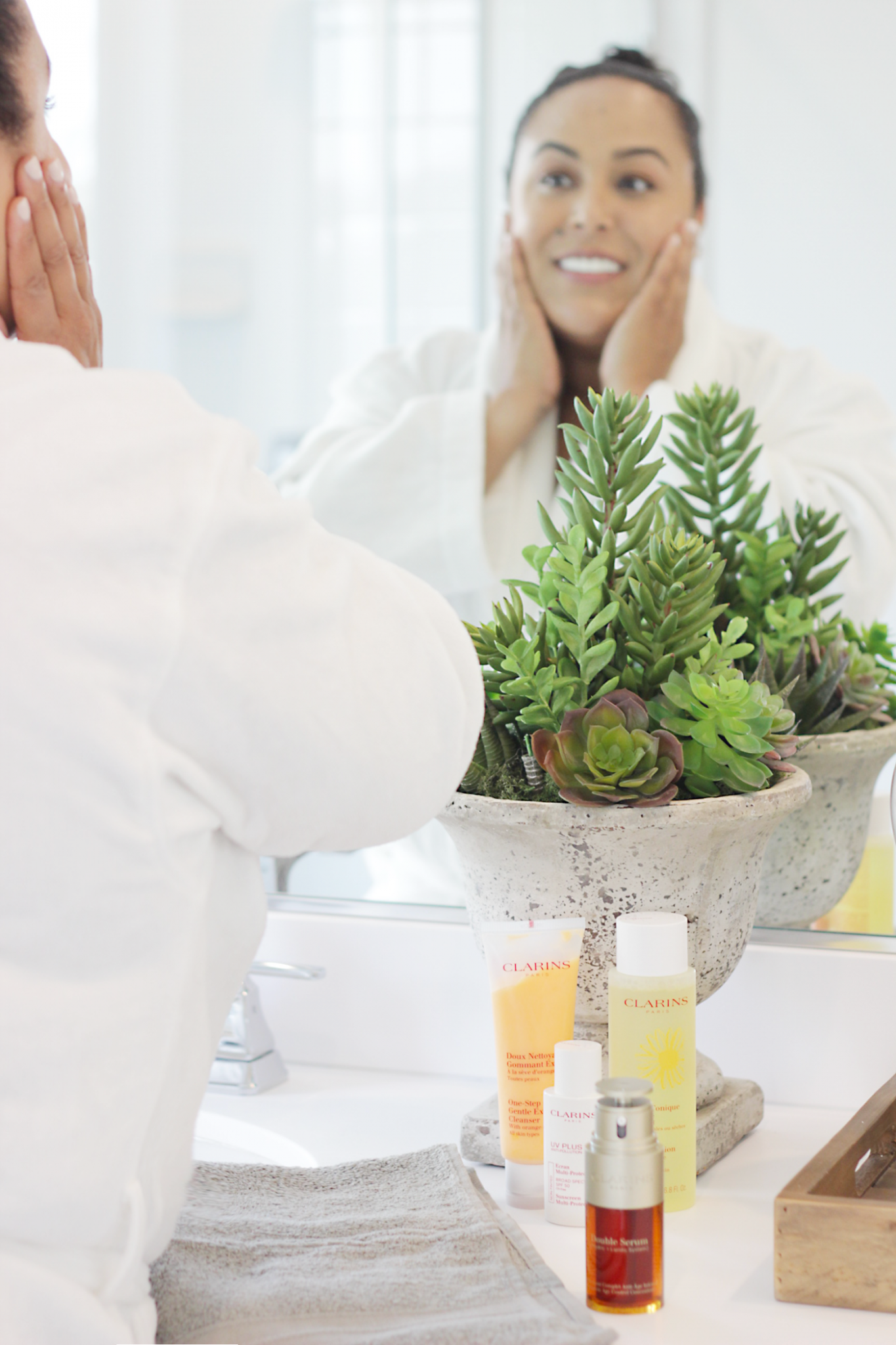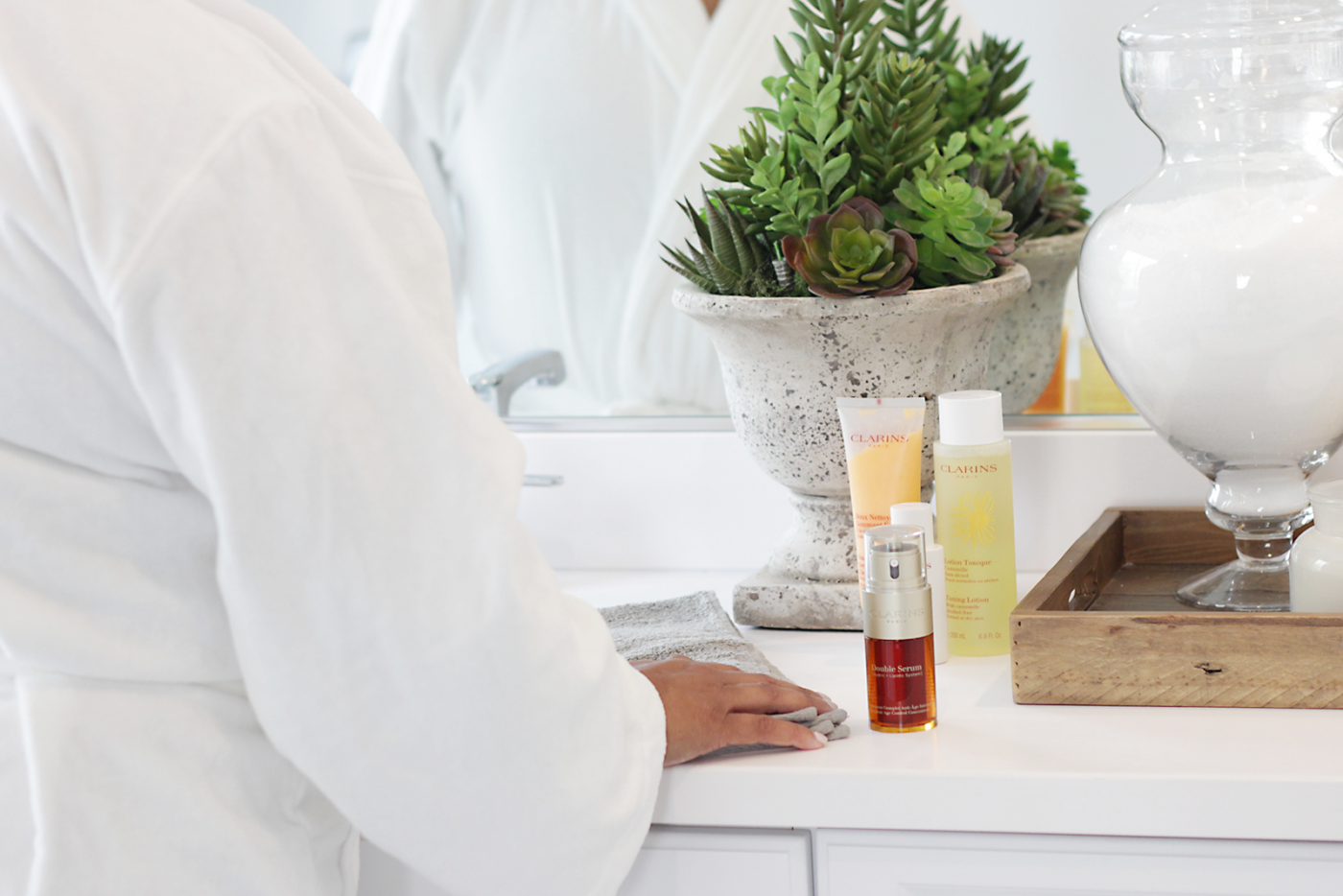 WHY CLARINS DOUBLE SERUM IS A STAPLE IN MY SKINCARE REGIMEN
Many of you are probably thinking "WHAT is so great about this serum, Jamie?" Well you guys,  let me tell you. This serum literally changes your skin, from giving your skin the most amazing glow, to evening out your skin tone, shrinking your pores and of course warding off those pesky fine lines and wrinkles.  You see Clarins Double Serum is one of those miracle serums made with 21 skin-nourishing plant extracts (including Turmeric) that literally help optimize the performance of your regular day or night creams by boosting your skin's 5 vital functions: Regeneration (skin firmness), Oxygenation (radiance), Nutrition, Hydration and of course Protection (fights free radicals) but the best part is it also CHANGES the way your skin feels and looks.
After one year of using my Clarins Double Serum, the biggest things I have noticed are:
My skin literally just glows. Like all-day-long glows.

What fine lines and wrinkles? I have been warding off Father Time so much better with this product!

Dark spots from pesky acne scars, fade SO much quicker with

Double Serum

My pores have literally either shrunk or disappeared in some places completely.

My skin is perfectly hydrated and smooth

My makeup goes on SO much better.

During the winter months, not one time had a dry patches or any  flakey skin

When I got sick, I kid you not,  I didn't once get a dry, flakey nose like I normally do from blowing my nose WAY too much.
And that is just what I have noticed, other people have said my skin is radiant and at first I didn't believe it until I start going for that no makeup look and dared to go out bare. Which is something I do now ALL the time.  Who would have thought a simple serum added to my skincare regimen would give me the confidence to go makeup free?
HOW DO I USE DOUBLE SERUM IN MY SKINCARE REGIMEN
So through this whole year, I have used double serum multiple ways.  Obviously it's the one product that goes AFTER my cleanser and toner but BEFORE my moisturizer and SPF.  But the way to use it is pretty awesome. You see this product gives you the option for a low dose or a high dose.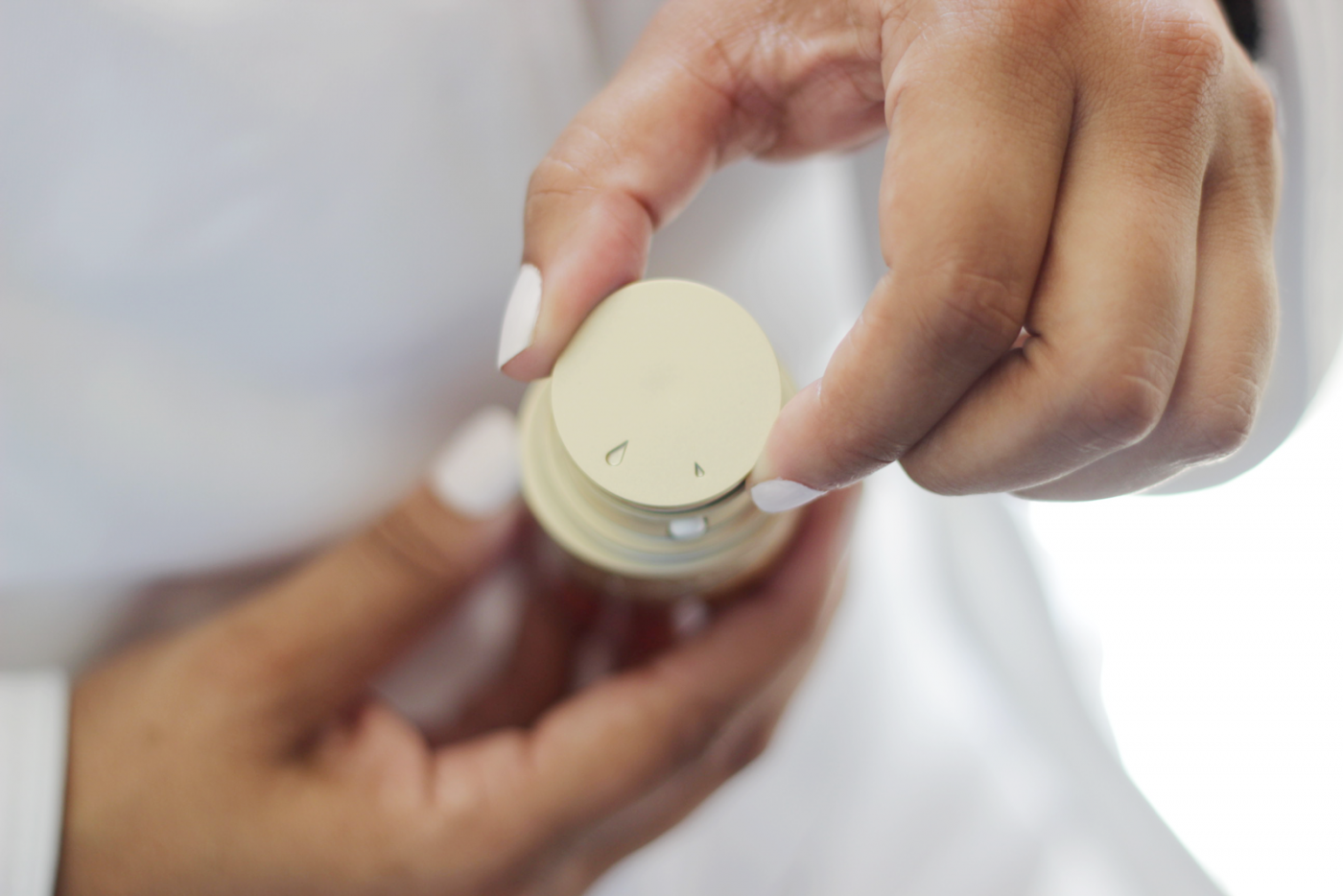 The dial has options to choose from:
SMALL DROP (TINY DROP ON DIAL): this is perfect combination to oily skin // warm, humid climate // perfect for summer time
LARGE DROP (LARGE DROP ON DIAL): this is perfect for normal, dry and sensitive skin // cold, dry climates // perfect for fall and winter month.
Being that I have combination to oily skin pretty much year round, I have been using both drops on the dial. In the morning I use the small drop to help give my skin a nice bit of oomph.  I swear, not only does it hydrate my skin but it also literally helps my skin glow. At night I have been using the large drop to help give my skin an extra dose of hydration. This combo for me has been working wonders for the last 6 months and seriously I awake with the softest, smoothest, hydrated skin EVER! Basically, Clarins Double Serum is 100% the MVP of my skincare regimen and I am NEVER going a day without it!  Trust me your skin will thank you!
Have you tried the Clarins Double Serum yet?  If so, what are some of your results you have noticed? Let me know in the comments below…
READ NOW, SAVE FOR LATER: