Is anyone else out there suffering from dry skin this winter? Winter this year has been a bit weird for my skin, thankfully I found a new Super Quenching Duo that has brought my skin back to life. Let's see why you need this Hydra-Essentiel Duo in your life NOW!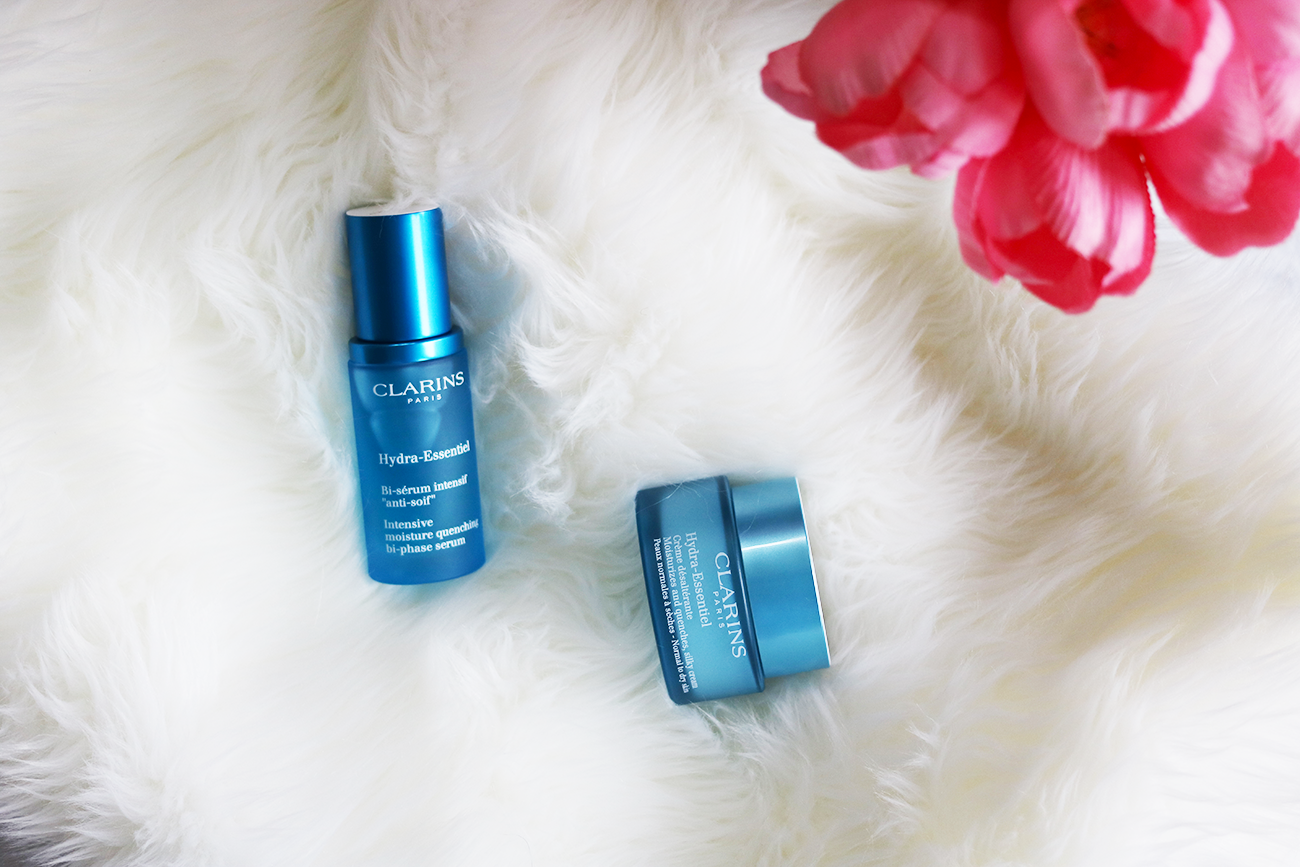 Today's post was sponsored by Clarins. As always, all thoughts and opinions are my own.
It always seems like with the New Year, often comes NEW skincare concerns and regimens.  Winter time often equals dry skin.  However, when it comes to dry skin- I have never had a problem with it.  Being that my skin type is combination to oily, imagine how weird it was for me to actually experience DRY, WINTER SKIN! I am not sure if it was the fact that I turned a year older at the end of December, or if it was because the weather in Southern California has been anything less than wacky- but I found myself in a weird spot- dealing with dry, winter skin. Thankfully when one of my absolutely favorite skincare brands reached out to me to test their new Super Quenching Duo consisting of the Hydra-Essentiel Bi-Phase Serum and the Hydra-Essentiel Silky Cream Moisturizer– it couldn't have come at a better time. My skin was suffering, it was dry, parched and in VERY unfamiliar territory.
Dry skin for many can be a problem for many people no matter what time of year it is. However, it can be EXTREMELY detrimental during the winter months due the sudden temperature changes that affect the skin's natural hydration capacity.  This unfortunately, results in skin feel dry, tight, rough and lacking radiance. Of course, if you are a long time reader here, you already know Clarins is often one of my favorite go-to brands. So the moment my skin got dry and parched I started to reach for the Clarins Hydra-Essentiel line of goodies.  The Hydra-Essentiel duo is designed to help protect the skin against both inside and outside pollutants and environmental stress- all while giving the skin a dose of maximum hydration. I am sure you will all agree, in the winter we can ALL use some extra hydration, right?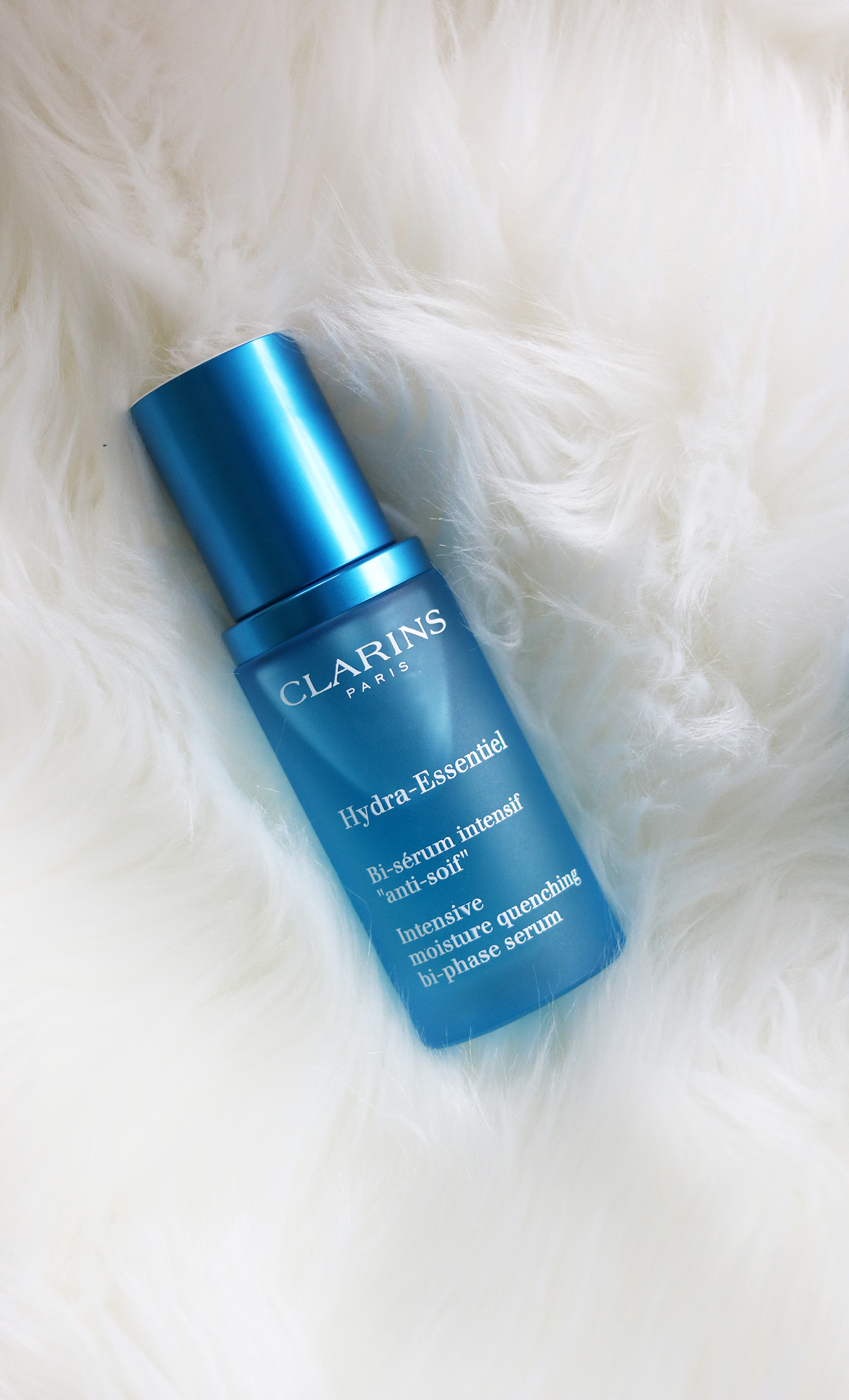 The Clarins Hydra-Essentiel Bi-Phase Serum was something, unlike anything I have ever tried. Since I have been fighting with dry, parched skin it was the perfect match for usually combination to oily skin. The serum literally once applied brings your skin back to life almost instantly delivering everything your skin was lacking.  I have been using this both morning and night on after cleansing, and I can say in the morning it really helps makeup application apply more evenly. I am OBSESSED! My skin has been feeling hydrated, plump and radiant- not to mention perfectly hydrated thanks to this skin quenching serum.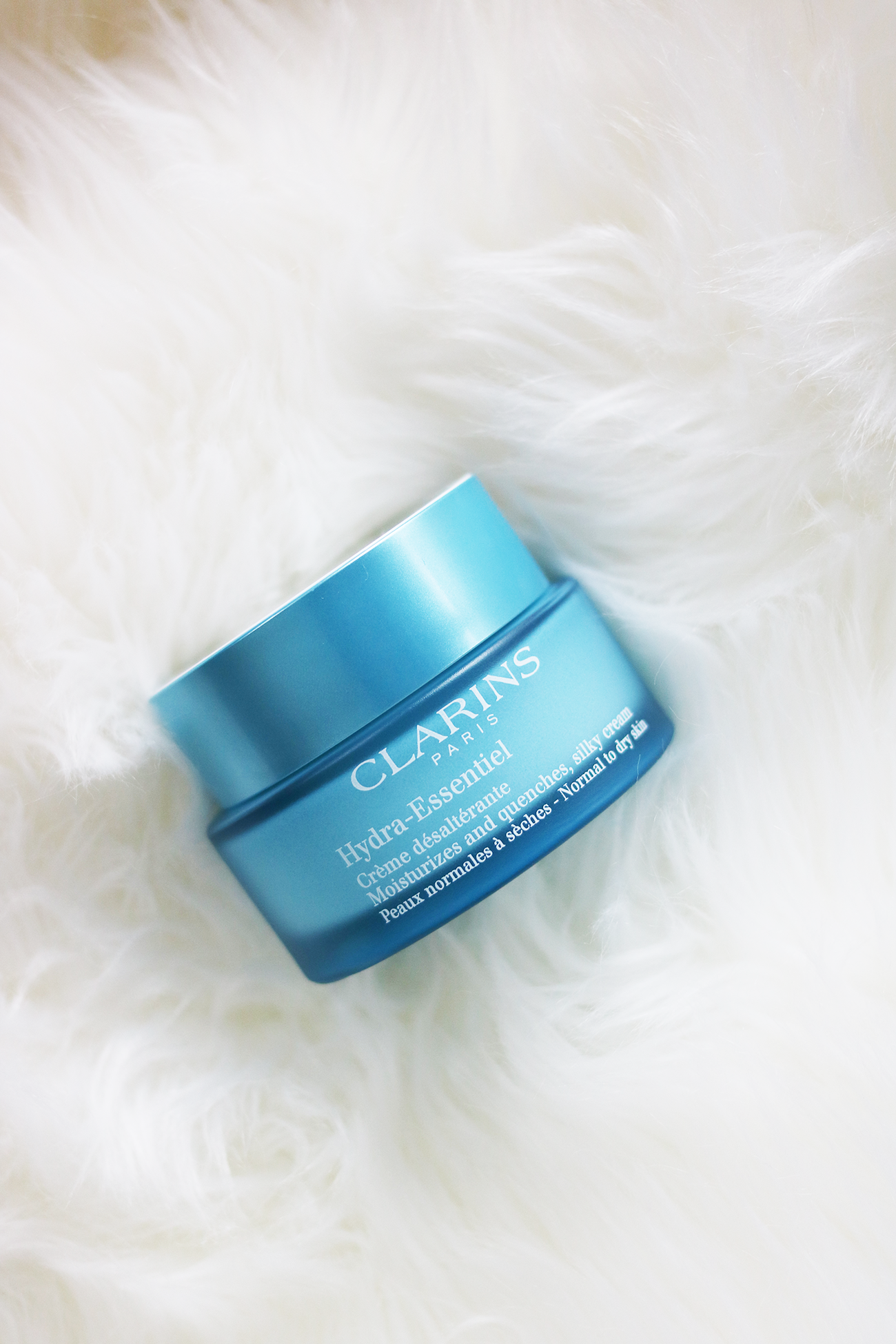 The Clarins Hydra-Essentiel Silky Cream Moisturizer has become a solid saving grace in my skincare regimen. Literally, it's like the battle cream to help restore dry skin to radiance.  Derived from the Kalachoe Pinnata, as known as the 'leaf of life' plant, found in Madagascar- this silky cream moisturizer is AMAZINGNESS! This cream is luxurious and literally makes your skin feel like silk all day long as it delivers hydration to thirsty skin, all while shielding it from the dehydrating effects of daily thermic shocks that leave the skin looking dry and weathered.  I have been using this both day and night- and let's just say my once dry, parched skin is back to feeling soft, smooth and radiant. The Clarins Hydra-Essentiel Silky Cream Moisturizer is a MUST HAVE this winter season.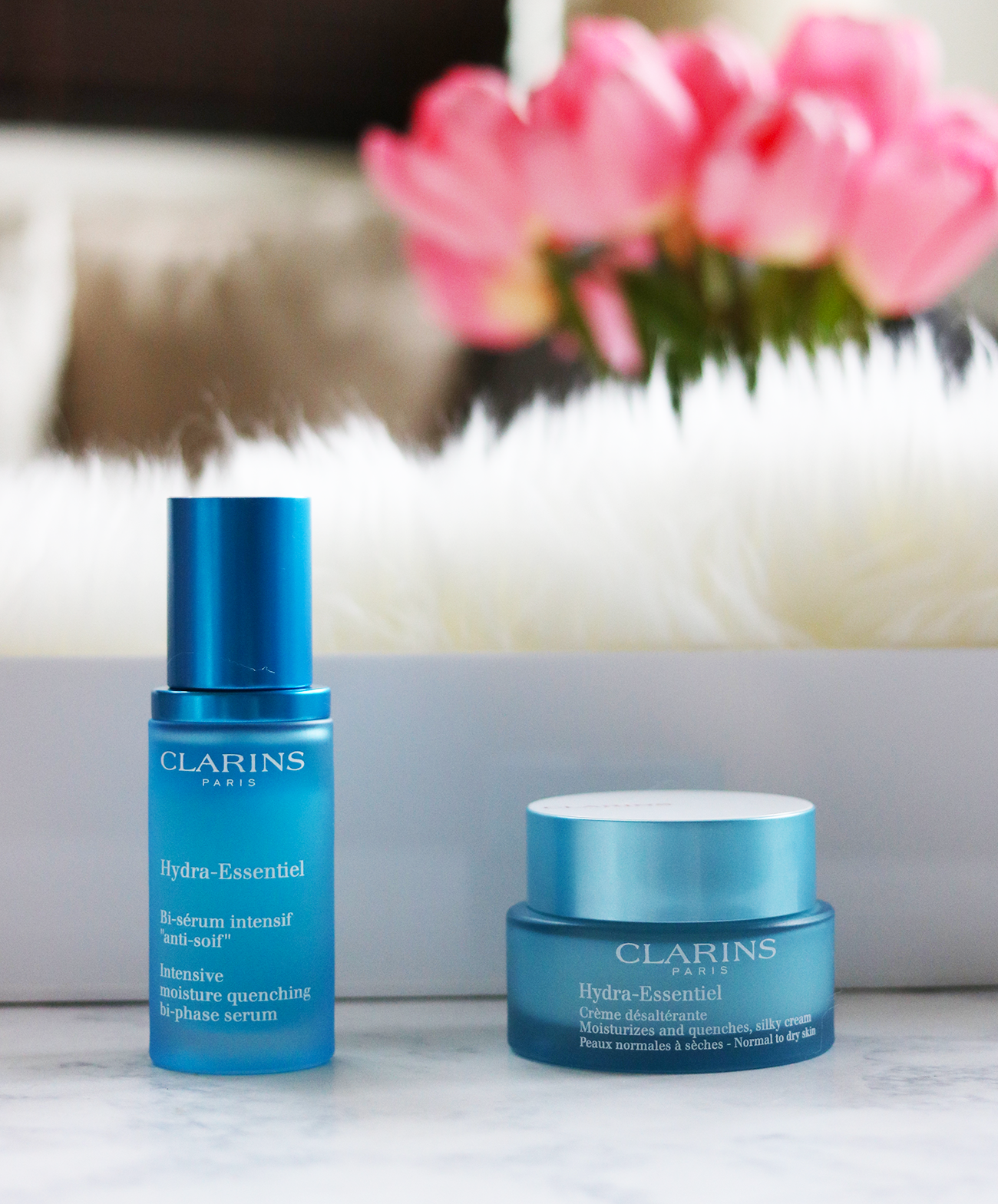 Everyone's skin has different needs, thankfully this is why the Clarins Hydra-Essentiel line has a variety of products to help keep your skin looking radiant this winter. Not to mention the smell is FABULOUS! Light, clean and airy this new line of hydrating wonders is definitely worth every single penny. The overall verdict- YOU NEED this in your life ASAP! Dry skin, normal skin, even oily skin gals will benefit from this hydration packed, super skin-quenching duo. Trust me, your skin will thank you later.  The Hydra-Essentiel line also consists of:
Have you tried any of the new Clarins Hydra-Essentiel  products? I would love to hear how it works for you. Let me know in the comments below…
[otw_shortcode_divider margin_top_bottom="30″ text="SHOP THE HYDRA-ESSENTIEL LINE" text_position="otw-text-center"][/otw_shortcode_divider]

Read now, PIN HERE for later!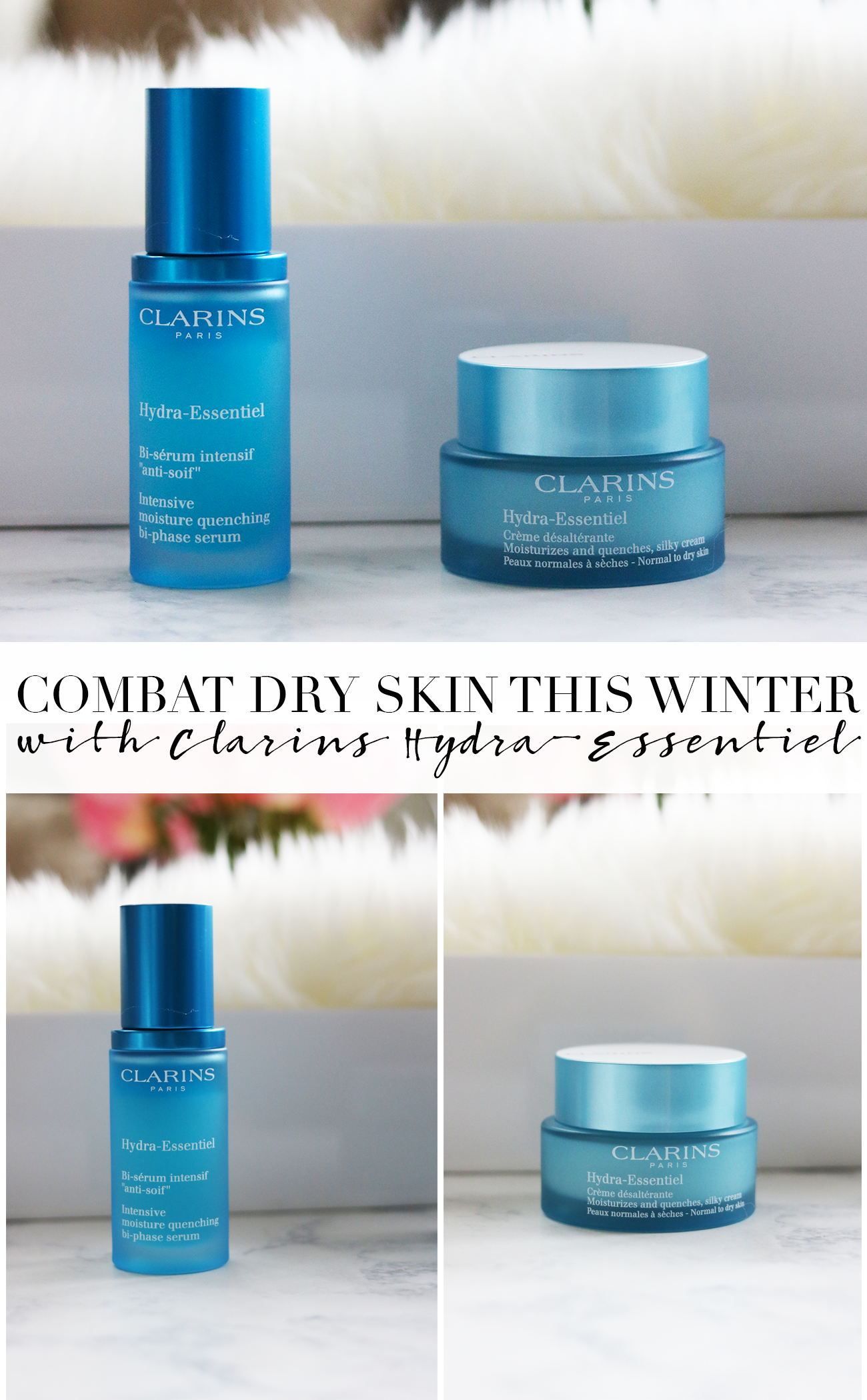 This post is brought to you by Clarins. All opinions are my own.
*PR SAMPLE
[ReviewDisclaimer]
Clarins Clarins Hydra-Essentiel Bi-Phase Serum Clarins Hydra-Essentiel Line Clarins Hydra-Essentiel Silky Cream Moisturizer