Has your skin been feeling dry, dull, fatigued and overworked? Give your skin a bit of boost back to life thanks to the new Clarins Skincare Booster. Keep reading and see why you NEED a bit of a boost in your skincare regimen ASAP!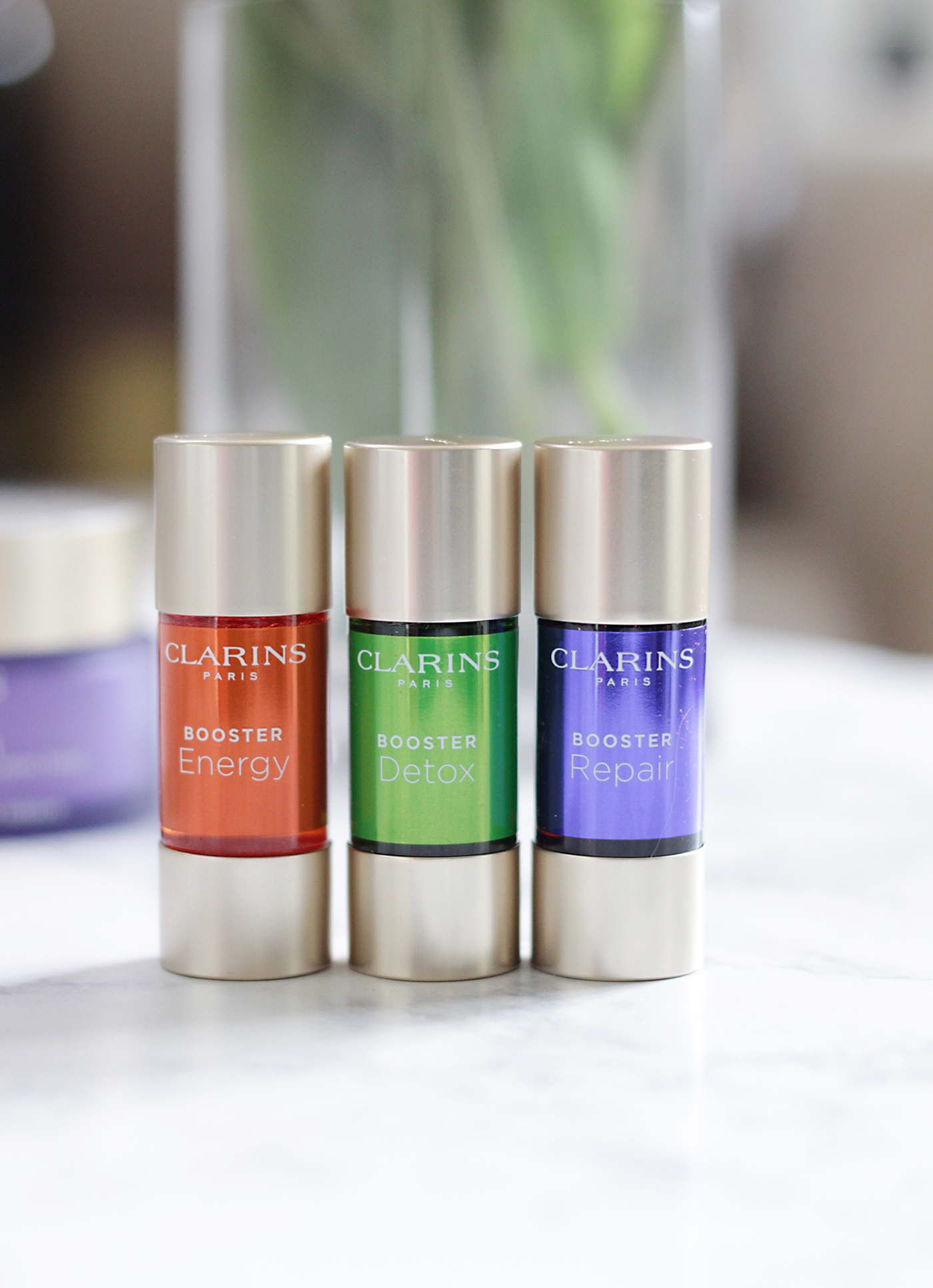 At the end of Summer, I was introduced to a product that I can honestly say I think is completely LIFE CHANGING! No doubt if you follow me on Instagram Stories or Snapchat you have seen me rave a bit out this skincare wonder that is working miracles in my skincare regimen lately. Running myself ragged, constant wacky weather changes, and of course little to no sleep working on websites lately my skin has become a serious HOT MESS! Weird weather, tireless nights, and eating wayyyyy too many sweets has caused my skin to be almost at a state of ruin at times, literally my combination to oily skin has been lacking moisture, life and just overall health lately. Last week I introduced you to my favorite transitional skincare tips and a new skincare line I have been rocking non-stop, however I didn't show you the special add-ons that have been wowing me in all sorts of ways when it comes to skincare.  These special add-ons fell into my lap at the perfect time, and my skin is forever changed thanks to the lovely Clarins Boosters.
WHAT ARE THESE CLARINS SKINCARE BOOSTERS THAT YOU SPEAK OF?
Someone recently emailed me about after watching one of my instagram stories. Well let's chit chat for a minute about a skincare booster- while they are not exactly a new concept for Clarins (they have an AMAZING Golden Glow Booster already in their arsenal of products), but these skincare boosters are a gift straight from heaven I swear.  These boosters are 3 concepts to help adapt your skincare to your lifestyle, and O-M-G they are AMAZINGNESS! Think of adding a drop of oomph to your current skincare that can completely change your skin instantly- awesome, right? Well, that's what these little bad boys are. Three unique boosters all for different purposes: Repair, Energy, Detox all formulated to help with skin struggles to keep up with your hectic lifestyle and give the skin what it needs NOW!
I instantly came home after learning about these amazing little miracle wonders and ripped open the REPAIR booster. I started to add it to my current daily moisturizer and let's just say my skin is responding very well to it. I have been under the constant struggle lately where my combination-oily skin isn't quite hydrated but it can't be TOO hydrated to make it a hot mess slick of oil, I have found that this booster is the perfect combination of moisturizer, oil, and hydration that my skin has been in major need.

HOW DO YOU KNOW WHAT SKINCARE BOOSTER TO USE?
Is your skin feeling and looking fragile, dull, tired, or just very lackluster? Then these boosters are perfection in a bottle for you, however; you might not know which is for which. Let's break down each of the Clarins Boosters and see which of these you need to pick ASAP!
FRAGILE LOOKING OR FEELING SKIN? Then you need to grab Clarins Skincare Booster REPAIR

ASAP- this booster will help soothe, comfort, and visibly minimize the skin's redness thanks to the mimosa tenuiflora extract that helps with its recovering properties. I personally have found this booster is perfect for my skin when I am in need of some major repair whether it be from traveling, or running around ragged- the

REPAIR Booster

helps bring skin back to life and sanity quickly. Heal your skin with a regenerating dose of oomph- it's amazingness in a little booster!

FATIGUE OR DULL SKIN? Then you will LOVE the Clarins Skincare Booster ENERGY

! Just a few drops of this ginseng extract enhanced booster and your skin instantly will revive radiance and minimize signs fatigue. I have found this is PERFECTION for those mornings when you just can't seem to wake up, your skin looks dull, or you have had TOO many sleepless nights- instantly revive radiant skin with a dose of energizing oomph.

SKIN IN NEED OF A MAJOR CLEANSE, PURGE, OR RECHARGE IN COMPLEXION? The Clarins Skincare Booster DETOX

will literally become your new BFF. Powered by Green Coffee Extract the

Clarins Skincare Booster DETOX

 will detoxify, cleanse, plump, and recharge your complexion almost instantly.  This booster helps bring restoration and radiance to a dull complexion- I am OBSESSED! I have found myself using this booster literally 2-3 times a week- it works wonders when you are stressed out, tired, or overall just in need of a skincare detox and are looking for your skin to look revived. Seriously a GAME CHANGER to skincare. This booster instantly spring cleans your skin with a dose of detoxing oomph.
To use the ANY of the boosters it is simple- just add 3-5 drops to your favorite moisturizers, masks, serums, or even foundation. NOTE: DO NOT USE THE BOOSTER ALONE- YOU MUST mix the booster with something else (Foundation, Serum, Mask, Moisturizers) and DO NOT MIX with ONE ANOTHER! Trust me these are SUPER powerful and are pure power and are NOT recommended to mix with one another as there are some ingredients that will interact with one another or counteract one another in their directed purposes.  The best part of the boosters is that they are each created to help bring some oomph to your lifestyle and are readily mixable into your favorite medium to help address your ongoing concerns (wrinkles, hyperpigmentation, etc). I love that they can be mixed with anything including masks. Which brings me to a new tried and trusted favorite that I have been loving nightly in the form of Clarins Extra-Firming Mask– seriously this mask is EVERYTHING!!! This mask is the 1st relaxing anti-aging mask in its class thanks to the beautiful spa like scent all while it helps to visibly smooth stress lines, restore firmness, and revive radiance in as little as 10 minutes. It literally like an instant mini-spa for your skin. I have been rocking this mask 2 times a week as an overnight mask paired with a few drops of the REPAIR  booster– and I am OBSESSED! The scent of this mask is seriously heavenly as it has a light, clean, lavender like spa scent- it's both dreamy and comforting.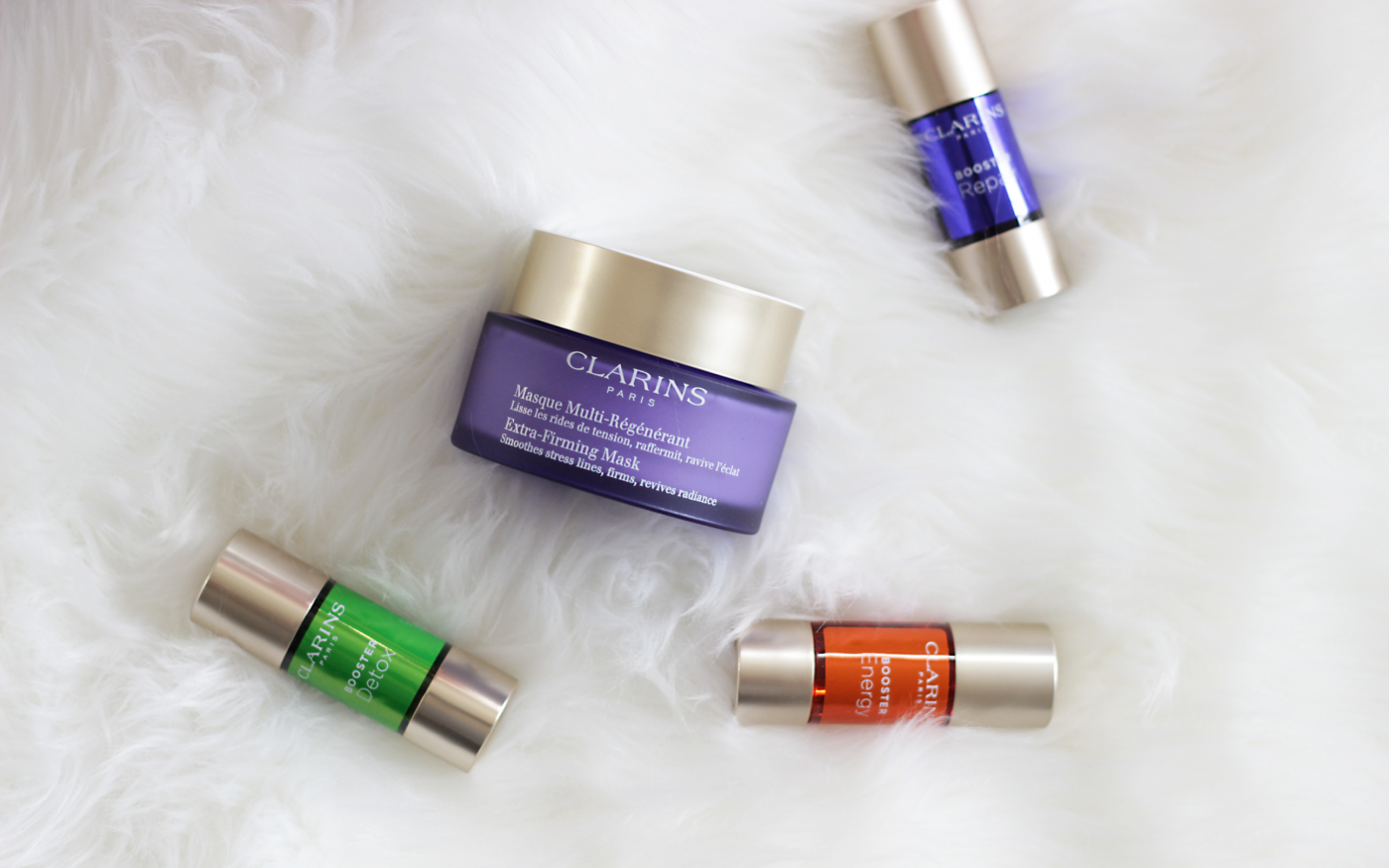 If you are suffering from lackluster, parched skin or a dull and leathery complexion- I can't recommend these boosters enough for anyone and everyone.  They literally are a MAJOR God-send to skincare. Not sure what to mix them with? Here is my favorite mask, foundation, serum,  moisturizer, even sunscreen to mix them with. I promise you- your skin will thank you and you will be HOOKED on these little bottles of wonder. Looking for the perfect mask for that weekly pamper? Then you NEED the spa in a tub thanks to the Clarins Extra-Firming Mask. Clarins truly hit these skincare additions on the head and created a true treat from the heavens. Say hello to a boost of oomph in skincare!
Have you tried any skincare boosters in your skincare regimen lately? Let me know in the comments below…
[otw_shortcode_divider margin_top_bottom="30″ text="BOOST YOUR SKINCARE ROUTINE" text_position="otw-text-center"][/otw_shortcode_divider]

*PR SAMPLE
[ReviewDisclaimer]
anti-aging Clarins Clarins Boosters Clarins Skincare Booster Skincare Booster