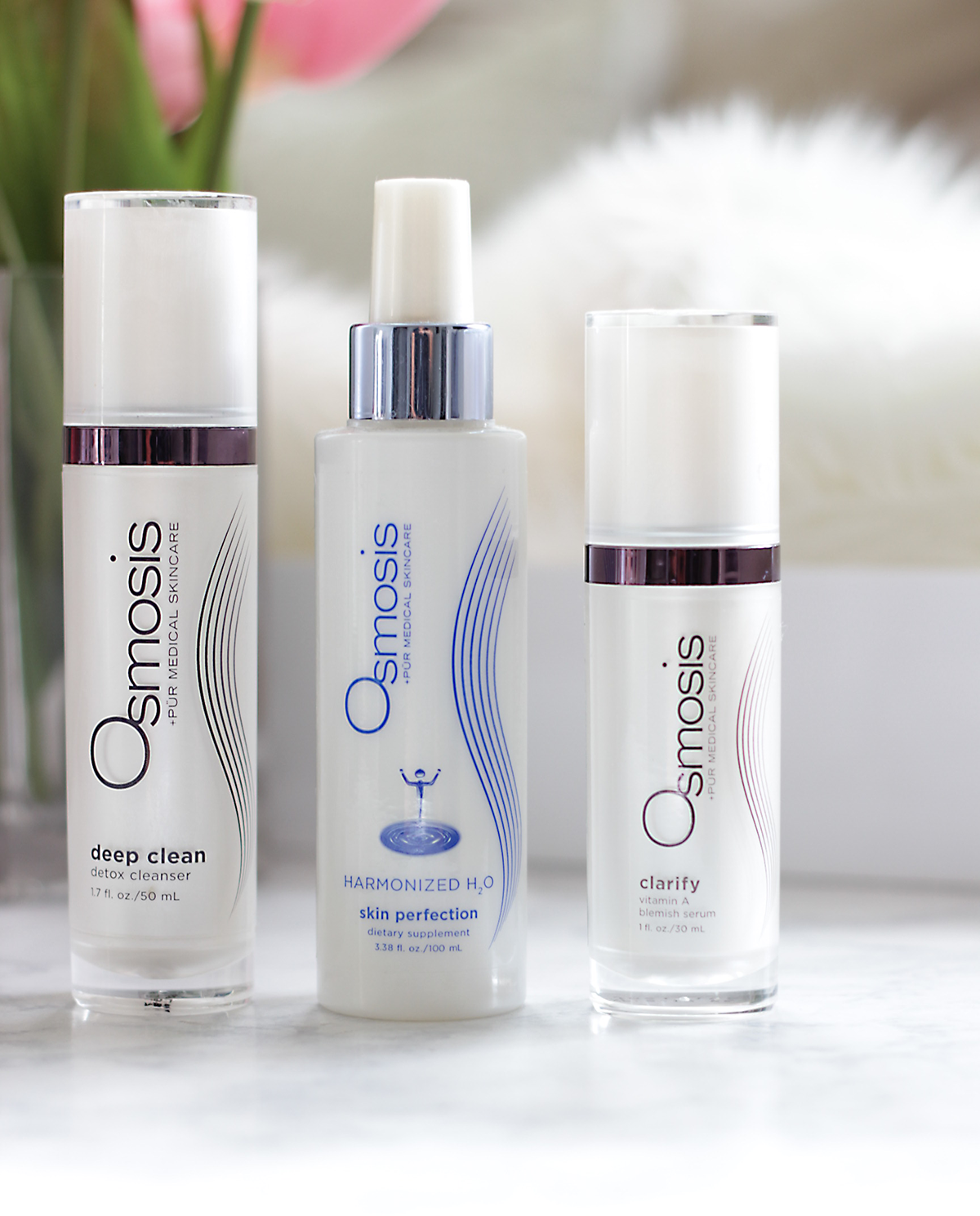 When it comes to skincare there is one thing I am NEVER prepared for- the yearly weather changing breakouts that appear almost one by one in packs.  The weather in Southern California lately has been NOT what Southern California is all about- you know the song "It never rains in Southern California"- lies I tell you- ALL THE LIES! The weather has been reaching the low 50's which to me is FREEZING and my skin has not been happy at all. So I decided that I needed to make some changes and incorporate some adjustments in my beauty skincare routine to help accommodate the pesky breakouts that have been occurring. A while back I talked to you about my favorite new skincare regimen, but today since I am having some problematic skincare issues I figured it was time to share a three of my transitional skincare beauty tips to help keep pesky breakouts under control this winter.  

TRANSITIONAL SKINCARE TIP 1: SWITCH FACE WASHES
Usually, when it comes to winter a lot of times I will switch to a cream cleanser because the cream helps hydrate the skin better than a gel cleanser. However, I recently switched from this probiotic skincare cleanser to Osmosis PUR Medical Skincare Deep Clean Detox Cleanser. Let me just say this- LADIES if you suffer from blemishes, oily skin, or random clogged pores- THIS cleanser will be your BFF. The unique combination of coconut surfactants and citrus essential oils (lemongrass, lemon, and grapefruit) to help remove the deep nasty impurities in the skin all while gently cleansing the skin.  The cleanser is perfect for ALL skin types- but it is a MAJOR game changer if you are in need of a skin care deep detox.

TRANSITIONAL SKINCARE TIP 2: INCREASE YOUR WATER INTAKE
This one is usually a repeat tip at all times. When you increase your water intake you help hydrate your skin, cleanse your skin and overall improve your skin. In the winter- cold air= major dry skin= NEED more water at all times for the skin to stay hydrated.  Osmosis PUR Medical Skincare created the most unique product in the form of harmonized H20. The Osmosis PUR Medical Skincare Harmonized H20 Skin Perfection, is quite impressive. A Harmonized H20 Skin Perfecting Water that helps with digestive health, natural defense and neutralizing the skin to help clear blemishes, rosacea recovery, balance skin inflammation and eczema + psoriasis detox. At first I thought this product was a bit weird- just a few squirts of water into your mouth daily based on your weight, however; after a few weeks of using this product religiously I was impressed. I suffer from eczema and of course those pesky breakouts and THIS product literally has made a drastic change. My random eczema flare-ups have literally become less and less since using this. MAJOR MUST HAVE!

TRANSITIONAL SKINCARE TIP 3: KEEP BREAKOUTS AT BAY WITH A SERUM
Keeping breakouts at bay, sound easier said than done, right? However, I have been trying out the Osmosis PUR Medical Skincare Clarify Vitamin A Blemish Serum and WOW! Use this serum both morning and night have been giving my skin the extra boost of detoxification and clarification of my skin it has been leaving me with radiant skin.  This unique blemish serum helps clear blemishes, normalized oil production, shrink pores, increase the skin's immune health, calms inflammation caused by breakouts and irritation, and hydrates the skin all while protecting the skin for UV rays, restoring the epidermal barrier and restoring the dermal thickness.  This serum is super light and perfect on the skin. A little goes a long way (I use 1-2 pumps MAX both day and night)- it absorbs into the skin effortlessly and I feel it almost helps prime the skin for makeup application.  I am VERY impressed with how this serum has been making my skin feel and look. Hello radiant skin, bye bye breakouts!
Even though it might be winter, ALWAYS make sure to use a SPF- here is my current favorite. Adding an SPF into your skincare routine is ALWAYS a MUST HAVE! Hot weather, cold weather, rain or shine- make sure to use a SPF- I promise you- your skin in 10 years will thank you immensely.  Simple transitional skincare tips to help keep your skin looking tip-top shape all while helping you get rid of those pesky breakouts during this wacky winter weather.  If you are in need of a skincare line that combines hydration and skin detoxing then you NEED to try a few of these products from Osmosis PUR Medical Skincare. Trust me your skin will LOVE these additions. 
Love this post? Pin it for later below: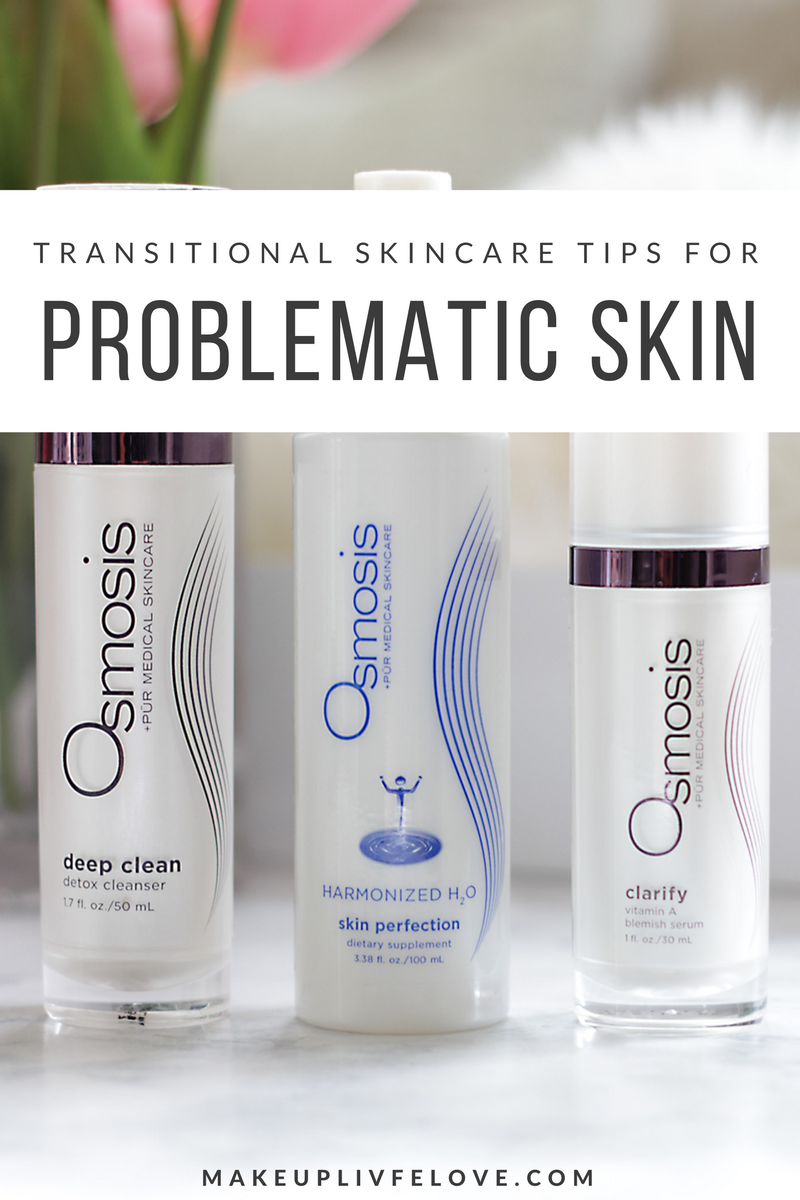 [otw_shortcode_divider margin_top_bottom="30″ text="SHOP OSMOSIS SKINCARE" text_position="otw-text-center"][/otw_shortcode_divider] 

Have you tried anything from Osmosis PUR Medical Skincare? Let me know in the comments below…
* PR SAMPLES
[ReviewDisclaimer]