Looking for the perfect yet EASY holiday beauty look? Tis' the season for shimmer and shine as this year as I am partnering up with Clarins for the perfect and simple holiday beauty look in 3 easy steps. Keep reading to see it here….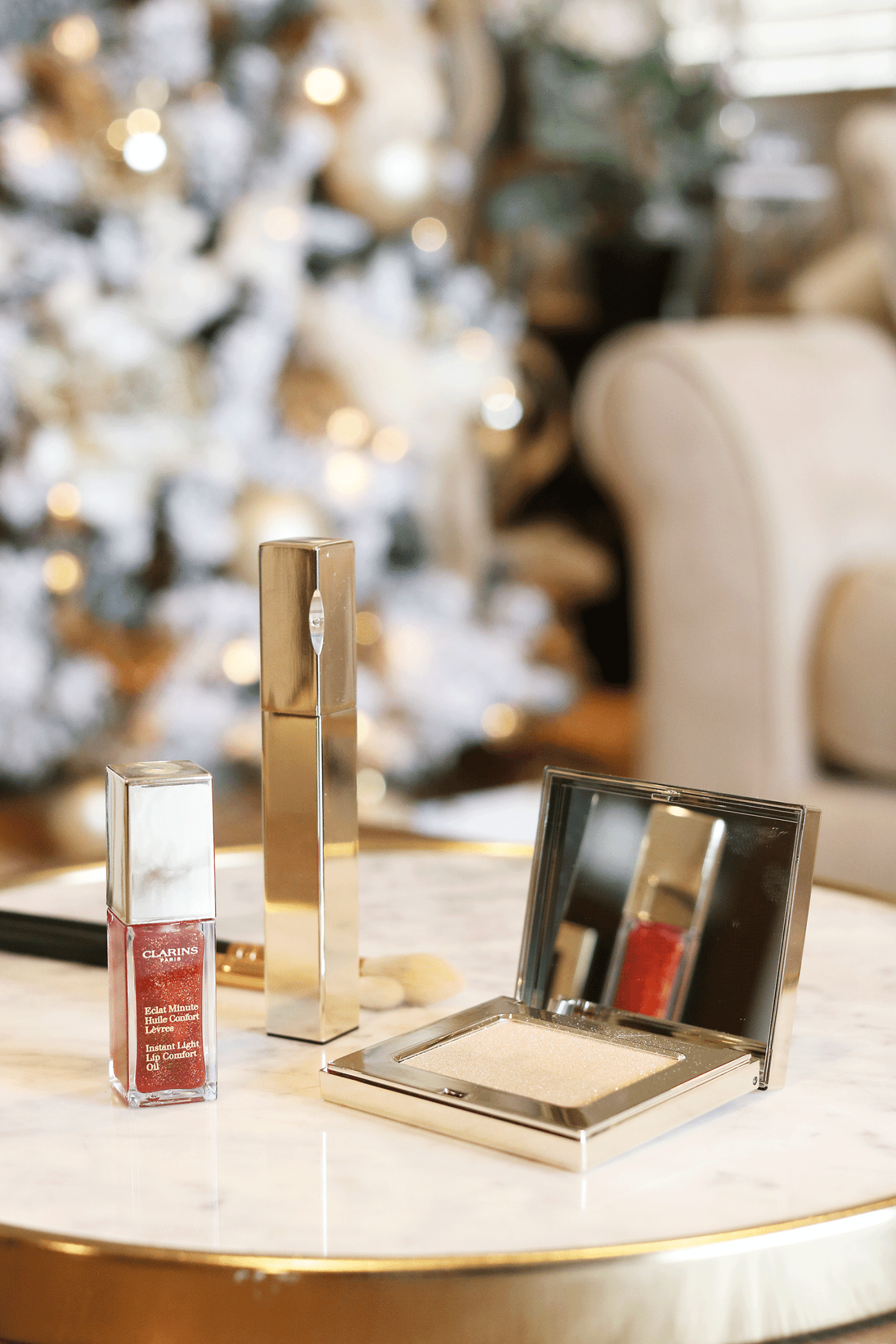 Today's post has been sponsored by Clarins. As always all thoughts and opinions are my own! #ClarinsSkincare
Am I the only one who feels you can't really be in the festive holiday spirit without changing your makeup? The holidays for me always call for a season of sequins, sparkles, red lips, and of course LOTS of time with your friends and family celebrating the entire month of December (my birthday month) as we get ready to enjoy Christmas and of course usher in the start of a new year.  If I am being honest, I still can't believe that we are going to be saying goodbye to 2018 and hello to 2019 really soon, can you?
Thankfully today I am partnering with Clarins to share with you the perfect yet EASY holiday beauty look that can be done in just 3 easy steps. This look is super easy and can help add a bit of oomph to any beauty look from now until the New Year. This is my easy holiday beauty look in 3 simple steps using the new Clarins Shine & Shimmer Holiday Collection. 
Easy Holiday Beauty in Just 3 Steps!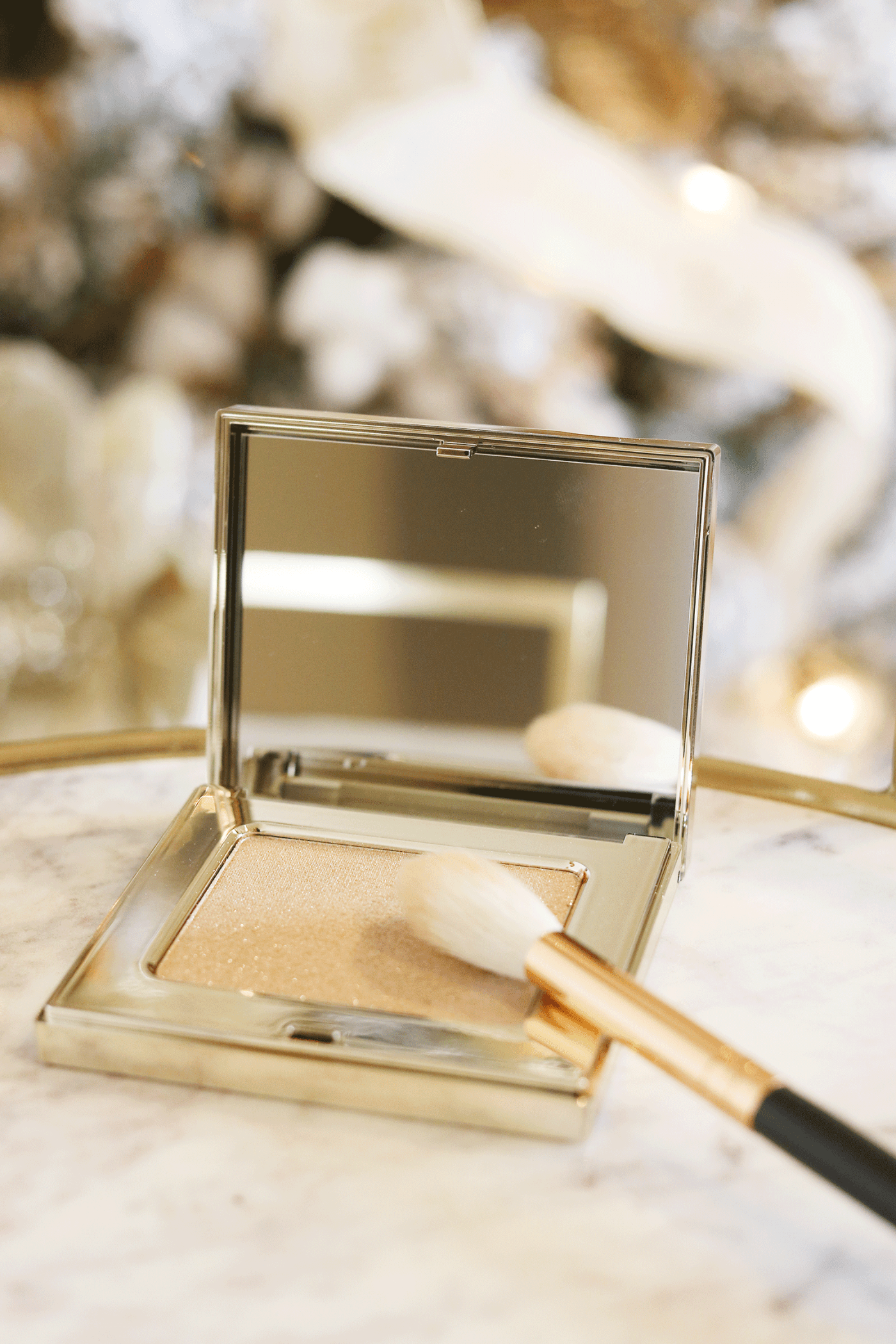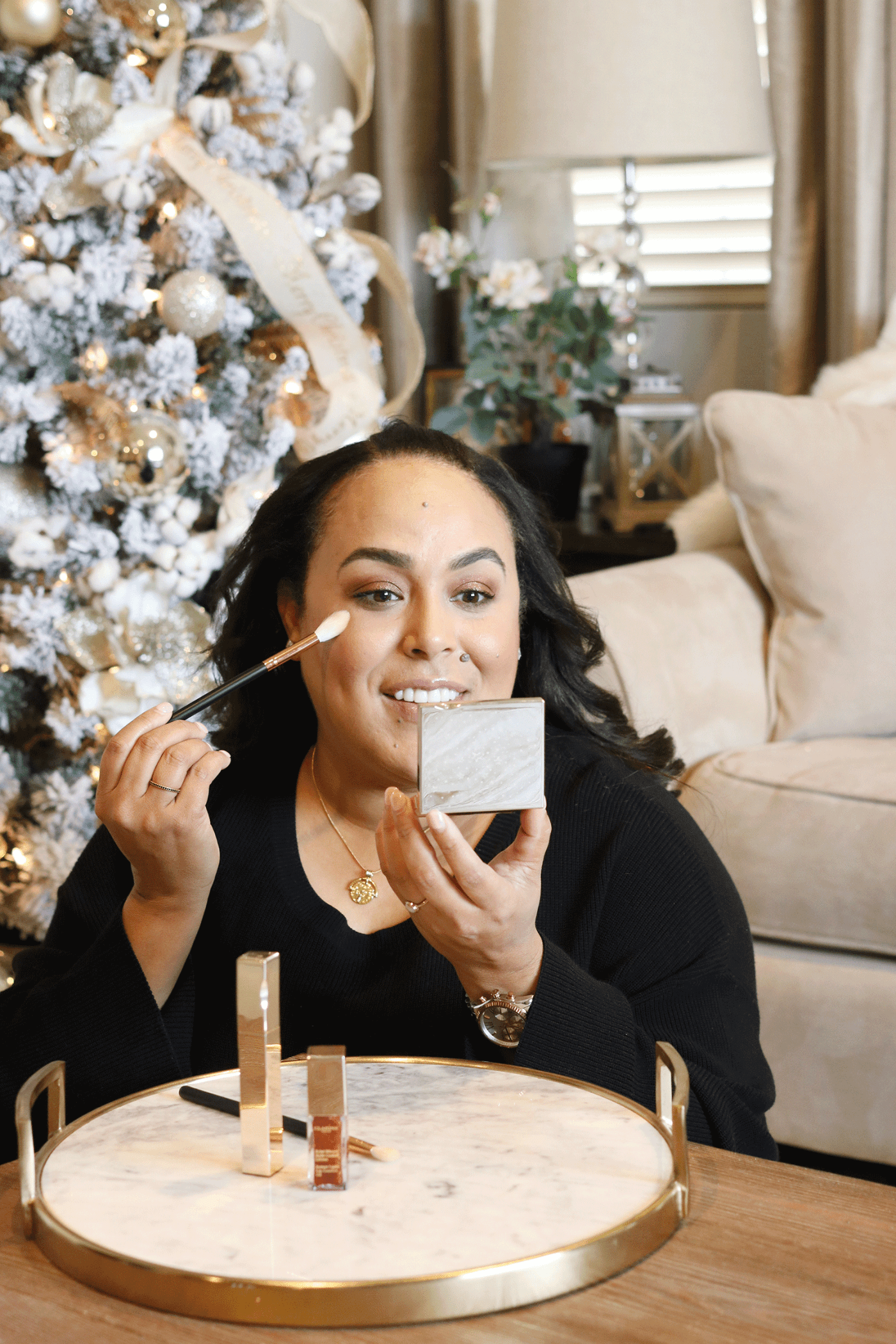 // STEP 1: ADD SOME OOMPH WITH ILLUMINATING SCULPTING POWDER //
You guys this might be my absolute favorite piece from the collection. I know, I know… another highlighter but you guys this just isn't another highlighter. It is pure shimmery brilliance in a compact. This gorgeous golden champagne toned illuminating sculpting powder creates a perfect shimmer from within like glow. Not only does it look perfect on all skin tones, it looks amazing swept on the cheekbones, brow bone and the décolleté. If I am being honest, this illuminating sculpting powder will instantly add the perfect bit of sparkle that with have you looking and feeling glam this holiday season. Trust me!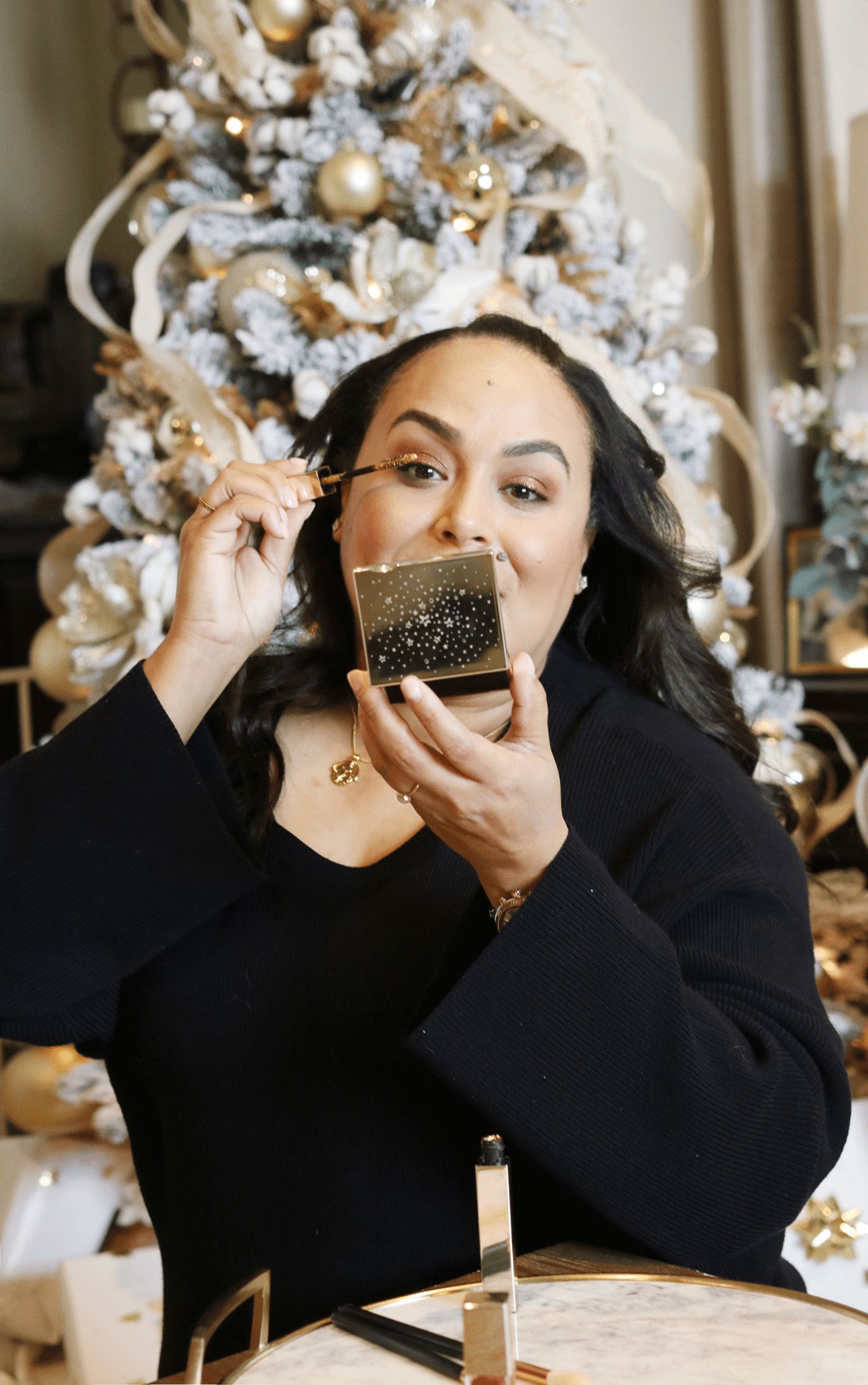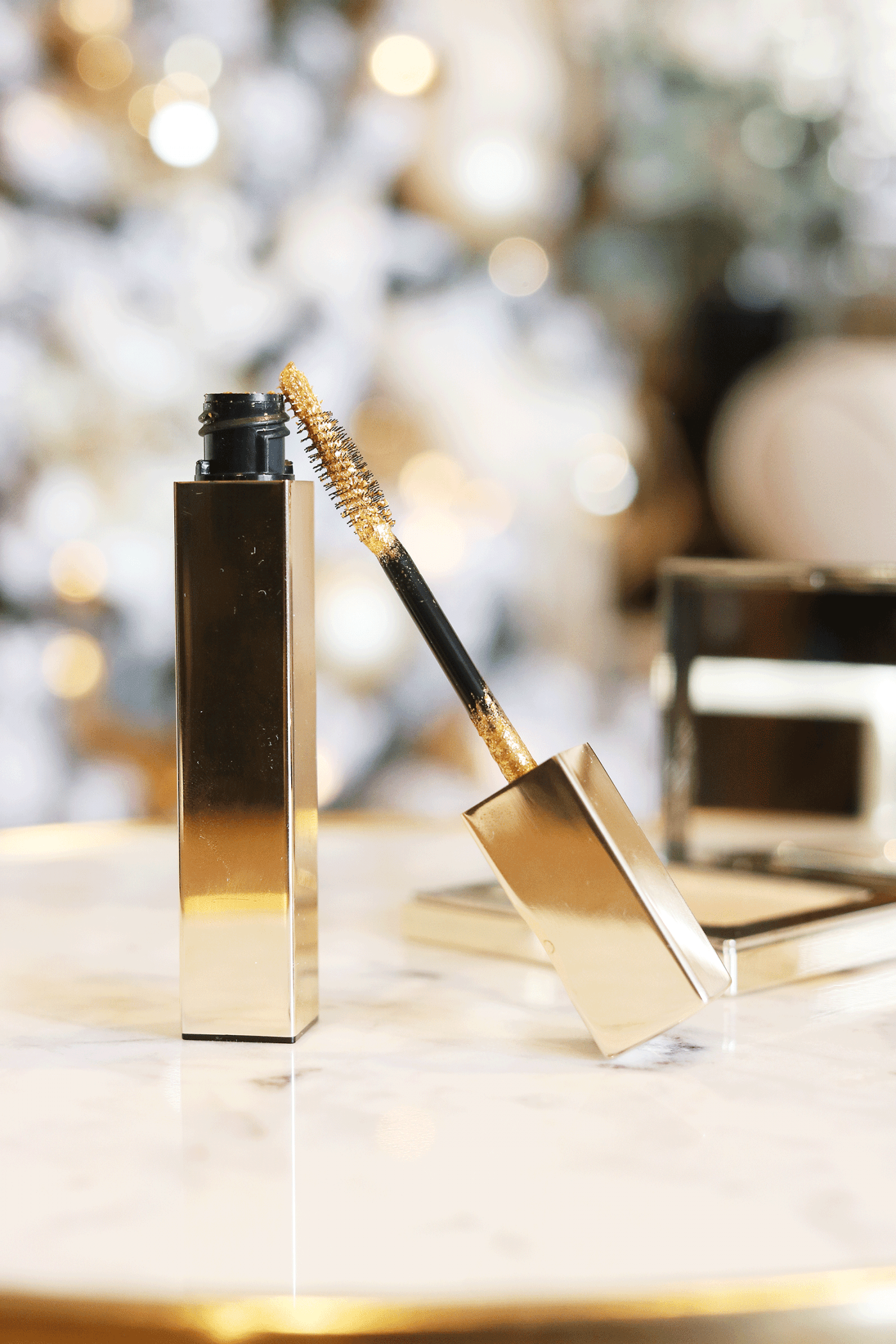 // STEP 2: GIVE ME SOME GOLD WITH THE GOLD MASCARA TOP COAT //
As you all know I am as basic as they come- always. So when I first opened this gold mascara top coat I was a bit apprehensive. However, I am so glad I jumped out of my comfort zone because I am OBSESSED! This stuff is seriously next level! Not only is it the perfect way dress up the tips of the lashes for a subtle shimmer look or you can go all-out glam and go golden from the lash base to the tip for a stand out glittering lash look. I like to add a bit of gold to the tips as I swear it makes your eyes look more alive and awake. It also gets LOADS of compliments and looks amazing all night long. Trust me you will LOVE this gorgeous gold top coat.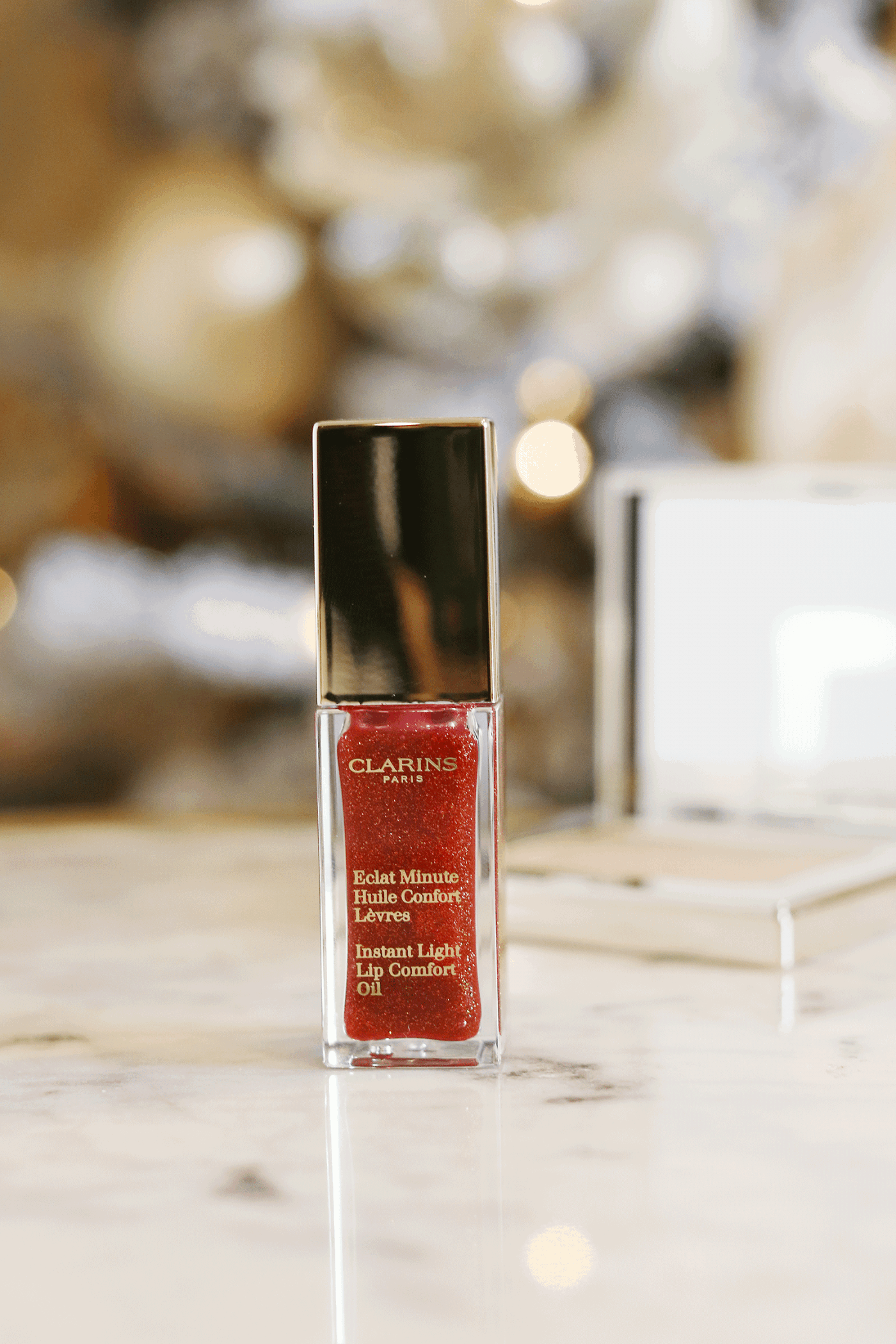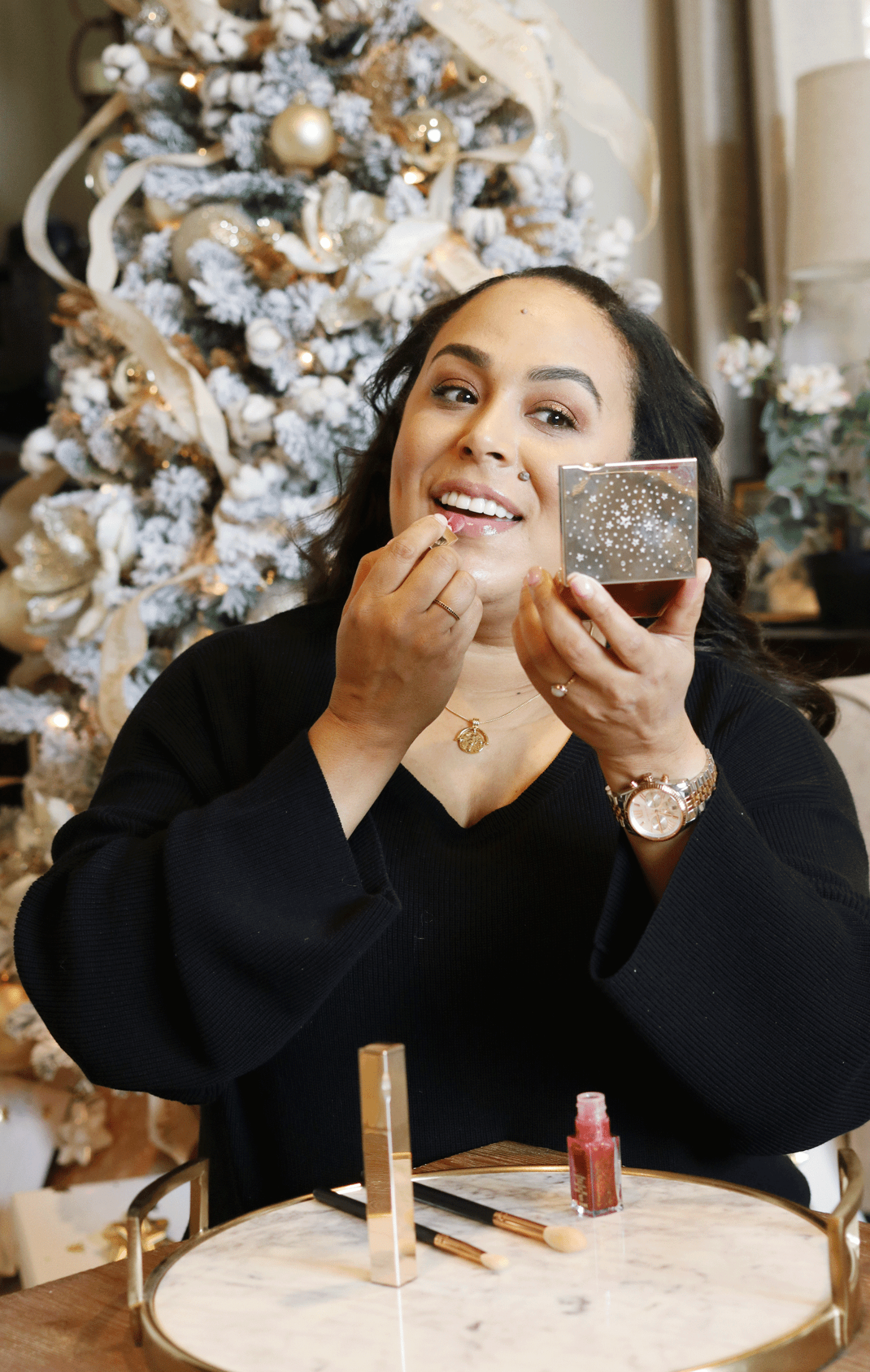 // STEP 3: GIVE YOUR LIPS A BIT OF COMFORT AND SHINE WITH RED BERRY GLAM //
No look is complete without the perfect lip right? The Instant Light Comfort Lip Oil in the limited edition shade Red Berry Glam is seriously out of this world.  You see I am so scared during the holiday season to get smudged lips, or to end up with color of my teeth- however, the Instant Light Comfort Lip Oil in shade Red Berry Glam is the perfect shade and ounce of oomp to help give the lips a bit of shimmer and color all while plumping and hydrating the lips thanks to natural plant oils. Red Berry Glam  is the perfect holiday kiss of color!
So there you have it a little easy holiday beauty inspiration with just 3 simple steps to getting glam in a flash. Now all that is left to do, is to pick out the perfect festive outfit, and enjoy yourself a cocktail or two.  Tis' the season to shine and shimmer this year. Happy Holidays you guys!!!
So how do you get holiday ready?
READ NOW, SAVE FOR LATER: 

Today's post has been sponsored by Clarins. As always all thoughts and opinions are my own! #ClarinsSkincare
Clarins Clarins Beauty Clarins holiday makeup Clarins shimmer & shine collection Clarins Skincare easy holiday beauty