Hello, holidays- yep, they are officially here… still looking for the perfect holiday makeup look this year? See why nothing is as timeless during the holidays as the classic holiday lip…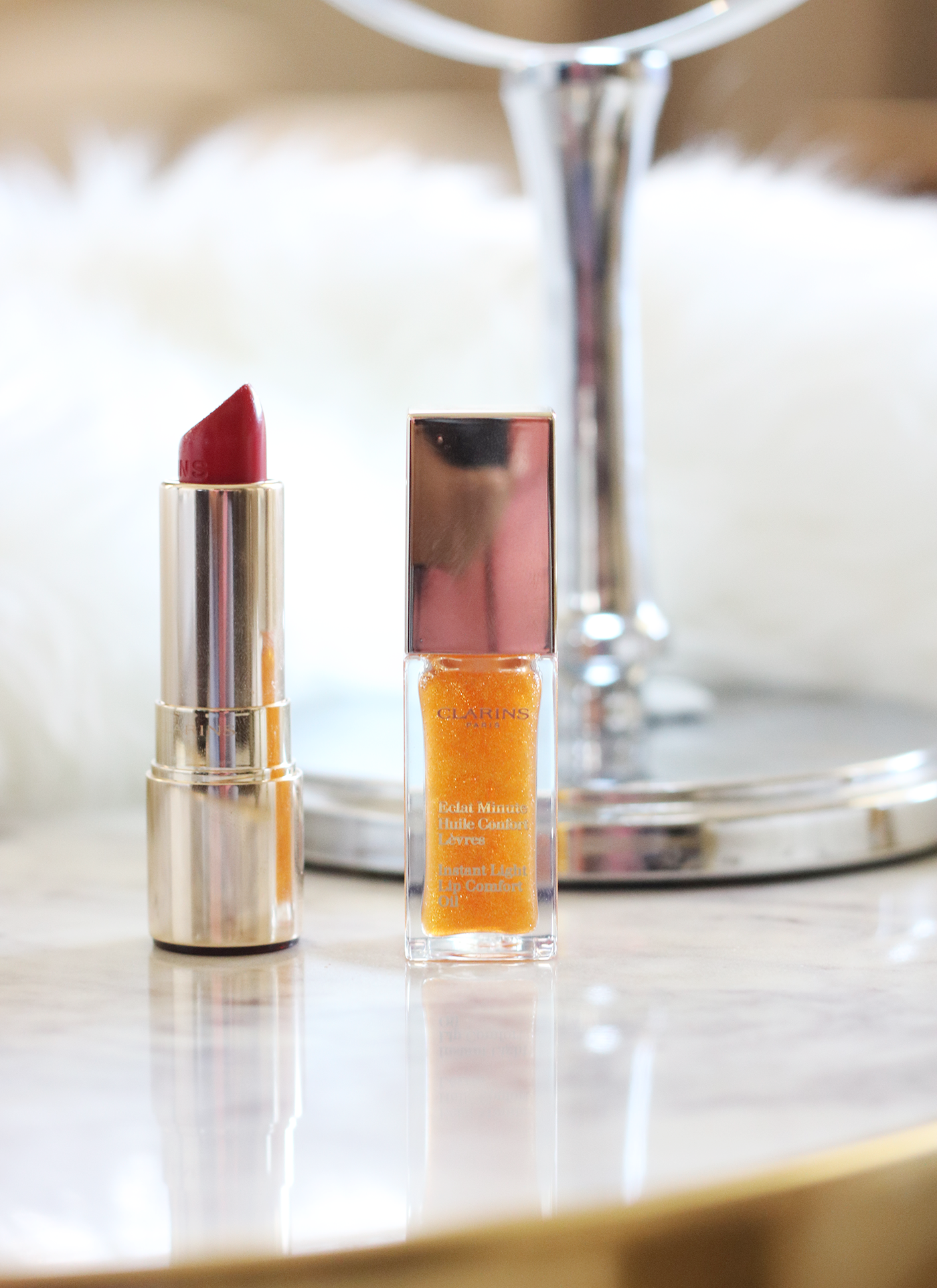 A super huge thanks to Clarins for sponsoring today's post. As always all thoughts and opinions are my own. #Clarins
So remember my post a few weeks back where I shared a SUPER easy holiday makeup tutorial?
Oh, yeah!
Well today, I am sharing a SUPER easy yet festive and classic holiday lip. You are probably thinking- " Oh yeah, Jamie a basic holiday red lip- whoppie",  and in all honesty you are right it is a classic and timeless red holiday lip BUT with a fun a festive spin on it.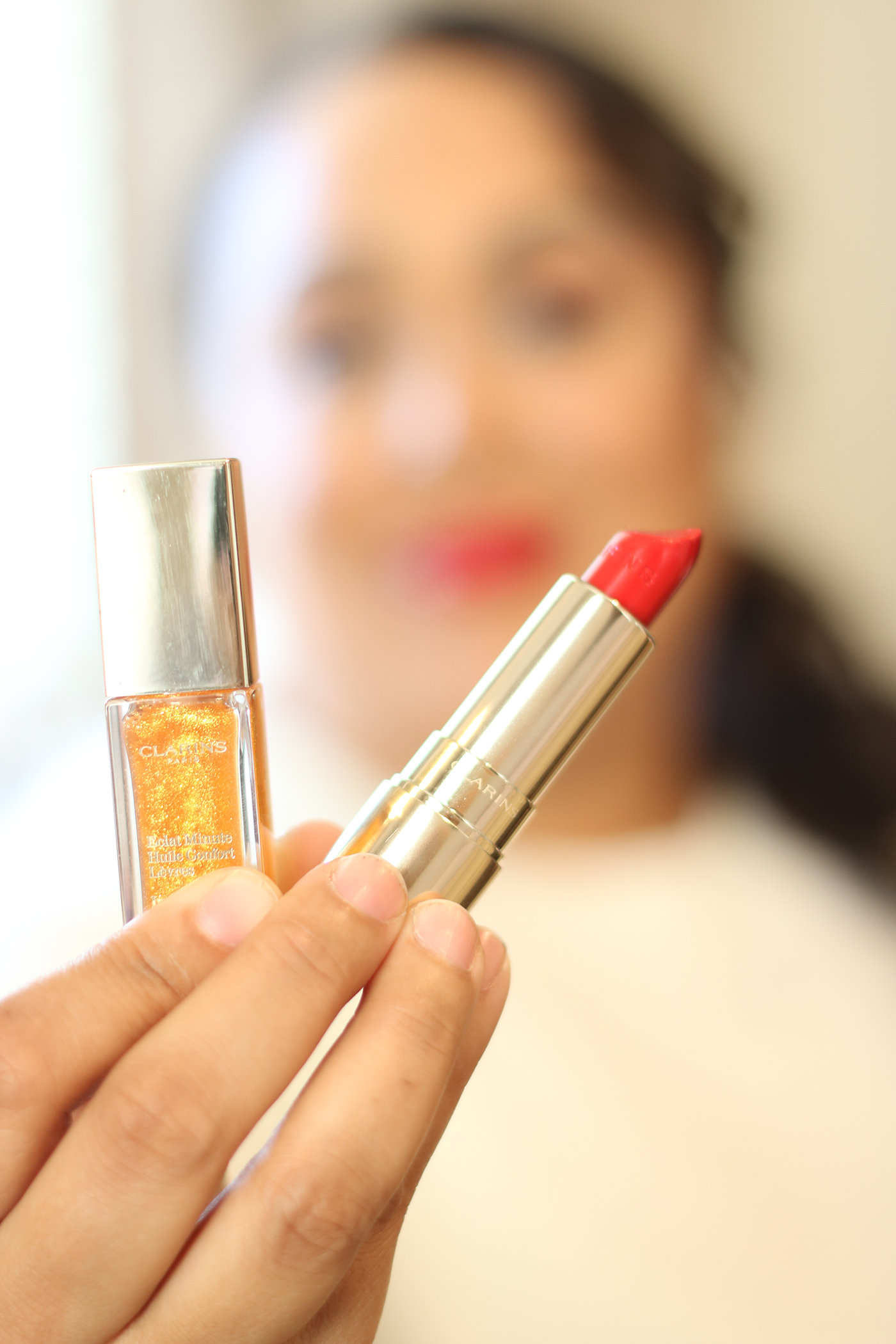 You see the weather in Southern California is TOTALLY picking up and actually feeling a bit like Christmas weather (usually it's 101 outside) and I have to admit, I am SUPER excited to break out a great sweater and a timeless red holiday lip.  In all honesty, as much as I love my heat- there are zero complaints happening over here right now with the colder weather.
However, am I the only one that feels this month is freaking flying by incredibly wayyyyy too fast?
// WHY A CLASSIC HOLIDAY LIP //
Besides getting ready to say goodbye to 2017 and hello to 2018, I have to say this has been a year of breaking out of my comfort zone. You see NEVER have I ever rocked a red holiday lip ever, I mean besides my basic b*tch neutral shades that I love and adore. So this years holiday lip is all about simple, classic and timelessness. To me nothing screams the holidays more than a great bold and dazzling lip, right?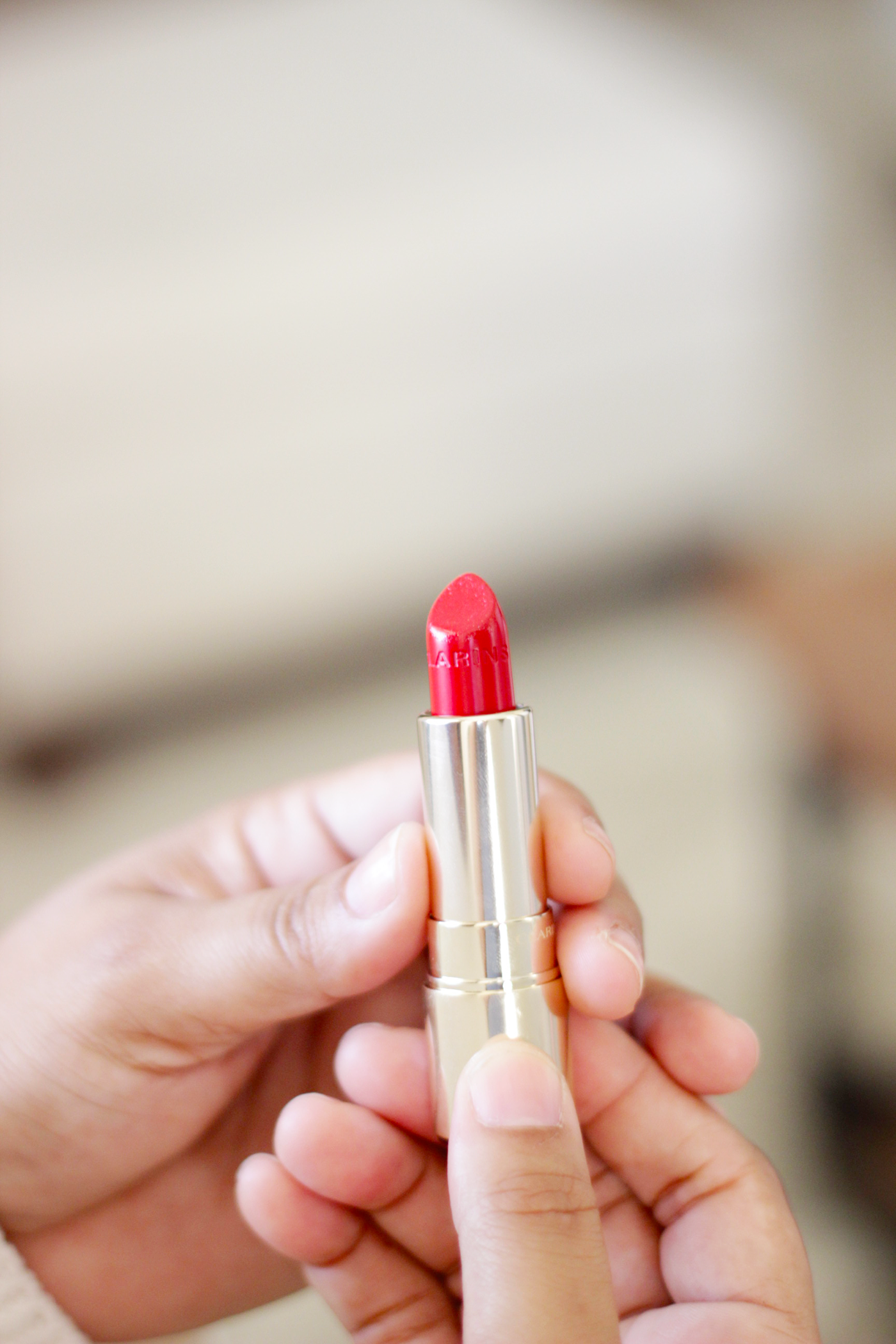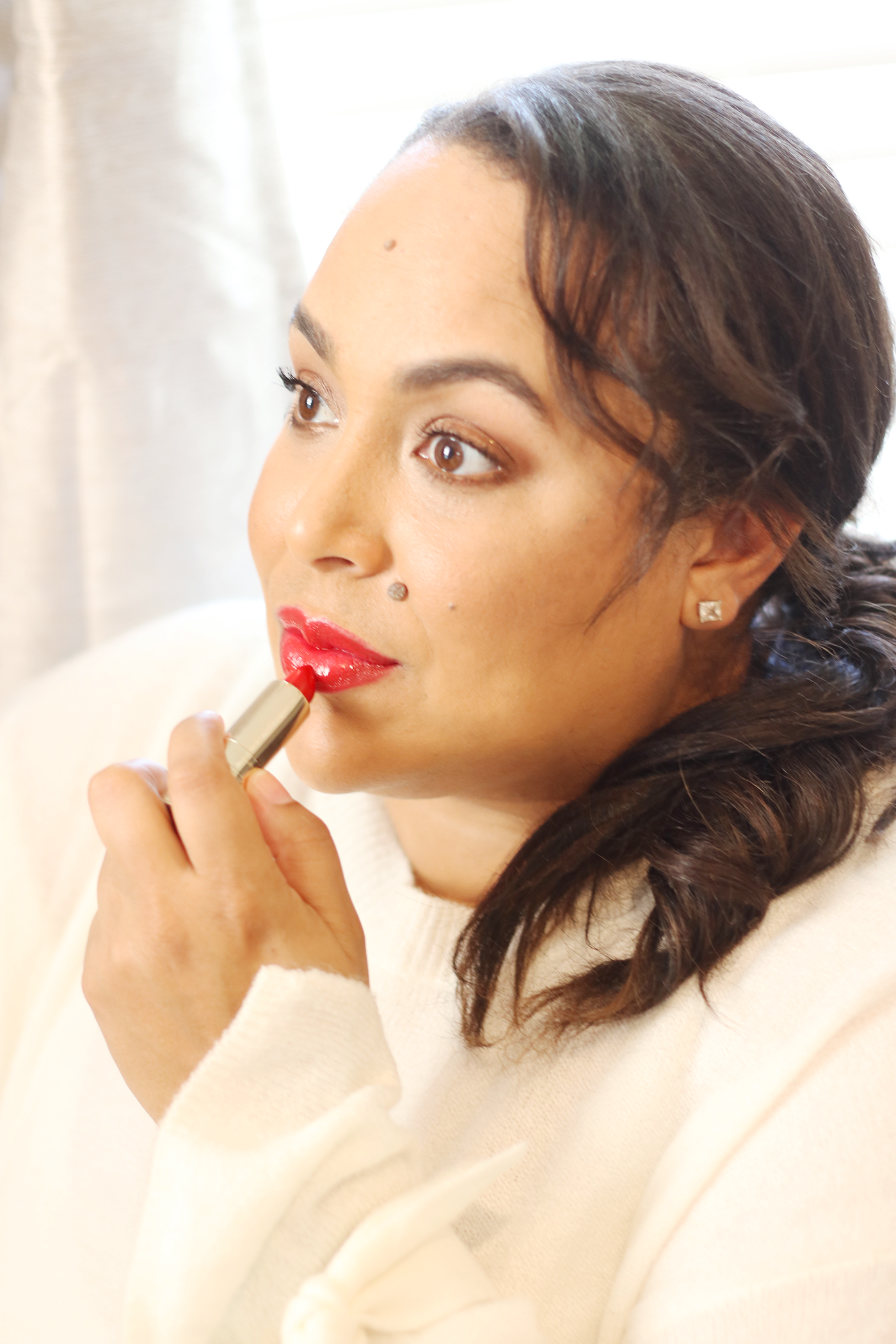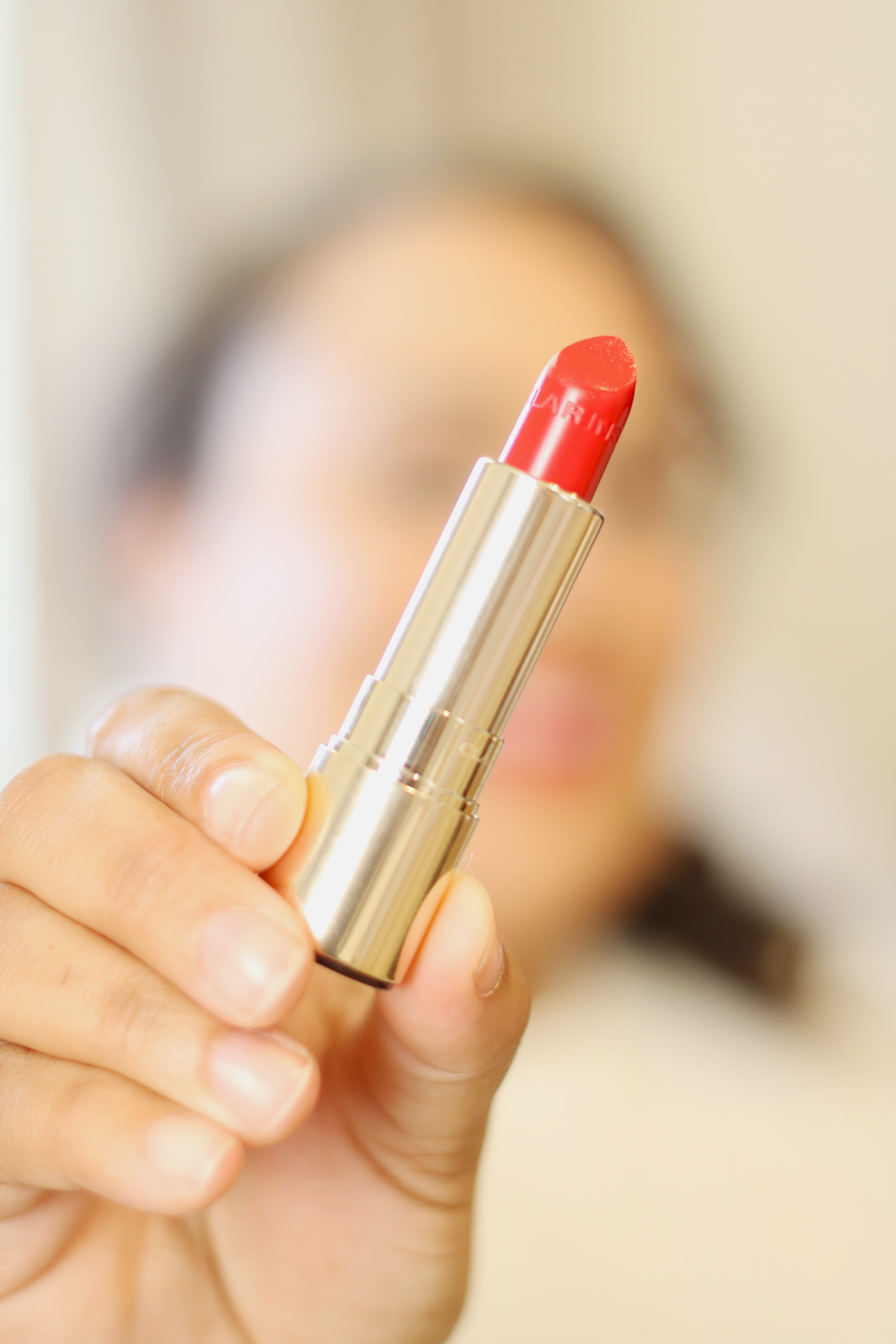 I always feel that a red lip on me is a bit too bold. But in all honesty it is usually either TOO orange, or just too not the right color. Thankfully I finally found the perfect red holiday lip color for my olive skin tone thanks to the creamy, moisture rich Clarins Joli Rouge. I mean seriously this color is stunning. It's like if my neutrals and a really bold red had a baby- this would be it. Not only is it the perfect red but it is also SOOOOO hydrating on the lips I literally thought I was wearing a lip balm with it on. Infused with Mango Oil, Organic Marsh Samphire this bad boy hydrates, comforts and just looks fabulous on the lips for hours upon hours (potentially a great shade for NYE 2017 too).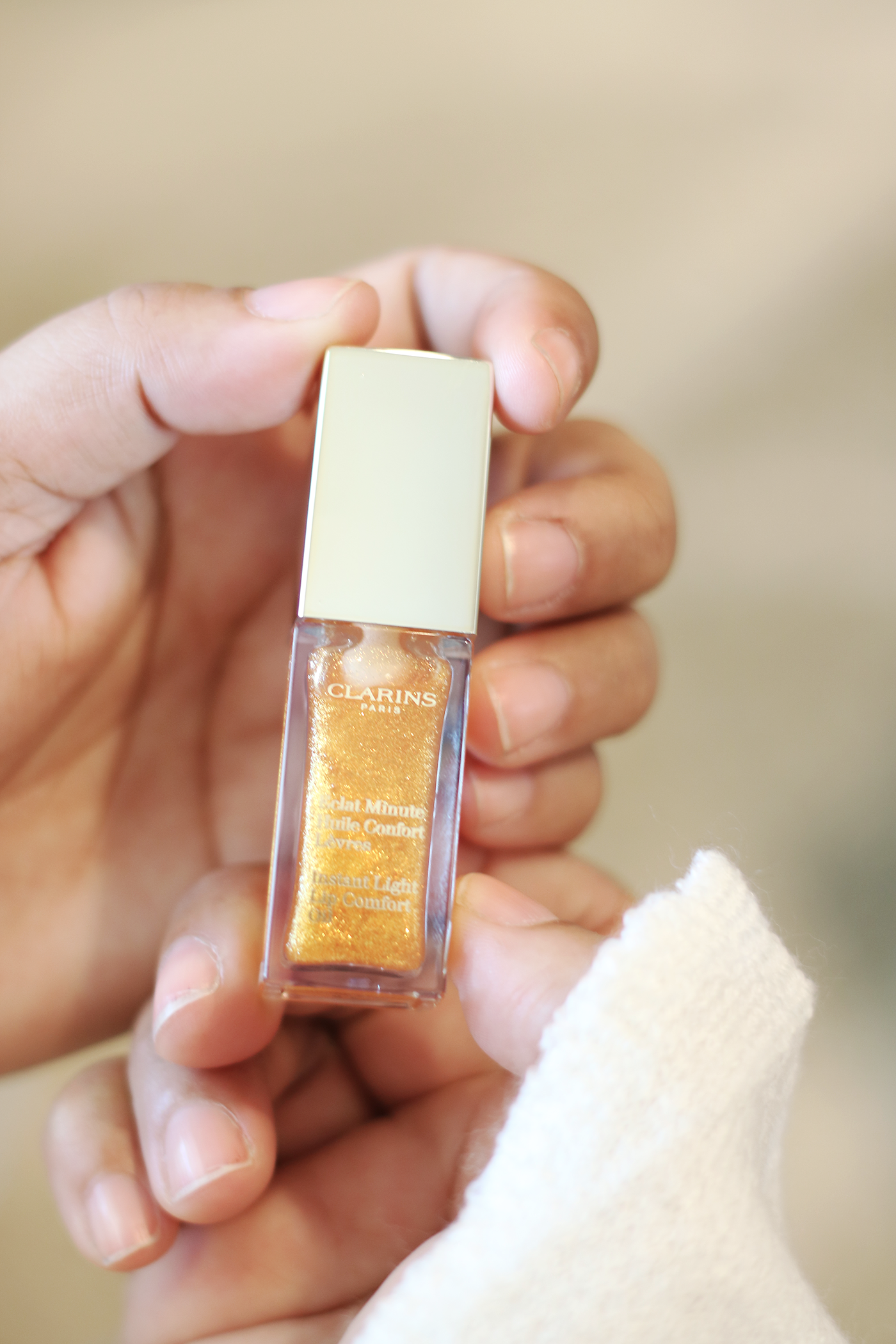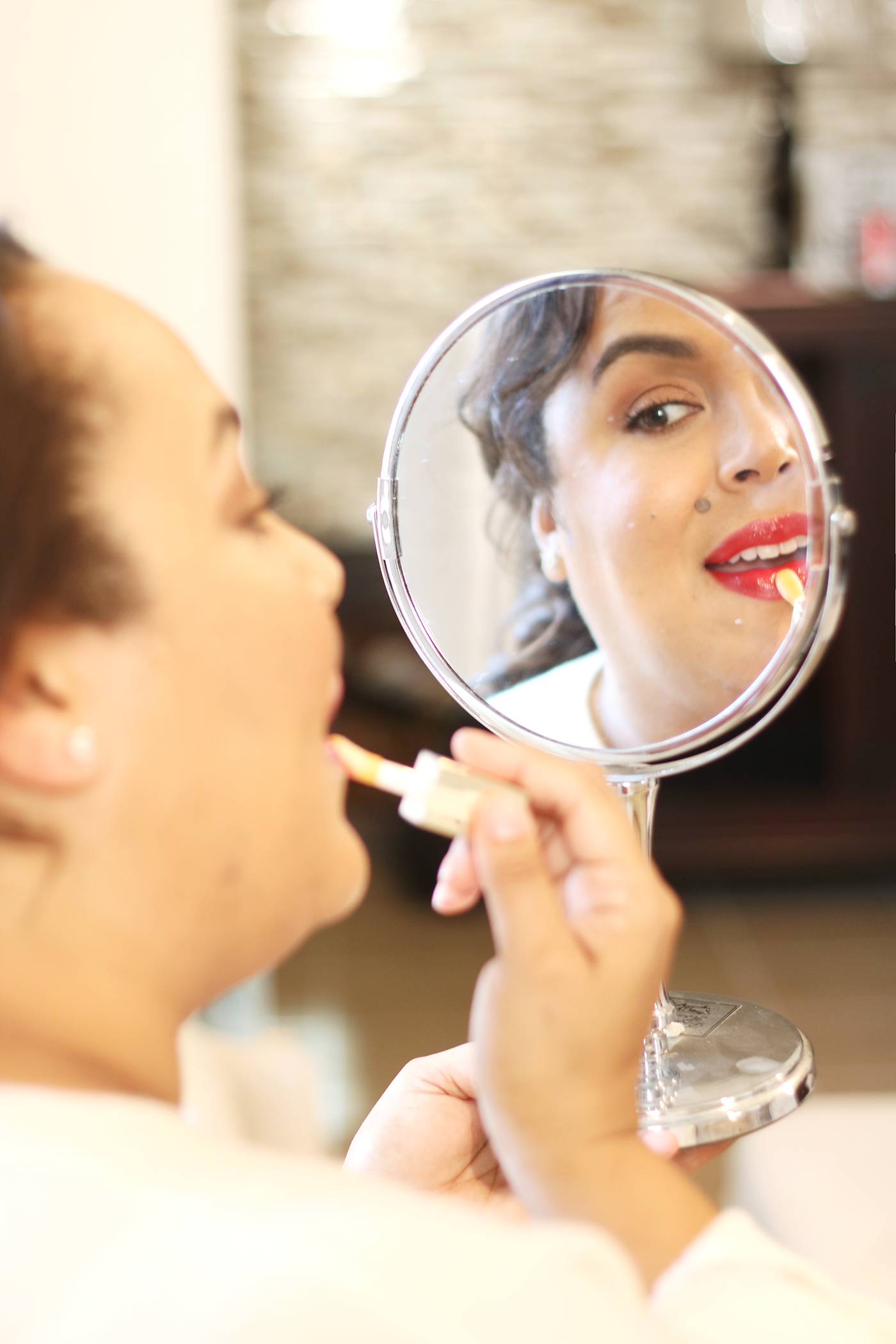 Now you are probably wondering WHERE does this spin on this red lip come in? Well, the spin is in the form of the Clarins Instant Light Lip Comfort Oil in Honey Glam, I mean this shade was just meant for me. The right amount of gold shimmer without being too much, but subtle enough to sparkle and the right amount of glossiness this amazing lip oil is pure perfection. Together these two literally are a power packing duo that will have you looking fabulous at all your holiday gatherings this year. I have to admit I am pretty impressed and super OBSESSED with how this pair not only looks but stays on (I wasn't scared once that it was going to end up more on my teeth- score)!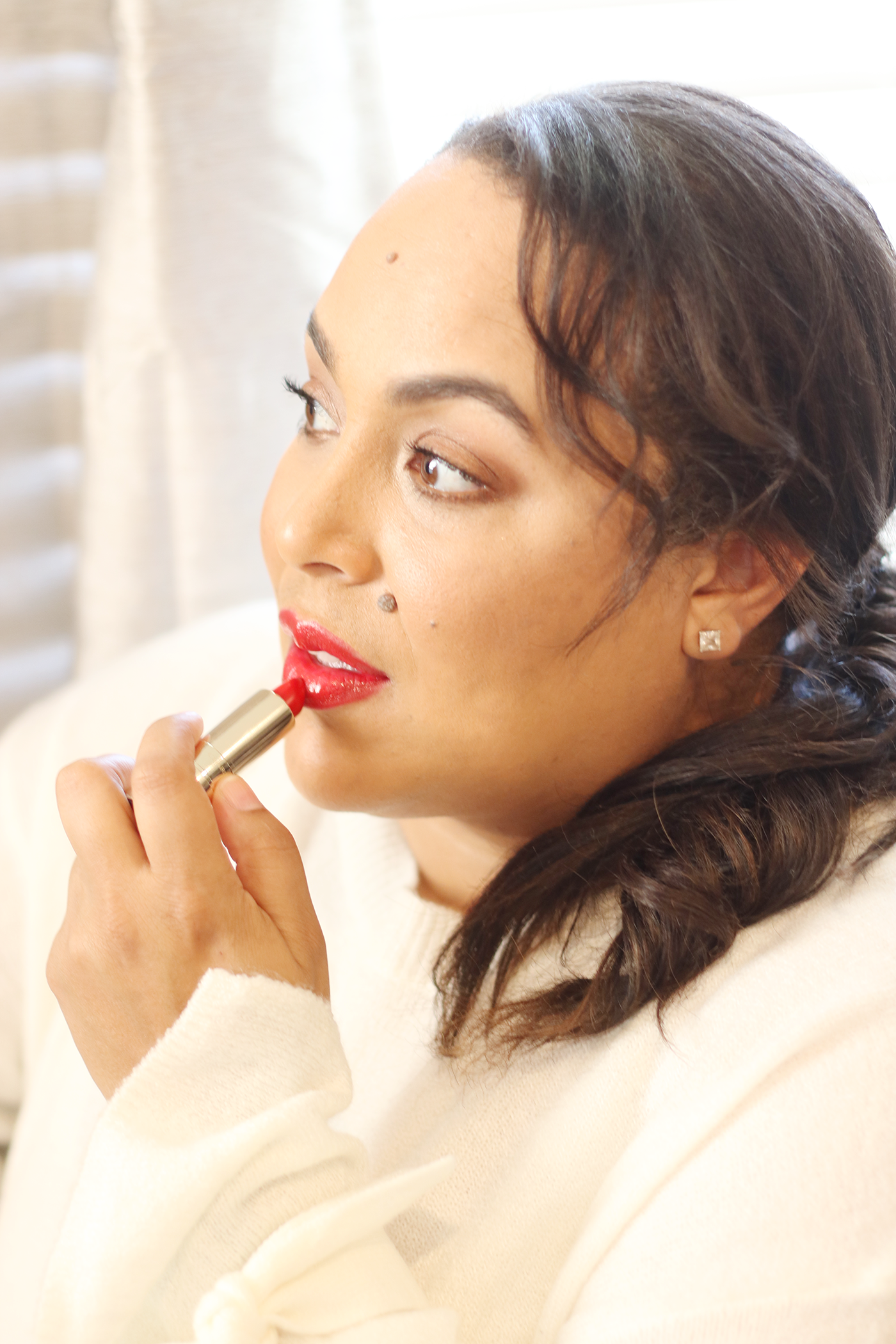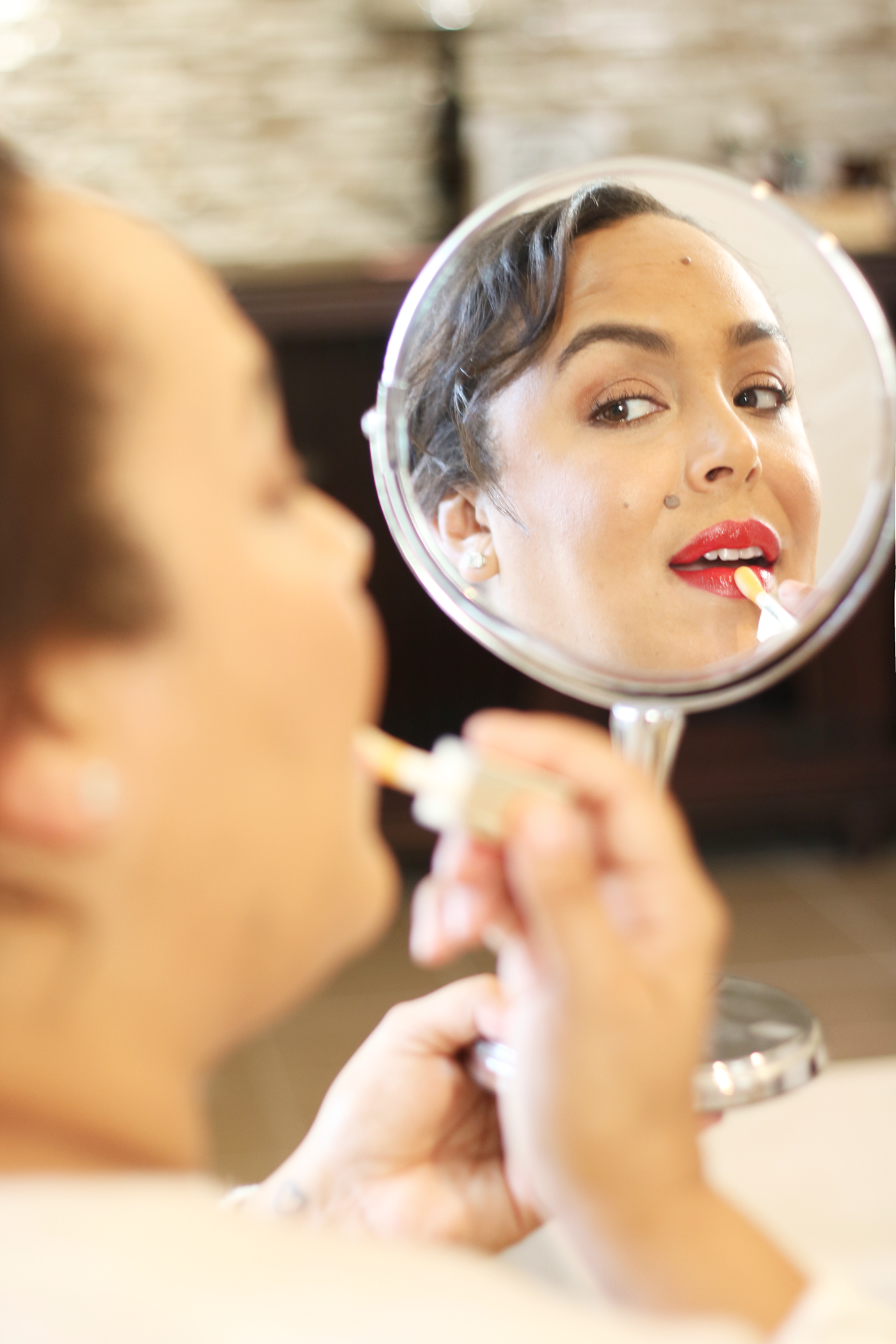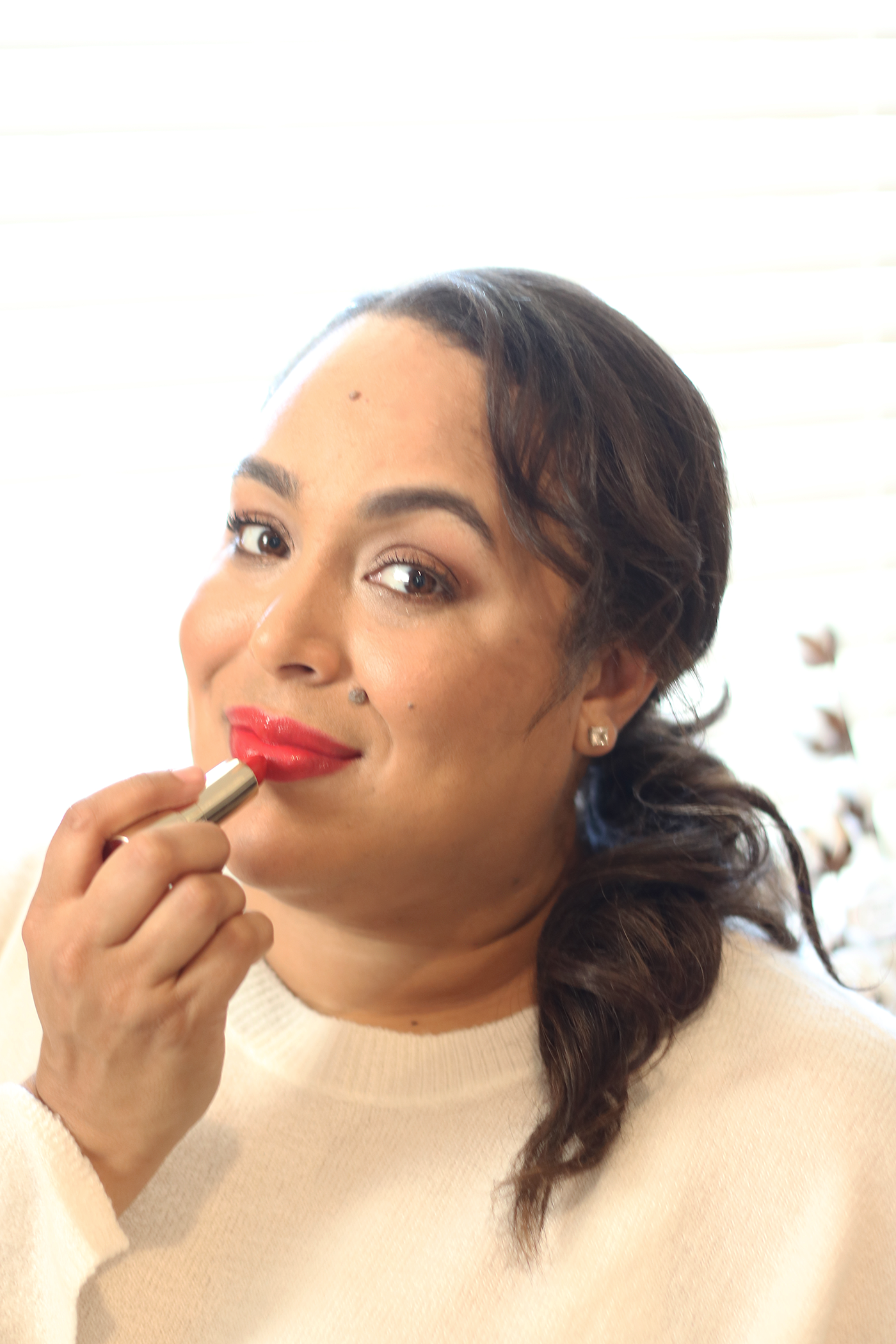 I mean tis' the season to be bold and daring, right? This season I will be rocking this dynamic duo for all the festivities.
So I have to ask what is your perfect holiday lip? Are you Team Neutral or Team Red?
PIN FOR LATER:

A super huge thanks to Clarins for sponsoring today's post. As always all thoughts and opinions are my own. #Clarins