Since entering my mid 30's , I have recently gotten pretty good at fine tuning my skincare regimen, so much in fact I am sharing my must have Anti-Aging Products in a curated Anti-Aging Starter Kit with PCA Skin… Keep reading to see what it is and why you need it ASAP!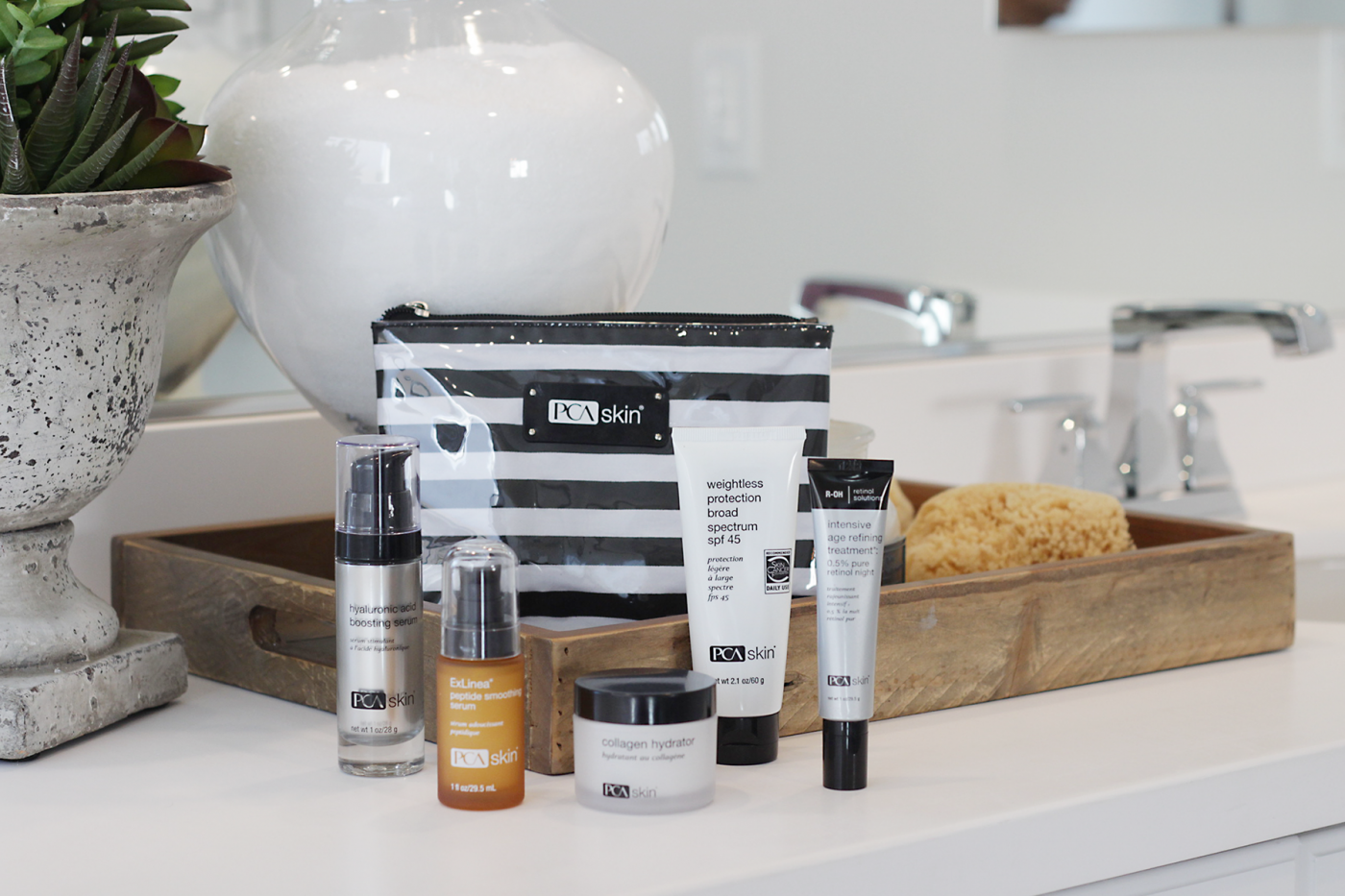 If you follow me along over on Instagram then you know that a while back (January to be exact) I headed to Scottsdale, Arizona with the skincare brand PCA Skin. You see I had been using PCA Skin on and off for a few years after being introduced to it at my friend Lauren's pre-wedding prep for us bridesmaid and became obsessed with how great their products worked and what a difference they had made in my skin- so when the brand asked me and a group of other influencers to head to Arizona for a few days with them- I jumped at the chance!
After a few days of learning more in depth about the brand, their vision, their products and meeting some of the most amazing people ever who genuinely love their company- I knew that I was IN LOVE even more with the brand. So much in fact- mark my words- if I ever choose to go back into Corporate life- I am moving to Arizona and begging them for a job. Seriously!
A few months back when PCA Skin reached out to me to curate a Anti-Aging Starter Kit, I literally jumped for joy. I might have even screamed a little, called my mom and my sister and a few of my close friends telling them what happened. After a few emails and fine tuning we officially curated the Makeup Life and Love A+ Anti-Agers and I am so excited to share with you each and every one of these curated products in this anti-aging starter kit!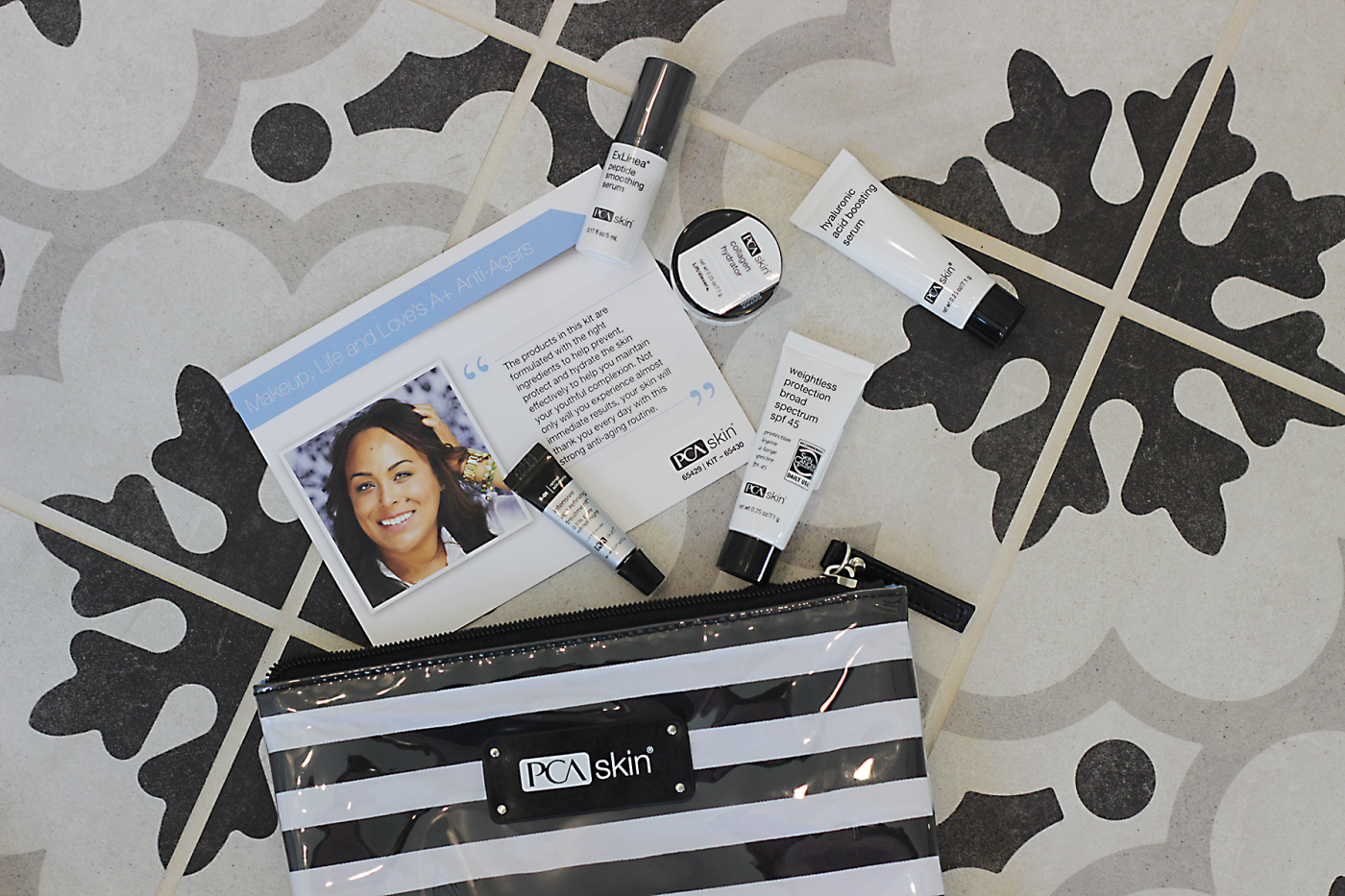 MY CURATED ANTI-AGING STARTER KIT CONTAINS:
* 7-10 day supply of product *
The products in this anti-aging starter kit are formulated with the right ingredients to help prevent, protect, and hydrate the skin effectively to help you maintain your youthful complexion!  Trust me they are SOOOOO good!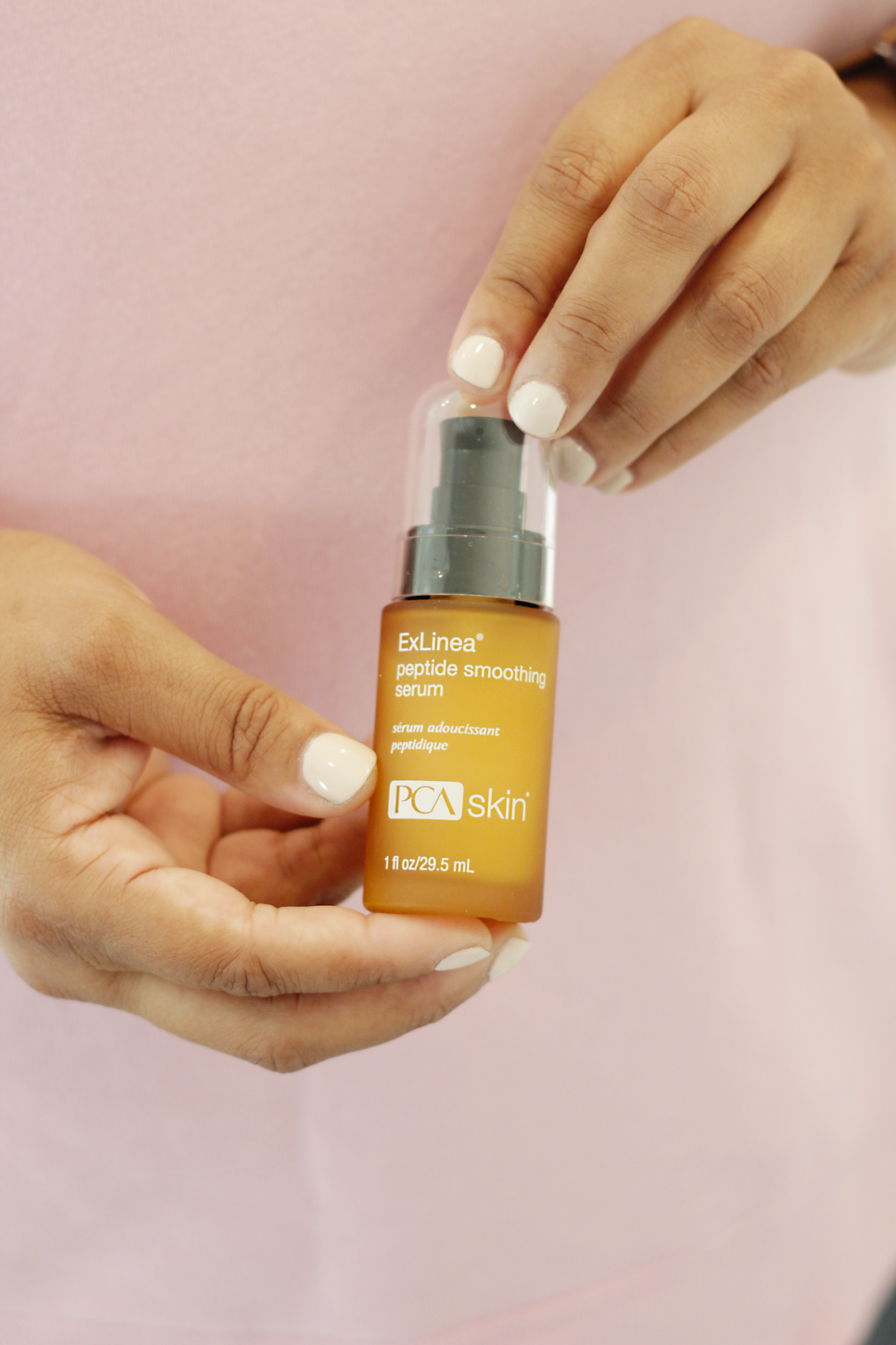 // EXLINEA PEPTIDE SMOOTHING SERUM //
This is the HERO product in this kit and my absolute favorite so much that it was literally the first product I thought of when curating this kit. Basically ExLinea is botox in a bottle. I mean seriously it really is. This targeted spot treatment serum is literally something you will see help dramatically reduce laugh lines, forehead wrinkles, crows feet, the pesky number 11's and more. This peptide smoothing serum also help extend the life of botox. I use this product both day and night AFTER cleansing and toning but BEFORE my usually serums since it is a target serum you want it to be the first thing to go on the skin.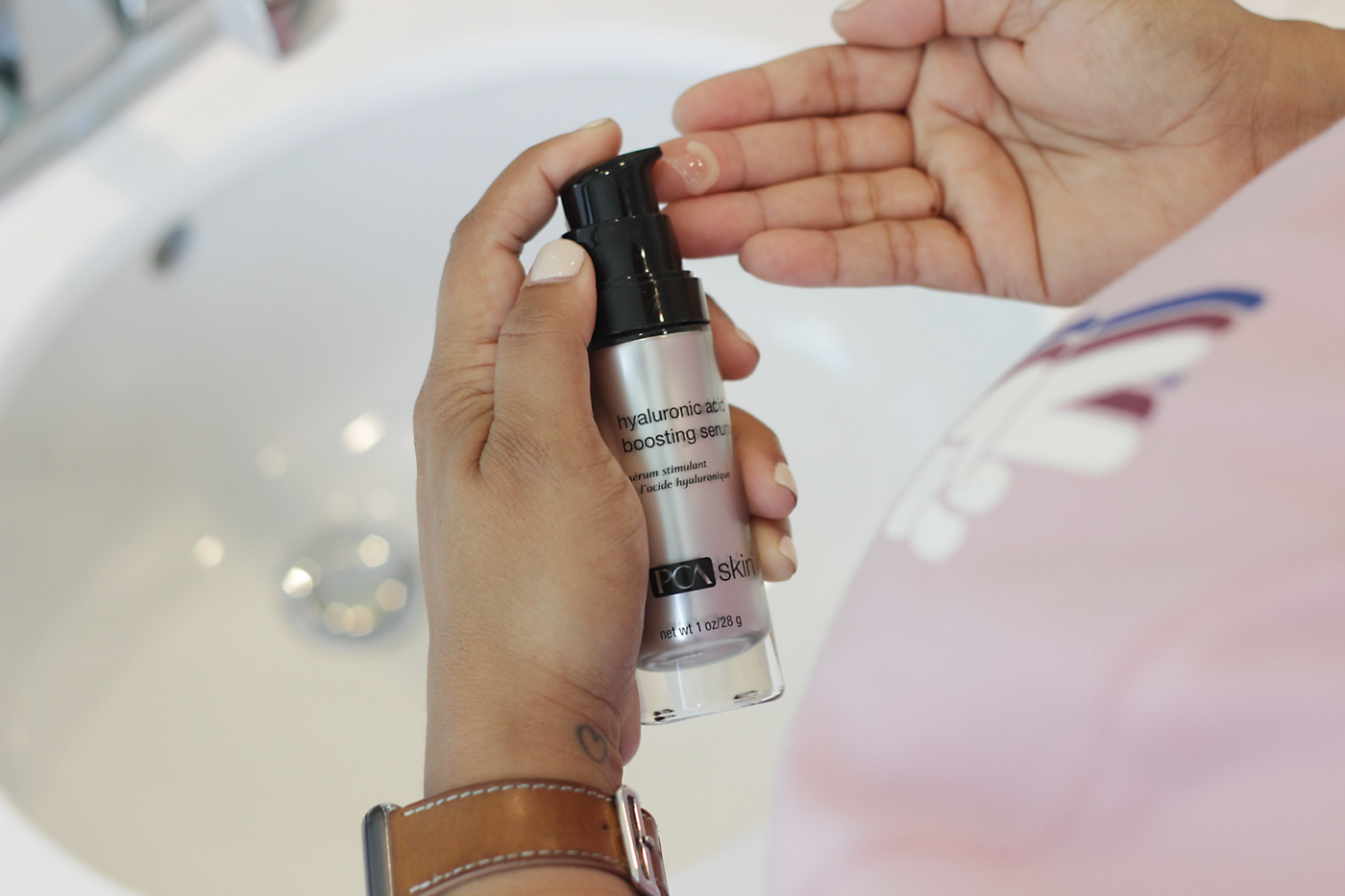 // HYALURONIC ACID BOOSTING SERUM //
Next up in the kit and something I use AFTER ExLinea is the Hyaluronic Acid Boosting Serum. You guys this serum is a little hydrating miracle worker. Not only does it give the skin an instant oomph of hydration to the skin but it also goes below the surface of the skin to give you a deeper hydration all while helping reduce fine lines.  If you haven't started to add hyaluronic acid into your skincare- YOU NEED TO! If you are dry skinned- this serum will be your best friend, if you are combination to oily like me- this will be your skin balancing best friend that you will miss if you forget it in your regimen. If you are oily skinned- prepare to have your mind blown with this product as it will help balance and hydrate your  skin.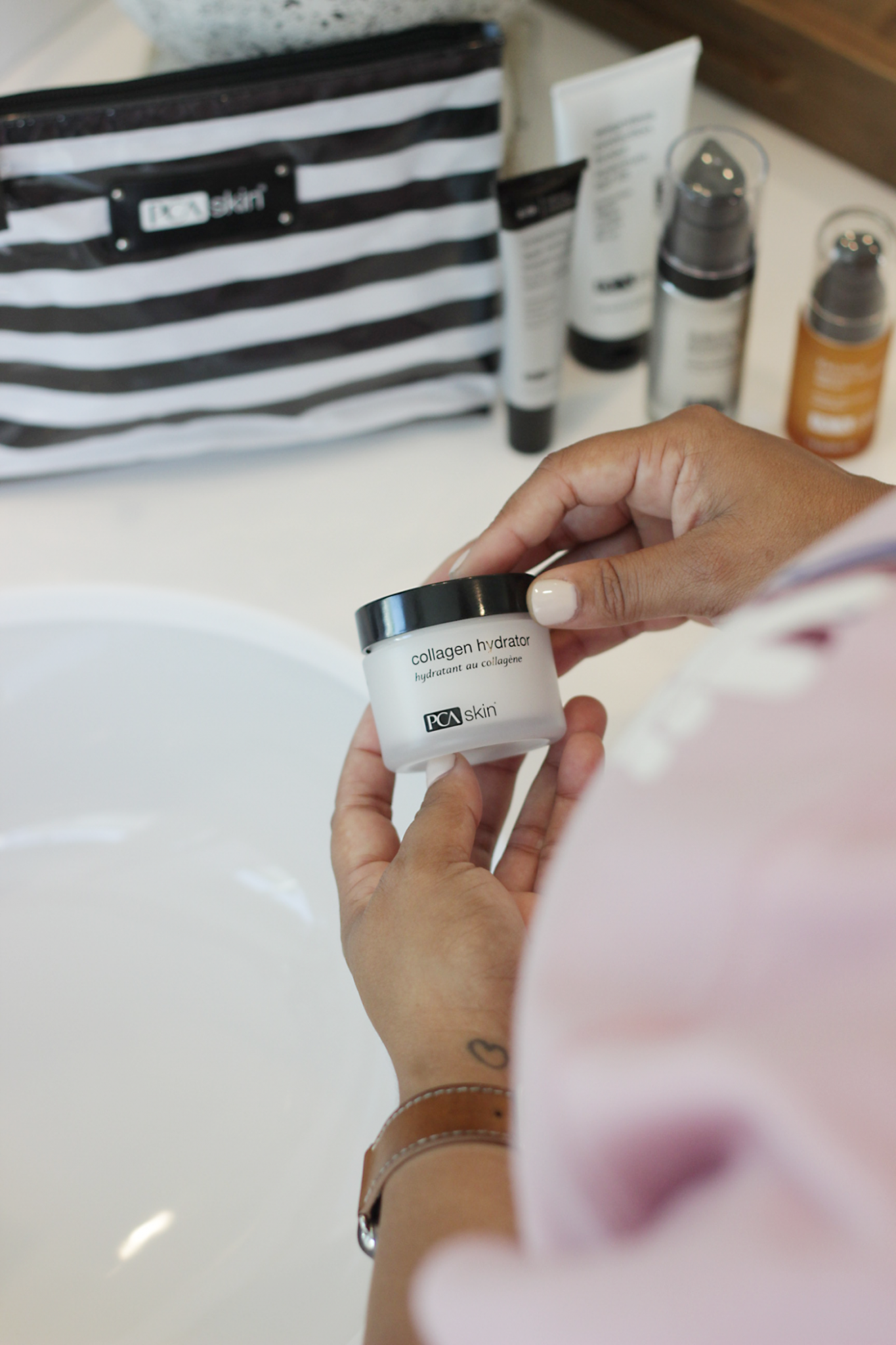 // COLLAGEN HYDRATOR //
Of course, a skincare regimen can't be complete without a good moisturizer right?  Enter Collagen Hydrator– this moisturizer is designed to smooth, hydrate, firm and plump the skin and I have to admit it doesn't disappoint.  This moisturizer can be used both day and night AFTER your serums and BEFORE your SPF in the daytime. I have been waking up with the softest most plump skin every morning thanks to this hydrator.  If you are worried about it being too thick for you- you can do what I do and use Rebalance Moisturizer in the summer months and daytime and use the Collagen Hydrator during colder months and nighttime.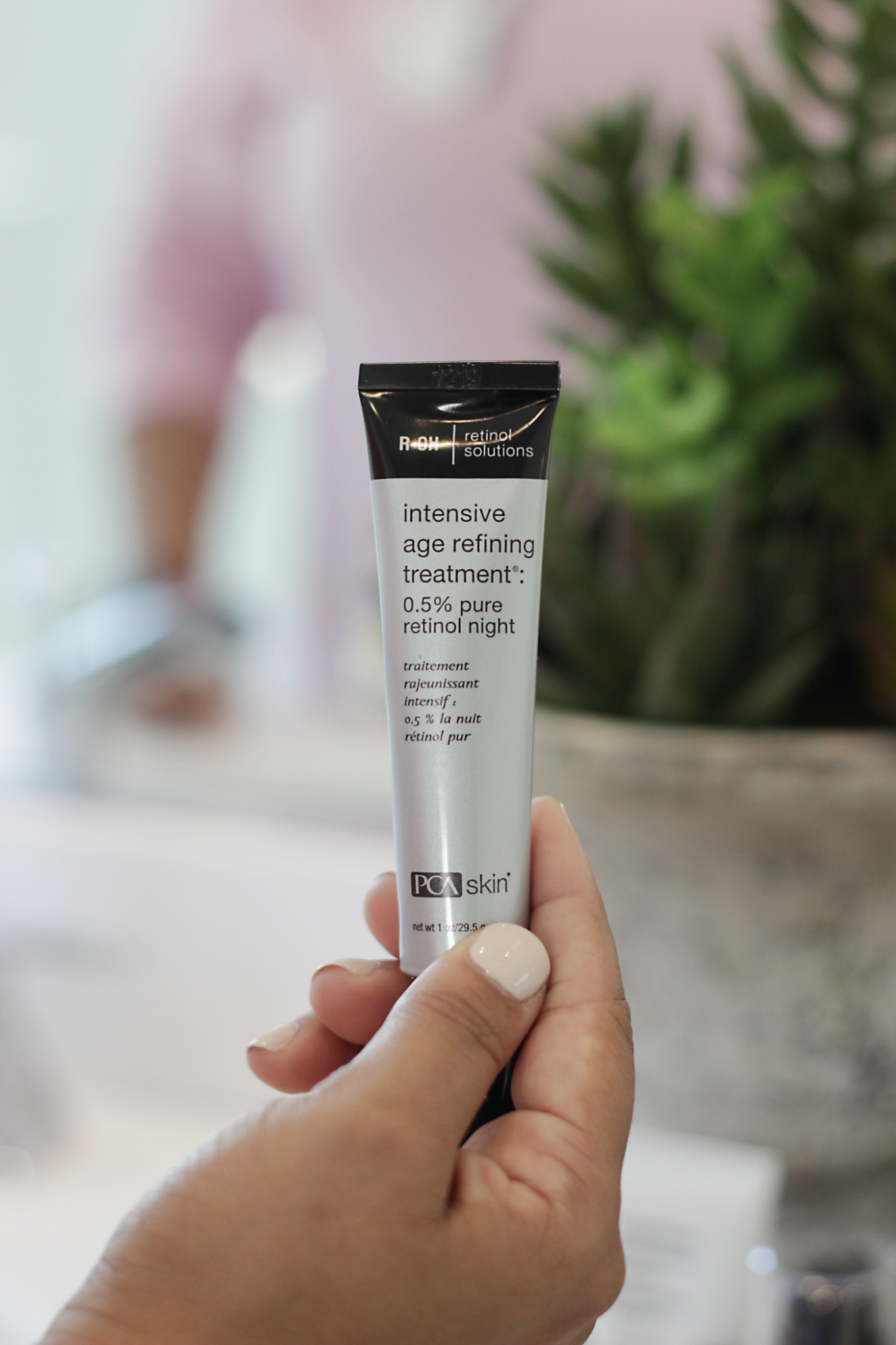 // INTENSIVE AGE REFINING TREATMENT RETINOL 0.5% //
I have to admit PCA Skin has the BEST treatment retinols EVER!  I literally have ALL of their treatment retinols except one and I am OBSESSED.  This one was the perfect retinol to add to this kit because it is perfect for those who want to focus on aging skin, fine lines, wrinkles and of course uneven skin tone thanks to their retinopeptide and stem cell extract technology. They think I love the most about the PCA Skin retinols are that they are super strong, and effect but also stabilized so they strengthen the skin with minimal irritation (you know that red, dry, flaking skin that some retinols can do). This it to ONLY be used at NIGHT. I use this AFTER serums and BEFORE my moisturizer to help effectively fight aging while I sleep.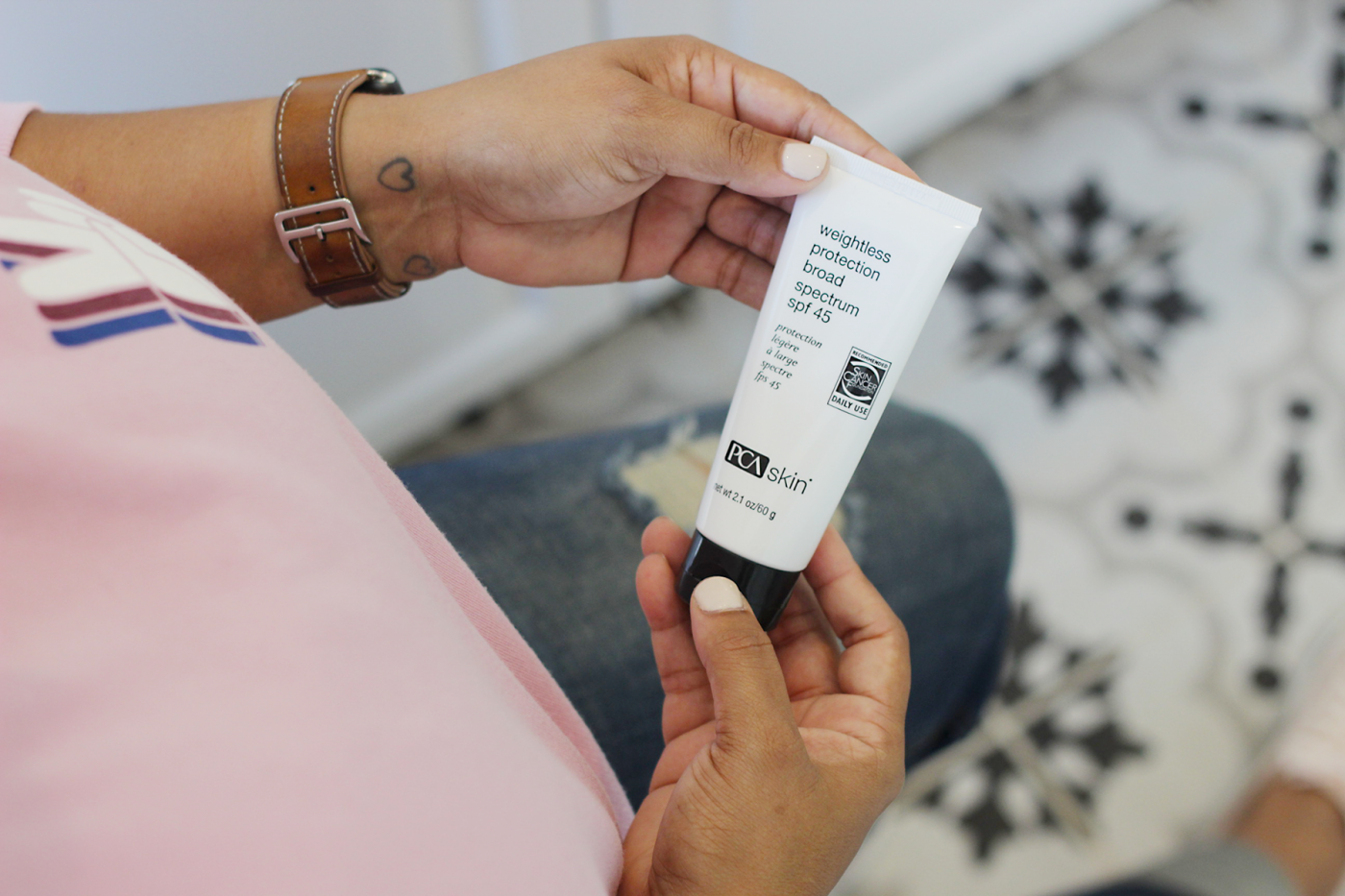 // WEIGHTLESS PROTECTION BROAD SPECTRUM SPF 45 //
You guys all know that for me SPF is NON-NEGOTIABLE. It's a product so many of us don't put much thought into but we should. Since this kit contains a retinol, a SPF in the day time is IMPORTANT and a must!  I love that this one is super lightweight, doesn't leave a white ashy residue and it helps provide antioxidant protection all while protecting your skin against UV rays. It is perfect to wear under makeup or honestly on its own. This is the LAST step in routine AFTER your moisturizer and if ONLY used in my DAYTIME routine NEVER at night!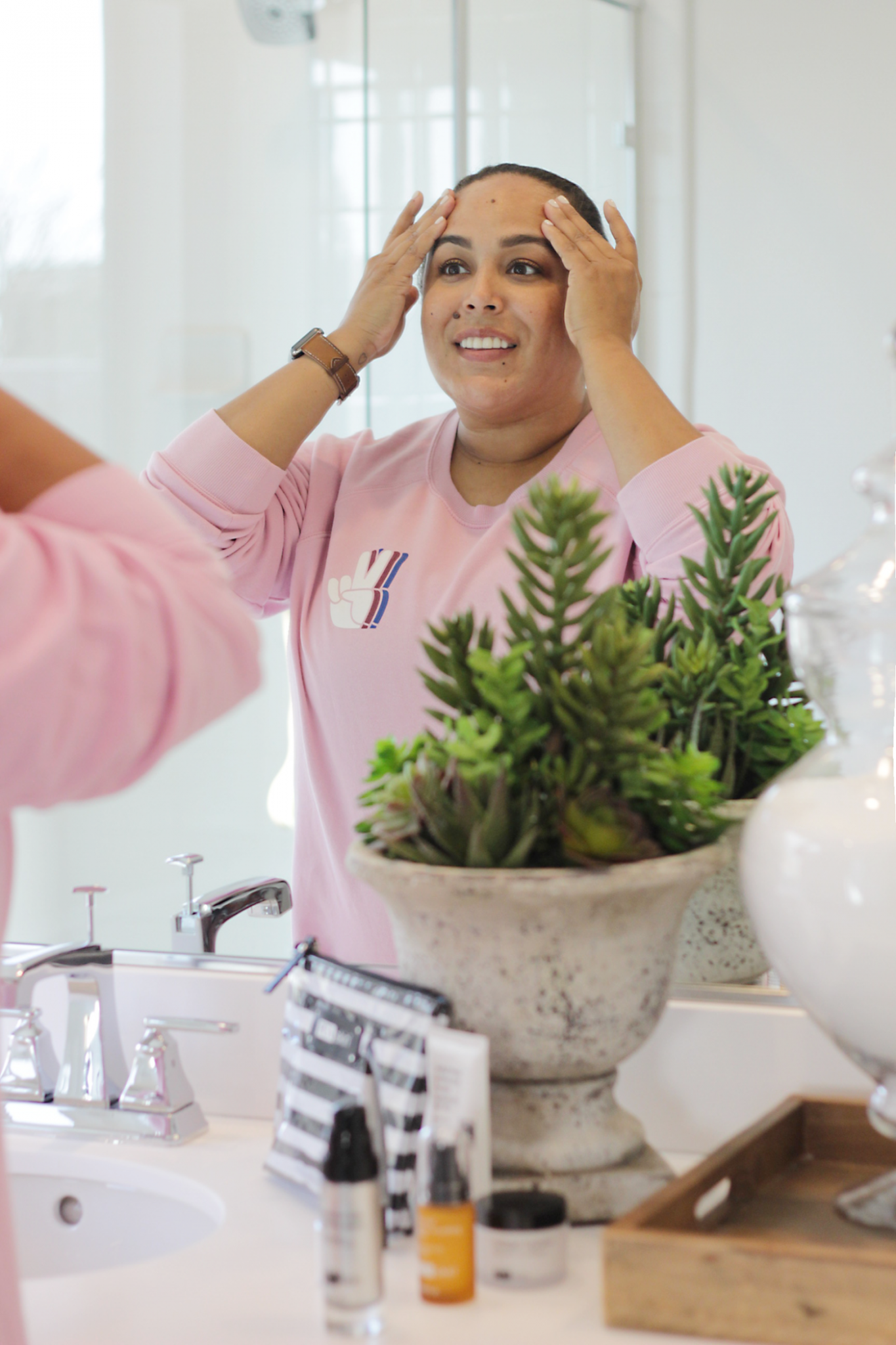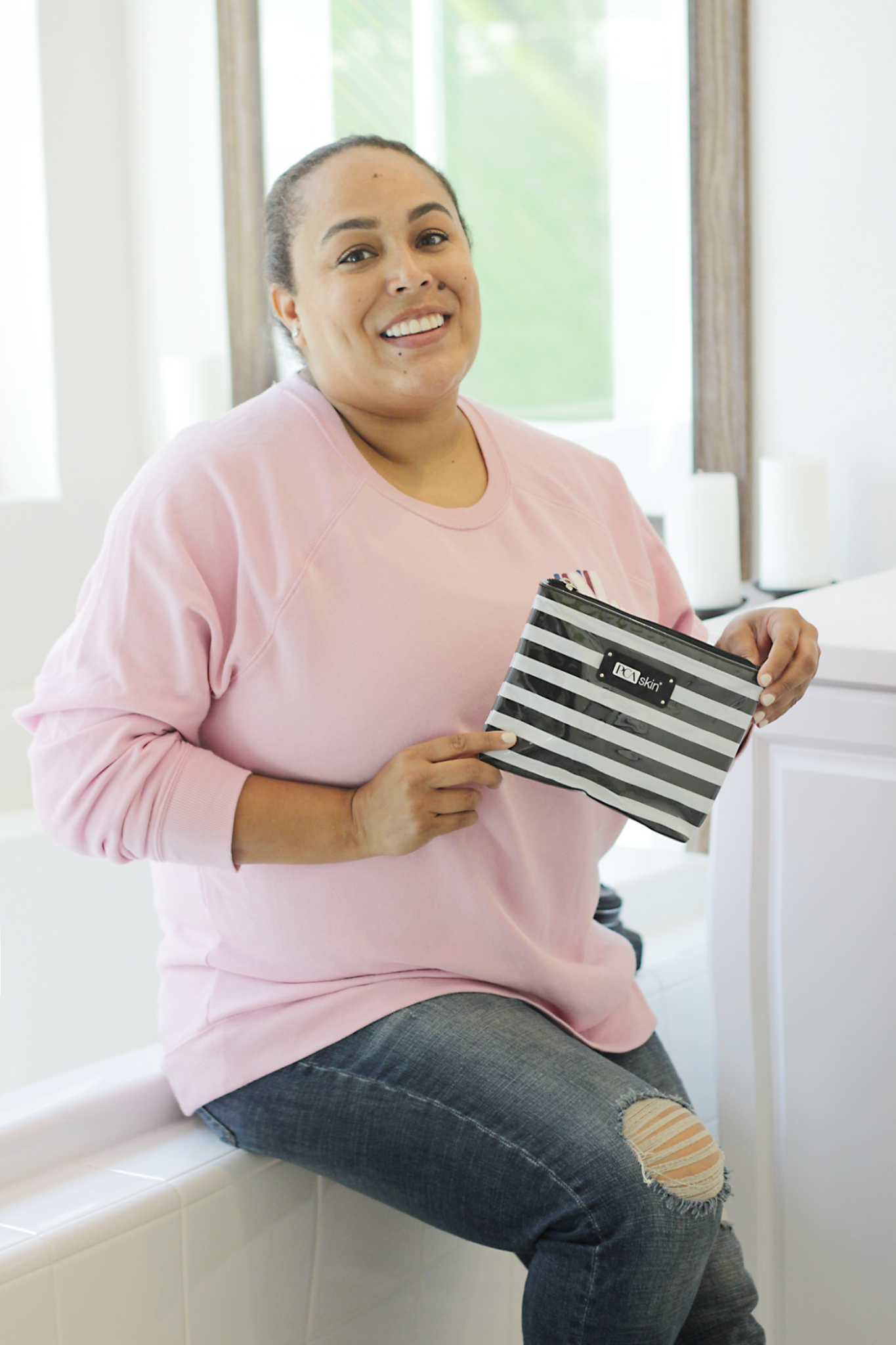 So there you have it the Makeup Life and Love's A+ Anti-Agers, all curated to help tackle aging and leave your skin looking fresh, young and beautiful!  I figured below I would add a little Q & A to help with any questions you might have with the skincare starter kit.
// HOW DOES EXLINEA COMPARE TO MY OTHER SERUMS? //
The difference be ExLinea and other serums is MAJOR. I have never met a serum that you literally start to see a difference in a few days on fine lines- about a month for deeper lines. ExLinea is formulated with unique ingredients to help give instant results that work:
Acetyl hexapeptide-8 (Argireline) – minimizes the appearance of fine lines and wrinkles.
Sodium hyaluronate – has the ability to hold 1,000 times its weight in water and plays an important role in skin hydration. Hydrated skin appears plump and luminous.
Squalene – a natural oil found in olives and wheat germ that keeps skin moist.
Rice bran wax – moisturizes and smooths the skin.
You guys, I am OBSESSED with ExLinea, and I love that literally a little goes a long way and let me tell you- it WORKS so well!  Trust me after a few days of use – you will be hooked on ExLinea.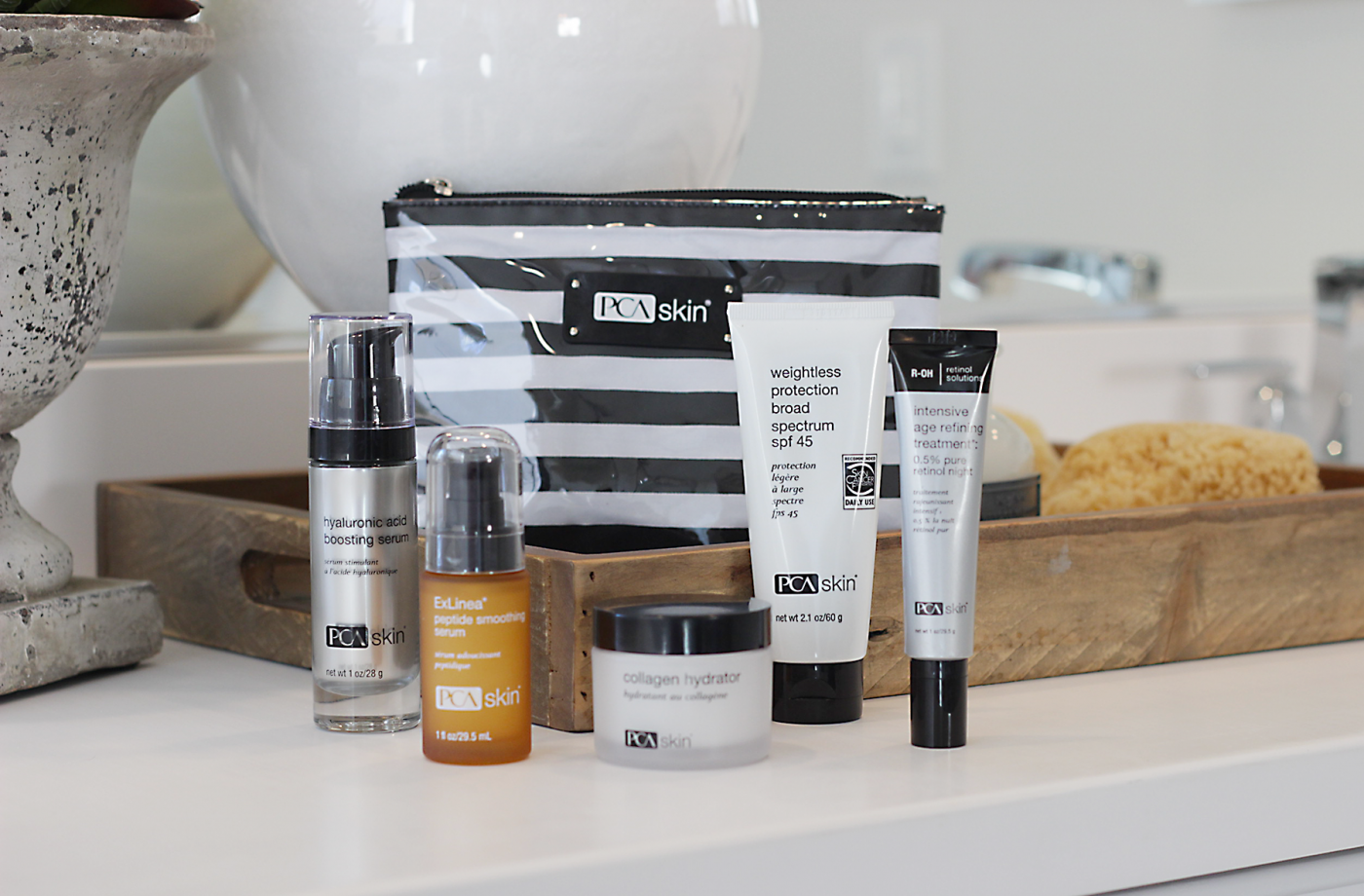 // WHERE DO YOU GET IT? CAN I BUY THE FULL SIZE PRODUCTS? //
The Makeup Life and Love A+ Anti-Agers Kit is ONLY available on PCASKIN.COM. However you can also find full size products on PCASKIN.COM, AMAZON.COM and some products (most in this kit) are also available on NORDSTROM.COM!
// WHAT IS THE CORRECT ORDER TO USE THE PRODUCTS FOR DAY AND NIGHT? //
The order that the products are meant to be used in are as follows:
DAYTIME:
ExLinea Peptide Smoothing Serum
Hyaluronic Acid Boosting Serum
Collagen Hydrator
Weightless Protection Broad Spectrum SPF 45
NIGHTTIME:
ExLinea Peptide Smoothing Serum
Hyaluronic Acid Boosting Serum
Collagen Hydrator
Intensive Age Refining Treatment Retinol 0.5% Pure Retinol Night
// HOW MUCH DOES IT COST? //
The Makeup Life and Love A+ Anti-Agers Kit costs $54

So I have to ask- what do you do to combat anti-aging? Have you tried a Anti-Aging Starter Kit? Let me know in the comments below…