With the changing of the weather and of course aging with each birthday, I have become more conscious of my skincare regimen.  I recently tried the JAFRA ROYAL Revitalize Skin Care Collection, this is what happened….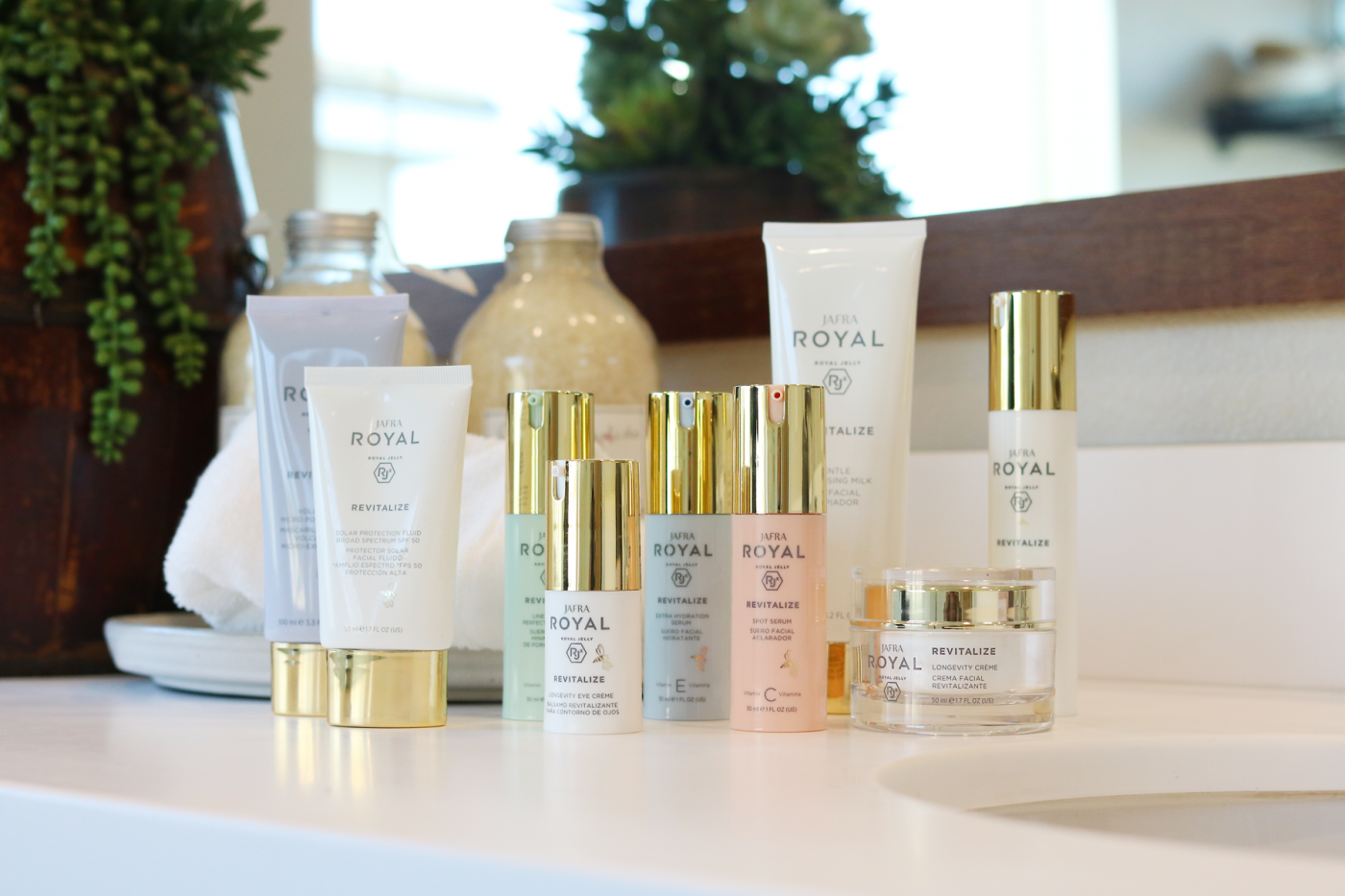 When it comes to skincare, you guys all know that I am pretty addicted if not obsessed with finding the latest and greatest that ACTUALLY work. You see since hitting my mid-thirties, I have been extremely intrigued when it comes to finding the perfect anti-aging routine that will not only help with pesky fine lines and wrinkles but also make sure it doesn't break me out in the process.  Recently I was given the chance to try out the JAFRA ROYAL Revitalize Skin Care Collection and I have to admit, I might have found my latest obsession.
First things first- are you worried about fine lines, wrinkles, pore size, dark spots, hydration? Are you focused on anti-aging? I have to admit, while I didnt start to focus on anti-aging until a few years ago, I HIGHLY think it is something that EVERYONE regardless of age can benefit from – because ultimately we all have the same goal- to look younger longer, right?
Next up, you are probably wondering WHO and WHAT is JAFRA ROYAL Revitalize Skin Care? Well at first if I am being honest, I had no clue. However after being introduced to JAFRA ROYAL Revitalize Skin Care, I jumped into research mode to learn more.  JAFRA is a beauty brand that has been around since the 50's. They carry not only skincare but also fragrance, bath and body, and color cosmetics as well (next on my list to try).  JAFRA is founded on the mission to help transform and empower the lives of women worldwide beyond helping them look and feel their best!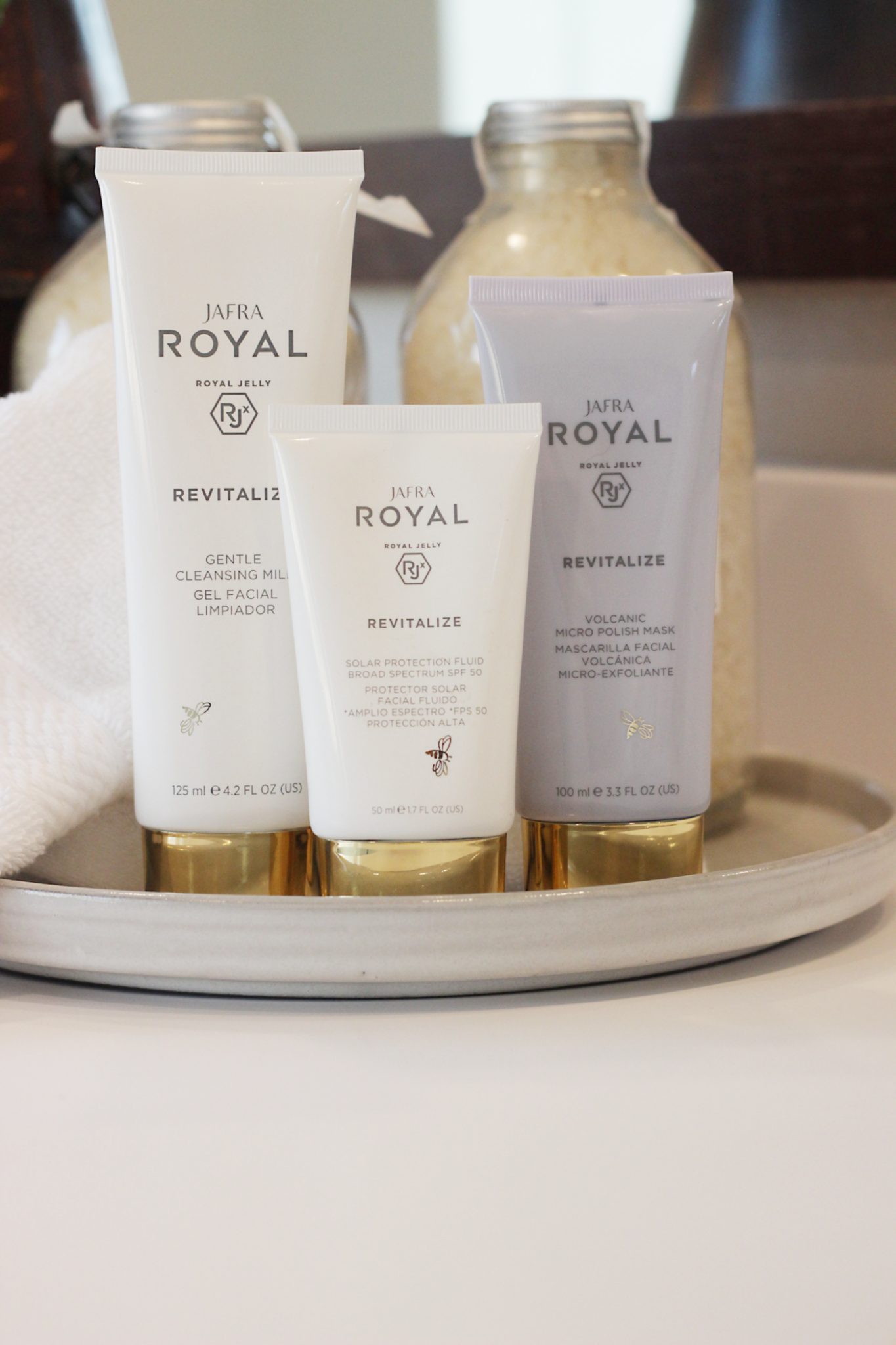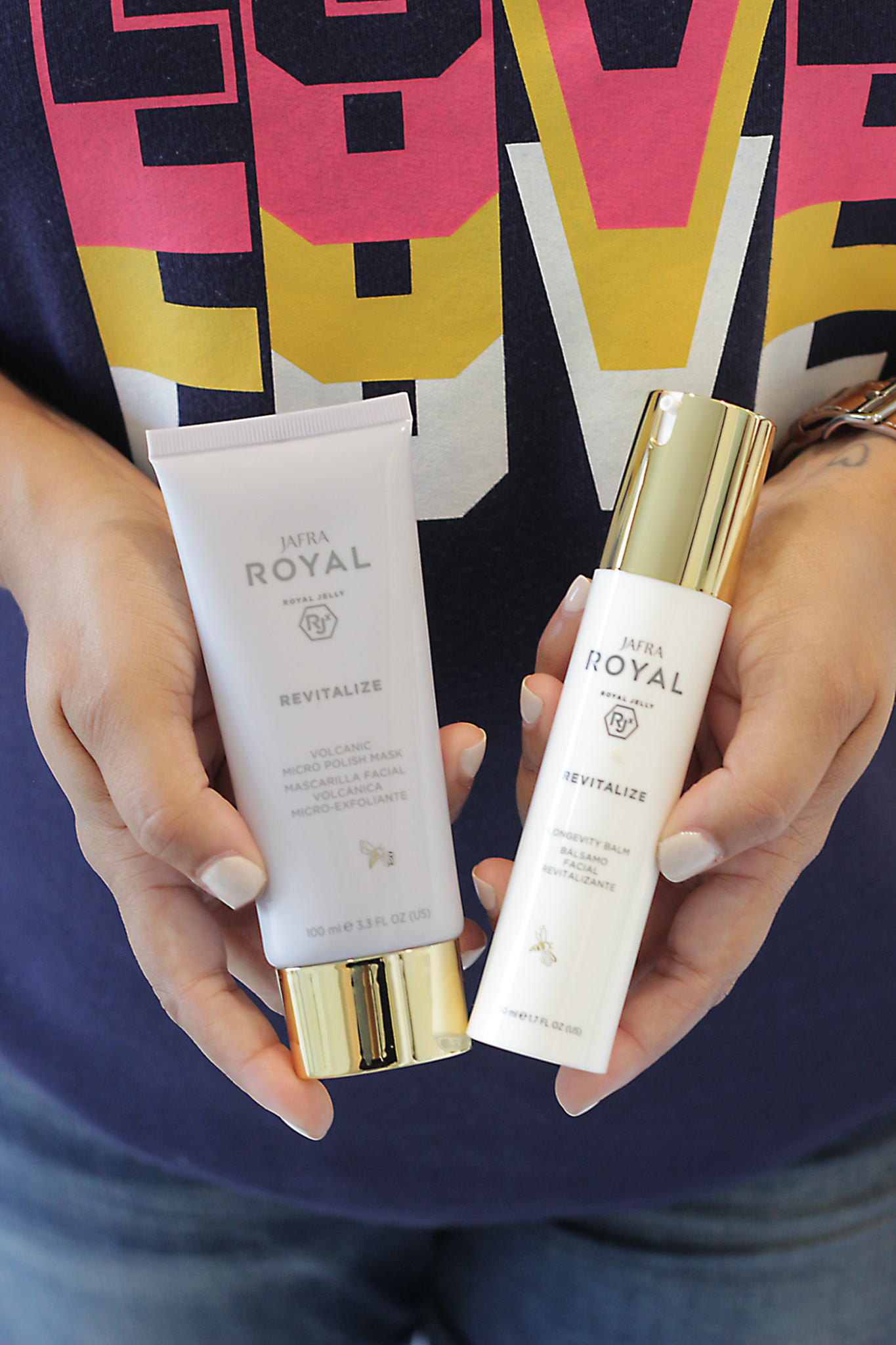 // What is JAFRA ROYAL JELLY RJx? //
JAFRA Royal Jelly RJx is their signature powerful elixir that was created and perfected after the owners studied ancient beauty secrets of the Egyptians who used ingredients made by bees. From that discovery they created the Royal Jelly RJx , an exclusive formula that helps prolong cell longevity, reduce signs of aging, as well as improving the skin's firmness, skin tone and minimizing wrinkles because it is rich in antioxidants, proteins, minerals, and essential amino acids.  Royal Jelly is basically the potent life force that nourishes the queen bee, increasing her lifespan 40 times. Today a JAFRA Royal Jelly products is sold EVERY 6 seconds around the world- amazing right?
// About the JAFRA ROYAL Revitalize Skin Care Ritual //
The JAFRA ROYAL Revitalize Skin Care Ritual  is a unique combination of products that when you put on your face you are directly nourishing your skin. Royal Jelly is a local/micronutrient that is full of substances that help make the skin more vital- it is practically using a whole pharmacy.  The collection is curated to help quickly and visibly minimize signs of aging, increase hydration, and leave you with firmer, smoother skin… Or so it says…
So I put the JAFRA ROYAL Revitalize Skin Care Ritual to the test.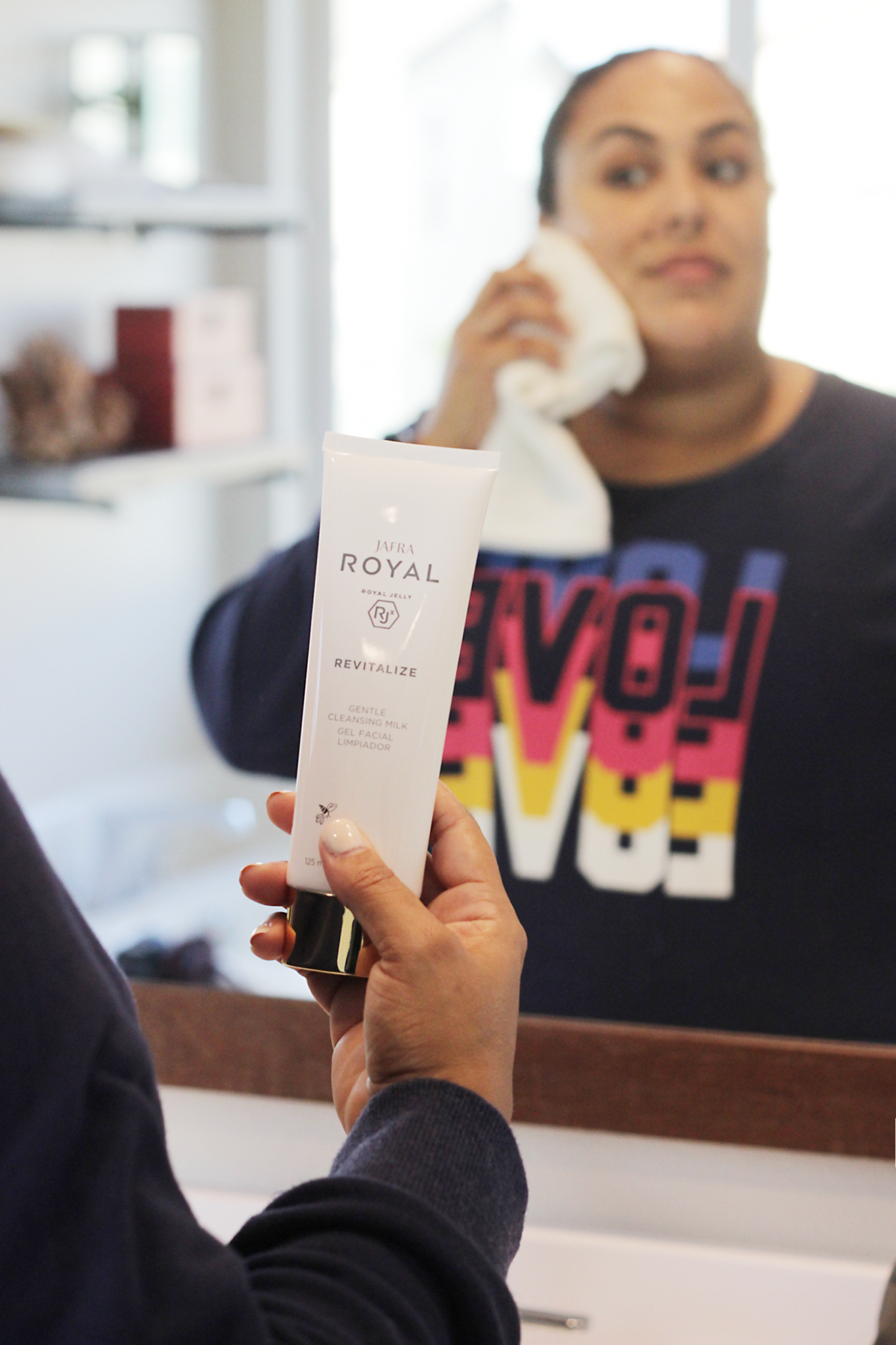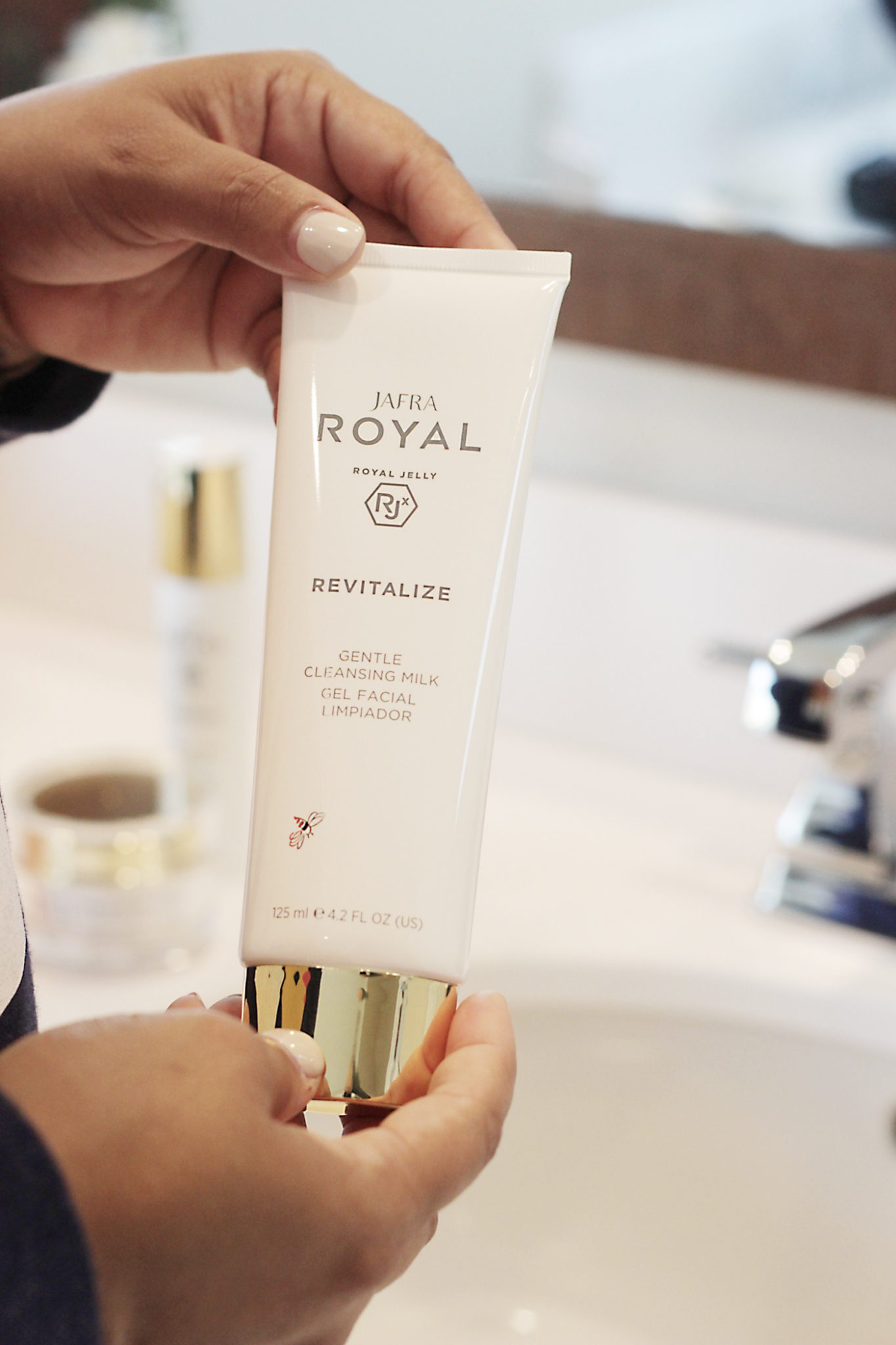 // HOW I USE THE ROYAL REVITALIZE COLLECTION //
DAYTIME:
CLEANSE:

Gentle Cleansing Milk

PREVENT:

 (hydrate) Extra Hydration Serum- Vitamin E // (brighten) Spot Serum- Vitamin C // (minimize/refine) Line & Pore Perfecting Serum- Vitamin A

EYE CREAM:

 Longevity Eye Creme

MOISTURIZE:

Longevity Balm

PROTECT:

Solar Protection Fluid Broad Spectrum SPF 50 (FINAL STEP in the AM)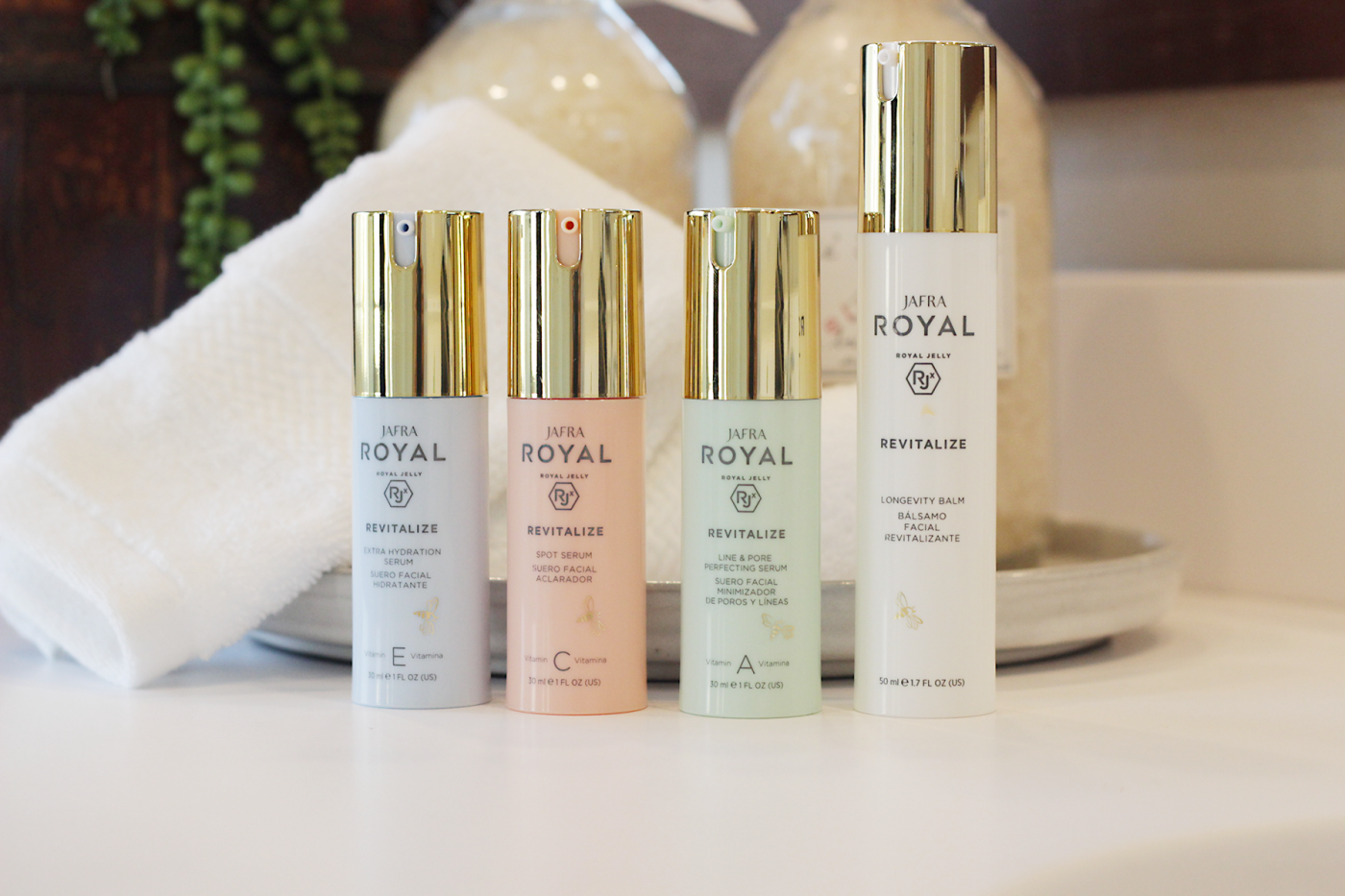 NIGHTTIME:
CLEANSE:

Gentle Cleansing Milk

PREVENT:

 (hydrate) Extra Hydration Serum- Vitamin E // (brighten) Spot Serum- Vitamin C // (minimize/refine) Line & Pore Perfecting Serum- Vitamin A

EYE CREAM:

 Longevity Eye Creme

MOISTURIZE:

 Longevity Creme (a bit thicker so I like to use at night) if I am feeling super dry I will also add a dab of the Longevity Balm on top.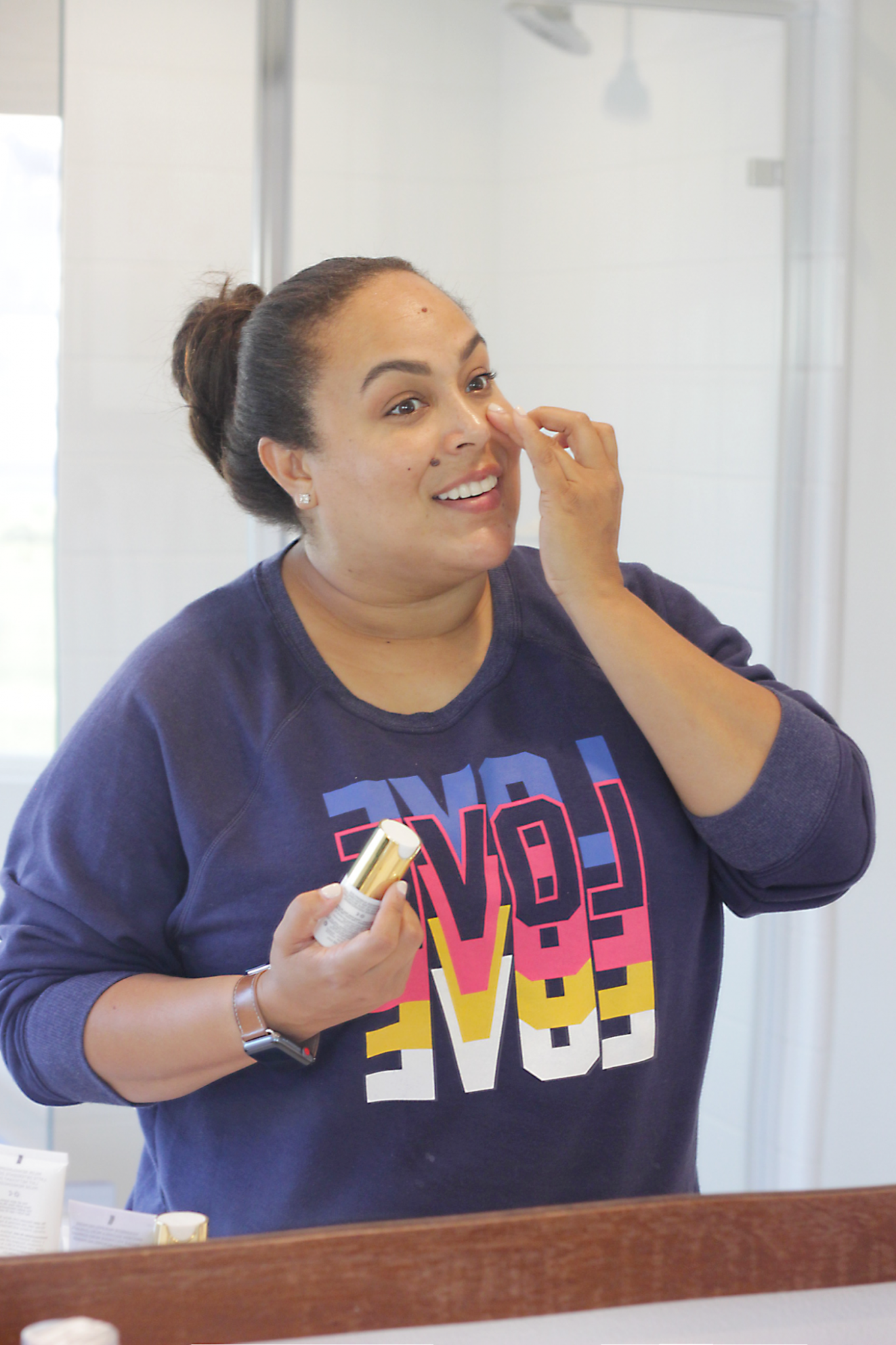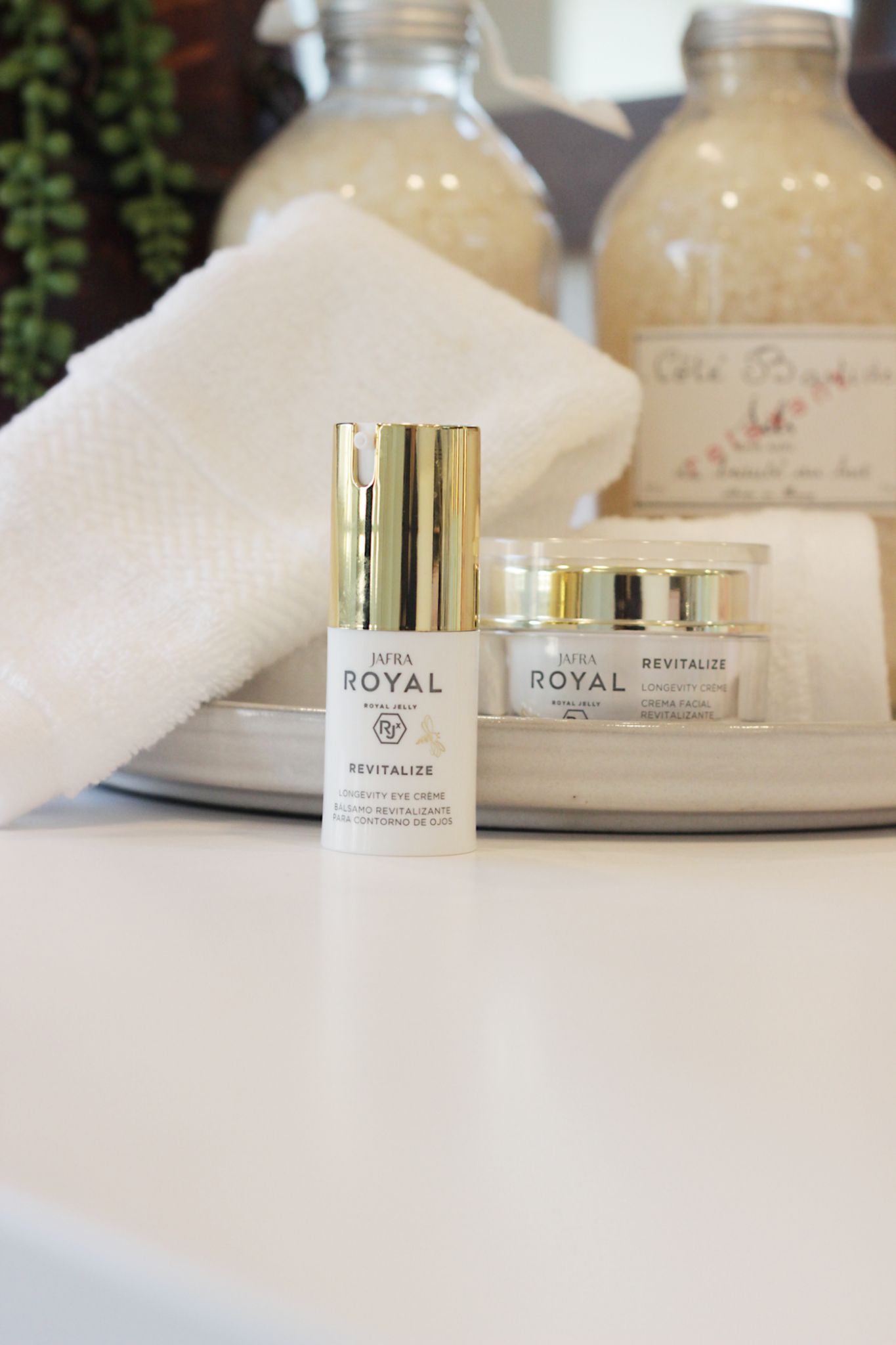 WEEKLY ADD-ONS:
Once or twice a week I make sure to exfoliate my skin with the Volcanic Micro-Polish Mask. It's like the perfect and gentle microdermabrasion treatment
Fast forward to about a month after I started using the collection (I have been using it since mid-September- using the collection both day and night) and here are the biggest benefits and differences I have seen over the past month and half when I wake up each morning in the mirror.
// WEEK ONE //
In general my skin feels more hydrated which is great considering the weather lately has been super hot and weirdly windy in SoCal.

These products smell AMAZING!

I am totally noticing that my skin feels softer and smoother.

I LOVE this

eye cream

!
// WEEK TWO //
I am starting to notice to that my skin almost glows

YESSSSSSS!!! I am noticing some of these pesky dark spots are starting to go away! Hallelujah!

Dude, seriously my skin feels so much softer and smoother. A baby's butt has nothing on how amazing my face feels.
// WEEK THREE //
Ohhhhhh my fine lines by my eyes are starting to be less noticeable.

Is it normal that my skin literally is so hydrated that it glows (and not in a greasy way)?

I really LOVE the

Longevity Balm

, seriously SO GOOD!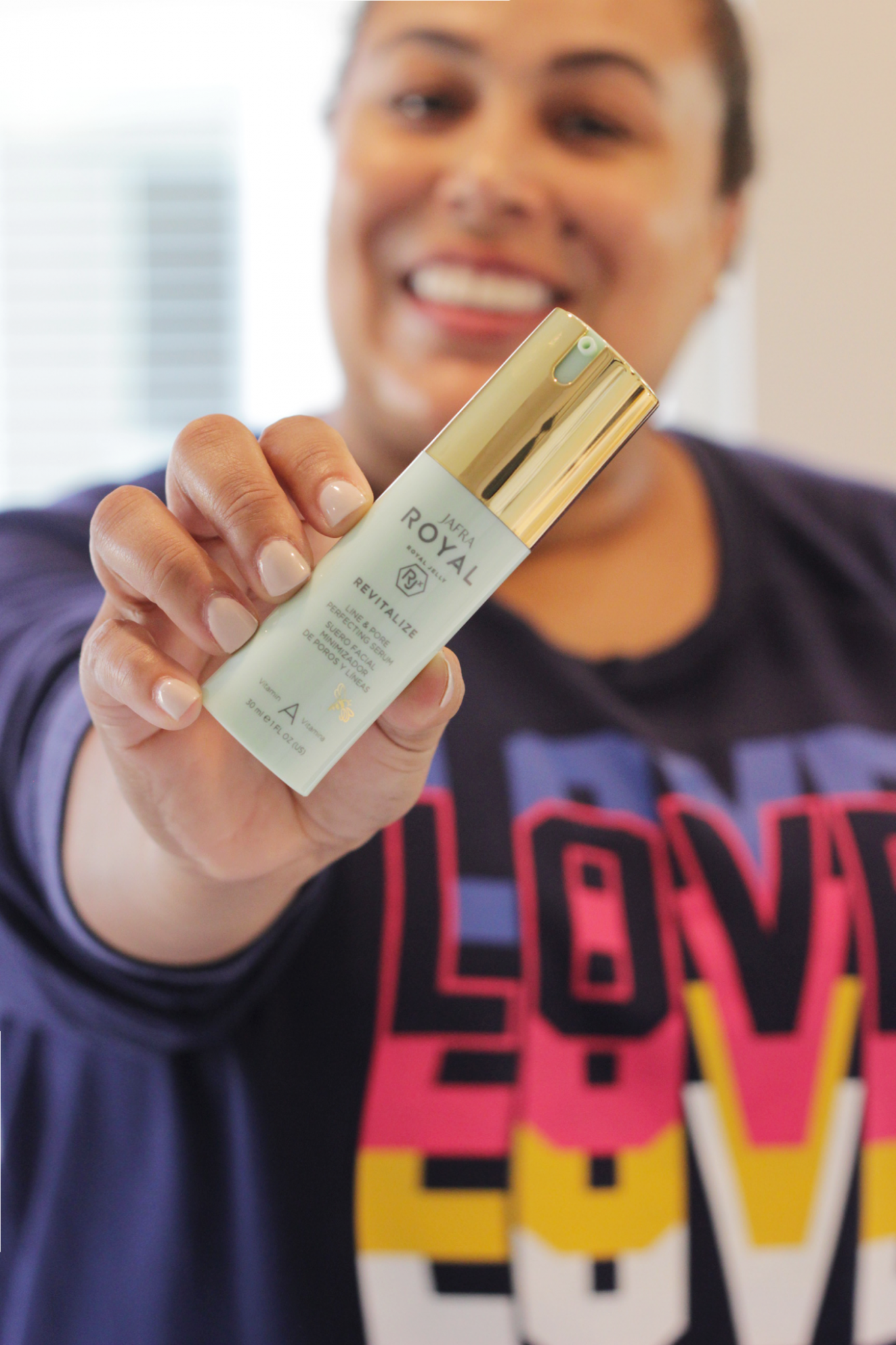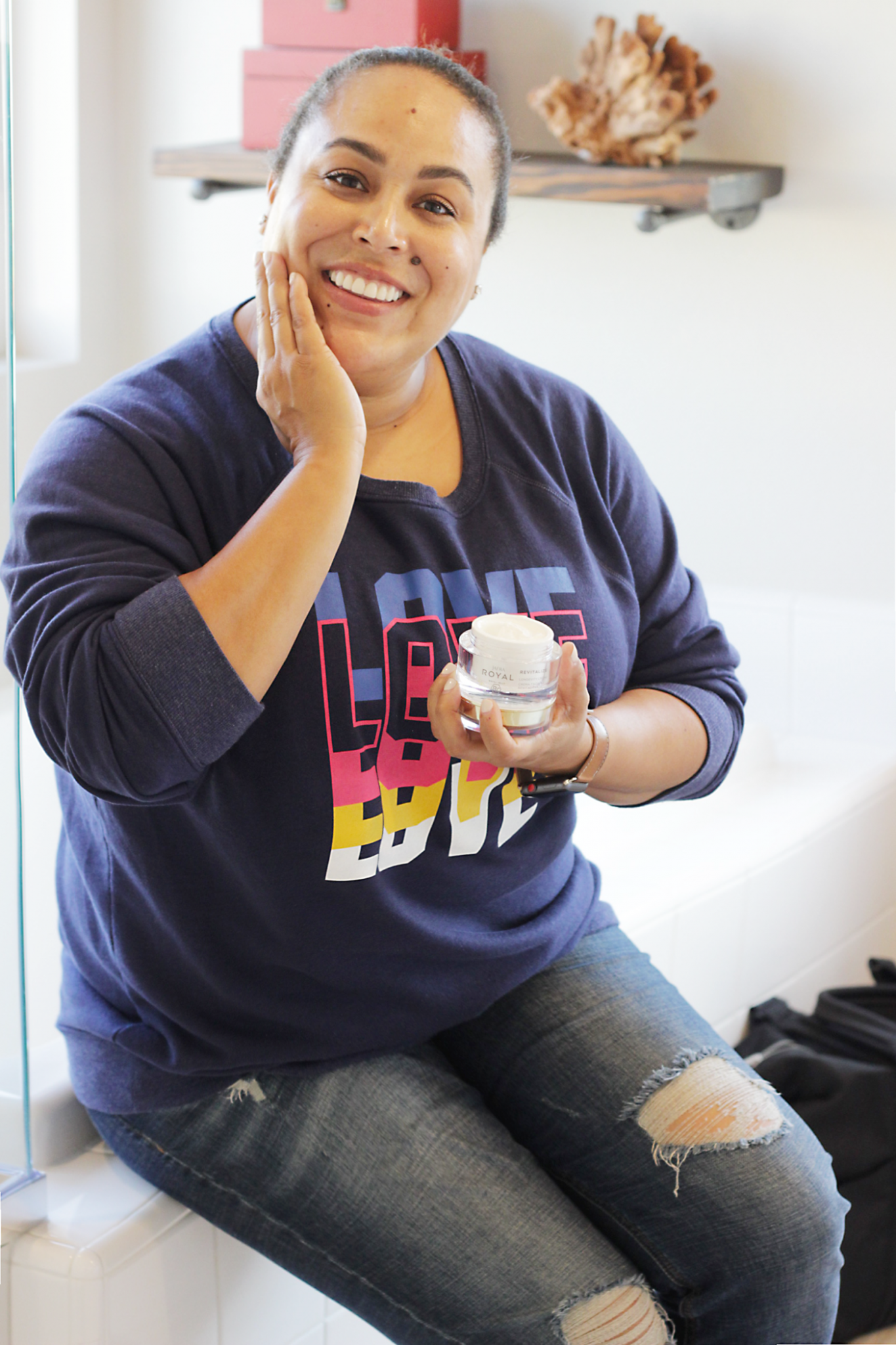 // WEEK FOUR //
Seriously where has this line been all my life?

Dude, the

Volcanic Micro Polish Mask

is my new BFF. Especially when I need some instant oomph to my skin.
// WEEK FIVE //
Okay seriously this is the 3rd person who told me "my skin is glowing" what is happening?

Less makeup for the WIN!!!

This is awesome- my skin looks like I have actually gotten 6 hours of sleep and drank my daily 8 in water (although NEITHER happened IRL!)
// WEEK SIX //
I seriously don't think I have loved a

SPF

more than this one (hydrating and NO white ash). Time to reorder this bad boy!

Despite the weather being SUPER weird and all the traveling I have been doing lately, my skin is looking AMAZING! I mean not to brag but my skin is looking pretty phenomenal.

Okay seriously Jamie, STOP looking in the mirror. Yes your complexion is softer and vibrant- but for reals lay off the mirror time! Ha!
All and all, I am SO HAPPY (and slightly surprised) to report that the JAFRA ROYAL Revitalize Skin Care Ritual delivers on the promises and delivers glowing, hydrated, youthful skin. I have to admit I can now see why a JAFRA Royal Jelly product is sold every 6 seconds worldwide. It's nice when you find a skincare product (and brand overall) that actually can deliver on its promises, right?
Now in full disclosure, I was fortunate to try the entire JAFRA ROYAL Revitalize Skin Care Ritual but I can tell you I have already ordered a few items that I was running low on to make sure I do not run out. Seriously this is some GOOD stuff!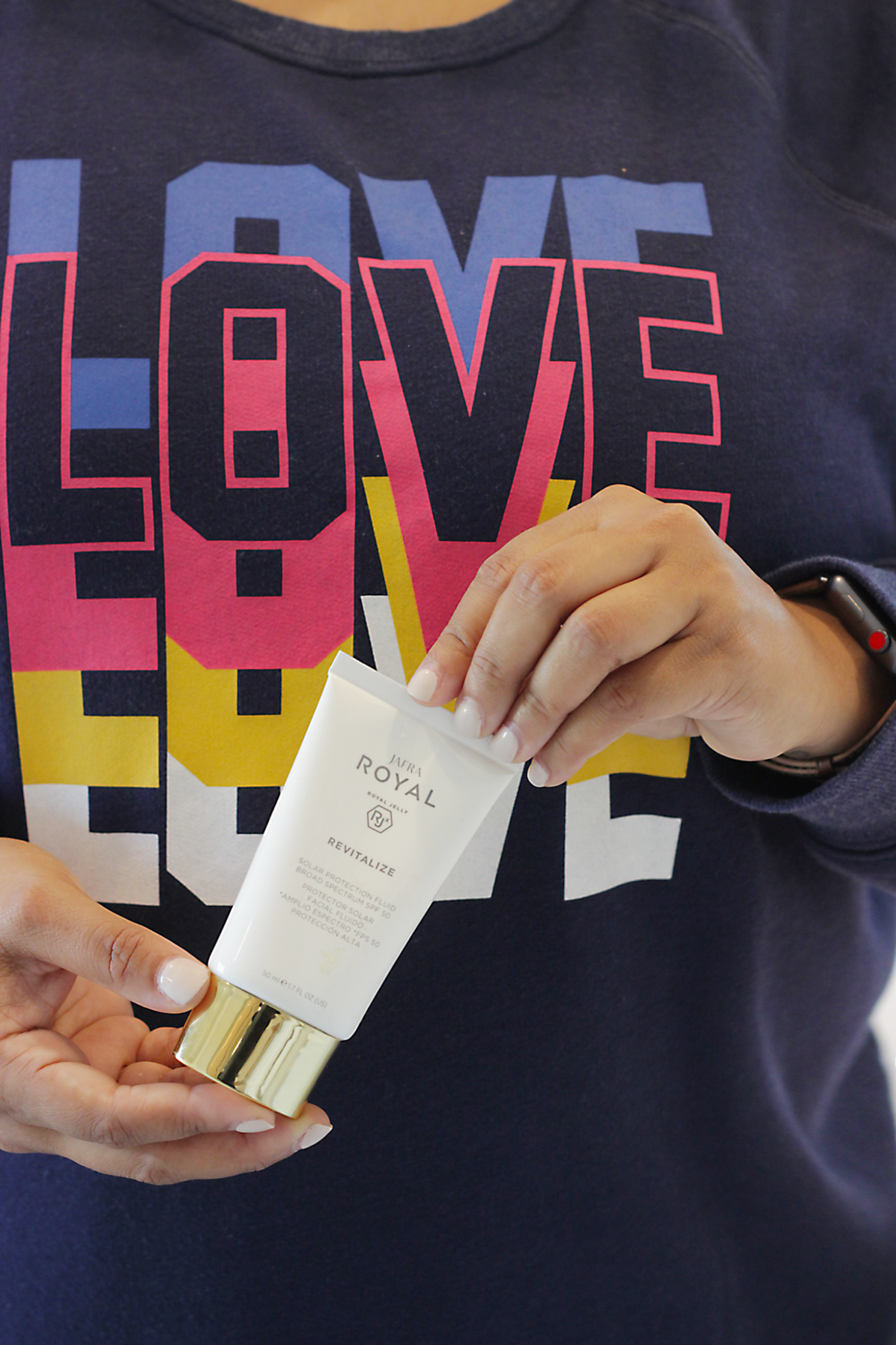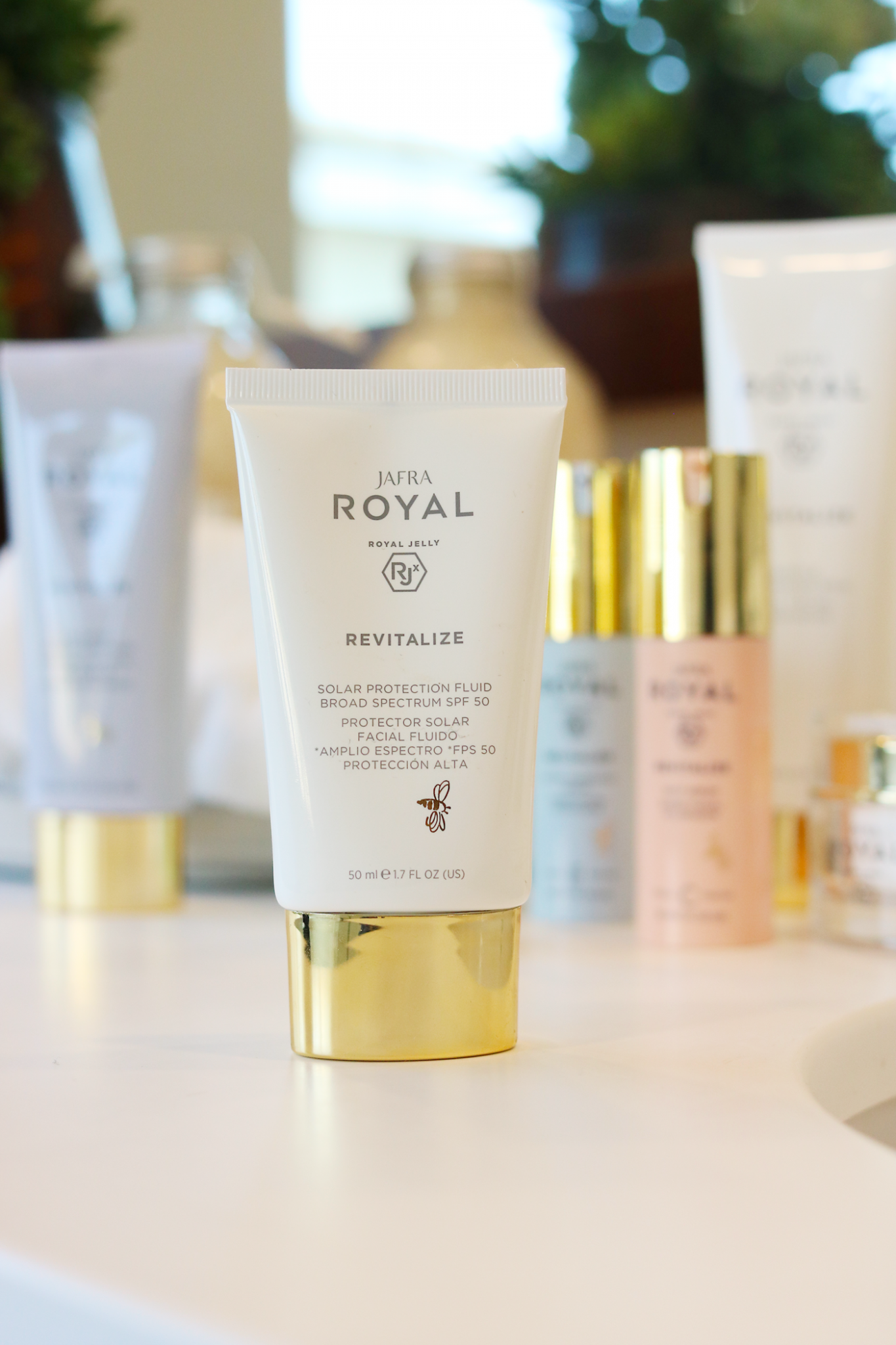 // What are you Favorite featured products //
Hmmmmmmm…. Honestly it is REALLY hard to choose. But if I have to narrow it down to at least 2 products I have to say I am OBSESSED with the Longevity Balm (game changing) and the Solar Protection Fluid Broad Spectrum SPF 50. You're probably wonder WHY a SPF? You guys this SPF is unlike anything I have ever tried. Its like my dream concoction of what I love about a few SPF products I use all combined into one, plus it smells amazing with the blend of coconut and moringa. Seriously it's that good.
I also love that besides the products ACTUALLY working, the price point is pretty great for the entire line. It ranges from $25 to $74 which is priced so well considering every products contains the special Royal Jelly RJx technology. All I can say is I am HOOKED!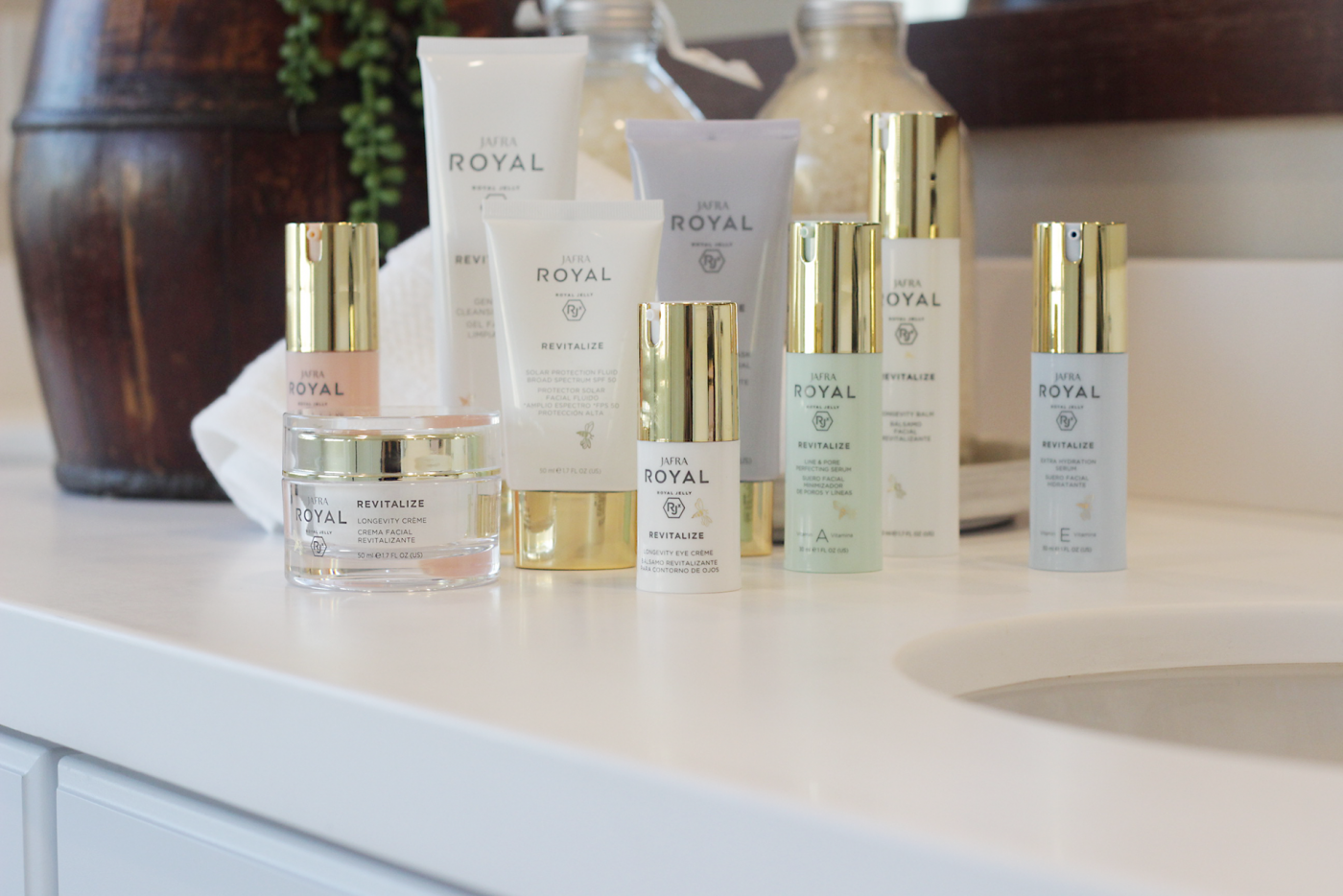 So ladies, if you are looking to revamp your skincare routine, or are looking to up the anti-aging products in your skincare regimen (trust it is NEVER to early or too late to start) I can't recommend the JAFRA ROYAL Revitalize Skin Care Ritual enough (literally I am making my mom and sister try a few items out). So try it out, give it a few weeks and trust me staring in the mirror daily will have you feeling 'oh so amazing' about yourself!
Time to say bye, bye, byeeeee to wrinkles, dehydrated skin, and of course aging….
READ NOW, SAVE FOR LATER: 

anti-aging Anti-Aging Skincare JAFRA ROYAL Revitalize JAFRA ROYAL Revitalize Skin Care Ritual