It's almost like it is inevitable the older we get; the more we want to shop from home, right? From SPF to eye cream, see why QVC beauty + skincare finds are some of the best deals out there now…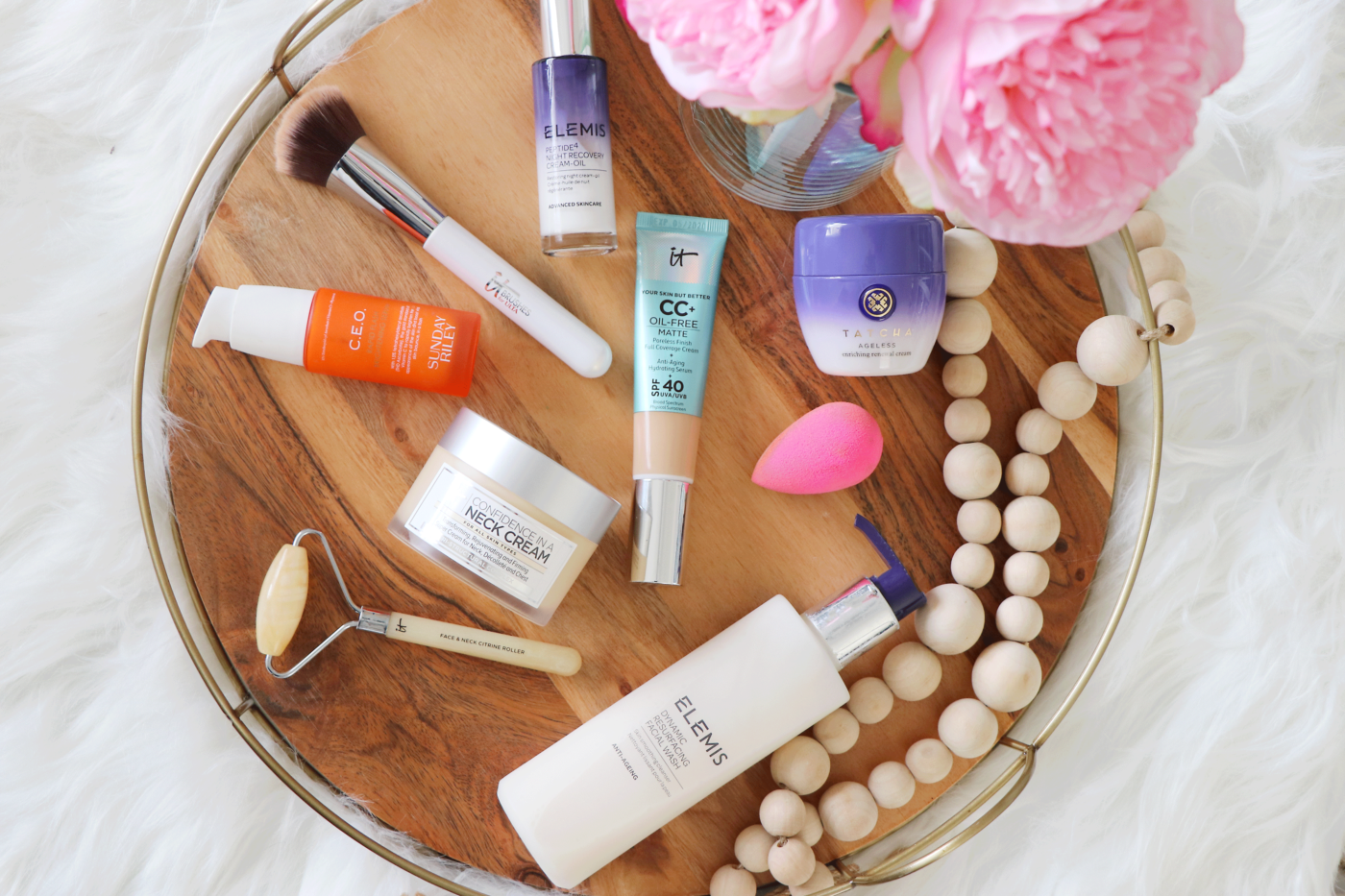 I'll never forget the time the time that I wandered into my living room and my mom was watching QVC– something about the tv host (Lisa at the time) speaking about all the amazing reasons why you need to buy a specific product- REALLY piqued my interest. Fast forward about eight years later, and I find myself watching QVC Beauty Day– literally running to get my credit card and score some of the awesome beauty deals for a steal of a price. From that moment my obsession with QVC began- and still continues today.
When it comes to beauty we are all trying our best. Whether it is looking for the perfect SPF or eye cream- but you know what? Sometimes finding a great product just isn't in the budget. That my friends is where QVC enters the picture.
What can I say- QVC Easy Pay gives me life!
Beauty favorites at a steal of a deal- some deals you will NEVER find somewhere else. Not sure where to start? I made it extremely easy to shop- and now I am sharing my edit of the best QVC beauty + skincare finds currently happening now! See them here…

QVC SKINCARE FINDS: 
Clarisonic Mia Smart Cleansing System + It Cosmetics Set: You guys I am OBSESSED with this deal. Not only are you getting a great It Cosmetics Set featuring a few of my favorite products- but you are also getting the newest launch from Clarisonic. Clean, brighten and fight anti-aging with this kit, and you save over $50 grabbing this deal.
Pop Sonic Leaf Sonic Facial Cleansing Device: This reminds me so much of Foreo that is my current ride of die cleansing device. My friend Angela talks about this all the time- so it's currently in my cart for checkout to try. I love a great sonic cleansing device because it cleanses the skin gently and effectively all while vibrating into the skin to help de-clog the pores.
It Cosmetics Secret Sauce & Miracle Water Hydrate + Brighten Duo: You guys this deal is going in my cart (x's 3) it is such a great deal. I am OBSESSED with the Miracle Water as it helps hydrate, brighten, cleanse and tighten the skin. Literally its a great drink of water for the skin. While the Secret Sauce really is SECRET SAUCE. Just a dime sized amount of this secret sauce will have your skin brighter, glowing, and literally looking smoother and younger. I am OBSESSED.
Elemis Pro-Collagen Cleansing Balm + Travel Size Balm + Cloth: This hands down is one of my favorite cleansing balms ever. Not only does it feel like luxury on your skin, it wipes away all impurities, makeup (including waterproof) away with a swipe of the cloth. Once you use this you will NEVER want to use another cleansing balm- it's SO good.
Elemis 24-7 3 Piece Peptide4 Day + Night Set: Elemis is one of my top favorite brands, and I have talked about them a TON over on Instagram. Literally, it's one of those brands that you REALLY need to try. This day and night set it the perfect anti-aging fighting set- that will have you hydrate, smooth and looking younger all day long. This deal is such a great price that you are paying 1/3 of what all 3 pieces sold separately would cost.
Elemis Dynamic Resurfacing Smooth Start Collection: Can you tell I have a love for Elemis? I am a HUGE lover of this cleanser and resurfacing pads. Not only do they help gently exfoliate your skin, but they also leave you literally glowing. I grabbed this set (and maybe a back up as well) because I never want to be without the cleanser. You guys it is SO GOOD! This is a PERFECT set for my girls suffering from age spots, sun spots, or hyperpigmentation.
Sunday Riley Bright Young Thing Skincare Set: Y'all I can't say enough great things about Sunday Riley. I LOVE that they are brand now carried by QVC. This set has all of my favorite things to help combat hyperpigmentation and brighten the skin. I chatted about my routine over on Instagram and how I mix CEO Brightening Serum with Good Genes for an instant brightening effect on the skin, followed by the Tidal Water Cream to give the skin a lightweight feeling full of hydration. This set is AMAZING!
Clinique Fresh Pressed Daily + Overnight Booster: If you are unsure how or where, to begin with anti-aging- this duo is amazing. Not only do you get the Vitamin C for daytime to help fight sun damage and free radicals; but you also get the retinol booster to help tackle fine lines and wrinkles while you sleep. This set is amazing and so perfect because you can add either booster to any of you existing moisturizers. Just be sure to ALWAYS wear an SPF!
It Cosmetics Confidence In a Neck Cream + Facial Roller: If you are looking for a great neck cream this is it. Not only is it super light weight, it absorbs into the skin so beautifully. I love using this in the daytime and use the facial roller to help press it into the skin all while giving my neck a lymphatic massage. You can't go wrong with this- and QVC is the ONLY place you can grab the neck cream + roller together.
Sunday Riley Flash Fix Set: This set is the perfect facial on the go set. I love that you can use them separately as a cleanser and as a facial exfoliating serum OR you can mix them together- apply to the skin, leave on for about 10 minutes, and wash off for the perfect glowing skin. The perfect set that is used behind the stage at all fashion shows for an instantly glowing facial before makeup application. If you want to try Sunday Riley this set is the perfect set to start with- from there your love affair will grow- trust me!
TATCHA Ageless Face + Neck 4 piece set: This set was on MAJOR sale a week ago, and although it has only gone up in price a bit – it is still a steal of a deal. You basically for the price are buying the face cream and getting 3 other skincare items for FREE. I love that it comes with a beautiful hydrating essence, a fabulous neck cream (I use this every night and have seen a HUGE difference in neck lines), a super hydrating eye cream, and of course the rich and luxurious face cream that I use an overnight mask because I have combination/oily skin. Where if you are dry skinned- your skin will be OBSESSED for this cream both day and night. This set is REALLY so good and such a great deal! If sold separately the items in this kit would cost almost $500. So grab this deal while it is available.
TATCHA The Pearl Tinted Eye Illuminating Treatment: I am OBSESSED with this. Shade reference: I use Soft Light which is perfect for medium-tan skin. Not only is this tinted eye illuminator brighten the eyes it also helps give the eyes a bit of a treatment. You can use this to help pre-prep the eyes before concealer or wear it as a concealer on those makeup/no makeup days. It comes in 3 shades to help fill a variety of skin tones and feels so dreamy on the under eyes.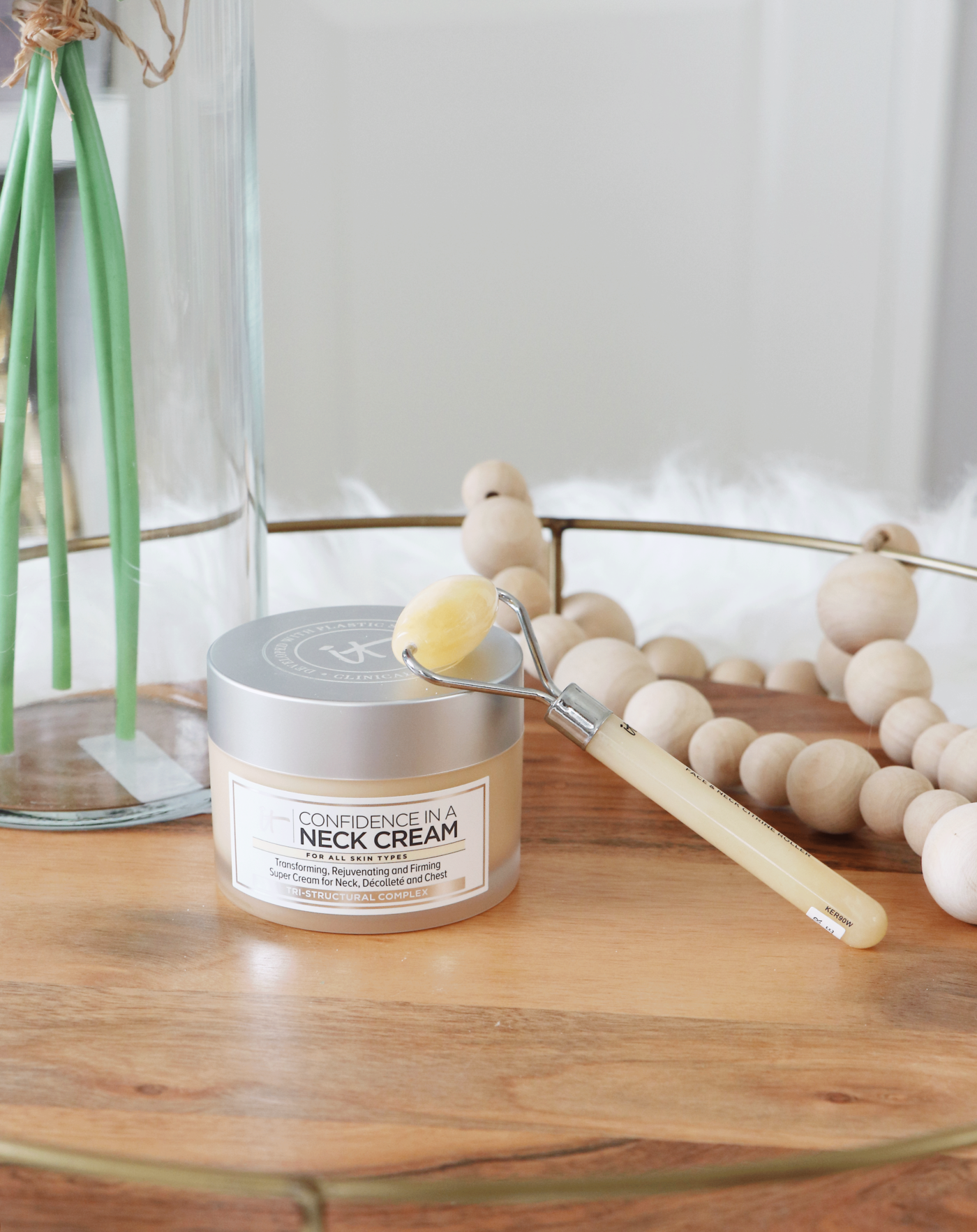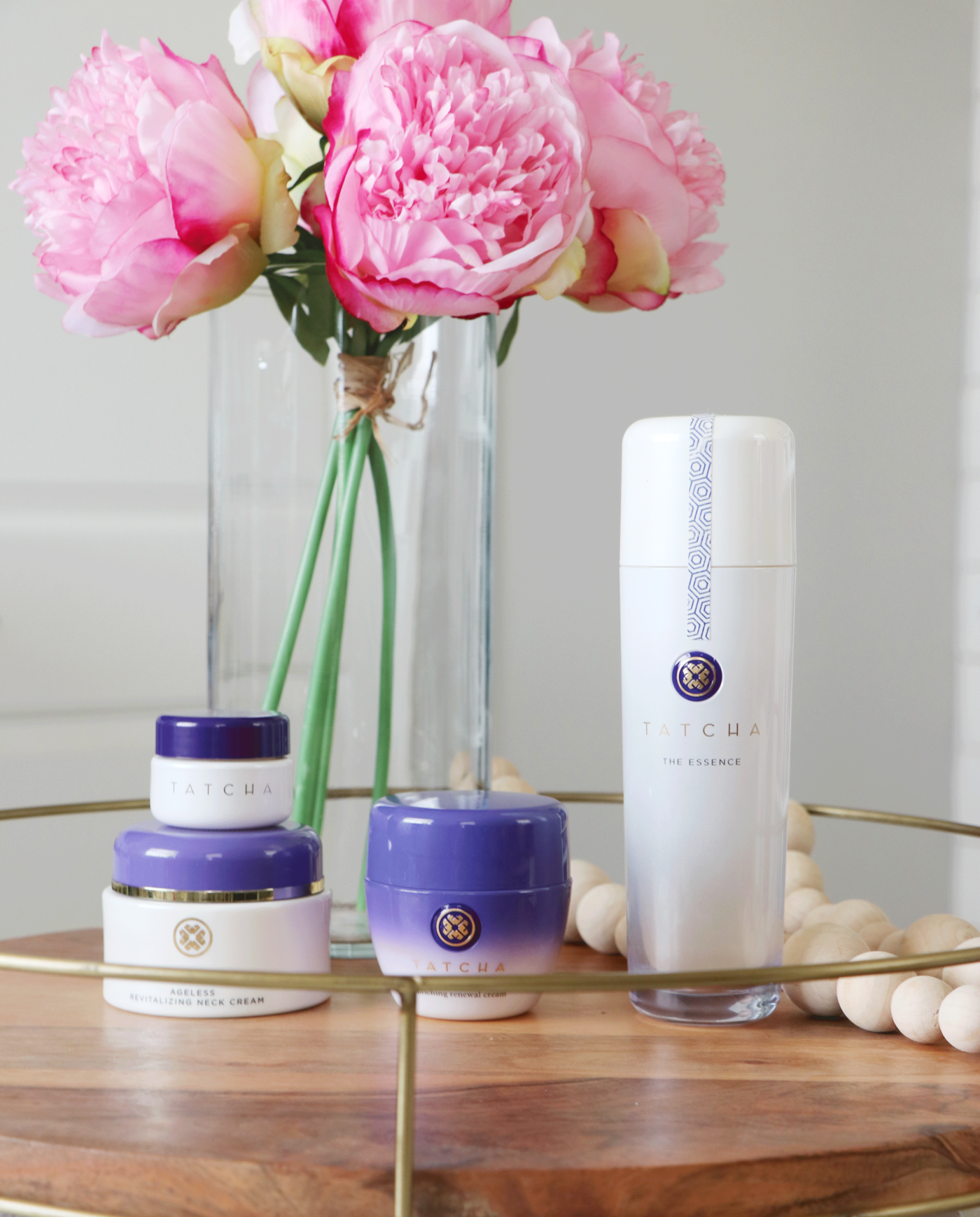 QVC MAKEUP FINDS: 
It Cosmetics Full Coverage Oil-Free Matte CC Cream + Brush: Y'all this CC cream is my current daily go-to. Not only does it give GREAT coverage and have an SPF 40. The Luxe heavenly brush that comes with this set is such a great price- you are basically buying the brush and getting the CC cream for free with this deal. It gives the perfect matte yet still luminous look. Perfect for year-round. Shade Reference: I wear Medium Tan in summer // Medium Neutral the other months 
Tarte Shape Tape Concealer + Sponge: Pretty much the cult-classic in concealer. The coverage is INSANE, and it blends like a dream. However, sometimes if you use too much it can crease very easily or be very drying under the eyes sometimes. Shade Reference: I wear both medium and medium sand (to brighten).
Tarte Meow or Never Maneater Eye Shadow + Eyeliner Duo: This duo is so pretty. The palette is literally the perfect neutrals that can take you from day to night in a flash. I love that Tarte shadows are so pigmented and it's a great mix of shimmers and mattes. Trust you can't go wrong with this makeup set.
Urban Decay Perversion Mascara + Primer Duo: I love a great mascara and primer duo. I am a HUGE fan of the perversion mascara because it gives you the blackest black pigment to help make the lashes look amazing. Paired with the primer be ready to get longer, fuller lashes in a flash. Plus it is a KILLER deal right now, so I will be grabbing a few backups of these.
barePro Glow Highlighter Set: This duo is simply stunning. Not only do they both give you a gorgeous highlight and glow- the shades can also act as gorgeous yet glowing bronzer and blush duo. I love adding a pea sized amount the bronze shade to my cheeks and eyes to give me a perfect sun kissed yet luminous look. Such a beautiful set.
bareMinerals Super Size Mineral Veil Finishing Powder + Brush: I love a great finishing powder and the bareMinerals Mineral Veil is one of the best. Not only does it set your makeup effortlessly to lock it in all day long.
Too Faced Born This Way Multi-Use Complexion Powder: This product is new to me but I am loving it so far. I love that you can use it as both a powder OR as a foundation powder as well- it gives great coverage on its own when buffed into the skin. It also is not drying since it is infused with hyaluronic acid and coconut water. Such a great powder that I am loving so far. Shade reference- I wear Natural Beige- which is for medium skin with neutral tones.   
Beauty Blender Gold Mine Kit: Hands down this kit is the BEST deal ever. Not only is it the price amazing, but you also get a cleanser and a blotting blender to help keep your skin looking fabulous all day long. I love using the nude blender for my foundation and the original blender for everything else (setting powder, cream blush, etc…) Such a great deal and makes the perfect gift for anyone as well.
Sigma Essential Brush Kit- Make Me Classy: Looking for a great set of makeup brushes- THIS IS IT! I have been a long time lover os Sigma Brushes and I love that this brush kit has all the brushes and then some to achieve any makeup look you are looking for. From foundation to eye liner this kit has it all and the price is perfect!
It Cosmetics Heavenly Luxe 4-in-1 Shadow + Liner Brush: When I first got this brush I thought for sure there is no way you can get a 4-in-1 in a brush- but boy I was proven wrong. This brush is awesome and perfect to use daily or when you are traveling as it saves space because it can be a shadow blending brush, eye liner brush, smudging brush and an all over shadow brush all in one in just a few clicks. Trust me you will want this brush in your arsenal.
It Cosmetics Dual Retractable Airbrush Concealer Brush– I just ordered this brush because I am a HUGE It Cosmetics brush lover. This brush is going to be in my travel brush arsenal since you get a dual ended concealer brush – one side is flat for precision concealing while the other end is fluffy to help blend, smooth, and blur any edges.
So there you have it- a few of the best QVC beauty + skincare finds happening right now. You can shop everything above online. From SPF to eye cream, QVC is changing the way to do beauty shopping with their one-stop shop. There is a little something for everyone to tickle your fancy.
Have you shopped QVC recently? If so, what was the last thing you picked up?
SHOP THE POST