This post is sponsored by BabbleBoxx.com on behalf of Single Edition Media.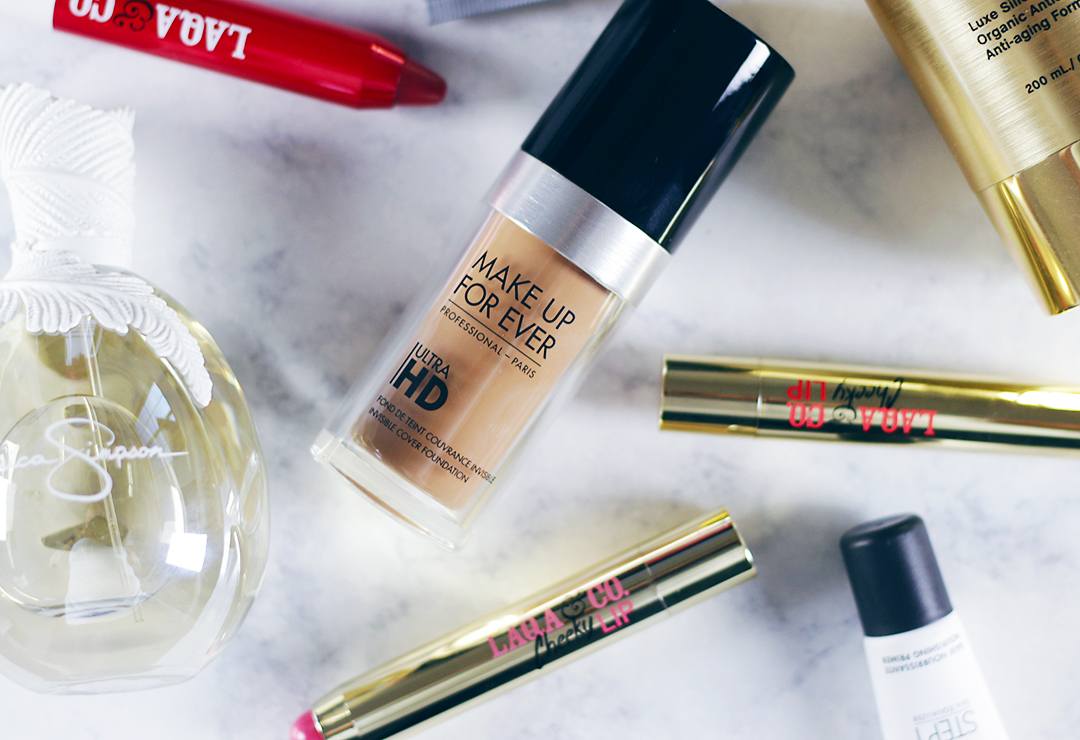 When it comes to the holiday season I am OBSESSED! Not only because it is my favorite time of the year- hello birthday month- but because I absolutely the endless searching around for the perfect holiday gifts for friends and family. Every year I get more and more excited because I love the look on my friends and families faces when they open a Jamie approved gift– especially when it has a perfect personal touch to it. As you all have figured out by now, my favorite item to buy anyone during the holiday season is anything BEAUTY related! Who best for anything beauty related than your BFF,right? I don't know about you, but I have about a core group of five BFF's. Each one of us makes up a different part of the beauty world, whether it be- The Makeup Obsessed, The Lipstick Lover, The Passionate Perfumer, or the girl who just loves all things beauty – that's me- we each have our own unique personality and beauty style. So let's sit back talk about a few BFF-Worth Gifts this holiday season…
THE LIPSTICK LOVER
When it comes to lipstick, my friend Nicole has it down pack! From brights to berries- the girl is one to love lipstick and experiment with color always. So for her this year I am looking at the LAQA & CO Cosmetics Cheeky Lip Makeup.  These ultra-chic, light-weight, matte lip and cheek stains are sheer perfection! From the sleek gold packaging to the GORGEOUS shades, I know Nicole will be OBSESSED!!!!  I love the fact that these beauties are multi-taskable as you can easy apply to the lips for some powerful pigmented color or add a few dabs of them cheeks, dab and blend for a nice burst of radiant color. I have two shades: Mixed Tape and Humble Brag, both shades are pure, pigmented perfection. I can envision Nicole reaching for Humble Brag for the daytime with its perfect pink shade and reaching for Mixed Tape to turn her look up for the evening for a more bold lip. I know I am OBSESSED with these shades and any lipstick lover will be too. Seriously they are GORGEOUS!!! For my friend Christie she is a less is more, kind of gal when it comes to lipstick so I am grabbing her the LAQA & CO Cosmetics Lip Lube in shade Golly Gee Whiz– OMG this buttery balm is awesome. Super light on the lips, ultra-glossy and hydrating, this peppermint infused, easy to twist up lip balm will be a solid hit- I have my eyes on a few other colors- Grape Scotch I am coming for you! These lippies are perfect for all lipstick alike. Trust me your friends and yourself will be HOOKED!  Application is simple- just apply and go, simple right? ** SPECIAL HOLIDAY OFFER: Use code HOLIDAYLOVE throughout the month of November to get 30% off your entire order.**
[otw_shortcode_divider margin_top_bottom="30″ text="SHOP THE LIPSTICK LOVER" text_position="otw-text-center"][/otw_shortcode_divider]

THE FLAWLESS FACED DIVA
We all love a good, flawless base right? I know for me I am OBSESSED with finding the right foundation- something about a nice, dewy yet matte finish just screams at me.  My beautiful friend Lauren who was blessed with AMAZING skin, is also often on a search for the flawless foundation finish. So this year I am grabbing her the MAKE UP FOR EVER Ultra HD Invisible Cover Foundation, I mean this stuff is seriously AMAZING! Natural-looking, invisible, comfortable, buildable, flawless coverage that blends into the skin so seamlessly you will serious wonder WHY you have lived without it before! 40 shades make up the array of shades for this Film and TV industry developed foundation for both on and off camera is completely revolutionary. When paired with the MAKE UP FOR EVER Step 1 Primers, a flawless finish seriously can't get any better than this.  10 curated formulas that target every texture and tone concern anyone can possibly have.  I have a been ultra-obsessed with the Smoothing Primer– since I tend to have large pores- this primer has helped keep them in tip top shape to ensure a more even texture of my skin. I know that soon I will be in need of reaching for the Nourishing Primer since the weather is kicking up a notch and my skin is starting to head towards the drier side of life, right now. Flawless, long-lasting coverage and a skin improving primer- what more can a girl ask for? Check out this video HERE for some awesome tips on achieving a flawless application!
[otw_shortcode_divider margin_top_bottom="30″ text="SHOP THE FLAWLESS FACED DIVA" text_position="otw-text-center"][/otw_shortcode_divider]

THE BRONZED BEAUTY
Now I don't know about you, but as I tend to get older- staying out of the sun is a SUPER HIGH priority. Staying out the sun is one of the main keys to preserving your skin from any harmful UVA and UVB rays- besides who doesn't look better tan, right?  My friend Melinda is super conscious about staying out of the sun, but is always on the hunt for a perfect bronzy glow as well. So this year she is going to scream when I grab her the WayTooTan Dark Hybrid Tanning Silcone– this one of a kind, instant, bronze Caribbean glow is destined to be a hit. This Ah-MAZING tanning silicone is loaded with hyaluronic acid to help hydrate the skin all while giving skin the most natural, gorgeous, bronze skin EVER!  Formulated with potent botanical antioxidants like green tea and grape seed extract this tanner delivers luxury in a bottle. What is even better is that WayTooTan is cruelty-free and NEVER tested on animals, and is also Aloe, Hemp, Gluten and Paraben-Free. I mean seriously bronzed babes NEED this NOW!
[otw_shortcode_divider margin_top_bottom="30″ text="SHOP THE BRONZED BEAUTY" text_position="otw-text-center"][/otw_shortcode_divider]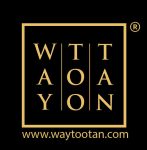 THE PASSIONATE PERFUMER
Now my friend Lauren is the perfume connoisseur of the bunch. She always has the best smelling scents, and always seems to have dabbled and tried the latest and greatest scent before it even becomes a thing.  So for her I am reaching for the tenth anniversary fragrance by Jessica Simpson titled TEN. TEN is a unique blend that is equal parts floral and fruity with a soft vanilla infusion to help accent the amazingness that this scent is. Let's not forget the GORGEOUS bottle design- OMG y'all this bottle is simply stunning. To celebrate the tenth anniversary theme the bottle is symbolic to the brand's free spirited style with a simple, elegant feather that is wrapped around the top almost like a gorgeous dress on the bottle with some beautiful shimmering gold accents. This scent smells SOOOOOOOOOOO good- expect all the compliments. ** SPECIAL HOLIDAY OFFER: Receive a complimentary signature tote bag with the purchase of Jessica Simpson TEN or any other large spray from the Jessica Simpson fragrance collection at Macys.com. **
[otw_shortcode_divider margin_top_bottom="30″ text="SHOP THE PASSIONATE PERFUMER" text_position="otw-text-center"][/otw_shortcode_divider]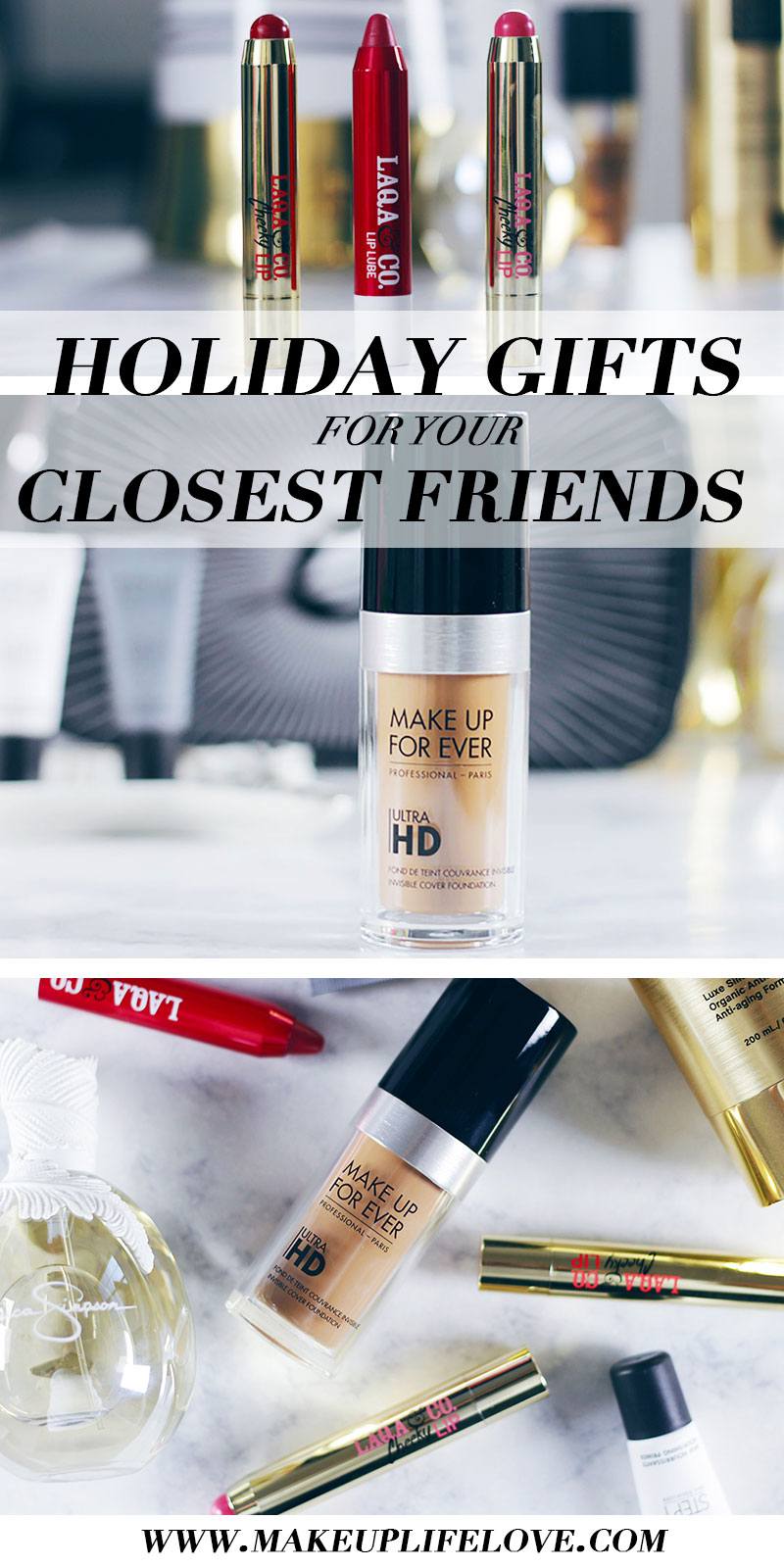 So there you have it, a few gorgeous gifts for the closest beauty obsessed gals in your life. What better way to give the best gift of the season then by adding a personalized touch for each of your BFF's? Whether you gal pal is A Lipstick Lover, A Flawless faced Diva, A Bronzed Beauty or  A Passionate Perfumer each one of these gifts are destined to make their holiday season a bit better! Stay tuned tomorrow as we have another round of gift guides coming your way… Make sure to head over to the MLL x Holiday Shop to find all the products included in this BFF's Gift Giving Guide. Be sure to check them all out below for your daily dose of gift giving inspiration.  Let me know in the comments below what's on your gift giving list this year…
DAY 1: Makeup Maven Gift Guide
DAY 2: Skincare Obsessed Gift Guide
DAY 3: Closest Friends Gift Guide
**Please note this post includes an embedded Affiliate link. This means if you click on the link and purchase an item, I will receive an affiliate commission. Makeup Life and Love at times reviews products provided by PR companies. This is disclosed at the bottom of those posts and product is marked with a "*". Regardless if the product was received, I only recommend products and services that I personally use and believe will benefit my readers. All opinions are my own. For more information please visit the Disclosure Page**
BABBLEBOXX Gift Guide Holiday Gift Guides LAQA + CO Make Up For Ever MLL x Holiday Shop WAYTOOTAN