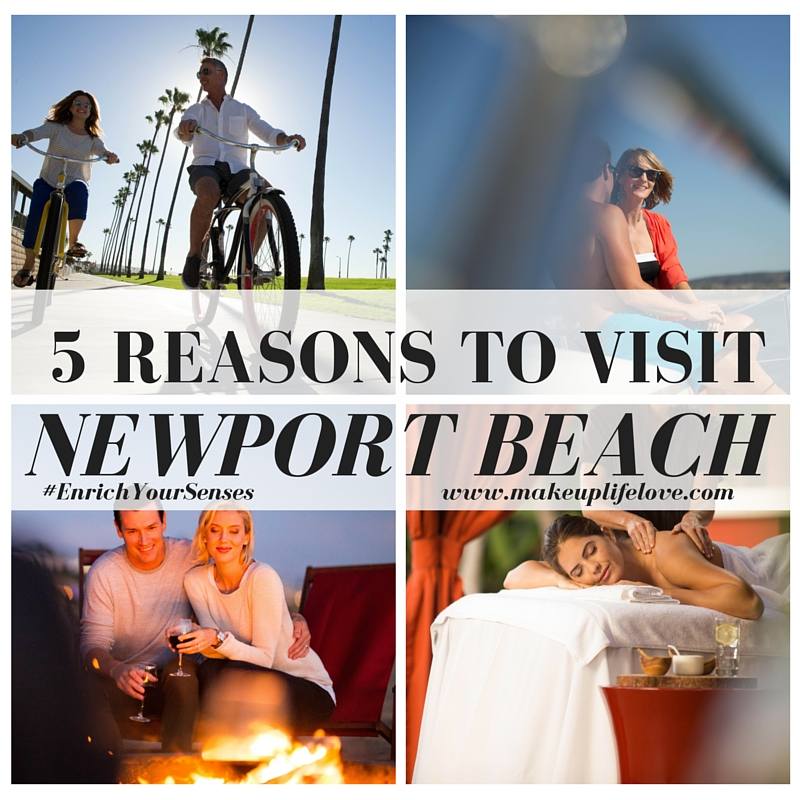 I don't know about you but when I think of a vacation spot I always tend to wander towards somewhere HOT and beachy! Something about a beach just screams VACATION! Luckily I actually live the land of all things glitzy and glam with a side of laid back beach vibes- good Old Southern California! For as long as I can remember the beach has always been one of my favorite places to go with friends or family! Great food, great fun and of course great sun! Today I have teamed up with Visit Newport Beach to bring you 5 Reasons You NEED to Vacation in Newport Beach, CA…
REASON 1: DUFFY BOATS
I don't know about you, BUT I love a nice lounging time with friends. In Newport Beach what better way to enjoy a day with friends then out on the water in a duffy boat. Cruise the waterfront in thee awesome little electrical boats and hang out with friends. You can cruise the channel, wave at the people, you might even make some new friends. Added bonus- You can bring your own food and beverages on the duffy (including the adult kind- as long as you're not driving). My friends and I, just love cruising the channel with the duffy boats and checking out all the GORGEOUS houses located beach front, plus you can always get off and explore or go eat at my favorite restaurant- Rusty Pelican­– the calamari is TOO DIE FOR!
REASON 2: YEAR ROUND ACTIVITIES
Paddle boarding, fishing, surfing, and whale watching are just a few things you do when the weather is always nice and sunny year round. You have five sense so what better time to use them and bring them all out when you visit Newport Beach. The lovely sights of watching glorious Grey whales on one of the various whale watching excursions. The taste of fresh caught fish, that you caught while out deep sea fishing, or feel the Pacific Ocean on your body as you surf the waves and mingle with locales and friendly dolphins. Sit back and channel your inner child as you ride bikes to the boardwalk or learn something new like stand up paddle boarding or kayaking in the harbor. If sports aren't your thing, then why not enjoy a HEAVENLY beach massage at one of the various luxury hotels that Newport Beach has to offer. Whatever your heart desires Newport Beach has an activity for everyone.
REASON 3:  ANNUAL NEWPORT BEACH CHRISTMAS BOAT PARADE
Every year 100's of vessels of all sizes get together and adorn their boats from head to stern with lights, decorations and holiday joy for the Annual Newport Beach Christmas Boat Parade. 14 miles around the Newport Harbor these boats will get you into the holiday spirit in minutes. A fun filled night out with the family enjoying the boat parade is a MUST do in California! This year the boat parade starts Wednesday December 16 and runs until Sunday December 20, 2015.  After the boat parade, grab a chair and enjoy a nice beach side bonfire with friends. The perfect holiday evening- Southern California style! Seriously the boat parade is a HOLIDAY MUST SEE!
REASON 4: TWO WORDS- BALBOA ISLAND
What is Balboa Island you might ask? Well Balboa is the heart of Newport Harbor, and this small, quaint town is filled with awesome shopping, great food-including the world famous Balboa Bar-  trust me you NEED this in your life STAT! There is tons of family fun located on Balboa Island including the Balboa Fun Zone– of course a trip to Balboa Island wouldn't be complete without a nice ride on the Balboa Island Ferris Wheel!
REASON 5: AMAZING FIVE STAR DINING
Newport Beach is home to some of the world's most AMAZING restaurants. From classic steakhouses to zen fusion cuisine, you can get just about anything you crave in Newport Beach. A few of my favorites are Mastro's Ocean Club– hands down the most tender, juicy steak EVER! Javier's Cantina & Grill– for some of the BEST Cadillac margaritas and yummy lobster burritos. Wildfish– for a to-die-for Halibut, and tartare of ahi tuna! You might even be lucky and spot one of the Real Housewives or Orange County- they frequent Wildfish A LOT! And last but not least my seafood haven- The Cannery– for their ultimate Seafood platter. Seriously it is AMAZING!!- just thinking about it makes my mouth water!
Seriously if you are planning a getaway and unsure of where to go, you should seriously consider Newport Beach.  There is always something to do, for all different people. From the sun and sand, to the awesome night life; Newport Beach has something for everyone.  Enrich your senses with a bit of Southern California beach life- from eye catching beach views and amazing sunsets, to sweet smelling scents of the coastline, or savoring your taste buds with amazing food, wine and cocktails at the many restaurant, all the way to feeling the waves crash and you toes wiggle in the sand. Newport Beach is a great place to come out and visit, or if you live in Southern California a great place for a weekend getaway- staycation style! I promise you, YOU will fall in love and never want to leave. So what are you waiting for? Visit Newport Beach NOW…
To help plan your Newport Beach Getaway HERE are some helpful tools:
Looking for GREAT food and dining? Then check this out HERE
Looking for AWESOME activities and beach fun? This is for you HERE
Looking for a STEAL of a DEAL? Then check this out HERE
Happy Getaway planning! Have you vacationed or visited Newport Beach? What was your favorite place to visit or activity to do? Let me know in the comments below…
* All photos courtesy of Visit Newport Beach. 
[ReviewDisclaimer]
Balboa Boat Parade Balboa Island Fashion Island Newport Beach Visit Newport Beach