Happy Friday everyone- I cant believe this year is flying by so fast. OMG!! Welcome to this weeks edition of the Beauty Behind The Blog series. If you havent had a chance to check out the past few weeks- click here.  This week we are chatting it up with Stephanie Louise from the lifestyle and beauty blog Stephanie Louise: All Things Beautiful.  She is a jack of all trades: military wife, fur-baby mommy, social media consultant and beauty, lifestyle and health blogger. Basically she is one busy busy lady. So without further ado, its time to meet the lovely beauty behind Stephanie Louise: All Things Beautiful...
How long have you been blogging? My first post was published in 2011 but I feel like I really hit the ground running in 2012.
Tell us a little bit about the Girl Behind Stephanie Louise:All Things Beautiful? I grew up in southern California & married my husband in 2008. Since he's in the Air Force I work hard to create hobbies & loves of my own- he deployed & went on business essential trips from the beginning. I am really close with my family & blogging really helped me connect with people who have similar interests. I absolutely love blogging but I also do a lot of crafting, cooking, & I'm a huge animal lover. Most people know me best for my nail polish & makeup collection- but I'm more than meets the eye!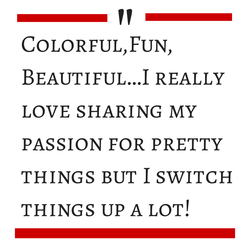 If you had to choose three words, how would you describe your blog? And why? Colorful, fun, & beautiful. I really love sharing my passion for pretty things but I switch things up a lot! One day I want to wear something simple & the next I can't imagine not incorporating every color in the rainbow. & glitter.
What kind of content can readers find over on Stephanie Louise: All Things Beautiful? You'll find lots of reviews, nail polish & art, makeup looks, & a sprinkling of fun giveaways.
What made you start blogging? I always knew I wanted to write but didn't know how to incorporate it into my military-based life. It is something I've been able to take from state to state that is my own- & I've gained so many friends & readers along the way!
What inspires you when you curate a post? Everything from the type of glitter on a picture frame to requests from readers. I like a little (or a lot!) of everything.
What are a few tips and tricks you have learned since blogging?  I've learned how to create my own personal perfect winged eye, that everyone has flaws, & most importantly– eyebrows are sisters & not twins. Many a sleepless night was spent tossing & turning over that one.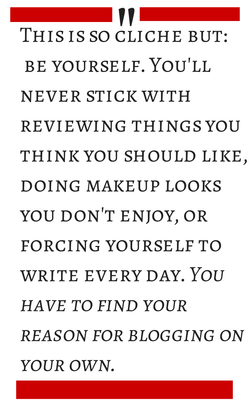 What advice would you give to someone who was starting out in the blogging world? This is so cliche but to be yourself. You'll never stick with reviewing things you think you should like, doing makeup looks you don't enjoy, or forcing yourself to write every day. You have to find your reason for blogging on on your own. *#TRUTH*
Walk us through a normal day over at Stephanie Louise: All Things Beautiful? 
When I first wake up I immediately check emails, try to respond to comments across my channels, & lay in bed as long as possibly. Thank goodness for cell phones. I brew myself coffee or tea while I check out the latest youtube videos then head in to either start swatching or set up a new post. Throughout the day I'm on any & all of the social media accounts- especially Instagram lately! After a post is up & ready to go I wait for some daylight (fingers crossed) so that I can swatch polishes, prep products, or get a makeup look on to shoot a new video. Pretty normal day for me! By the end I'm tired, need to moisturize my cuticles, & if it's Wednesday I'll be throwing a
#maskwednesday post up on Instagram
to get me over the hump. But I wouldn't change it! Because I also write a lifestyle blog over at
Home in High Heels
I am sometimes "working" through dinner as well to share recipes! *
Oh and are the recipes yummy- Pinterest has them
here!
*
Ok time for a super serious question- If you were stranded on a deserted island, what are 3 beauty products that you couldn't live without? And Why? Sunscreen- likely the Algenist Daily Fluid with SPF 50 because I desperately need SPF every day I plan to see the sun. I would probably go with the Lorac Pro to Go Palette for the eyeshadows & blushes. Plus it just suits me. The idea of choosing between concealer, mascara, & a lip product is boggling…so I guess if I was deserted I'd get rid of Lorac pro to Go & go with Rose Salve for my cuticles, lips, & eczema. & the last thing would be…body lotion? Detangler for my hair? Holo nail polish to make me happy on a horrible lonely island? This is a hard question & now I've over-analyzed & I'm done! *a girl after our own heart… beauty obsessed!!*
 Hope you all enjoyed enjoyed this week's edition of Beauty Behind the Blog, as much as I have. I seriously love getting to share all my favorite beauty bloggers with you all. To keep up with Stephanie and all her beauty enabling check her out by subscribing to her channel on YouTube, follow her on Bloglovin, ask her questions via Twitter  and Google +,  or view all her beauty enabling in action via Instagram, Facebook and Pinterest. 
Beware she is full of beauty and health enabling….Don't say I didn't warn you! Have a wonderful weekend!!