Avid readers of my blog, know that this year I decided to make a serious effort to improve my skin and my skin care regimen. At the beginning of the year, I started to dabble into serious facial oil territory. Wedged into the combination skin type, I used to freak out at the idea of a greasy t-zone and considered the only things to get lathered on my face to be oil-free. Well man oh man has that seriously changed as I have fast forward into the present day, and beginning using facial oils daily. With the daily demand to add some serious water intake to my routine, and of course age catching up to me- my complexion has been in dire need of some oomph- hence the facial oil situation. Layer upon layer of skin care and finding the right facial oil for my skin type took much trial and error- but alas, I found it, and its time I share with you Face Off of the Oils for all skin types….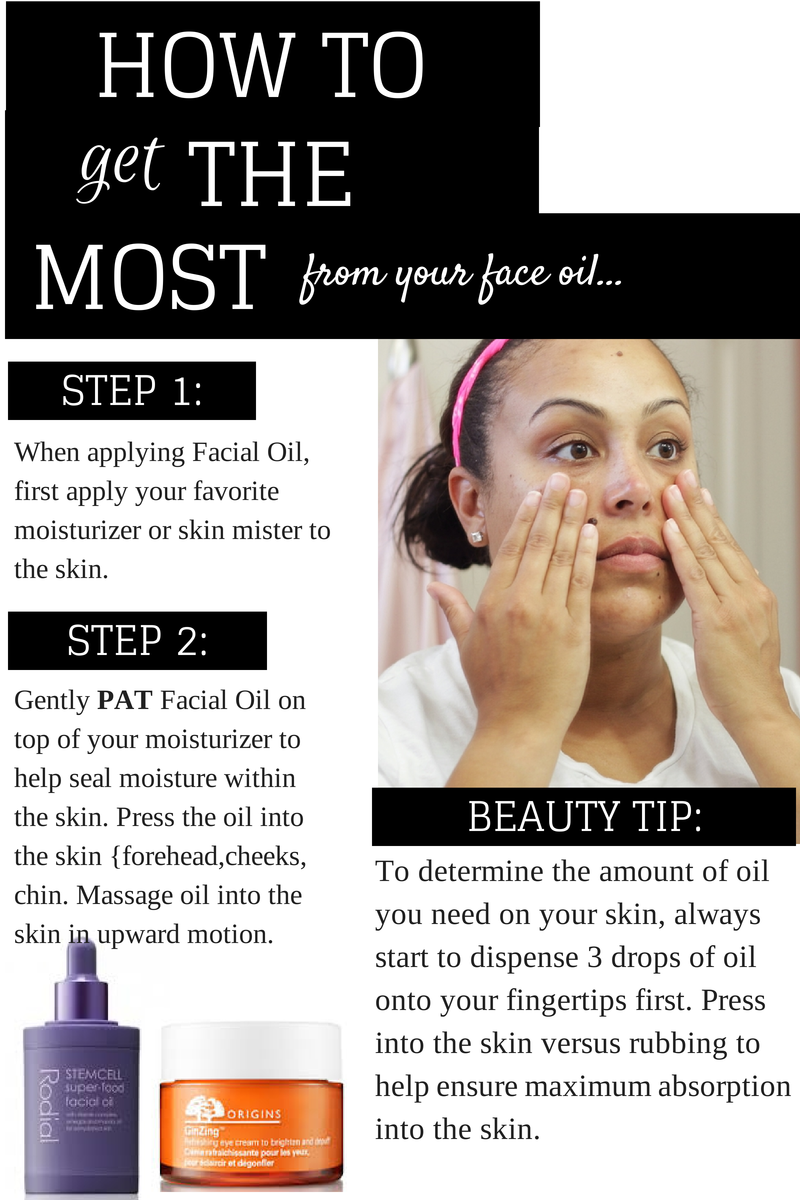 Three oily ointments may seem a bit excessive- I know, I know- I got a bit carried away. However my skin has been doing some serious surprising lately upon waking up. One day I am stressed and lovely little bumps a la hormone action appears, some days I am lacking a bit of oomph and radiance, and on other days I am having a indescribable dry/normal(ish) with a bit of excessive sebum style day. However my trio of oils have helped my skin start to repair, hydrate and balance all accordingly to the mood of the day. No complaints here… For my skin its a combo of Rodial Stem Cell Super-Food Facial Oil on days I need some hydration, Clarins Lotus Face Treatment Oil for the days of the greasies and Caudalie Polyphenol C15 Overnight Detox Oil for the days I need a bit of extra help. All three of these are quickly becoming solid skincare staples and help rebalance my skin accordingly-love. Lets get on to the breakdown of the best of the best for your skin type- in my opinion of course.
Oily Skin: Clarins Lotus Face Treatment Oil– $52 USD. This purifying oil helps hydrate, tone and balance the skin- especially oily skin. The unique combination of Geranium and Lotus helps tighten the pores and improve the skin texture all while soothing, sealing and locking in moisture without over moisturizing. I am loving this oil as it has been helping balance my skin.
Stressed Skin: Caudalie Polyphenol C15 Overnight Detox Oil– $52 USD. This oil serious ROCKS! OMG- this 'reset' button oil helps normalize the skin, eliminate impurities, repair daily damage and helps reinvigorate the skin to help restore the complexion to its normal state. Super nourishing this oil, helps replenish and repair the skin overnight. I have been turning towards this oil on days I feel lackluster or when my skin is in need of major detoxing. Full of antioxidants this facial oil helps soothe, soften, hydrate and add some glow and vitality to the skin literally within hours overnight. Obsessed with this oil!
Dehydrated Skin: Rodial Stem Cell Super-Food Facial Oil– $80 USD. Dehydrated skin beware, cause your last days are here. This facial oil is infused with vitamin complex, omega 3, 6, and 9 as well as vitamins A, B, C and E will kick dehydrated skins butt. Quick absorbing this facial oil deeply nourishes the skin while rejuvenating and protecting skin from the daily environment- adding some oomph to help reduce wrinkles and improve vitality. A bit on the pricey side this oil is dreamy!
Damaged Skin: REN Omega 3 Overnight Lipid Skin Renewal Serum Oil– $45 USD. This serum like oil smells hands down PHENOMENAL. It helps restore suppleness to the skin and helps protect from any future damage. This oil helps boost the skin's barrier overnight, infusing the skin with essential fatty acids to help protect it against any premature aging all while you sleep leaving skin soft, supple and hydrated. Simply AMAZING!
Congested Skin: Sunday Riley Artemis Hydroactive Cellular Face Oil– $125 USD.  This oil deserves serious cult status. A favorite of many celebrities, this facial oil unifies and purifies the complexion. It boost the skin and tones it with a bit of much-needed luminosity. Light on the skin, this oil absorbs instantly to swiftly rebalance the skin and add some elasticity. This oil helps stimulate toxic fighting enzymes to help keep the skin blemish-free by purging pores of impurities and soothing any redness or irritation. This oil tones, detoxifies and clarifies the skin for a perfect, radiant glow- no wonder it is Blake Lively, Victoria Beckham and Olivia Palermo's favorite.
Mature Skin: Sunday Riley Juno Hydroactive Cellular Face Oil– $125 USD. Mature skin needing a bit of rejuvenating should turn to this oil as it help deliver intense radiance to enhance and help bring alive a dull complexion. Vitamin C, Essential Amino Acids and Omega's 3,6, and 9 this oil brings serious life to dull, tired skin. It brings a much-needed dose of nourishment and vitality to mature skin like no other and provides a bit of natural UV protection. love it!
Vegan Pick: NUDE Skincare Progenius Treatment Oil– $39 USD. This hydrating facial oil is perfect for all ski types. Omega's 3, 6, and 9 help instantly smooth, nourish and support skin. This oil helps transform the skin by balancing, renewing, reducing redness, repairing, hydrating and moisturizing the skin and restoring elasticity. Simply divine.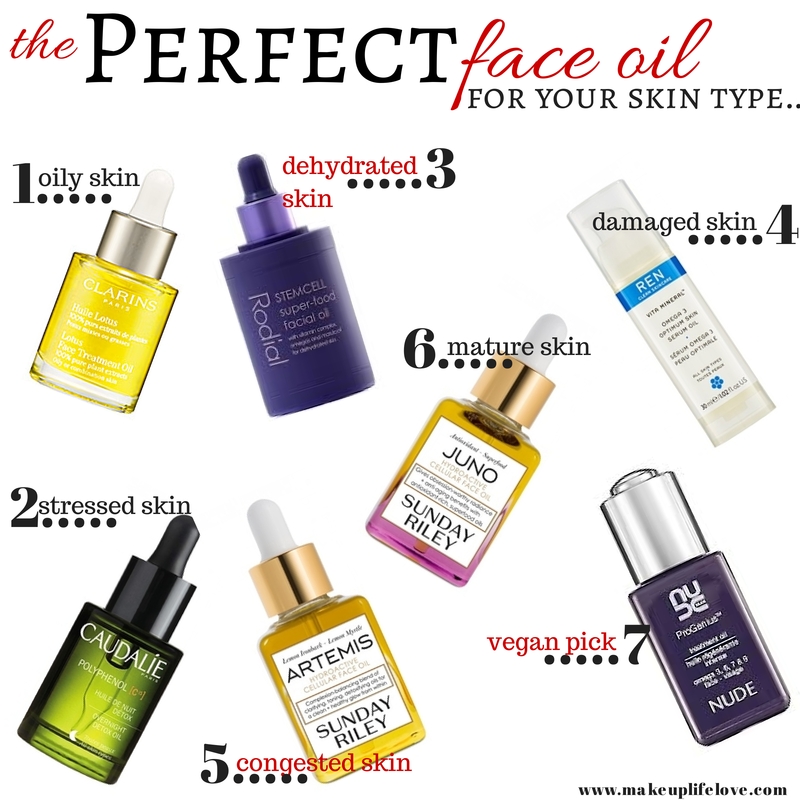 So there you have it. A solid roundup of facial oils to help treat any skin type. From oily to mature; to dehydrated to a Vegan choice these facial oils will help improve the skin and add some much-needed moisture or re-balancing.  Healthy, improved skin has been my goal, I tend to stick to the oil approach in the evening. Warming up 3 drops onto the fingertips and pressing into the skin post cleansing, serum and moisturizing. Every once in a while I add a bit of souped up mixture to my morning skincare when in need of some major oomph. All I can say is halt the skin stripping and bring on the oil….
Have you tried facial oil? What is your favorite?
[ReviewDisclaimer]