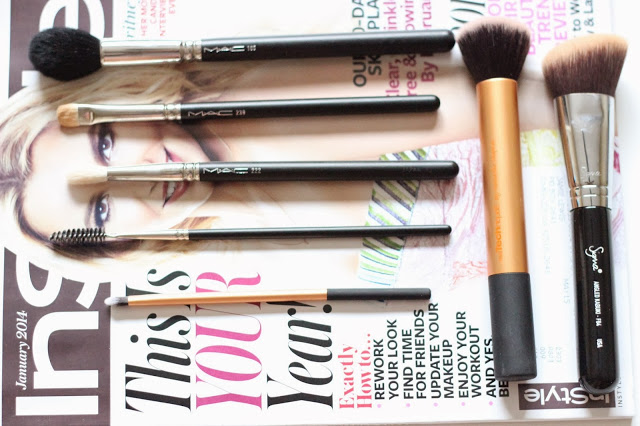 About a week ago, I was working on consolidating my beauty routine. I was trying to figure out what to throw into my makeup bag for daily use and what I can live without on a regular. Then something dawned on me… besides having too much makeup and products alike. I have a crap load of makeup brushes. Filled neatly to the brim on my makeup table, I realized- although you have 50 brushes in your reach at all times… do I actually use them?  Going out of town for a day or two, and bringing literally a buffing brush, and an eye shading brush- showed I can live without 50 brushes in front of me. So the question I began to ask myself is- What makeup brushes do you really need?Well I'd like to share you my beauty brush edit of seven… stay tuned…
7 Makeup Brushes You Need NOW!
First things first- The Flawless Face Brush, aka- Sigma Beauty F84 Angled Kabuki Brush– $21 USD. This brush hands down holds a dear place in my heart. Applies foundation to the skin effortlessly, leaves skin looking airbrushed, and makes the heart to reach areas like under the eyes, in the corners of the nose – easy to reach in a pinch. Basically this brush is a MUST HAVE!
The Buffing Brush, better known as Real Techniques Buffing Brush– $18 USD. This brush whips cream products on the face like no other. I use it for concealer, cream blush and cream bronzer, and let me tell you it words wonders. The only problem I have with this brush, is in order to get it you must buy the Real Techniques Core Collectionwhich isn't such a bad things, as the brushes in the collection are quite great-  but I do wish it was sold separately.  
The Powder Brush, a.k.a MAC Cosmetics #109 Small Contour Brush– $35 USD. This brush to me is just AWESOME. Contours like a champ. Throws blush on the cheeks with the best of them. And applies highlighter to the skin like no other, and can add powder on the most needed places while leaving skin just brilliantly beautiful. This brush is. The.Best.EVER!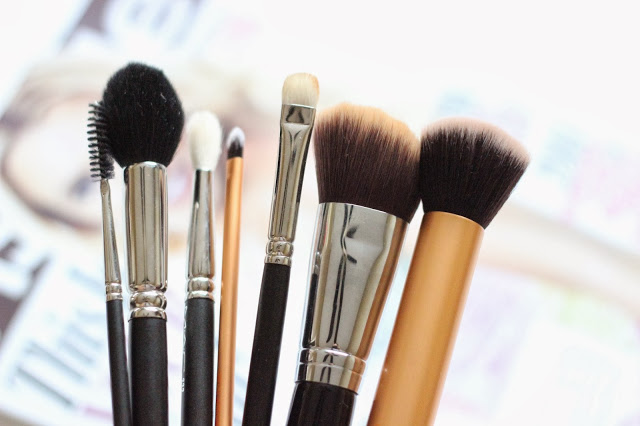 The 'Lasting Punch' Brush– MAC Cosmetics #239 Eye Shader Brush– $25 USD.  This brush is one of my all time favorites. It's the perfect size to add a lasting punch to the eyes. Its dense fibers make it a great one to pack on the pigment without leaving fallout. It hits the lid with the best, and the square shape makes it a prime choice to lay down some serious color.
The Fluffy Brush, otherwise known as MAC Cosmetics #217 Blending Brush–$24USD. This is aka- the best brush ever. You know the one? The eye brush of all eye brushes, the one brush that has you covered from blending in concealer perfectly, to blending in all shadows on the eyes. It is large enough to whip out a solid wash of color on the lid and pointy enough to ensure that you can add some depth or a la smokey eye action without getting color everywhere. This brush is a hands down MUST!
The 'Spoolie' Brush- MAC Cosmetics #204 Lash Brush– $15 USD.  I am a HUGE lover of the spoolie brush. I have gone through many of these as they are amazingness to have on hand. Overzealous eye brows- check.  Spider like lashes need a fixing- check. This brush has you covered. It even helps for those stubborn baby hairs you sometimes have that need a taming.  Check this brush has it covered.
And last but not least The Tiny, Tiny Brush- Real Techniques Detailer Brush– $18 USD. Another brush that comes part of the core collection- but works wonders on the lips, eyes, and face. For the eyes it adds the best amount of depth to help smudge liner, add inner eye highlight while for the lips it is the perfect lip defining brush. For the face it helps add precision to concealing and leaves skin flawless. Its small and it is definitely one to keep in your beauty arsenal as it can do many things.
So there you have it- Seven brushes- nothing more, nothing less.  A load of multi-tasking and endless opportunities of defining looks. Whether you fancy a smokey eye or a bright lip- I think your makeup bag just got a lot more streamlined…