Disclosure: This post has been brought to you in a collaborating partnership with Body Lab and its products. All thoughts and opinions are my own.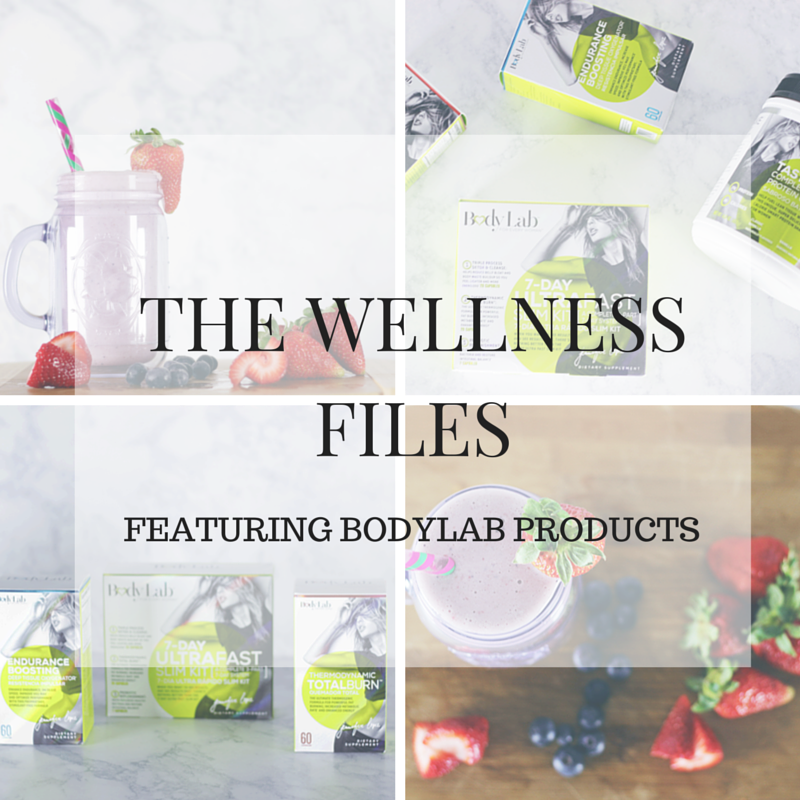 So we have finally reached spring, which in return means warmer weather across the United States- finally! However with warmer weather comes the urge to up your usual gym routine and regimen to prepare for bathing suit season. So this month I have been making an effort to incorporate a few new things in my daily lifestyle to not only prepare for the upcoming bathing suit season, but to be overall healthier in general. I was recently asked to incorporate a few new products in my jumpstart to get healthy, and with that being said I introduce you to a new series I'd like the call The Wellness Files. The idea for The Wellness Files came upon as I start to get more serious about diet and exercise behind the scenes of Makeup Life and Love. This will be a new category that will drop bi-weekly on Monday packed full of fitness tips, tricks, accountability check-ins, and overall a healthier lifestyle. So are you ready for round one? I sure am, here we go….
Now I have always led a pretty active lifestyle from my youth thanks to cheerleading all the way into college, but of course as I inch a year older, start to work longer hours- fitness has taken a bit of a backseat to just life in general. Recently I heard of a new product endorse by the one and only Jennifer Lopez. Now if you are an avid reader of this here blog, you know how much I girl crush on Jennifer Lopez. For me anything that Jennifer Lopez is a major part of, I am totally in. So when I was given the chance to team up with Body Lab in an effort to get healthier, and lose weight- I was IN! Like jumping for joy-IN! You are probably wondering-What is Body Lab? Body Lab is an innovative, research-based line of health and fitness formulas designed specifically for a woman's body. The line of products are all made up of a unique bend of plant based compounds that do NOT contain creatine, anything to cause big, bulky muscles and best of all- the products do NOT contain anything that can wreck havoc on a woman's hormones. Body Lab is created by women for women. Needless to say I am EXCITED for this journey with Body Lab and more importantly excited to check in with you all bi-weekly to hold myself accountable and share some tips and tricks I have learned across the way. So lets kick the first Wellness Files off with a few tips and tricks I have learned as well as a run down of the products I have been testing this month.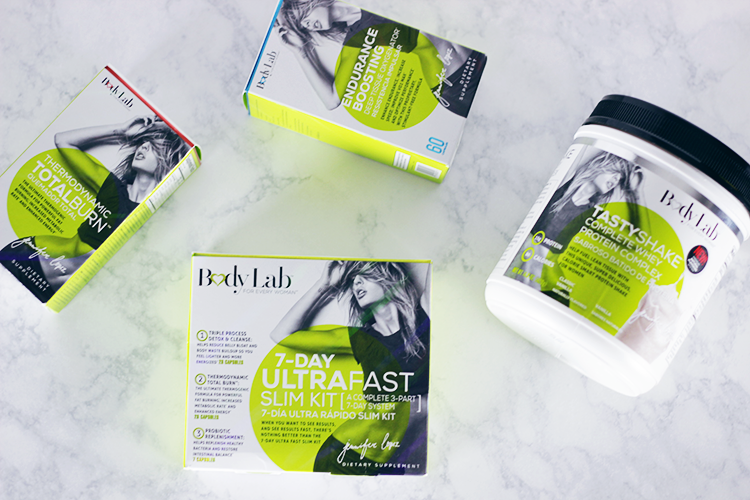 THE 7 DAY ULTRA FAST SLIM KIT-$29.99USD– Sometimes in order take the leap into fitness and change you NEED- raise hands high- a kick in the butt. Body Lab 7-Day Ultra Fast Slim Kit– is that product YOU NEED! This quick 7 day kit features a bit of key tools to help with your weight loss. In the 7-day kit you receive: 28 capsules of the Triple Process Detox & Cleanse– this helps belly bloat and allows the body to rid itself of waste buildup so you will feel lighter and more energized as the day goes on. You also get 28 capsules of the Thermodynamic Total Burn– this product is AWESOME! Powered for fat burning, increasing your metabolic rate and enhancing your energy all without giving you any weird jitters and side effects. I am LOVING this product. Last item in the 7-day kit is 7 capsules of the Probiotic Replenishment- now you all know we need that healthy stomach bacteria, well this is it. The Probiotic Replenishment helps replenish the healthy bacteria and intestinal balance that our bodies need. The best thing about this kit is that it is affordable, and gentle on the stomach. It is the perfect companion to help jumpstart any fitness journey. After the 7 day slim kit, I can happily report I have lost 5.5 pounds- not too shabby if I might say so myself.
THE ENDURANCE BOOSTING DEEP TISSUE OXYGENATOR- $29.99 USD- Now this product might sound a bit strange but let me just say HOLY WOW it is awesome! The deep tissue oxygenator helps enhance your endurance, increase your speed, and optimize your performance. It reminds me if Red Bull was in pill form, how it would work. A unique blend of Vitamins B1, B2, B6, B12, Coenzyme Q10, Ginko Biloba, and more- this stuff literally helps you power through those workouts when you want to quit. You take this supplement 1 hour before working out, and I promise you- you will want to ALWAYS take it when you workout. Quitting is not an option as this helps you perform better overall. It seriously ROCKS!
THE TASTYSHAKE COMPLETE WHEY PROTEIN COMPLEX IN CLASSIC VANILLA- $21.99 USD– Now you're probably thinking-Jamie it is just another protein shake, not too cool. Well you are wrong. This is hands down one of the best tasting protein powder I have EVER tasted. It smells like a sweet cream dream and tasted like ice cream. It is SOOOOOOOOO good. Besides tasting good, the TastyShake Protein Complex in Classic Vanilla helps fuel tissue with a unique blend of adequate protein featuring 15 grams of high quality whey protein that is less than 100 calories per serving. It helps prevent muscle loss during weight loss, promotes recovery after training and overall helps with the female body getting toned. I am so obsessed with the Classic Vanilla, I want to give the Chocolate Fudge a go- I am imagining it tastes like a chocolate brownie. Lately I have been incorporating what I like to call the Strawberry Sunrise Protein Shake into my every morning routine. I have more energy throughout the day and feel less bloated overall. It's super simple and quick and can be used as a meal replacement.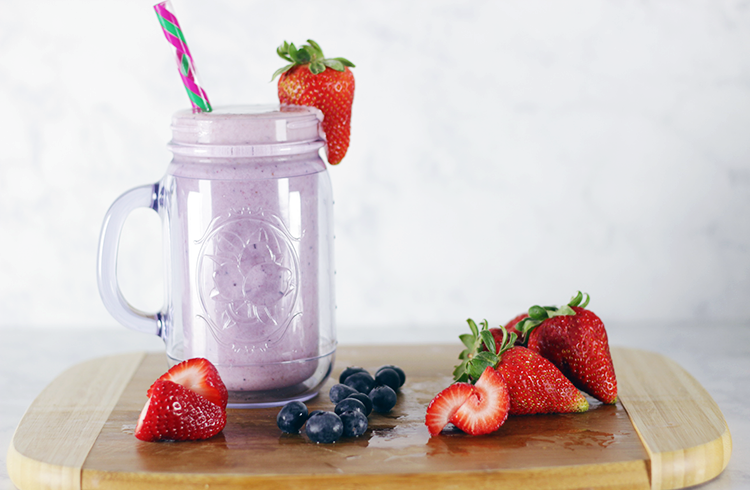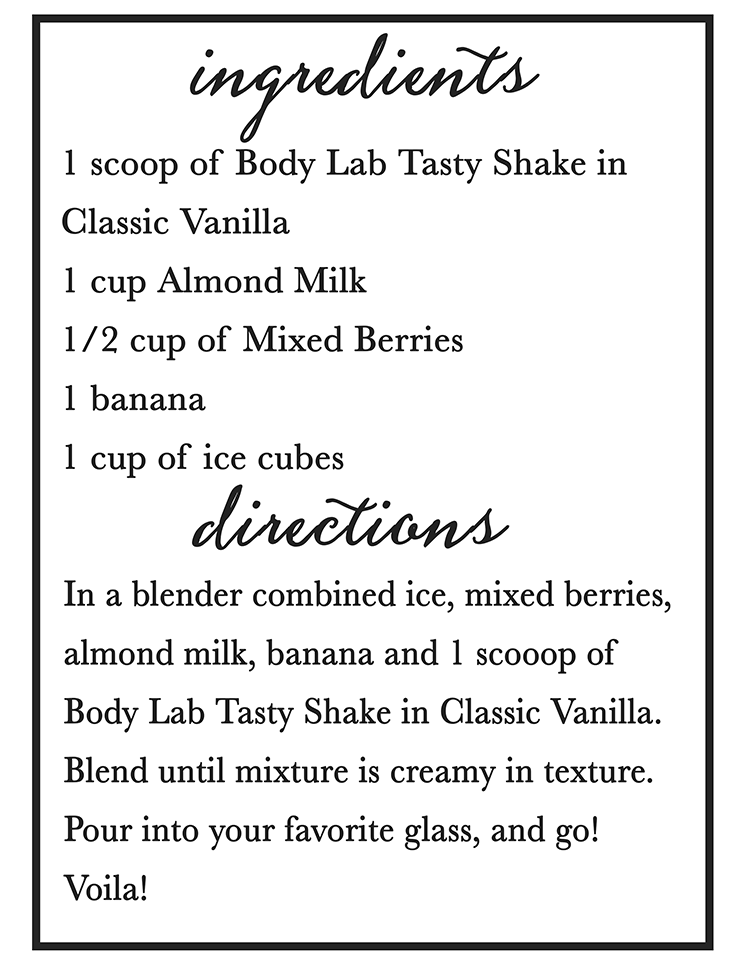 All and all I have been loving the Body Lab products so far, and I cant wait to see what happens when I check in with you all in 2 weeks. At this moment I am down 5.5 pounds and cant wait to see what 2 more weeks bring. Time to run as I am off to take my Endurance Boosting Deep Tissue Oxygenator before bootcamp case. I NEED that extra energy tonight- LEGS!!!! Eeeeekkkkk… fun times…
RIGHT NOW- As a special bonus to my readers Body Lab has give a AMAZING deal. Right now head over to there website HERE to save 25% off PLUS FREE shipping with code: LIFEANDLOVE25. What are you waiting for? No excuses!!! Let do this journey together!
What are some of your weight loss tips and tricks? How do you incorporate fitness into your daily routine? Let me know your tips in the comments below…
*PR SAMPLE
Disclosure: This post has been sponsored in a partnership with BodyLab. All thoughts and opinions are my own.