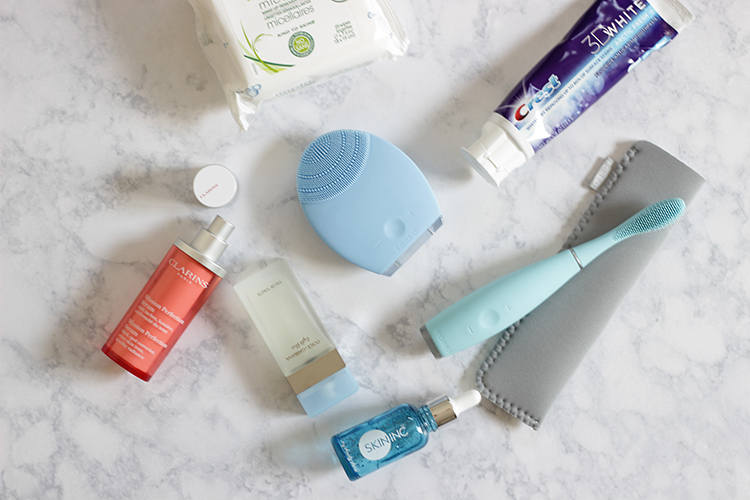 It's almost back to school time y'all, and what better way to jumpstart the new school year then with a perfect smile. A few weeks back I raved about my new favorite face cleansing tool, well today I am here to tell you about a whole new kind of a toothbrush. 'A toothbrush, Jamie?' Yep you heard it right- a toothbrush- hellloooooo what other way can you jumpstart the school year with a perfect smile without a toothbrush! I know it doesn't sound all that glamorous BUT let me just say the Foreo ISSA * is a whole new kind of a toothbrush, ready to see it?
First things first, the Foreo ISSA *-$199 USD, is a hands down revolutionary toothbrush that not only looks different then your usual toothbrush but it also feels completely different as well. At first glance the large headed, silicone brushed brush looks like something that you would see in movies like Men In Black or Back To The Future, and not your usual Sephora store. Available in four fun shades ranging from lavender, mint, cobalt blue and cool black and available in two different sizes: normal- for adults and mini- for children, this toothbrush might just become the new wave of the future. As stated in my review of the Foreo Luna, Foreo is a brand that is full of innovative solutions that combined high-intensity pulsation technology with a gentle, non-abrasive and effective method to suite your beauty needs.
THE BASICS
Foreo ISSA * is one of the newest dental care technology gadgets to hit the market. As you all know most people tend to over brush their teeth. No I don't mean like brush too many times a day- is there such a thing? I mean most people tend to use super harsh, damaging bristles that when used over time can cause receding gum lines and broken down enamel. A usual toothbrush bristle comes in 3 different varieties- soft, medium and hard/firm- I for one, have the preference of using a medium bristle as I tend to feel that I need that brush head for an optimal feeling of clean teeth. The Foreo ISSA * takes the decision making out of the process and gives you one standard option of a brush head. The Foreo ISSA * is a designed to help clean teeth and massage the gums for optimal teeth health. The design of this toothbrush is very aesthetically pleasing with its unique design that just looks AMAZING sitting in my bathroom. A ultra-hygienic, nonporous silicone brush compliments the sleek and innovative design to a tee. One thing that I am OBSESSED about when it comes to this toothbrush is that it only needs to be charged 1 time every 6 months- yep you read that right- 1 time every 6 months- where other chargeable toothbrushes have to be constantly charged in order to not be mid-brushing with a dying toothbrush- its happened to me many times. The brush head on the Foreo ISSA * also doesn't need to be changed every 2-3 months per a regular toothbrush, instead this long lasting, chic toothbrush only needs to replace the brush head every 6 months for a price of $25 USD for both the mini and standard sized brush heads. Sounds amazing, right? Well let's break down a few key pros and cons for you:
THE PROS
Gentle on the teeth and literally massages gums like a dream
Each charge lasts for 365 uses which when you brush your teeth 2x's a day it equates out to 6 months before needing a new charge
A sleek, ergonomic design that travels like a dream come true an helps adapts to your tooth's surface and reach the most-difficult-to-reach areas with its 3D flexibility
Pulsating action that reminds users to brush a new quadrant of the mouth every 30 seconds and signals you when a two-minute brushing routine is complete
Eight adjustable speeds/pulsation varieties
Free of BPA and phthalates
THE CONS
The price of the toothbrush is a bit steep. Costing $199 USD for the standard size and $119 USD for the mini/children's version
Since it a gentle, it might feel like it is TOO gentle for some that are used to a more abrasive method to their tooth cleaning routine.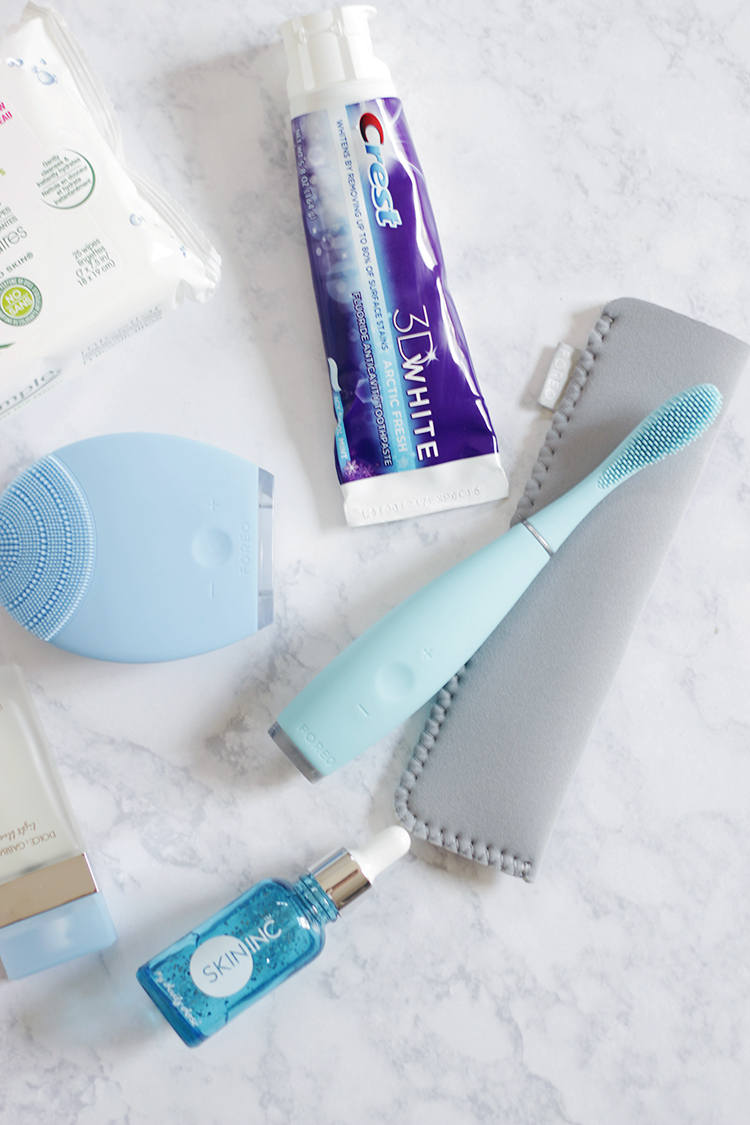 So with that being said, I have been using this toothbrush for about 5 weeks now, and I can honestly say after a rough patch of hating it and feeling like I needed a more rougher brushing, I am starting to see why it is a awesome thing to replace your usual toothbrush. I at times have super sensitive teeth, which my previous sonic care toothbrush was a bit TOO harsh for- leaving me at times with even more sensitive teeth, with a side of sensitive gums as well. With the Foreo ISSA *, I have not once felt that this toothbrush was harsh at all, if anything I felt that it was overly gentle and at times felt I still needed to brush my teeth after using it. Fast forward to various trial and error pulsations and speeds I think I finally have found my perfect match at the highest speed/pulsation- my teeth are most definitely happier, cleaner and according to my dentist my teeth and gums are in overall better shape since I am no longer brushing my teeth overly hard. Paired with a healthy flossing routine, a solid 2-minute teeth cleaning with a gum massage across the top of the gum line, a good mouthwash and a once a week deep brushing, I am starting to dig this toothbrush. Dare I say it, I actually at times look forward to brushing my teeth…
[otw_shortcode_divider margin_top_bottom="30″ text="SHOP FOREO ISSA" text_position="otw-text-center"][/otw_shortcode_divider]

* PR SAMPLE
[ReviewDisclaimer]