A big Thank You to Clinique for sponsoring this post and a huge thank you to you all for supporting the sponsors that make Makeup Life and Love possible. Some items were provided for consideration. All thoughts, tips and opinions are my own.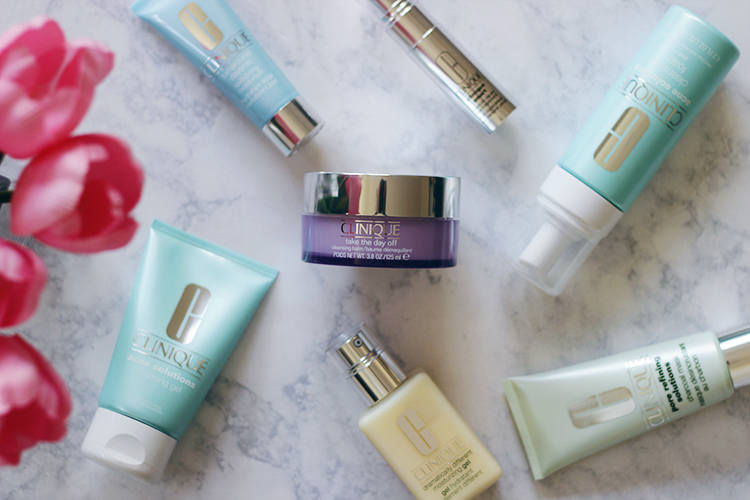 Let's take a minute and chat a bit about skincare. You are probably all thinking- more skincare, Jamie? I know, I know I have been chatting a lot lately about skincare, as my quest for perfect skin is never ending- duh! In all seriousness when it comes to skincare, finding the perfect regimen is often quite a complicated and confusing matter- I mean seriously EVERYONE has different skin types, skin concerns, textures and tones. A while back I talked about my Clinique counter experience with Clinique Beauty Educator Sandra Beltran and the importance of finding a great skincare regimen that works and suites all your skincare needs and concerns. Back when I first started to get into skincare and makeup, my first stop with my mom was the Clinique counter to snag a beautiful compact and a 3 step skincare system to jump start my skincare regimen.
Fast forward many years, and I have had plenty of trial and error in the skincare department. I have tried the trends of Korean skincare, I have tried to streamline my skincare regimen and even managed to accidentally burn my skin with an at home facial peel- yes that really happened, and it HURT! However after my counter meeting with Sandra, I think maybe just maybe the days of random skincare issues a la breakouts and dark patches, might just be coming to an end. So with that being said lets jump right into the Skin Care Basics with a bit of help from Clinique and the Clinique 3 step skincare system.
CLEANSE
Cleansing the skin is always SUPER key in any skincare regimen, especially the Clinique 3 Step Skincare Routine. It is extremely SUPER important to always pick a cleanser that is suited for your skin type. For me lately as I am getting older, I am dealing with a bit of adult acne- and let me tell you- the struggle is REAL! TIP: For the oily skinned gals think gel cleansers, foaming cleansers and oil based cleansers- these usually help balance the skin and control over production of oil. For the dry skinned gals a great cream cleanser, mild liquid cleanser or a cleansing balm usually will work the best to help add some solid moisture into the skin.
So in the mornings I follow a simple routine of cleansing the skin with a bit of help from the Clinique Acne Solutions Cleansing Gel*- $20 USD, this stuff is AMAZINGNESS on the skin. This gel cleanser seriously is doing a great job at helping treat, prevent and clear any breakouts, blackheads or hormonal acne that my skin might have waiting to surprise me. I love that I can use this gel in the morning and it leaves my skin-feeling super clean BUT not dry like other acne or blemish controlling cleansers do. It also has a bit of a refreshing feel to it, so for me it is the perfect way to start the day!
For the evening since I tend to rock makeup on the daily I tend to follow my double-cleansing method. What is a double-cleanse? Well a double cleanse is the perfect way to ensure that all the dirt, grime, makeup and the environment is removed from the skin by utilizing a oil based product that helps break down all the makeup. I reach for the Cliniqiue Take Off The Day Cleansing Balm*-$29 USD, let me just say this cleansing balm is a dream come true for taking makeup off and it does it without drying skin out. Apply to dry skin, rub in the skin allowing it to work its magic and break down makeup, sunscreen and grime, you just rinse with warm water and literally watch everything leave your skin. After this step I have been following it with the second part of the double cleanse by grabbing the Clinique Acne Solutions Cleansing Foam*– $20 USD. You all are probably wondering why I use a gel in the morning and a foam in the pm, well honestly it is just preference. I feel like the foam since it is a bit lights and fluffy, that after a good cleansing with the balm helps treat my skin all while ensuring the double cleanse is not stripping the skin of natural oils.
TONE & EXFOLIATE
The second step in a Clinique 3 Step Skincare Routine is to tone and exfoliate the skin. For my combination yet acne prone skin I have been reaching for the Clinique Acne Solutions Clarifying Lotion– $16 USD, this ultra gentle, non-drying toner ROCKS my world. It contains oil-absorbing powders within the toner that help keep oil at bay- hello no more 12 o'clock noon shine action- and it helps exfoliate and tone the skin all while unclogging the pores and reducing oil. I apply this to the skin with a cotton ball, and let me just say it leaves the most refreshing feeling to the skin EVER!
MOISTURIZE & HYDRATE
The final step in Clinique 3 Step Skincare Routine is to hydrate and moisturize the skin. For me my skin finds too much benzoyl peroxide drying so for moisturizer I use the Clinique Dramatically Different Moisturizing Gel– $26 USD, now this my friends your skin will drink it up and it will drink it up fast! This super light and quick absorbing gel leaves skin soft, supple and never greasy. I love the feeling of being able to go all day without feeling greasy and at the same time waking up in the morning to softer, hydrated skin thanks to this product. Needless to say I am OBSESSED and am not quite sure how I ever lived without this gel! TIP: For a extra treat especially in the SUPER hot weather you can put this gel in the fridge and apply to the skin for a hydrating and cooling moisturizer. Let me just say OMG- addicted!
SKINCARE EXTRAS
A few skincare extras that I have been using to accompany my Clinique 3 Step Skincare Routine are:
Clinique Smart Custom-Repair Eye Treatment*– $49 USD- OMG this eye cream is simply superb. I tend to have dark circles due to lack of sleep and this stuff helps not only keep them at bay, but it also helps protect the skin against crows feet all while defining and firming the eye area and brightening the overall area. I LOVE this stuff!
Clinique Turnaround Daytime Revitalizing Moisturizer in Golden Glow*-$38 USD- I have been adding a light dollop of this within my gel moisturizer on the days I didn't sleep well or look a bit run down. This stuff helps add a nice luminous but NOT disco ball glow to the skin, all while giving your skin a nice boost of hydration and radiance to help look like you slept a solid nights rest.
Clinique Pore Refining Solutions Charcoal Mask*-$25 USD- I have been using this mask for probably a year or so as a weekly mattifying yet exfoliating pamper. It helps draw all the skin impurities and deep seated debris from the skin to help ensure a clear, smoother, less congested look all while mattifying the skin and balancing it perfectly and reducing the appearance of pores. This is a MUST HAVE for acne prone, combination or oily skinned gals- trust me after one use you'll thank me!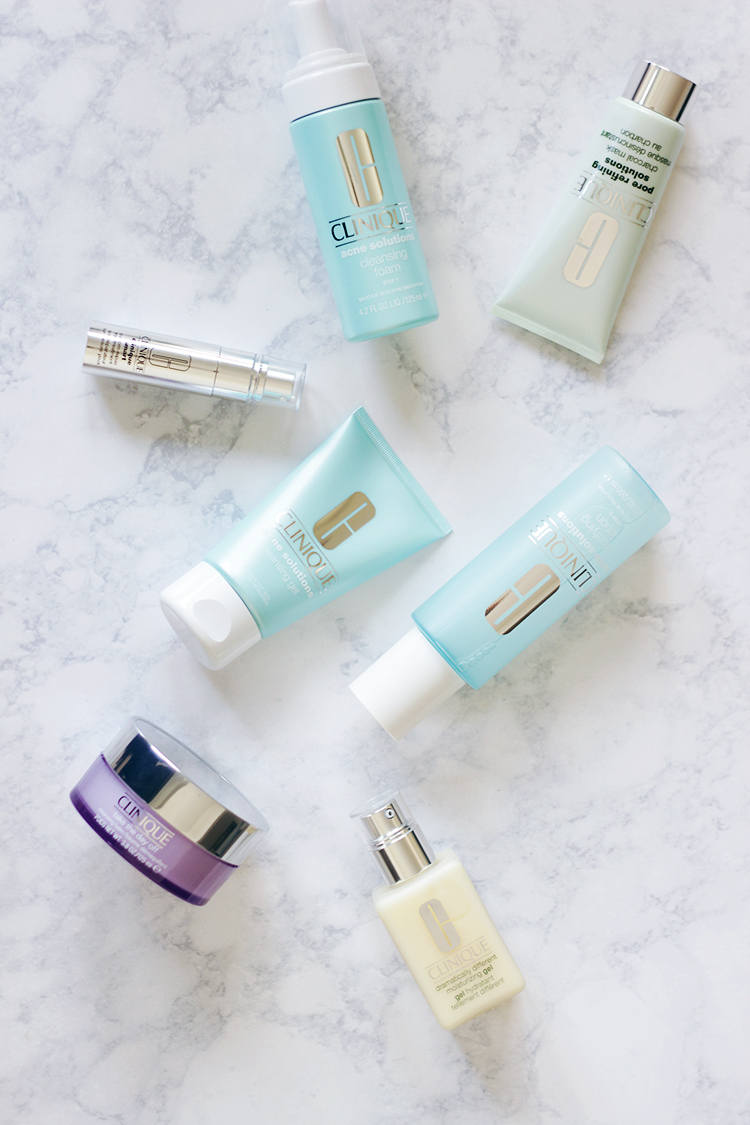 So there you have it a look into my new skincare regimen thanks to the Clinique 3 Step Skincare Routine. All and all, I am obsessing over my new skincare regimen and how it is addressing my hormonal acne all while helping ensure I am covered on the anti-aging front. My skin is hydrated in all the right places and dare I say it- behaving quite beautifully- adult acne might have just met its match…
Make sure to follow Clinique for the latest and greatest in lip popping beauty inspiration over on Instagram or send them a tweet over on Twitter. You can also search them using hashtag #Clinique
What are some of your skincare basics? Have you tried the Clinique 3 Step Skincare Routine? If so, what are your thoughts? Let me know in the comments below…
*PR SAMPLE

A big thank you Clinique for sponsoring this post. As always all thoughts and opinions are my own. Some items were provided for consideration.
[ReviewDisclaimer]