Whenever I mention the word "anti-aging", I often find myself worrying about finding the fountain of youth.  While I try REALLY hard to take care of my skin – although sometimes I slack a bit– I have to admit since I am in my mid-thirties I often wonder if what I am doing is an enough. So lately I have been on the quest for something to give me a bit of oomph to my existing skincare routine. That is until now, I think I may have found the best anti-aging skincare device EVER! Curious what it is? Let's jump right on in…

WHAT IS THE NEWA SKIN CARE SYSTEM?
Over the past few years, high-tech facial devices have hit the market and I have to admit, I often wonder if they live up to their claims. From infrared lights to help heal wrinkles, acne and more all the way to devices to help lift the skin with their futuristic designs.  Enter the NEWA Skin Care System, is the first at-home, FDA approved anti-aging skincare device that utilizes professional grade, patented 3DEEP™ professional aesthetic technology with radio-frequency-based technology that when used with the Lift Activator Gel is meant to stimulate/rebuild collagen production as well as lift, tighten, and reduce fine lines and wrinkles.
If I am being completely honest, I have to admit I at times I find myself obsessing over a single wrinkle- especially the half of the number 11's I have chilling between my eyebrows.  So I guess instead of 11, I have to say I have a 1 instead- either way it drives me insane. So when the NEWA Skin Care System dropped into my mailbox, I have to admit I was pretty darn excited to check it out.  I mean yeah, there are retinols, anti-aging creams, serums, etc- but for some reason, the thought of an at-home facial device that lifts tightens, and stimulates collagen sounds oh so much better.
HOW DO YOU USE THE NEWA SKIN CARE SYSTEM?
So I opened the box, stood in the bathroom and read the instructions on how to use the NEWA Skin Care System.  Five minutes later, I was plugged and ready to start. All it was going to take was just eight minutes a day (four minutes a day on the forehead area- to help with those 11's and forehead expression wrinkles; and another four minutes focused on the jawline and smile line area), five days a week, for at least one month to start to see a overall distinct difference. Eagerly I started to use the NEWA Skin Care Device as it warmed up on my skin with its gentle buzzing (the radio frequencies), not once did it hurt or get uncomfortable like I was expecting for it to- it was literally like a warm facial massage.  Eight minutes went by SUPER quick and I have to admit after the first use I was pretty impressed as my skin was almost instantly smoother looking and feeling. It was like it my skin was more plump and smooth- I was MAJORLY impressed and honestly couldn't to use it again.
Fast forward to a month later, and I have to admit this little anti-aging skincare device just might be the BEST one out there. I noticed when I used the device daily my skin looked amazing. My forehead lines and ½ of my 11 line looked visibly lessened and my skin overall was plump and radiant. My jawline also feels a bit more contoured almost if that makes sense, and I am VERY impressed for sure and can't wait to see what difference I might see over continuous use.  
While the NEWA Skin Care System is a bit on the pricey topping out at $450 USD, I have to admit the warm facial massage and my smoother, plumper skin and less noticeable ½ of my 11 makes it worth every single cent. The Lift Activator Gel is only $39 for when you need to grab a refill bottle of it. But honestly a little goes a long way, so I foresee, the Lift Activator Gel bottle that comes with the NEWA Skin Care System to probably last me at least 6 months of consistent, daily use.
IS THE NEWA SKINCARE SYSTEM THE BEST ANTI-AGING SKINCARE DEVICE?
My advice? If you are in your mid-thirties then this is a something that you TOTALLY need to try out the NEWA Skin Care System. If you are stressing out about getting or starting to see those pesky forehead wrinkles, laugh lines, and crow's feet but aren't looking to get into use Botox and Fillers just yet- then the NEWA Skin Care System is something you totally NEED. Is this the BEST Anti-aging skincare device I have tried? At the moment I have to admit YES! I haven't found anything else like it, or something else that works the way it does. The NEWA Skin Care System for me ticks all the boxes- and I think it is officially time to say bye bye bye to unwanted wrinkles!
PIN IT FOR LATER: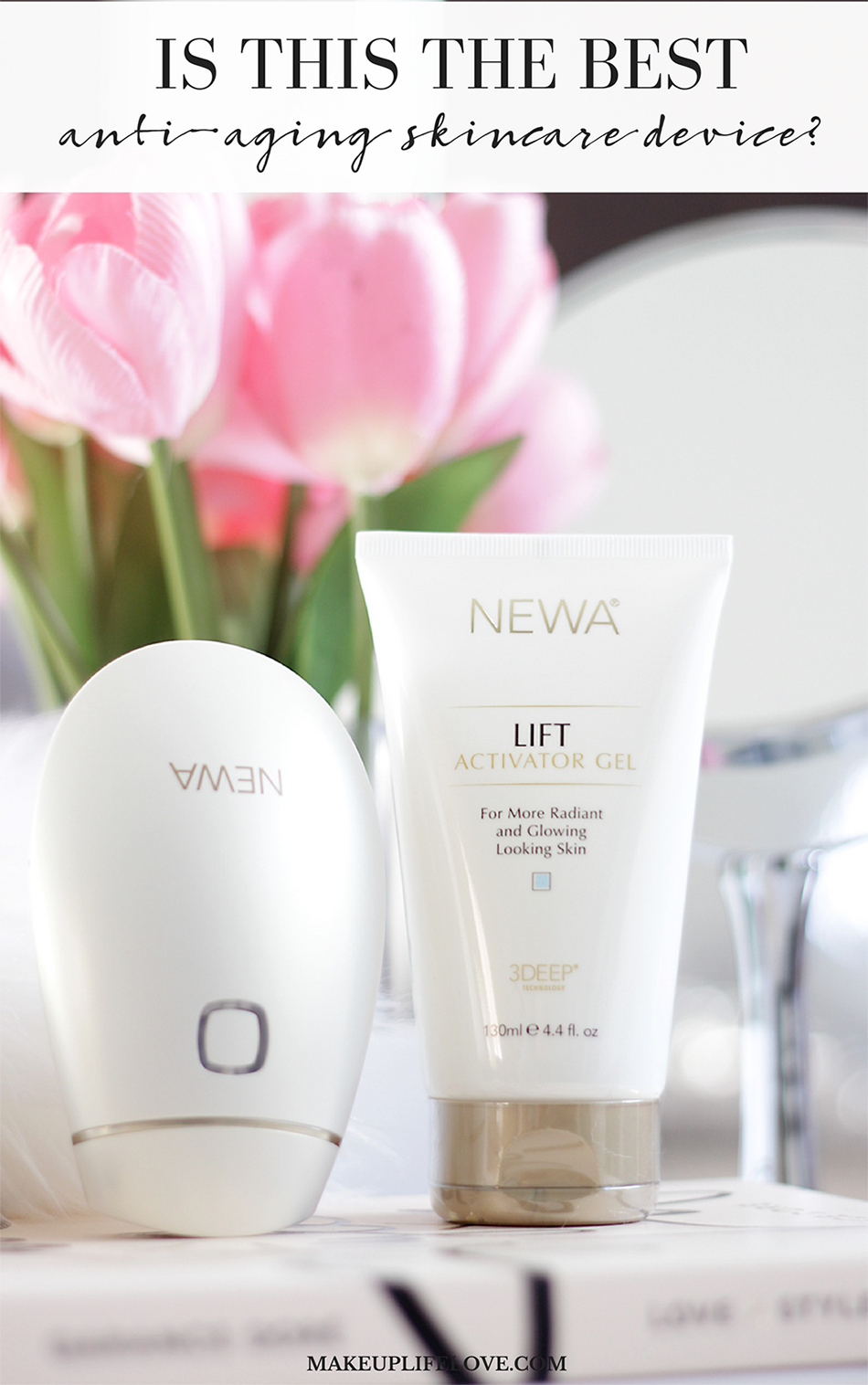 [otw_shortcode_divider margin_top_bottom="30″ text="SHOP THE NEWA SKINCARE SYSTEM" text_position="otw-text-center"][/otw_shortcode_divider]
[ReviewDisclaimer]
anti-aging Anti-Aging Device NEWA Anti-Aging Device NEWA Skin Care System