Today's post is sponsored by Conair True Glow®! As always all thoughts and opinions are my own! #TrueGlow #SkincareEquality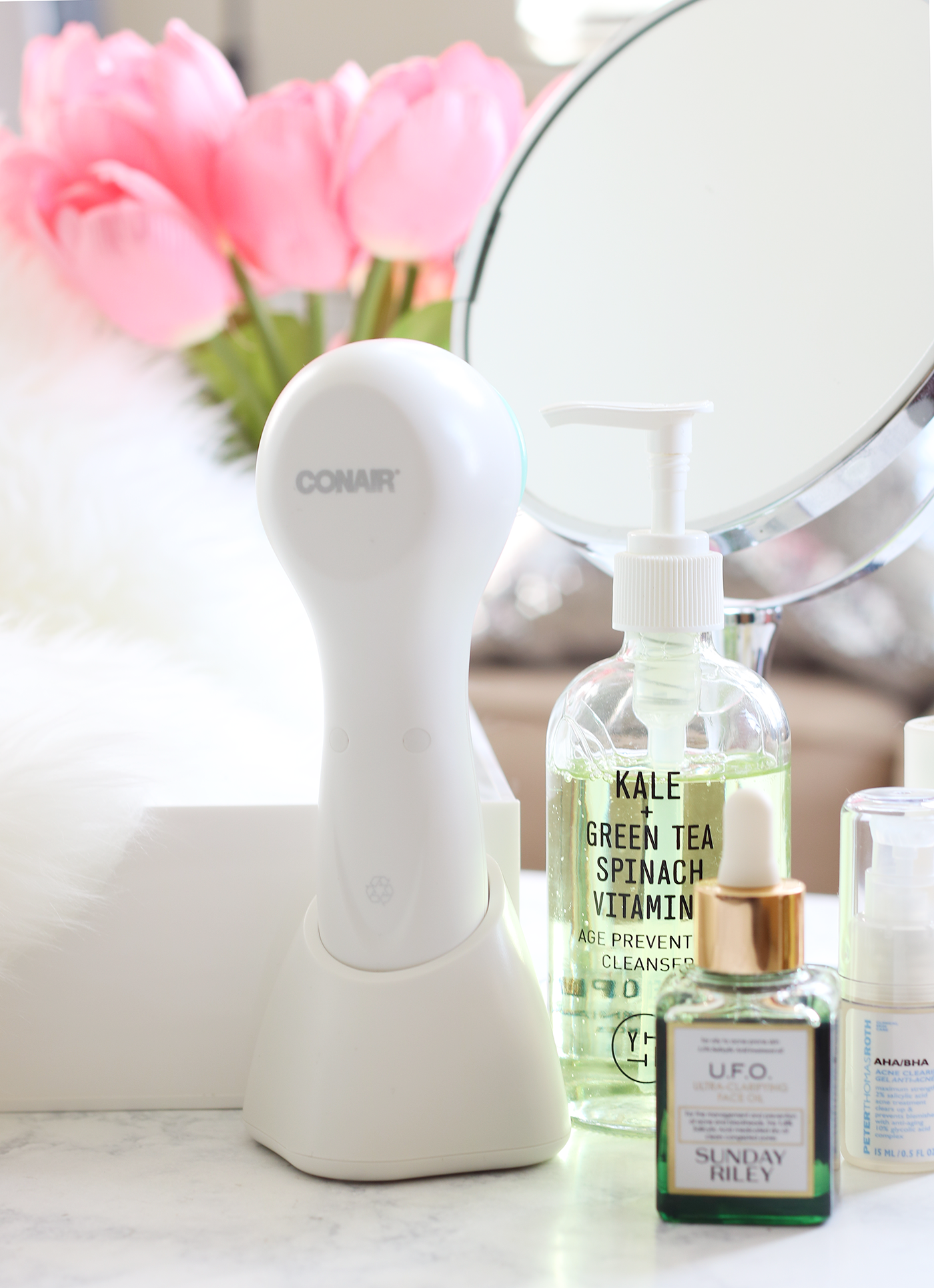 Ever since I hit my mid 30's, my skincare game has been on overdrive and I have to admit I have gotten SO much better about it especially with the additional help of a cleansing brush. Here is why….
I don't know about you but when it comes to skincare I am basically OBSESSED! You see it didn't always start off that way- mainly because I always seemed to have great skin that I didn't need much work or effort to maintain. That is, until I hit my 30's… talk about how hormones change your skin! So once I hit my 30's I HAD to step it up and venture into all things to help balance skin, even my skintone, help stop breakouts, and the list can continue to go on and on. Recently, I added a new skincare device that has totally upped my skincare game immensely and honestly changed my view on cleansing.
So first things first, do you currently use a cleansing brush? In my honest opinion regardless of your age, you TOTALLY can benefit from using one.
You are probably wondering why I am chatting about cleansing brushes when ultimately they aren't anything really new and innovative, right? Well, let me talk to you a bit about the Conair True Glow® Sonic Facial Brush. You see I am a long-time fan of Conair products, so when the brand reached out to me and asked me to test drive a few of the True Glow products, I literally jumped at the chance- especially when I saw the amazing things that this brush can do.

Let's back up a bit….
First things first, let's talk a little about my skin. If you didn't know- I have combination-oily yet hormonal acne prone skin. In the winter time, I tend to get a bit dry in certain spot areas, but totally oily overall in others. Now while I don't tend to have a TON of deep lines, I do in fact have some fine lines (again I am in my mid 30's); and while I do not want them to turn deep and multiply I have been putting massive effort in helping my skin glow. I mean who else doesn't want to "wake up like this" and channel their inner Beyonce?
Okay so let's be real for a minute- HOW many times have you bought a skincare brush/device/ whatever and used it to realize it actually is NOT what you thought and/or possibly is making your skincare concerns worse? Well ladies, let's all raise our hands. At one point of another we all have been there, done that- it's life you know… However, I have to admit at first I was a bit skeptical on using the Conair True Glow® Sonic Facial Cleansing Brush. In fact if I am being honest I didn't think that any cleansing brush would live up to the excitement- especially since I had written off actual cleansing brush tools after my last cleansing brush broke me out more than helped clear my skin. At the end of the day we all don't have time (or money) to waste testing out new products. Which brings me to why I am loving this product.

The Conair True Glow® Sonic Facial Brush is seriously one of a kind. Not only is it a spa-quality pulse-cleanse facial brush that leaves your skin soft, clean and primed perfectly for your products; but it also is so gentle and perfect that even the most sensitive and pick (like mine) skin's can handle. I recently have been putting the Conair True Glow® Sonic Facial Brush to the test and I have to admit I am blown away by how amazing it is. Here are a few key components that the brush encompasses:
Operated at 300 oscillations per second (meaning it vibrates NOT scrubs)
The unique oscillation shakes dirt and makeup from the pores without any irritation
The bristles are both stationary as well as moving, while the sonic frequency generates a vibrational back and forth motion
Cleanses your WHOLE face in just 60 seconds
Can be used with ANY cleanser (I have tried with both a gel cleanser and cream cleanser and it worked effortlessly)
SO much more gentle compared to rotating brushes making this perfect if you are heavy handed.
Retails for an affordable price, while its competitors retail for over $100+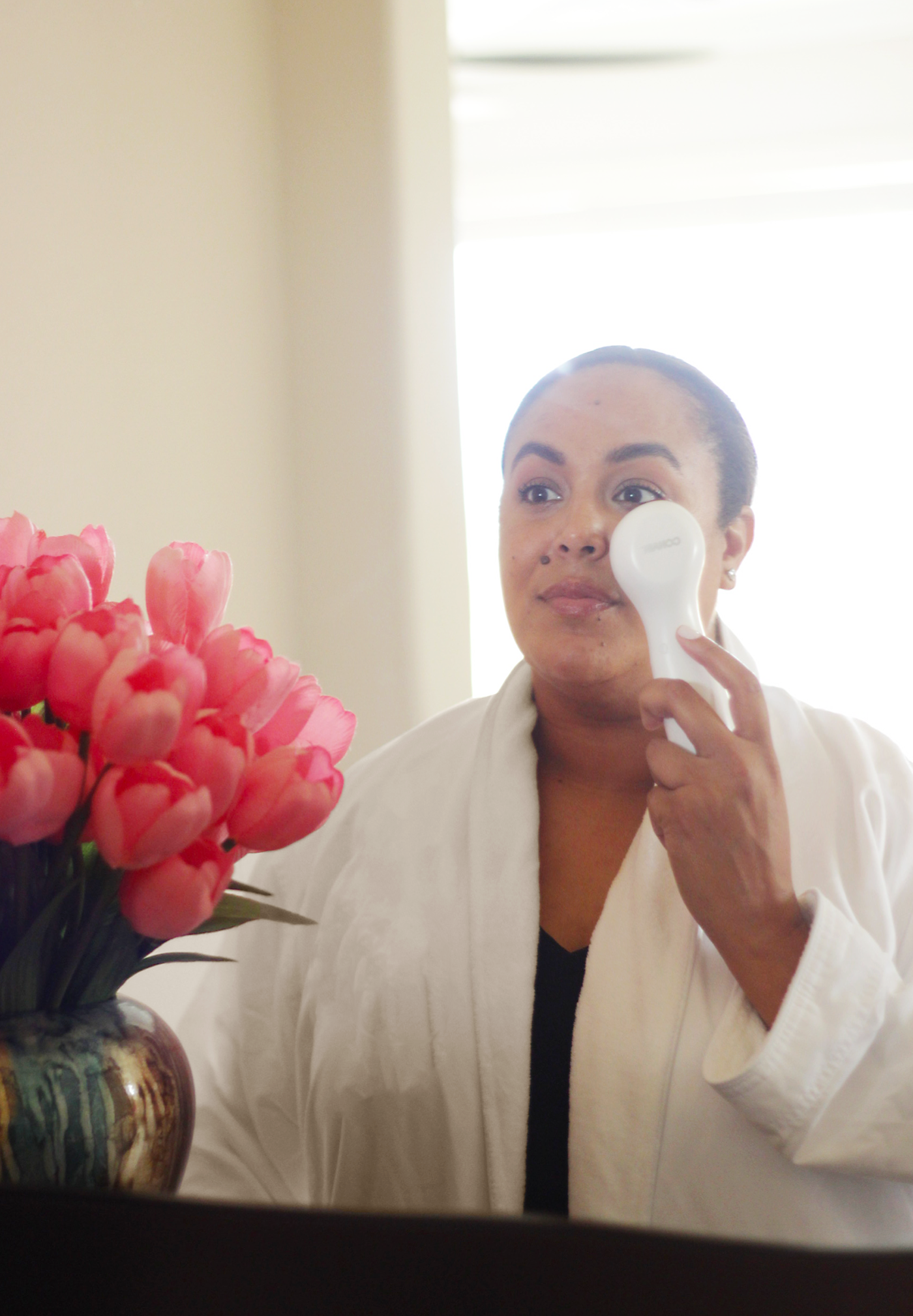 Fast forward to about three solid weeks of using the Conair True Glow® Sonic Facial Brush; I have been using this cleansing brush both day and night since it is super gentle to use as part of your everyday regimen AND it's waterproof (perfect to leave in shower). But after just 3 weeks of use I have to admit my breakouts almost seem more at bay than usual. Like weirdly they almost seem to stop coming (YAY). I have been using the cleansing brush accordingly:
In the morning when I use it in the shower I use it on setting speed MEDIUM to rid the skin of all night time products and potions.
In the evening I use it on setting speed HIGH to help break down makeup and dirt from the environment. Then I switch it to setting MEDIUM as I do my normal cleanse.
I have found that you can use it on setting LOW and give yourself almost like a lymphatic type massage (who doesn't love a facial massage?)
All and all I have also noticed beside my breakouts being lessened, my pores also are bit less visible. My skin feels sooooo much smoother, softer and my tone is almost even. Which since I am olive skin toned my breakouts can tend to leave scars- but with this I feel like it is helping them almost. My products and potions totally go on better and I feel like my moisturizer penetrates my skin so much better.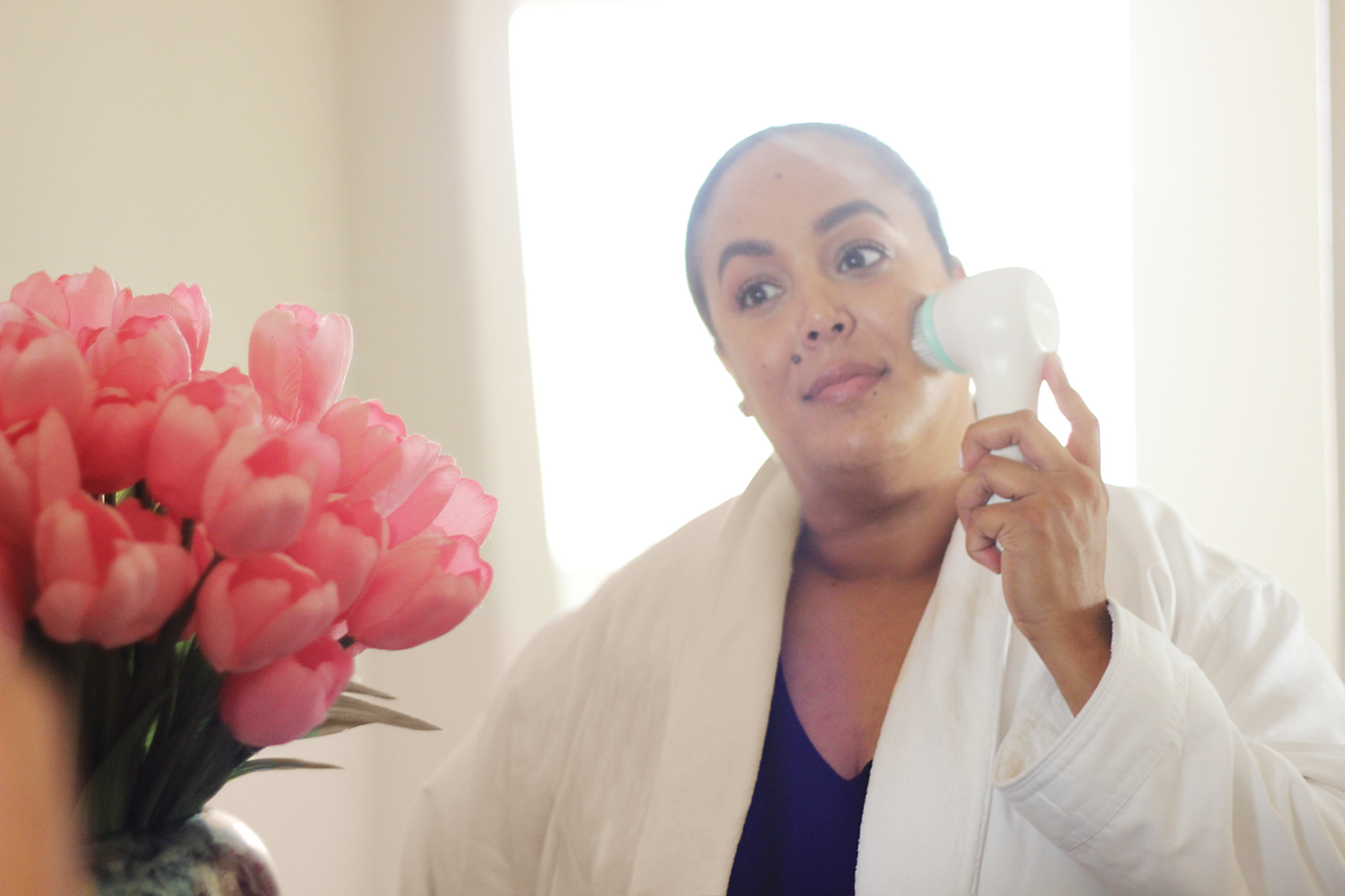 I have been loving waking up in the morning and loving what I am seeing. Less breakouts and an overall vibrant complexion – I am getting closer to the whole 'I woke up like this' feeling and might even start to venture out without makeup. So I have to say this- if you are looking to revamp and up your skincare routine (since we are gearing up for colder weathers this is the perfect time to do so) or are just wanting to add a new cleansing brush to your Christmas list this year- I can't recommend the Conair True Glow® Sonic Facial Brush more than enough.
So my final thoughts are- try it out, give it a few weeks, and let me know when your skin is literally smiling back at you when you look in the mirror daily. Trust me your skin will thank you and so will your pocket book.
*** Right now you can snag this amazing cleansing brush for 20% OFF of the regular retail price USING CODE: 20CONAIRSFB3. Talk about a deal! Added bonus- the amazing people at Conair are giving away 20, YES 20! Conair True Glow® Sonic Facial Brushes to some lucky winners. There will also be a grand prize winner who will win an array of amazing goodies (valued at $300).
The grand prize winner will win:
$100 Spa Gift Card
Nest Candle
Allegro Cosmetic Pouch
Fashion Lounge Robe
scünci® Hair Elastics, Headbands & Jaw Clips
Sweet deal right? You can enter HERE! The sweepstake ends 11/29. Happy entering…

Today's post is sponsored by Conair True Glow®! As always all thoughts and opinions are my own! #TrueGlow #SkincareEquality