A big thank you to Olay for sponsoring today's post. As always, all thoughts and opinions on Olay Regenerist Whip are my own! #feelthewhip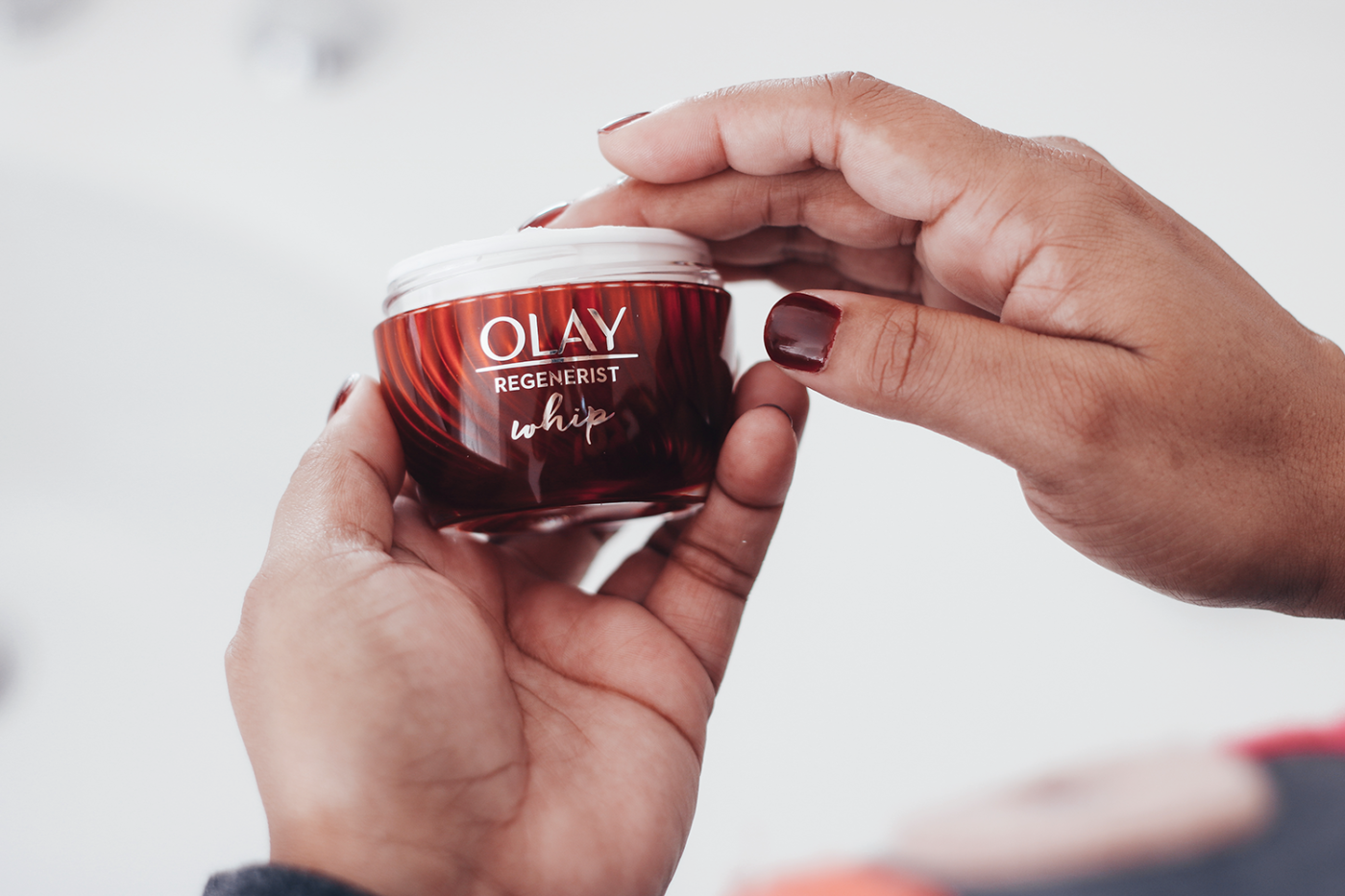 When it comes to approaching a new season, my relationship with moisturizers has been…well VERY complicated. To kick off the holiday rush, I am sharing a beauty experiment that I have been doing for the last few weeks and feeling the whip…
You all know my struggle when it comes to fighting breakouts and dealing with my skin. There are times I feel I have it VERY under control and then the weather changes and BAM – all hell breaks loose. I mean, if I am being really honest, I can remember back in my 20s I could literally put just about anything on my skin and never worry about breaking out. In full disclosure – I could go to bed with makeup after a night out and NEVER breakout – lucky, right? Fast forward to when I hit my 30s (literally like the day after) – and a breakout party started happening, and my skin has never been the same. That's life right?
Through tons of trial and error and seeing what my skin does and doesn't like, I began to think maybe I was using way too thick of a moisturizer and that it was breaking me out. Possible, right?
I mean honestly, COULD a moisturizer be causing me to break out more?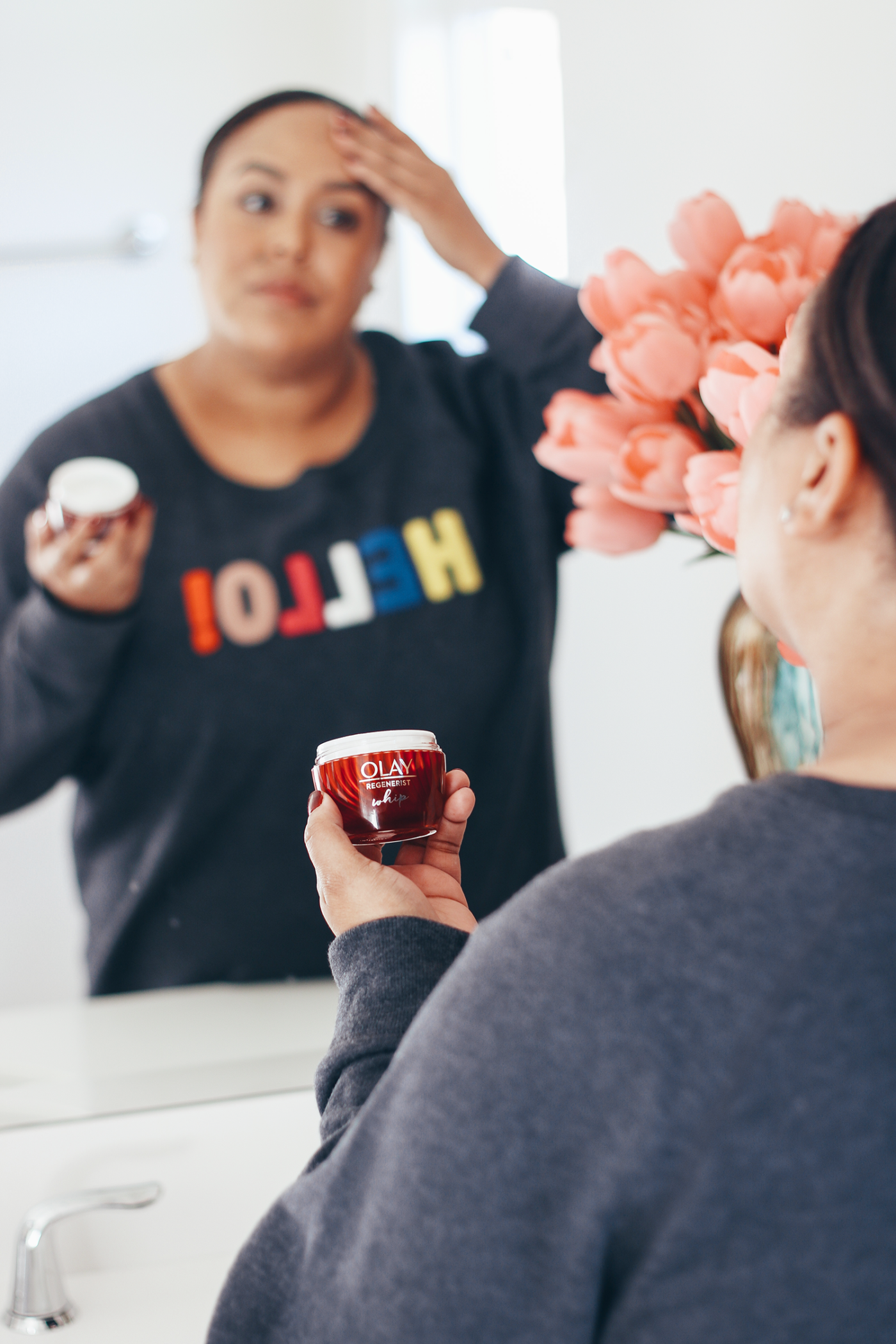 Fast forward to a few weeks ago, I was asked to be part of a blind experiment that would change the way I look at moisturizers – I literally JUMPED at the chance. I waited a few days and the package came in the mail, and it was completely unbranded. No label, no price, no name, nada – all I knew was that it was called Whip and that it was actually whipped and smelled AMAZING!
Not only that, but I was IMPRESSED!!!
The texture is so innovative and unreal that it is almost hard to believe that something like it exists. I mean picture a bouncy, light, whipped, pillow cream that your skin instantly absorbs and literally just feels refreshed in seconds. Yep, that is EXACTLY how this feels! I started using Whip the day I received it and I have to admit, I haven't looked back at all and my skin has never been happier.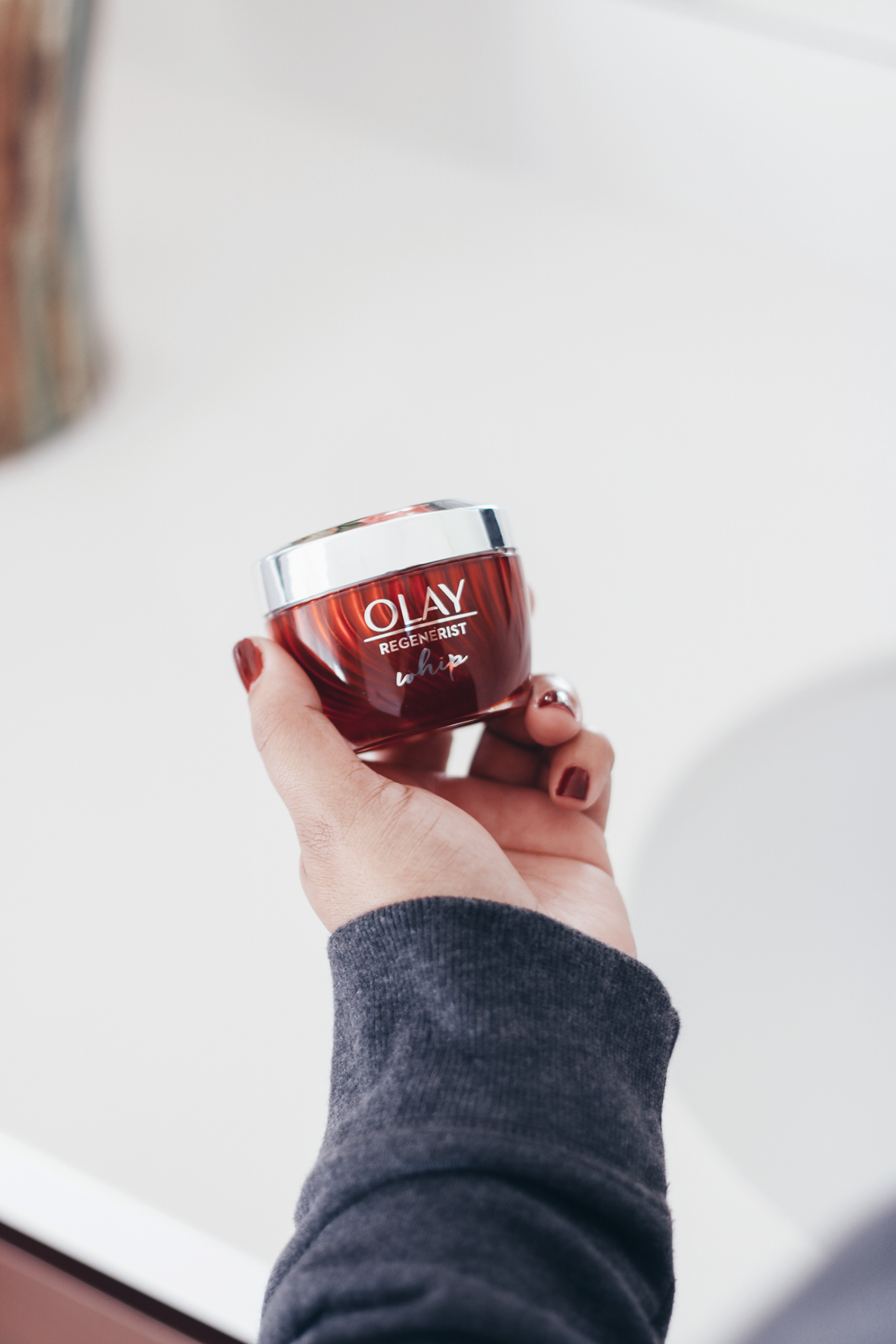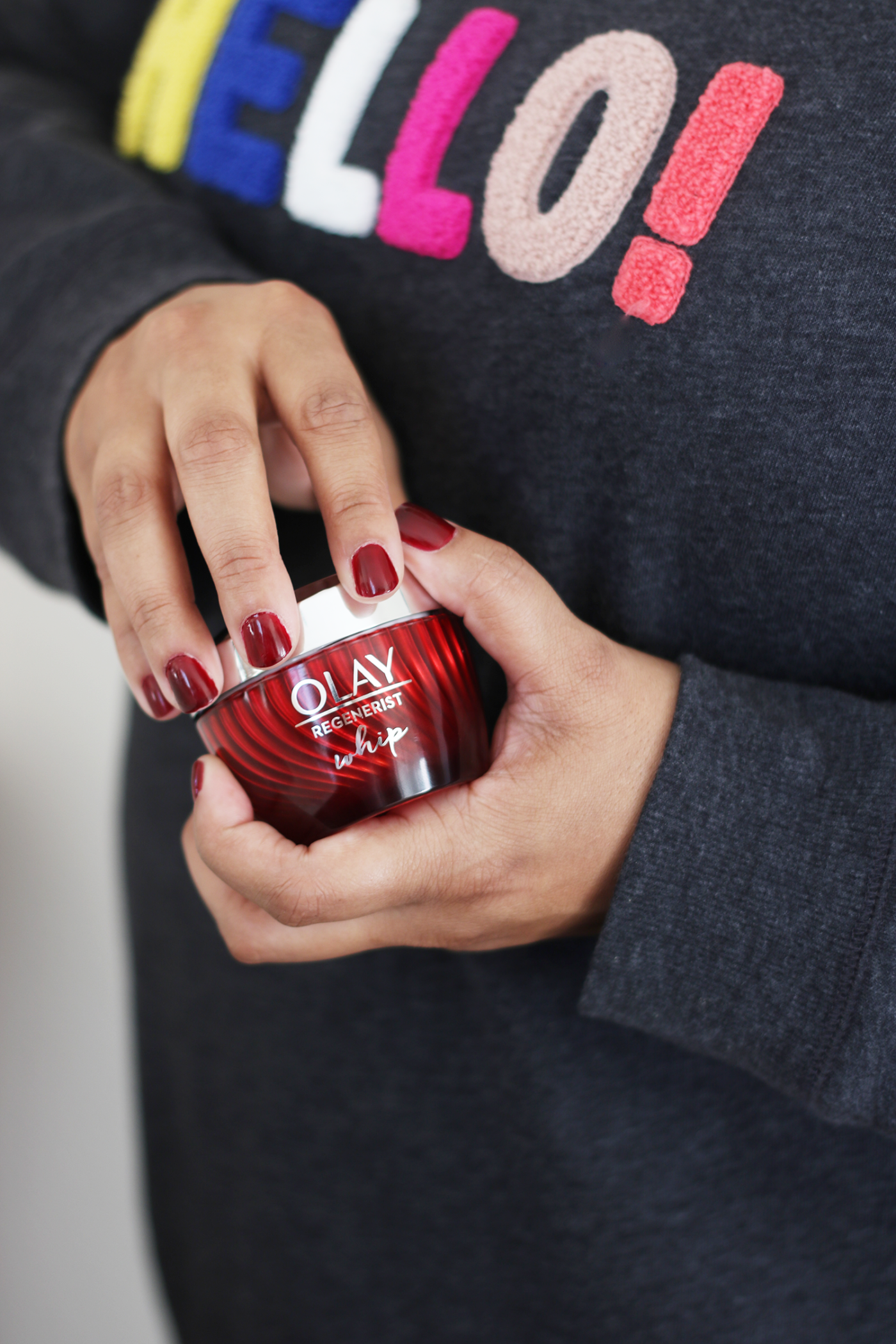 FIRST IMPRESSION: OLAY REGENERIST WHIP
It was so hard to believe that after just one day of using the Whip moisturizer, my skin felt hydrated and soft, yet not oily or greasy at all; and guess what? There was not one breakout in sight! Instantly I thought, "Just give it a few days," and I braced myself for a breakout party.
About fifteen days later, and NOT one breakout in sight, I was massaging this dream cream into my skin 2x a day (morning and evening) and of course, don't forget the neck, my skin was still hydrated, plumped, smoother, and weirdly I feel as though it was more balanced and brighter. Other people also started to notice my skin had almost that pregnancy glow minus the actual pregnancy – and I started to become OBSESSED with this magic in a jar.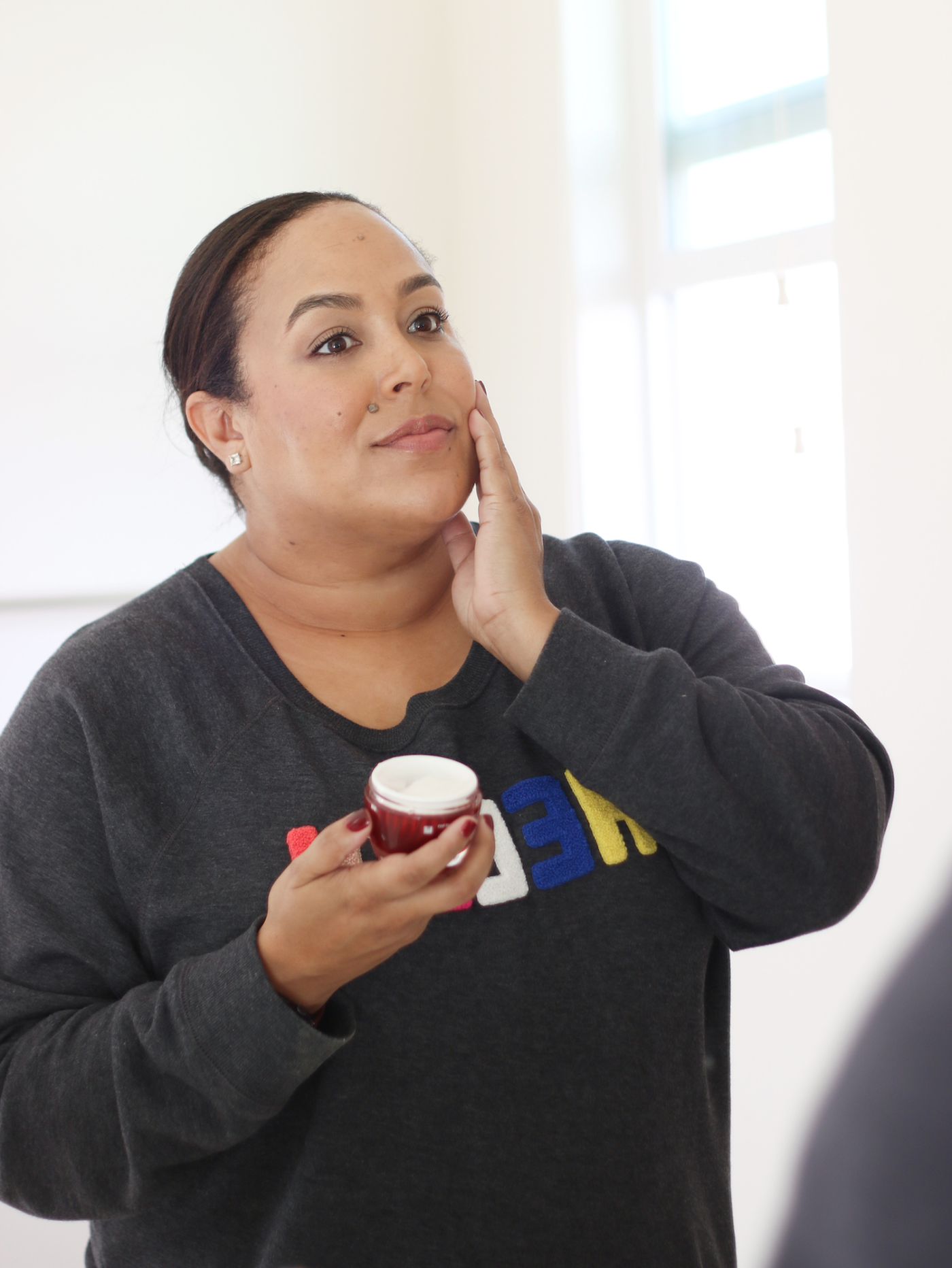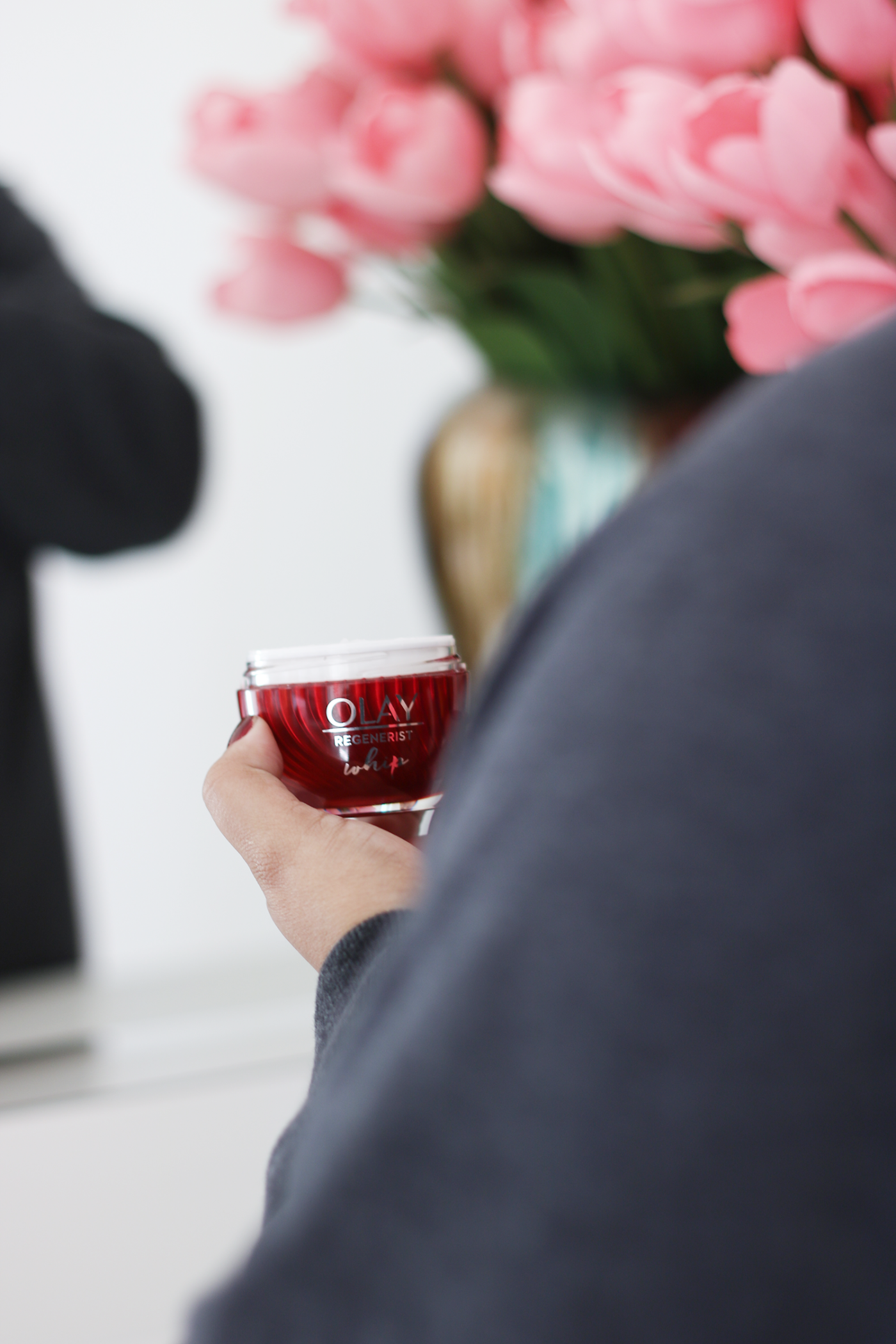 THE BIG REVEAL: OLAY REGENERIST WHIP
Fast forward about two-three days later, and another package arrived at my doorstep. This time, the branded product was inside. To say my mind was blown is an understatement! I opened the box and literally was expecting and preparing my checkbook to see a $100+ moisturizer in the box. Instead, I opened the box and… drumroll please…. one of my favorite brands of all things skincare was in the box! You guessed it – the dream cream was created by no other than Olay.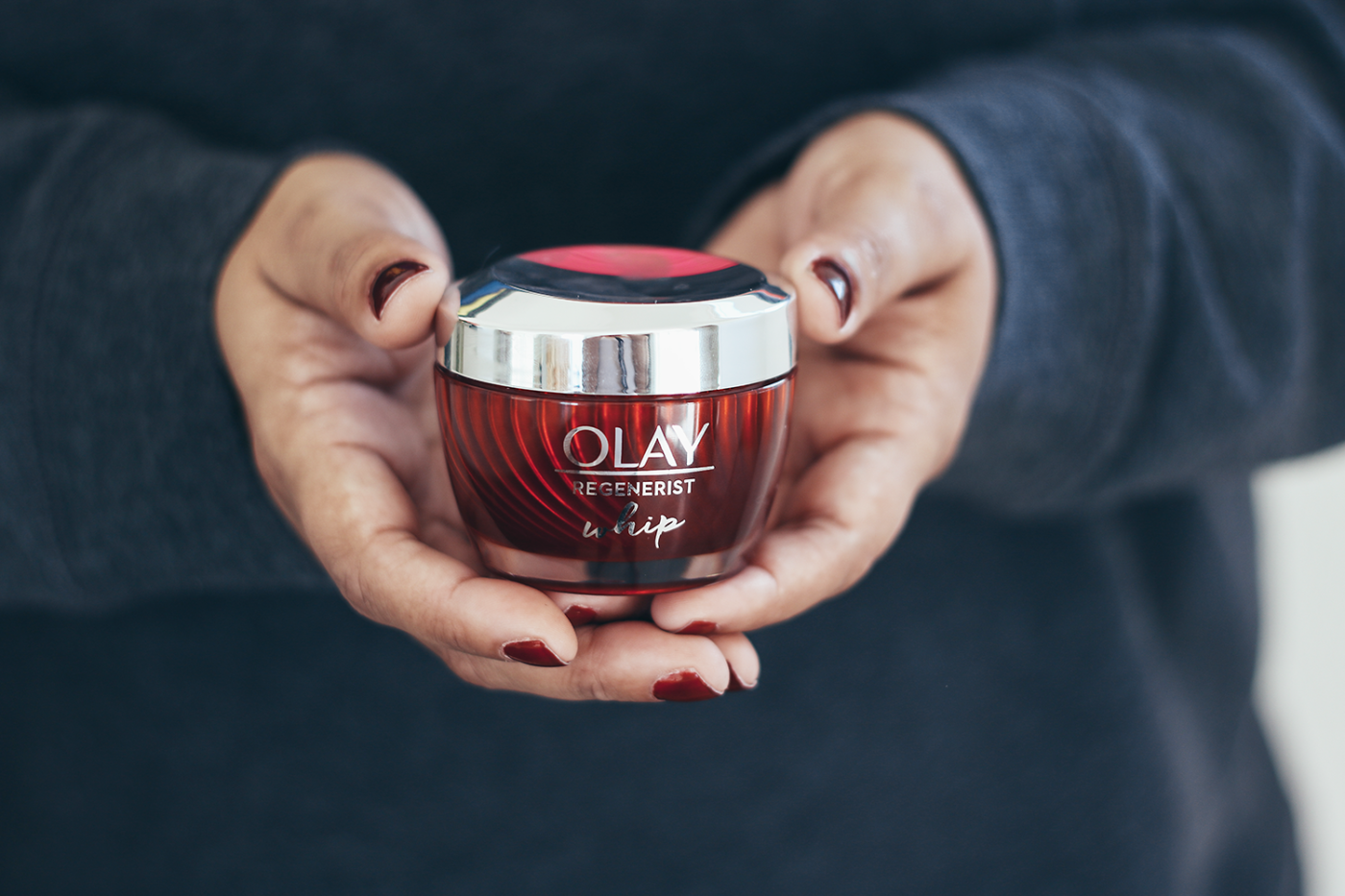 As you all know, I have a love affair with the Olay Regenerist Micro-Sculpting Cream, so when I got the Olay Regenerist Whip moisturizer in the box, I was so excited. I mean seriously you guys Olay moisturizers are some of the best. Not only are they SUPER effective, they are also VERY affordable and a longtime family favorite.

FINAL THOUGHTS ON OLAY REGENERIST WHIP
Needless to say, I am SUPER happy to report that the Olay Regenerist Whip is hands down phenomenal. It's so refreshing to see a moisturizer that works like a dream come true and doesn't break my skin out and also doesn't wipe out your checkbook. So with that being said, if you are looking to revamp your moisturizer and #feelthewhip (winter is the PERFECT time to do so) or if you are just wanting to add a bit of anti-aging oomph to your skincare regimen – I seriously can't recommend this product enough. Seriously, try it out, give it a few weeks and let me know how you feel when you see your skin glowing every single morning! I think I even want to grab a few other of the formulations and see how amazing they are – especially the Olay Regenerist Whip with SPF 25. Have you had a chance to grab any of the Olay Whip formulas?
Trust me – your mind will be blown!
A big thank you to Olay for sponsoring today's post. As always, all thoughts and opinions are my own! #feelthewhip
READ NOW, PIN FOR LATER:

Olay Olay Regenerist Micro-Sculpting Cream Olay Regenerist Whip Olay Whip