Happy Friday y'all. Here we are at the end of June-OMG! This month literally flew by. We are in the beginning of Summer and heading into July- what better way to kick this last Friday of June off, than with another Beauty Behind The Blog feature. This week we are chatting with Lissa from Lifestyles of the Poor and Unknown, she is a girl who literally has everything right. Live a luxurious lifestyle all while enjoying quality over quantity and never paying more for something than what you can afford. *literally genius- just saying…* Lissa is a wifey who blogs about a little bit of everything from beauty products *She is a beauty consultant by day* to arts, crafts *hello DIY* fashion, friends, animals and much, much more. So without further ado- it is time to meet this week's Beauty Behind the Blog in a thing I want to call Beauty Bag Talk with Lifestyles of the Poor and Unknown. Lissa take it away…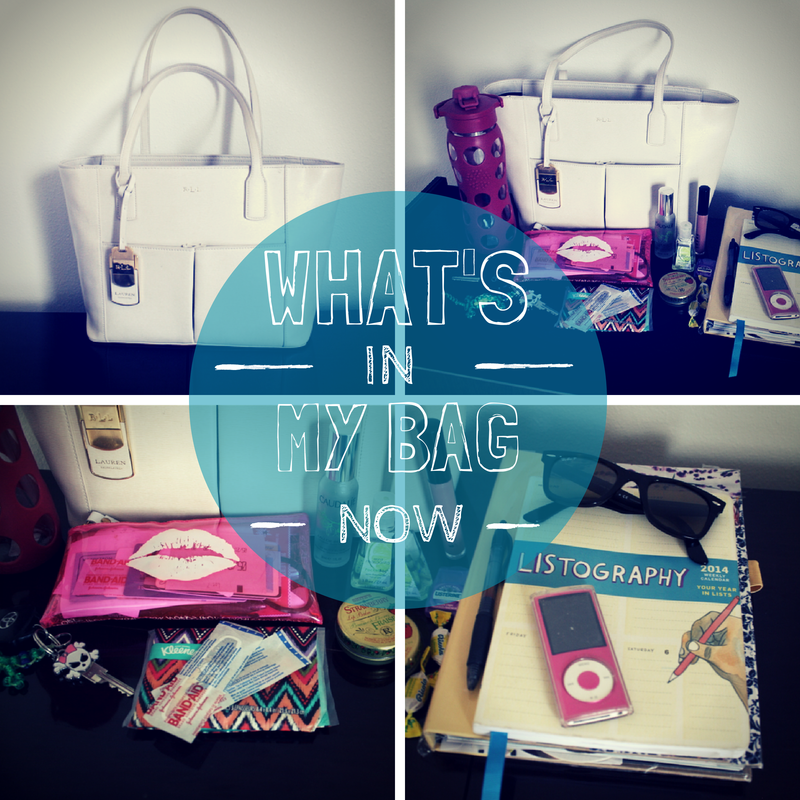 Hello Makeup Life and Love Readers! I am Lissa, the blogger behind Lifestyles of the Poor & Unknown. I am here today to share with you my must haves on the go. I currently work full time as a makeup artist and I must say I am pretty excited to guest post on a Beauty Blog! Life get's pretty crazy when your work schedule and home life are never consistent and always a bit hectic. While a lot of my must have on the go items aren't your stereotypical beauty products, they are some of the key essentials to my on the go beauty needs! Let's take a peek inside my bag….
They are staples in my on the go routine.
Water Bottle: Without my water bottle I get EXTREMELY dehydrated. I like to consider my water as my #1 beauty product. It helps to keep you looking young by plumping your skin and minimizing your pores! Not only that but it helps to hydrate your skin from the inside out, instead of the outside in.
Wallet: Okay so my wallet is more of a mini-bag, but it has all my cards (debit & credit), drivers license, military id, a tiny bag of Ibuprofen, lip balm and band-aids. I can't always have my purse on my because of work so I shove the absolute minimum in my wallet.
Keys: You think this would go without saying but if I don't keep my keys in my bag I leave home and work without them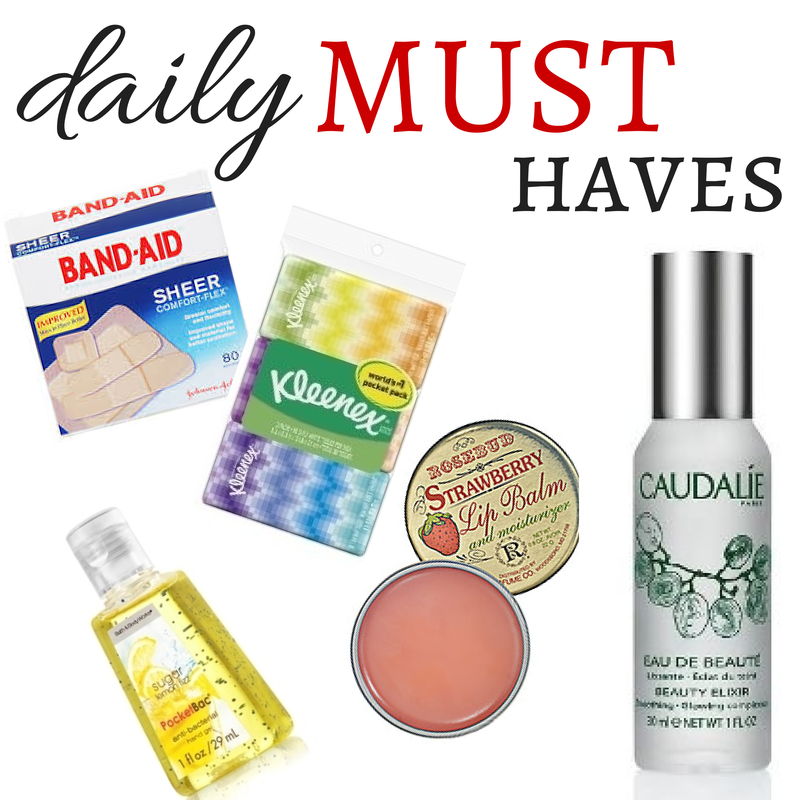 Kleenex & Band-Aids: No this is not a sponsored post, but I really won't use any other brands. I have pretty bad allergies so the Kleenex keeps me looking pretty…or at least not snot nosed when my allergies kick in. I also keep band-aids on hand for blisters that usually form from a day in heels!
Caudalie Beauty Elixir: My favorite skincare product! It is a toner/serum mist all in one plus it feels really refreshing. I have oily skin so this product really helps to set my makeup back in when I start to shine.
Hand Sanitizer: I like to keep hand sanitizer on hand, because as a makeup artist I am touching peoples faces A LOT. Not only does it help to protect them, but it helps to protect me as well. I prefer the lovely scented kind from Bath & Body Works because a) it smells good & b) it doesn't dry my hands.
Listerine Breath Strips & Cough Drops: There is nothing that will make you ugly fast like bad breath & a cough. Being up in yo grill all day, I don't want you to think my breath stinks and like I mentioned before I have pretty bad allergies which sometimes results in a tickle in my throat…which then turns into violent hacking. No Bueno.
Lip Balm & Lip Gloss: While these ones are Rosebud Perfume Co and Lorac, I am always trying new lip balm and gloss so the brands usually vary. Have you ever gotten stuck somewhere without lip balm and feel like you're going to die? Well I have and it will NEVER happen again. The gloss is just an easy way to glam up your look a little in a hurry.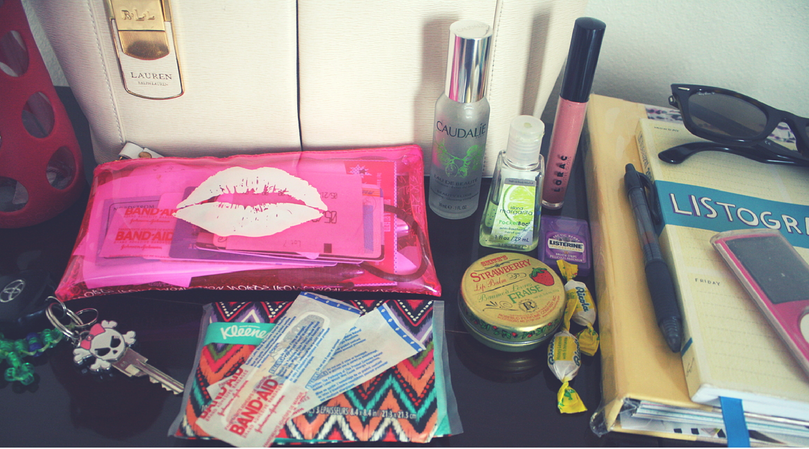 Sunglasses: When it's really sunny outside my eyes water like they're competing with Niagara Falls. One time I walked to work without my sunglasses and by the time I got there my makeup was gone from the amount of tears and rubbing that went down.
My Listography Planner: Without my planner I forget everything and end up being a stress-case more than I usually am. We all know the negative side effects stress can have on our health and beauty, so I do what I can to eliminate the stress I can.
SmashBook & Ipod: These are more stress reliving tools if anything. I like having my ipod on in case I am in an area where I don't have the internet. All my music is in the cloud okay?! My SmashBook is a little art project that I can spend a few minutes on when I have it. It's more of a glorified journal but I have fun with it.
So there you have my must haves for on the go. It has been nice hanging out here today with you lovely readers and I am so glad I was invited into your community. If you would like to find more of me you can always find me hanging around on my blog. Ask me a question or lets chat on Twitter or for a look into my hectic daily life follow me on Instagram. 
What are your must haves on the go? What do you think about my picks? I'd love to hear… 
Have a great weekend everyone!!
SHOP THE POST:
1. CAUDALIE BEAUTY ELIXIR– $18 USD
2. ROSEBUD PERFUME CO. STRAWBERRY LIP BALM – $7 USD
3. LORAC 3D LIPGLOSS– $15 USD
[ReviewDisclaimer]