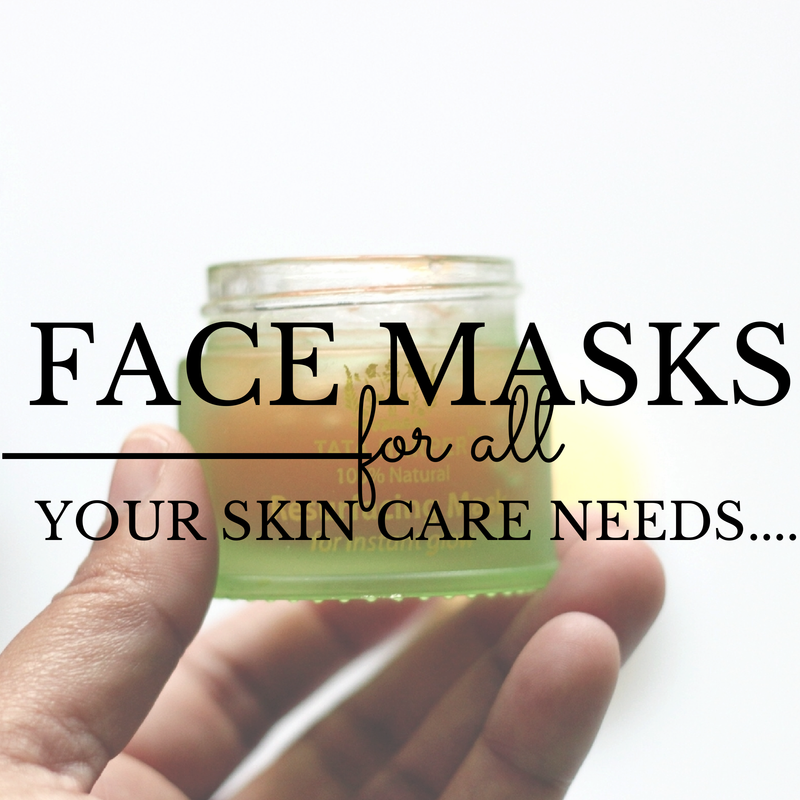 Oh how I do love a damn face mask, I think I may have a problem actually. I think I actually have been using various forms of masks since I was maybe, give or take like 12 years old. First I was a fan of the legendary Queen Helene Mint Julep Masque then I moved on to some deep pore cleansing masks a la Biore style. Something about a face mask just ticks all the boxes for me, and for sure of course a skin care addition in the making-as if it already isn't an obsession. ha ha, with that being said it is time for a Summer Skin Care Edit: Face Mask Edition…
Detoxifying mask, radiance boosting mask, exfoliating mask, anything to add some much needed oomph to the skin. In my current stash I have one for the days that my skin needs some hydration, one for when I need just a bit more radiance, one for when my skin is feeling dull or a bit dry. Might sound a bit excessive, but let me tell you- the mask mania is true. Layering multiples, solo, whatever is your pleasure- a good face mask can just brighten your day-literally. So let's jump right into some golden skin masks: deep cleansing to exfoliating, a natural option, a budget buy, even one for the sensitive skin ladies- here is a solid breakdown of some masks to bring your skin into clear territory.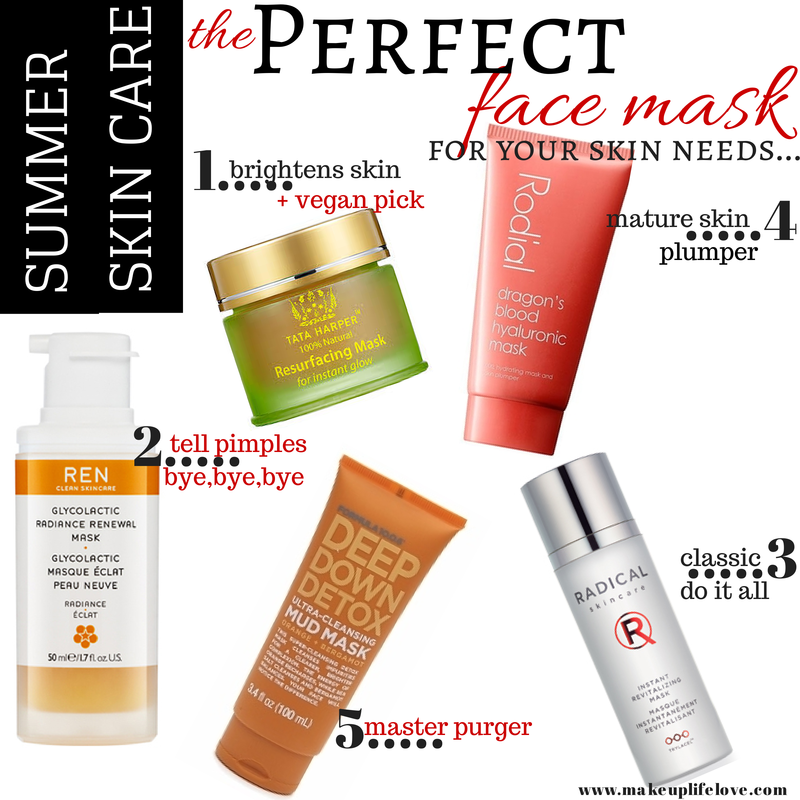 THE ONE THAT BRIGHTENS: Tata Harper Resurfacing Mask- $ 55 USD. This mask is something that is unlike no other, freshly concocted with beta hydroxy to help bring some serious radiance to the skin instantly. No wonder this peel like mask is becoming a cult classic, as it is a serious instant solution for dull skin all without any irritation or downtime like a peel. Deeply purifying this jelly like mask helps minimize pores and their appearance all while revitalizing the skin leaving you glowing. Added bonus- this suck kick major arse as an overnight spot treatment. Pimples beware.
THE ONE THAT WAVES BLEMISHES BYE,BYE,BYE: REN Glycolactic Radiance Renewal Mask – $55 USD.  I've spoken about this one plenty of times before as it is a solid staple and a long time favorite. Volcanic eruptions when occurring on my chin, this one I believe helps them come to a halt-quickly. A potent bio active peel mask that is designed to renew the complexion and reduce the appearance of fine lines all while helping bring forth a beautiful even skin tone. This mask helps combat congestion, blackheads, blemishes and removes dead skin cells to give you brighter, healthier skin.I am seriously obsessed with this mask, although a note to the wise- sensitive skin be careful- there is a slight ounce of tingle action when applied. Simply love!
THE ONE THAT PLUMPS THE SKIN: Rodial Skincare Dragon's Blood Hyaluronic Mask– $48 USD. On the hunt for some super hydration and plumpness into your skin? Well this mask will bring you a TON of moisture. Hyaluronic Acid immediately plumps the fine lines and helps tighten the wrinkles all while bringing life back to dehydrated skin. Dragon's Blood helps reduce the redness in skin with some solid antioxidants and helps bring forth a firmer, smoother, beautiful complexion. A serious miracle worker for dehydrated skin. Rodial always does skincare well-very well.
THE ONE THAT'S A CLASSIC: Radical Skincare Instant Revitalizing Mask– $65 USD. Snap, Crackle, Pop is what this mask reminds me of. A wonderful innovative mask that is enhanced with a oxygen-infused foaming formula that feels like amazing seltzer on your skin. A popping sensation that delivers a hard core trio antioxidants: acai berry, grapeseed extract and coffee-berry extract. This masks helps decongests clogged skin and rid the skin of dullness thanks to some solid white willow and French pink clay- used weekly it helps refine the texture of the skin. Instantly once the popping starts and once you rinse your skin it is instantly softer and luminous skin. Simply phenomenal and a classic of its own.
THE DOWN AND DIRTY PAMPER A LA BUDGET STYLE: Formula 10.0.6 Deep Down Detox Ultra Cleansing Mud Mask– $5.99 USD. This mask smells like serious orange juice on your skin. This Mud Mask brightens and cleanses deep down the impurities from the skin. Bergamont and Sea Salt help ultra cleanse while the energy of orange recharges. Hands down phenomenal.
So there you have it, a wardrobe of masks that can help fulfill any need. With the length of this post, I figure I should give some solid beauty tips on how to layer face masks if its something you fancy.
BEAUTY TIPS & TRICKS FOR LAYERING MASKS: When layering facial masks it is best to prep the skin with a great cleansing, then add a pH- controlling toner to help balance the skin, then follow with a mask of your choice. Always start with a exfoliating or purifying mask first to help detoxify the skin and bring forth the badies. Followed by a hydrating, oxygenation or rejuvenating mask to help lock in moisture and repair the skin. Follow with a nice rinse, followed by a moisturizer. I often tend to multiple mask every other week, so I don't overly do my skin.
Do you currently have a working wardrobe of masks? What are your current favorites?

SHOP THE MASKS:
1. TATA HARPER RESURFACING MASK– $55 USD
2. REN GLYCOL LACTIC RADIANCE RENEWAL MASK – $55 USD
3. RODIAL DRAGON'S BLOOD HYALURONIC MASK– $48 USD
4. RADICAL SKINCARE INSTANT REVITALIZING FACE MASK– $65 USD
5. FORMULA 10.0.6 DEEP DOWN DETOX SKIN MASK– $5.99 USD
[ReviewDisclaimer]