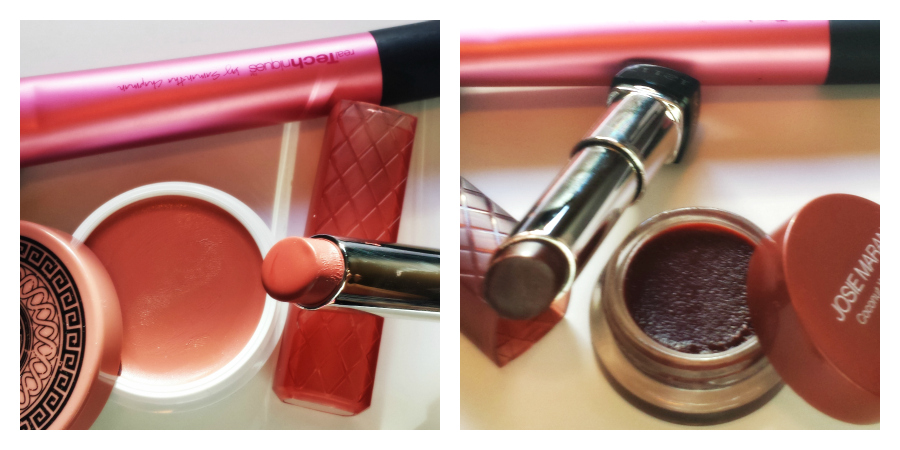 After a few weeks of sticking to a neutral zone- a la Summer weather when it comes to the lips and cheeks areas- Hourglass Nude Lip Stylo I am talking to you here- I needed to inject a bit of fall color love into the routine. After a bit of shopping through my current stash, I found a few fall trends that add a bit of a lip /cheek combo color punch. I know, I know it sounds a bit matchy, matchy…however the color combos looks breath taking on the skin and I quite rather like it. So let's get down to business and talk two fall trends that are will be taking over my makeup uniform. I now bring you Matchy, Matchy Lips and Cheeks…
Let's chat about fall trends… Now gracing the runways and magazines for fall trends are: The low maintenance, fresh faced- Nude look and the Channel your inner Vamp- Dark Lips look. Both are equally gorgeous, on opposite ends of the spectrum obviously- however very doable without looking too trendy or too over the top. So when it comes to incorporating trends into my makeup, I often tend to focus more on the lips and cheeks, with a simple, subtle eye. There are always those makeup rules that exist; I often call them 'old wives tales' as nowadays with makeup- pretty much anything goes. Smoky eyes, nude lips have transitioned into smoky eyes and red lips; while bronze-y looks with a pretty pout have transition into bronze-y look with a powerful punch of a lip. Here are two color combinations that I have started to embrace by adding a bit of the Fall trends to the line up. Subtle yet stylish, is what I like to call them. A lip and cheek color combo that can be taken from day to night- and from Summer into Fall.
Now I have never met a lip butter that I have yet to not like- I'd say the Revlon makes some of the best. Part hydrating, part pigmented punch of color- almost always an instant score.
 Basically a no brainer…
Now when searching for the perfect blush, well that is always a bit of a challenge. With many formulas to choose from ranging from powder to cream to gel- it is often the non-sparkle, flawless finish I lean towards. First fall trend that I am embracing is a bit of Nude Love.
Revlon Lip Butter
in Crème Brulee
– $8.99 USD paired with
KORRES Cheek Butter  in Philia Rose
– $25 USD. Crème Brulee is a medium toned brownish nude with a bit of peach shimmer added to it, where the Philia Rose is a medium warm nude-ish pink. Both colors paired together are gorgeous helping you achieve the low maintenance fresh-faced look from the runways. I reach for this combo daily as it is the perfect combo for daytime, work, or just those lazy- 'less is more' kind of makeup days; I call that
Sheer Nude Perfection. 
Heading to the dark side of the Fall trends is kicking it up a notch with a bit of a Vamp inspired Lip. A bit of well placed color on the lips with a dash of honey based color on the cheeks; this look is perfect for channeling your inner vamp, or kicking things up for a night out on the town. I am one to be a bit wussy when it comes to slapping on a darker lip shade, so I keep it a bit sheer compared to the runways. My choice pairing is Revlon Lip Butter in Fig Jam– $8.99 USD, a bit of a dark bruised plum like color similar to that of Clinique Black Honey, paired with Josie Maran Watercolor Cheek Gelee in Honeymoon Honey– $22 USD this blush hands down is one of favorites. It's a neutral honey brown that on the cheeks reminds me of a perfect sheer pop of bronze. The finish on these gel-like hybrid blushes are phenomenal. Goes on like a gel and finishes almost to that of a powder. This pairing is a neutral, vamp take on the runway Vamp trend.
Whether you're looking for a low maintenance nude or you want to channel your inner vamp, these matchy, matchy combos can take you from the boardroom to happy hour, from a lazy weekend day to date night. A bit of well placed color on the lips and cheeks for a daily dose of Fall trends- I think a color coordinating event may become a staple in my fall makeup wardrobe.
 Who knows…
What is your take on the Fall trends?