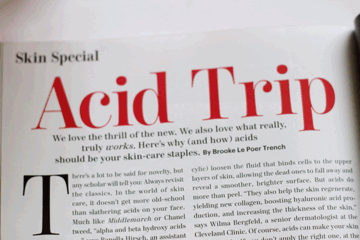 After endless years of thinking that acids are a 'spa treatment' type procedure, I sat back and read a bit- ok more like endless HOURS of Caroline Hirons blog. I have to say after reading multiple and I mean multiple posts and writing down all her recommendations; I am thinking it is time to add a few things into my skincare routine. And after reading this months Allure magazine article on Acids- if that wasn't a sign to add acids into the skincare routine- then I don't know what is. Congested skin, old acne scarring, and the want for brighter skin, I am even more convinced it is time-; if you are looking for renewed skin, then listen up because this is for you….Here is the acid low down: Alpha Hydroxy acids, you know the ones: Glycolic, Lactic, Citric are just a few; and then you have the Beta Hydroxy Acids like Salicylic- all helping to avoid breakouts, increase the thickness of the skin and make things plump and full- add some ooomph. Acids helps regenerate the skin, yield more collagen, and boost up the hyaluronic acid production in the skin. Acids help the skin more than you know- and they are a quick and effective way to help transform the skin almost instantly-  added plus Sensitive skin beauties can use an acid as well.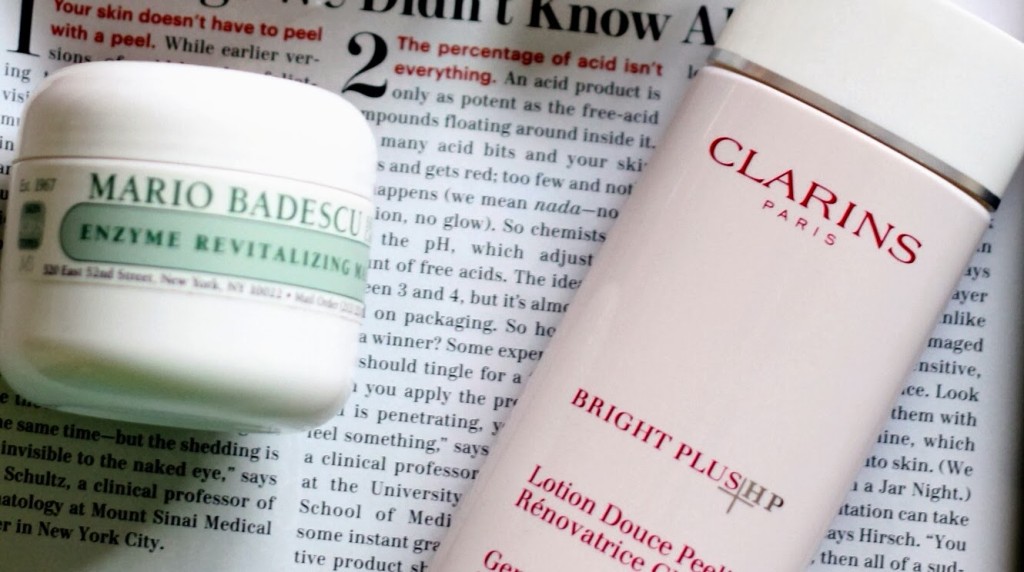 So here is the deal- Caroline says that you should use acids daily in the form of some sort of toner. For this I bring in the ultra gentle
Clarins Bright Plus HP Gentle Renewing Brightening Peel
– $38 USD, this gentle wonder product is amazing. Exfoliates the skin, brightens the skin and removes the dead skin; super gentle on the skin and you can use this daily- lourve! Another toner in the mix, is one that packs a bit more strength
Mario Badescu Glycolic Acid Toner
-$18 USD, usually saved for the pm cleansing routine, this toner is the business.  It helps with exfoliate the skin quick and effective, reduces discoloration like a champ, and helps liven up dull skin. Spots practically vanish, and this unclogs the lumps with the best of them.  Side note- When using Acids make sure to always add some SPF to the routine.
A face mask that has been adding some extra oomph to the skin care routine is
Mario Badescu Enzyme Revitalizing Mask
– $20 USD,  this intensive moisturizing Alpha Hydroxy Mask is quite phenomenal. Containing a nice blend of Papaya and Grapefruit extracts this mask helps give skin some instant glowing appearance. Layer a thin layer on the skin, leave for about 20 minutes- this mask gives dull skin a solid boost.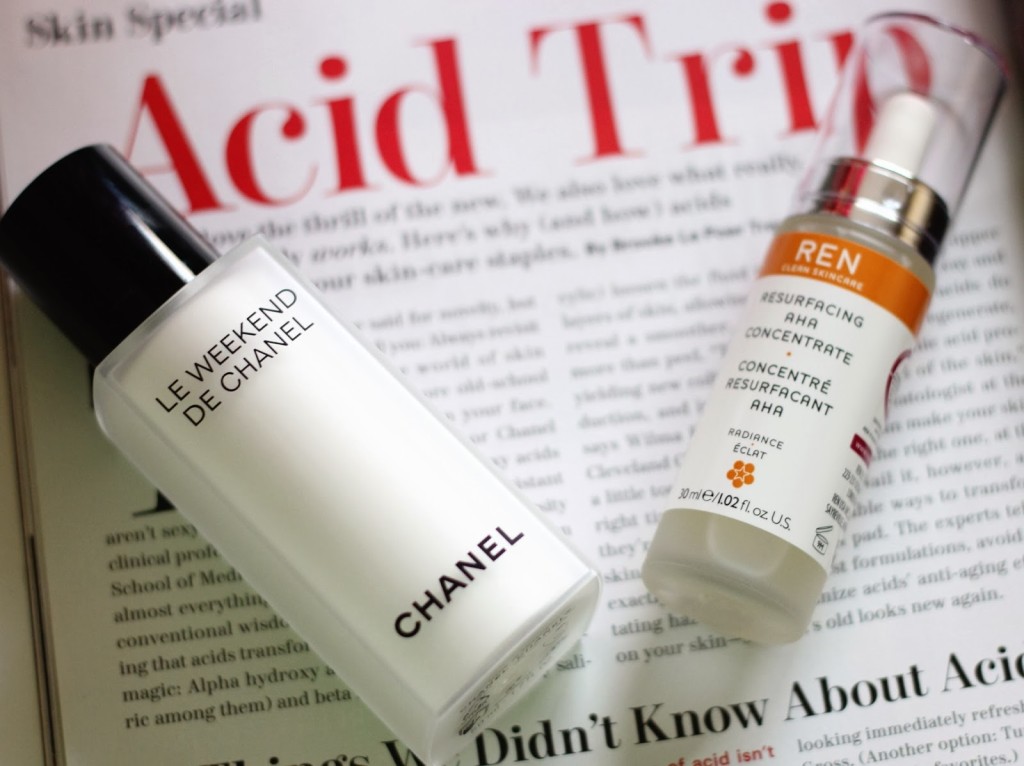 Something to reach for if your skin is a bit more tolerant when it comes to acids are:
CHANEL Le Weekend de Chanel
– $115 USD and
REN Resurfacing AHA Concentrate
– $45 USD, both have major acids helping that can add some instant liveliness to the skin.  
CHANEL Le Weekend
a wonderful Glycolic Acid Complex helps repair the skin on the weekend as the name states. This silky complex leaves the skin soft, bright and even almost instantly overnight. Two solid days and this product will literally change your skin texture and appearance overall.
REN Resurfacing AHA Concentrate
as the name states this concentrate is a wonderful resurfacing serum. A perfect blend of citric, lactic, tartaric and glycolic acids this concentrate literally exfoliates the skin effortlessly. Skin is more radiant, even in tone and smooth all while fine lines and pores are reduced- Bye bye hyperpigmentation.
So there you have it- the acid rave is over. Although I am not sure how I ever was without acids. AHAs thank you for joining the stash and refreshing the skin.  Acids welcome to the skin care routine…