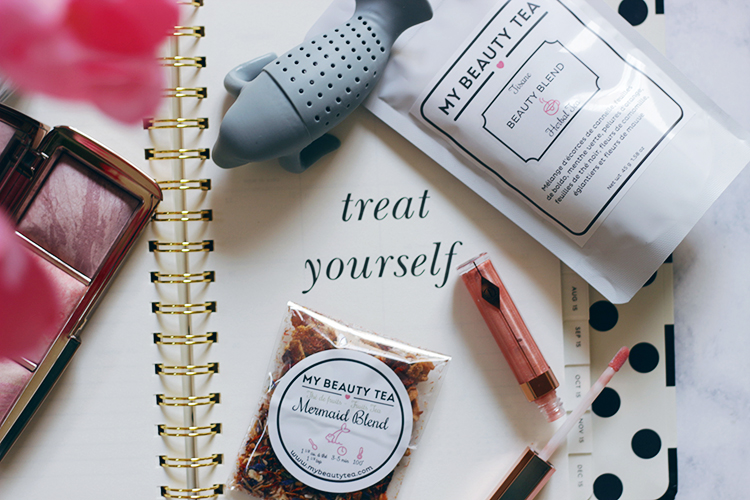 Let's talk about something a bit different when it comes to beauty today. To be honest with you ladies and gents, lately I have been on a bit of a fitness kick since we have jumped full blown into humid summers in So Cal. When it comes to upping up your fitness regimen it usually means that a bit of detoxing is in order. Now I am a LOVER of sweets and treats of course- the occasional bite wouldn't be bad for you, right? However as much as I love a good cup of water- or eight- I have been craving something a bit more, in the form of My Beauty Tea– and man it's AMAZING!
My Beauty Tea is becoming my go to daily for my daily tea intake, as it is the new beauty essential your body literally just craves. My favorite thing about the brand is that they are firm believers in 'beauty comes from within first'. Each of the unique blends that My Beauty Tea offers all are curated with the finest ingredients –tasty too­- in order to address specific areas of concern you might have. From puffy eyes to wrinkles to just feeling blah, My Beauty Tea has you covered.
AREAS OF CONCERN + MY BEAUTY TEA
There are many other blends to choose from such as: Pink Iced Tea, Lovely Peach, Earl Grey a la Creme, Sweet Mango, Juicy Grapefruit, Nuts for Coco, Cozy Party, Sugar Chai, Red Blush, Tasty Garden, or Get Comfy.  I know I have a few new blends that are on my list of MUST try: Tasty Garden and Juicy Grapefruit are screaming my name.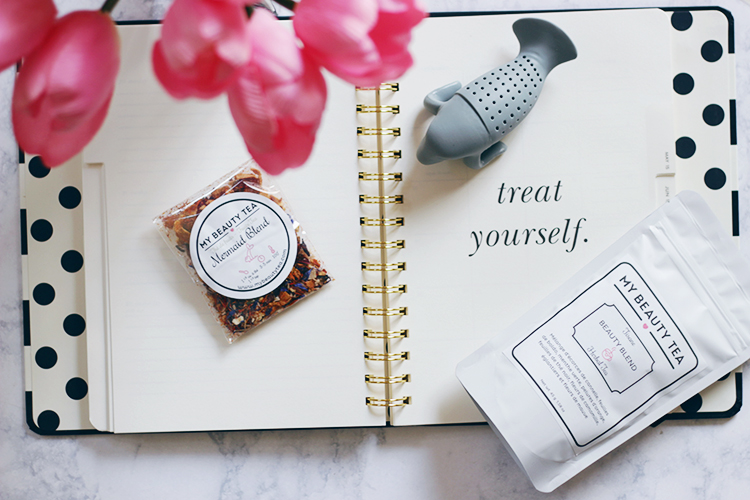 Since I have been incorporating My Beauty Tea into my daily liquids intake whether they be in the am or pm, I honestly can say I am feeling fuller of energy and less bloated. A daily cup of tea is starting to become a daily staple for me for sure, and I find myself reaching for coffee less and less. I can honestly say that my days now don't start or end without a cup of tea. So if you are looking for something to help bring out your inner glow, help digestion and add a bit of energy to your life- then you NEED to grab yourself a cup a My Beauty Tea. You can find them HERE. Have you ever tried any of the amazing My Beauty Tea blends? If so which your favorite? I would love to know in the comments below, but first… my beauty tea….
[otw_shortcode_divider margin_top_bottom="30″ text="SHOP THE POST" text_position="otw-text-center"][/otw_shortcode_divider]

[otw_shortcode_divider margin_top_bottom="30″ text_position="otw-text-left"][/otw_shortcode_divider]
Beauty Tea Creamy Lemon Mermaids Blend My Beauty Tea Pink Blossom Tea The Beauty Edit