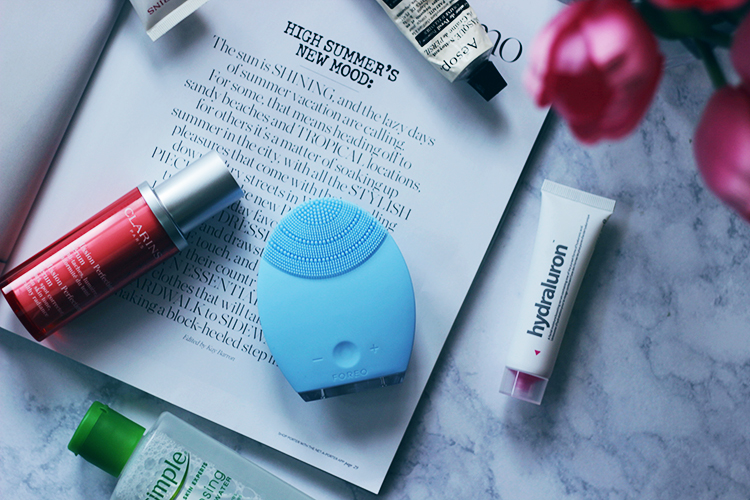 So let's talk about cleansing tool for a minute. You know the ones- spin brushes that feel like a power tool on your face, the squeaky clean feeling of a rotating brush against your skin. Well let me start off my saying, NO I am not talking about that one, today I am talking about the Foreo Luna– $199 USD. Now I will be the first t say I wasn't really expecting this to work. I mean literally didn't think it would at all! Something about sliding this little oval egg shaped rubbery, vibrating paddle over my face didn't seem like it would compare to the feeling of bristles scrubbing deeply into the skin. Boy, oh boy was I wrong- and wrong by A LOT!
The Foreo Luna is designed to deep cleanse the skin all while helping boost the skins circulation and relax facial muscle- and OMG does it work so well! The Foreo Luna is created with soft-rounded silicone touch points that ensure the skin gets deeply cleansed in a gentle manner. This little brush removed EVERYTHING from dead skin cells, dirt oil, and makeup residue. Amazing, right? For me the best part of the Foreo Luna is that it fits perfectly into your hand. At first it was a bit weird to get used to because I am so used to a handle. After first usage I realized I love this egg shaped device a bit more, and feel I can get into all the nooks and crannies around my nose and chin area all while giving me an amazing non-abrasive facial massage in the process. I am obsessed!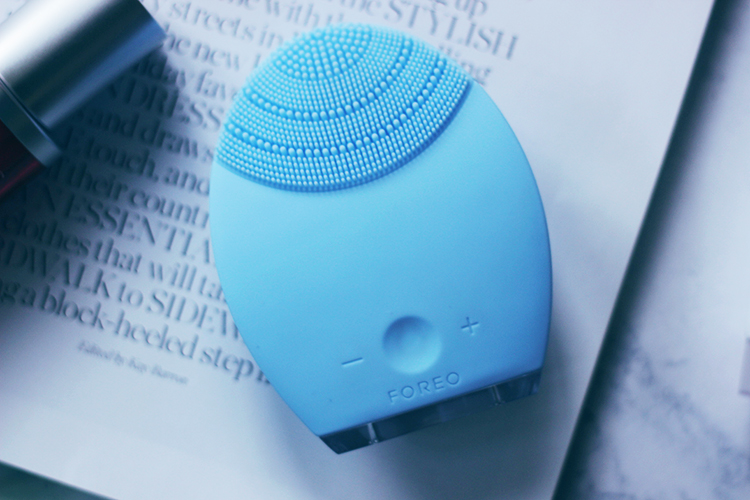 One thing I have noticed about the Foreo Luna I have noticed is that my skin LOVES the Foreo Luna. It's clear, brighter and serums seem to just sink into the skin better than before. I have been using this little device everyday, twice daily for about 5 weeks now and can I just say I have not charged this bad boy once. I mean HOLY WOW, one charge on this little genius facial tool seems to last forever. A one-time charge that took maybe an hour or so, and has lasted me so long so far without any signs of slowing down out all. I also am loving the fact that the Foreo Luna is made of ultra hygienic silicone that is also nonporous to resist bacteria buildup making it more hygienic then brushes, but the best part is that the Foreo Luna doesn't require any changing of the brush heads at all so it takes the fuss out of remembering when to change the brush head.
So with that being said, and I have already talked far too long so if anything below are some solid pros and cons you should think of when it comes to investing in the Foreo Luna:
PRO:
Ultra-hygienic silicone combined with transdermal sonic to help cleanse the skin while giving it a stimulating facial massage
It comes in 3 different types of devices:

White- for the ultra sensitive skinned beauties
Pink- for the sensitive/ normal skinned beauties
Blue- for the combination skinned beauties

There is NO brush head to replace or think of replacing since the Foreo Luna is an ultra-hygienic, non-porous device designed to resist bacteria buildup
Your skin will LOVE this cleansing device as serums, tonic, and moisturizers will absorb into your skin faster leaving your skin brighter, tighter, and cleaner
CON:
It's a bit on the pricey side since it costs over $199 USD.
If you are used to using bristles, you might find it a bit weird at first- since its so sensitive on the skin
So there you have it beauties, my thoughts on my skin's new BFF. Whatever you fancy bristles or a mild massage it's your choice. But hey, Sharing is caring people. My advice? RUN to your local Sephora and snag a Foreo Luna ASAP, they will change your life- I promise! Yes, it's that good….
[otw_shortcode_divider margin_top_bottom="30″ text="SHOP THE FOREO LUNA" text_position="otw-text-center"][/otw_shortcode_divider]

*PR SAMPLE
[ReviewDisclaimer]