This post is sponsored by Target.  All thoughts and opinions are my own.  #mybeautybyTarget #TargetStyle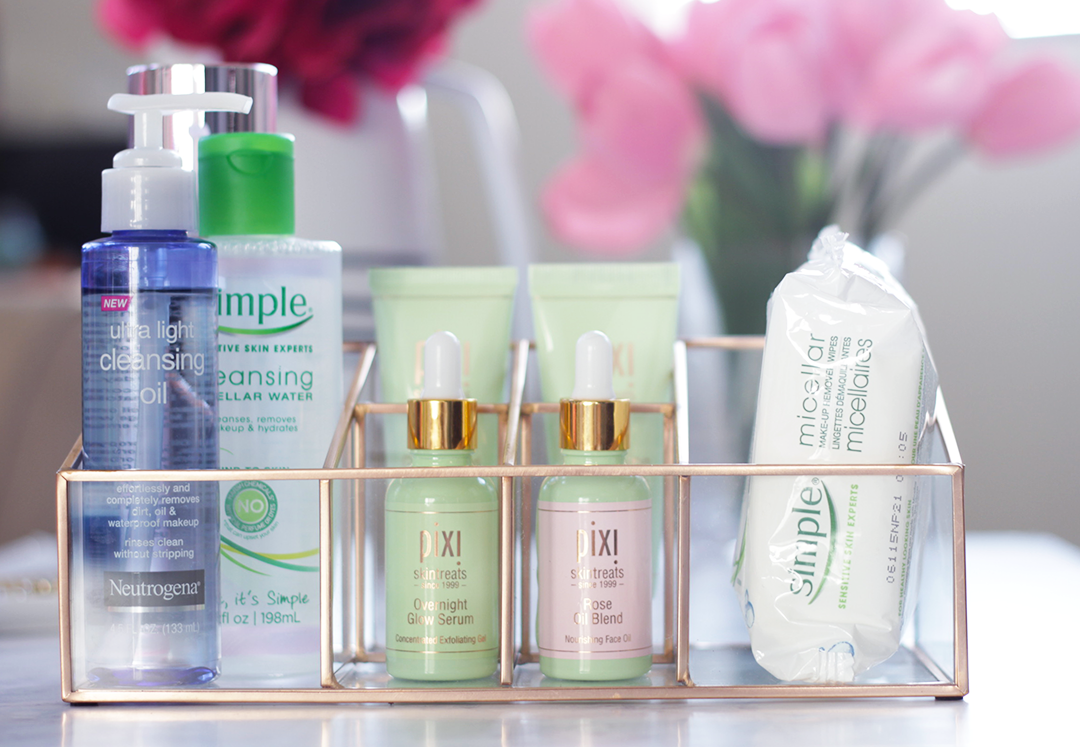 Have you ever walked around endlessly through the beauty and skincare section of Target and noticed all of the new beauty products that have recently hit the shelves? Seriously you guys, there are LOADS of new launches and tons of Korean beauty-inspired products – I am OBSESSED! Let's face it, when it comes to skincare nothing beats scoping out Target for all the latest and greatest discoveries. So with that being said, let's jump right into some buzzworthy new trends…

BUZZWORTHY TREND #1: MICELLAR WATER
You are probably wondering what is micellar water, exactly?  Micellar water is part of the new wave of makeup removers; consisting of oils held in water molecules, micellar waters offer the effectiveness of an oil-based makeup remover with the ultra-gentleness of water. I have been LOVING the Simple Micellar Water and the Simple Micellar Water Wipes.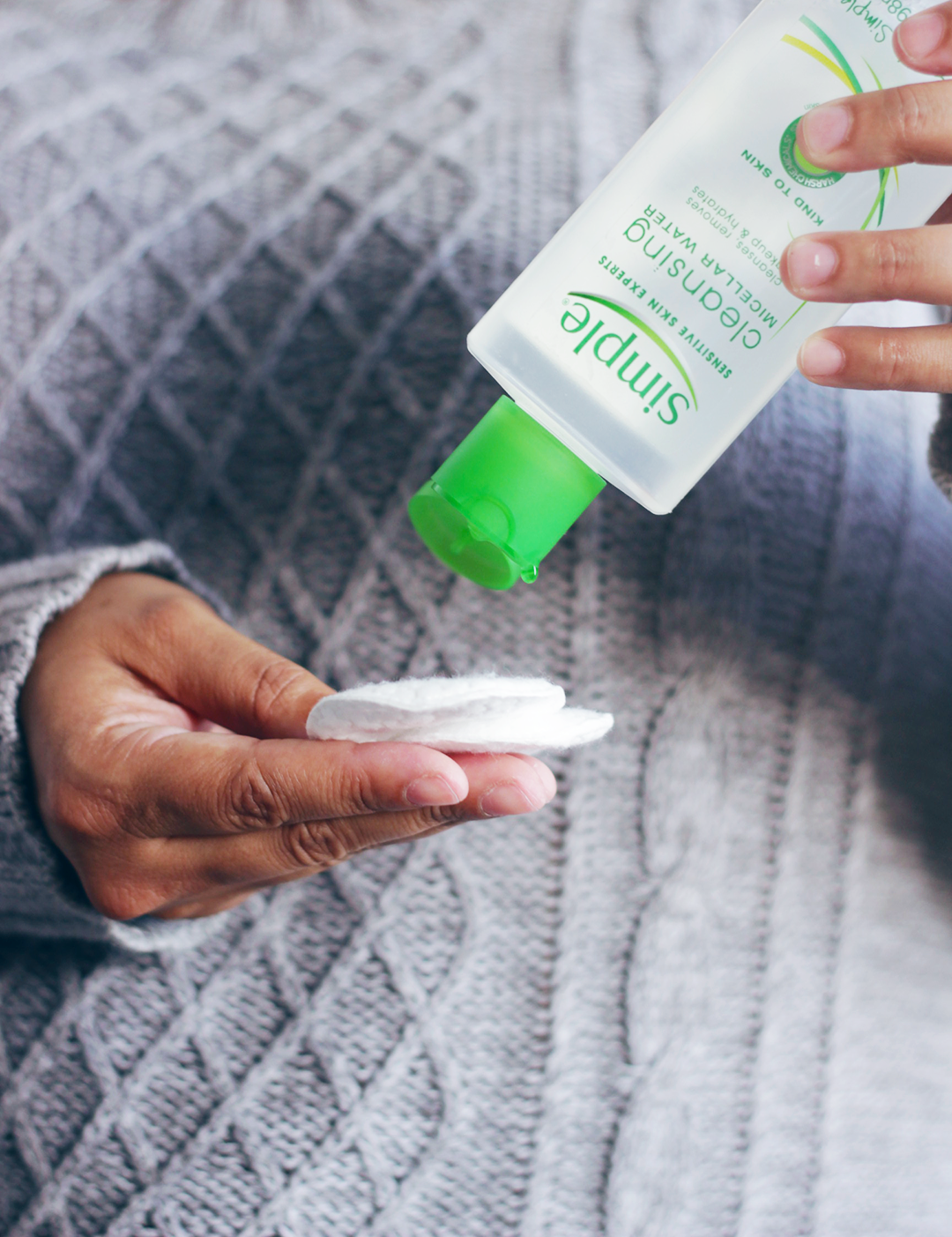 I have been using the Simple Micellar Water in the morning soaked on a cotton pad to quickly kick-start my skincare routine prior to cleansing, then I have been using the Simple Micellar Water Wipes in the evening to remove my makeup prior to cleansing. I love that micellar water is neither drying nor oily, and that it treats the skin with a very cooling effect and has the consistency of water – these are perfect for all skin types.

BUZZWORTHY TREND #2: CLEANSING OIL
Now long-time readers know I am OBSESSED with great cleansing oils. Cleansing oils are an amazing Korean beauty trend that has been making its way across the United States, and OMG they ROCK!  The best thing about cleansing oils is that they cleanse the skin of dirt and impurities without leaving the skin dry. I have been using the Neutrogena Ultra Light Cleansing Oil and it is becoming a must-have in my current skincare routine. It's super light and provides a lot of slip on the skin to help give you an amazing facial massage while cleansing.  To use a cleansing oil, all you do is apply a pump or two to the tips of your fingers and stroke the oil onto the cheeks, chin and forehead. A cleansing oil is the perfect cleanser to break down waterproof or stubborn makeup. Trust me, everyone needs a solid cleansing oil in their skincare regimen.

BUZZWORTHY TREND #3: ESSENCES
Many people are often confused about what an essence is even for.  An essence is a lightweight formula that is applied prior to serums and moisturizers. I have noticed that once I added an essence into my skincare routine, my skin never felt better. I have been loving the Laneige Clear-C Advanced Effector; this lightweight fluid is PHENOMENAL. Seriously, using an essence will change the way you look at your skincare routine. I mean, it smoothes skin, refreshes skin, and leaves your skin ultra-radiant. To apply an essence is super easy: Apply to freshly cleansed skin before toner, serum or moisturizers. Pump 2-3 pumps of the essence into your hands and pat or press into the skin. Follow your essence with your favorite toner, serum, moisturizer and facial oil. Trust me, your skin will thank you!

BUZZWORTHY TREND #4: SERUMS
Serums are all the rage lately, as they can be used for anything from fighting aging, to brightening skin, to helping to combat a specific problem of the skin such as hyperpigmentation, age spots or acne. Serums are a MUST-HAVE in all skincare routines. After cruising the skincare aisle at Target, I was instantly attracted to the Pixi Skintreats Overnight Glow Serum. After all, I am a HUGE fan of the Pixi Beauty Glow Tonic so when I saw the Overnight Glow Serum, I was soooo excited to give it a whirl. Let me just say – it did NOT disappoint.  This lightweight yet super-effective serum is a dream for your skin in a bottle.  The Pixi Skintreats Overnight Glow Serum is a concentrated exfoliating gel that contains almost 10% glycolic acid and arginine, aimed to give you an even and radiant skin tone. Applying this serum is super simple. Just take 3 drops from the dropper and gently pat into the skin prior to your moisturizer. This product is one of those dream-come-true products; you seriously wake up with glowing, softer, beautiful skin. I am OBSESSED with this product; trust me, your skin will be too.

BUZZWORTHY TREND #5: MULTI-MASKING
Now I don't know about you, but I am HUGE mask lover. I love to mix and match masks for different purposes to help give me a glowing, clear complexion. So imagine my surprise when I learned that multi-masking is actually a thing- YASSSSSSSSS! What is multi-masking you might ask? Multi-masking is simply combining more than one mask or skin-clearing product to help target specific areas of your face all at once. Think of it as multi-tasking with your skincare. I have been using both the Pixi Skintreats Gl0w Mud Mask and the Pixi Skintreats Nourishing Sleep Mask, and OMG I must say my skin loving the combination. The Pixi Skintreats Glow Mud Mask is literally like an express facial in a bottle. Similar to the Pixi Glow Tonic and the Pixi Overnight Glow Serum, the Pixi Skintreats Glow Mud Mask brightens, exfoliates, and purifies as it deep-cleanses the skin. To apply it is simple: just apply a light layer of the mask to the skin, leave on for 15 minutes, wash off and viola! Instantly radiant skin. The Pixi Skintreats Nourishing Sleep Mask is a bit different than the Glow Mud Mask, as you leave this one on overnight for an ultra-hydrating and skin-plumping treat. Literally, applying this mask after a long day felt like a drink for my skin. Literally, I think my skin was screaming THANK YOU as it was being applied. Application is simple, and it's the last step in your skin care for the evening. You just apply a light layer on the skin and drift off to bed.  In the morning when you awake, you wash your skin and literally your skin is soooooooo outrageously soft and plump. It is a must-have in your skincare routine; you'll say goodbye to wrinkles while you sleep.

BUZZWORTHY TREND #6: NOURISHING FACIAL OILS
Last but not least, we have the final buzzworthy beauty trend – a nourishing facial oil. Now, long-time readers of this here blog know I LOVE a great facial oil.  I know what newbies might be thinking – oil on your face? WHAT? At one point applying oil to your face might have sounded a bit taboo, especially if you have oily skin. However, facial oils have been created to help hydrate skin, clarify skin, purify skin, prevent and treat blemishes or give skin a much-needed amount of oomph. Trust me, oils are the NEW moisturizer! One that I have been loving is the Pixi Skintreats Rose Oil Blend Nourishing Facial Oil. Seriously, this oil has been a skin savior for me lately.  This luxe blend of rosehips oil is ultra-nourishing to help rejuvenate, restore and renew the skin's luminosity.  I have been mixing this nourishing oil into my moisturizer to help give my skin a much-needed oomph as I am dealing with dry patches. Let's talk about the smell – OMG! This lightly scented rose oil is like a spa in a bottle. To apply this AMAZING oil, you can either apply 3 drops directly to the face by patting or pressing into the skin, OR you can add 2 to 3 drops to your moisturizer for a much-needed boost of hydration.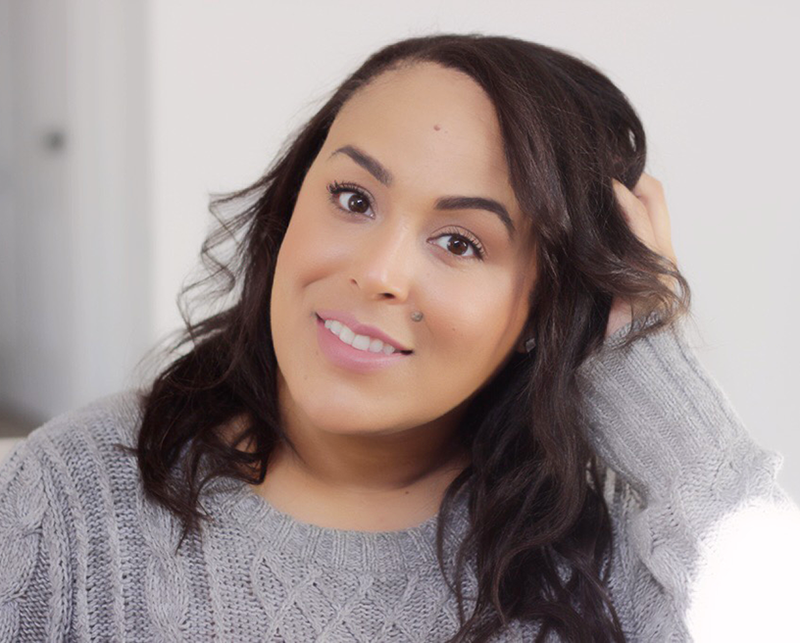 So there you have it, a quick rundown of some the best buzzworthy beauty trends. From incorporating cleansing oils or essences to multi-masking and serums, this lineup of buzzworthy beauty trends has helped my skin stay in pretty good shape even through the complexion-drying winter months. Whichever buzzworthy beauty trend you choose to try and test out, Target has you covered with an endless array of beauty and skincare products to help keep your skin in tip top shape.
So what are you what buzzworthy beauty trend are you eager to try out? Let me know in the comments below…
Find your style @TargetStyle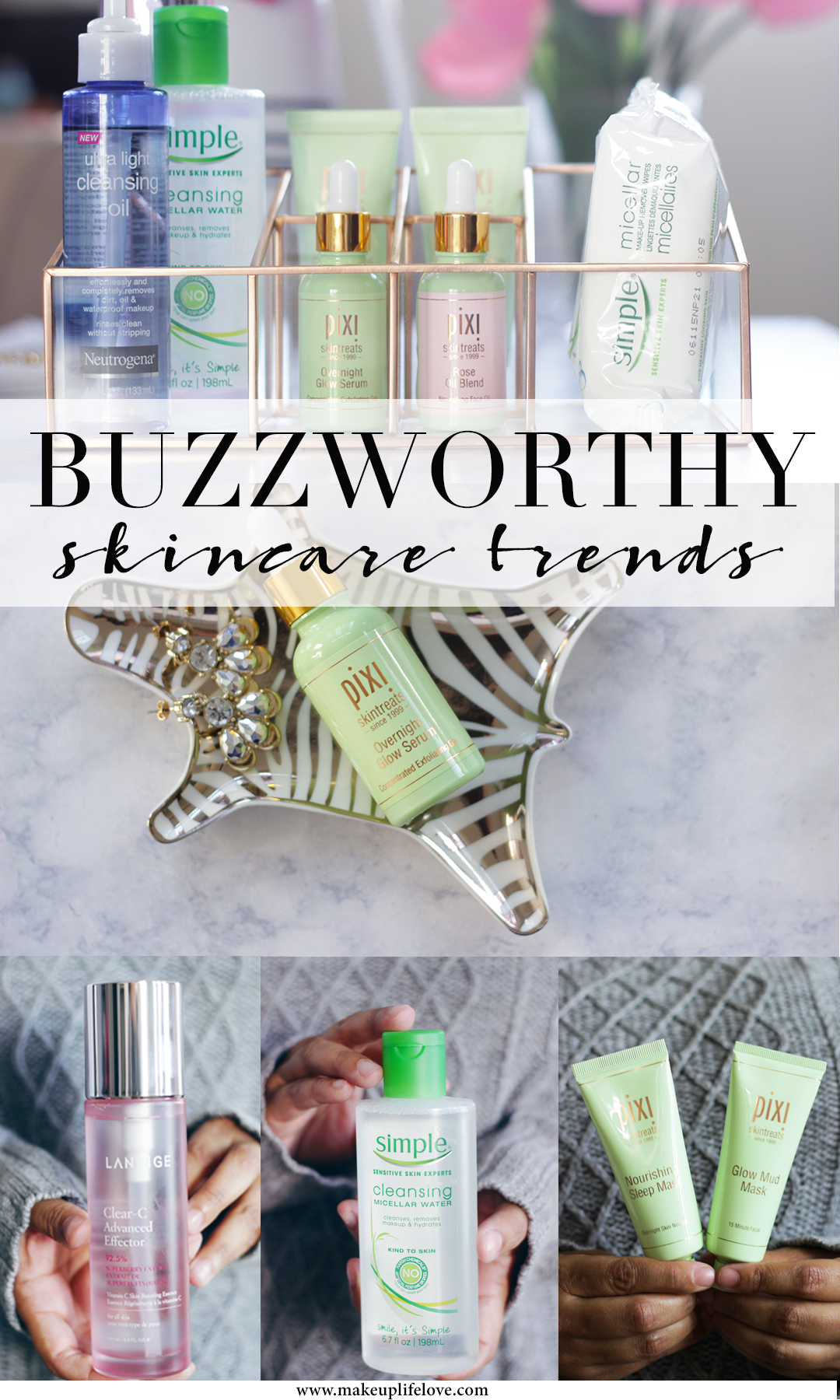 [otw_shortcode_divider margin_top_bottom="30″ text="SHOP BUZZWORTHY SKINCARE" text_position="otw-text-center"][/otw_shortcode_divider]

[ReviewDisclaimer]
Beauty Buzzworthy Words Laneige Clear C Advanced Effector Pixi Beauty SKintreats Pixi Skintreats Overnight Glow Serum Pixi Skintreats Rose Oil SImple Micellar Water Simple Micellar Water Wipes Skincare Trends