OMG- y'all its time for the one of the best sales of the year- Nordstrom Anniversary Sale. I for one am always excited for this sale to come around. Especially since its two whole weeks of AMAZING merchandise marked down just for the sale- and then back to regular price it goes- *Sad face* As a seasoned shopper- *cough* at times a wayyyyy too big seasoned beauty shopper, I am times intrigued by a good deal. Here are a few tips and tricks to think about when getting ready to snag the perfect beauty deal during the Nordstrom Anniversary Sale…
TIP 1: Think carefully- Do you really need it? Trust I am all for a good deal, and literally fall in love with everything. However is it really a good deal? If you are saving more than half price on full size items- then please BUY IT! You will regret it if you don't. But if you are only saving less than 20% on an item- its not worth it. Especially when it comes to the beauty deals- they like to make you think you are saving more than you are- a la deluxe sample sized items.
TIP 2: Set a budget and possibly do your research. If you are a Nordstrom card holder, you started to receive early sale access officially yesterday at midnight. And the joy of being a Nordstrom card holder is you get a preview like catalog- see something you like? Do YOU RESEARCH- sometimes things in a catalog look better or worse in person.
TIP 3: Don't get bummed if they don't have the item in store. I'll let you in on a secret-Nordstrom ships free if you want it and it is not in store. Hello UPS Man, I love pretty packages.
TIP 4: Check out the beauty exclusives. There are some killer gift with purchase freebies when you buy specific items. If you are in need of a refill on a product soon- may as well get it and get something free- let's be honest#Free99 is always a great thing. just saying…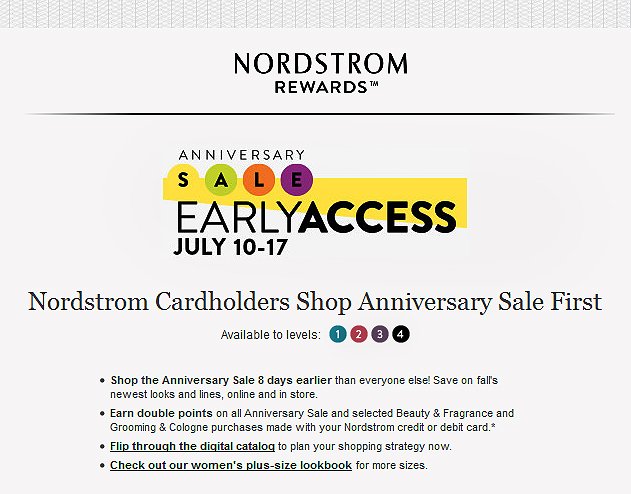 The Nordstrom Anniversary Sale officially starts Friday July 18 and runs until Sunday August 3. Prices are back to normal effective Monday August 4. If you are a Nordstrom card holder- you can shop ahead now until Thursday July 17- double points during the entire early access period for card holders on ALL early access items and selected beauty purchases. Double points on all Nordstrom purchases July 18 July 20.
Now on the specific of what I will checking out at the Nordstrom Anniversary Sale. Click the images below to see what I am checking out… happy shopping everyone!

BOBBI BROWN NUDE ON NUDE PALETTE– A $208 value for $85 USD
SMASHBOX BRUSH SET– A $225 value for $89 USD
CHARLOTTE TILBURY FILMSTAR CHEEKBONE SET– $110 USD – Probably one of the only times to get the coveted Charlotte Tilbury makeup before her American launch in the Fall.
PHILOSOPHY PURITY MADE SIMPLE CLEANSING DUO SET– $52 USD
EMI JAY PEARL HAIR TIES– A $11 value for $5 USD
YVES ST LAURENT 'ESSENTIALS' COLLECTION– A $127 value for $75 USD
CLARISONIC 'THE OASIS' OPAL BLUE FACIAL SONIC INFUSION SYSTEM– A $277.50 value for $185 USD
ARCONA TRIAD TONER PADS TWO PACK– A $64 value for $32 USD
CLARISONIC OASIS COLLECTION REPLACEMENT BRUSH HEADS– A $118 value for $81 USD
MAC LOOK IN A BOX 'NUDE' SET– A $73 value for $39.50 USD
MAC LOOK IN A BOX' ALL ABOUT BEIGE' KIT– A $110 value for $49.50 USD
SUPERGOOP ANTIOXIDANT INFUSED SUNSCREEN MIST SET– A $57 value for $38 USD
KIEHLS SUPER MULTI-CORRECTIVE SET– A $160 value for $110 USD
DIPTYQUE BAIES & FIGUIER CANDLE SET– A $196 value for $120 USD
CLINIQUE MOISTURE SURGE HOME & AWAY JUMBO DUO– A $104 value for $67 USD
KATE SOMERVILLE '3 STEPS TO GORGEOUS' SKINCARE SET– A $191 value for $98 USD
PERRICONE MD THE SCIENCE OF PLASMA SET– A $192 value for $98 USD
MOROCCAN OIL MOISTURE REPAIR HAIR SET– A $121 value for $85 USD
EVE LOM CREAM & CLEANSER DUO– A $95 value for $50 USD
FOUND GOODS MARKET 'HOMESTEAD' HAMMERED CANISTER CANDLE– $21.90 on sale // after sale $34 USD
REBECCA MINKOFF 'ERIN' CHIC POUCH– $49.90 on sale // after sale $75 USD
L'OCCITANE ALMOND ADDICTION SET– A $79 value for $48 USD
[ReviewDisclaimer]